Aeon is a Japanese company specialized in building shopping centers, and more specifically malls in Asia. Coming from Europe and having lived in America for a while, I've experienced slight differences between these two continents when it comes to shopping centers.
Japanese have one of the most unique cultures in the world; these idiosyncrasies can also be found in the way they build their malls. Find out what those differences are and why it's something special you should try.
Introduction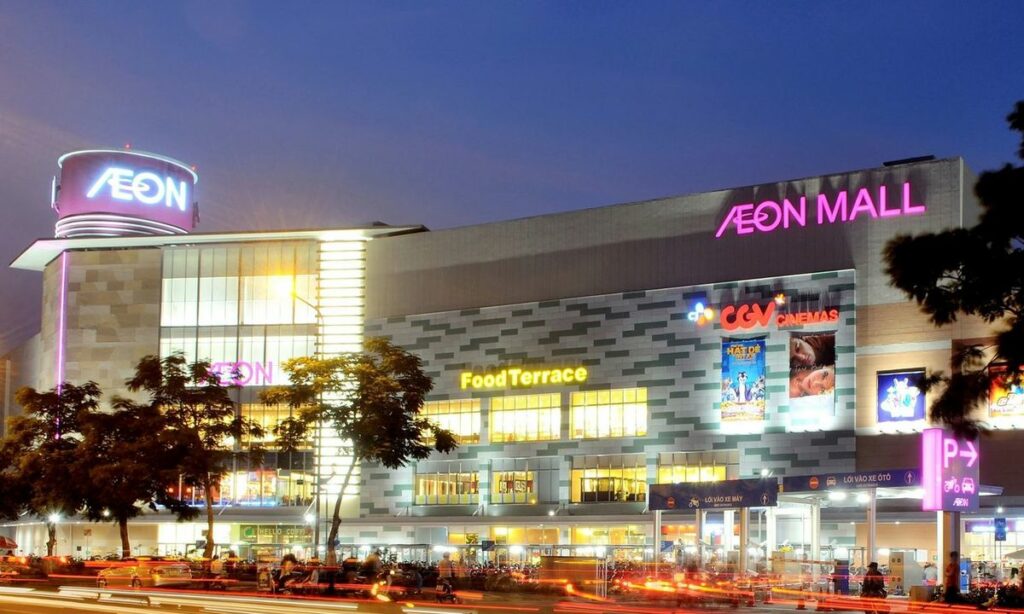 Like I said in my previous article about 10 things to do in Hanoi, malls are in Vietnam what malls were in the US in the 1980s. It is a place for people living in the suburbs to go out and enjoy some activities. In malls, you will find mostly the middle class dressing up to shop, have dinner, and have some entertainment during the weekends.
In America, malls are mostly average in price, but in Vietnam, compared to street entertainment, franchises and chains are much more expensive. Thus, going to the mall to eat is some sort of event in itself.
A Shopping mall on a Large Scale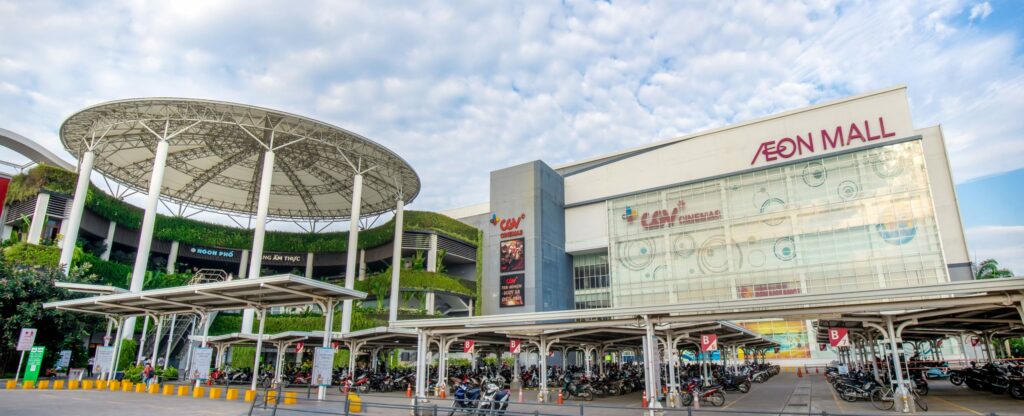 In Vietnam, Aeon malls are very famous for producing shopping centers larger than average. Much more so than their Vietnamese competitor, Vincom. Like in most emerging countries, having an Aeon Mall built around your house means that the price of the land will grow exponentially in the near future.
My first experience of Aeon Mall was actually in Cambodia, in the suburbs of Phnom Penh. I was pleasantly surprised, almost impressed, by the quality of the facilities and restaurants.
made in Japan
The thing that impressed me the most in my first experience in Aeon Mall was the quality of the facilities, stores, and restaurant. I've been to many malls in Asia before, and they were always empty, especially during the weekdays.
But Aeon Mall was pretty packed even in the afternoon when me and my friend went out to have a drink. After we went to eat sushi, the quality was very good and the prices were very close to what we would pay in Europe.
The Facilities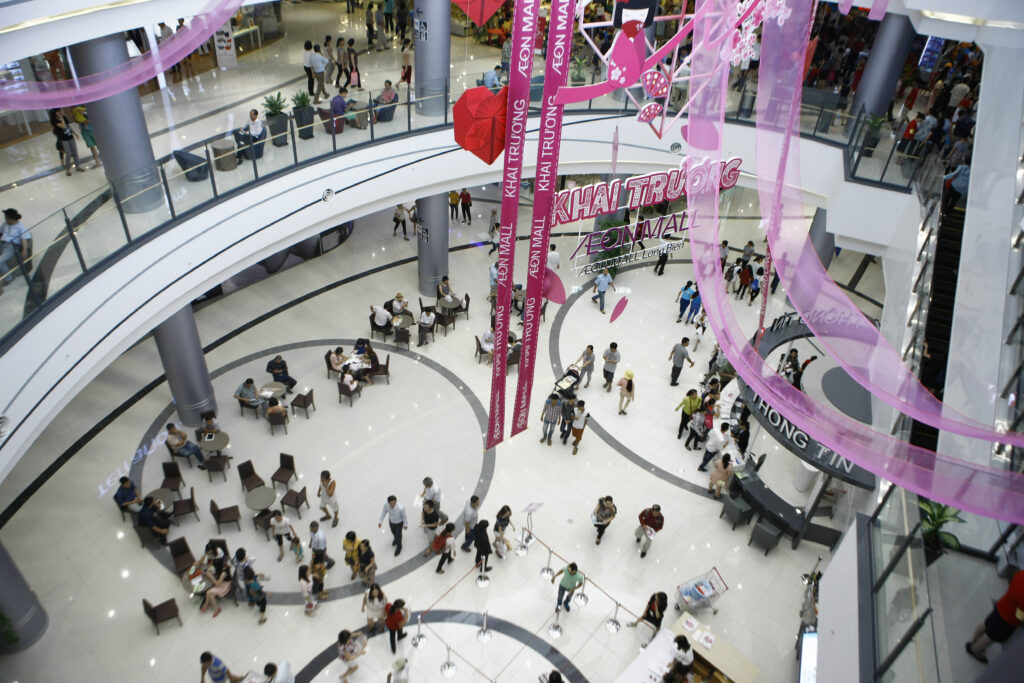 The facilities are large, well built, and very clean. There are more staff members than at the average mall in Europe, I believe. It honestly looks new and modern. Most stores are well-known franchises with a minimum quality in their services.
The malls are very complete in their offerings: supermarkets, various stores, restaurants, cinemas, games, and even gyms.
The clothing stores are a bit upscale compared to the traditional Vietnamese store. You can find mid-level clothing stores like Uniqlo and other stores like D. Chic, which is a Vietnamese brand making beautiful and upscale women's clothes. You can find my opinion on it here: 10 Vietnamese Brands Making Beautiful Dresses.
Most people in Vietnam buy their clothes in street stores or on eBay.
The Super Market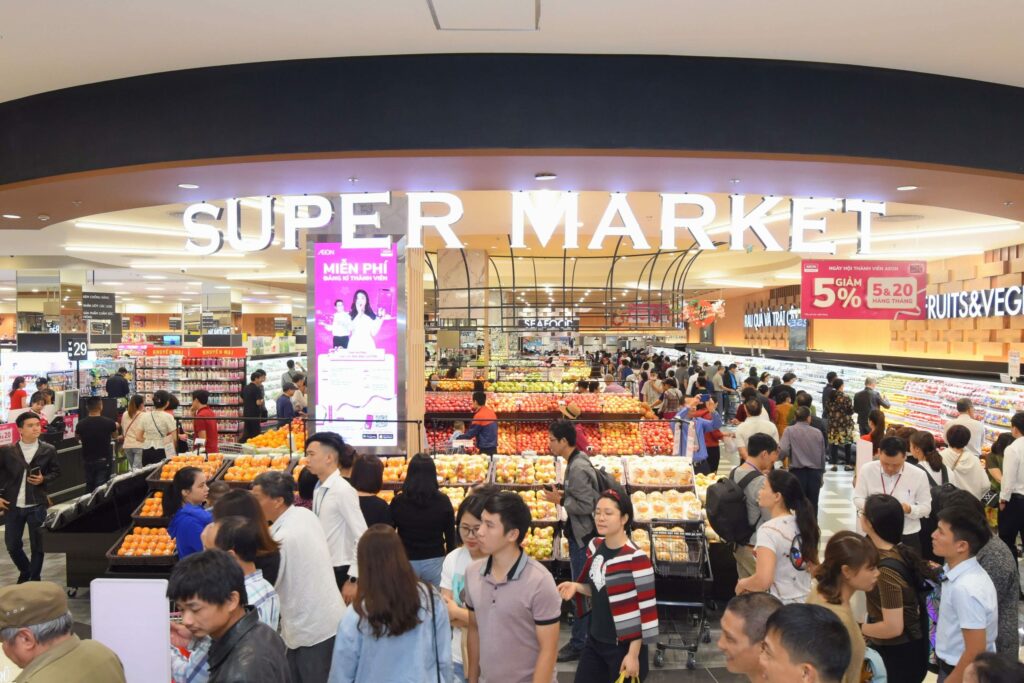 The supermarket in Aeon Mall is big by Vietnamese standards. Very close to what a Big C would be in size but a lot more expensive. You can even find some good bottles of whiskies like Macallan 12 Sherry, which costs around 12,000,000 VND per bottle.
In this super market, you will be able to find local products as well as imported Japanese products. You can even find some products from Europe, such as Bonne Maman jam or mozzarella. These products are a bit pricey, especially compared to Vietnamese products you can find in traditional markets. I thought Vinmart was already expensive, but Aeon Mall is even more expensive, flirting with the limits of posh.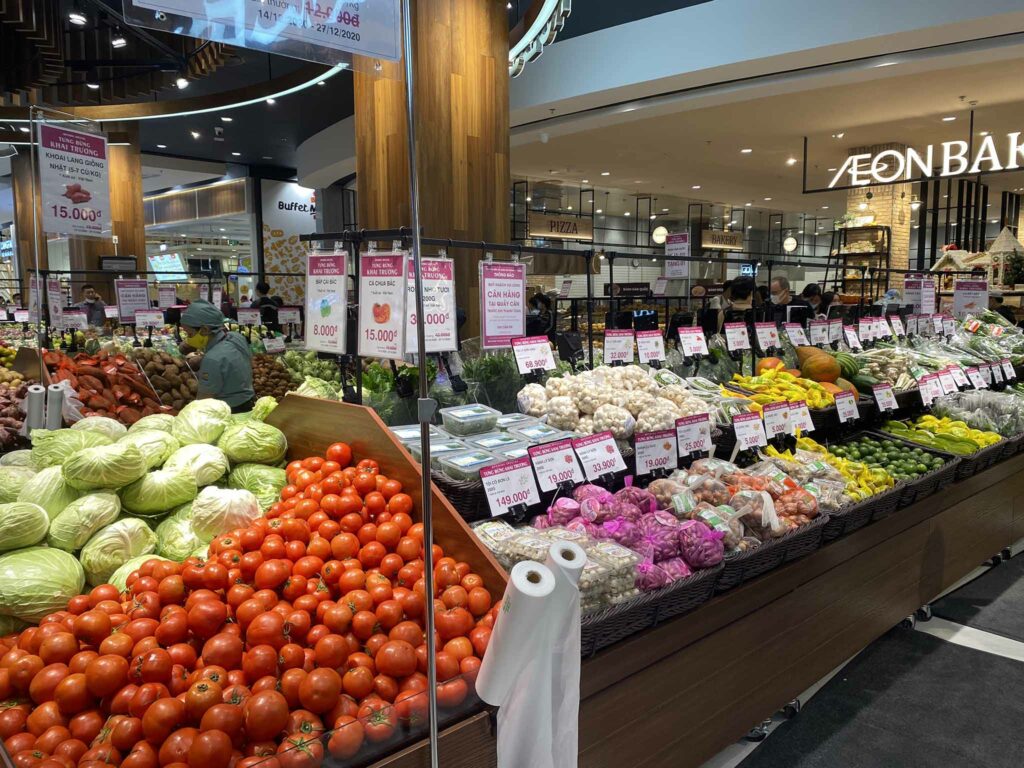 One thing to know is that food in Vietnam is relatively expensive. For example, the price of meat is around the same as in France. All imported products are obviously more expensive.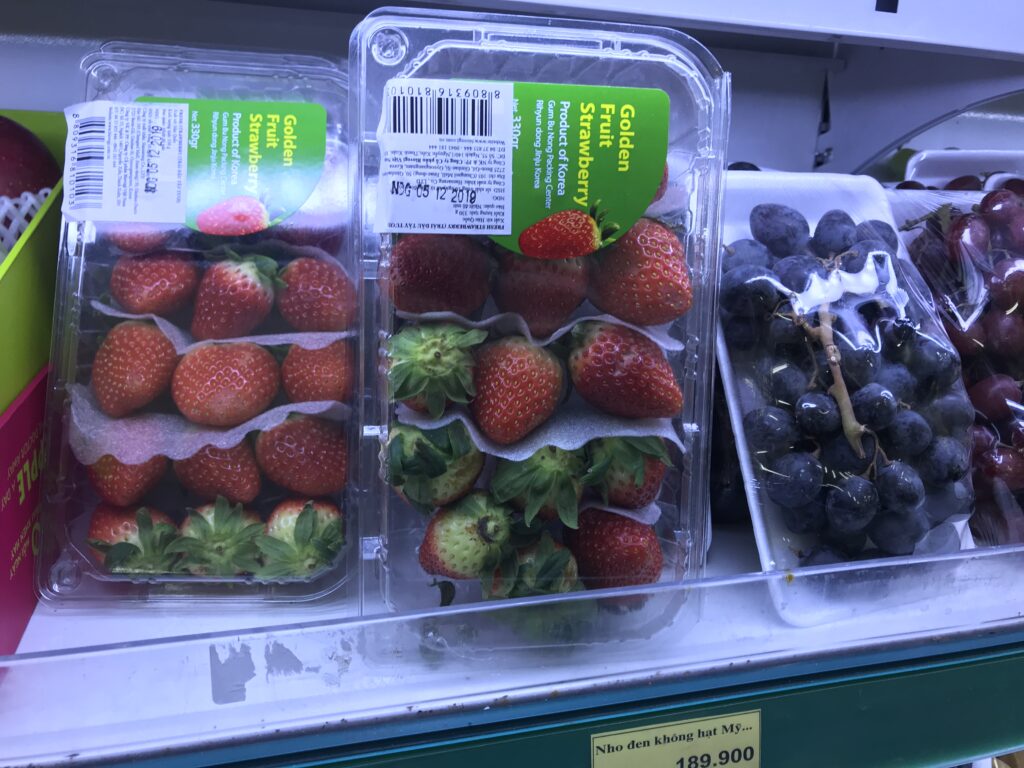 To give you an example, buying a 100-gram box of strawberries will cost you around 189,000 Vietnamese dong or over 7 euros. Strawberries are a luxury in Asia, where in France they are just another type of fruit.
You'll also find in Aeon Mall seafood and fresh fish, which are not things you can find in a traditional Vietnamese supermarket like Big C.
The Originalities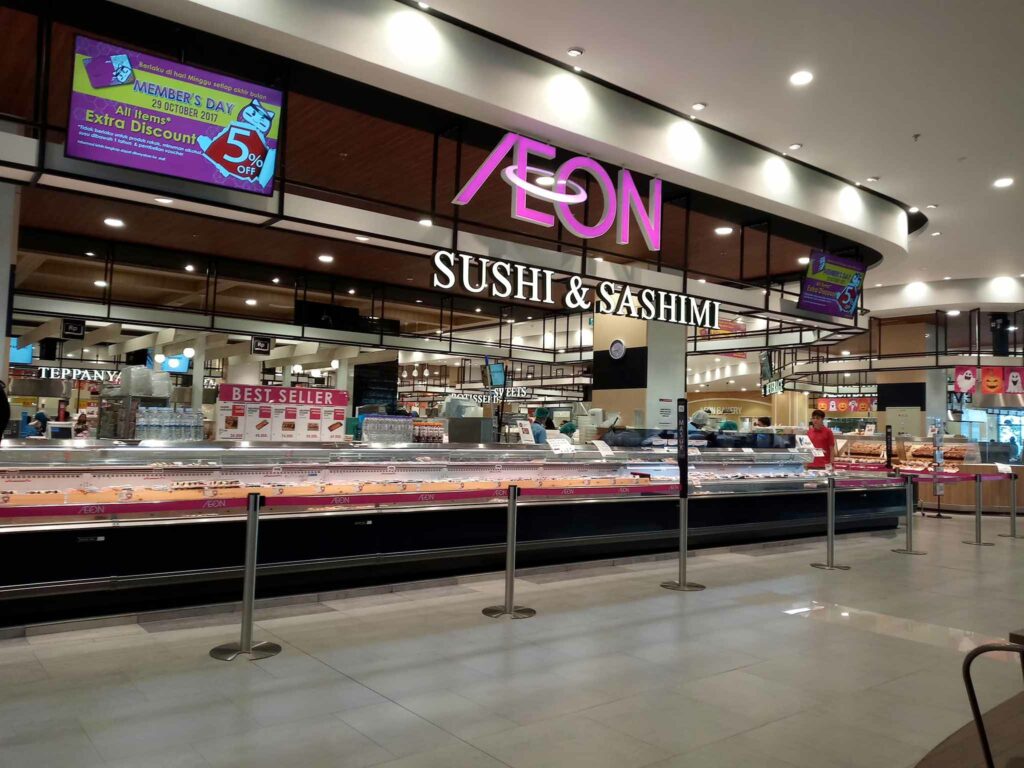 Aeon Mall proposes also dedicated stores and stands; for example, in front of the market, you'll be able to buy fresh bakery and bread, sushi, roasted and fried chicken, pizzas, and other hamburgers.
The food quality is very decent, and the place is actually very fun to have lunch in, especially on the weekends, when it is extremely crowded with families.
The Food Court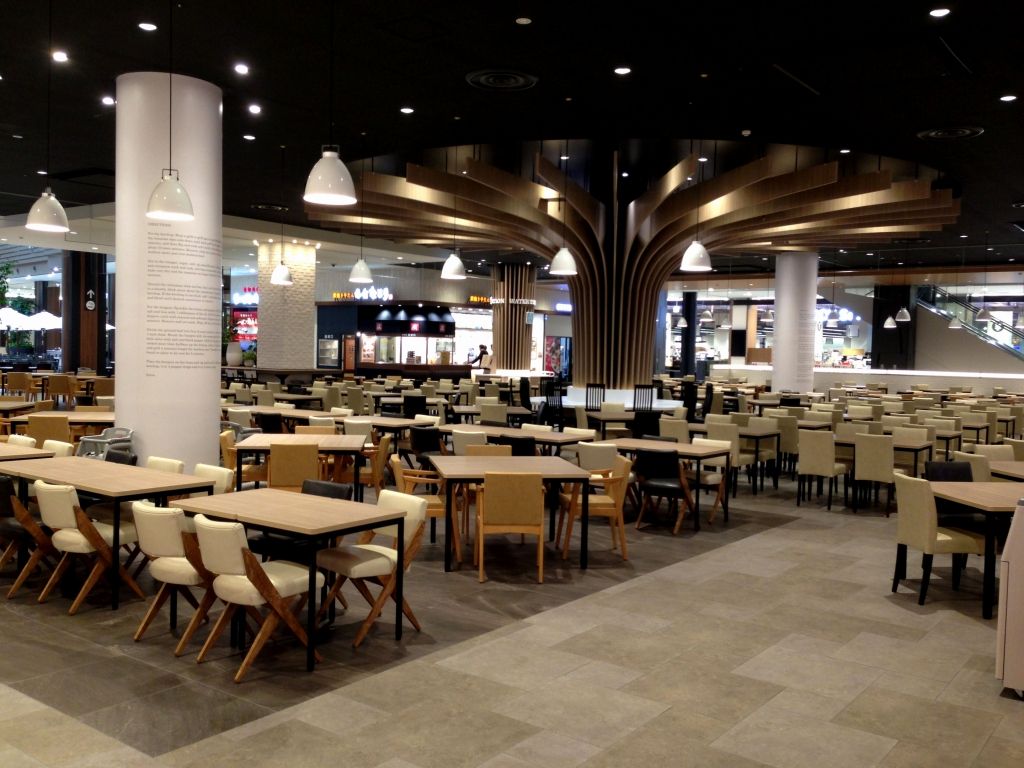 The thing I love most about Aeon Mall is their food court. Like in America, you will have a bunch of traditional restaurants on one of the upper floors, but there will also be restaurant stands with tons of available tables and chairs to eat with your friends.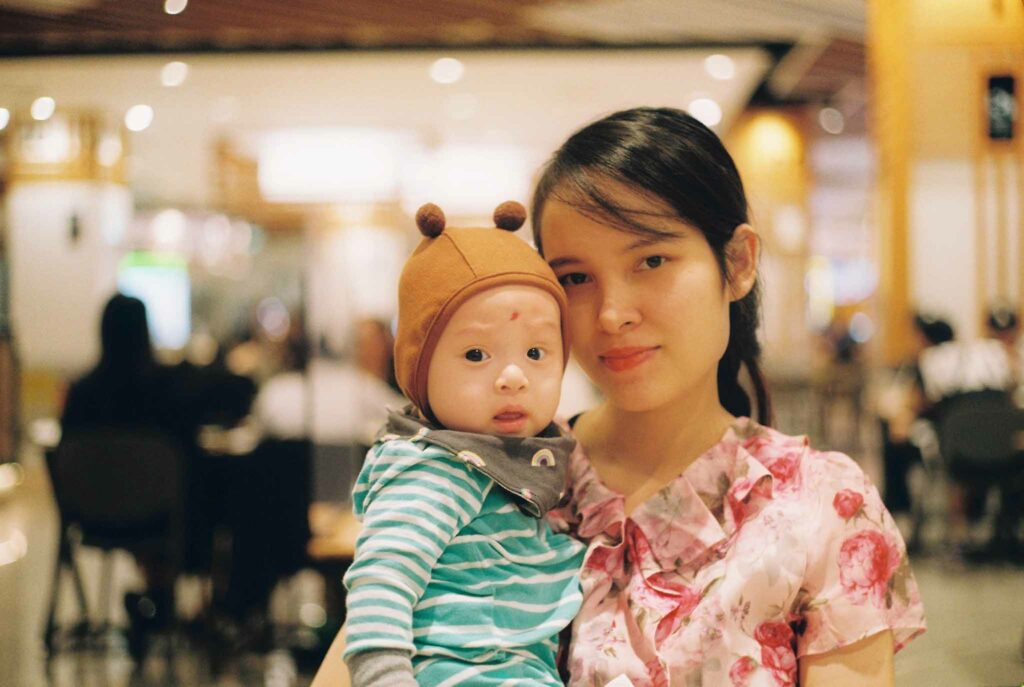 This way, people in a large group can each eat what they want, and you can still enjoy the same table while eating. In my opinion, this is a great idea.
My favorite restaurant in Aeon Mall is probably Gogi, a Korean barbecue chain restaurant. Looking hard enough, you can find that most of these restaurants belong to the same 2–3 groups. So at some point, the food is quite the same in quality, unfortunately.
There are also restaurants on the first level, close to the parking lot. These areas are usually reserved for fast food restaurants that rely partly on delivery, such as Domino's Pizza and KFC. Sadly, after COVID, my favorite franchise for fried chicken, Popeyes, was replaced by another restaurant.
One thing to know about Vietnamese is that they love to eat hot pot, which is a very social way to eat, sharing the same broth to cook your food. It also takes something like 1 to 2 hours to finish a hot pot.
The Game Area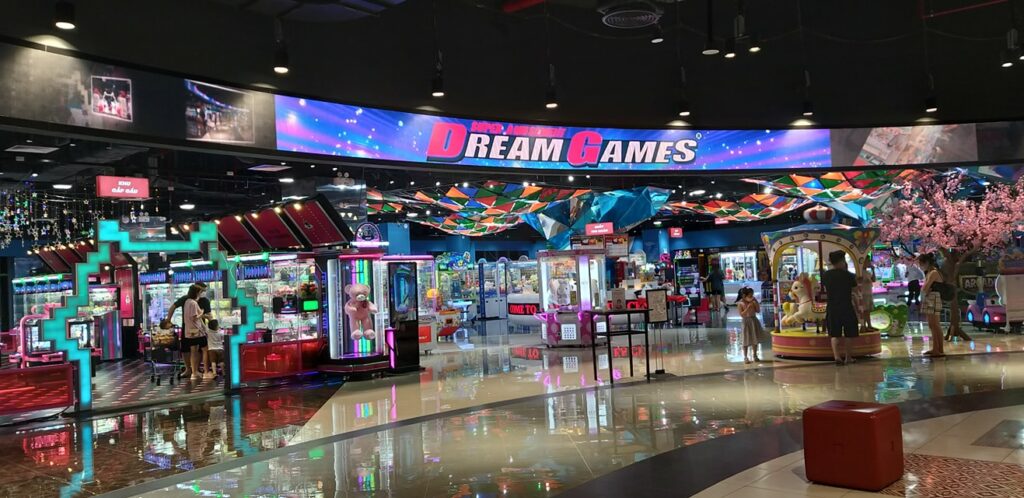 Aeon Mall also has a dedicated area for playing. In this section, you will find gaming apps for kids such as A Tiny World, Fun Zone, and the Kidzooona I reviewed recently.
There are also the arcade Dream Games for older people. I actually had my first date with my wife over there shooting some hoops.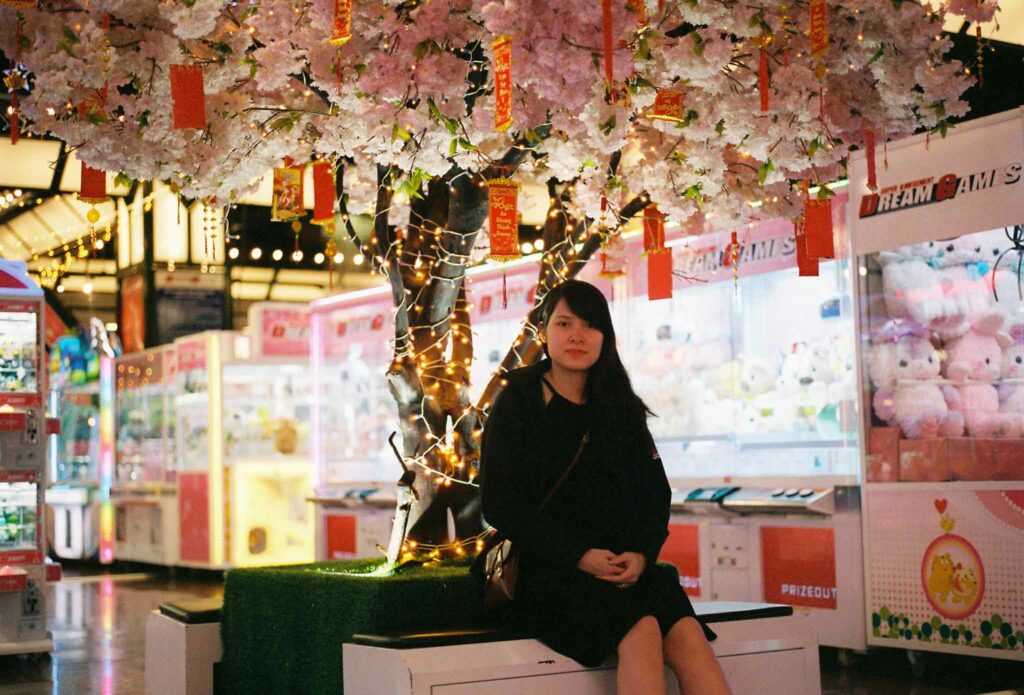 The Cinema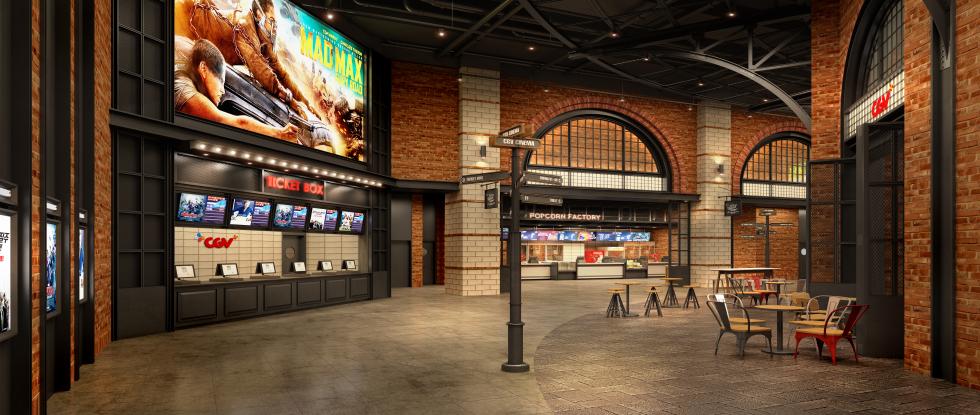 I haven't had the chance to try the cinema in Aeon Mall since I moved out after my wife's pregnancy in Long Bien, so I've never tried CGV, only Galaxy cinemas. Usually the movies are in their original audio version with Vietnamese subtitles. They even have IMAX theaters in Hanoi; unfortunately, not in this cinema.
The parking lot
The parking lot of Aeon Mall is very different from the ones in Europe since most people use scooters or bikes here. The parking is free, and there is security to make sure no one steals your bike, which can happen frequently in Asia.
Verdict
8.5 out of 10.
Japanese know how to make quality products, and this is no different for malls and shopping centers. Their attention to details is well above average, so it's no wonder it has become such a success in Southeast Asia.
The quality is so high that, unfortunately, spending time in an Aeon Mall has become something only the middle class can enjoy often.
Overall, it is a good project for the local economy and growth. It brings a lot of variety to entertainment and creates jobs for locals.
Informations
Aeon Mall Long Bien
Address : 27 Đ. Cổ Linh, Long Biên, Hà Nội, Viêt Nam
Website : https://aeonmall-long-bien.com.vn