New Saigon is a restaurant located in the city of Lognes. The city where there are the most Asian descendants in France
This restaurant is actually located near the city hall, the RER Station, and the largest Asian supermarket in the city, Tang Frères.
Let's see in this article if this restaurant is worth trying.
The location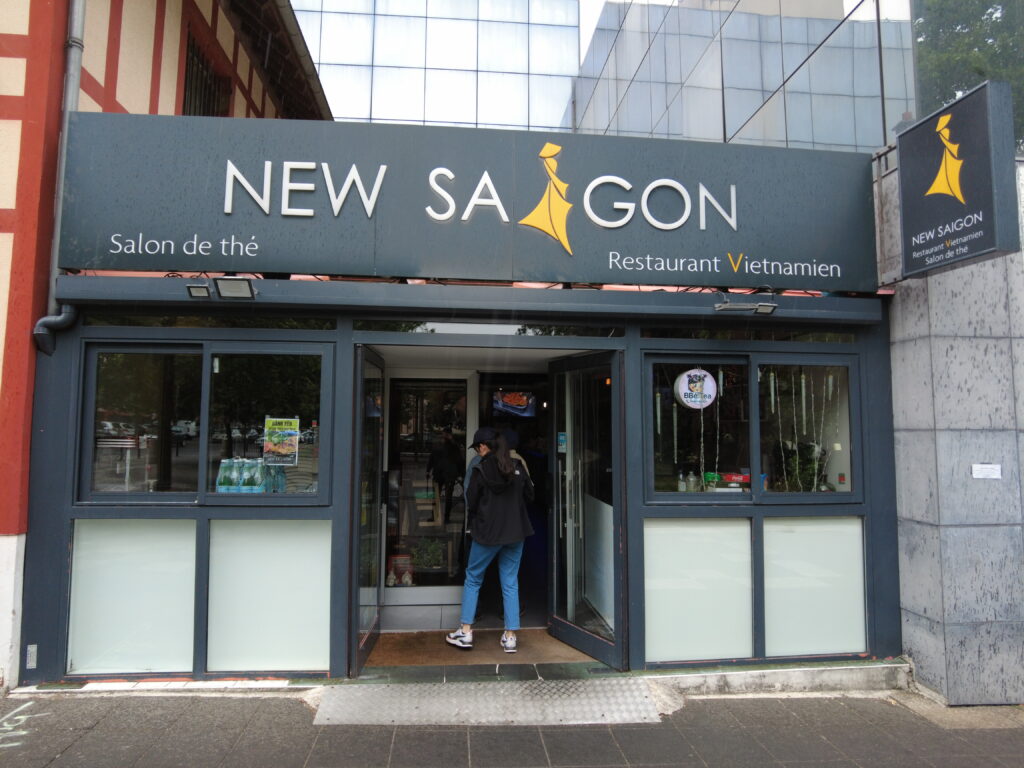 New Saigon is a Vietnamese Restaurant located in the center of a town called Lognes. This restaurant is quite small in width but is surprisingly deep.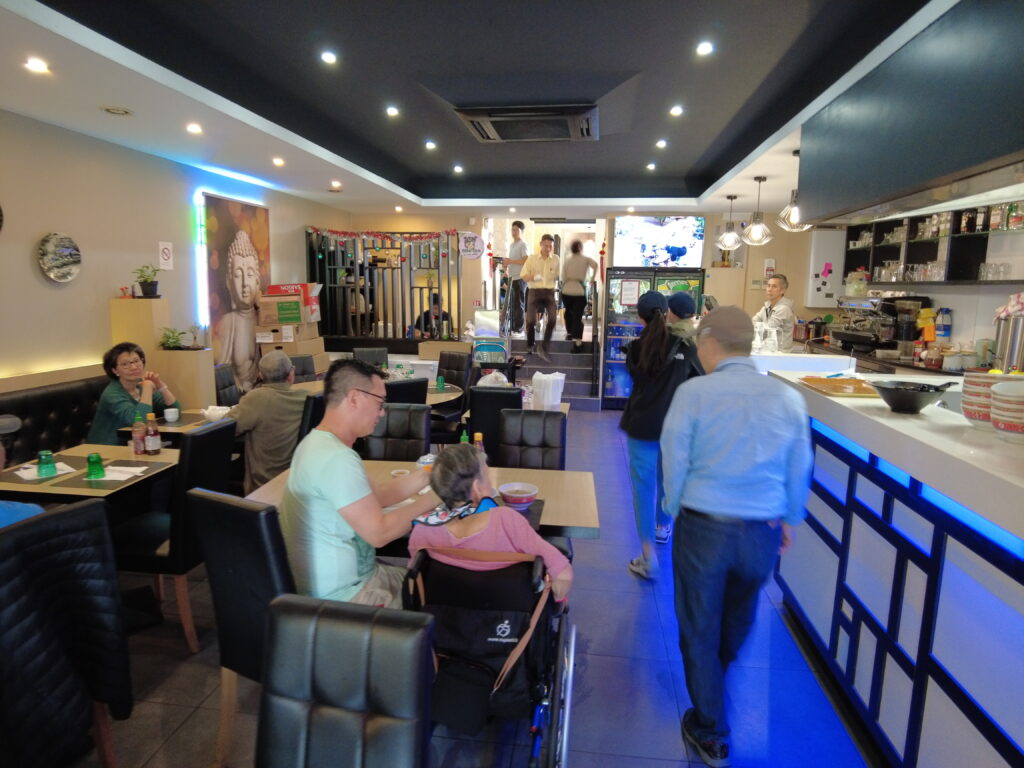 There are three rooms in this restaurant. The first one at the entrance exhibits the bar counter and some tables. When you go deeper into it, you'll find a second room with windows this time.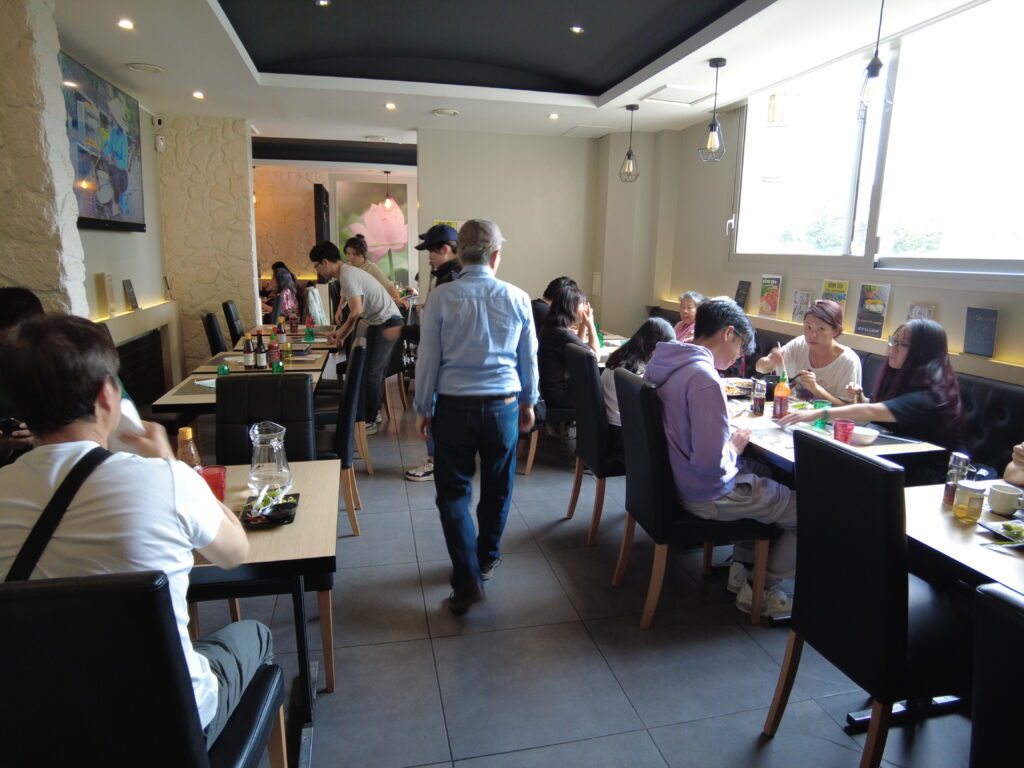 The second room is not very big, but it's well designed with enough space to walk and sit comfortably. The big windows are also welcoming, especially during the day.
The third room is larger in width but smaller. You'll find the restroom down some stairs on a lower level.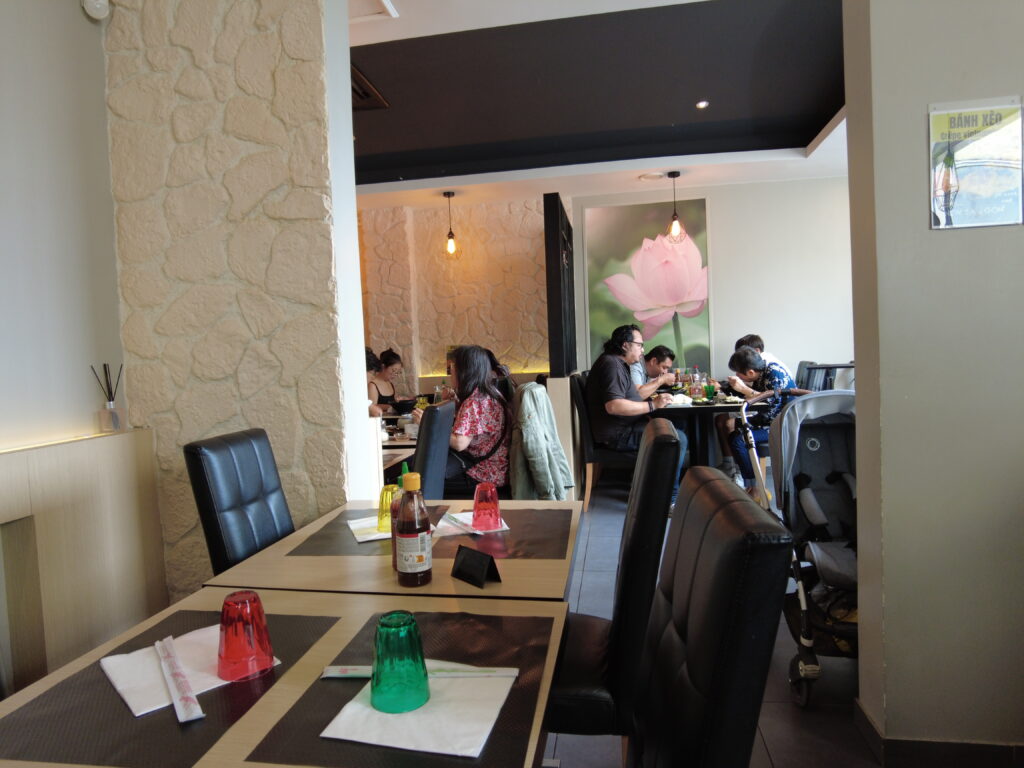 Overall, this restaurant looks very nice, and I am quite surprised and impressed by the work they have done inside the place.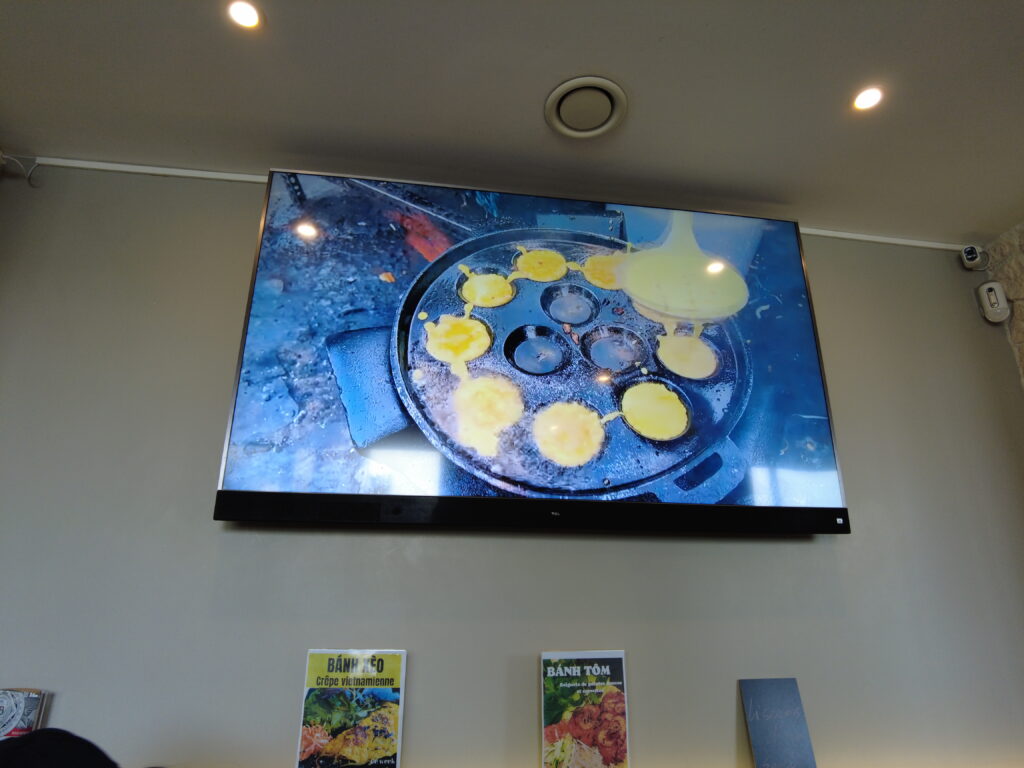 I was expecting something much smaller and more modest, to be fair. There are even some TV screens inside showing what seems to be a YouTube Channel about Vietnamese Street Food.
The menu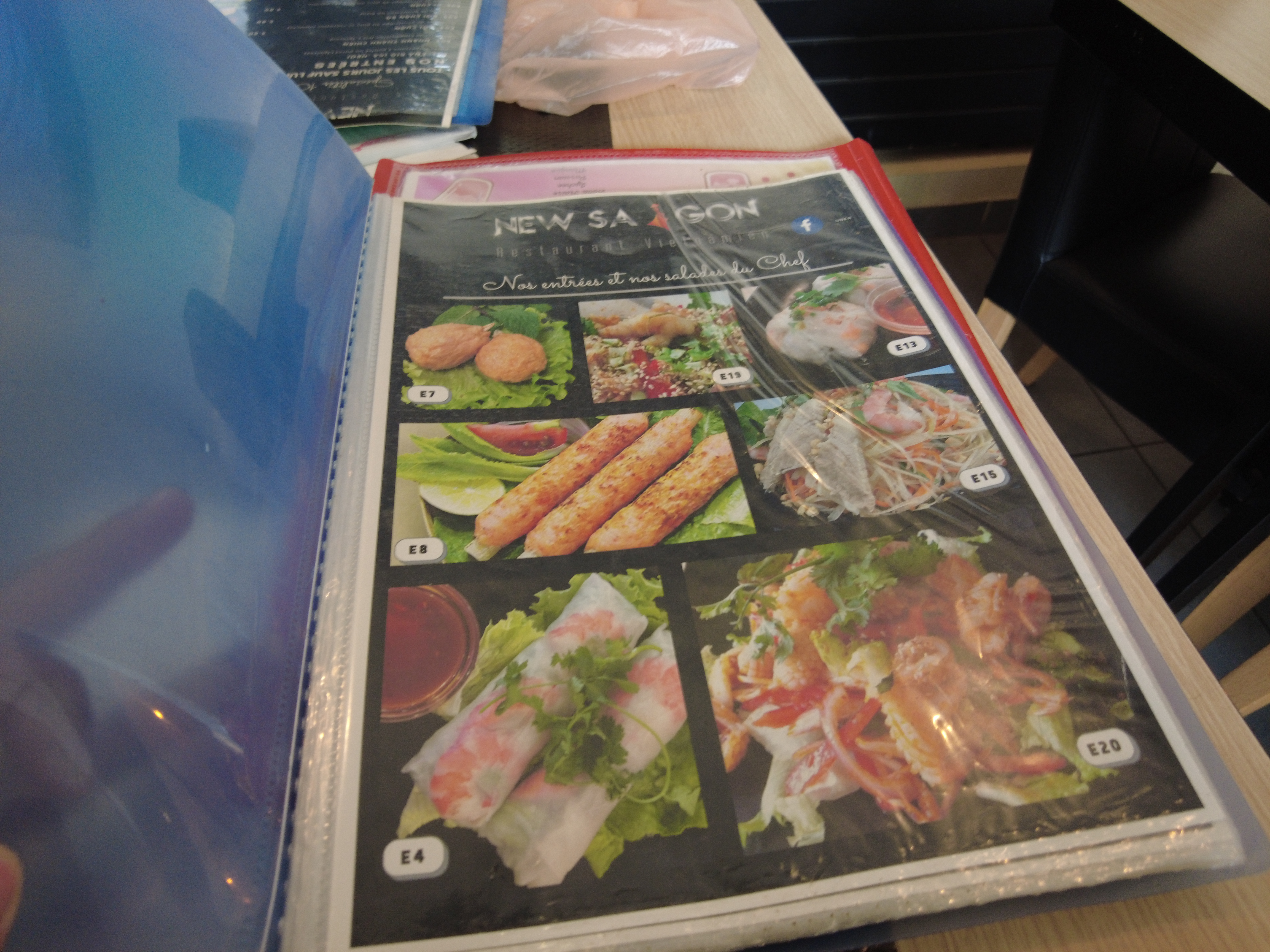 I was a bit let down by the design of the menu, which doesn't really compare to the interior design of the location. Perhaps it was made a long time before the renovation.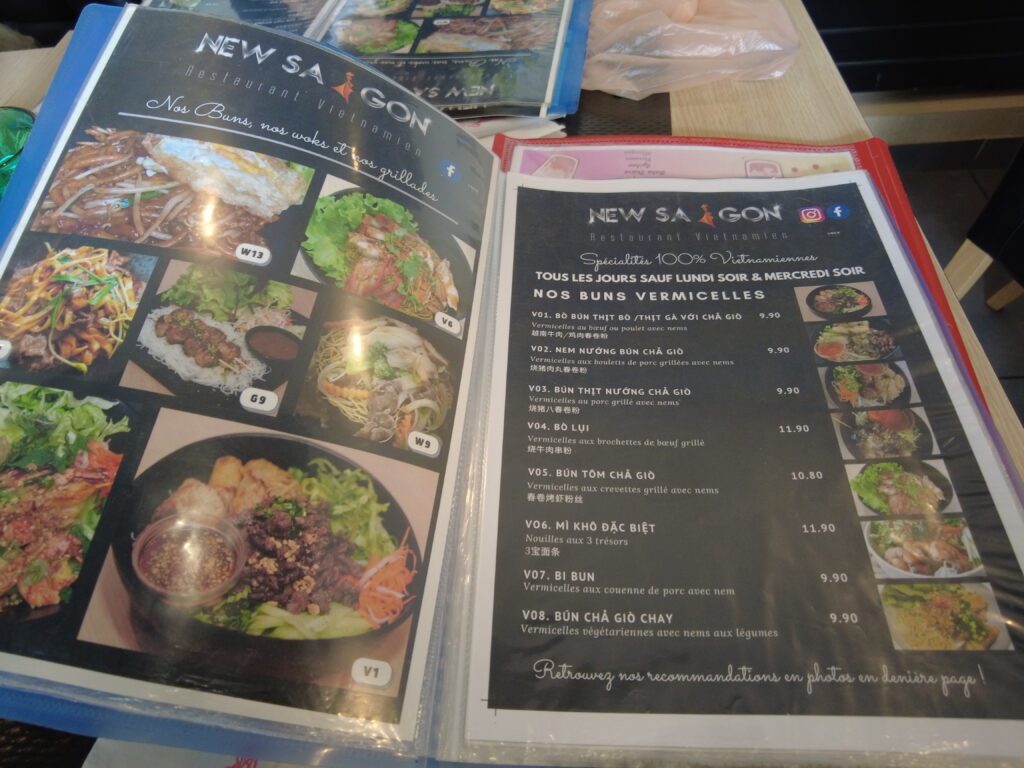 One thing I like about this restaurant is that they seem to focus on Vietnamese food. There are tons of Vietnamese dishes to choose from on this menu.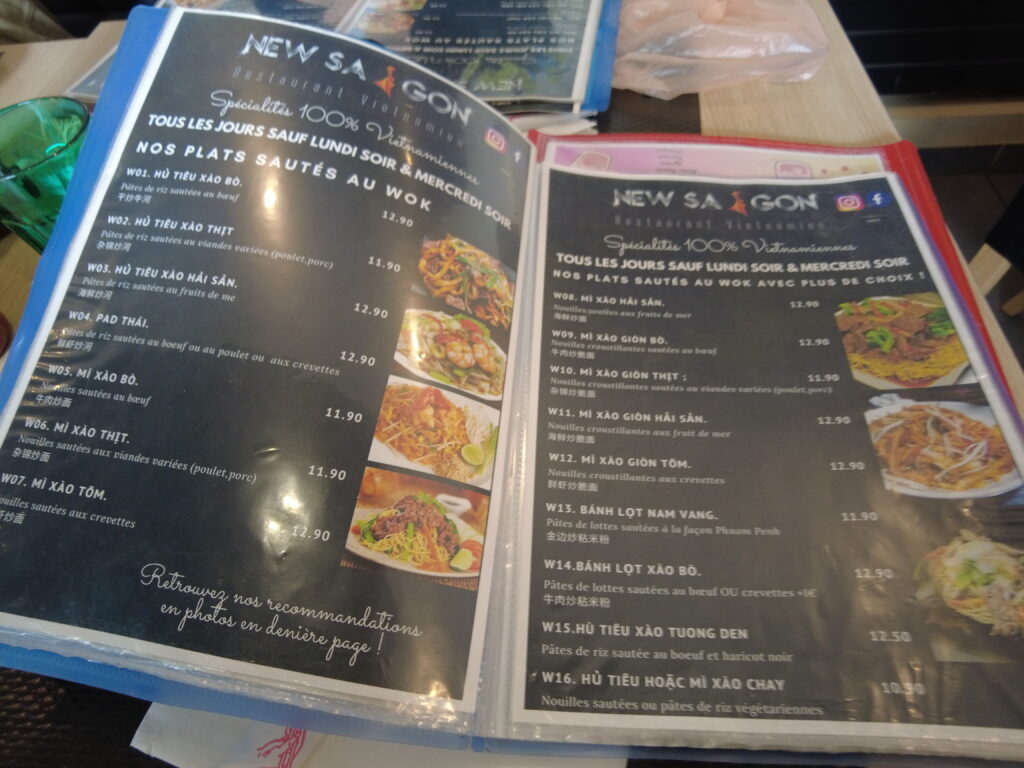 Of course, there are some dishes from other countries, such as Pad Thai, but overall, they are definitely not trying to sell you everything to attract as many customers as possible.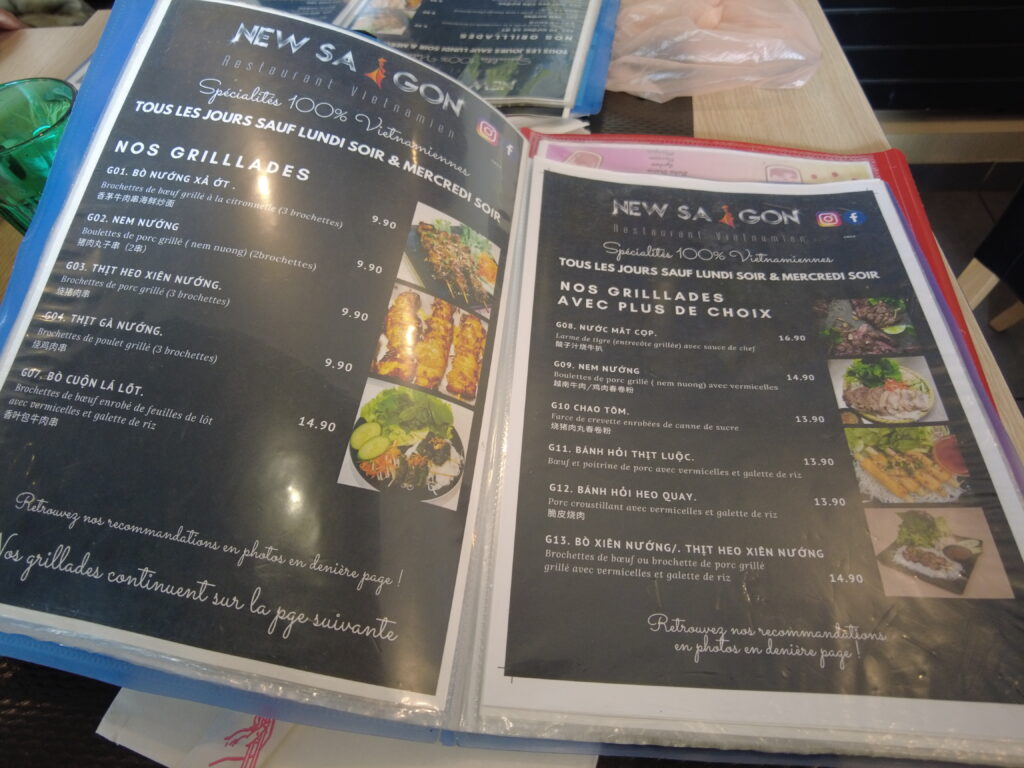 They even have some of the traditional grilling options, such as Nem Nuong or Bo Cuon La Lot, which is an interesting dish you won't find everywhere.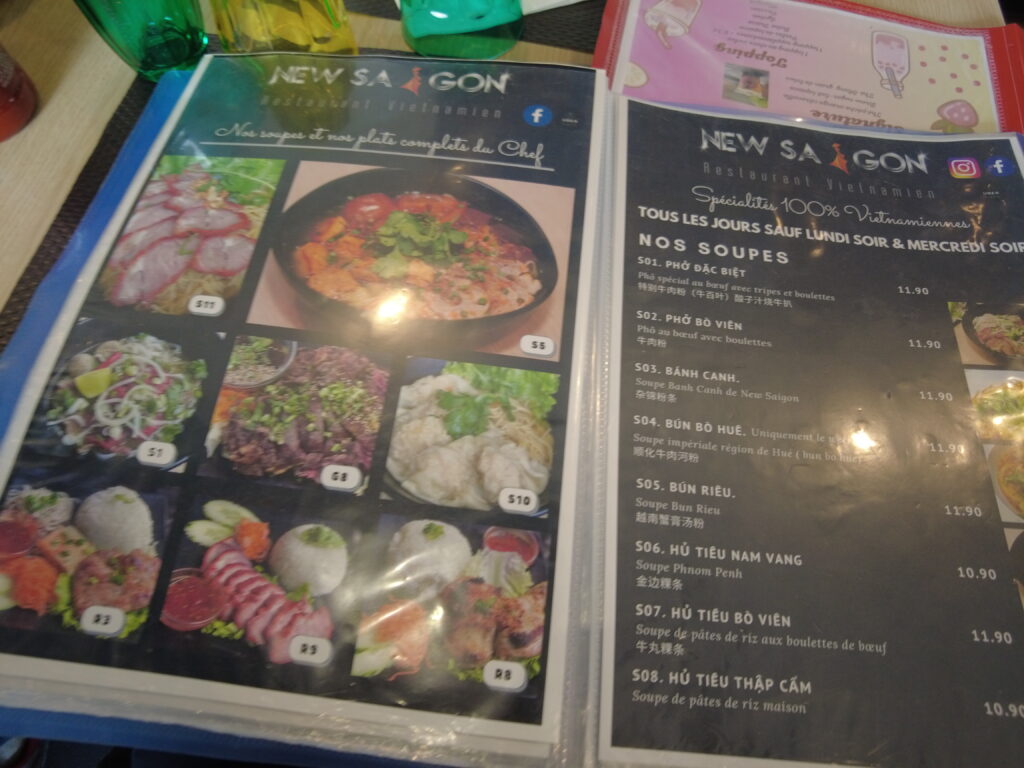 There are obviously the traditional soup such as Pho Dac Biet, Bun Bo Hue, Hu Tieu Nam Vang and Bun Rieu. These are quite popular in Vietnamese restaurants in France.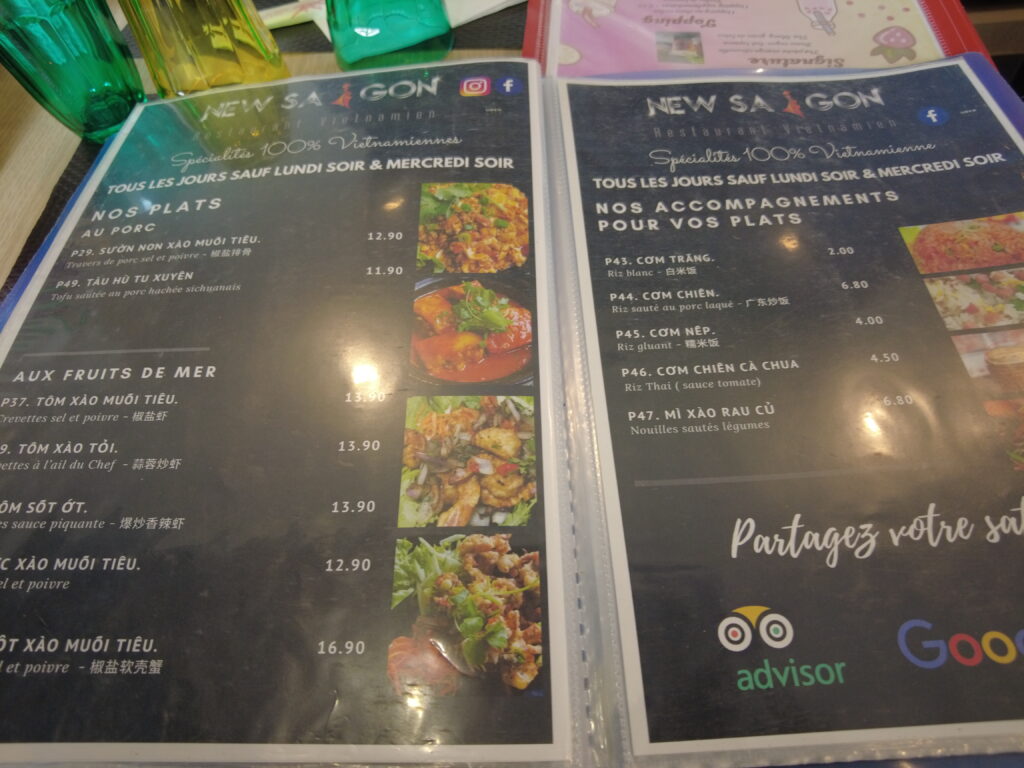 They also are offering some sea food options and some side dishes. These are more like starters to share than real dishes to be fair.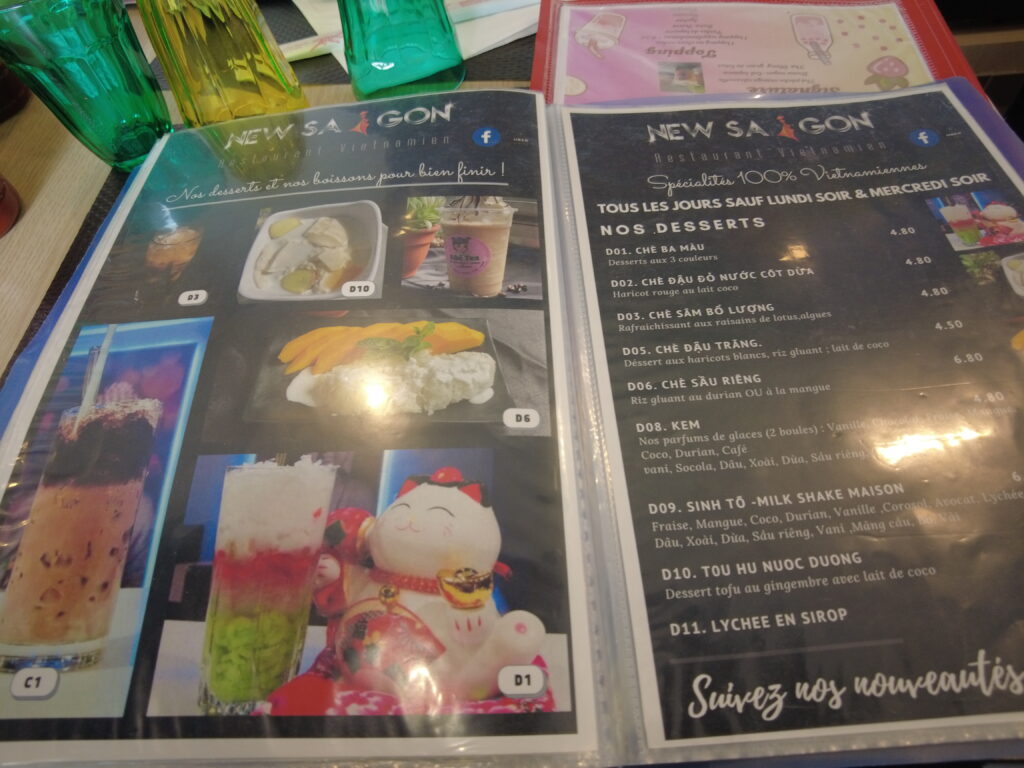 There are tons of drinks in this restaurant, which also serves as a Tea Room. You'll drink drinks such as iced coffee with condensed milk and three colors. Some milkshakes and other Che.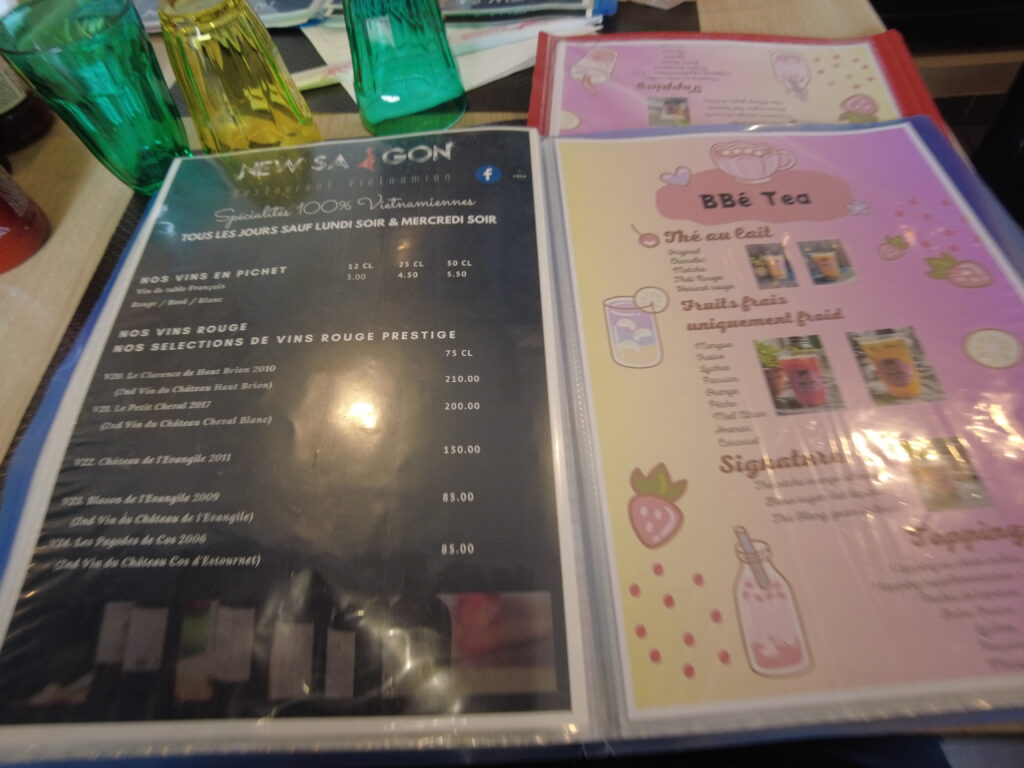 They also offer, like most restaurants in France, some wine, and this particular place also does some bubble tea. It's nice to know because sometimes you want to get one of these in the afternoon.
The experience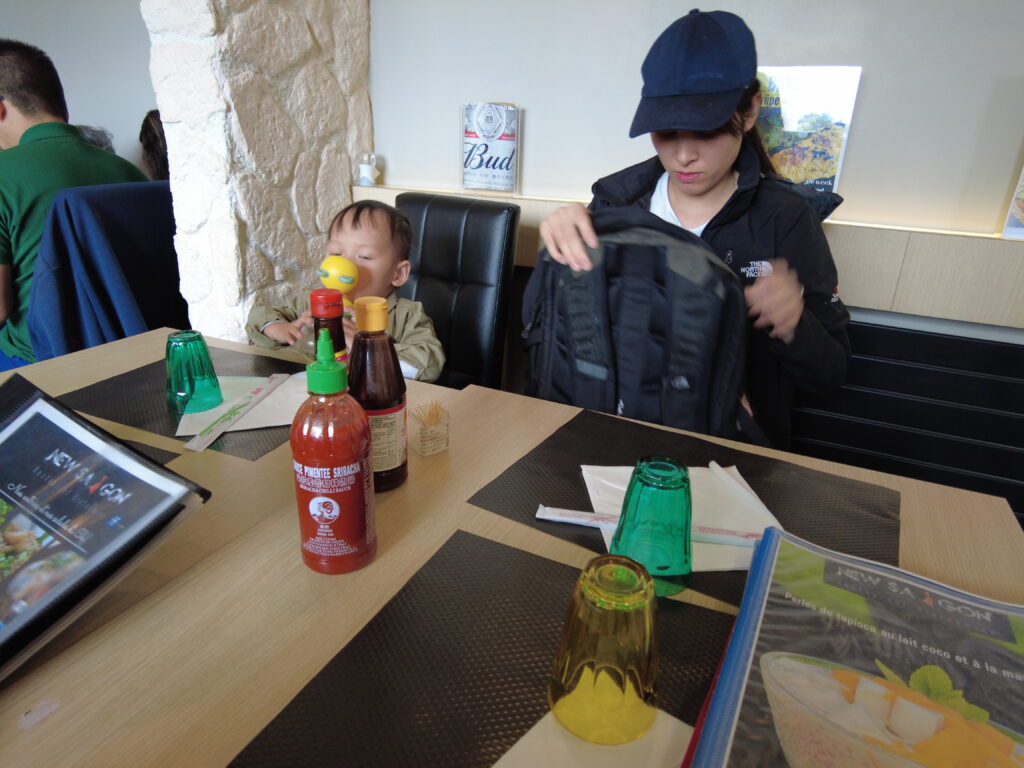 The restaurant was quite full of people. The waiter was a man I knew; he was working in New Saveur d'Asie and is now working here.
This space reminds me of restaurants in cities like Paris; it's a bit cramped, but the configuration is designed so it's still comfortable inside.
As a starter, we ordered Banh Tom. This is a dish I first tried in Tay Ho, Hanoi. I have to say that these were pretty decent. They were much bigger and in a slightly different style. For example, they had large fried sweet potato chips protruding out of the cake.
Overall, it tasted great but was slightly overcooked or overly crispy. But the flavors were strong, and the nuoc mam sauce was pretty good.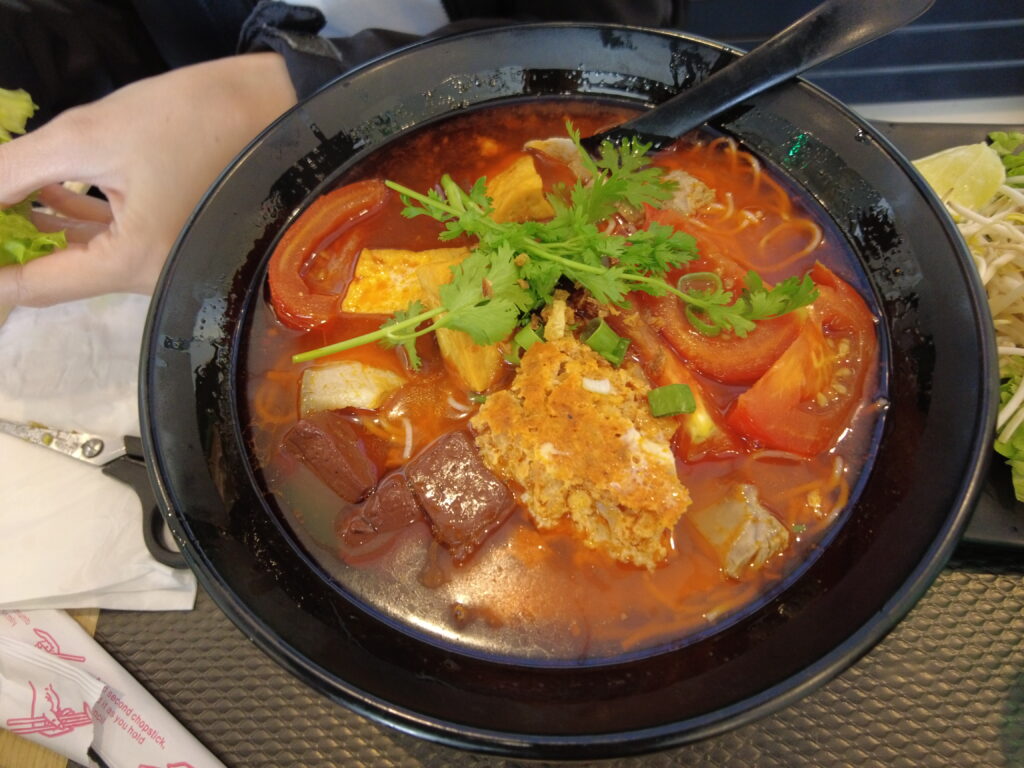 My wife ordered a Bun Rieu, and she thought it was far from the best Bun Rieu she tried. I tried her broth, and it was all right. But since her mom can make this dish, perhaps the taste is very different from what she is used to.
I've ordered a Banh xeo; my wife and I argued about whether this was a main dish or just a starter. Having gone to Can Tho in a famous restaurant, for me, this is a real dish.
The Banh xeo was crispy—perhaps too much. I think they were trying to do the northern style of banh xeo, which is basically deep-fried. It's more greasy than even French fries.
I think the best is obviously the one I've tried in Can Tho, but I have to say that even the one my parents make at home is way better overall.
Here, there's no ground pork but rather some pork breast sliced and stuck to the inside of the crepe. Inside the crepe, there's basically nothing but bean sprouts and some shrimp here and there.
Overall, it's definitely not the best banh xeo I've tried.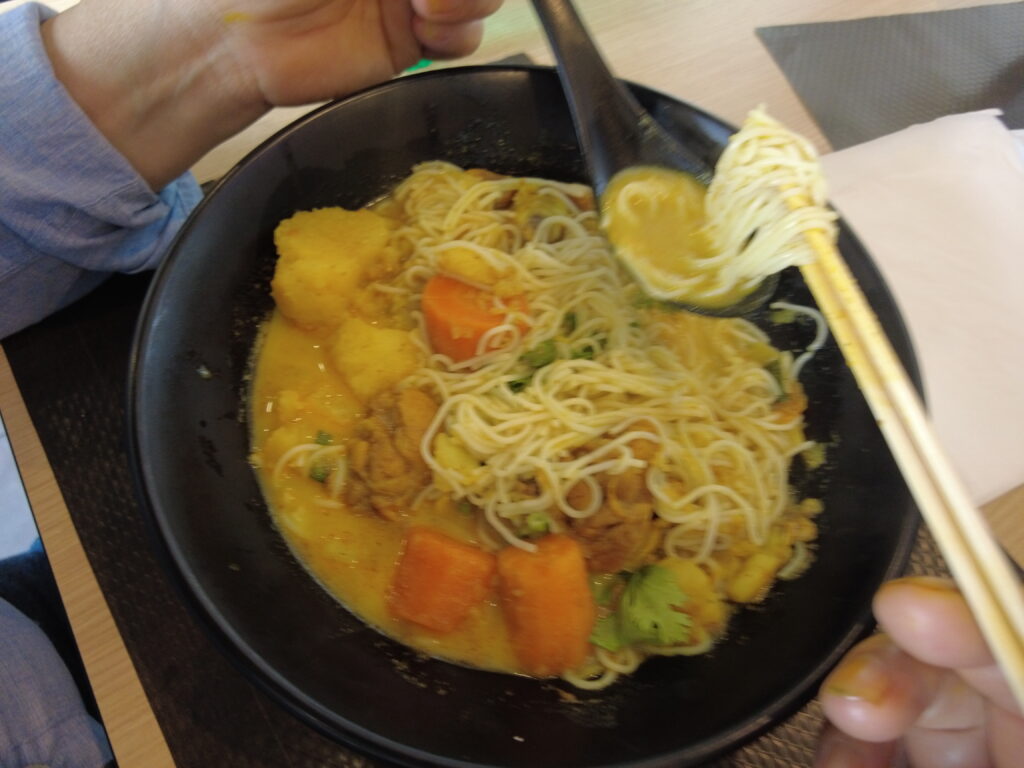 My dad ordered a bun with Curry and Chicken and seemed mildly pleased with it.
Verdict
7.8 out of 10.
This restaurant has a great location. It's central to the city, it's new, and it looks good. They are also doing a tea room and selling bubble tea, which is quite interesting.
New Saigon offers an interesting list of dishes on its menu. Some you can't find in other places. Unfortunately, the food doesn't live up to the decoration, in my opinion.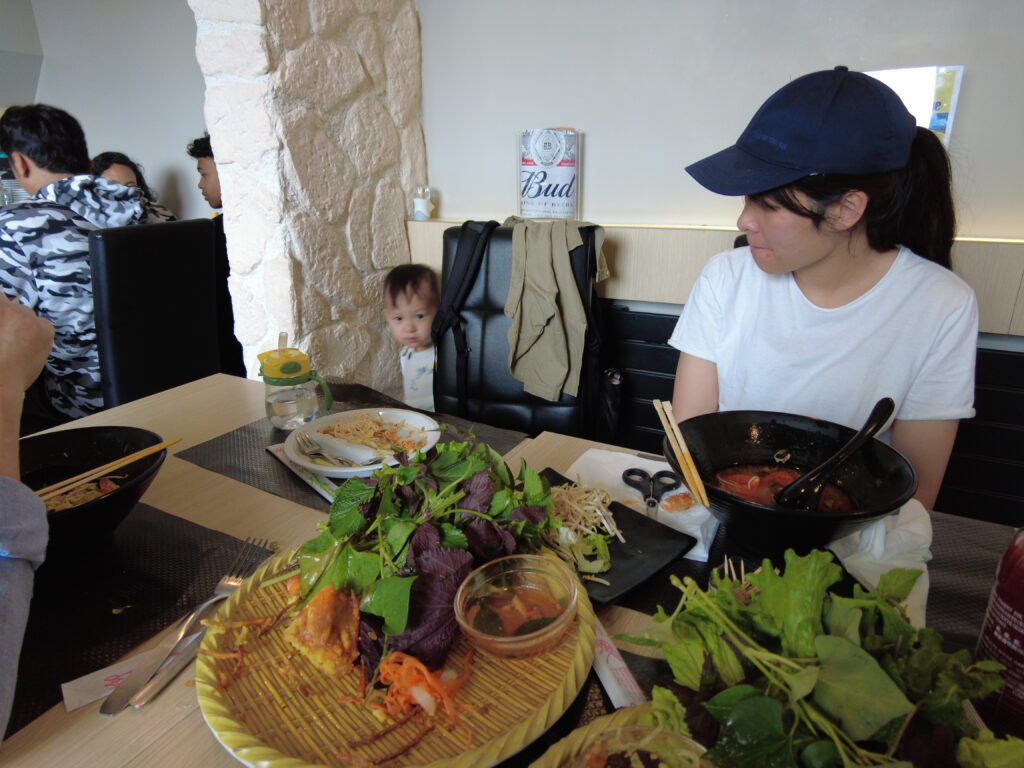 You see on TV Vietnamese Street Cuisine and think you are in for a trip, but in the end, those dishes are not as good as what you would experience in Vietnam.
To be honest, even at home, I believe you could do better. Perhaps you should try to form your own opinion by trying it out.
Informations
New Saigon
Address : 13 Rue Nicolas Appert, 77185 Lognes
Téléphone : 01 60 17 88 03
Website : https://www.newsaigon-lognes.fr
Facebook : https://www.facebook.com/profile.php?id=100057415272460