Summer has officially begun in France as of June 21. This means it's the season for pool parties and barbecues. Each year, whether it's in Vietnam or France, I buy an inexpensive barbecue grill for my family to enjoy the pleasures of summer.
This year was no different; the only change was that I wanted to try a barbecue that could close so I could cook a steak until it was perfectly medium rare.
I missed the special offer in Lidl offering a barbecue grill of this sort for 30 euros, so I had to instead go to Carrefour to see what they had in stock.
The different types of barbecue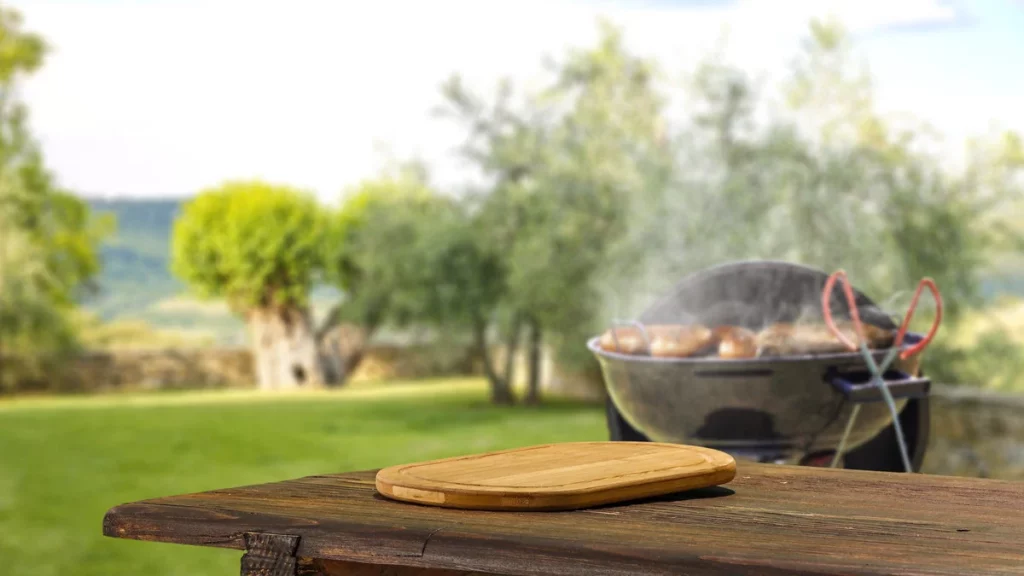 Basically, there are two big families of barbecue grills. The gas grill, which my dad already owns but is missing, and the charcoal barbecue
I won't go into detail about why charcoal tastes better than gas grills, but as a short answer, the head is stronger and the wood gives a taste to the food.
As a meat lover, especially beef, there's nothing better than a charcoal-grilled steak. But each system, as you will see, has its own pros and cons. We will leave out electric barbecues, as they are not up to par when it comes to generating heat.
Pros and cons of gas grills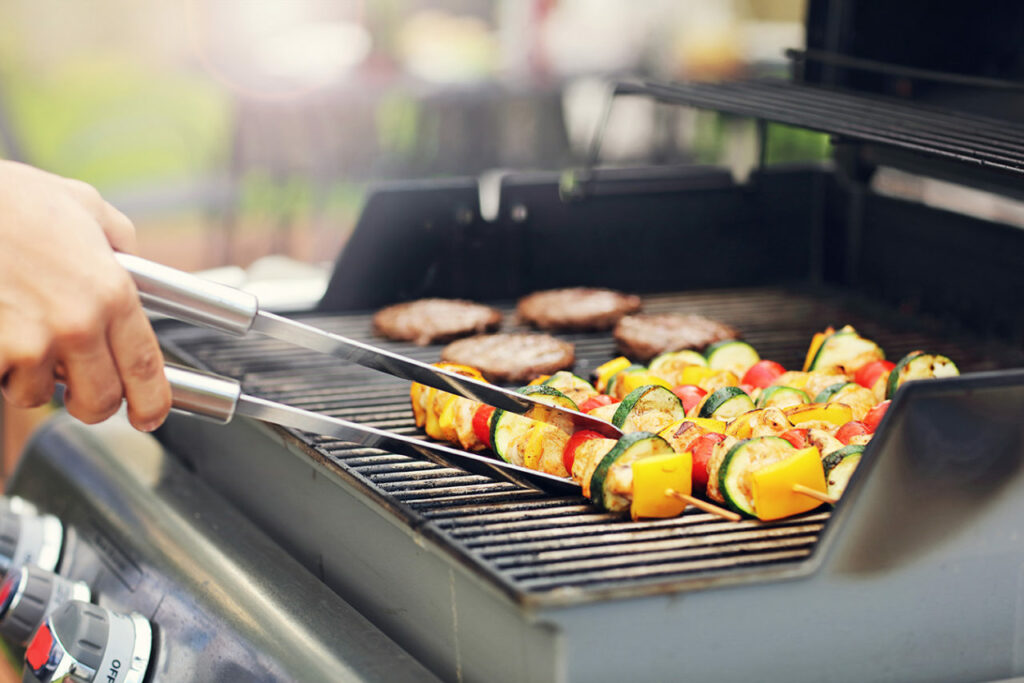 Pros
Gas grills are the best for a quick grill session where you don't want to hassle with buying some charcoal, lighting it on fire, and then cleaning it afterward.
Cons
On the other hand, these types of grills don't really taste better than searing your steak on the stove. Except for the fat dripping away from the meat and the heat perhaps achieving a higher temperature,
Pros and cons of charcoal grills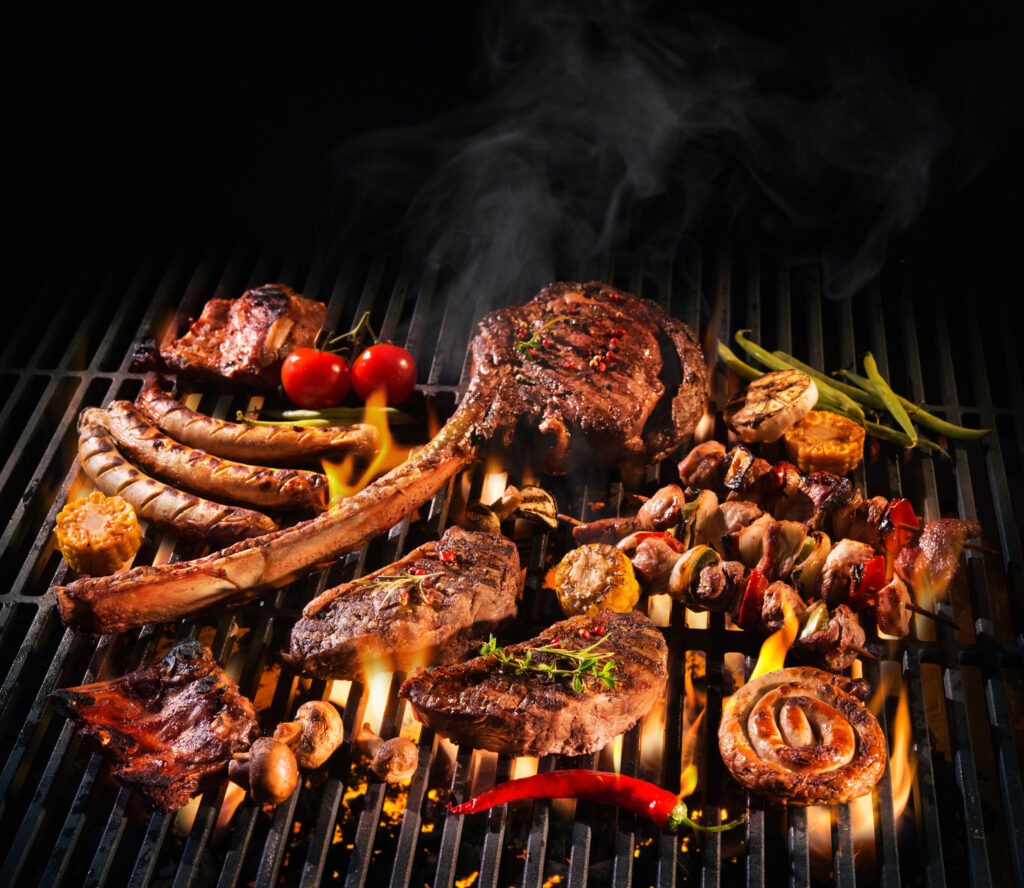 Pros
Charcoal grills taste the best; you can even change the taste of meat using different charcoal. In some barbecues like this Hyba K55, you can even induce indirect heat and smoke your food.
Cons
Charcoal grills are a bit annoying to light if you don't have the proper tools. They are also a bit annoying to clean if you don't have the proper barbecue. Thankfully, this Hyba K55 actually has a tray to retrieve all the ashes.
What are the different brands of grill ?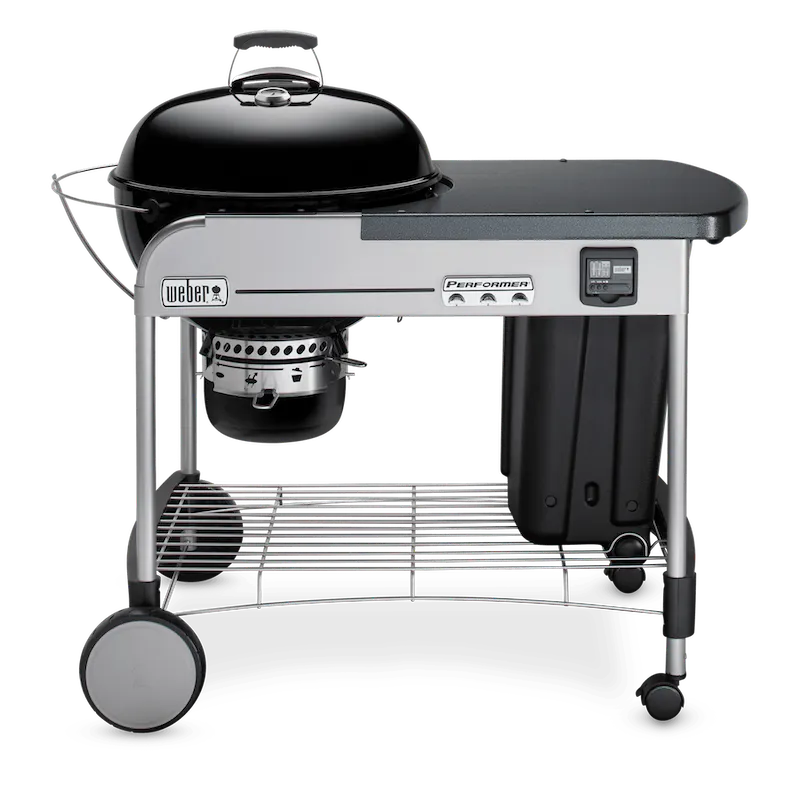 I think there must be an infinite number of brands, especially worldwide. But one in particular has pretty strong branding: Weber.
These are considered high-end grills and are more expensive than the competitors counterparts. But at the same time, they seem to be extremely ergonomic and well built.
Hyba, on the other hand, is an inexpensive charcoal grill. It cost me 89 euros with a 50% discount. The equivalent for a Weber starts at 549 euros, which is still a good value. For this price, you'll obviously have much better materials, engineering, and durability.
To give you an example, Weber barbecues actually have a system to move the top around without having to carry it.
The Hyba K55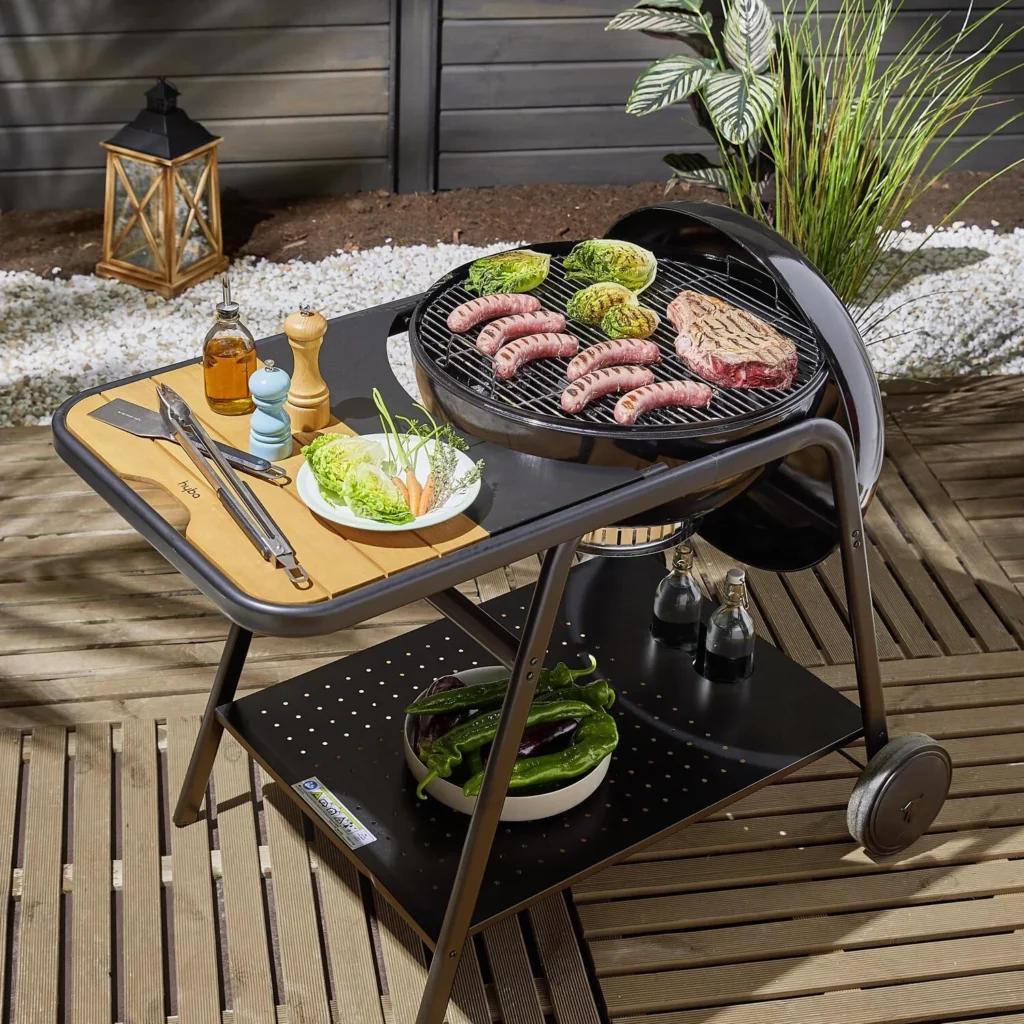 This is basically a brandless Barbecue sold in large quantities and manufactured in China. This is the only way it can be that cheap. So keep this in mind when reading this review.
A very large barbecue grill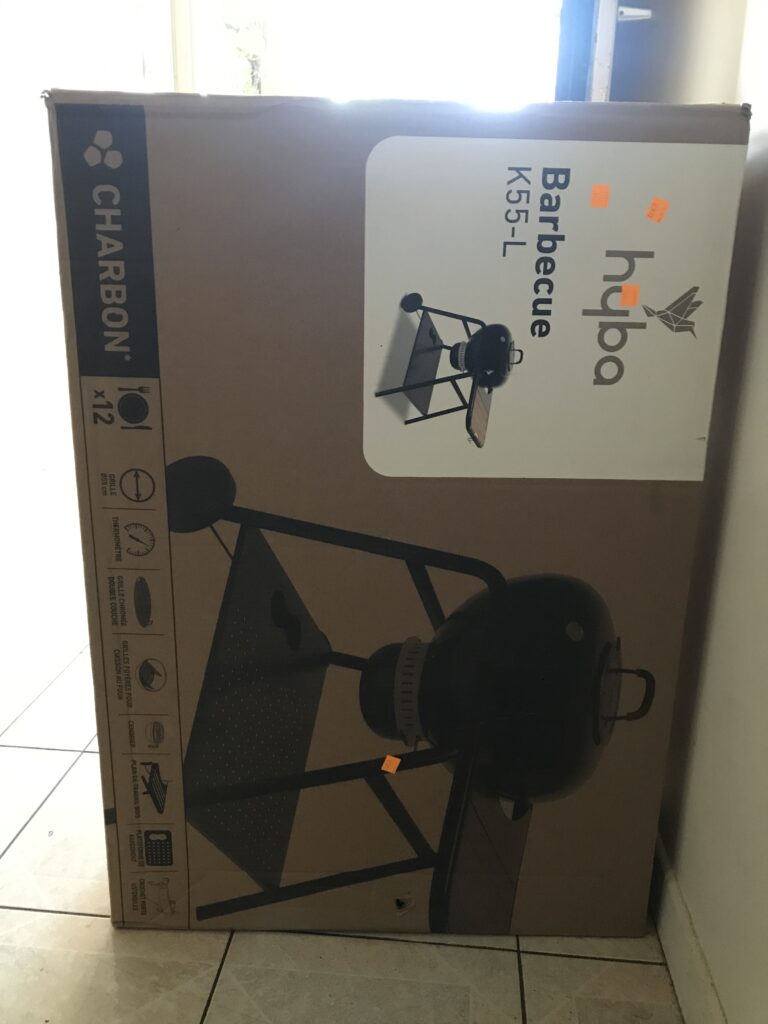 The barbecue is quite large; it's so large that I actually had to hang it on the roof of the car to bring it to my father's place.
But I think the bowl of the barbecue is even bigger than the size of the box would suggest. It's so big that everyone here thought it was overkill.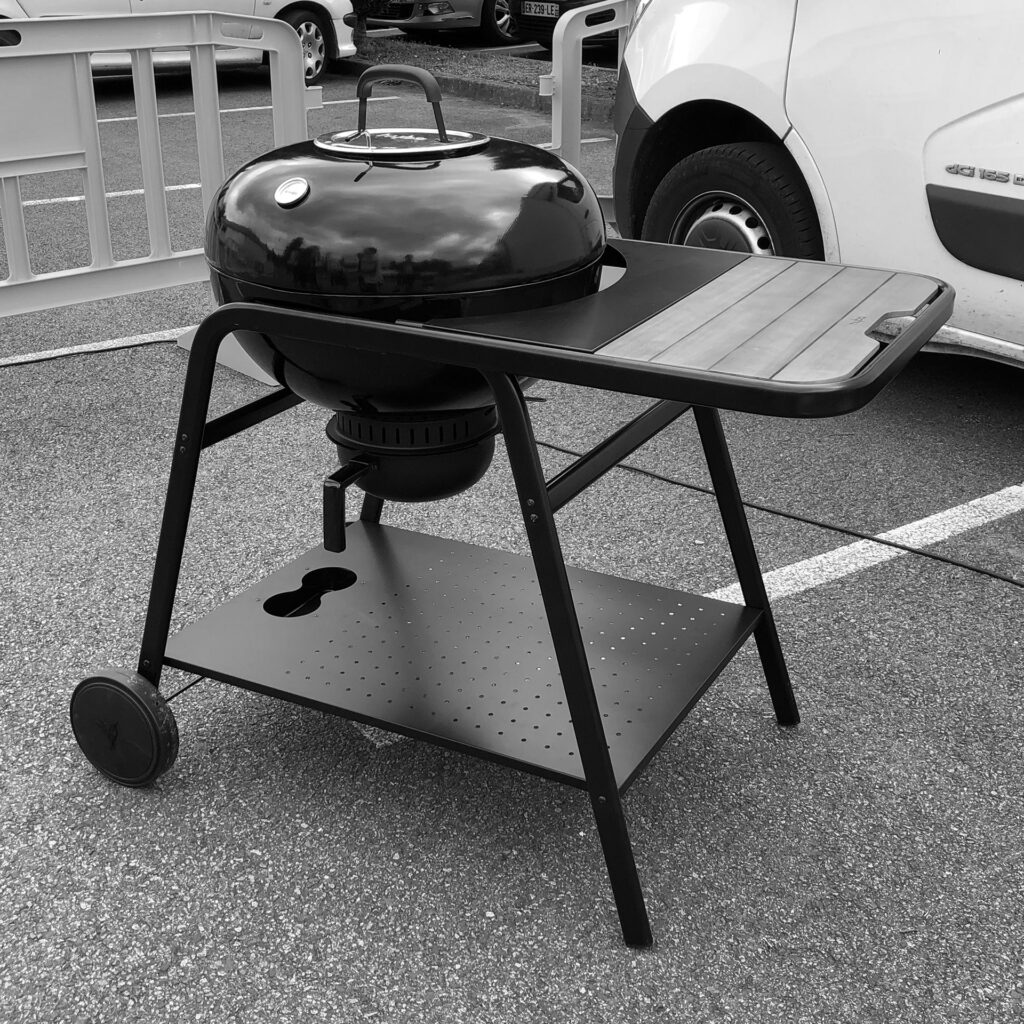 A very long assembly
You can basically see, thanks to this picture, the size of the barbecue relative to a car. It's basically much bigger than a regular car's wheel.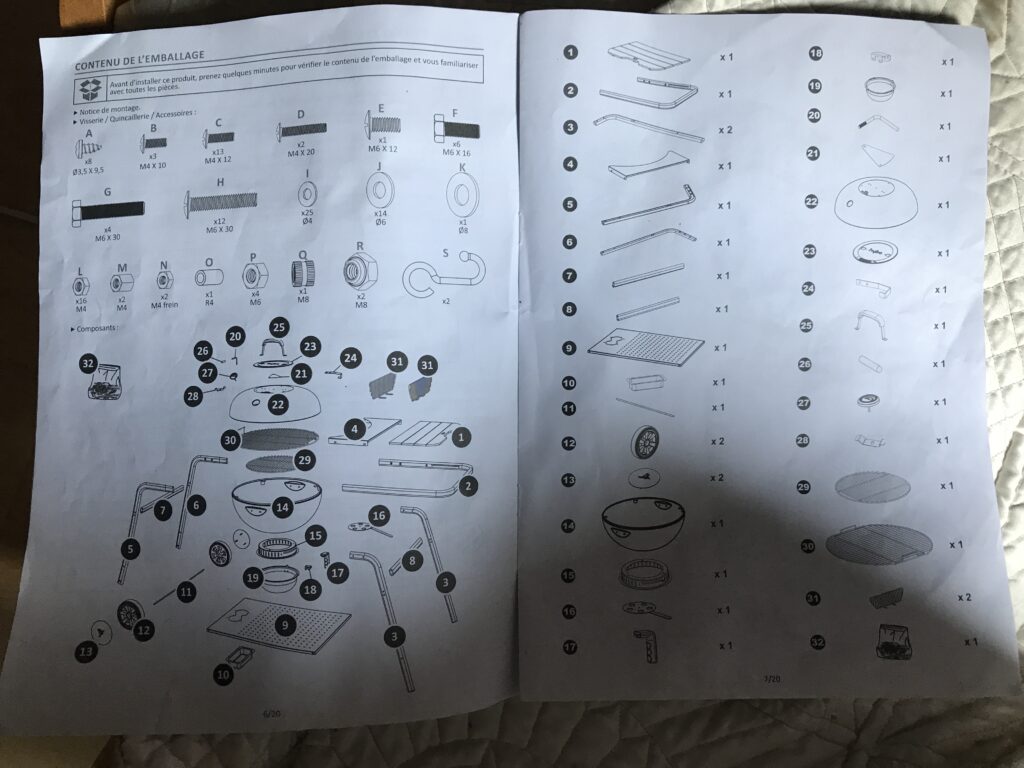 When we opened the package, we were surprised by the complexity of the assembly and the number of different pieces needed to put it together.
We genuinely thought it would take as long to assemble as Ikea furniture. We were expecting 30 minutes to build it, but it ended up taking a whopping estimated 1 hour and a half.
I think we started the assembly at 6 p.m. and finished around 9 p.m. I honestly feel like they could have done a better job of making the assembly simpler. For example, there are a bunch of different sizes for the screw, but the results would have been the same if most of the screws were the same size.
Also, to assemble it, you need at least two people; having a couple of reliable tools would help for sure.
The features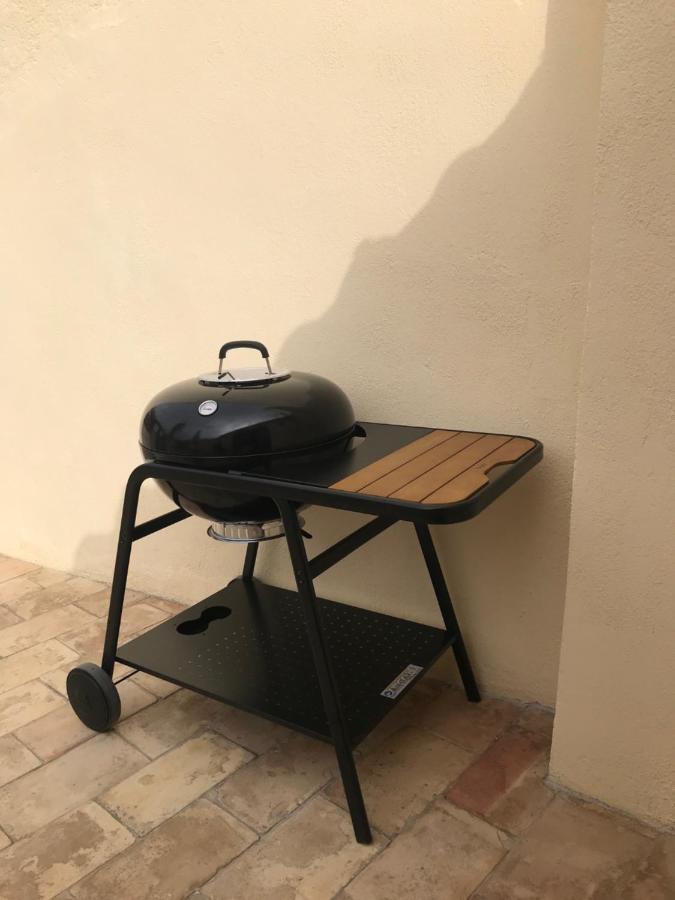 The Hyba K55 have several interesting features :
A closable kettle style grill
A removable ash tray
An integrated thermometer
A work plan
Two vents on top and bottom
The build quality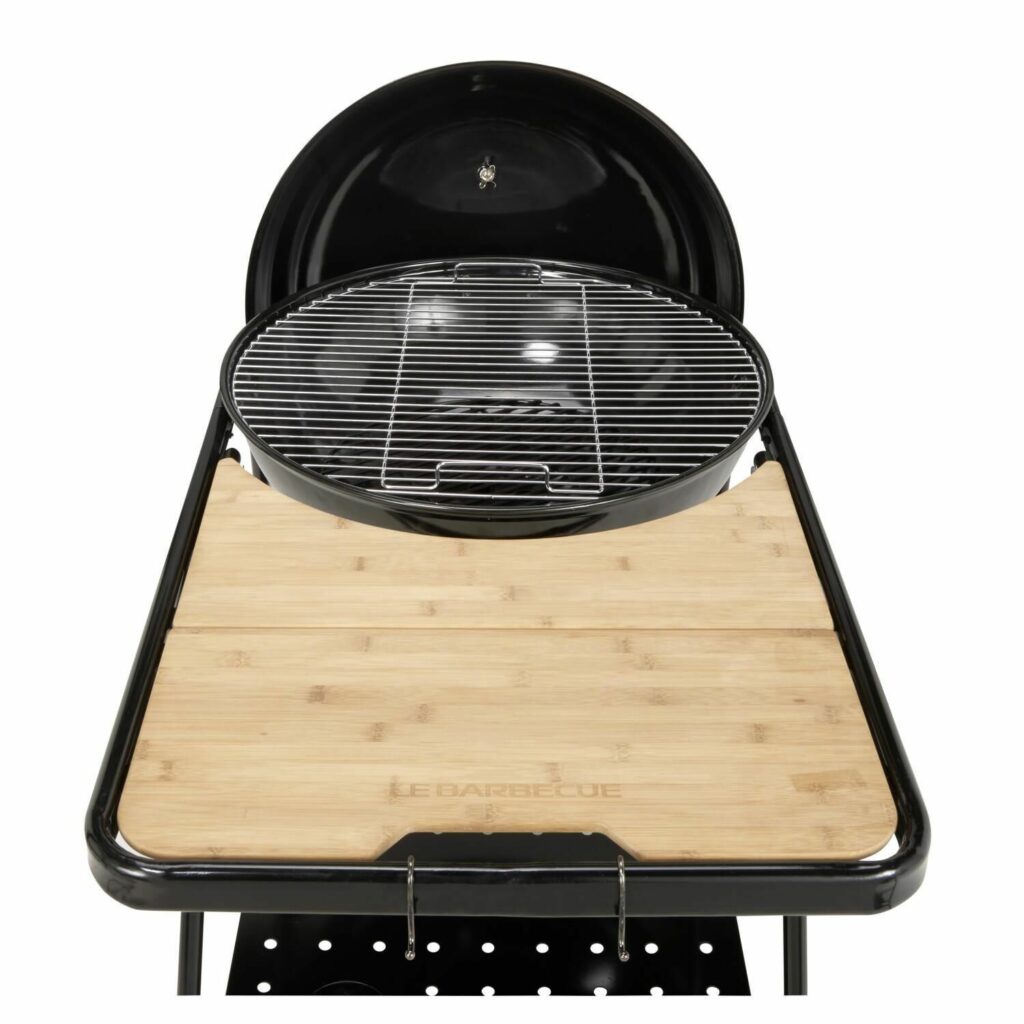 This barbecue is neither high-end nor extremely cheap. It's pretty heavy and has quite a big chunk of metal.
The holes to put the screws in were not that precise, but still precise enough for the barbecue to be assembled as it should be.
The ergonomics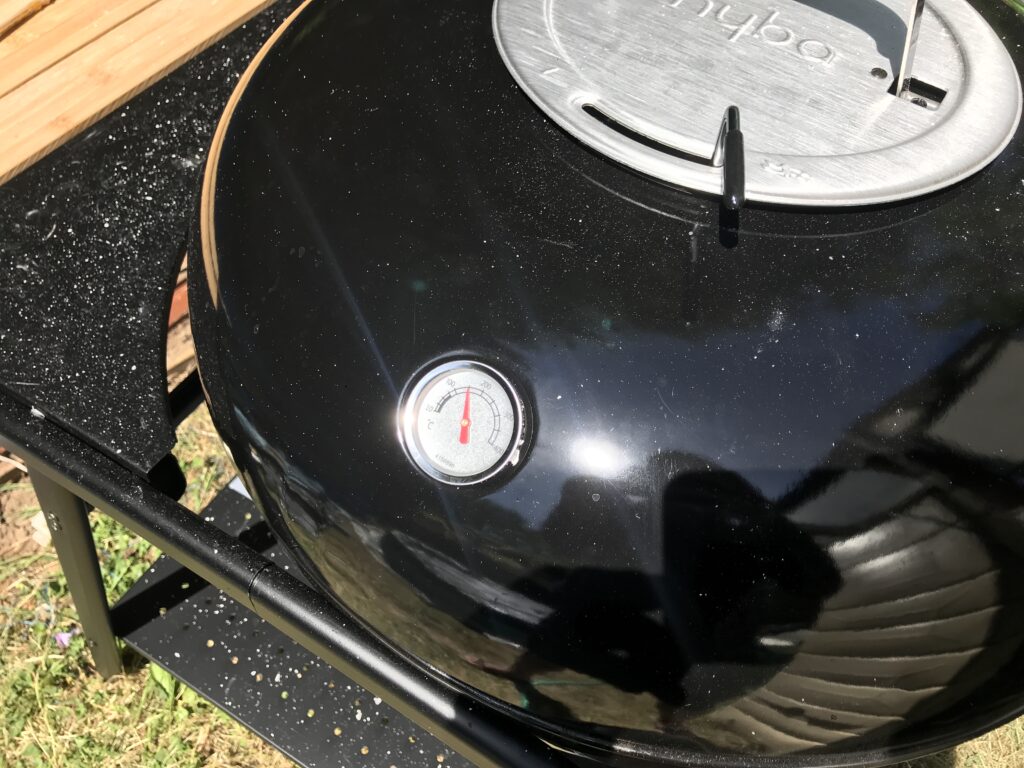 Barbecue grills are not a new invention, so even cheap ones are pretty well designed by now. The ergonomics of this barbecue are quite classic.
Note that there is no system for the top cover to slide around on the side. Instead, you have to carry it and hang it on the side.
A handy thermometer should be placed on the top cover. I think this was the main feature I was looking for as a meat lover: you need to first sear the meat before cooking it at a lower temperature.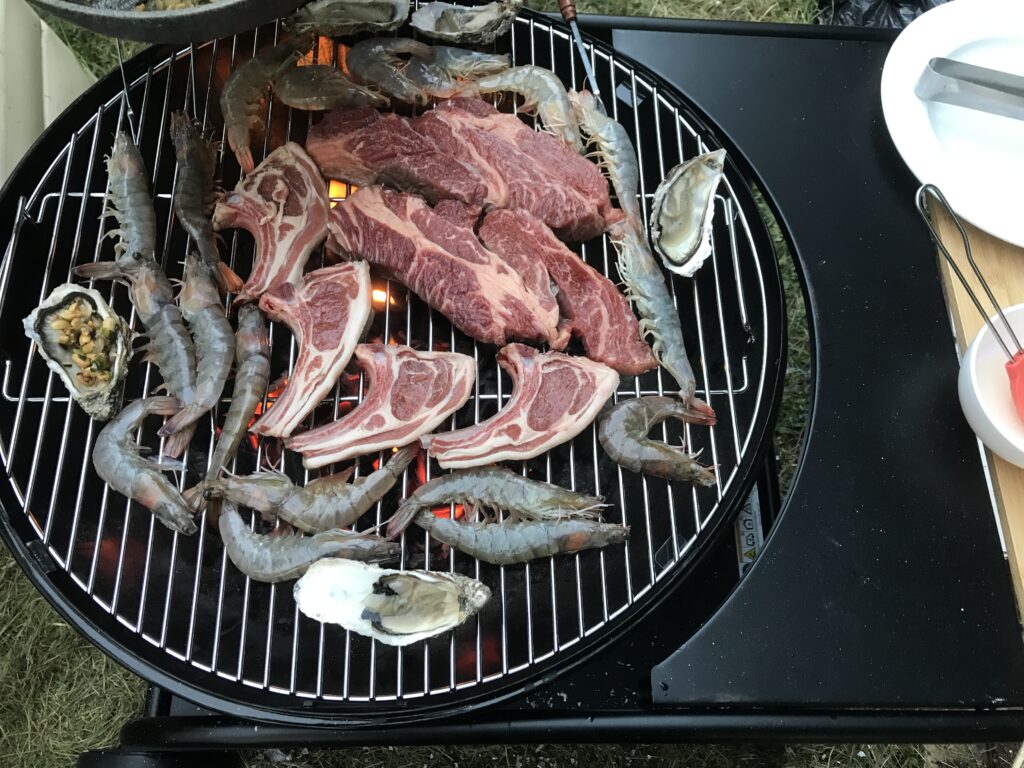 There are also two vents that will dictate how much oxygen gets into the grill when closed. This is especially important if you want to set your temperature with precision.
The barbecue is quite large, but that's actually a good thing since it really takes a long time to cook food when you don't have plenty of space on the grill. We were able to cook all of our food in two sessions.
One other pro about having a large barbecue is that you can use half of it to sear and another half without charcoal to slow cook your food.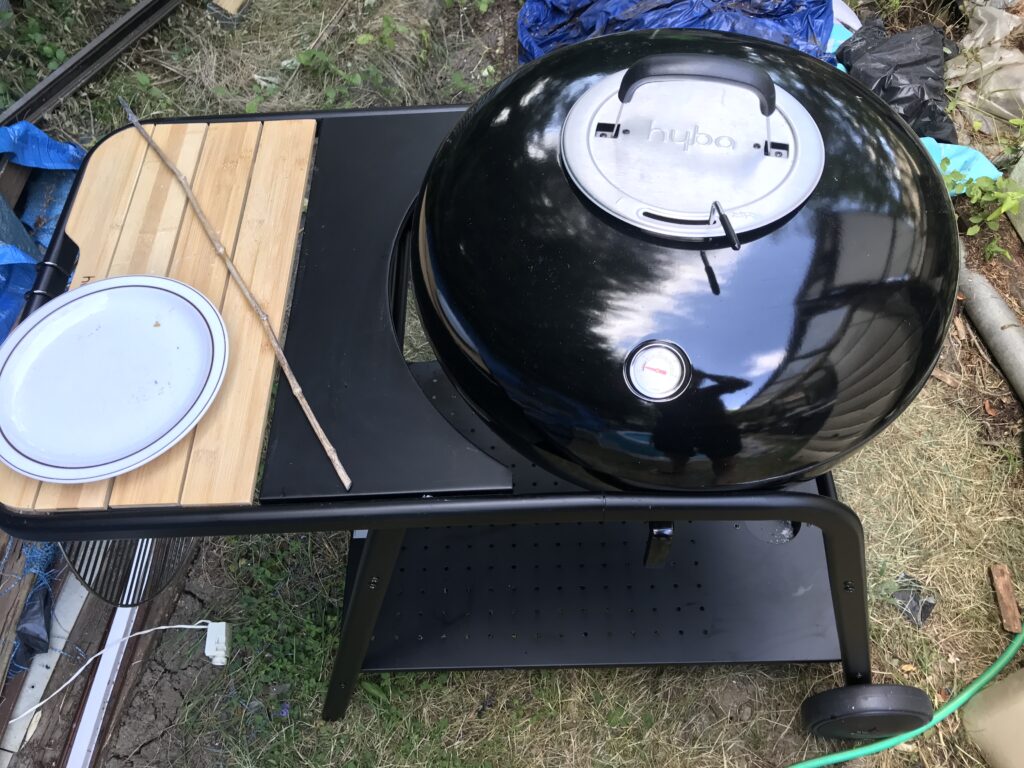 The work plan is not as big as the Weber Performer Premium, but it is still handy. I actually feel like unless you already have a work plan nearby, it's much better to spend a bit more money to have the integrated space to put the food on the grill and retrieve it.
The taste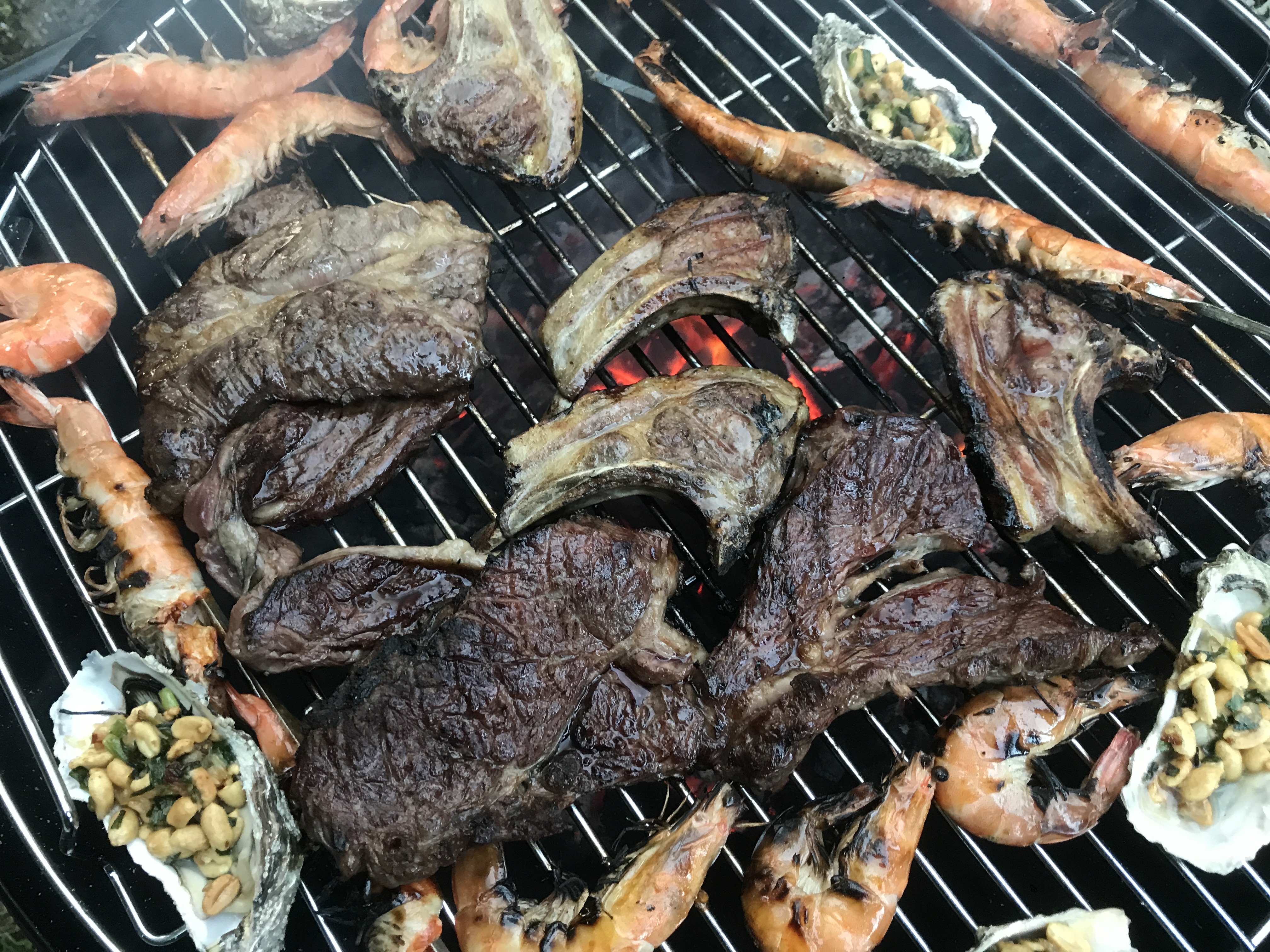 Outside of the assembly, this barbecue was a breeze to use. The meat came out quite perfectly. Still pink inside but seared and smokey on the outside.
The oysters were delicious as well, and they were boiling so much faster than on the electric barbecue. We didn't need to close the grill because the fat of the meat was creating some pretty strong flames.
I think we still need to learn how to properly lid and manage the heat of this barbecue. Once we do, barbecue grills won't be a secret for us anymore.
Verdict
8.2 out of 10.
Overall, this barbecue is a good deal; at 89 euros, you can't really find better. Perhaps you could find something smaller or cheaper. But if you are looking for something to accommodate a lunch or dinner of 8 to 10 people, this size is a must.
That's what barbecue grills are all about—hanging out in the garden to eat some delicious food. It just happened that this deal was going on in the summer.
We are actually lucky that those kinds of products are made in China and available in France at these prices.
You don't need more than this to cook your food perfectly over the grill. You'll just need to put the time and effort into the assembly, and once you're done, this grill will serve you well for many years to come.
Informations
Hyba K55
Website : https://www.carrefour.fr/p/barbecue-charbon-k55-hyba-3615005729206