Saigon Bonjour is a Vietnamese restaurant located in Noisy-le-Grand, France. It's one of my favorite restaurants when it comes to Vietnamese cuisine.
We'll see in this article why you should definitely go and try their food if you live in this area and are a big fan of Pho.
The location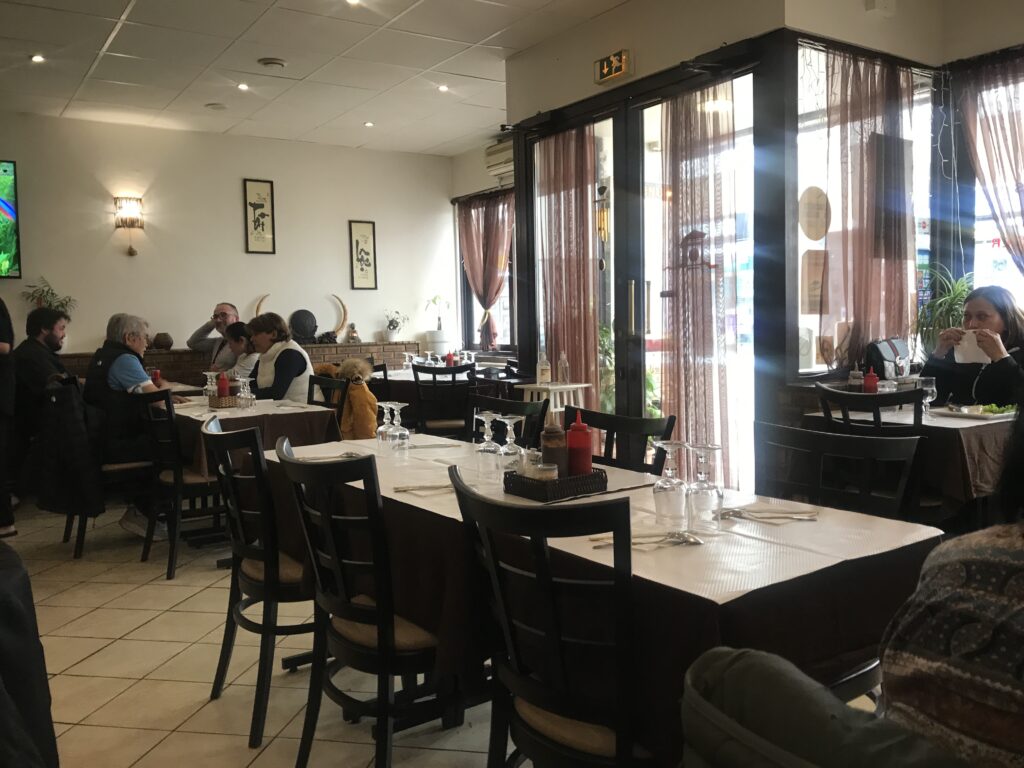 Saigon Bonjour is located in Noisy-le-Grand, but technically it's closer to Champs-sur-Marne; it's actually so close that you have to go down to the Noisy-Champs RER Station if you are not driving.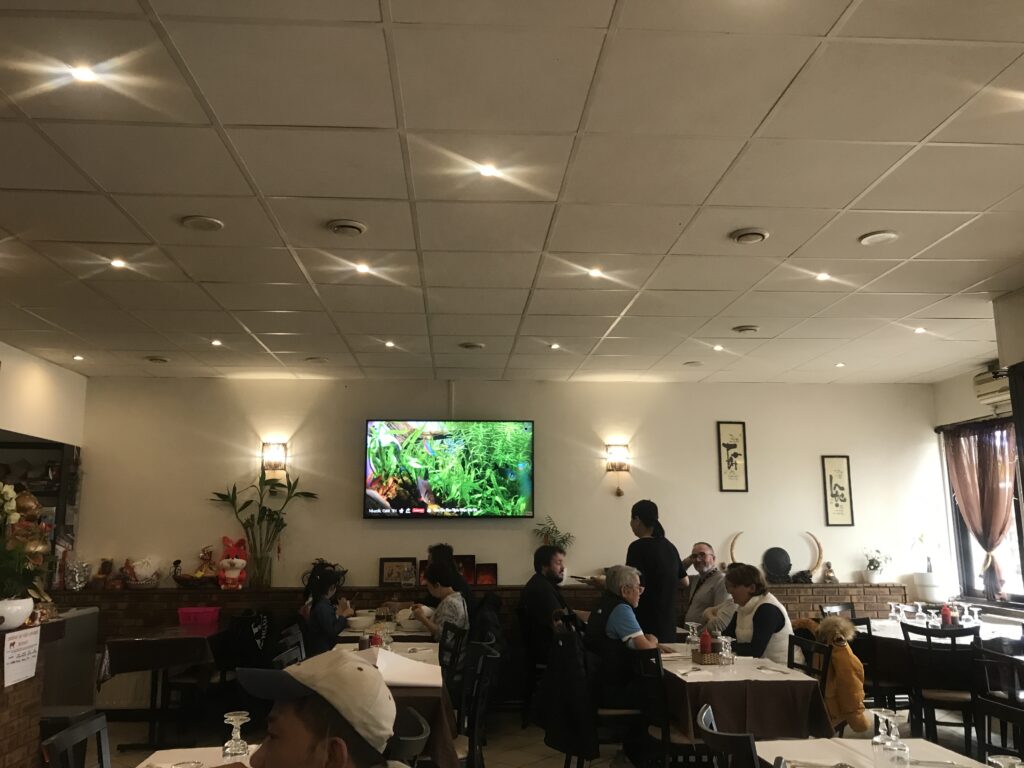 Now let's get the elephant out of the room: the restaurant is located in a hazardous area. By that, I mean that it's not a wealthy district, and you'll see on the street that people in these streets look quite suspicious. So we highly suggest you go to this restaurant during lunch and not dinner; this is for your own safety.
Other than that, the restaurant is quite big and comfy inside. It's again typical of Vietnamese restaurants when it comes to decoration. Meaning that it's been decorated with mostly imported Vietnamese decorations from Ben Thanh Market or some local Asian stores like Paris Store or Tang Frères.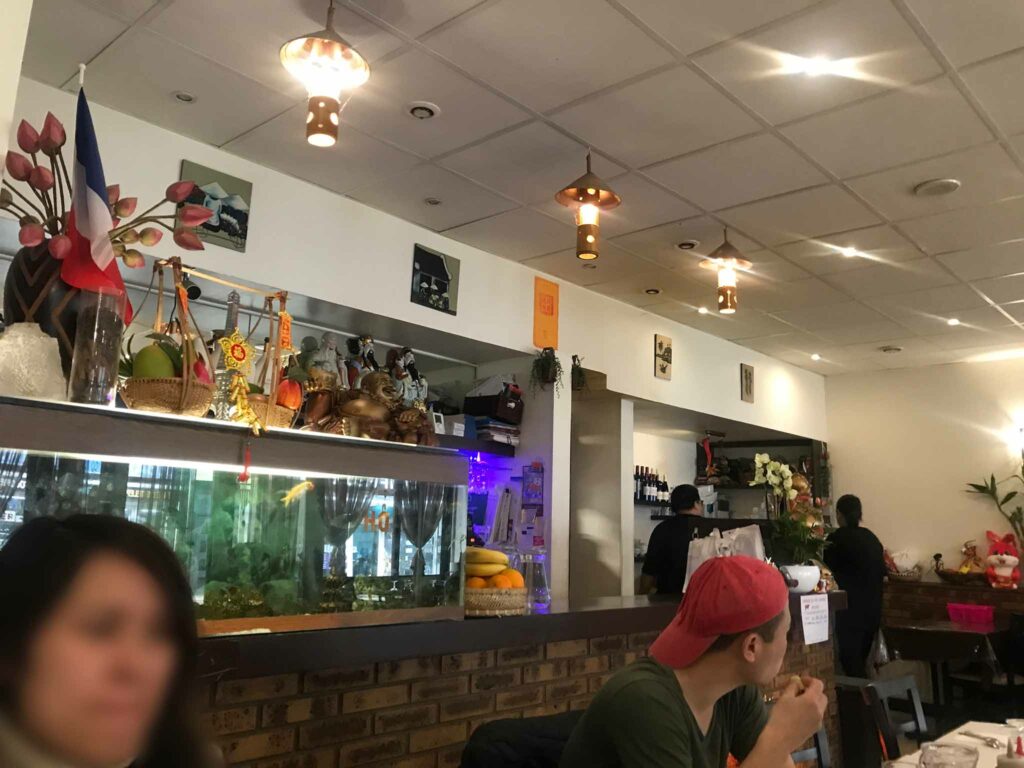 The restaurant is not high-end or modernly renovated like Pho Quynh in Lognes, but it's comfortable enough for this type of restaurant, and the food is all that matters at the end of the day. I personally find the lights and atmosphere to be warmer, just like in the South.
The Menu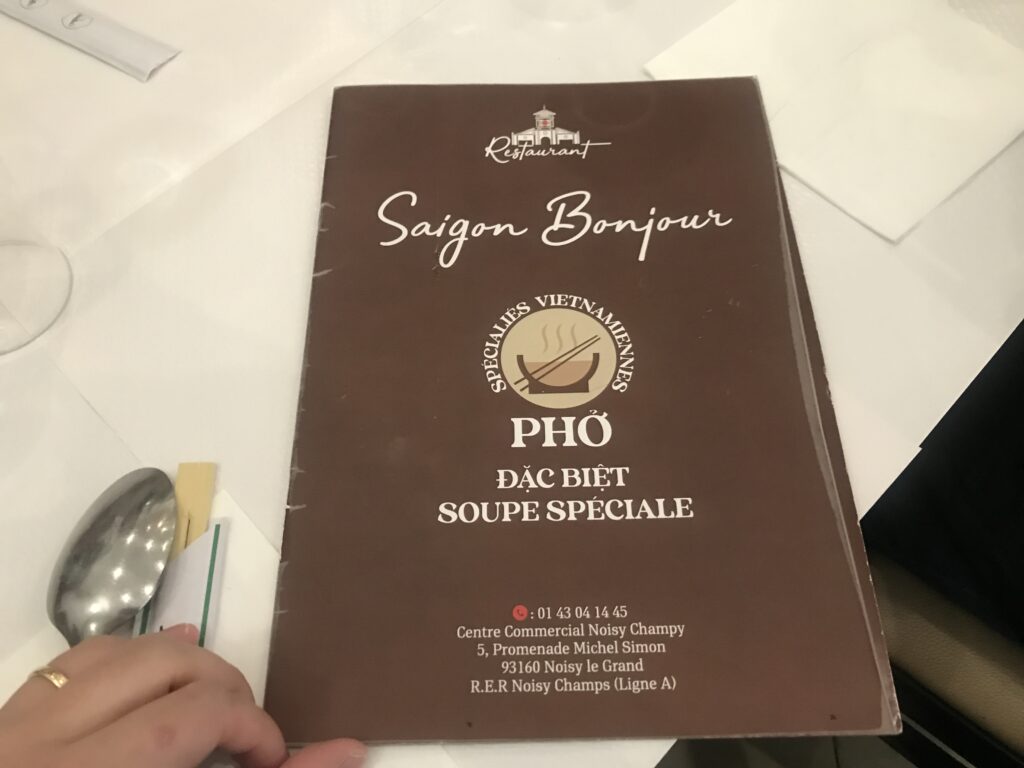 The Saigon Bonjour Menu is simple and efficient. Obviously, the main reason to come here is for the pho, not to say that other dishes aren't tasty as well. But it's the main specialty, and for us, it's the reason you should come here.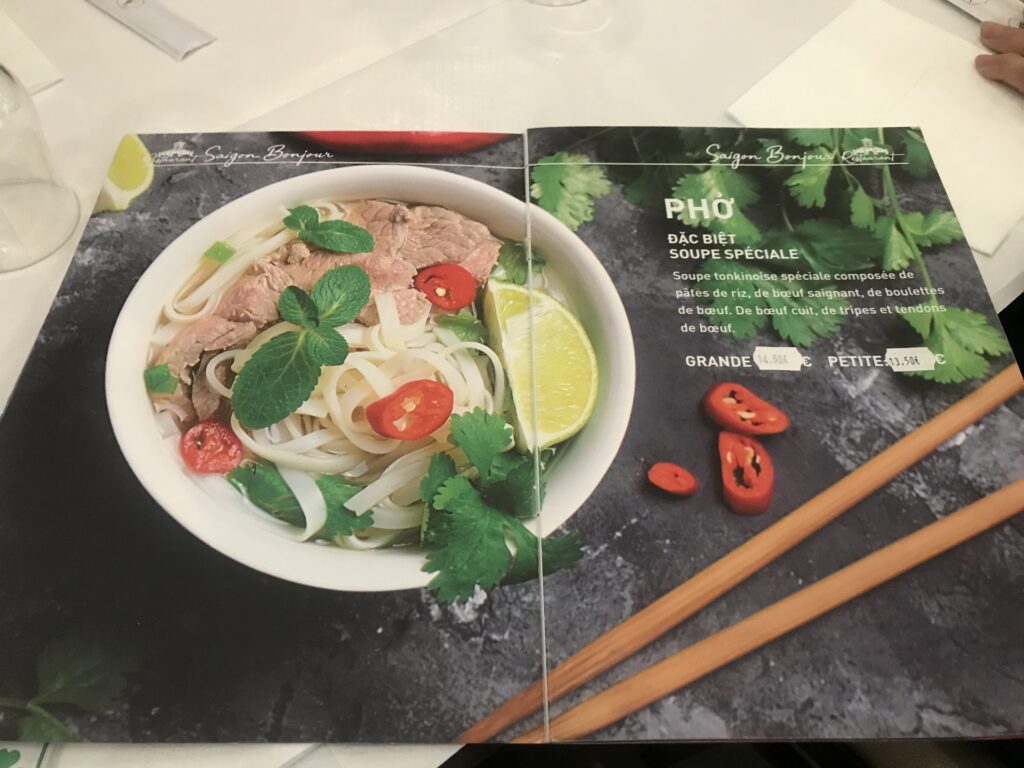 Here the Pho doesn't come cheap; this dish in France 3 years ago used to be priced around 12 euros perhaps. Now it's $14.50 for a big bowl. Asian food used to be very competitive compared to a 20-euro French bistro meal, but not any more. With an entree, a drink, and a main dish, you'll be well over 20 euros per person.
It's just the way things are; we must accept inflation, whether caused by COVID or politicians.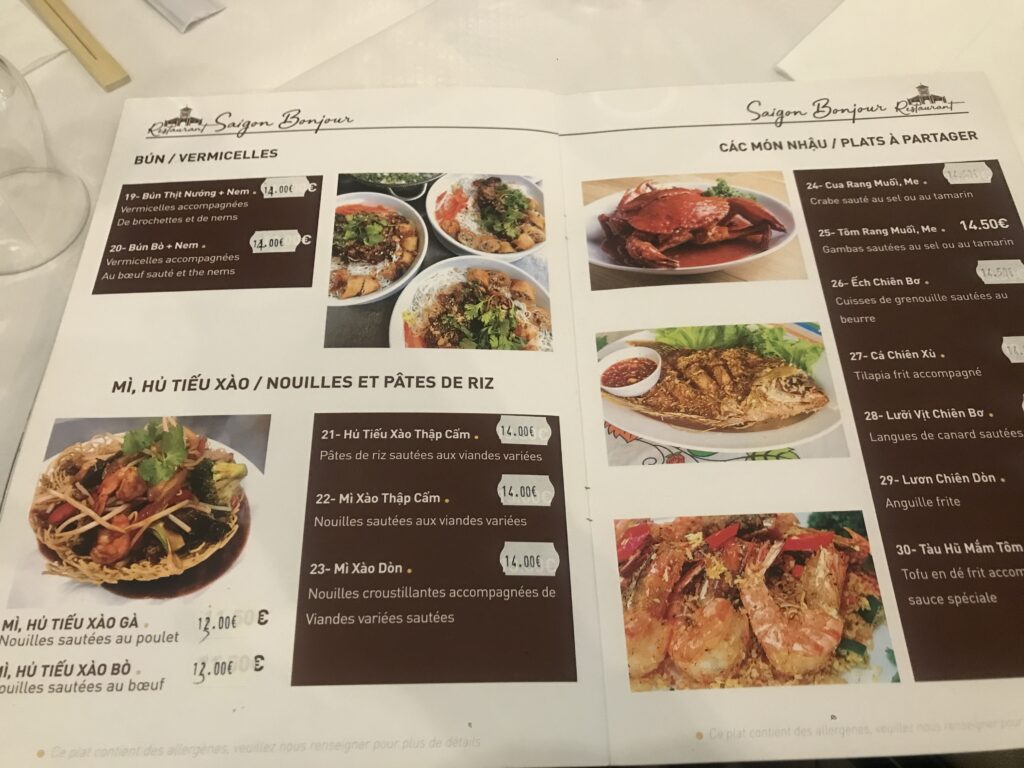 In a French-Vietnamese restaurant, you'll only find specialties. The most famous ones are Bun Bo Nem, Mi Xao Bo, Cua Rang Muoi, Ca Chien, etc.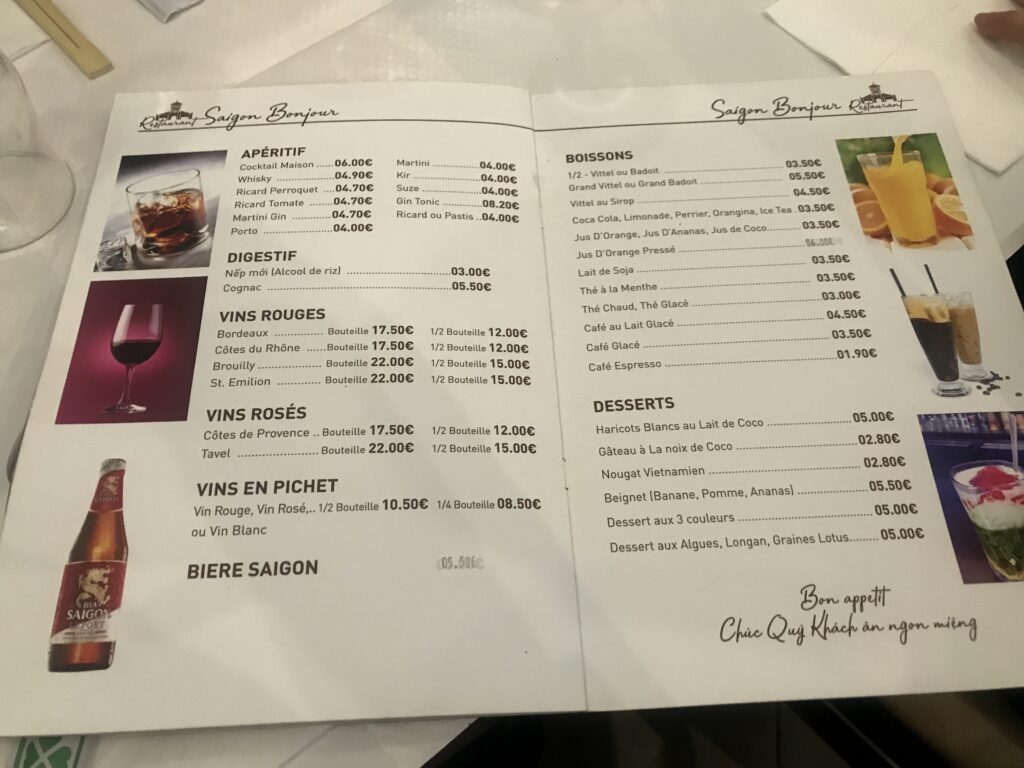 The drinks are quite classic as well. They have a card that both responds to French people with alcohol, notably wines, and also to Vietnamese people with some iced coffee or desserts such as three colors.
The experience and taste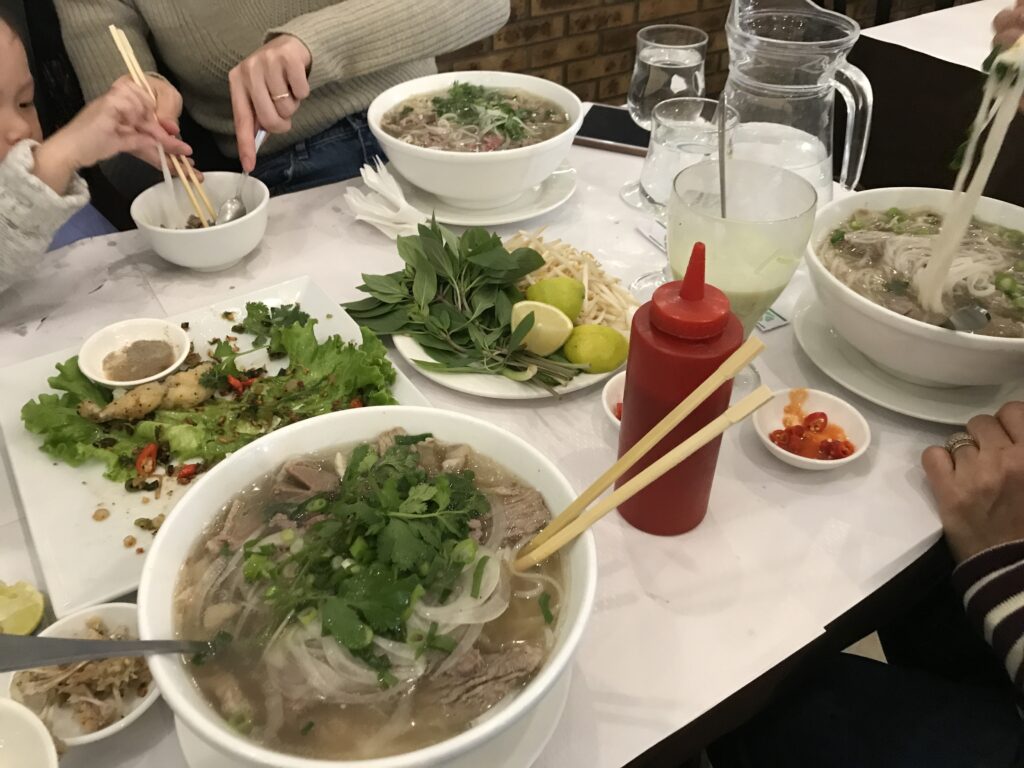 So the first thing to know is that my parents know the owner, not because they are their friends but because they are from the same circle of Vietnamese immigrants in France.
So basically there's some sort of informal customer relationship, which is more like being invited to their place somehow, even if it's also business at the end of the day.
All this to say that welcomes are warm and there is always a bit of discussion, like when friends catch each other on the street.
Now, when it comes to food, we know this restaurant well and have our favorites here. In this restaurant, we find the duck tongue and frog legs to be delicious.
The seasoning is what makes this dish so special. It's just shallots, garlic, red pepper, salt, and black pepper at the end, but trust me, this is so much better than in the other restaurants I've tried. It's strong, a tad spicy, and super crispy. It's perhaps my favorite entrance of all time.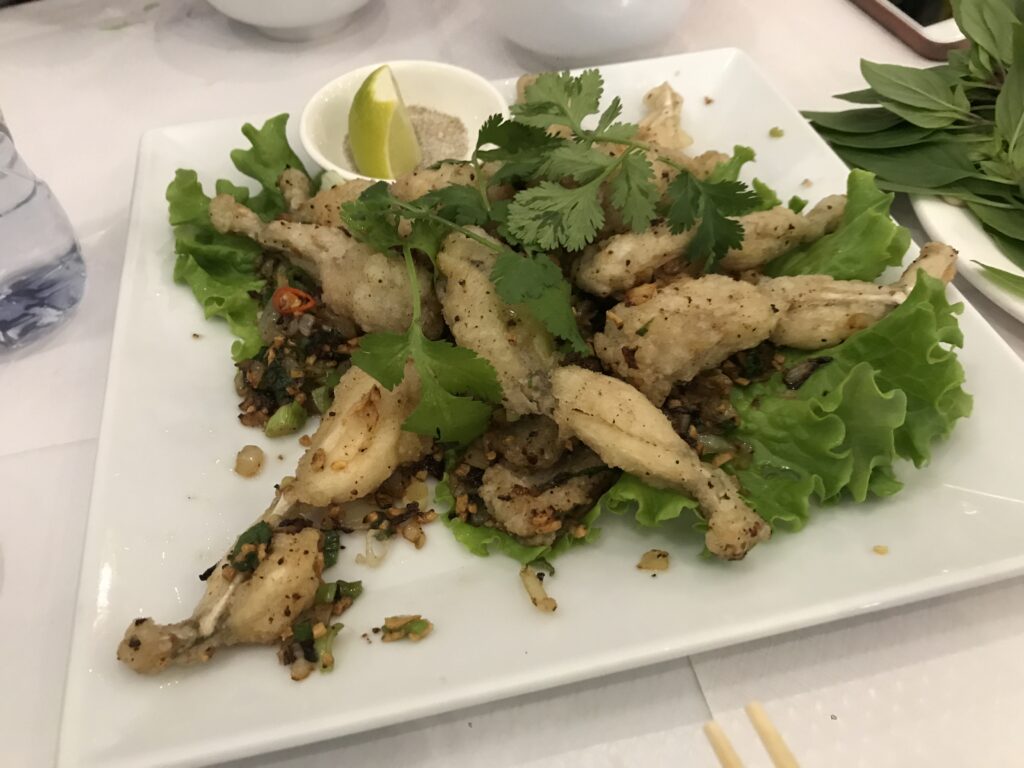 As drinks, we order three colors, which is a dessert very similar to a che in Vietnam. It's called 3 colors because it has green, red, and yellow as colors in its ingredients. It is topped with some sweet coconut milk and mixed with some ice. The idea is to stir it up and eat it as a refreshing dessert.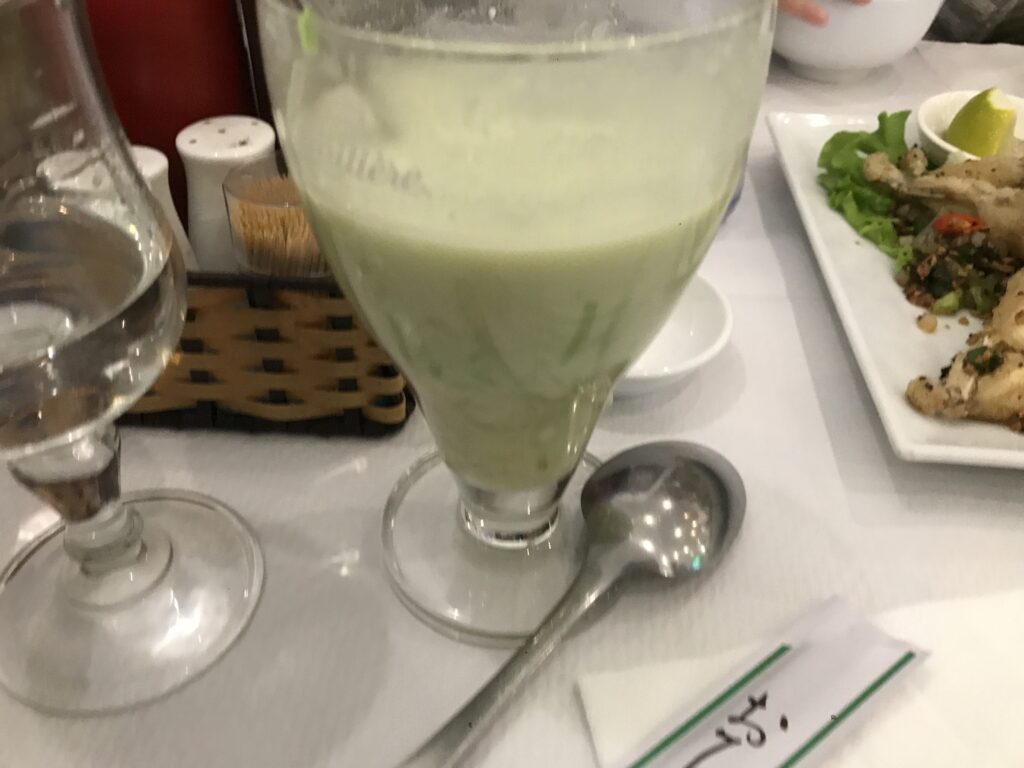 To be fair, these three colors look mostly green after being stirred up. This particular one doesn't follow the recipe with the green ingredient, but it's still good to the taste and very mild.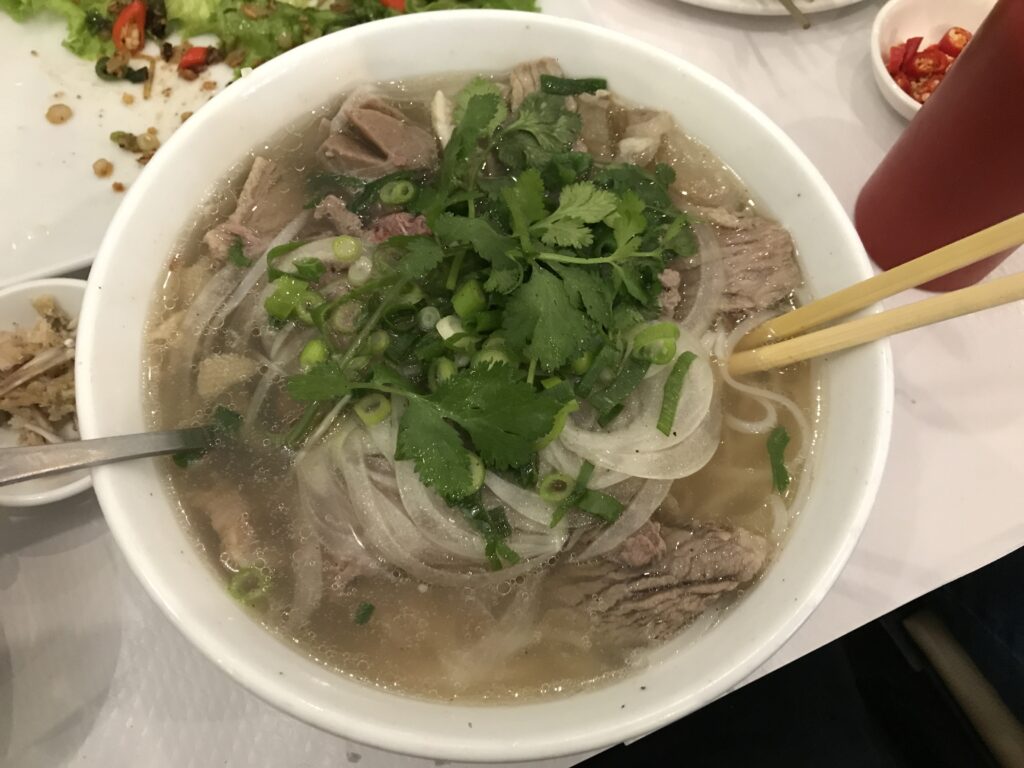 Now onto the main event, the Pho Dac Biet. Let's not beat around the bush; this pho is for us the best in the region. The broth in particular is to our liking; there's some sort of specific taste linked to a particular spice. We cannot put our finger on it, but it really tastes delicious.
It's simple: whenever I want to really enjoy Pho, this is the restaurant we go to. It's more expensive than the ones in Lognes or Paris, but for us, once in a while, it's worth it.
Everything in this pho is good: the bloody cut of beef, the brisket, the "gau", the gut, and the "bo vien". All of them, without exception, are good to the taste and overall well balanced.
The "banh pho" or rice noodles are fresh and cooked to perfection, soupy with still some firmness to them. The big bowl, which is only 1 euro more than the regular one, is a tad big compared to the traditional Vietnamese bowl of pho, and to be fair, it's hard to finish, especially if you ordered an entree before.
But hey, it's just one euro, and you won't come up here everyday, so you better be full for a while.
Verdict
8.2 out of 10
This restaurant is serving us the best overall pho in the region. If one thing in particular is better than in another restaurant, I would say the broth, and yet everything inside this pho is good.
Not only does this place have the best pho, but it also has the best fried frog legs in the business. The seasoning is just something so simple but so amazingly good.
Perhaps the only two things that make us reluctant to come at times are the location, or more precisely, the area. It's honestly not the nicest area, and the prices are quite expensive compared to other options.
But if it's been a long time since you haven't eaten pho and you are looking for the best taste, this is the place we recommend.
Informations
Saigon Bonjour
Address : 5 Prom. Michel Simon, 93160 Noisy-le-Grand
Phone : 01 43 04 14 45
Facebook : https://www.facebook.com/Saigon.bjr/?locale=fr_FR