Pho Quynh is a Vietnamese restaurant located in Torcy between l'île du Segrais and the Torcy RER Station.
It's a very popular place for people who are looking to have some of the most popular Vietnamese dishes. But does this mean that the food and service in this restaurant are excellent? That's what we'll try to figure out for you.
The location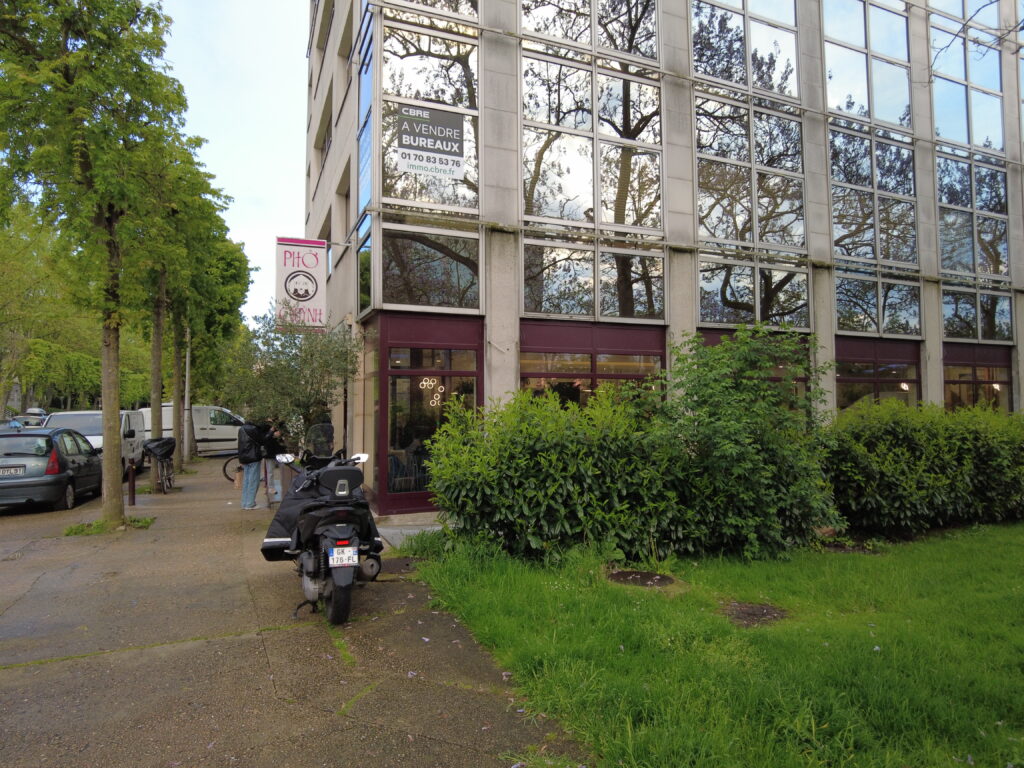 This establishment has been open a long time, and before that, the owner had a restaurant in the city of Noisiel. So since its opening, the place has been packed with customers, especially at night.
Like previously said, the restaurant is located in Torcy, a one- or two-minute walk from the RER A Station.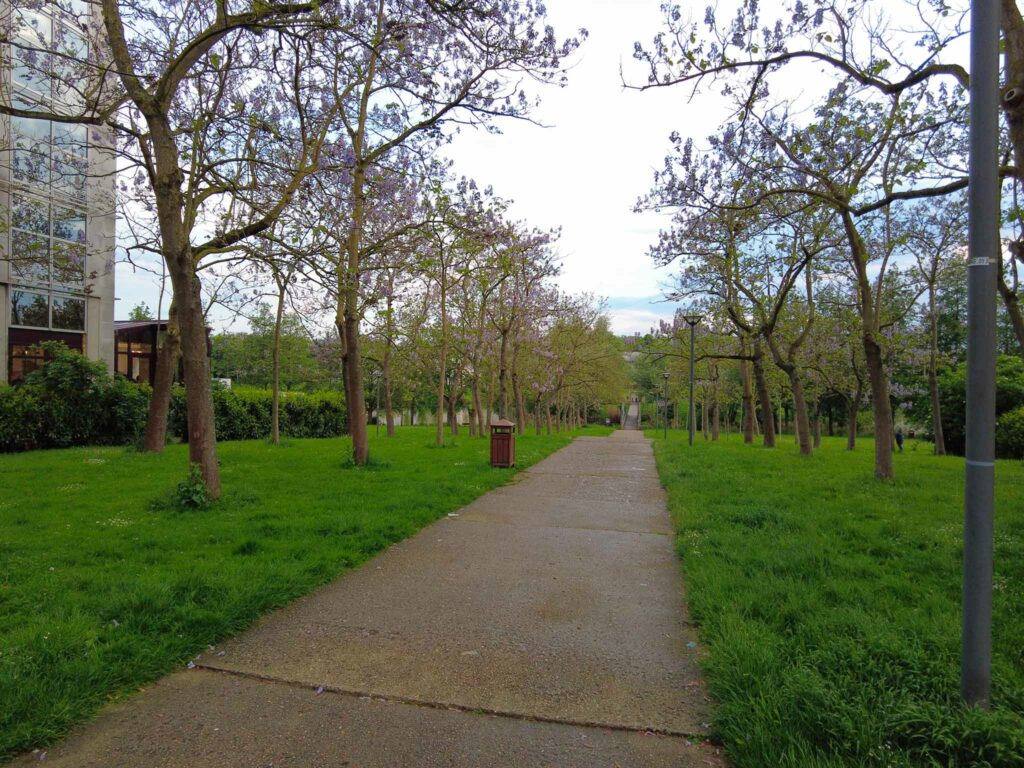 The restaurant has a view of an artificial lake. The view is actually quite nice, especially in the spring when flowers are blooming in the trees.
This area is unfortunately not the safest, but neither is it the most dangerous. As long as it's not midnight, you should be safe.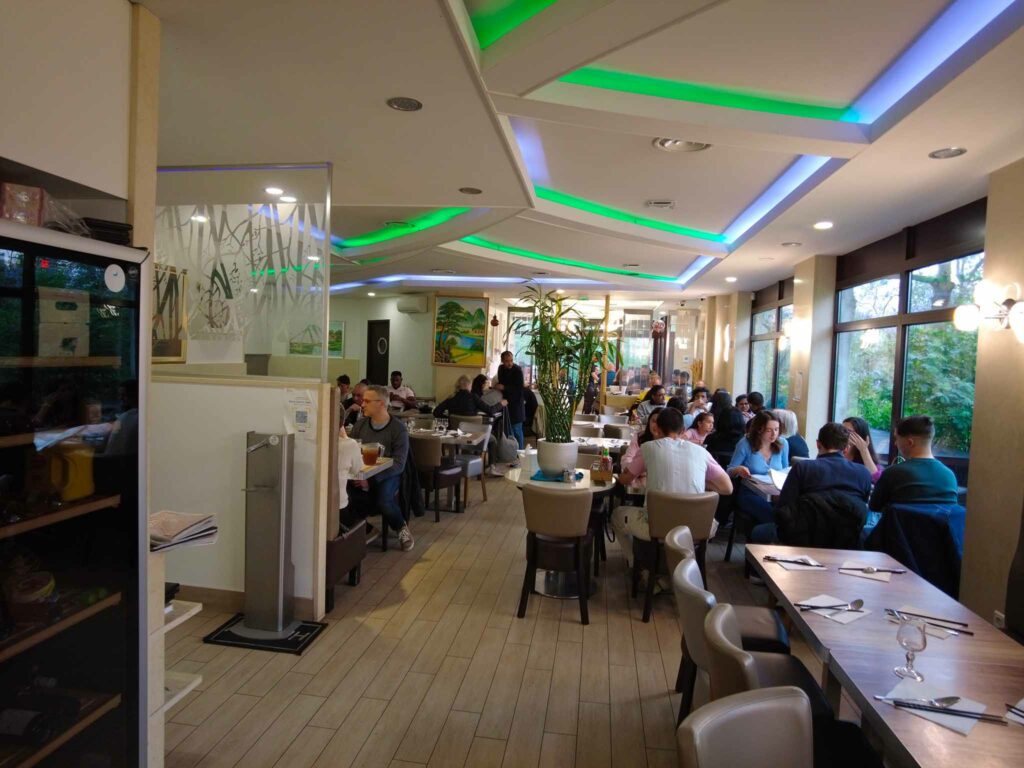 The restaurant is fairly big, it has multiple rooms. I've personally never been at the very end of the restaurant and I've been eating there over fifty times.
The interior decoration is nice and clean. It has a lot of natural light coming inside the rooms since it's on the edge of a firs floor building.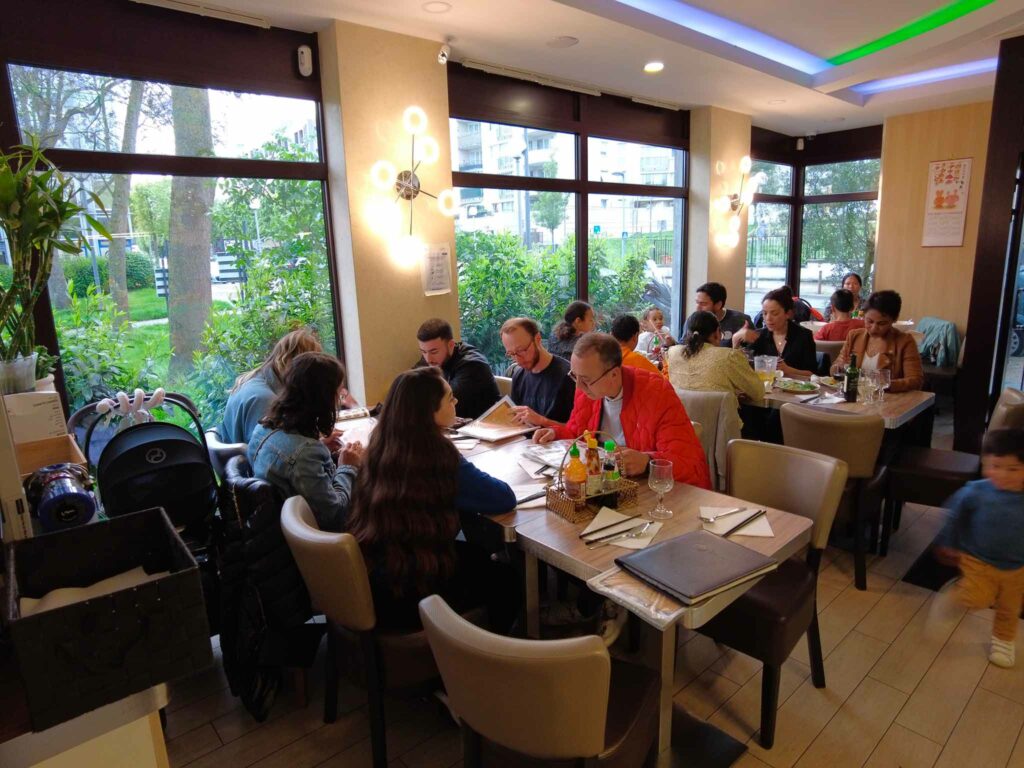 This restaurant is quite fancy; it has some green lights on the ceiling, like Vietnamese love to do. The place even has an automatic door. I think it hasn't always been the case. But since they have a sort of airlock at the entrance, it's just a great idea to have it installed.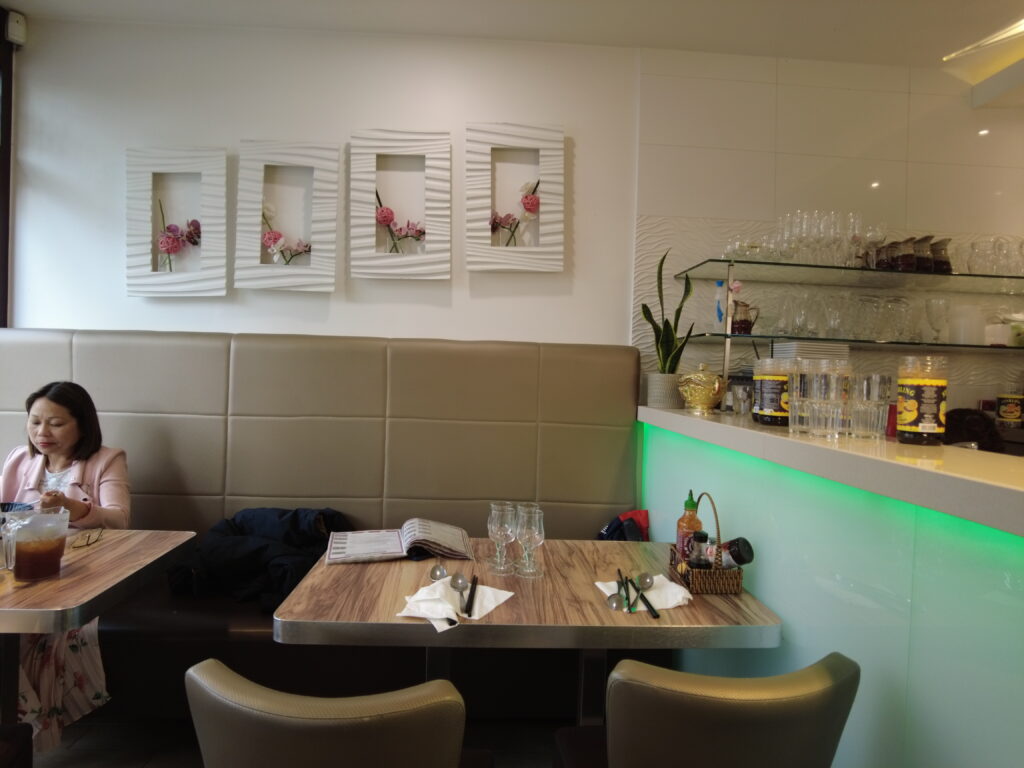 The restaurant uses a lot of light tones, such as white, beige, and light olive. Overall, it's quite a luminous space to eat during the day and quite enjoyable at night as well.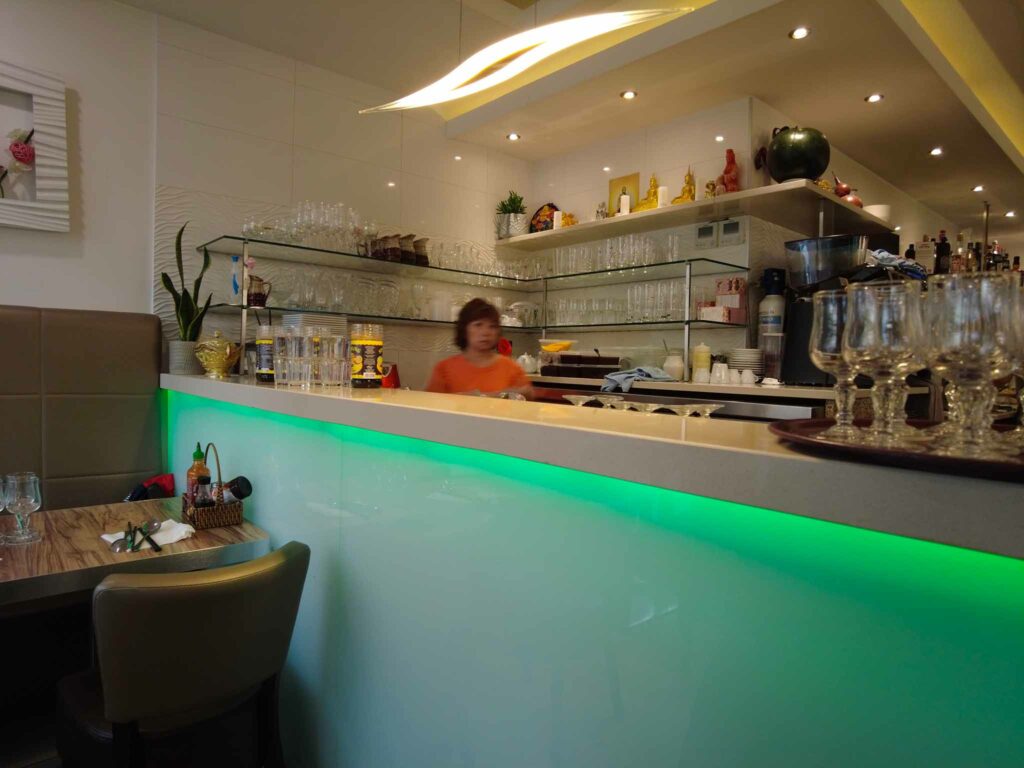 The kitchen is located behind the bar counter, the place where most drinks are made and where you'll have to pay the check.
The menu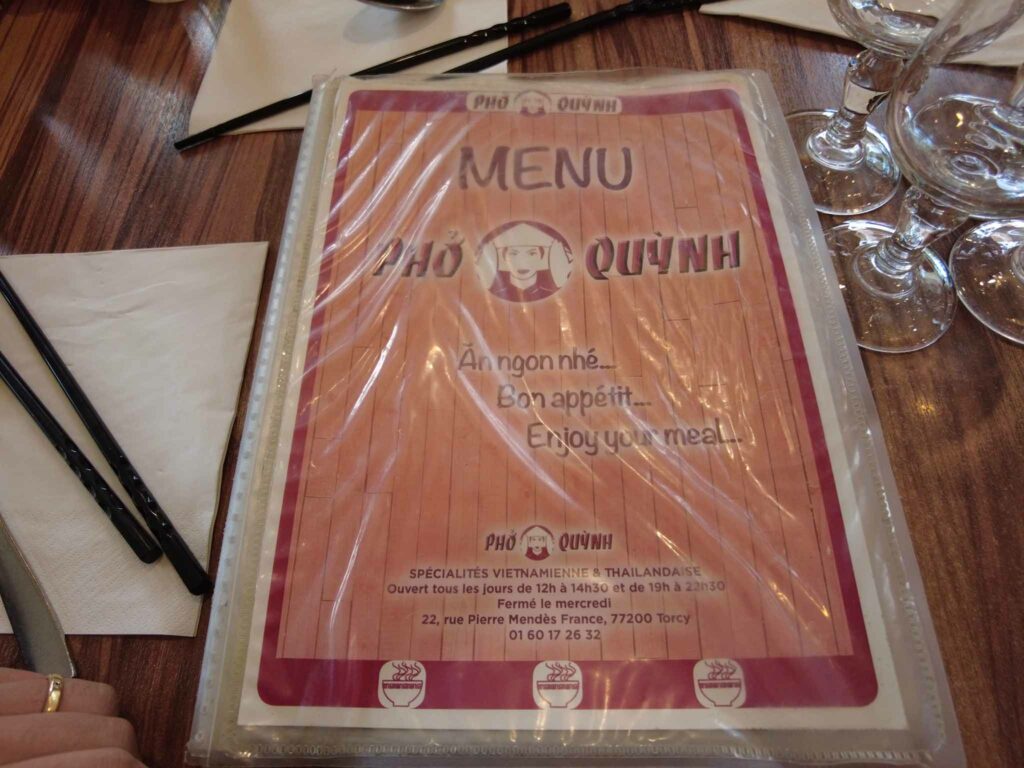 The Pho Quynh Menu is rather on the thick side. There are numerous pages to chose your dishes from. More than in most restaurants.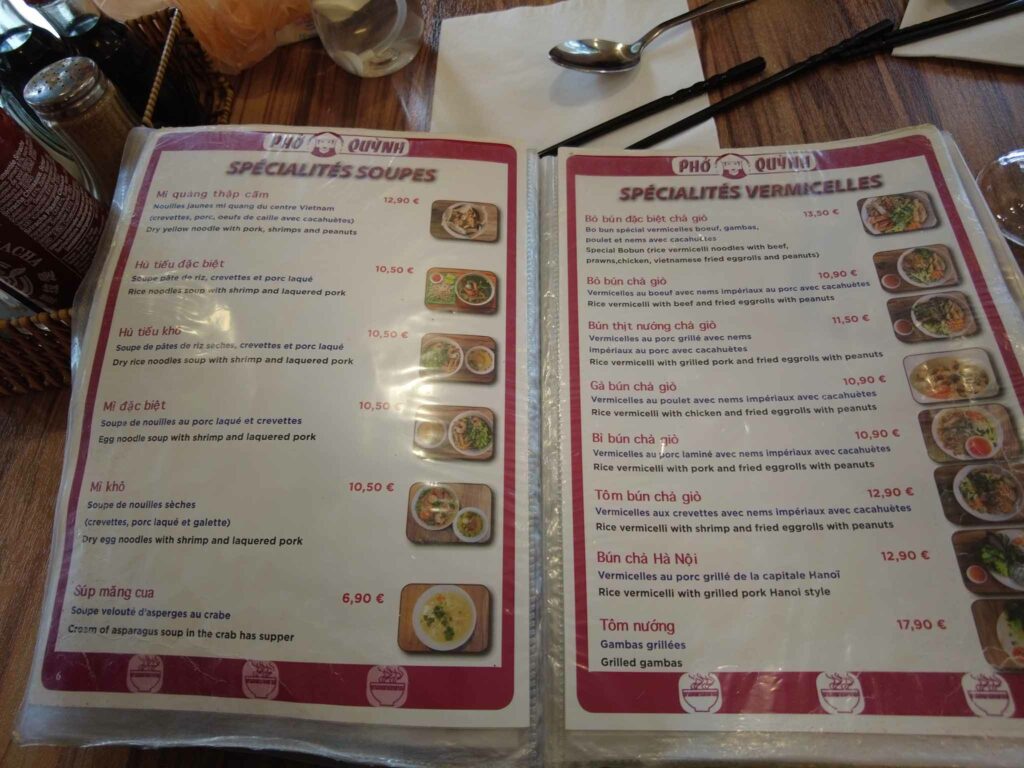 Most of the menu is illustrated. Which is a great thing. Another good thing is that both the ingredients are written in English and French. Vietnamese tend to know what most of these dishes are composed of anyway.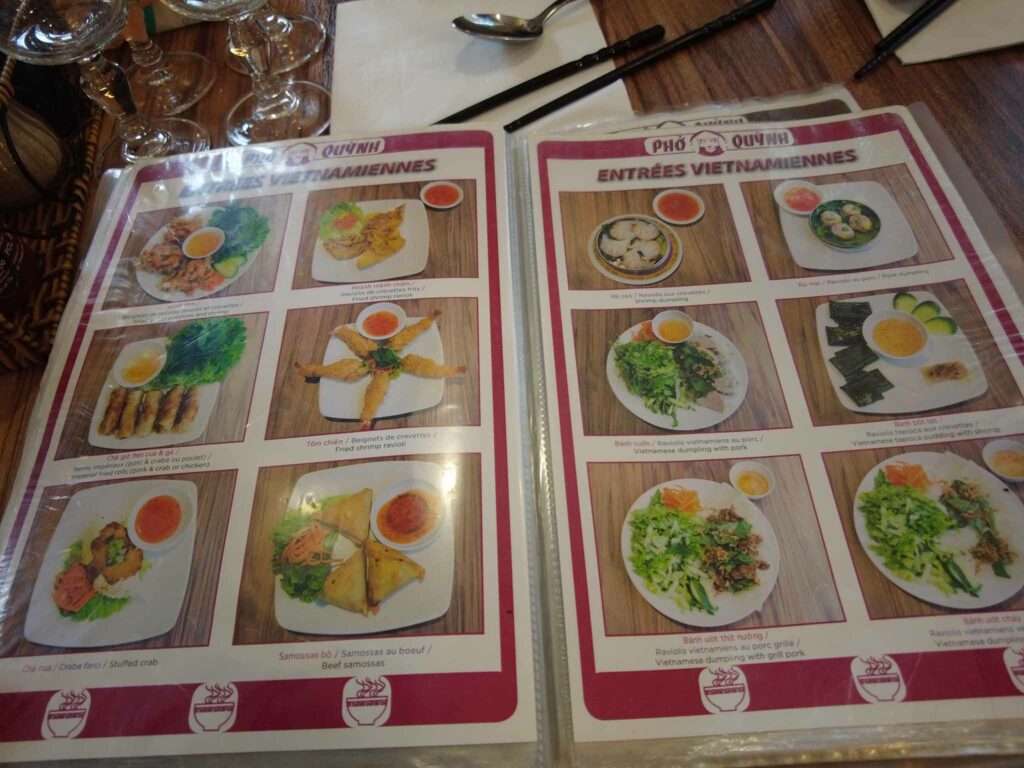 On this menu, you'll find the classic formulas: starters, main dishes, desserts, and drinks. The majority of the recipes are Vietnamese, but as with most Asian restaurants, they tend to borrow some of the neighboring country's classic recipes.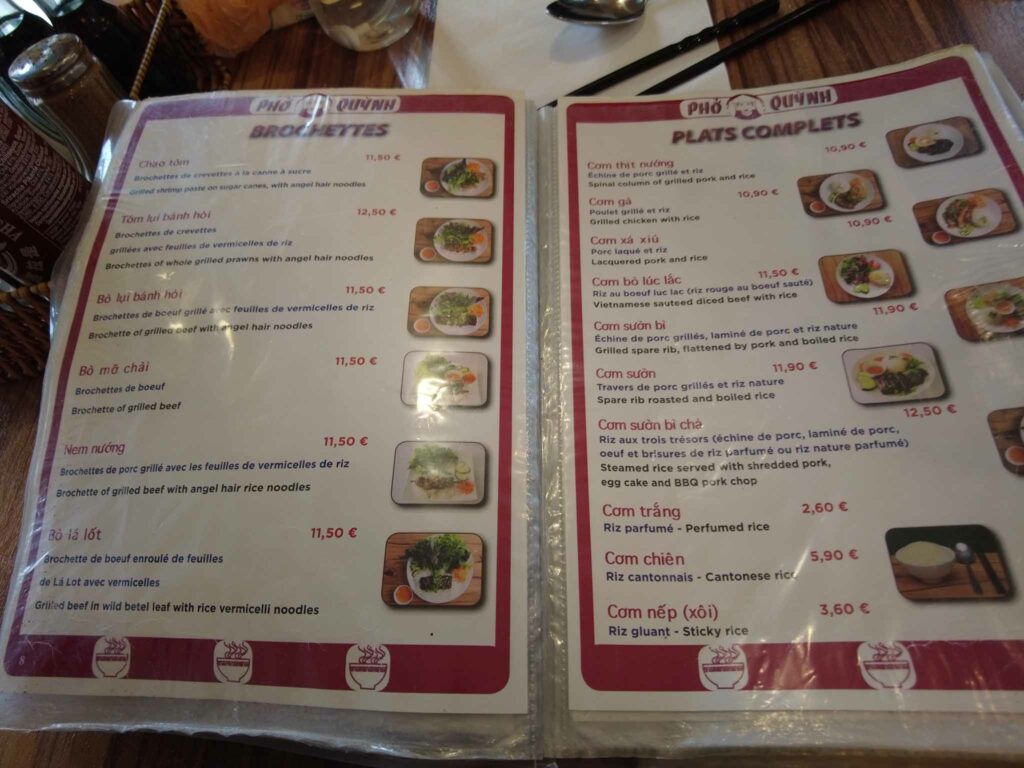 Like in most Vietnamese restaurants, you'll find some classic Vietnamese recipes like Pho, Bun Bo Nam Bo, Bun Bo Hue, Banh Xeo, etc.
You'll also find the classic Nem cuon ran, dim sum, samosas, and other lok lak rice.
For the drinks and the desserts, again nothing fancy on the card, just the classics that works well.
The experience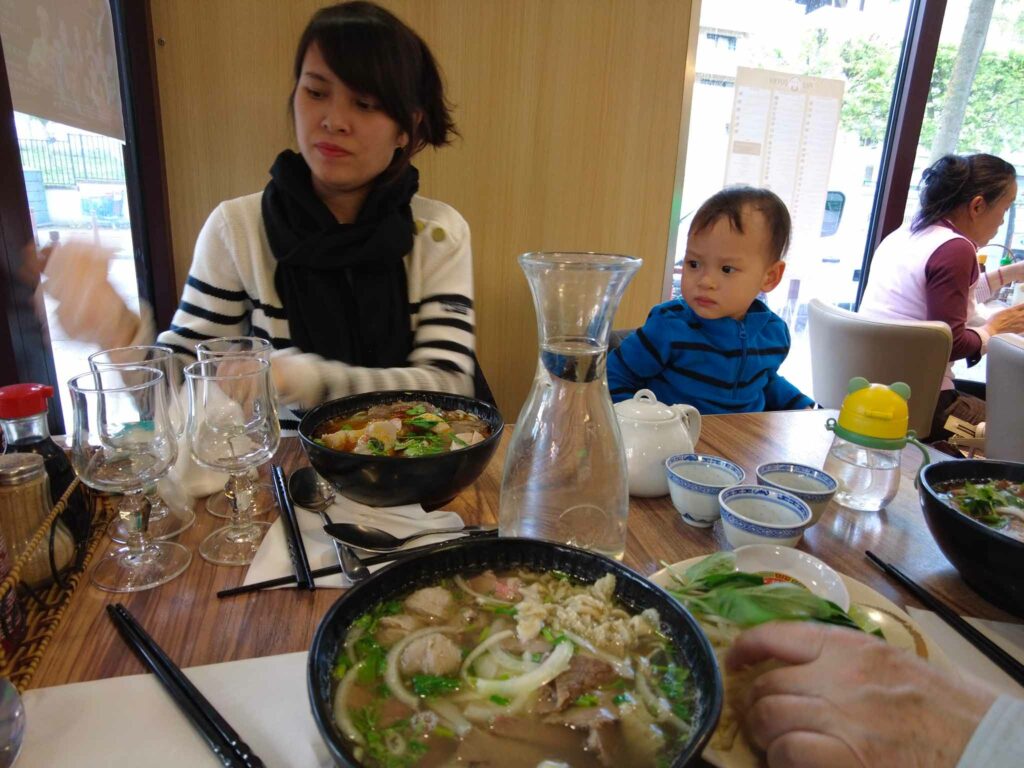 The staff have been quite exemplary. They were quick to take our order and the food came extremely fast. Perhaps not even five minutes.
My family and I go to eat outside out of laziness to cook and clean. So we love to eat as quickly as we can to resume our home activity.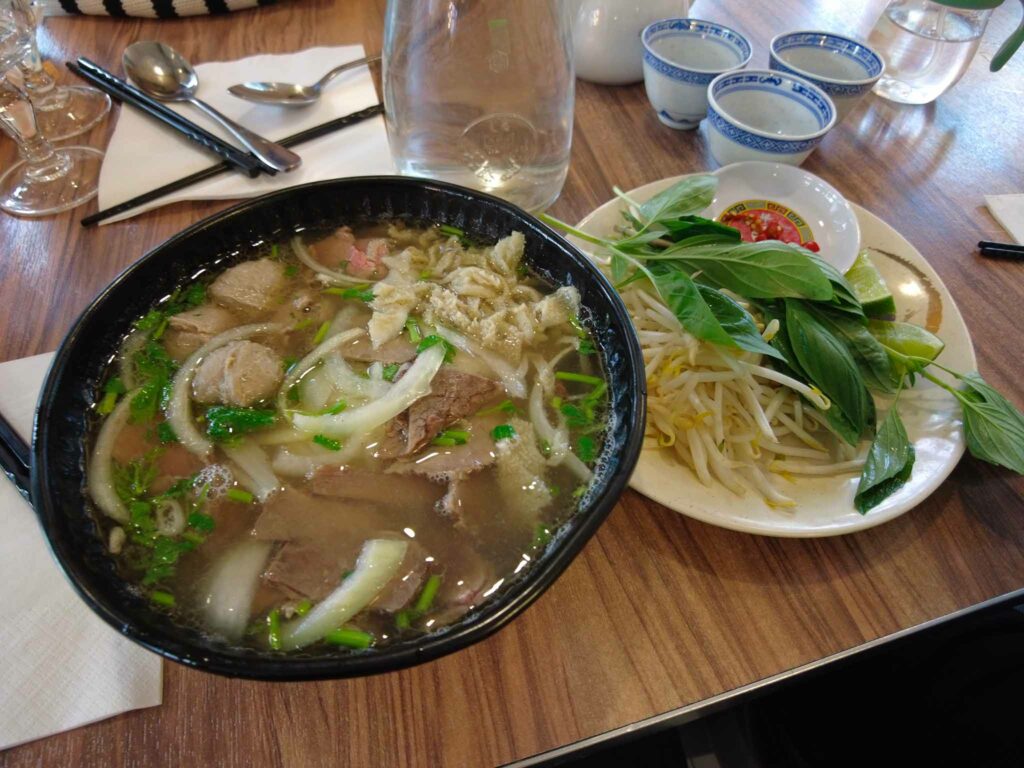 As always, in a Vietnamese restaurant, I tend to choose the classic. For me, ordering pho is like ordering a burger; you can't really go wrong.
This particular bowl of pho was small and plenty enough to satiate me. Pho Quynh is very generous when it comes to meat. If you take a large bowl, you may even not be able to finish it.
The broth is delicious but a tad salty. My dad and I used to add water to it, though I have to admit that I am the kind of person who never uses lemon to balance the taste.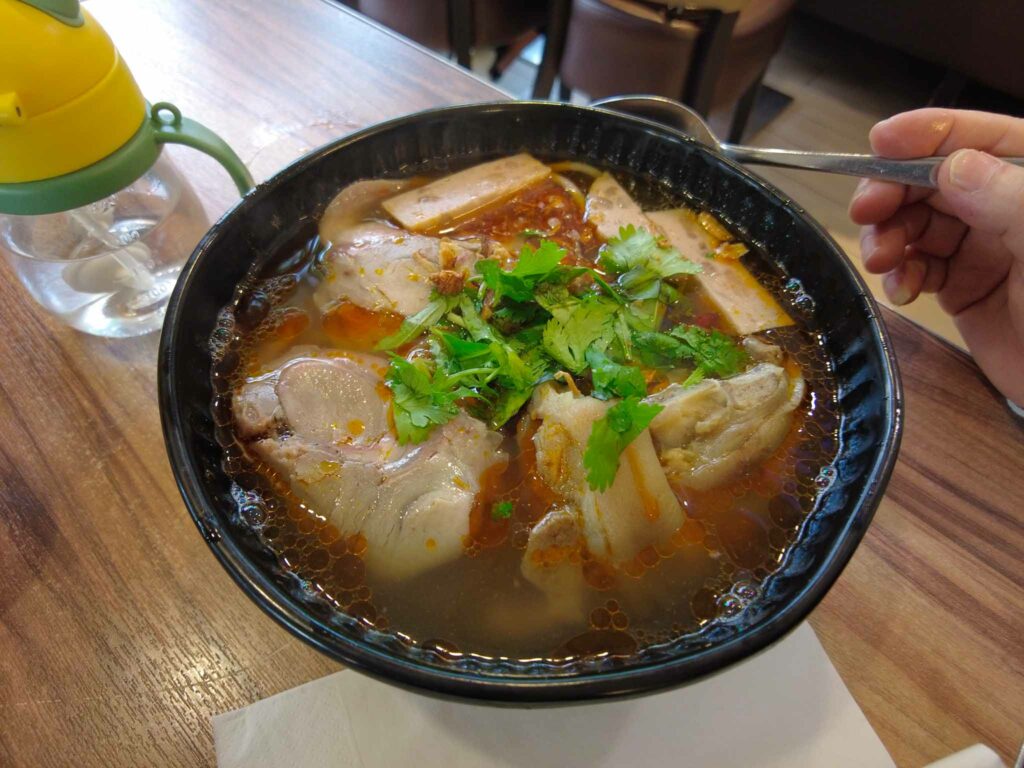 My wife and dad ordered a Bun Bo Hue, my wife thinks the dish taste good, even though it's perhaps not as good as in May Hong for example.
The broth was tasty, and the meat was fresh. Overall, it tasted pretty good. Perhaps the only issue was that they didn't serve banana flowers that day.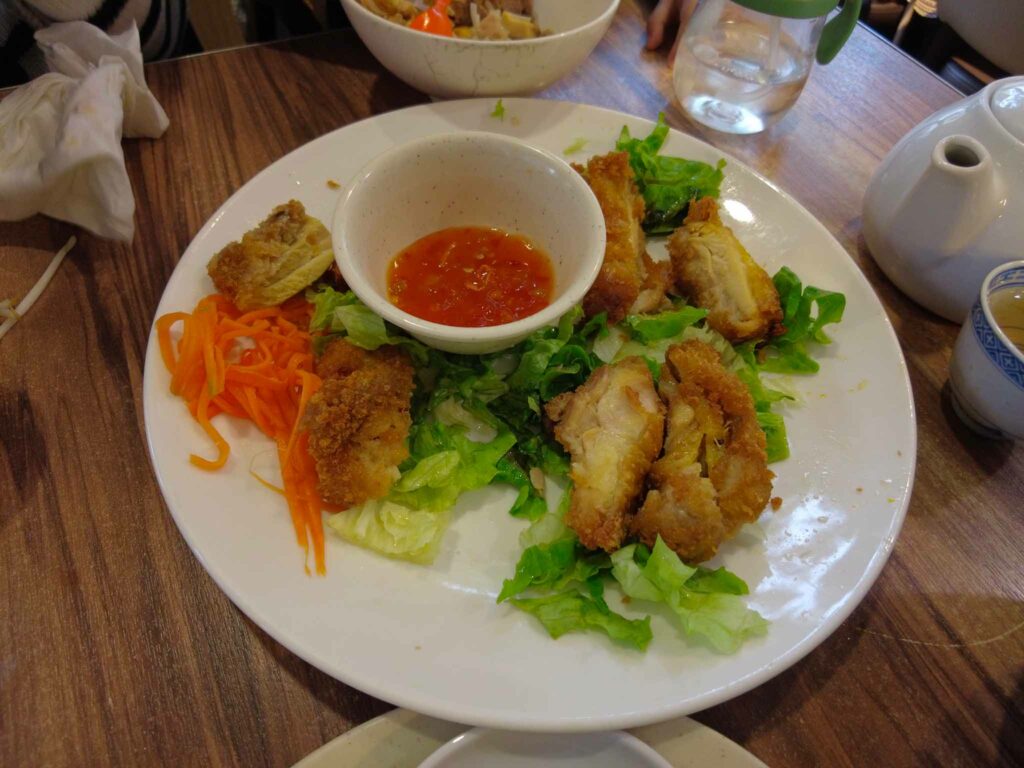 My dad ordered the fried chicken Thai style. Usually we don't really eat this kind of food in a Vietnamese restaurant, but I guess he wanted to try a starter.
This particular dish seems like an afterthought; the chicken seems to be fresh and normal, not like KFC or other fast foods where it's tender to the point of being suspicious.
The issue is that the crumble is not that great and the seasoning is absent. Only the sauce will give a bit of taste to the dish. Perhaps it's the Thai way to do chicken.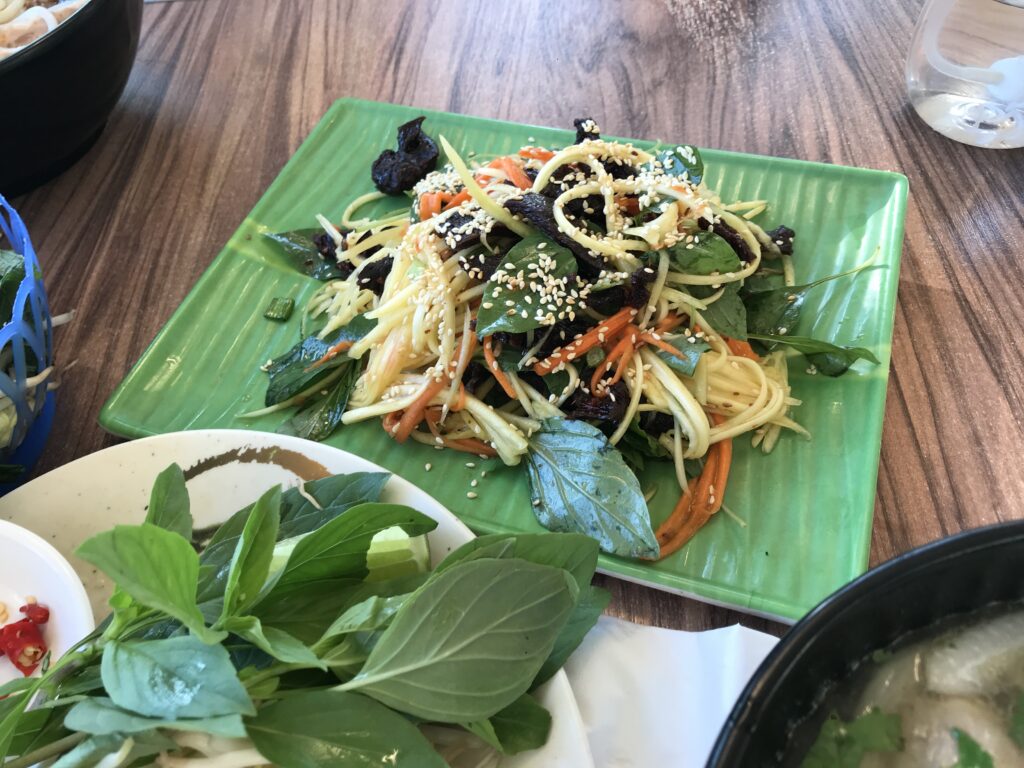 The hot tea was actually pretty good; it tasted better than in most restaurants where I've ordered it. Which is a good thing. Small details are noticed.
Verdict
7.9 out of 10.
For us, Pho Quynh is like an institution for eating good pho. It may not be the best, but it's solid enough for us to come and eat once in a while.
The bun bo hue is also pretty good. The thing about this restaurant is that they serve generous portions of meat, which is the most expensive part of the meal.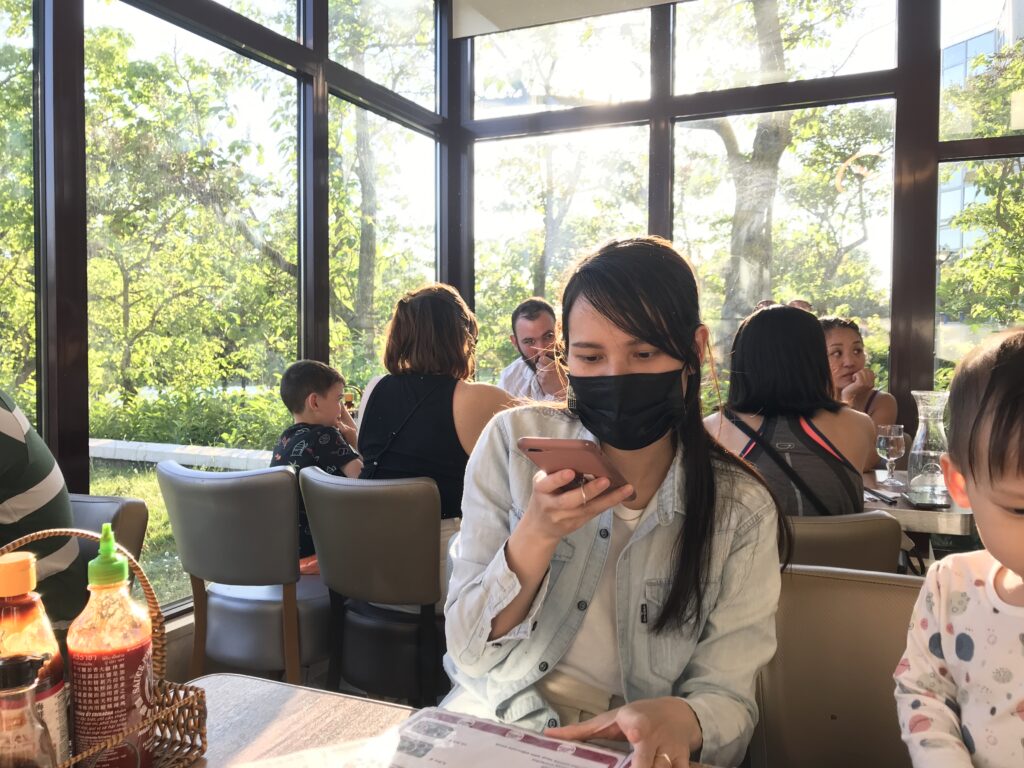 Also, the prices are quite affordable, especially if you order small bowls, which are more than enough for you to feel satiated.
I think my dad paid around 54 euros for the three dishes and the tea. This is significantly lower than other restaurants that offer lower-quality food.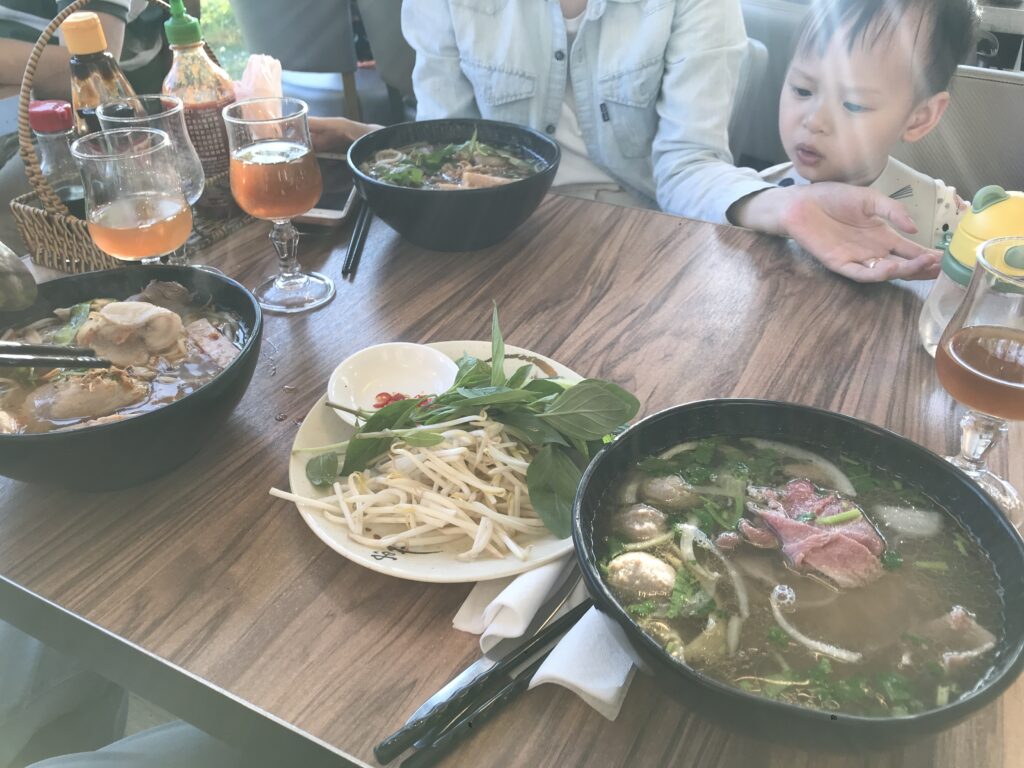 This restaurant is definitely a solid option, and if you like Vietnamese food, there's no reason for you to be disappointed.
Informations
Pho Quynh
Address : 22 Rue Pierre Mendès France, 77200 Torcy
Phone : 01 60 17 26 32
Facebook : https://www.facebook.com/pho.quynh.torcy/