Wok Grill Torcy is an all-you-can-eat buffet located in Torcy. This restaurant opened its doors perhaps less than 10 years ago. Wok Grill has more than one location and is actually a chain restaurant concept in France.
This place was a huge deal at the time because you could have a buffet at noon during the weekdays for 12,50 euros. Of course, now that the price has inflated, the question is : are the quality and value of this restaurant still worth the price of admission?
That's what we will try to answer in this article.
The location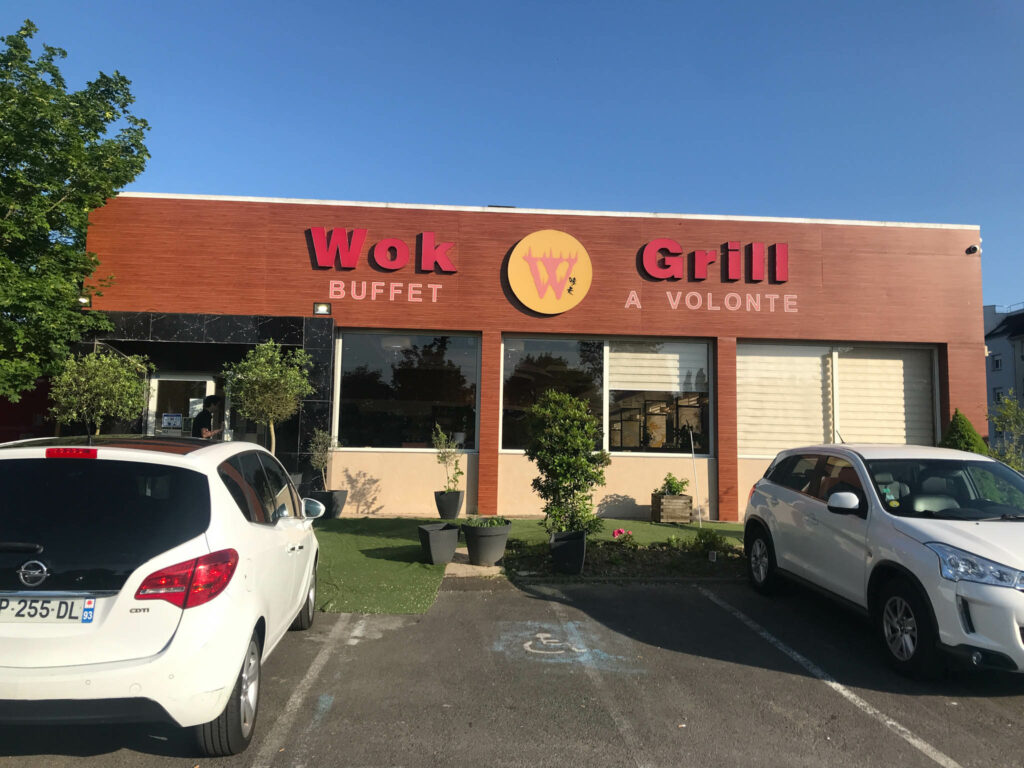 This restaurant is big, I think you could do a wedding inside the place. Inside there are probably over 300 seats maybe more.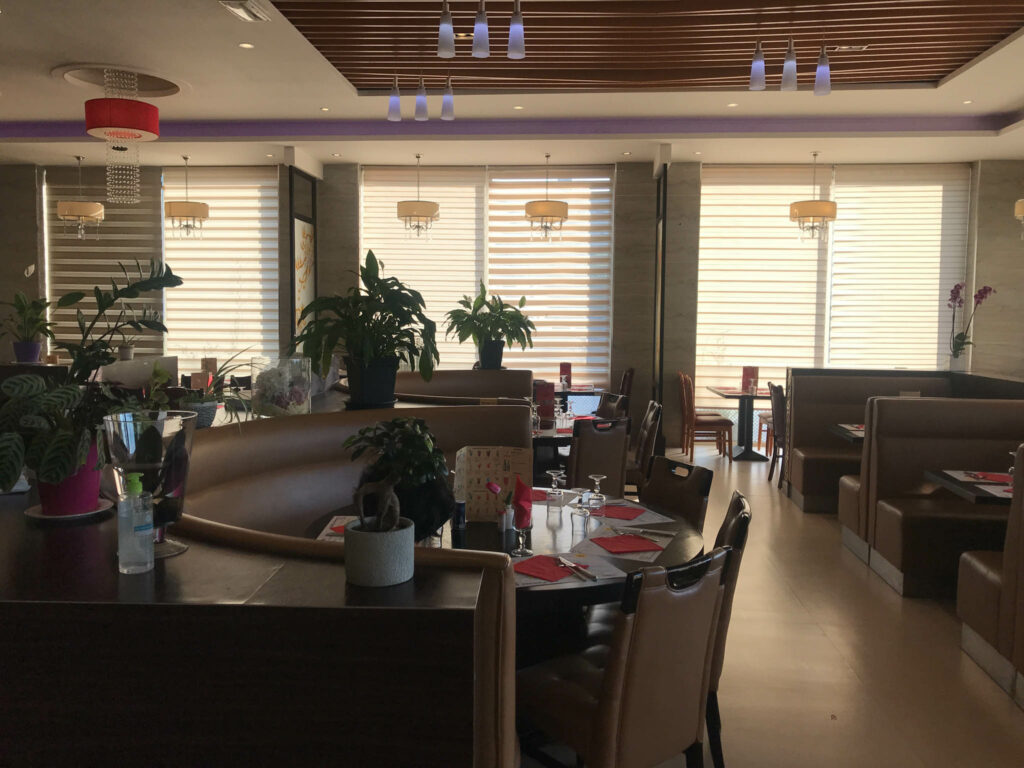 The restaurant looks quite nice, actually, since it's fairly recent. The restaurant is basically a long aisle, and the interior, for some reason, reminds me of the interior of a casino. It looks quite good, and the light is slightly scattered.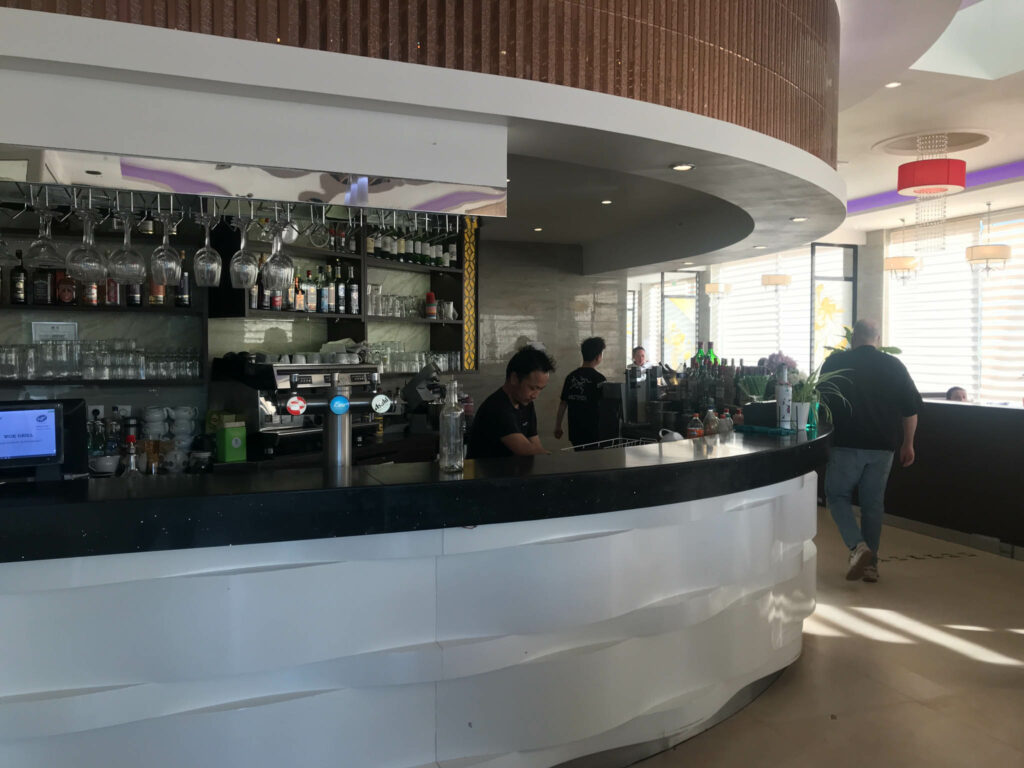 The counter is quite large as well, even if most people don't come here to drink wine or coffee. It's also the place where you will eventually pay the bill.
The restaurant benefits from a lot of natural light, so much so that the window blinds were shut, and we from the outside thought it was closed.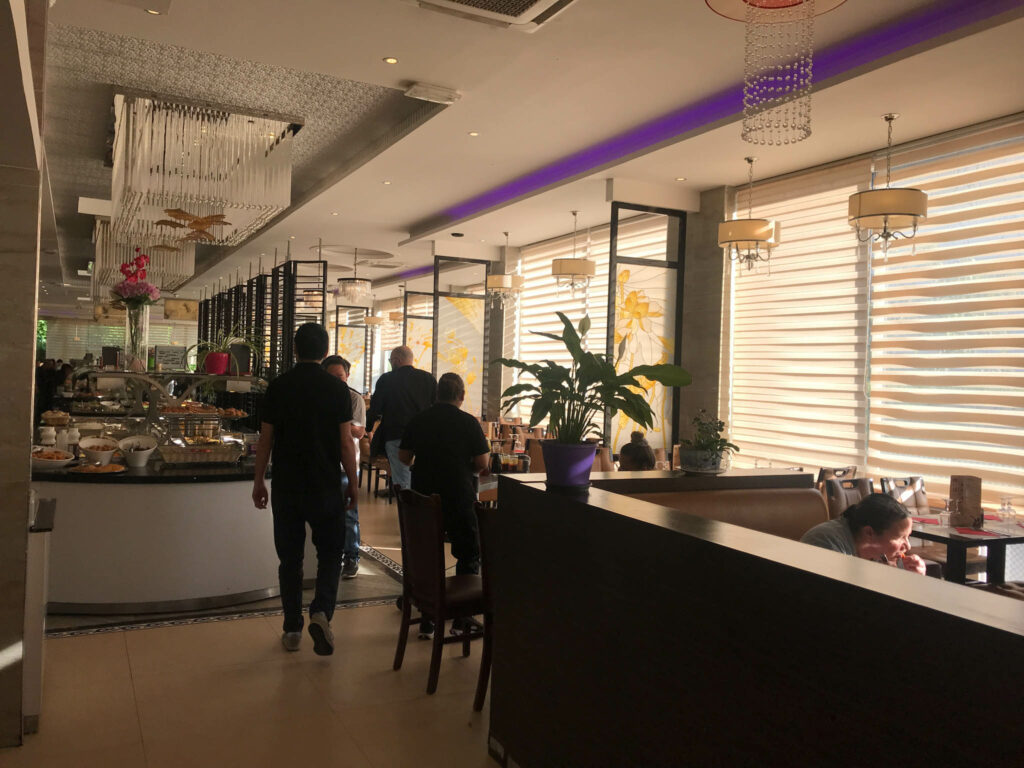 This restaurant's decoration is nice—the light, the painting—and you can tell with ease that they've invested a good amount of money to have some quality furniture and decorations.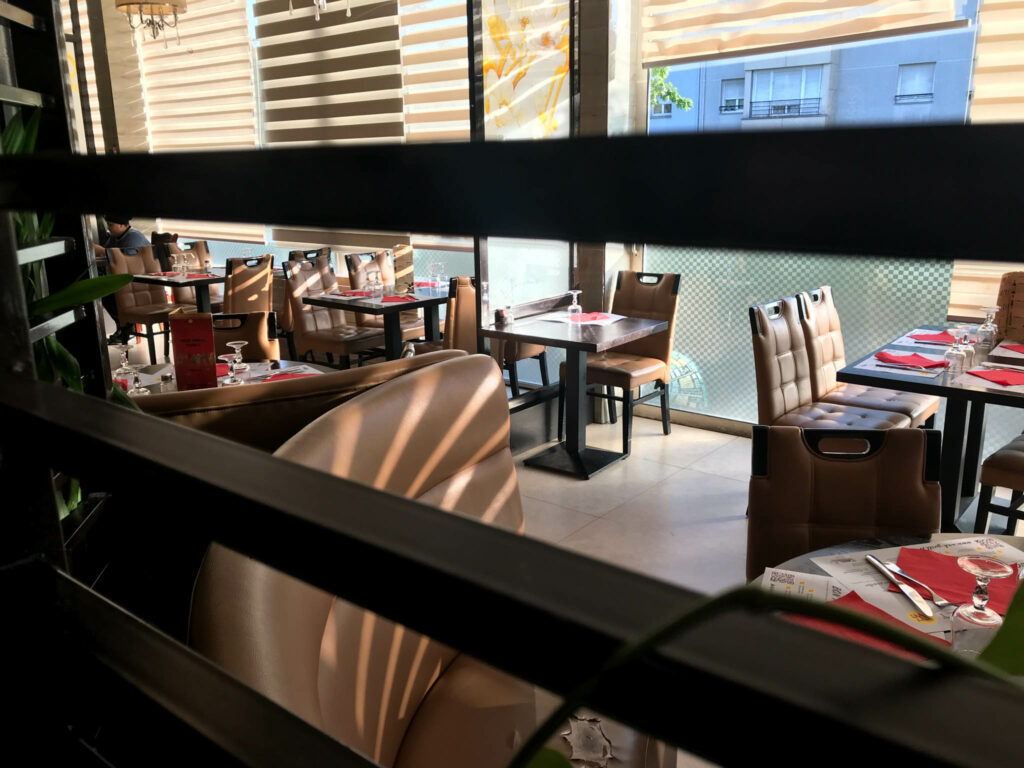 This is definitely not the typical local Asian restaurant; this feels more like an industry, something quite precisely built.
Tables are spaced enough for you to go in and out to get more food; this is not an issue. You also have plenty of space on the tables to hold many plates.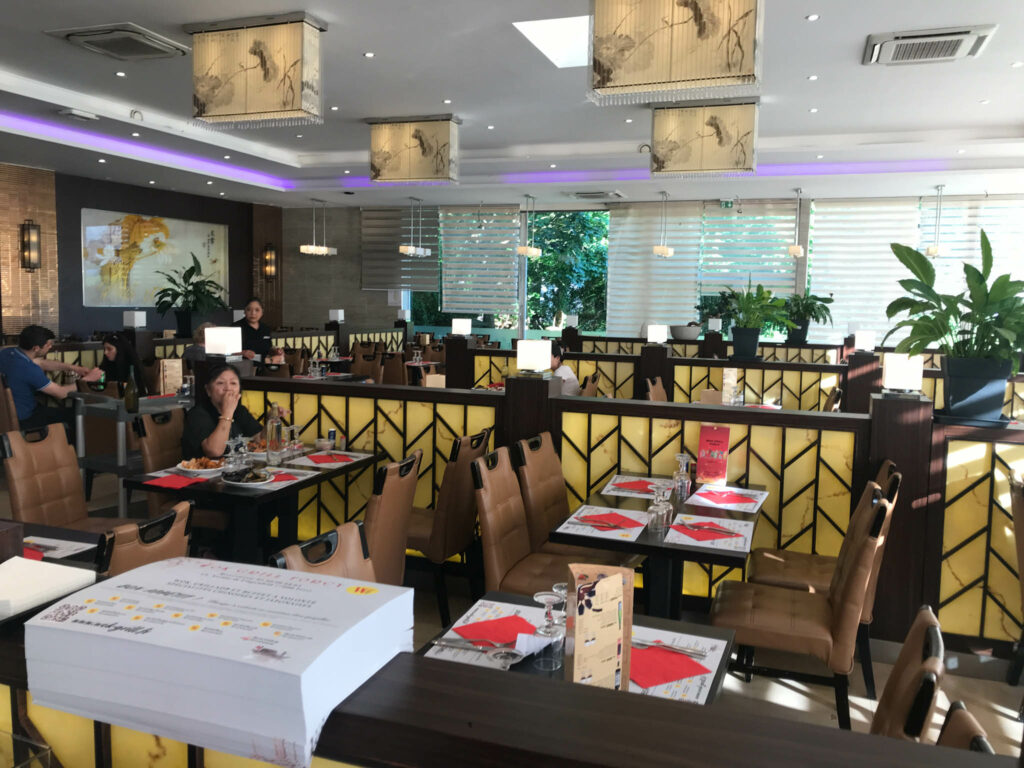 Overall, the location is quite good, especially for a restaurant in this city. This would fit well in a place where there's a lot more money and people.
The menu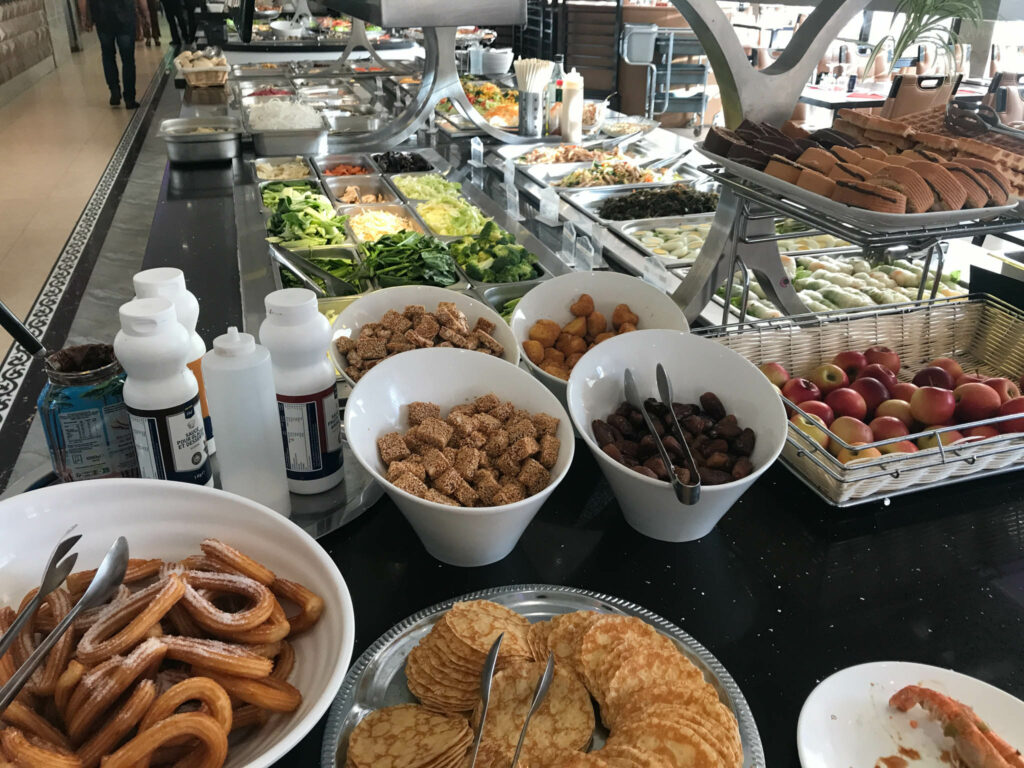 This restaurant has a very large food offering. You can almost find everything in this buffet, starting with salads, eggs, mozzarella, noodles, sea weed, and two dozen other starters.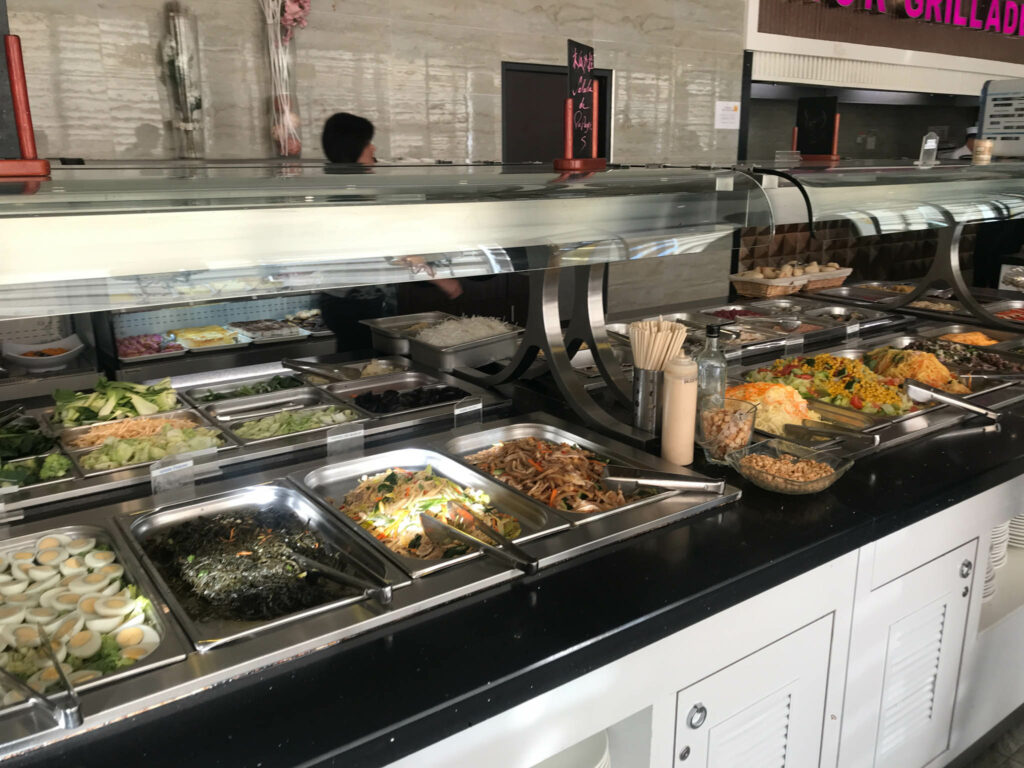 I think it would be pointless for me to enumerate all the options on this buffet. Let's just put it this way: there's much more than you can chew. There's not only Asian food but all sorts of food.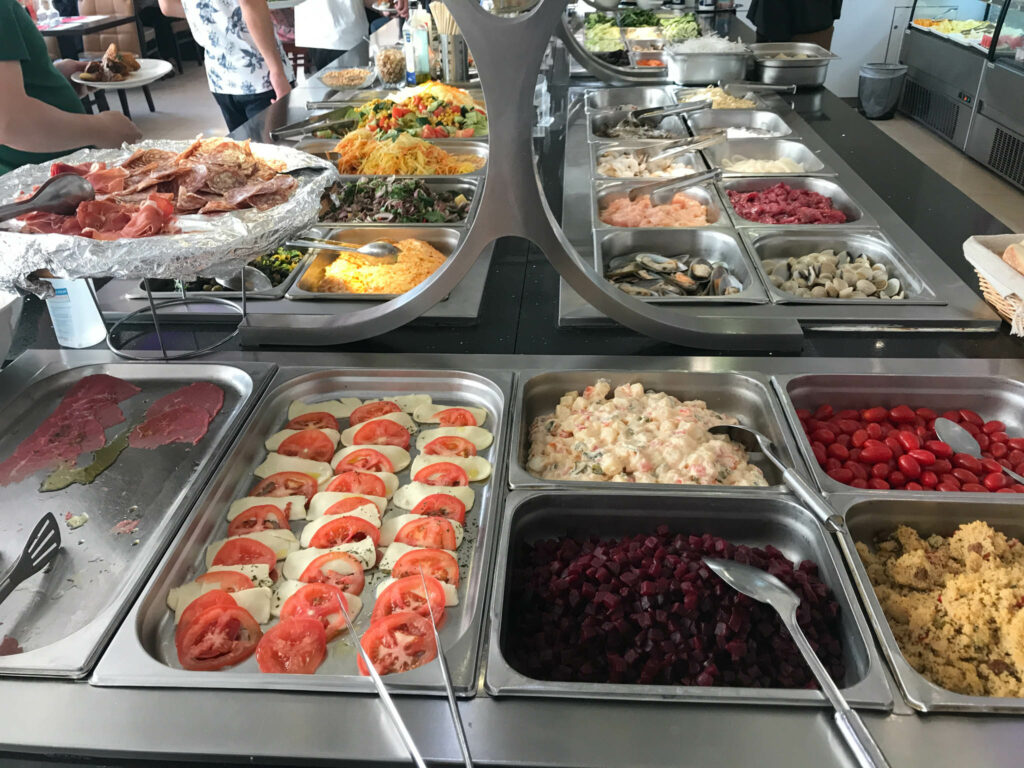 There are even some cold cuts, cheese, and carpaccio that come with the capers, olive oil, and vinegar. It's not just an afterthought.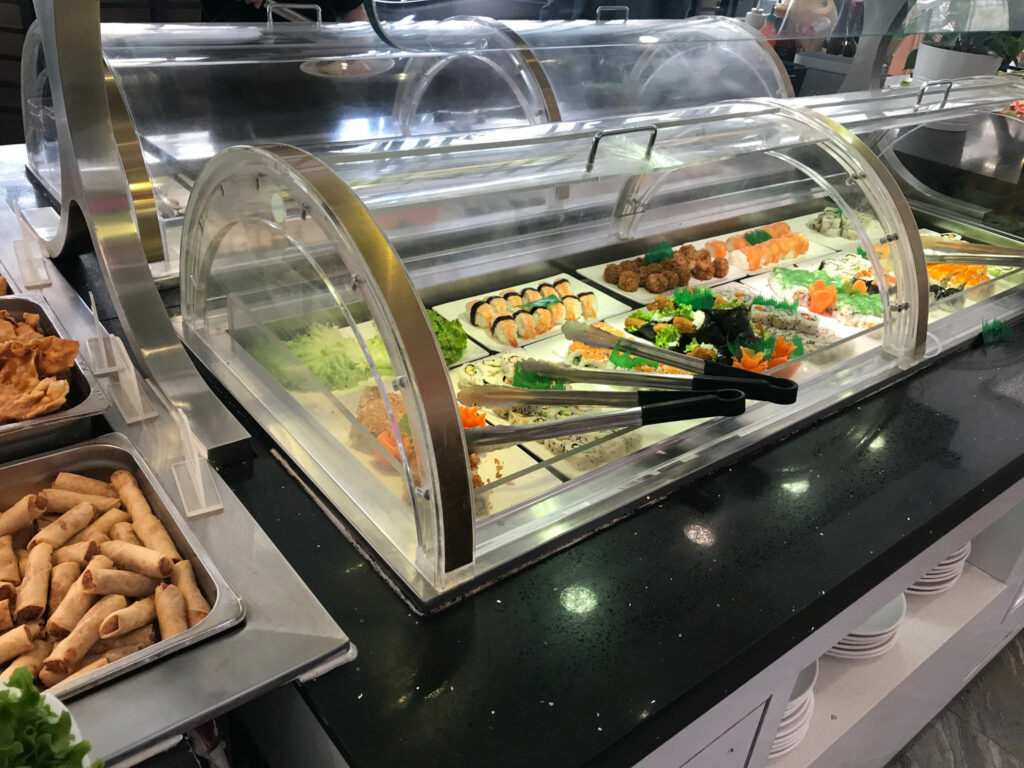 One other section is dedicated to sushi and maki. Ok, let's be clear: they are buffet sushi, meaning that they aren't as well made and fresh as the ones you would get in a Japanese restaurant. But other than the quality, the ingredients are the same.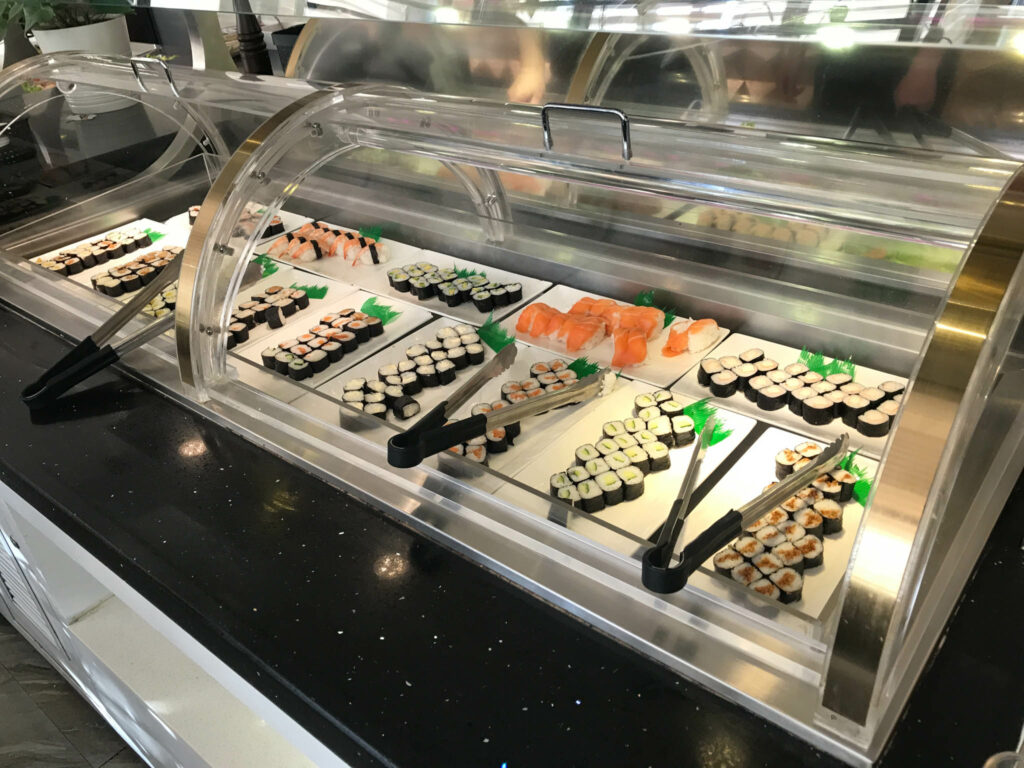 I think they are still decent and a good value for the price. Sometime the rice maybe unbalanced and the fish not of the best quality but for a buffet it's more than decent. The best ones being the one in Maison Sen in Hanoi.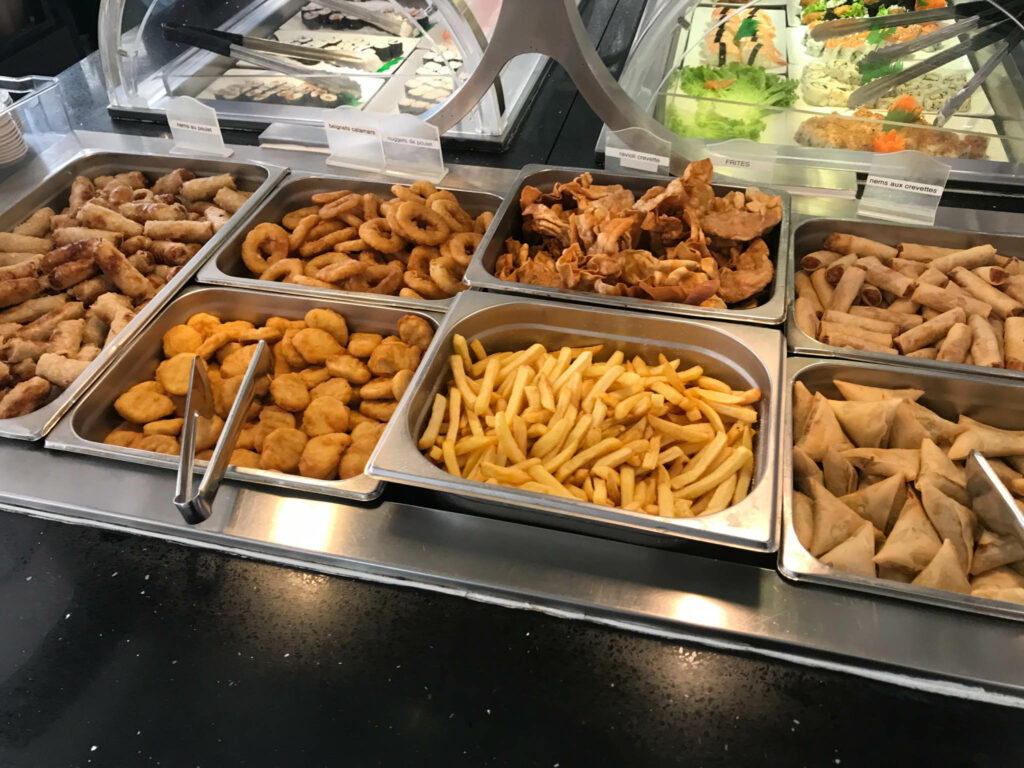 In this same section, you'll find fried food. French fries, nuggets, nems, samosas, or ravioli It's hard to resist these types of foods. Especially children love this type of food, so that's a guarantee for you that if you come as a family, you won't waste your children's entrance fee.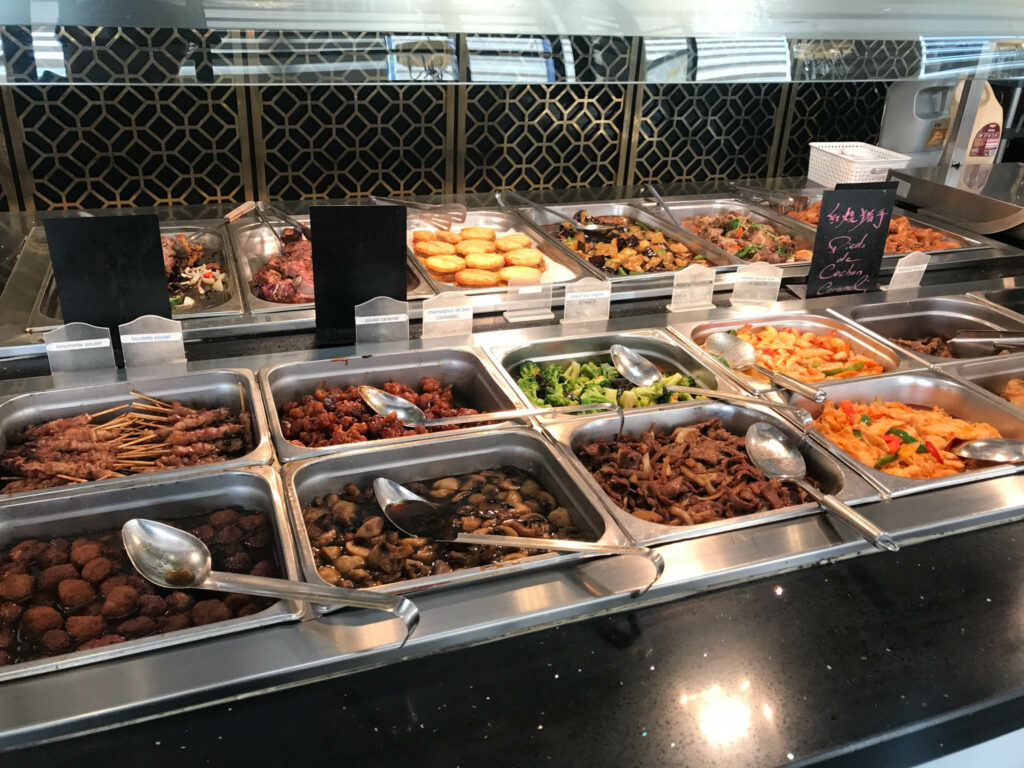 Most of the food here is Chinese, even if you can still find some Japanese food like sushi or cheese beef skewers. It's honestly hard to make a choice and forget about trying to test everything out.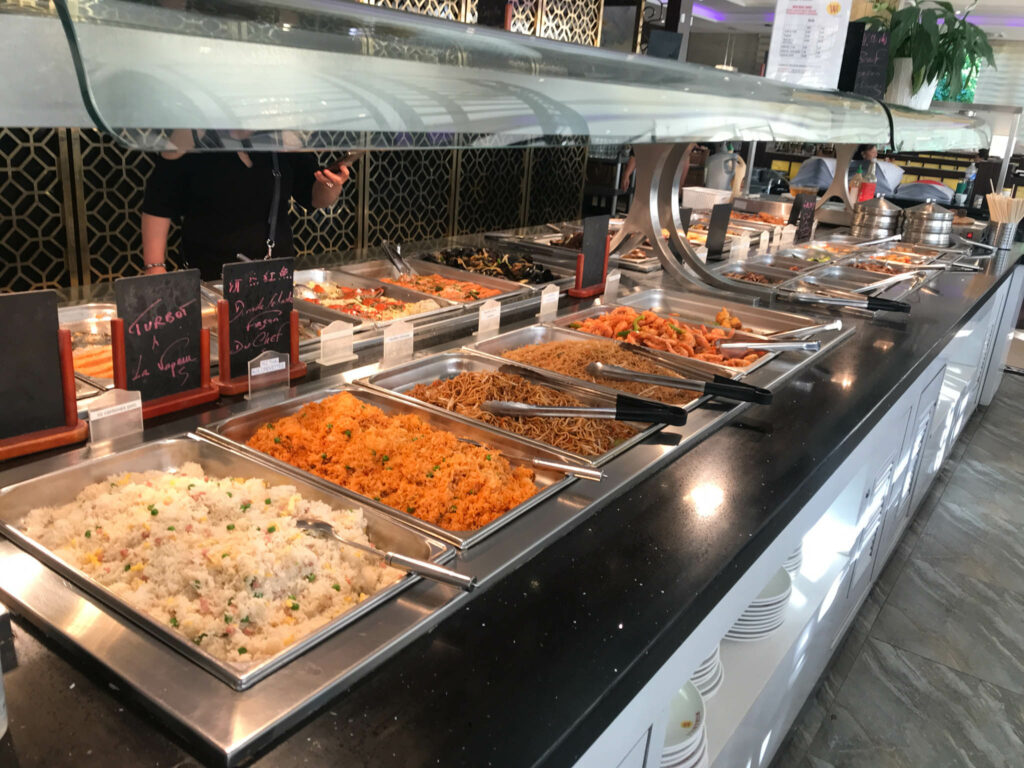 In this buffet, you'll find plenty of accompaniments; not that you necessarily want to fill yourself with rice or noodles, but still, it's good that they are present to balance your meal.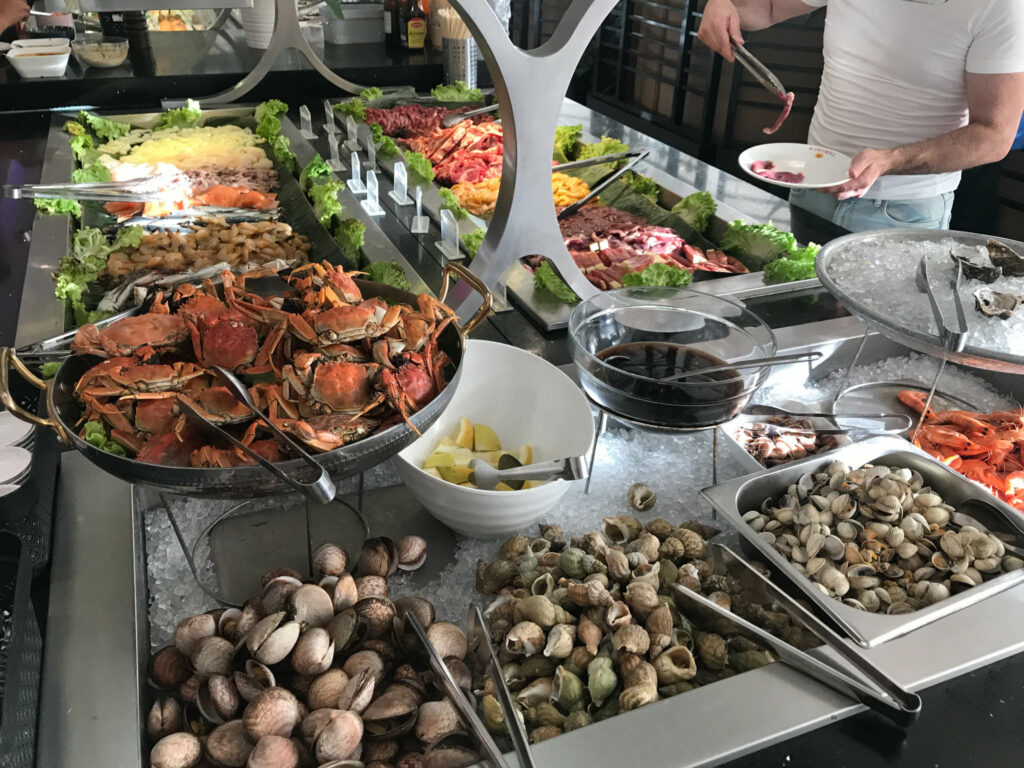 A thing that is pretty rare in buffets and important enough to note is that they have seafood. Notably, some oysters, crabs, shrimp, and other shellfish There are also some that are prepared and cooked in other sections.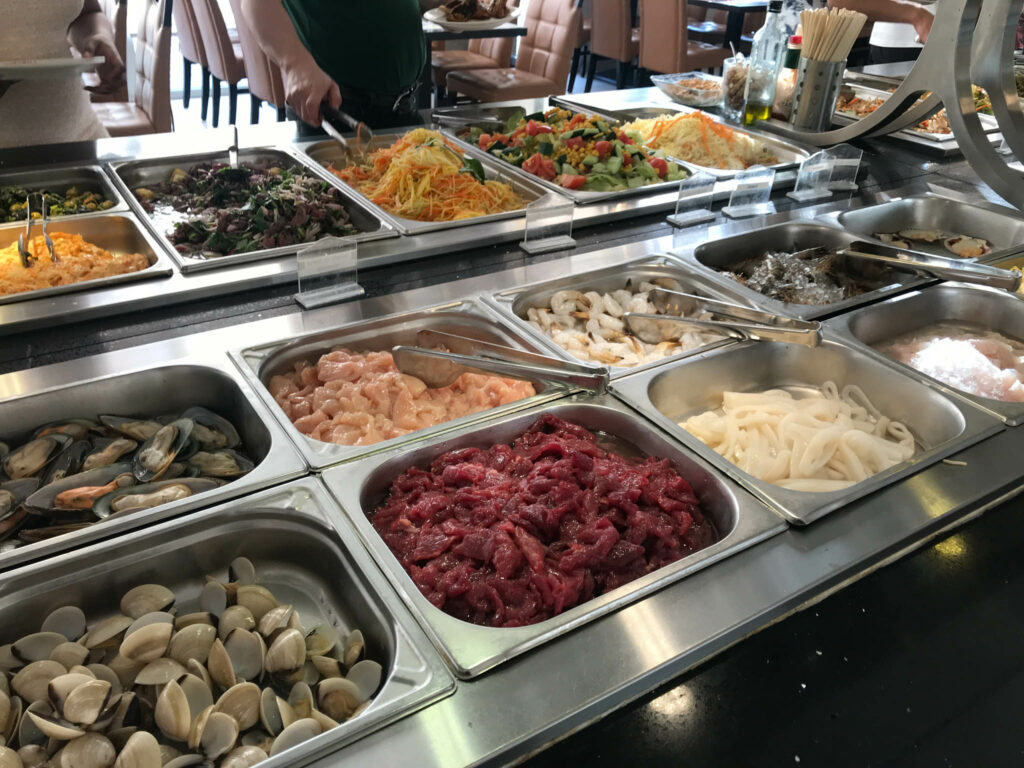 One particularity of this restaurant is that you can choose some ingredients and give them to a cook who will cook the food inside a wok in front of you. I've tried a couple of times and it was all right but not something exceptional.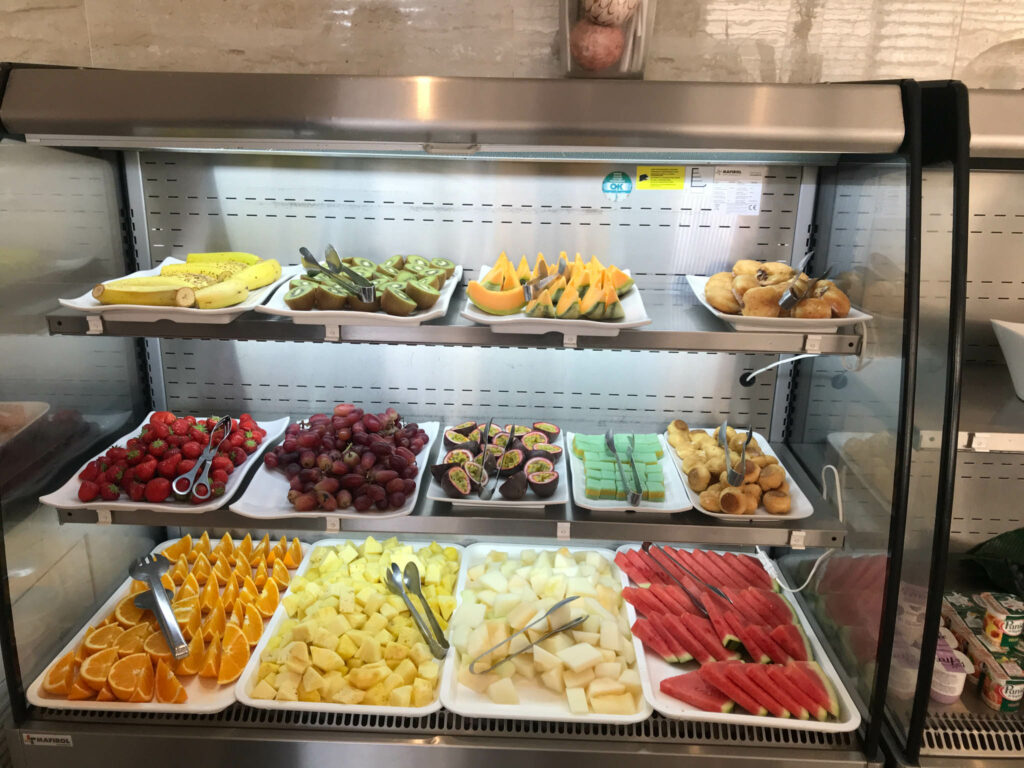 Finally, there is a section for desserts such as fruits, cakes, and ice cream. The fruits are already cut and fresh. I think fruits is a good way to balance these types of buffet.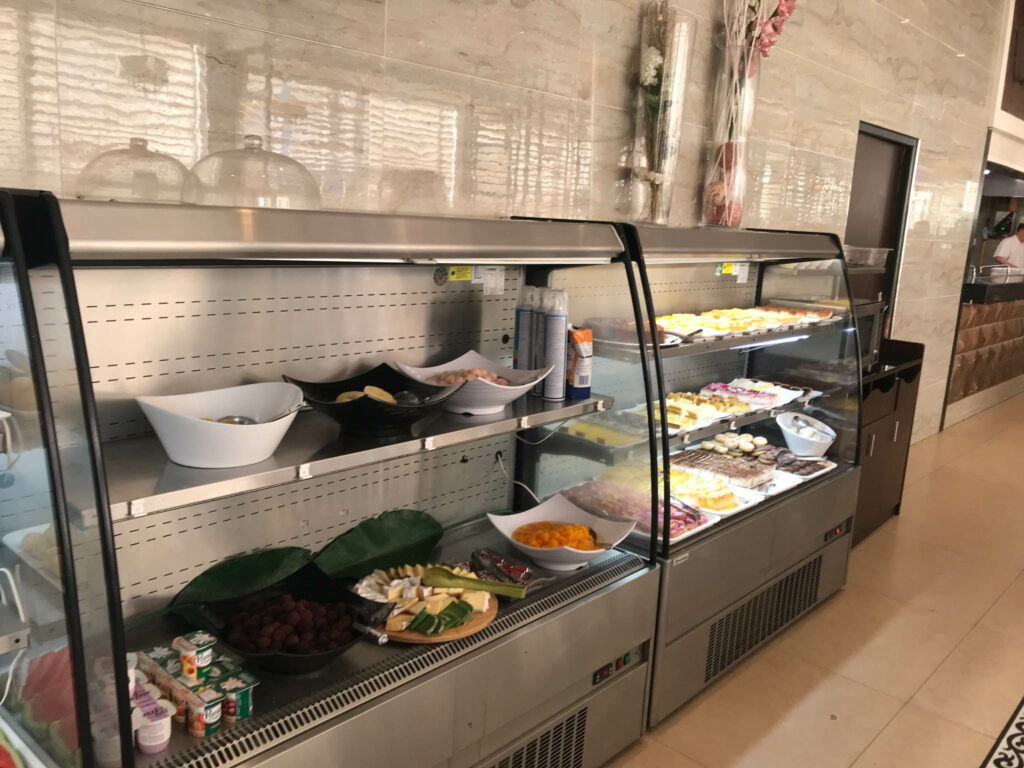 I've been inside this restaurant maybe ten times, and I've never really had the stomach to eat those cakes. I've tried a couple of them, and once you are full, the last thing you need is a dose of sugar.
But for some people, it might be the way they like their desserts. I just wish I still had the pleasure to eat those after having finished 4 or 5 plates.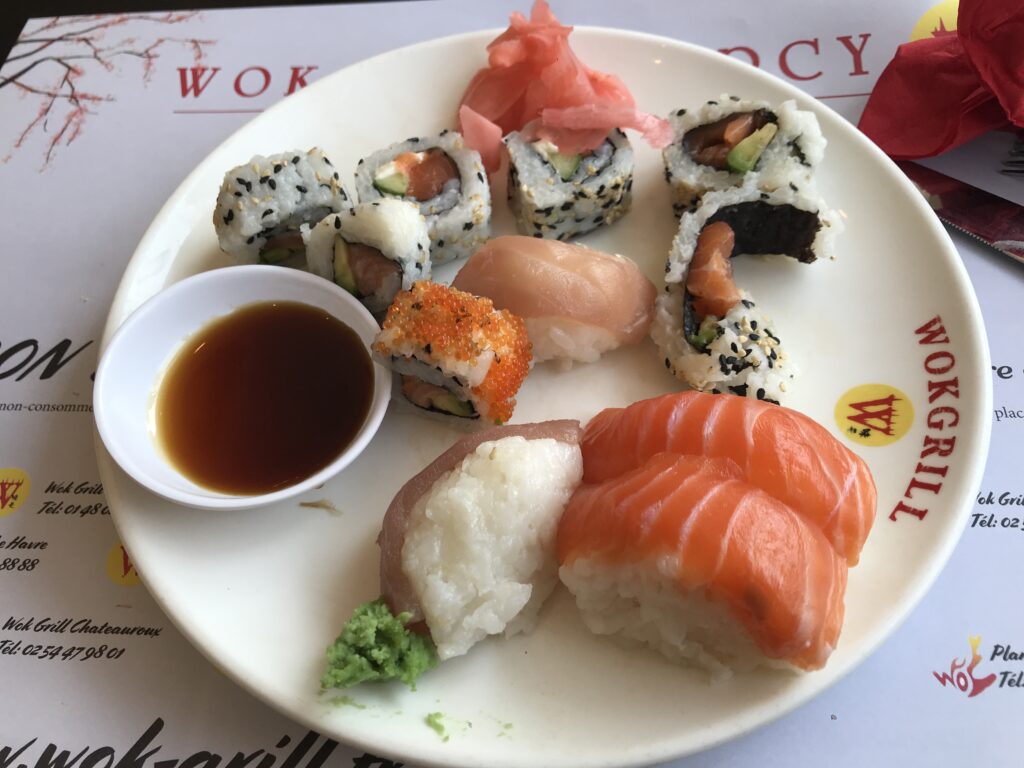 I generally go for the ice cream that is easier to digest, or at least doesn't take up a lot of space. Also, this particular night I wasn't prepared to eat a buffet since at lunch I already ate a huge Phnom Penh in the restaurant.
Note that tap water is free but not the drinks.
Prices
FROM MONDAY TO THURSDAY
LUNCH: 15.9€ 
DINNER: 21.90€
FRIDAY
LUNCH:15.9€ 
DINNER: 22.90€
WEEK-END AND HOLIDAYS
LUNCH: 20.90€ 
DINNER: 22.90€
Verdict
8.0 out of 10.
This buffet is an interesting restaurant overall; if you like buffet variety, you may find some pleasure here. Personally, I'd rather eat something delicious in good quantities.
I do understand that sometimes gluttony can be a pleasure, and I do sometimes enjoy a little buffet. But this is definitely not the place where I will find the most pleasure.
This is more like a family outing to change some air and try something more diverse. I do recommend the place for people in the area who love that kind of concept, since it's pretty much pushed as far as it can get for a suburban buffet in France.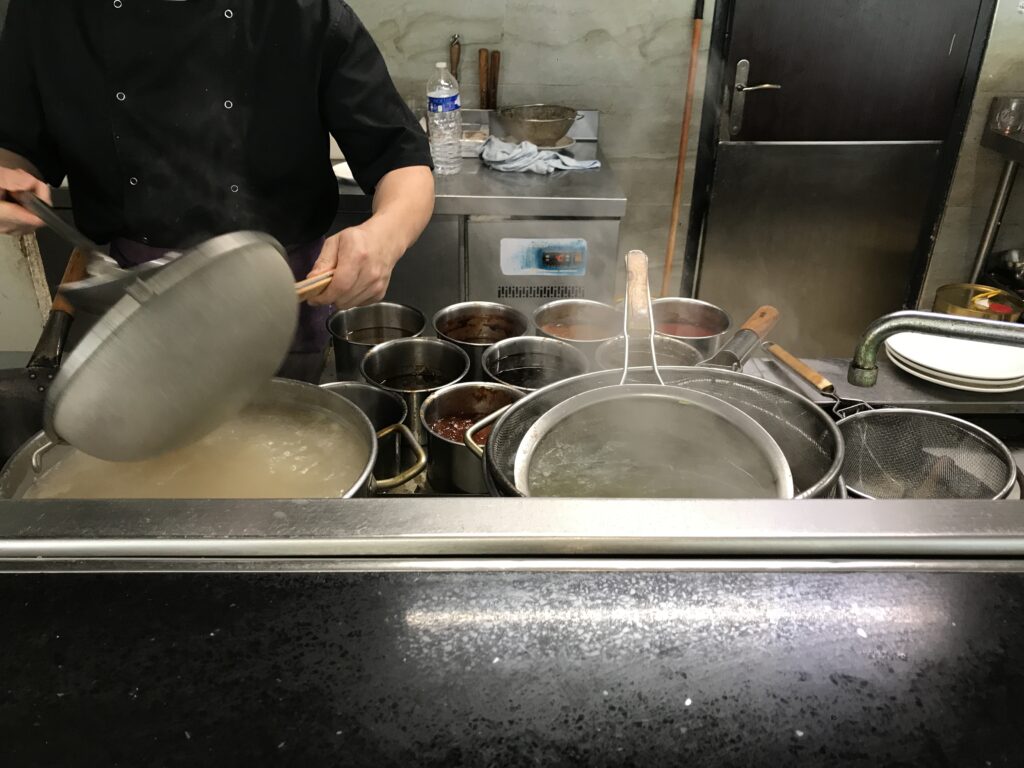 The price of admission at night in the weekend is something like 23 euros but I think that the restaurant is cheaper during the day which makes it an unbelievable value for money.
Informations
Wok Grill Torcy
Address : 15 Av. de Lingenfeld, 77200 Torcy
Website : https://torcy.wok-grill.fr/fr
Phone : 06 66 22 05 16
Facebook : https://www.facebook.com/wokgrill.france