Le Royal Torcy is one of the most famous Chinese restaurants in Torcy. This restaurant is so near the city of Lognes that it could be part of the city as well.
This place is most well known for its famous beef lok lak, which is a Cambodian dish. This restaurant is quite big and busy as well. We'll see in this article why you should definitely come and try this place.
The location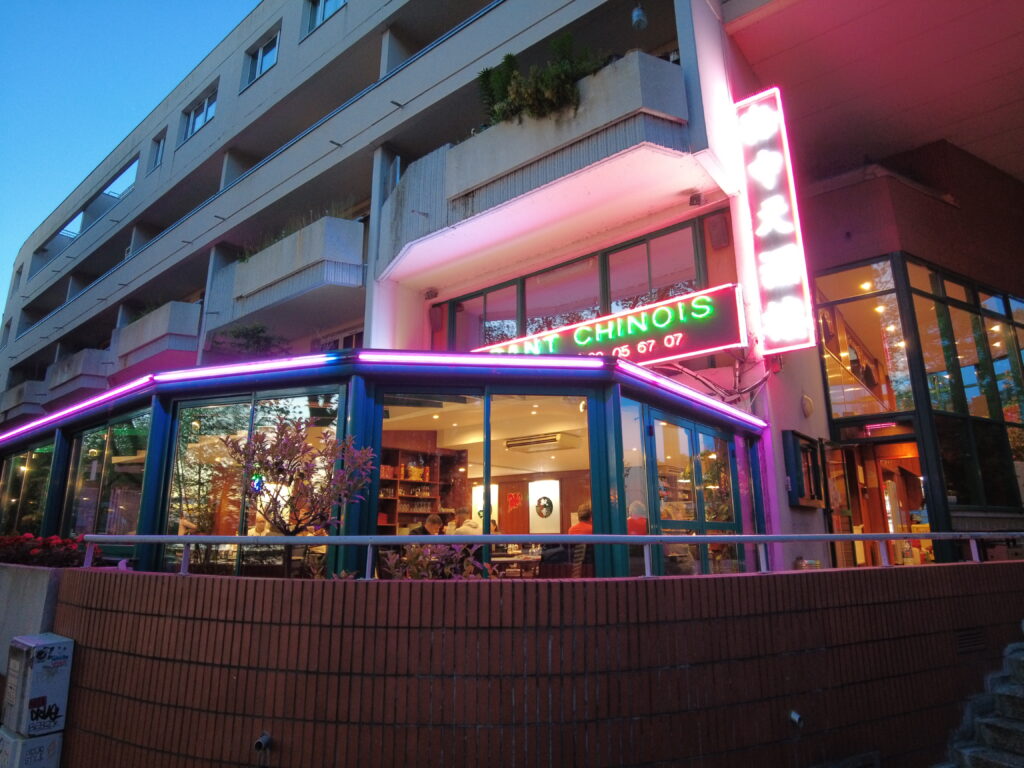 Le Royal Torcy is located at the extreme border of Torcy. Walk a couple of more steps, and you'll be in Lognes. It's located in front of a beautiful artificial lake.
The restaurant is actually elevated from the ground, so you'll have quite a view from the inside. This particular day, we were dining so we could see the sun set.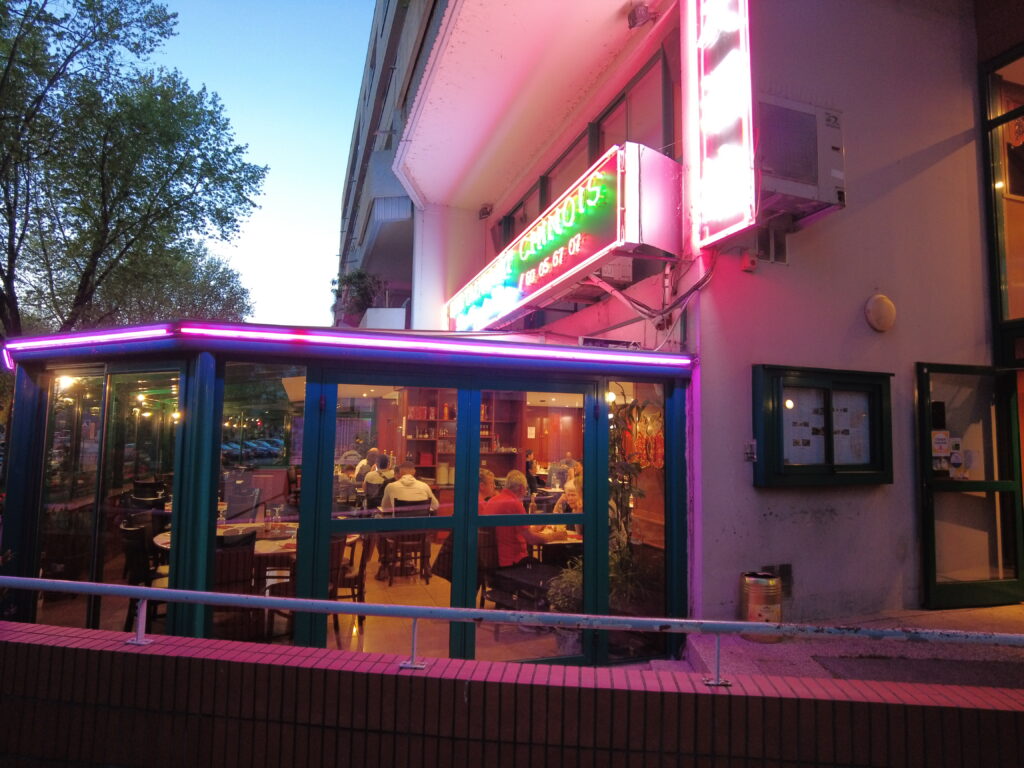 This restaurant is so busy that it has tables at the entrance dedicated to taking orders on the go. People call the restaurant to order and pick up their meals. That's how popular this restaurant is. There's also a bar at the entrance, but it's more like a desk to make bills and receive payments.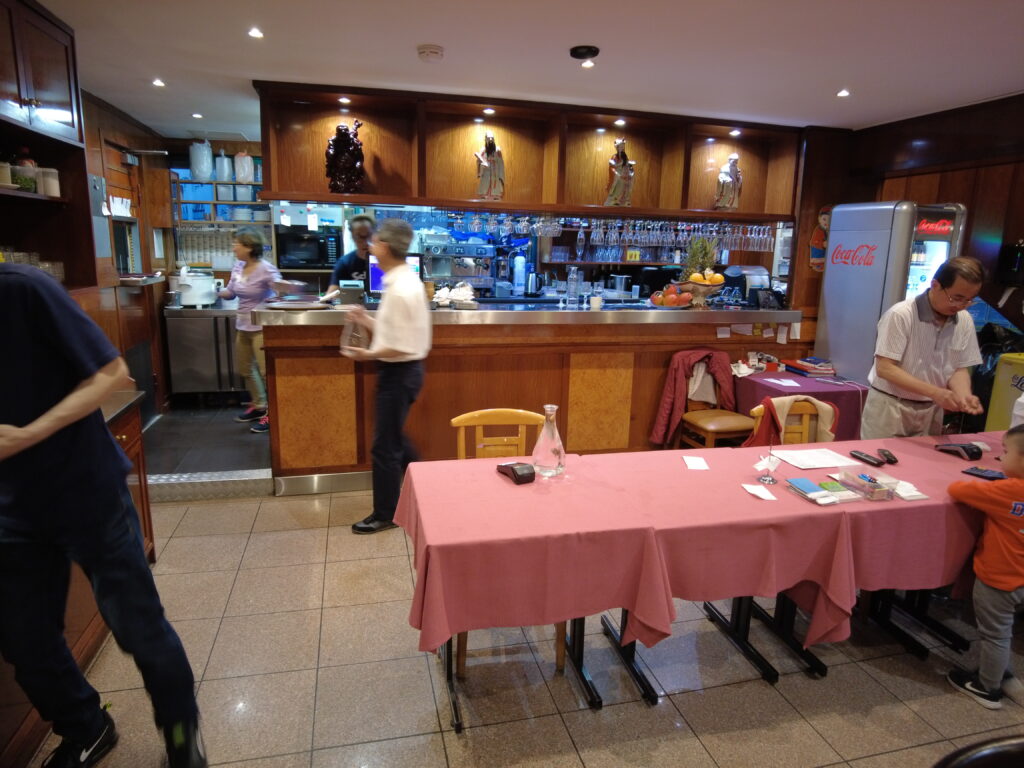 There are quite a number of seats inside this restaurant, which even has two floors. I think there must be enough seats for at least 150 customers.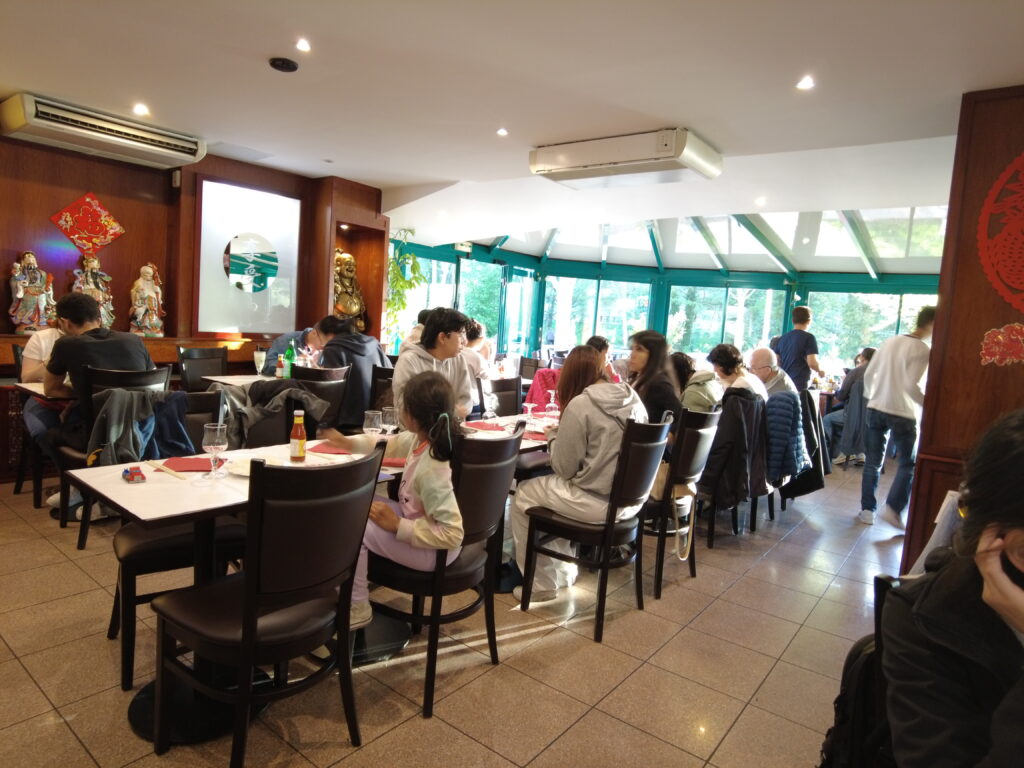 Large groups are welcome as long as they reserve in advance. Usually the upper level is dedicated to birthdays and other events.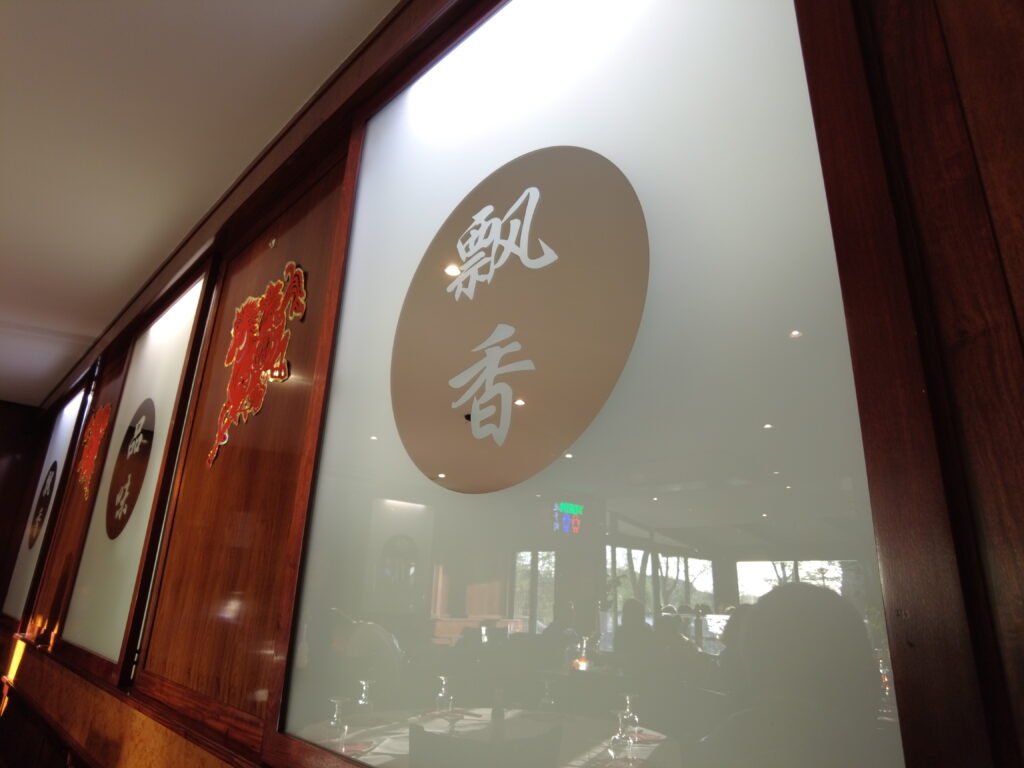 The decoration of the place is simple but tasteful and made of good-quality materials. This restaurant is Chinese, and you can easily tell it. I would say that for the location, it's slightly more upscale than most other Asian restaurants.
The menu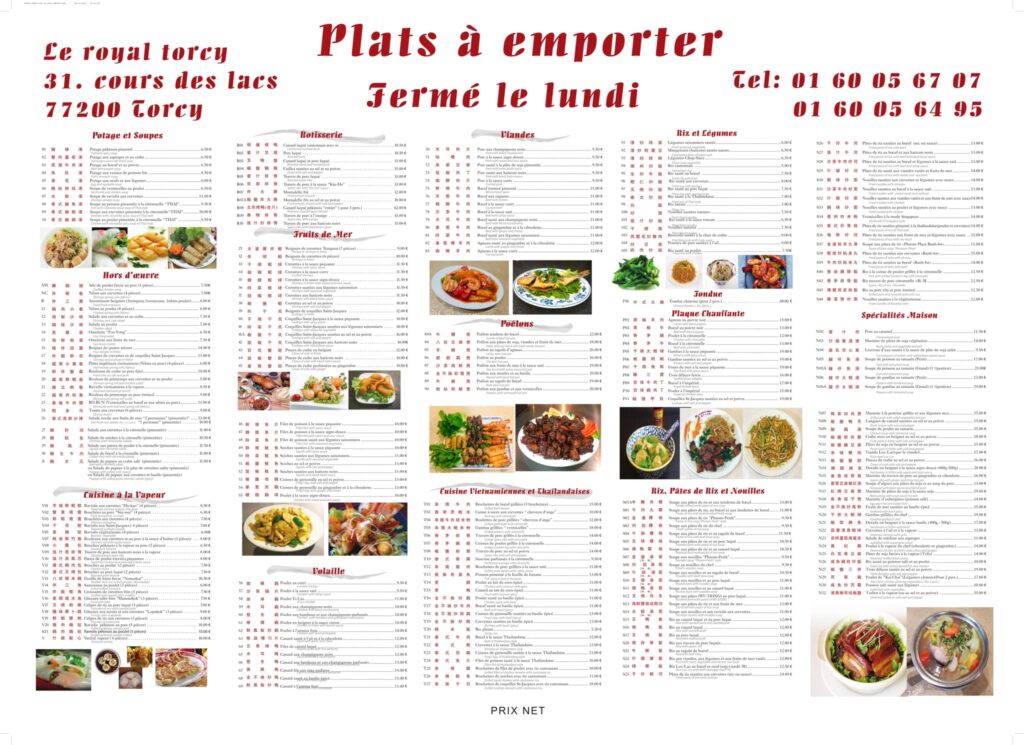 The menu of this restaurant is quite large; there are many dishes, and most of them are Chinese, which is a good thing. Because the better the taste, the more focused a restaurant is on one type of cuisine.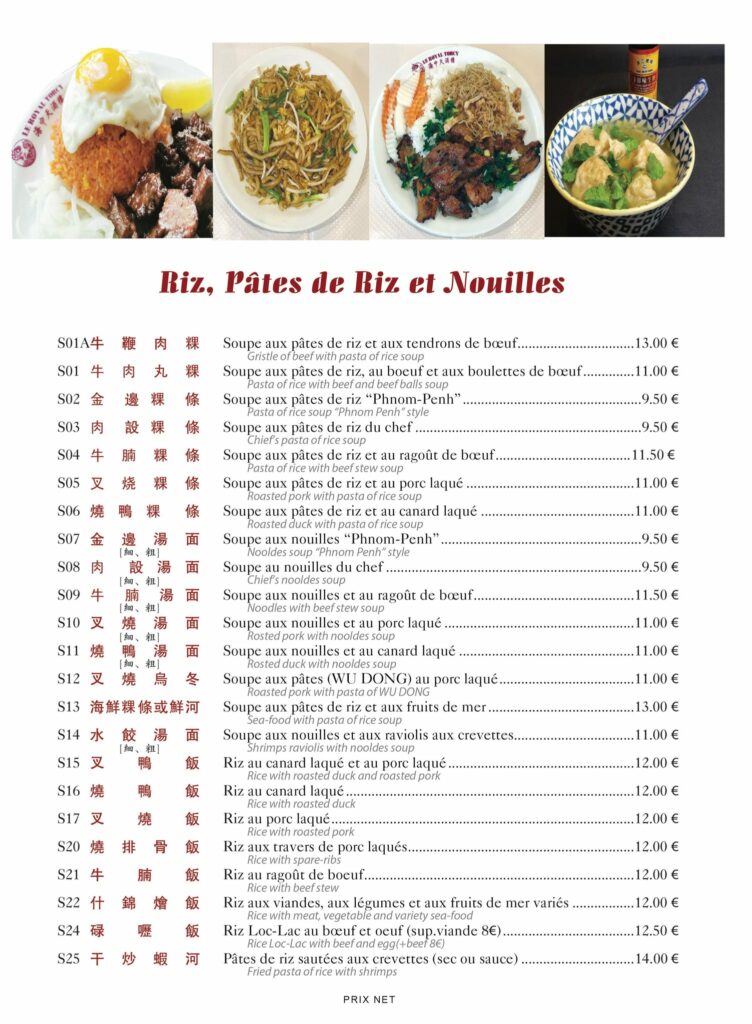 We would actually advise you to pick up some Chinese dishes at this restaurant. They make all the classic and traditional recipes, such as Won-Ton soup, Pork Ribs, and Wu Dong soup.
There's one exception to this rule; it's the beef lok lak. I think this restaurant is perhaps the best in the world. Well, it seems a bit presumptuous, but I've never been proven wrong yet.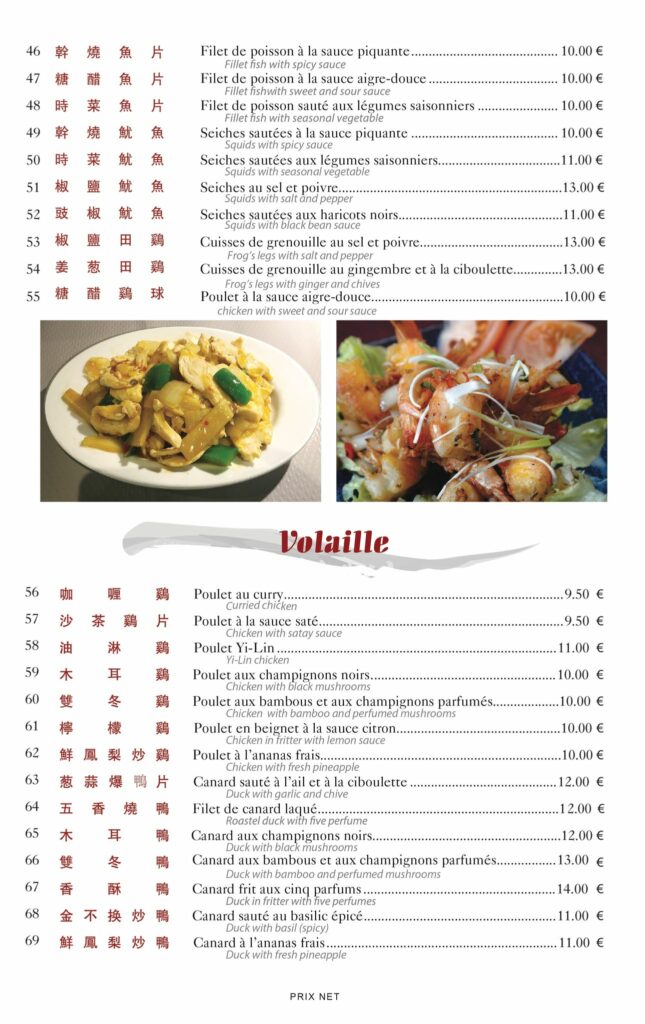 Poultry are also part of the menu notably chicken and duck. Chinese Peking Duck being the most famous one. Fishes are also present in the menu, but I've never tried them so can't comment on the taste.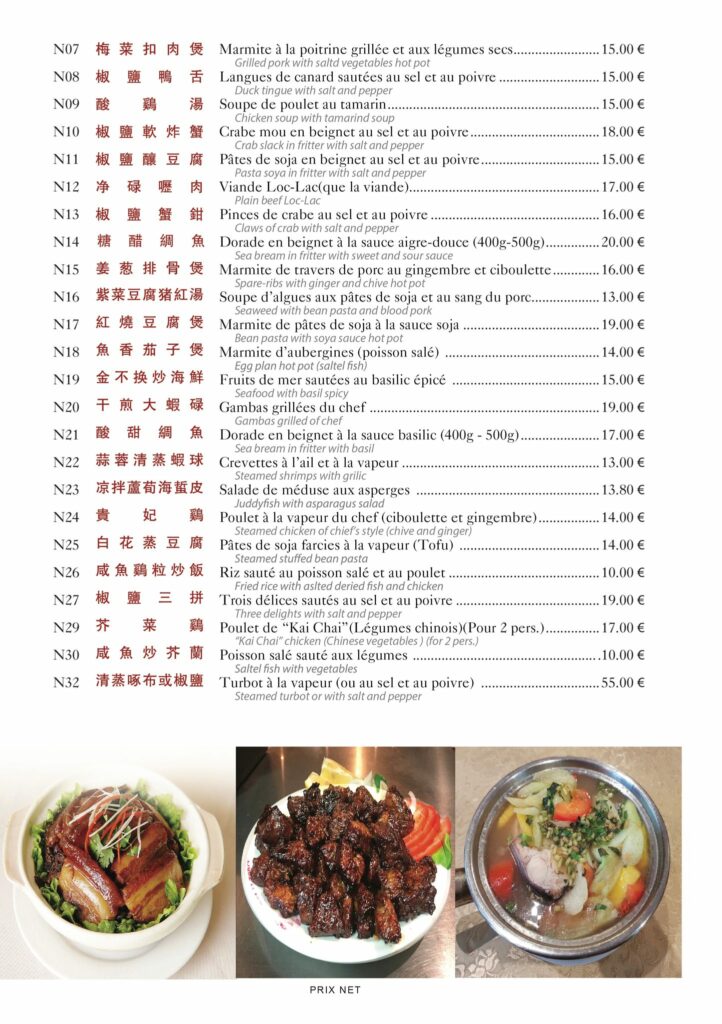 You also have shrimp, king prawns, and other seafood cooked in a wok. These are also something I've never tried over there, but I am pretty sure the quality is good.
Finally, like most restaurants in the area, they have the classic soft drinks and alcohol beverages and a dedicated menu for desserts.
Prices on this menu are actually quite low compared to some other restaurants post-inflation. Their success must be a reason why they didn't need to raise prices.
The experience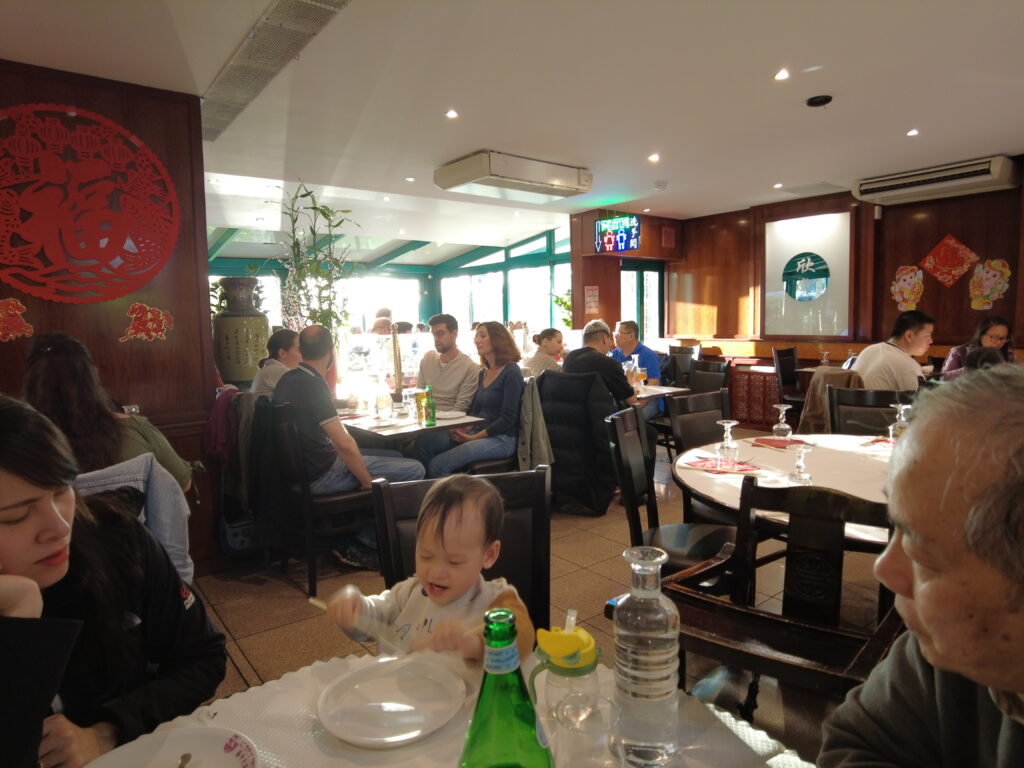 We know this restaurant well, and the service is good. We arrived around 8 p.m. and were seated at a table pretty much instantly.
Five minutes later, a waiter came and asked for our order, and all was set. Quick and efficient. The staff has been working here for a long time, so the cogs are very well oiled.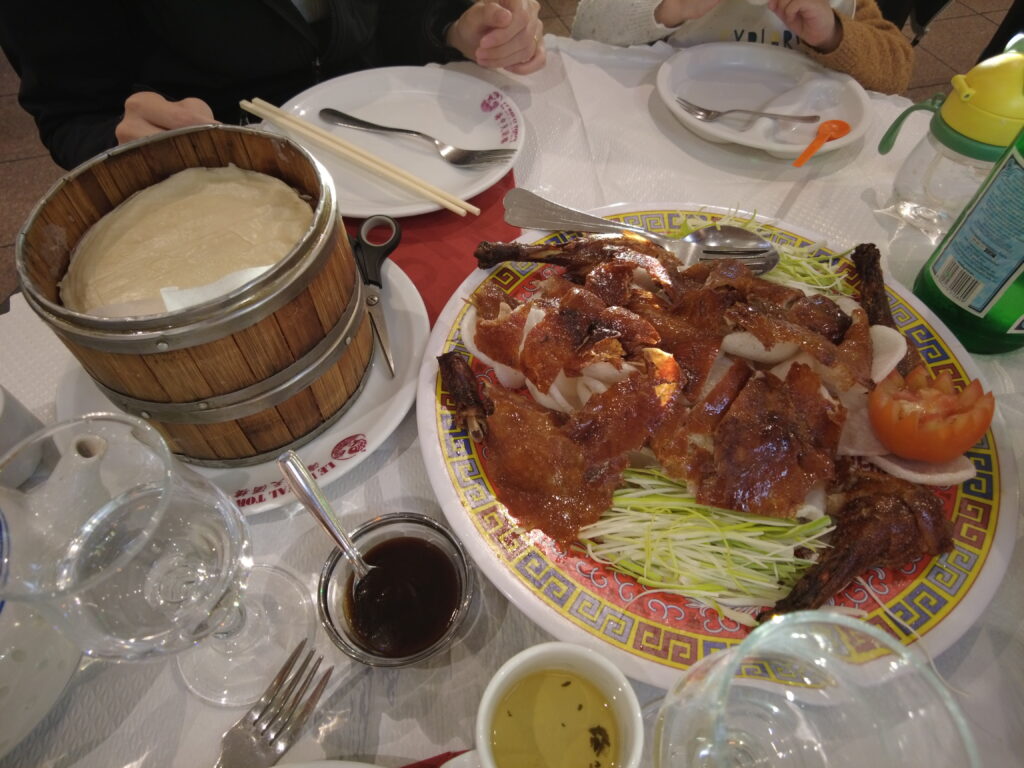 We ordered a full Peking duck for 62 euros. It's so much more expensive than buying it in Tang Frère, let's say, which is only 21 euros. But this duck comes on a 3-course menu in a restaurant. All things considered, 20 euros per person for a meal is just the average for a bistro.
It's the first time I've tried Peking duck pancakes, and I was looking for them after seeing them on TV. It was delicious. It's not for everyone, because it's pretty much like eating fat with sauce and a bit of vegetables inside a pancake.
What I mean by that is that it's not as diverse in flavor as a taco would be. But if you enjoy the sweet and fatty combination, perhaps you should try it.
Note that it was also served with shrimp chips, which added some sort of crispiness to the mix, like the fried rice cake does in Nem Nuong Nha Trang.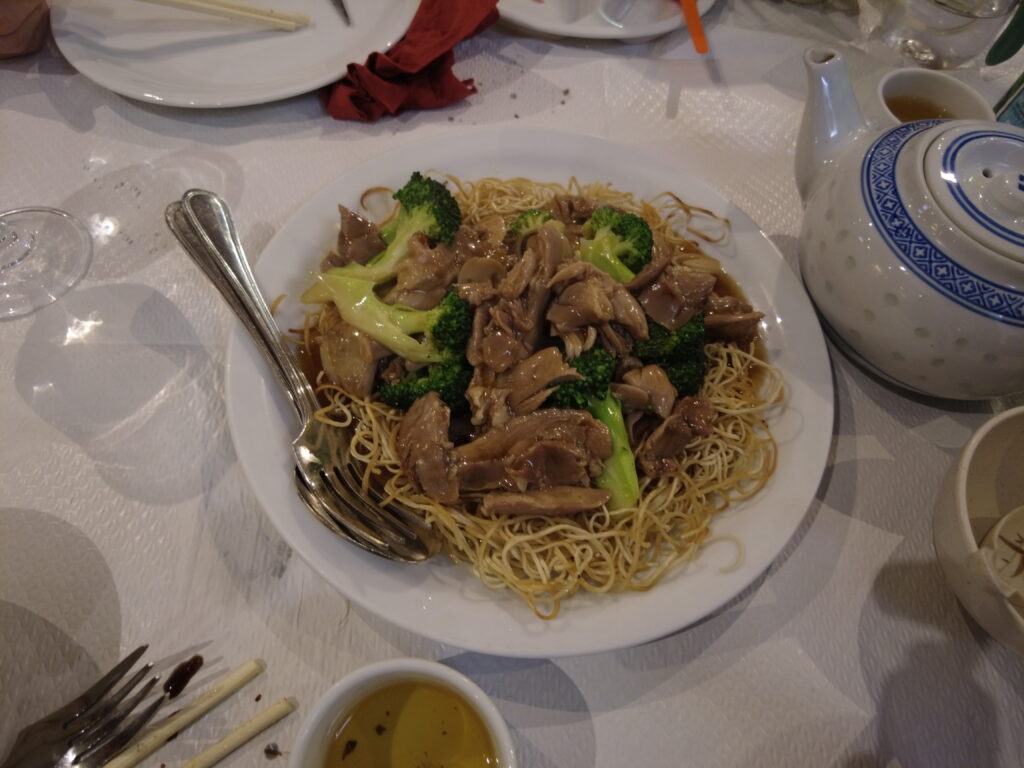 The fried noddle rice was overall good and traditionally made compared to the one at Mekong Restaurant.
The duck was perfectly seasoned, while the sauce was slightly blended. So they balanced each other out, even if I am used to eating a tad more salty.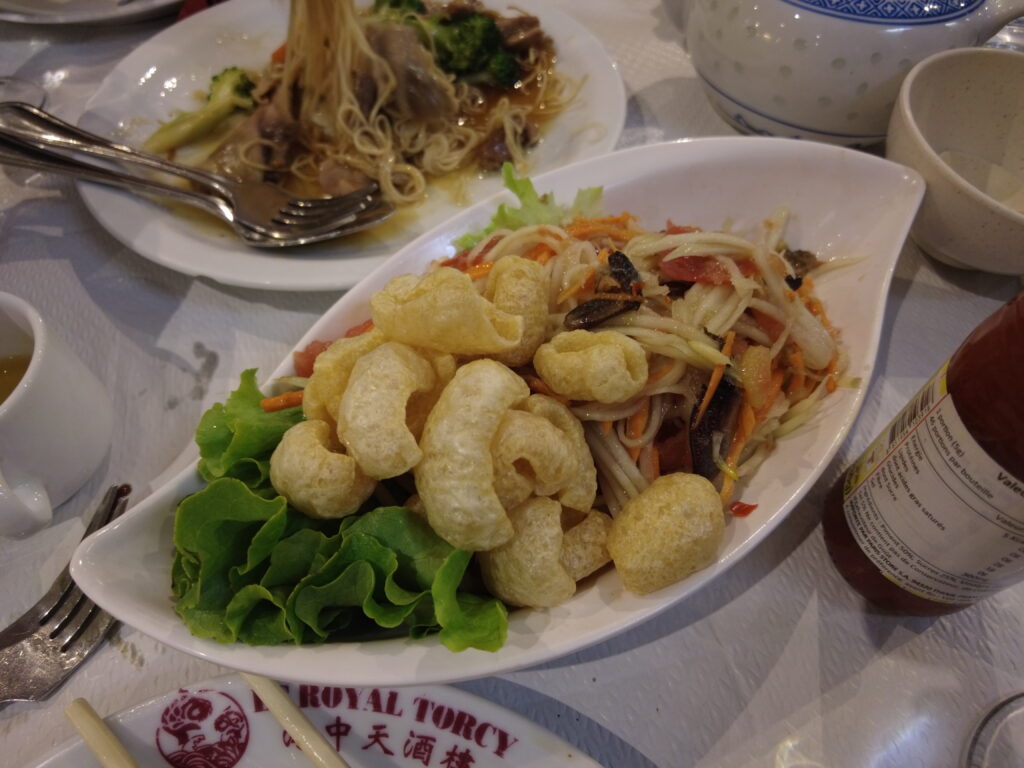 As Vietnamese, we are not used to eating only meat and fat; we need more variety in flavor in our meals. My dad decided to order some papaya crab salad; he is the kind of person who loves to have a bit of acidity in his dishes.
This salad is not for people who avoid spices. It's quite full of pepper, and it's hot as hell. I mean, at least for the regular people.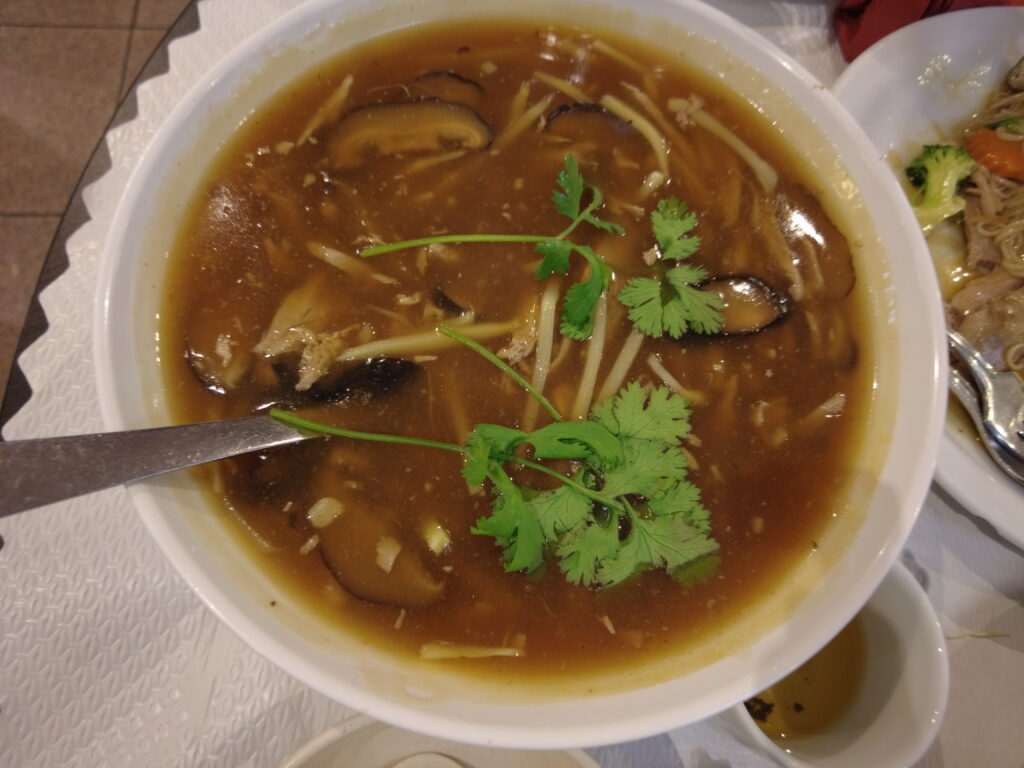 The soup was good, made with mushrooms and bamboo. It's not my favorite kind of soup, but I can still enjoy it. To be honest, at this point, we were already full.
There was no space for desserts; we only had some drinks like hot tea and a bottle of San Pellegrino.
Verdict
8.2 out of 10.
Le Royal Torcy is a classic in this area, and for good reasons. The place is big and clean, and the food is very good.
This day we ordered the famous Peking Duck, and it was delicious. But honestly, the star of the show in this restaurant is the beef lok lak.
We order this dish at least twice a month. Sometimes some of my friends come to Lognes just to eat at this restaurant.
It's probably one of the best, if not the best, places to eat a beef lok lak. If you are thinking about ordering some dishes at home for two or three people, You need to try this restaurant; the portions are very generous, and you'll feed up to four people with two dishes.
Informations
Le Royal Torcy
Address : 31 Cr des Lacs, 77200 Torcy
Phone : 01 60 05 67 07
Website : https://www.royaltorcy.fr
Facebook : https://www.facebook.com/RoyalTorcy/?locale=fr_FR