Target Archery is an Archery Range located in Long Bien, Hanoi near to Aeon Mall (Thạch Bàn). This place is open 24/7 so the people can enjoy shooting some arrows for fun at night with friends.
We never tried shooting arrows before and this activity ended up to be very interesting. In this article we will see if going to the Archery Range is a good place for fun and is it affordable.
The location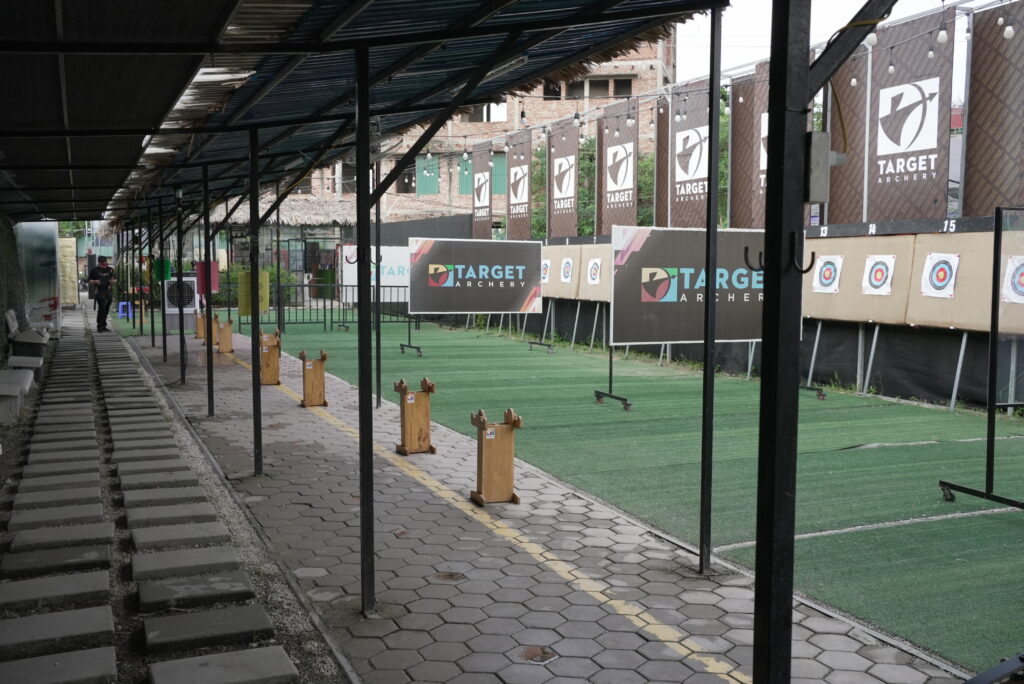 Target Archery is located in Thạch Bàn in Long Bien not too far from Aeon Mall. The place is located inside a smaller street but easy to find thanks to good indications in the main road.
The outside of the place looks a bit rural and raw, especially the place where people park their bikes but the complexe looks great and once you walk inside you will feel more secured and excited about trying this new activity.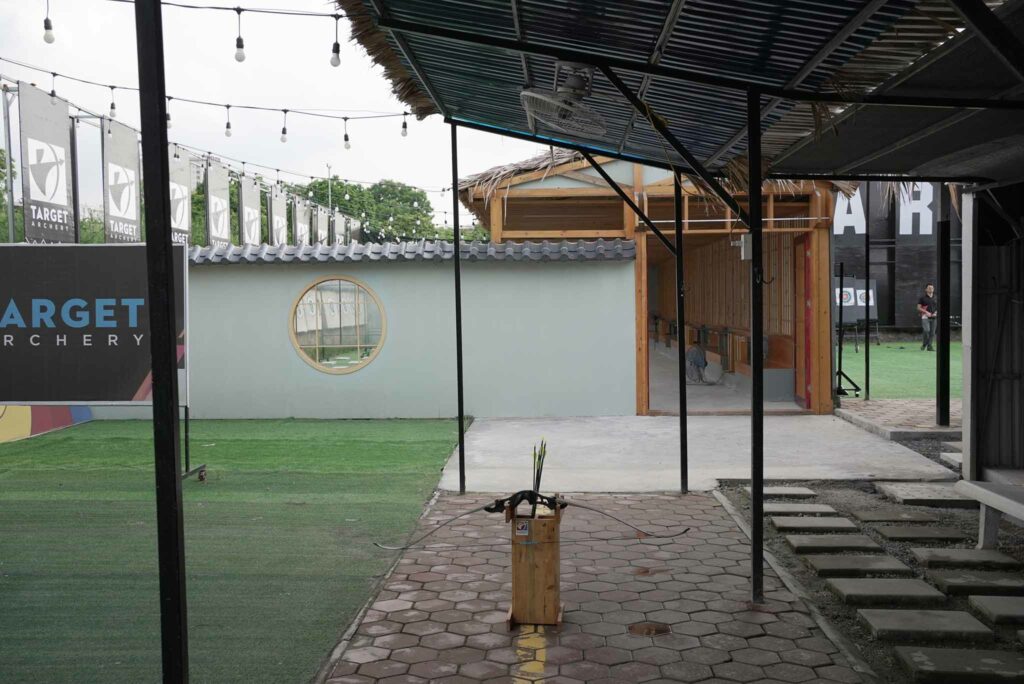 The range is quite big with different areas, each one having multiples lanes. You can accommodate at least 50 people in there.
One area actually have targets on wheels whereas the other two are quite similar and very reminiscent to the classic Archery Range layout. I believe they have different ranges or distances according to levels.
The process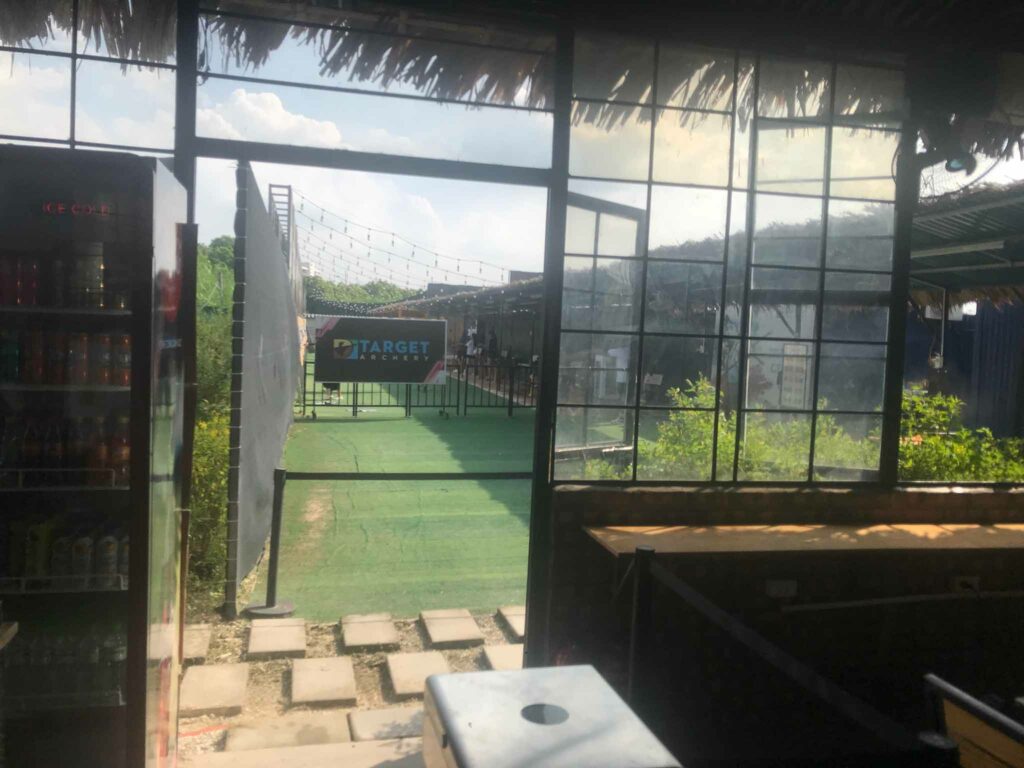 Once you enter the complex, you will arrive in the lobby where there are tables for people to eat, the fridge with drinks and also the reception where you pay.
In this reception you'll be able to see the prices and the different options available. You can count 150,000 vnd per hour per person and the second hour is free. Once you cross thirty minute threshold you'll have to pay some extra money.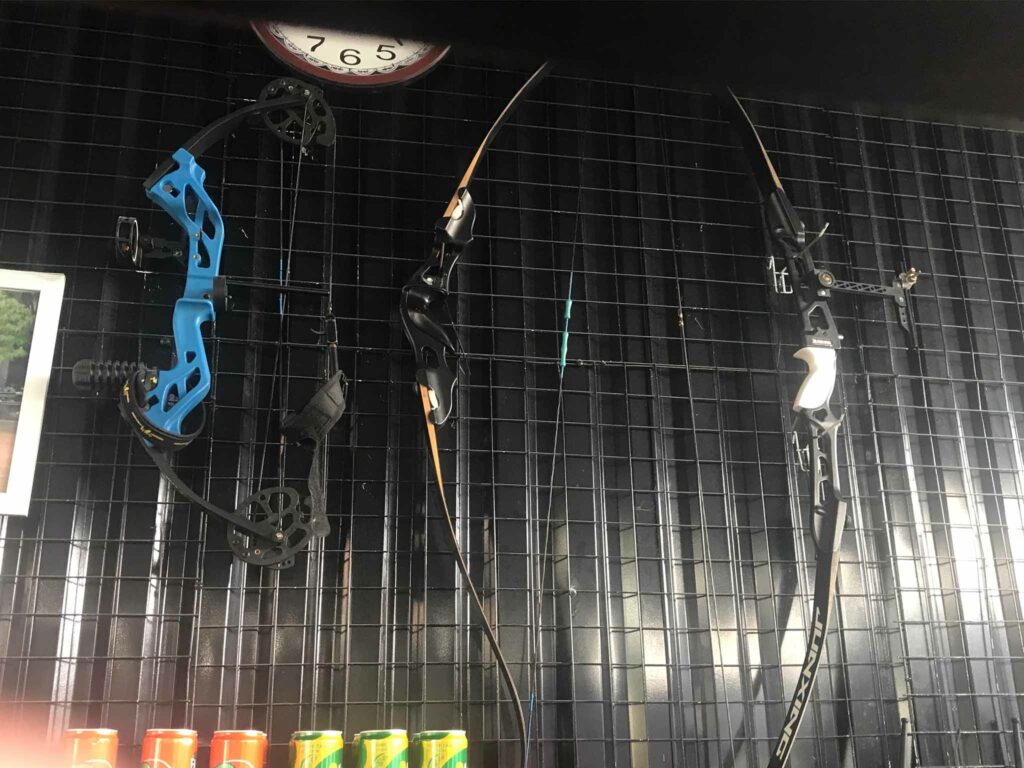 You'll have different options when it comes to renting the bow. There are basically three options :
Basic bow for beginner 100,000 vnd

With this bow, you'll have to use your feeling for aiming

Advanced bow for 200,000 vnd

With this bow, you'll have a tool to assist you to aim

Professional bow for 300,000 vnd

This bow is the one that use a pouli system to improve the power ratio and diminish weight of the cord you have to pull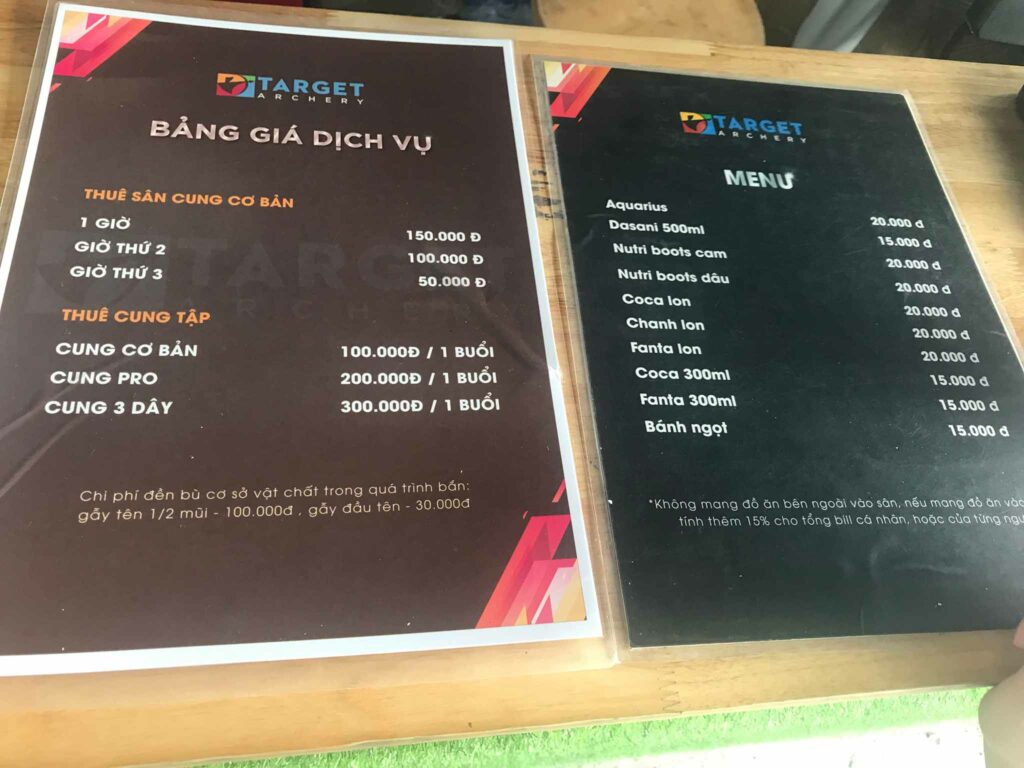 You'll also have a food and drink menu in case you feel thirsty and want to snack.
Once you've chosen your options, you'll be granted a key access and you'll have to fill and sign a liability discharge form.
Once you enter the Range, an instructor will teach you the basics and safety precautions. The instructor actually speaks english as well so don't worry if you can't fully understand Vietnamese.
After being instructed the basics and having received the safety equipment, you'll shoot some safety arrows to make sure you'll have a safe experience.
Once you are deemed to be safe for other people and yourself, you'll join the range and start shooting at a target.
The experience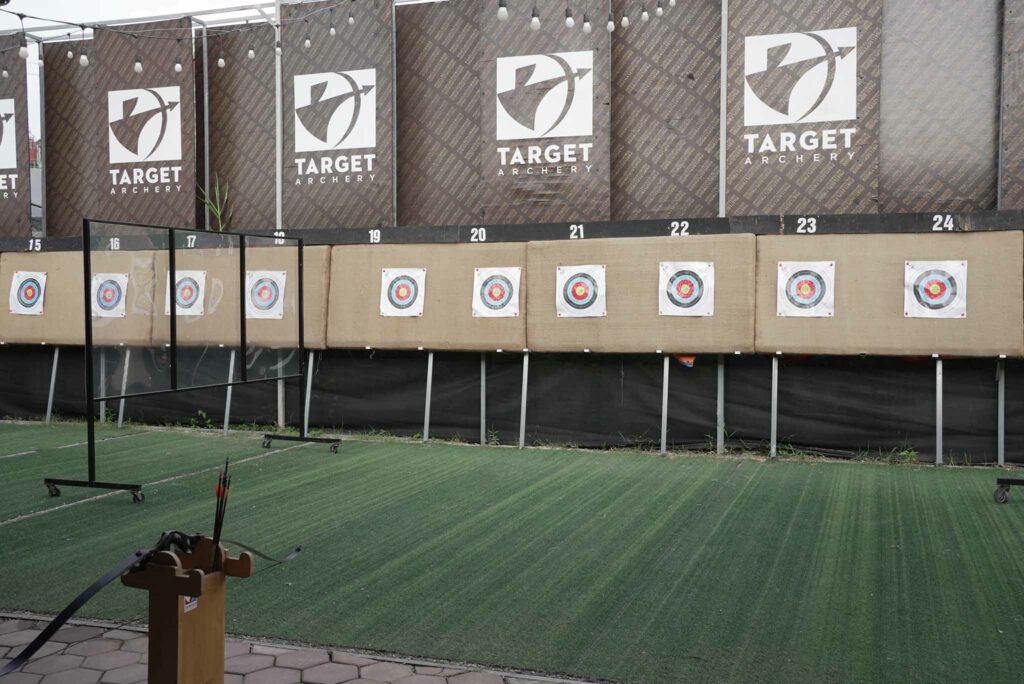 From our entrance in the Archery, we were guided in our choices and taken care of with the process and the technicalities of Archery. Every safety mesures have been instructed for us to enjoy a safe experience.
The Range for example forbid people to be on drugs or on alcohol which is fair since arrows can actually be a lethal weapon.
My wife and I chose to have turn shooting with the arrow so there was very little to no risk. Also the range have different lanes to make sure you won't aim side ways.
The most dangerous situation is when you retrieve the arrow from the target, at this moment you'll have to make sure nobody is still shooting in your back.
At no point at all we felt like we were in danger, I've personally been in gun shooting range and there's a bit of adrenaline when you are manipulating live rounds and firing.
The shooting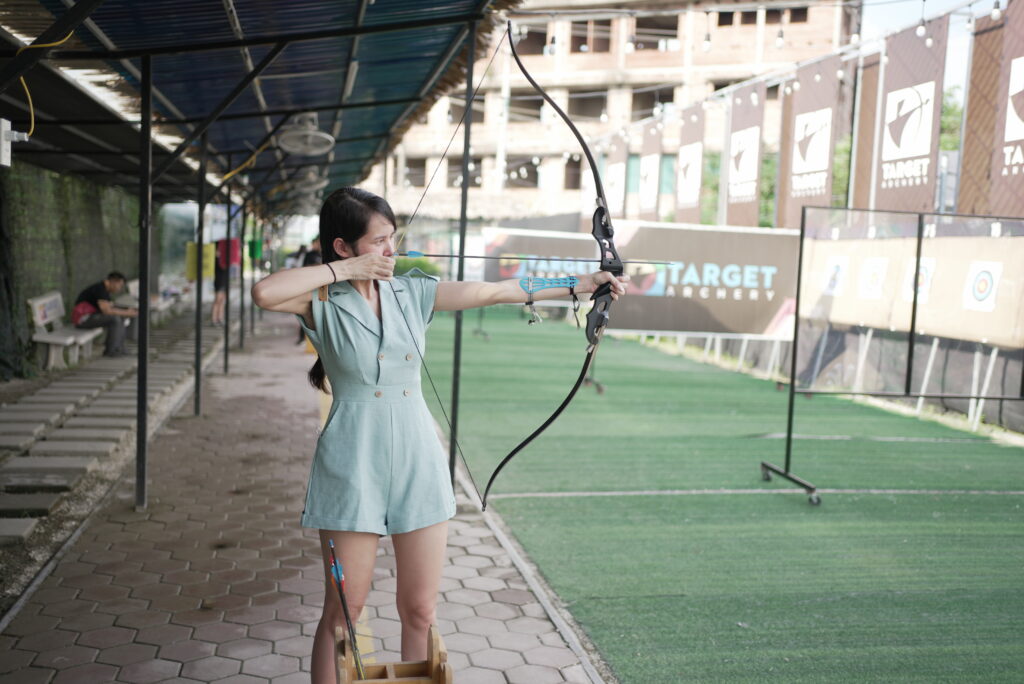 The first arrows we shot were fairly off target but not enough for the arrow to go somewhere crazy like in the neighborhood. You'll have to aim down a bit actually since the arrow tend to go up.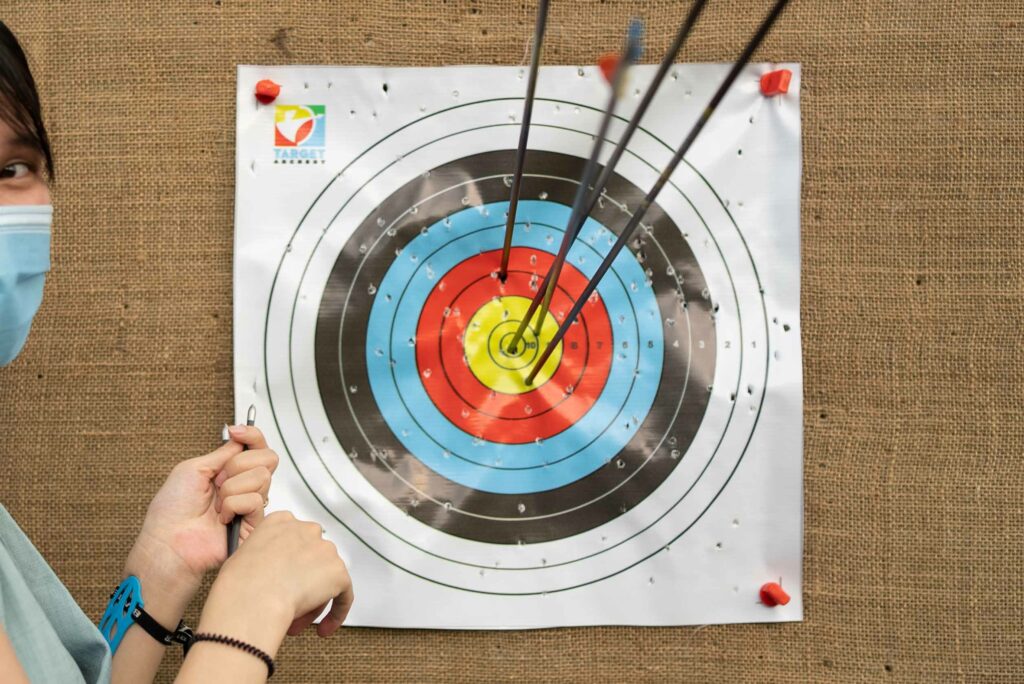 After some practice we were able to consistently hit the target but we were also interested in understanding how to aim and trying to have the proper form, so we were experimenting different poses and technics.
I don't know why for example, I had to aim on the bottom left corner to hit the center of the target but whenever I was looking below the arrow it would always end up on the upper right part. I think it has to do with the archer's paradox.
Also you would think that the arrow flight straight but it's not always the case. Arrows can also be shot with an angle and actually most bows makes the arrow bend back and forth.
As beginners those steps are normal but what I wasn't expecting was my left arm to be shaking a bit while holding on long on the cord. It's not that shooting arrow is physical, but you can't indefinitely shoot arrow without loosing some of the control in your left hand.
Traditional bows will be harder to hold with the string pulled whereas bow with pouli system will be harder to pull but once pulled will be lighter when holding the string.
Still even as beginners we already start enjoying the process of shooting arrow which is a good thing cause some other activities require a lot more experience before giving some satisfaction.
Verdict
8.0 out of 10
For us trying Archery was overall very fun and actually affordable as an activity. The fact that you can go after work or late at night to shoot in the range with some friends makes it a convenient option for going out one or two hours and enjoy something different.
Also Archery is something that can be enjoy by both women and men so going out with a group makes it practical. Perhaps the only downside is that kids can't really come along since it is still a weapon that can kill.
Like when you play pool, you can also have some time to sit down and relax while drinking a cold beverage or snacking.
We paid around 290,000 vnd for everything including two drinks which is relatively unexpensive for two hours and two people. We still don't know if each person have to pay 150,000 vnd even if using one bow thought.
My wife and I will come again for sure and try some more advance bow. Hopefully one day we'll be able to compete and count points though my wife seems to be more talented than me when it comes to Archery.
Edit : We came back to try the Olympic Bow and it was a totally different experience. We are still learning how to aim but we are closer to count points.
Information
CLB Target Archery
Address : Số 3 Ngõ 184 Thạch Bàn, Thạch Bàn, Long Biên, Hà Nội 10000
Phone : 098 680 86 48
Facebook : https://www.facebook.com/TargetArcheryHN