Maison SEN is a high-end buffet restaurant located in the Hai Ba Trung District of Hanoi. It is probably one of or the most famous buffet in the city, and for very good reasons.
Yesterday was the first birthday of our son, and to mark the occasion, we decided to try this restaurant. We will discover together in this review why this buffet is so famous and whether or not it deserves its popularity.
The Location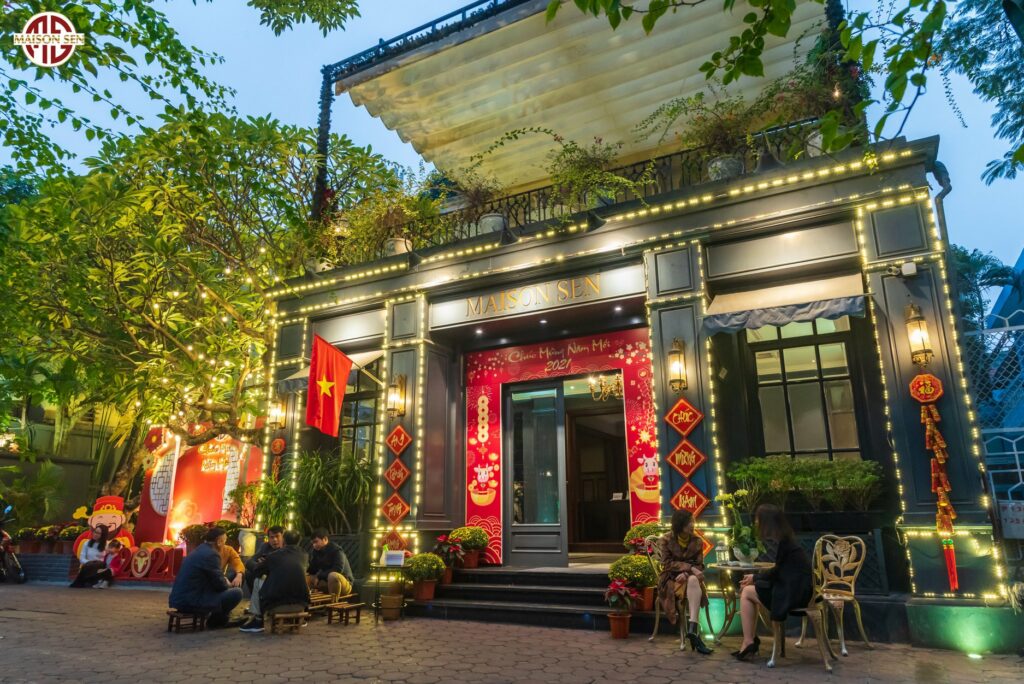 As I previously mentioned in many of my other posts, Hai Bà Trưng is my favorite district in Hanoi for activities; to be more precise, from the south of Hoan Kiem Lake to say Vincom Bà Triệu, have some of the best foods and clothes you can buy in Vietnam in my opinion.
So it comes as no surprise that Maison SEN is located in phố Trần Hưng Đạo, a street where there is actually a concentration of embassies, such as the French Embassy. That's actually how I discovered this place—walking out of the embassy, I fell upon this beautiful establishment where some of the dishes were roasting in front of the lobby.
A Luxurious and yet Popular Restaurant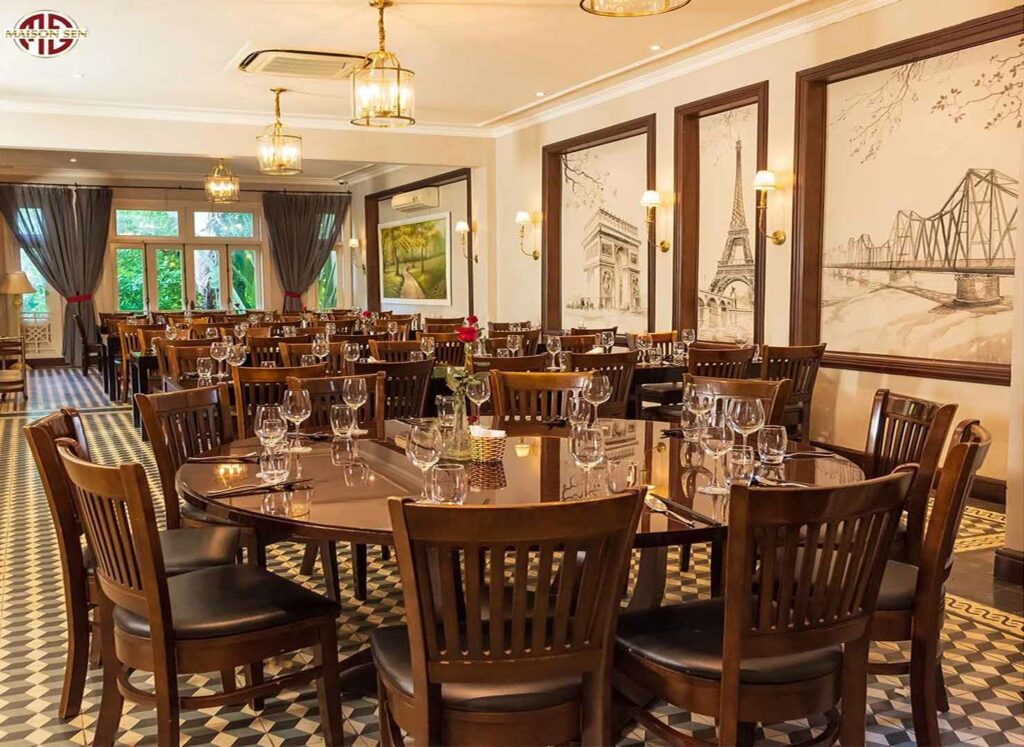 The first thing that comes to mind when walking in front of the restaurant is that it looks chic. Indeed, like the name suggests, the establishment has a French-inspired interior and exterior design; it really looks posh and expensive, especially with the jazz music playing, the beautiful lobby filled with staff members, and the doorman rushing to open the car door.
All the Roads Leads to Rome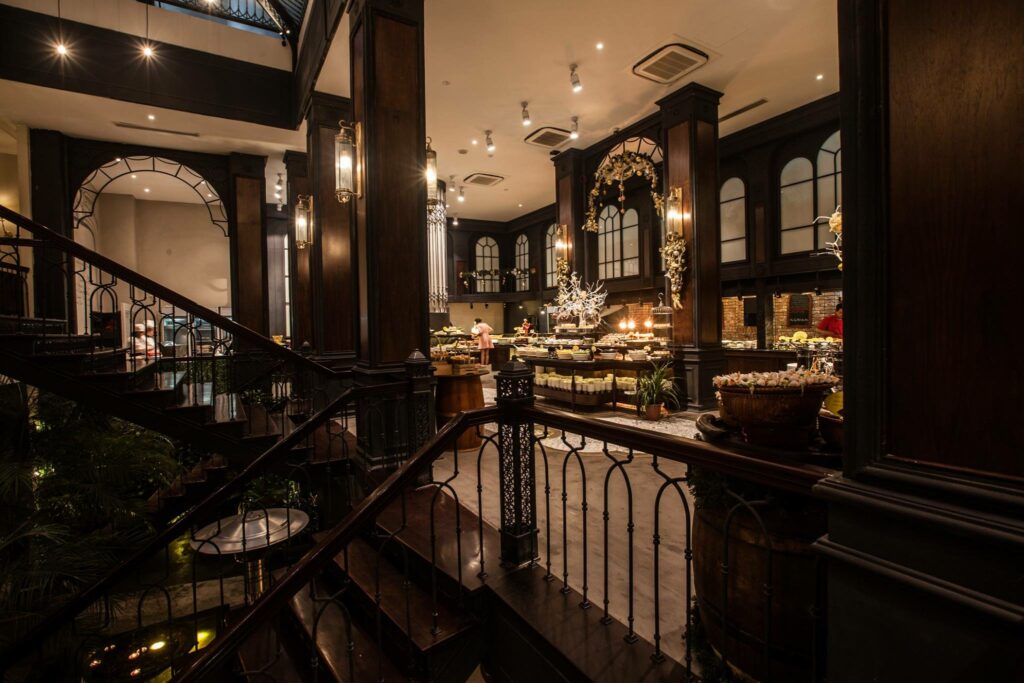 The restaurant is huge; there are many rooms and many floors that all have access to the main buffet area, which is fairly big, well organized, and, to be fair, simply a stunning looking place.
I have to say, the architecture of the building is quite impressive. I've been to many buffets in my life, and this is one of the most beautiful I've seen yet. There are really some hidden jewels in Hanoi, buildings that look nice from the outside but are amazingly huge on the inside.
The Main Attraction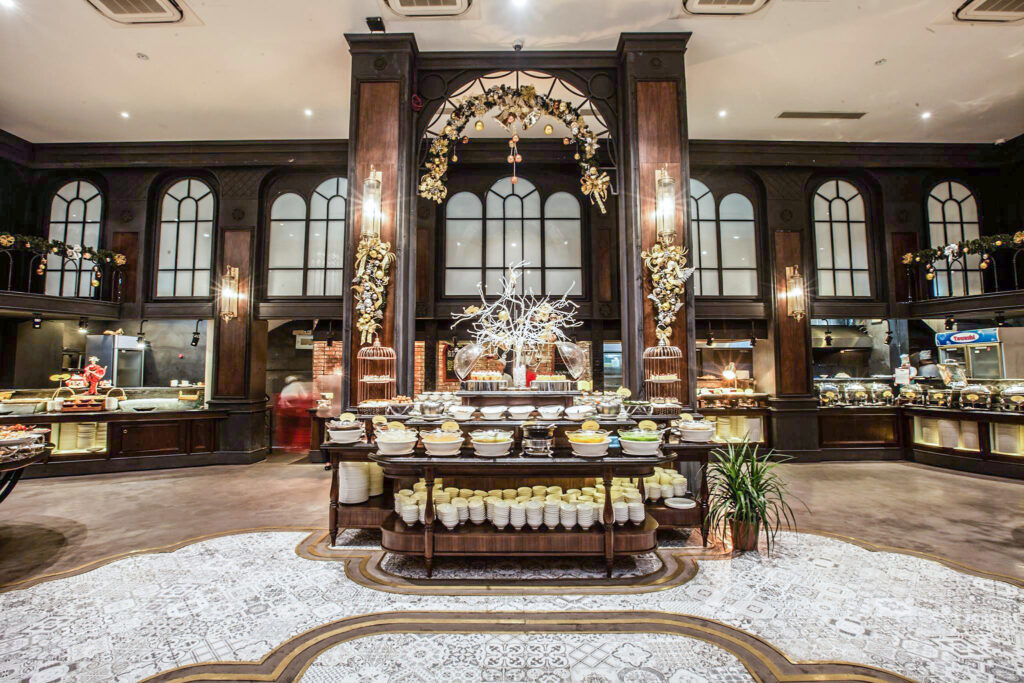 Maison SEN's buffet is quite big, and the food is extremely varied. You will find about anything you desire in this restaurant. But for us, and I don't think we are the only ones in this case, we were very pleased with the large seafood offering.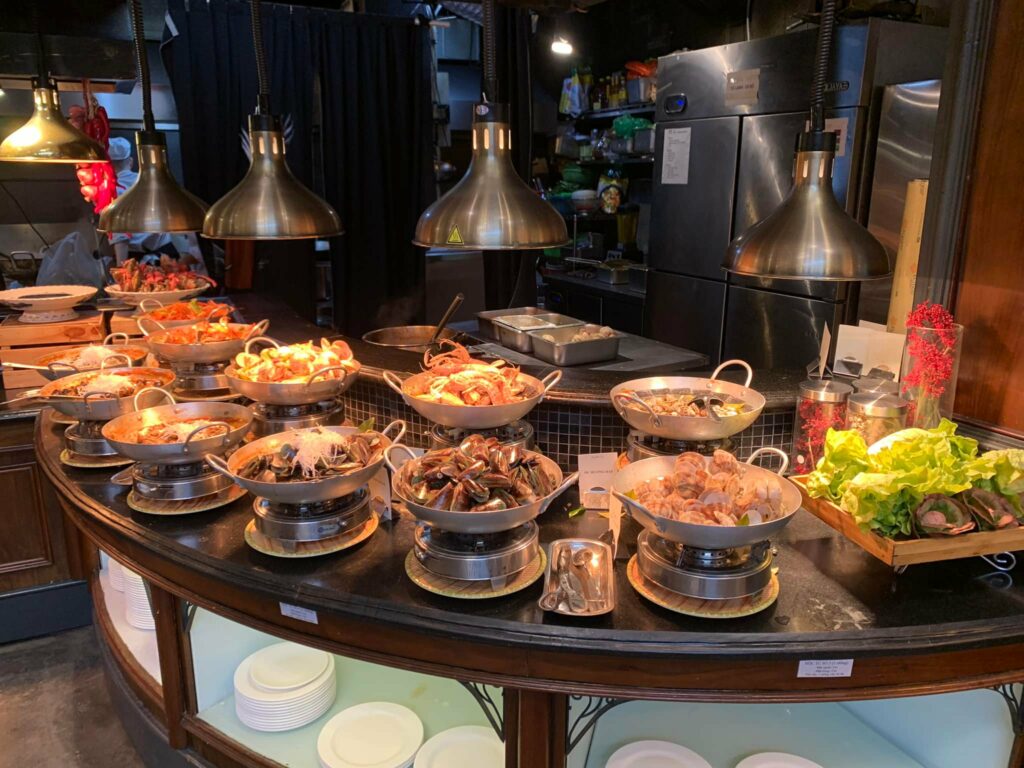 You can find multiple sections for seafood: one for the barbecued seafood, one for the boiled seafood, one for the seafood in sauce, and finally one section for raw fish and oysters. The offering of seafood is extremely varied, actually much more varied than some specialized seafood buffets like Buffet Poseidon.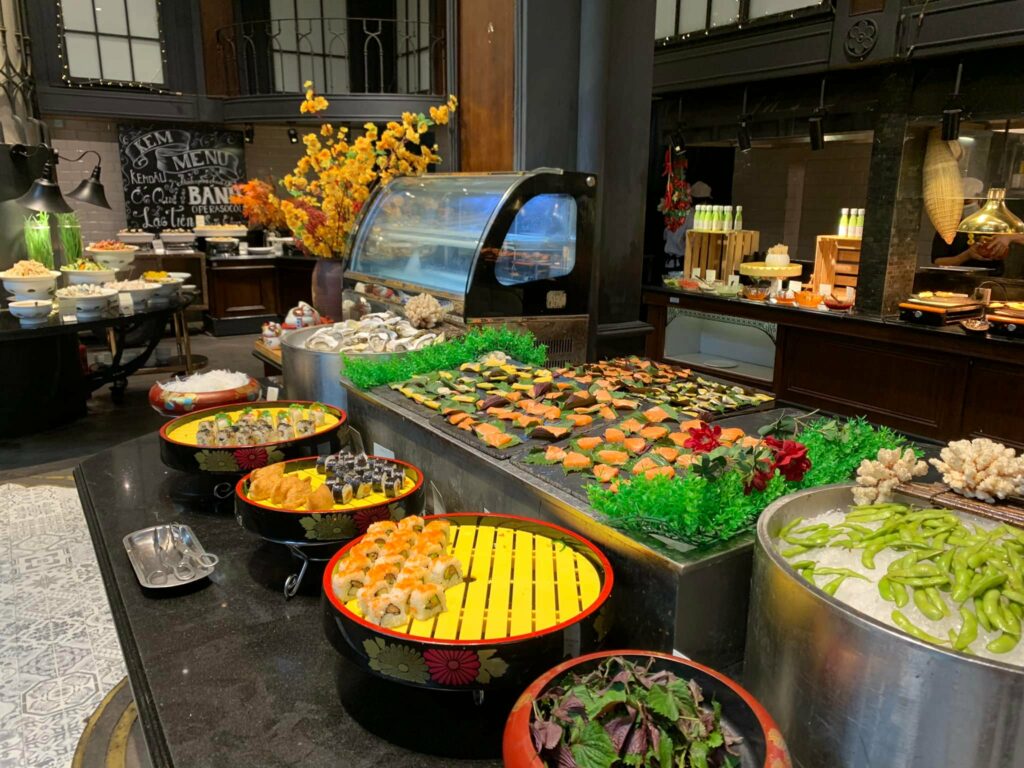 For one thing, you can find sashimi and maki; I even saw some other days when they could have tuna and ca trch, a sort of hareng with delicious colored fat (red or yellow). Unfortunately for us, we were both not present the night we ate at the restaurant.
Our favorite section was probably the one dedicated to barbecued seafood. There is something quite special about how Vietnamese cook seafood with salt, shallots, chive, and peanuts. If you add some of this green sauce named Mui t Xanh, it just becomes ridiculously delicious.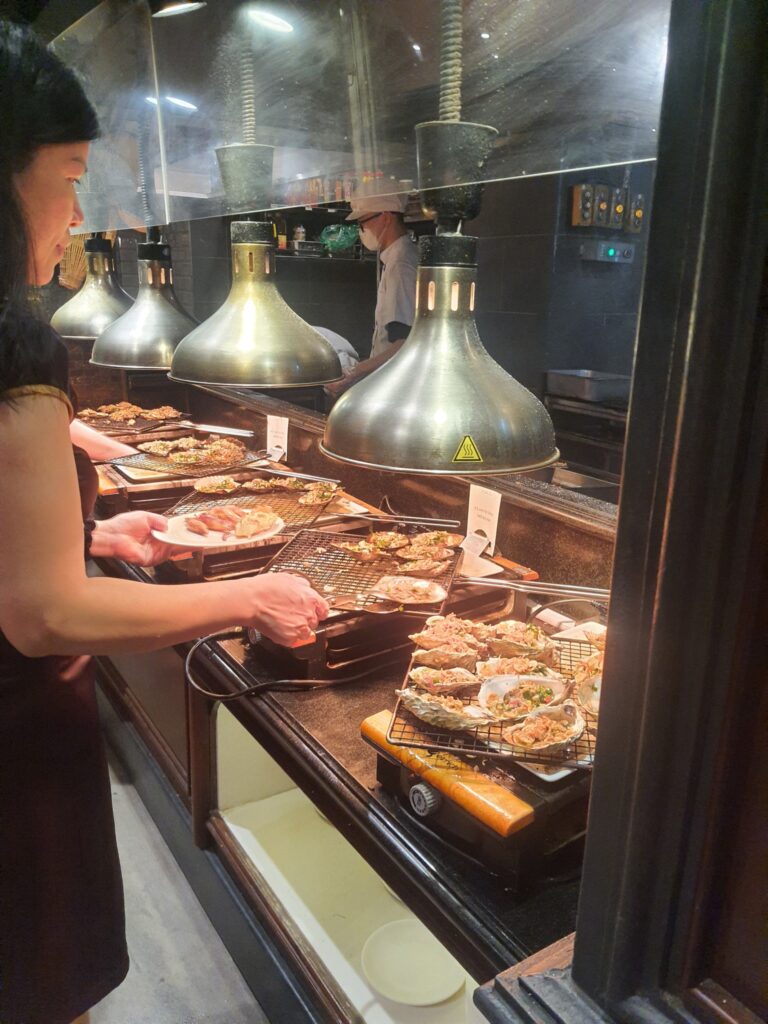 Like most buffets, you still have the traditional salad bar, a place for desert and fruits, a place for soup, a place for bread, a place for regular food like spaghetti or pizza, and finally, a place for seared meat.
We believe that the focus of this place is not really the meat, even if you can still have a piece of steak. I think they have the right strategy, as most people tend to eat Nng for meat in Vietnam anyway.
For desserts, you will have a selection of cakes, caramels, chè, ice cream, jelly, yogurt, and fruits. Honestly, deserts are not the main attraction for us at a buffet, but it is always nice to end on a sweet note.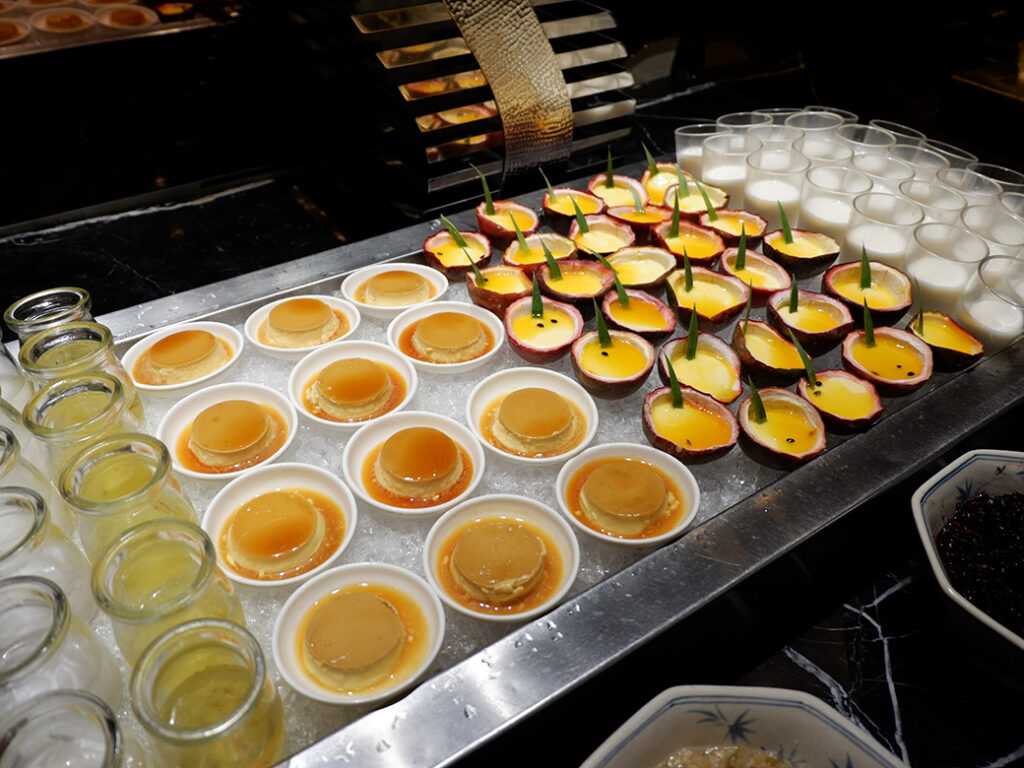 You have a fridge full of soft drinks. There is also wine and stronger alcohol, like vodka, which costs only 550,000 VND. I saw in pictures that they even have a carafe to ventilate your young wine.
A Relatively Affordable Option
The price for admission for an adult is 398,000 VND. For young kids smaller than a certain height, the price is 200,000 VND. Finally, for small children and babies, admission is free.
I believe that even if this can feel pricy by Vietnamese standards, the amount of value you get for the price and the location make it actually quite a good deal. Especially compared to traditional seafood restaurants.
Verdict
9 out of 10
Eating at Maison SEN is overall a must-try experience if you live in or are passing through Hanoi. The place looks amazing, and the food quantity and quality are great for a buffet.
When you come to this establishment, you'll see people well dressed, as it is a place for celebrating important events such as my son's first birthday.
Sure, you can always eat better food somewhere else, but there's always something quite exciting and entertaining about trying a new buffet with friends and family.
Informations
Maison SEN
Address : 61 Trần Hưng Đạo, Hoàn Kiếm, Hà Nội
Phone : 1900 2850
Website : https://maisonsen.vn
Facebook : https://www.facebook.com/Maisonsens