Go Kart Vietnam is a Karting circuit located in Long Bien very near to Thác Bản. I've been in indoor Karting in France and it was fun but this karting was slightly more fun.
Let's discover in this article why you should definitely try this karting circuit. Especially if you come from a foreign country.
The location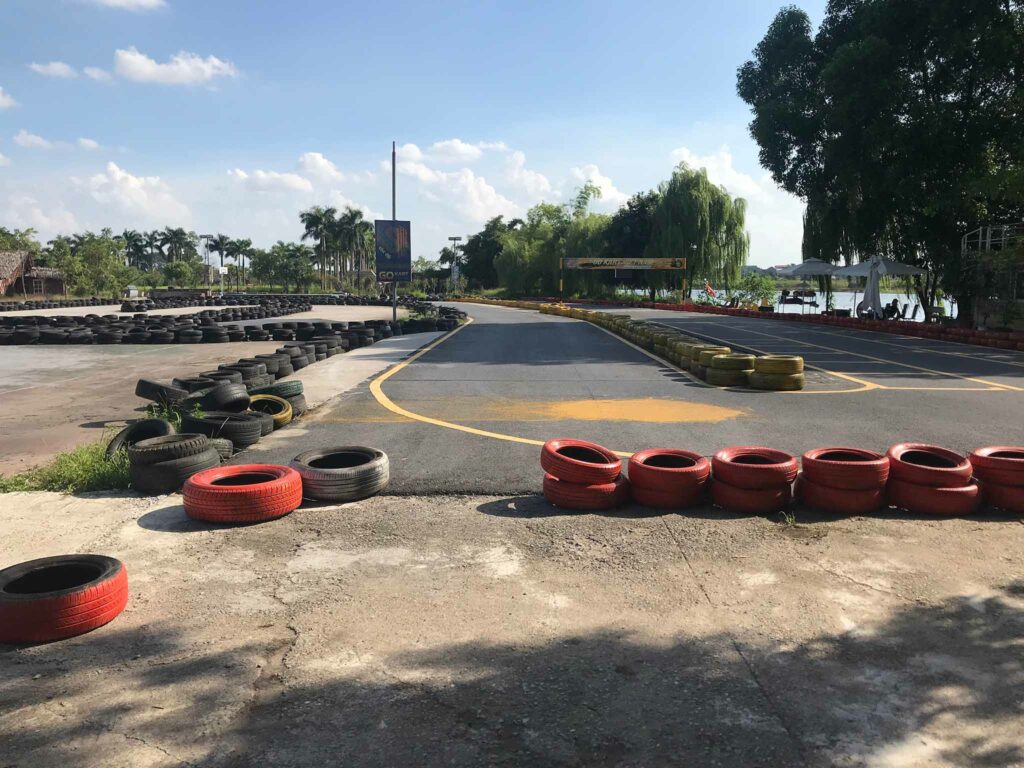 Go Kart Vietnam is located in a quiet and slightly remote area in Long Bien, Hanoi, more precisely : Thác Bản. The area was a very nice surprise to us, since it is a green and clean space along the river. We were actually thinking about having a picnic overt here after seeing the place.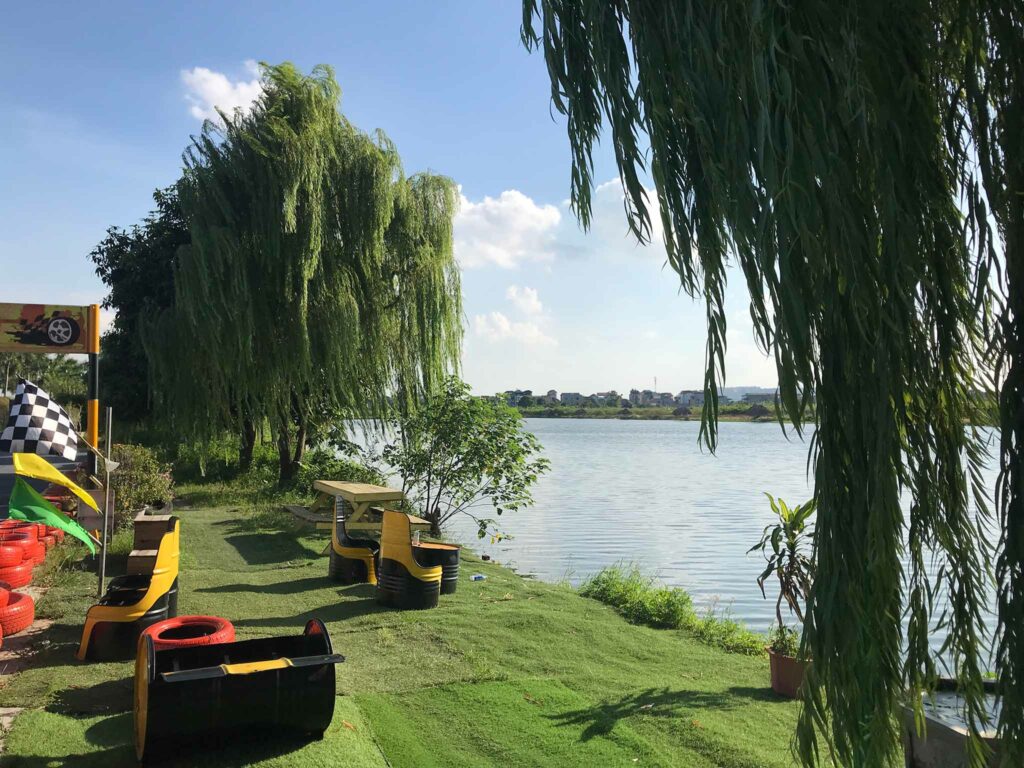 There seems to be multiple activities in the area : soccer field, karting, equitation perhaps even more. For people living in the center this place can be slightly remote though still close to the Vinh Thuy Bridge. For us it's 1 km away from home and we really appreciate this.
The place is quite big, there is basketball field, a restaurant and some tables across the river for family to sit and enjoy the scenery.
The process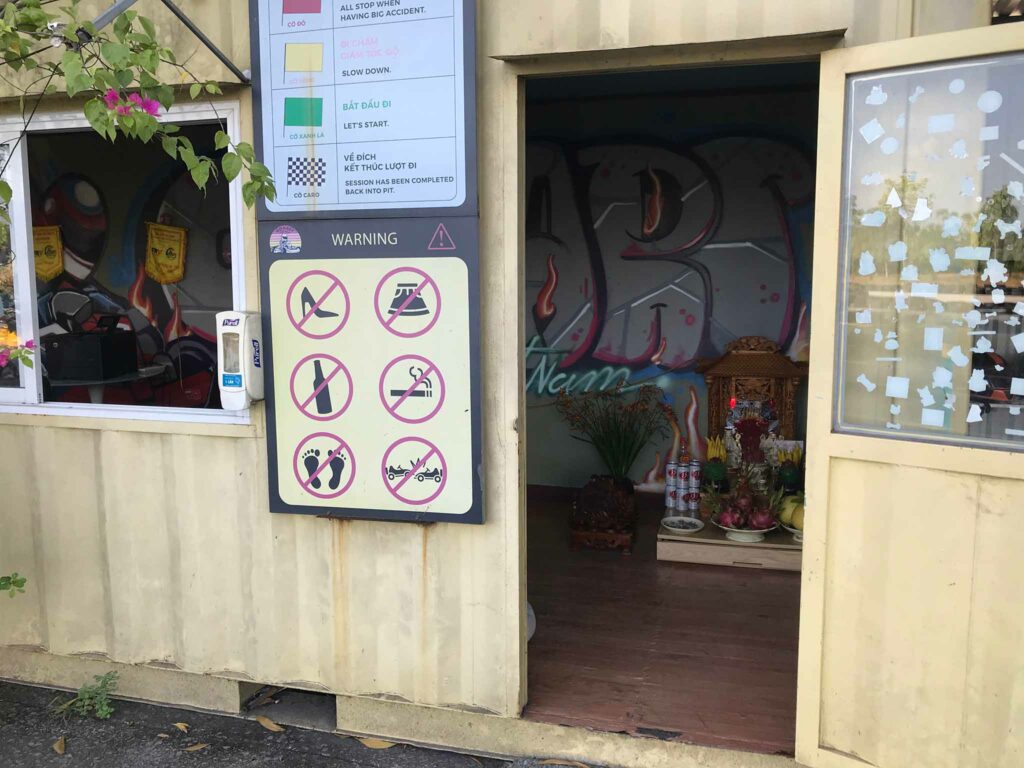 The process is quite simple. First you'll have to sign a form in the reception of the Karting, liability discharge close and rules more precisely.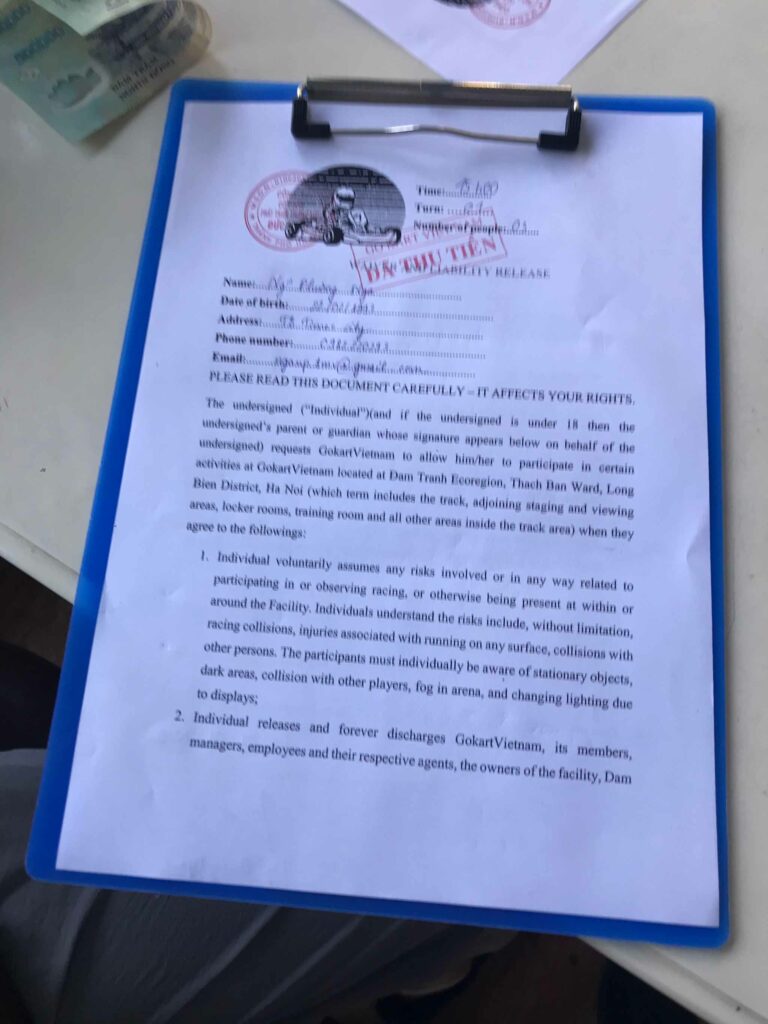 Once you do, you'll be asked to pay for the karting session which is 265,000 vnd per person for 20 minutes, which is insanely less expensive than France where it's more around 45 euros so more than a million VND.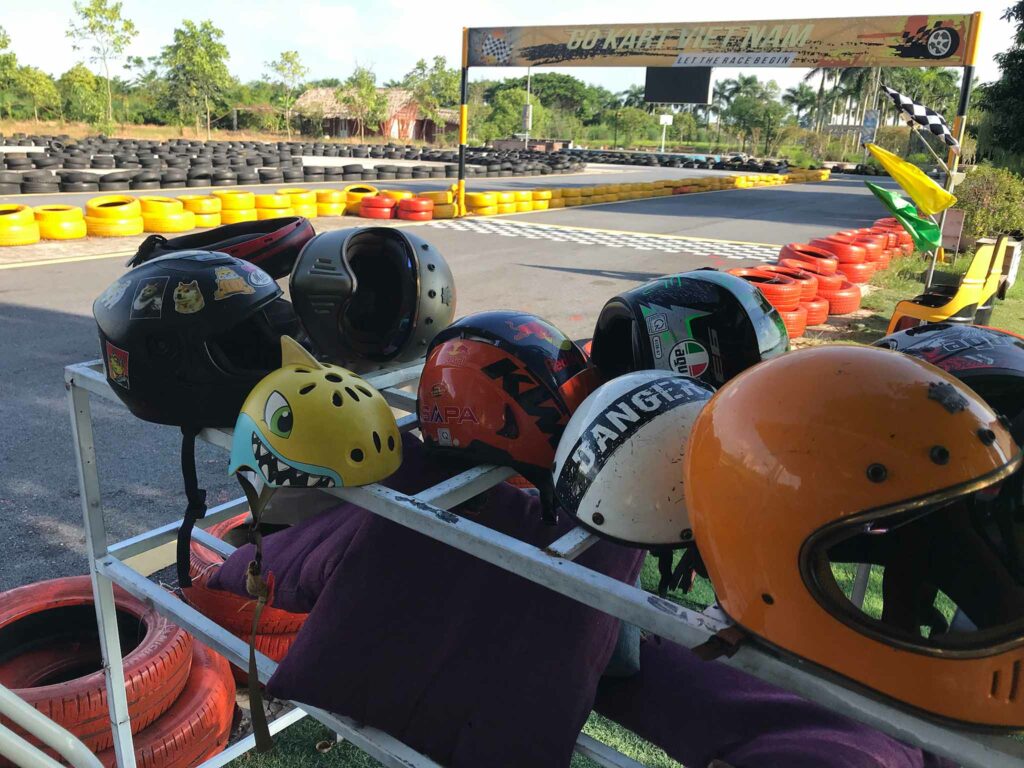 Once this is done, you'll have the choice between many helmets. I personally chose to wear one with a windshield since you never know what debris in the road will end up in your face and also the wind is quite annoying when you drive a bit fast.
Once you are set up with the helmet, you will be guided towards a karting. The kartings are very similar, perhaps some of them have a bit of the protection upgraded with wheels in case of collision. Compared to Kartings in France they may look a bit old a rudimentary, but it's only the look.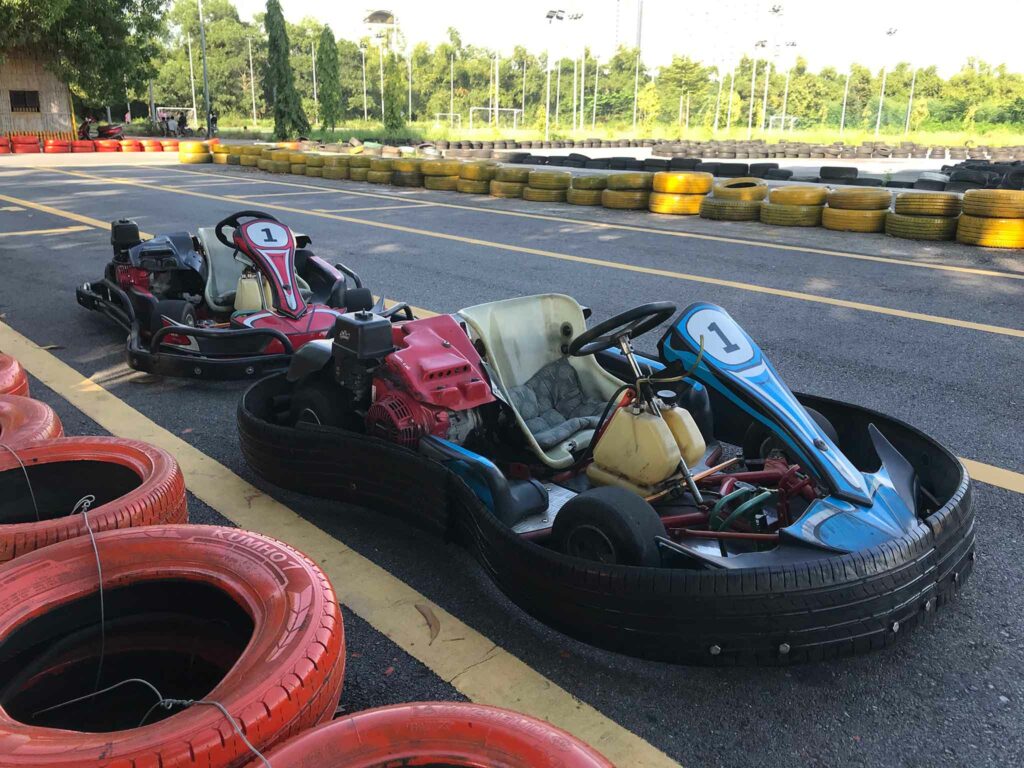 What matters is how they feel when you drive and they feel great. There is actually a pillow placed under your sit for you to have a more comfortable experience.
Once you chose your vehicle, they will instruct you how to accelerate and break and of course not at the same time. And safety measure, like staying in the vehicle if the engine dies or something else happens.
The experience
When we first arrive in the premise, we saw a man driving very fast a drifting at each corner. I thought to my self, this is the kind of karting where people can actually enjoy a bit of speed and I wasn't wrong.
The guy in question was actually a man working there. Makes more sense. The employee were very chill and relaxed, I really like that, almost like passionate friends, who were trying to share their passion to the public.
We ended up paying by bank since they didn't have change for two 500k bills. This was a minor convenience and overall the experience before driving was great.
Once we started driving, the first laps were mostly trying to understand the vehicles. But once you understand this, then pleasure of speed and drifting finally appear and man this is fun !
The steering is non-assisted, so trust me if you are not used to it, it will be like a crazy workout for your forearm. Now I understand why F1 Pilot have to train physically.
The most fun I had was driving with the employee which honestly was driving like a mad man, I saw him crash in the wheels while drifting one time. But at least it gives you an idea how fast you can actually corner.
The circuit is not the biggest, but it's definitely enough to tire your arms within 20 minutes.
Verdict
7.4 out of 10
I remember back in France, owners of karting were yelling because people were driving too fast. Here in Vietnam, since the equipment have been amortized a long time ago, and a mechanic is cheap, you can actually drive like a maniac if you want to.
All this ingredient makes it for a very fun experience and in my opinion better than what I've tried so far in France. Also the price is like one 4th of the cost in France so you don't feel like breaking the bank every time you go for a drive.
I would also recommend you to make some sandwiches and try to enjoy the beautiful and quiet view.
Edit 06/11/22 : Since then I came back with my friend Joel and one of the kart was actually not as fast as the other one and was not turning right. You had to slow down to turn right so it was impossible to have a fair race. So no competition unfortunately also the staff didn't wanted to aknowledge the issue that's why we downgraded from 8.0 to 7.4.
Informations
Go Kart Vietnam
Address : Chùa Cự Linh, Thạch Bàn, Long Biên, Hà Nội
Phone : 090 218 00 86
Facebook : https://www.facebook.com/GokartThinh/