Long Bien is a reputed district for golfing in the Vietnamese Capital. Since the district have much more space and let's be honest also have some of the richest suburbs including Vinhomes Riverside, it's only natural that this area has become a hot spot for golf affectionados.
My friend Joel during his visit in Hanoi introduced me to Golf which I was foreign to cause I was under the impression that this sports was expensive and the mechanic extremely hard.
But Golf can be a decently affordable hobby and it's actually a very enjoyable activity to spend time on.
The location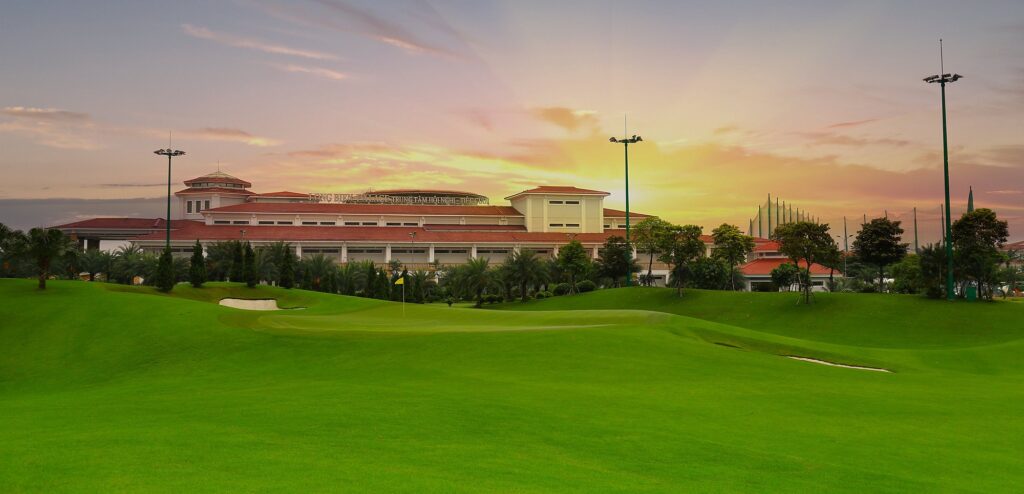 Sân Golf Long Biên or Long Bien Golf Course is located in the Long Bien district of Hanoi not too far away from Aeon Mall.
The golf is located at the end of the road which is deeper that it looks. In this area there are many Golf Course but this one is the main one and you can't miss it since it is quite bigger and more somptuous than the competition around.
The golf course has both cars and bikes parkings. I supposed that most bikes must be for the staff members but I could be wrong. I personally came with a bike to play even though my friend had his private chauffeur at that time.
The Driving range is located in another facility still linked to the parking. Easy to spot and to walk to as it is certainly one of the main attraction with the golf course.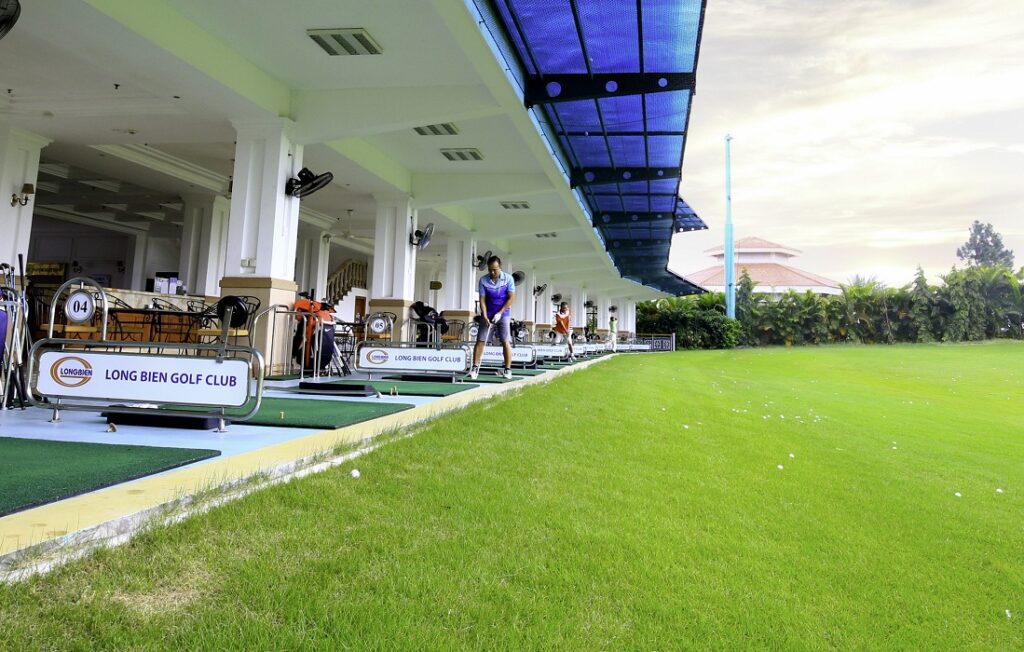 The driving range is on many levels, we counted 3 but we could be wrong since we didn't try to get to the third level.
The field is large enough and long enough to practice your swing and your drive, we didn't really check how long it was but definitely well over 200 yards perhaps near the 300 yards.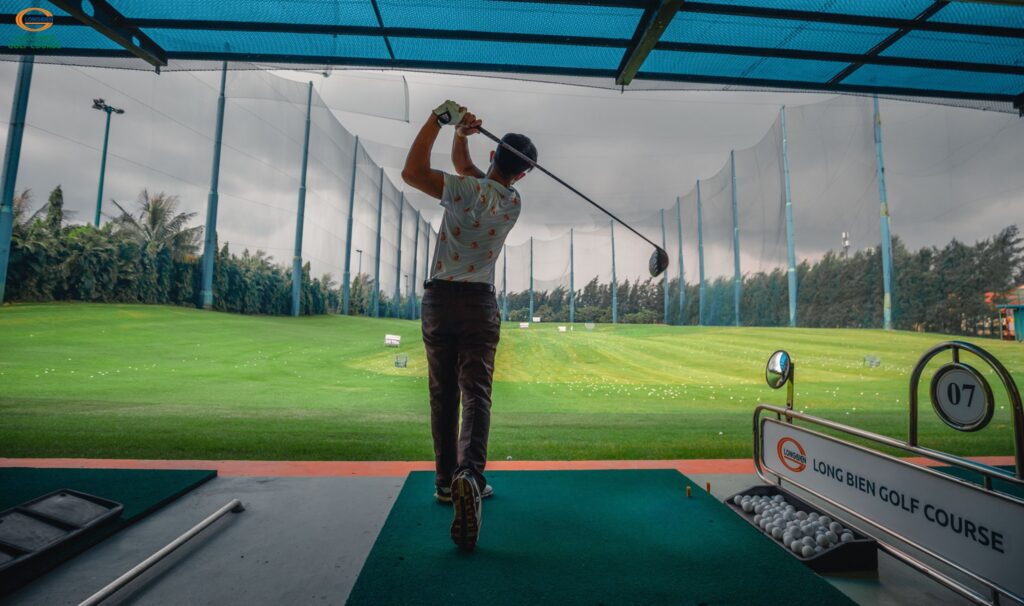 I would personally never hit that far anyway even though I've never tried with a Driver but I think It's plenty range enough to swing like a mad man.
The experience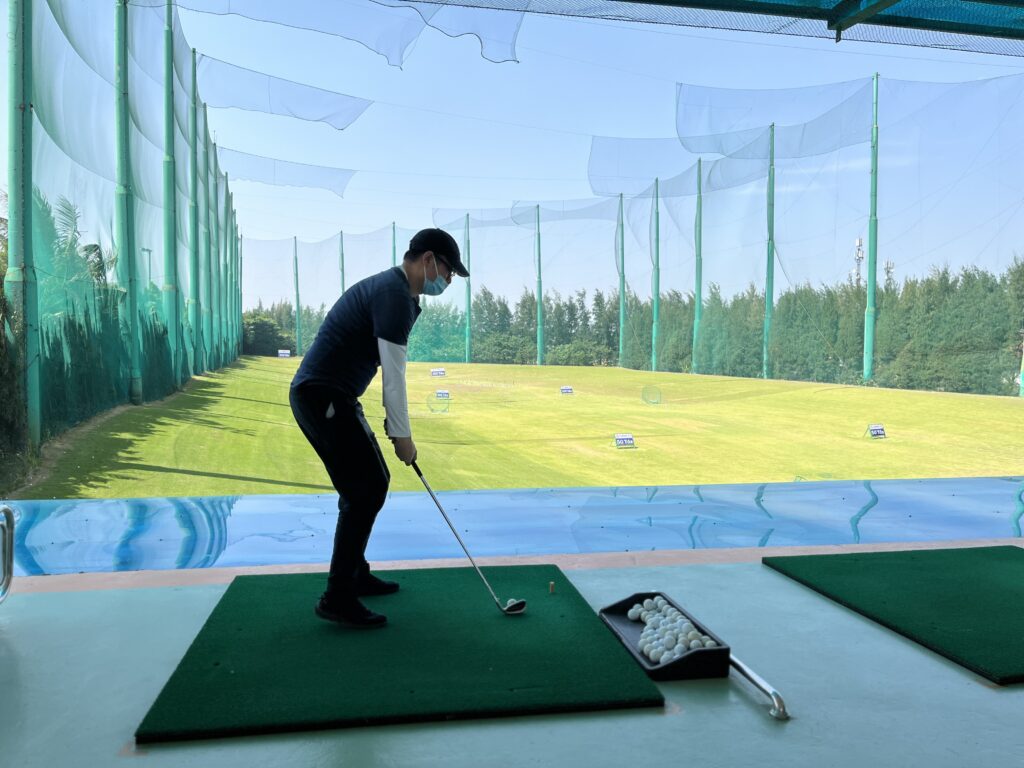 I must say, it's always an impressive experience to go to a place full of wealthy people, in this case people who own all the equipments and that are used to have drivers and valets around.
We on the other hand are regular folks and me it's my first time swinging so I always have this apprehension of being out of place.
Fortunately, when we came there, people were minding their own business and even if we weren't fitting in the crowd the staff didn't bother us either.
So after coming inside the complex we checked out the price and we paid around 500,000 vnd to hit 150 balls and to rent 2 clubs. Which is a fairly decent price knowing that 150 balls can takes around 2 to 4 hours.
The thing is I had to buy a glove cause I started to have blisters in both my hands. The cheapest glove was 530,000 vnd.
It's much cheaper than karting and even much cheaper than a long session of bowling or a full night of pool somehow and if you own your equipment than it's even cheaper that other mundane sports.
Verdict
8.4 out of 10
Golf is definitely something I would like to deepen my knowledge in. It's a sport that is very technical and very enjoyable when playing with friends.
The complexity of the mechanics means that the learning curve is quite interesting and to be honest it just feels great to swing a club.
We haven't try to do a course since we are still new to this discipline. The prices not as expensive as it seems even if this sport have the reputation to be very upscale.
To be fair most people in the range are probably well off and it might make you feel a bit out of the water especially if you come from a regular family. But I wouldn't let this discouraging you, you should definitely try this sport you might fall in love with it.
Informations
SÂN GOLF LONG BIÊN
Address : Khu Trung Đoàn 918, Đ. Nguyễn Sơn, Gia Thụy, Long Biên, Hà Nội, Viêt Nam
Phone : +84 94 666 00 99
Website : https://www.longbiengolf.vn/
Facebook : https://www.facebook.com/longbiengolfcourse/