After having tried my first swing and loving the feeling, it was time for me to have a second try. This time around, my wife bought me as a Christmas gift a golf club kit for beginners and a brand new bag.
I was looking forward to trying this new set made by Inesis Decathlon, what better occasion than to try it with my friend Uncle Jo, who was in vacation in France at the moment, and what other place than Bussy-Guermantes, a golf club located 10 minutes away from my native city and where my friend learned the basics ?
I only tried the range a couple of times but really liked it. This review is made from a beginner's point of view.
The location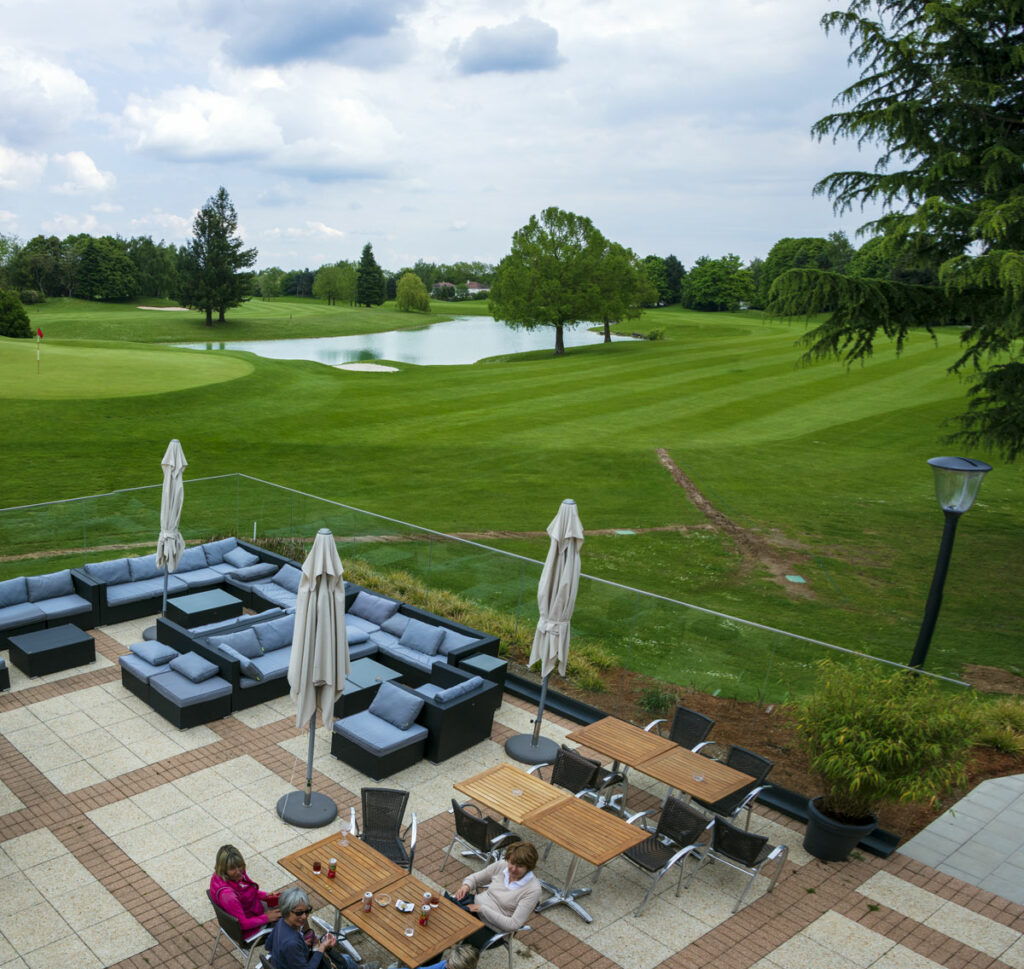 Golf de Bussy-Guermantes, like its name suggests is located in the city of Bussy-Saint-Georges, a suburban city close to Paris where the middle class mostly working in the region lives.
I'll be honest with you : I am not a big fan of this types of city. It's just houses, and there's not much to do over there. Lognes, Noisiel, and Champs-sur-Marne are much better when in comes to livelihood in my opinion, since you can walk around, find good restaurants, bike around the Marne, etc.
But hey, that's where the middle class lives and it's a fairly new city where there's enough space to build a golf course, so why not ?
The golf course is located near residential houses; it's perhaps 8 minutes away from the A4. The entrance is open to anybody who wishes to practice, so that's a good point.
The place is vast enough to have a course, a practice area and some areas to improve approaching the green from the rough and a putting area. More important perhaps, they have a main building with a desk, an equipment store, and a nice bar restaurant. You can actually enjoy the Terrasse on sunny weekends.
The experience
Driving there is fairly easy, and once inside the complex, you have plenty of places to park. One parking lot seems to be private with concrete, whereas the second one has the kind of intrusive rocks you'll find inside your car's carpets.
The walk to the desk is not long, and the infrastructure seems to be well designed. To go to the practice, you need to buy yourself a ticket with a QR code and some credit associated with it. Basically, 15 euros gets you 5 buckets of 30 balls, or 150 balls. The more credit you take, the cheaper the bucket is. From memory, for 55 euros, you'll get a bucket of 30 balls for 3 euros.
If you are willing to pay 55 euros, you'll have a real plastic card with between 15 and 20 buckets, or 450 and 600 balls. I don't have the exact price in mind.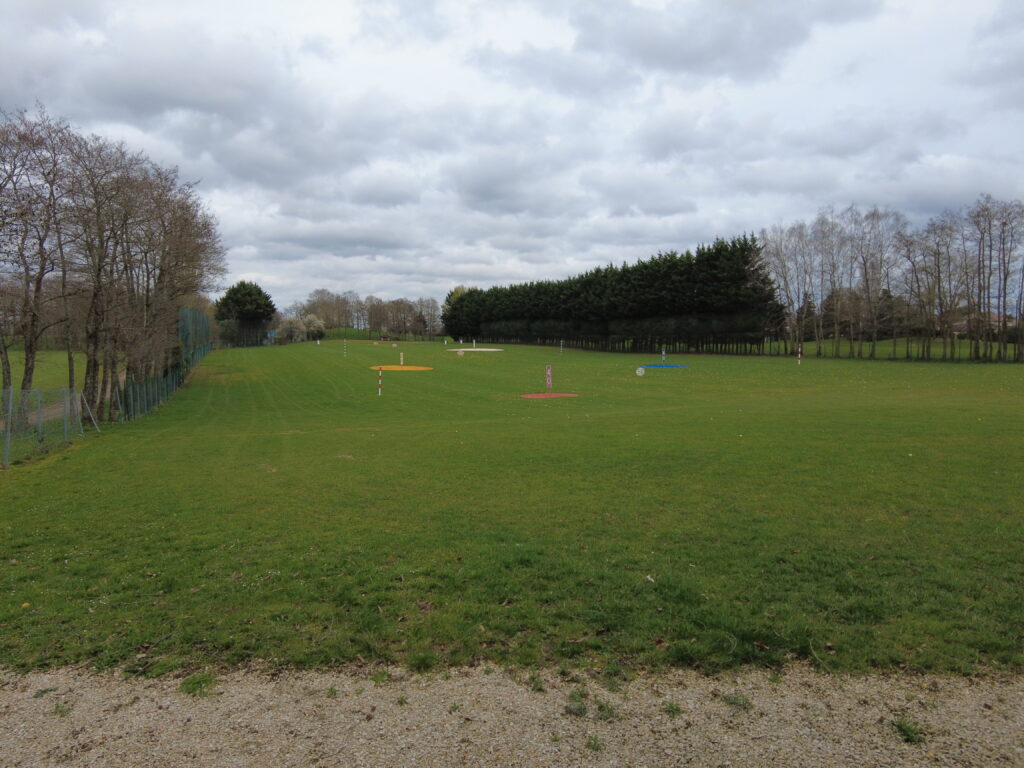 Once you've got your QR code, you'll walk in the direction of the practice, where in between there are places to train approaches and putting. Very nice touch, in my opinion. It's great to be able to talk with friends about mechanics without having to hurry on the golf course.
Inside the golf range, there is an automatic ball dispenser. Just flash your QR code and get 30 balls. As a beginner, I personally love to shoot multiple balls quickly to get the sensation, but more advanced players will probably have a rigorous process to warm up to their full swing.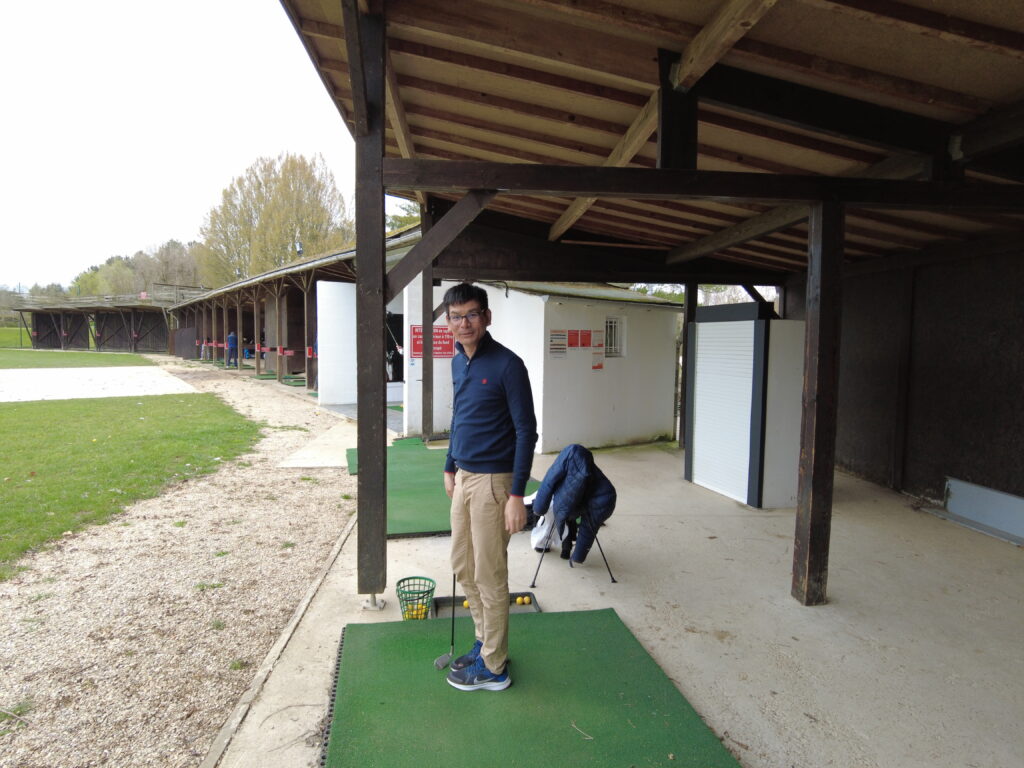 The golf range is on two levels, and there is most of the time enough room for you to have a spot during any hour. This day, we had the opportunity to swing next to each other, which is great if you like to play in pairs.
One thing interesting about this range compared to the other one I tried is that they don't have a rubber T to place the golf ball and swing with the driver.
It seems like you have to bring your own T and replace it anytime you want to use your Driver Club. For that reason, it's probably more interesting to use some iron.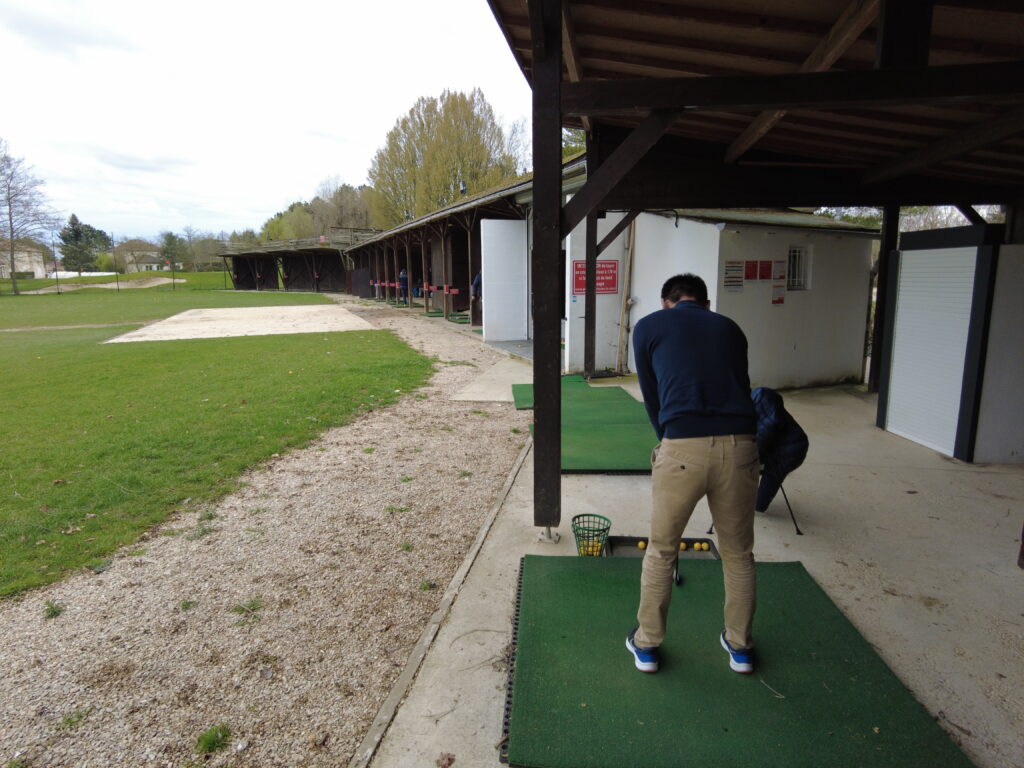 Compared to Vietnam, there is less staff like valets, and I am not very surprised since it's much more expensive in France to contract humans. On the other hand, the range is open even in the evening, and the automatic ball dispenser is probably all you'll need anyway.
There are modern devices such as radars that I believe measure the speed and perhaps monitor the trajectory of the balls, but I could be wrong.
There are also teachers and coaches inside the complex, and my friend told me you can pay around 400 euros to learn the basics and the fundamental rules to get the right to go on the golf course.
I believe I am not ready yet for lessons, but I still love to learn by watching videos. I am just deciding if I want to pursue this hobby for the moment.
To get back to the range, there are also children playing around, which is a good thing because it makes the atmosphere less serious and the place more like a tennis club where people share a common passion than a VIP club.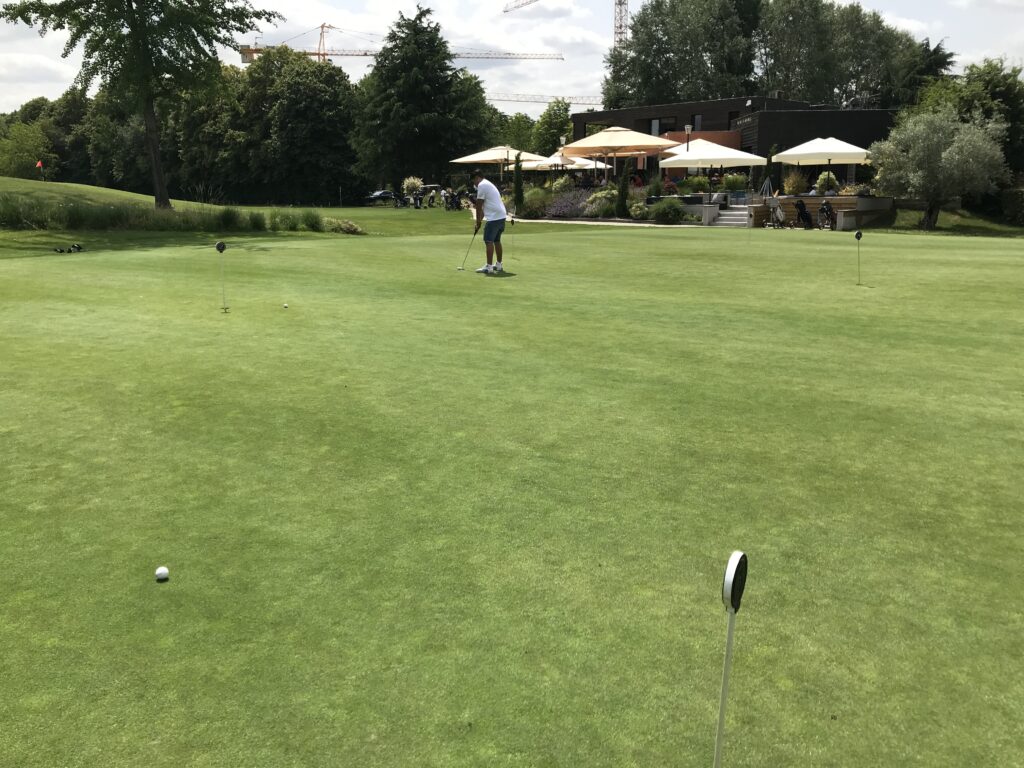 There are two other spaces for people to practice outside the green. One is for chipping, and another is for putting.
The second area for putting is quite interesting because it has some slope that you can train to understand the momentum of the ball going up or down hills.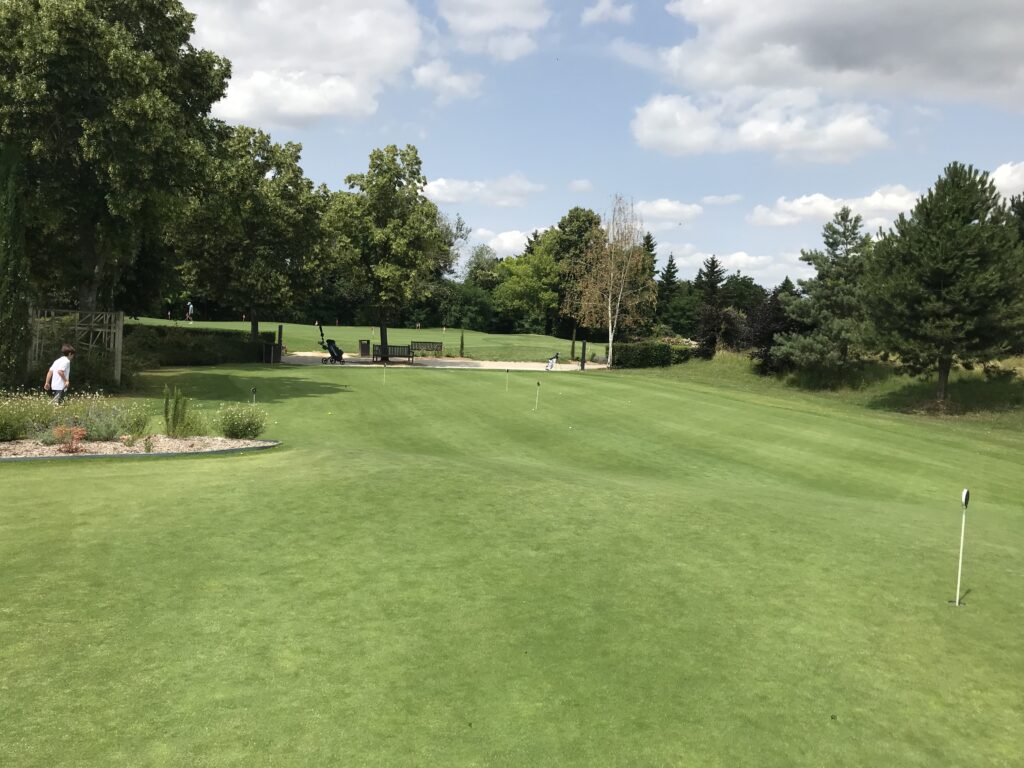 The chipping space, on the other hand, has quite a flat green, so you can basically focus on your chip shots. There's even a sand bunker for you to train with your sand wedge. Overall, this place is pretty complete for warming up before going to the golf course.
I have to say that hitting the ball with a target is much more enjoyable than just working on your swing motion.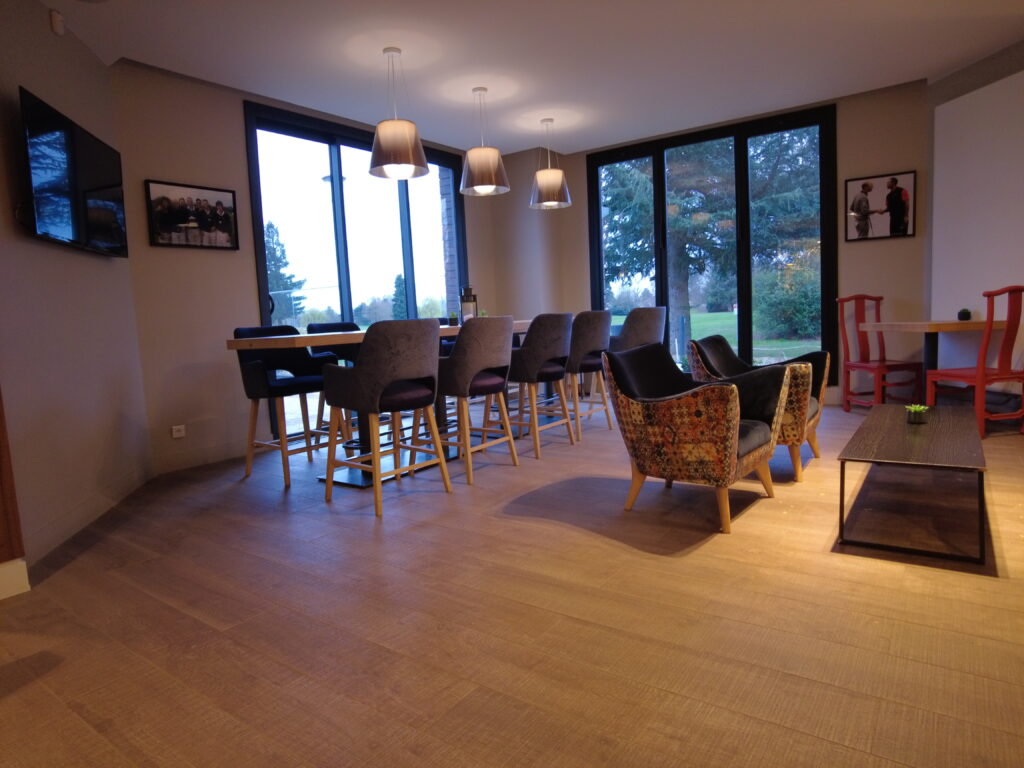 There's also a very nice lounge, bar, and restaurant with a terrace and seating outside. The pictures on the menu look pretty good, and we were hoping to try the restaurant, but we didn't have much time.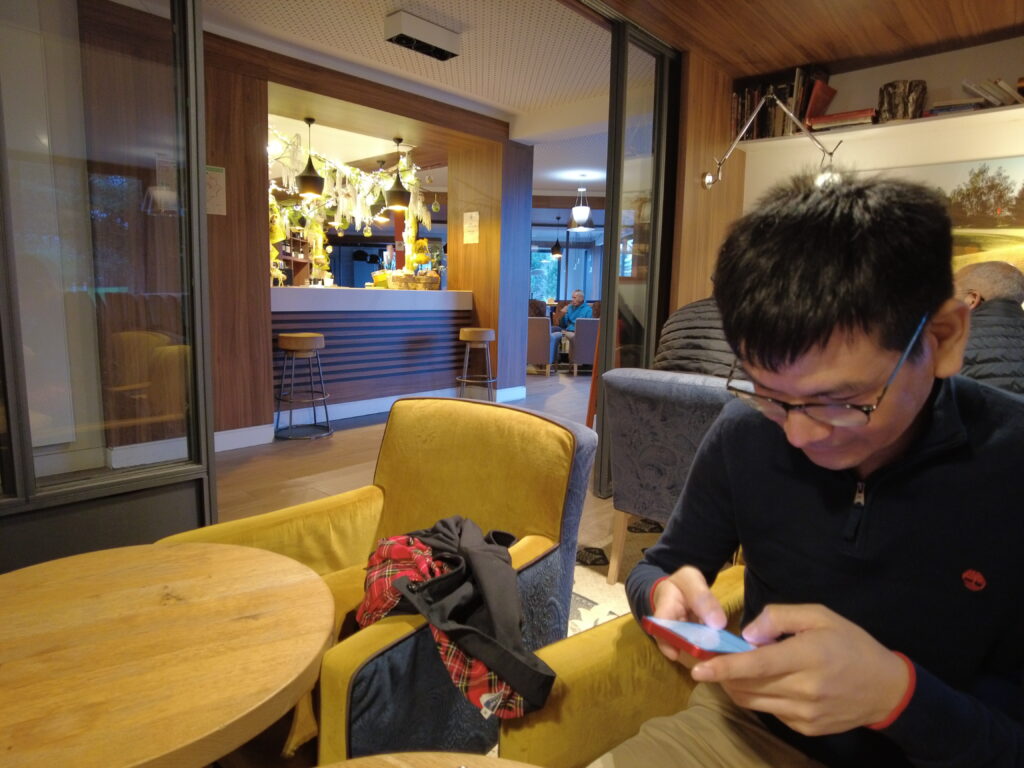 The staff is very nice and polite; it basically reminds me of the service you would get in 5-star hotels. It's basically the concept of golf for me in the end: a refined and pleasant experience for the weekends to share with some friends while participating in moderate physical activity with a lot of techniques.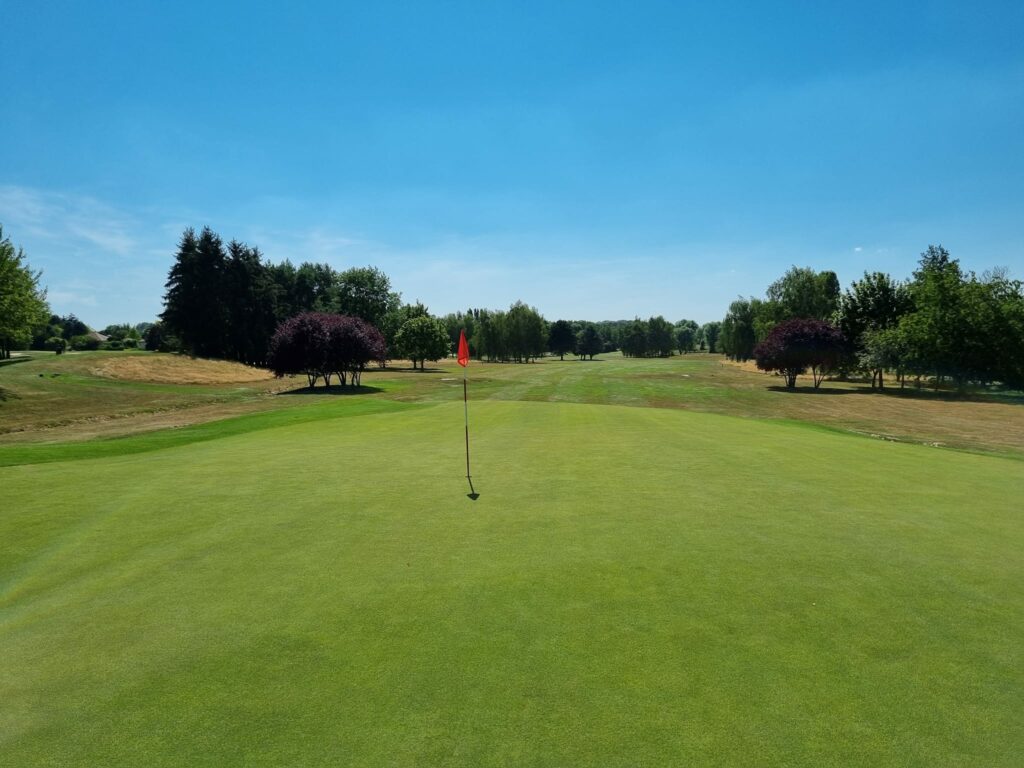 I still have to train more to be able to play in the green, and I can't wait to try it. I am still learning about the rules and practice until I'll be ready to take the lessons.
Verdict
8.0 out of 10
The Golf of Bussy-Guermantes is quite a nice place to spend some time in. The entrance is quite convenient, especially for people looking to go to the range.
The range is very simple but efficient; it's perfectly adequate to practice your mechanics and improve your game. I love the fact that you can come at any time of the day and have an automatic ball dispenser.
As always in places like this one, there is also a good quality to the service and amenities. The public is from all social origins, which is also a plus.
Golf has always had this etiquette of being a sport for the upper class, which is in part true, but regular folks can also enjoy the pleasure of this activity without having to break the bank.
Informations
Golf de Bussy-Guermantes
Address : 1 Prom. des Golfeurs, 77600 Bussy-Saint-Georges
Phone : 01 64 66 00 00
Website : https://www.golfbussyguermantes.com
Facebook : https://www.facebook.com/golfdebussy/?locale=fr_FR