Vietclimb is the very first indoor bouldering wall in Vietnam. Located in Hanoi, this indoor climbing facility allows you to climb on artificial walls at a safe height without a rope.
This indoor facility was my first introduction to climbing, and it was an experience that I won't forget. We'll see in this review if this activity is for you and how affordable it is.
The location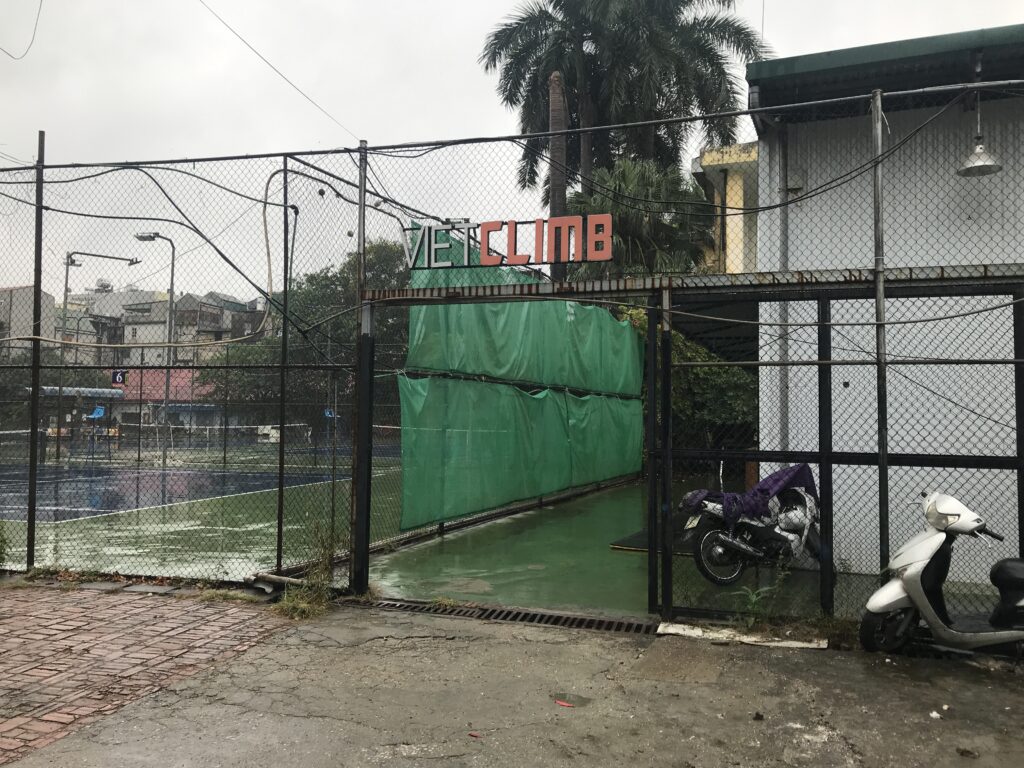 Vietclimb is located near West Lake, more precisely on the other side of the main road on the side next to the Red River. It's a fairly large complex, whose entrance is near a tennis field.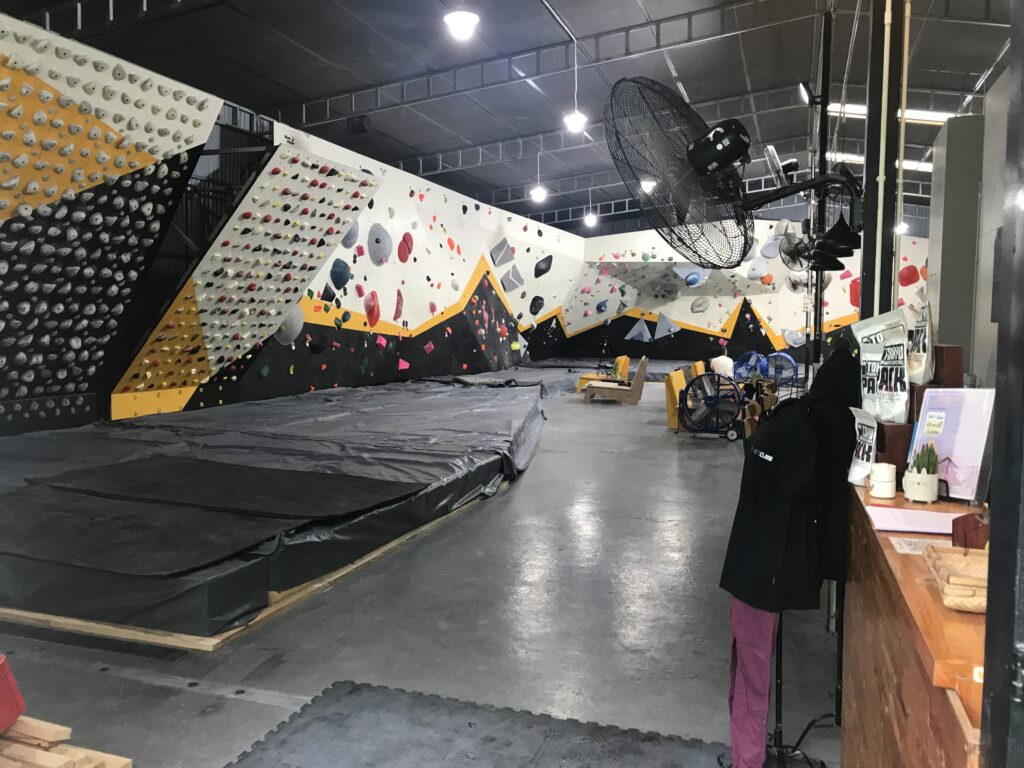 The design of the complex is fairly simple—basically a hangar with 4 walls, of which 3 have bouldering activities.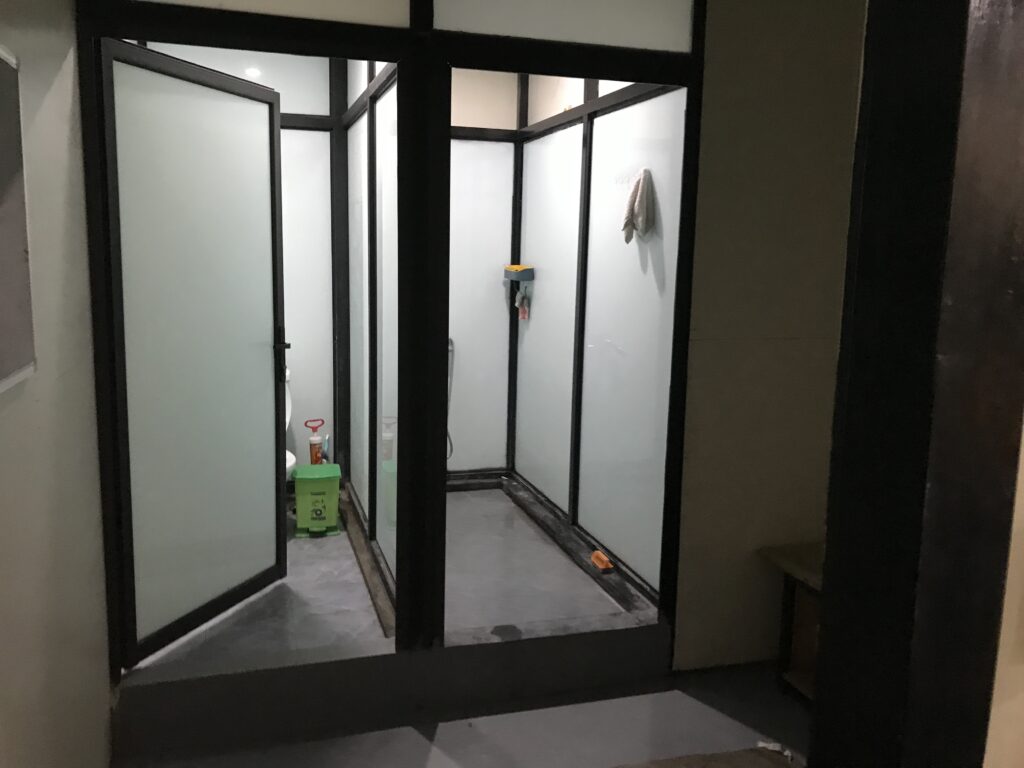 The desk is at the entrance, and there is a small restaurant section with drinks and food available to order. There are some toilets and changing rooms with showers, as well as lockers for your belongings.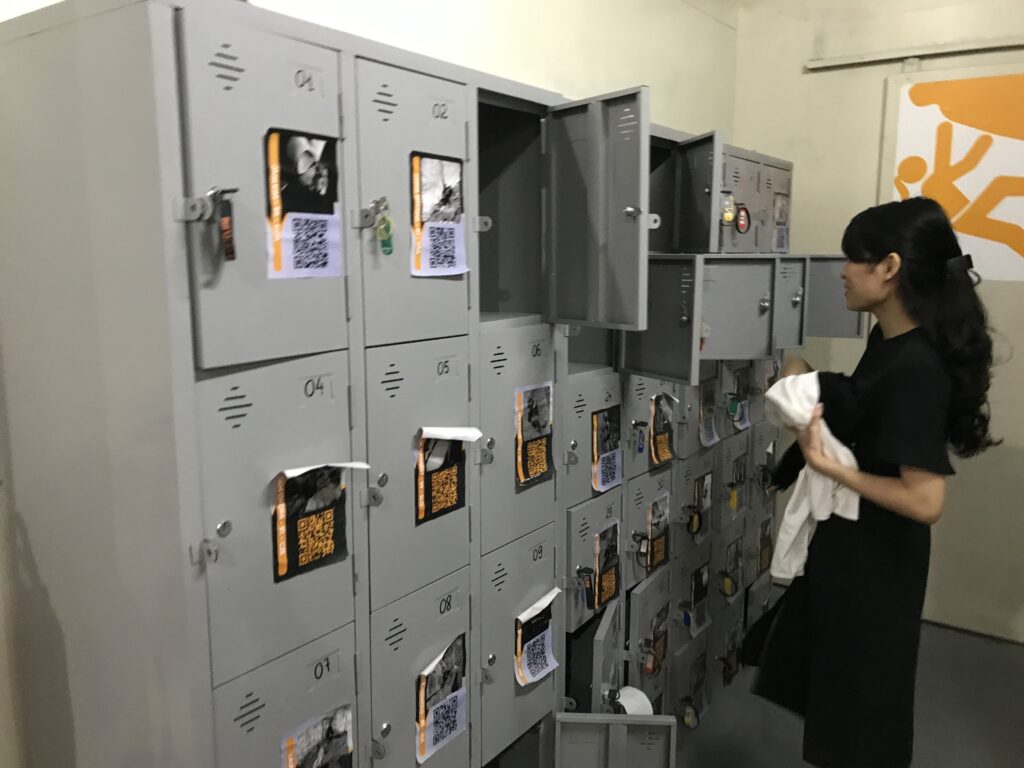 The locker locks are not extremely secure, but they will do the job for Vietnam, as most people don't steal anyway. There's probably a list of people present in the facility that day and some cameras, but if you want more security, you can always bring your own lock.
The experience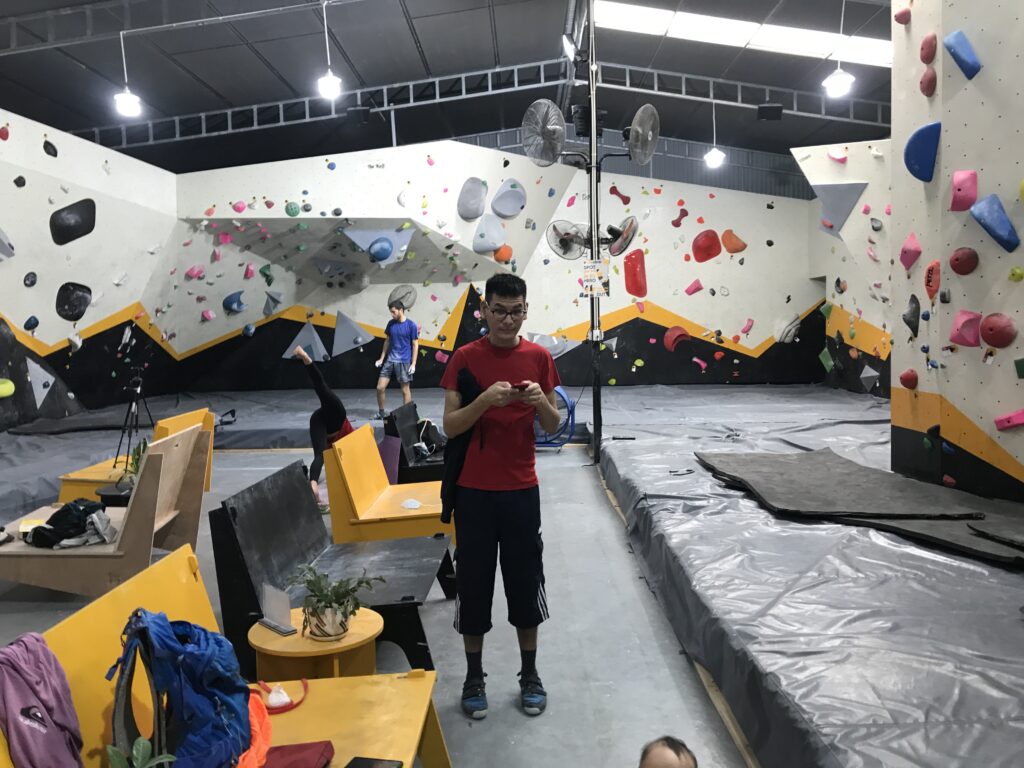 The experience started at the entrance, where we paid for one session and for the rental of the shoes. Here's the price for one session.
Day-pass: 180 K
Shoes rental: 30 K/person
Chalk rental: $30 per person
One thing to know about the shoes is that in Vietnam sizes are smaller, and shoes for climbing are very small as well. I personally thought I was wearing a 41 in Europe and a 43 in Vietnam, but I had to pick up some 44.5-size shoes for climbing, and they were actually very tight.
Some bouldering rules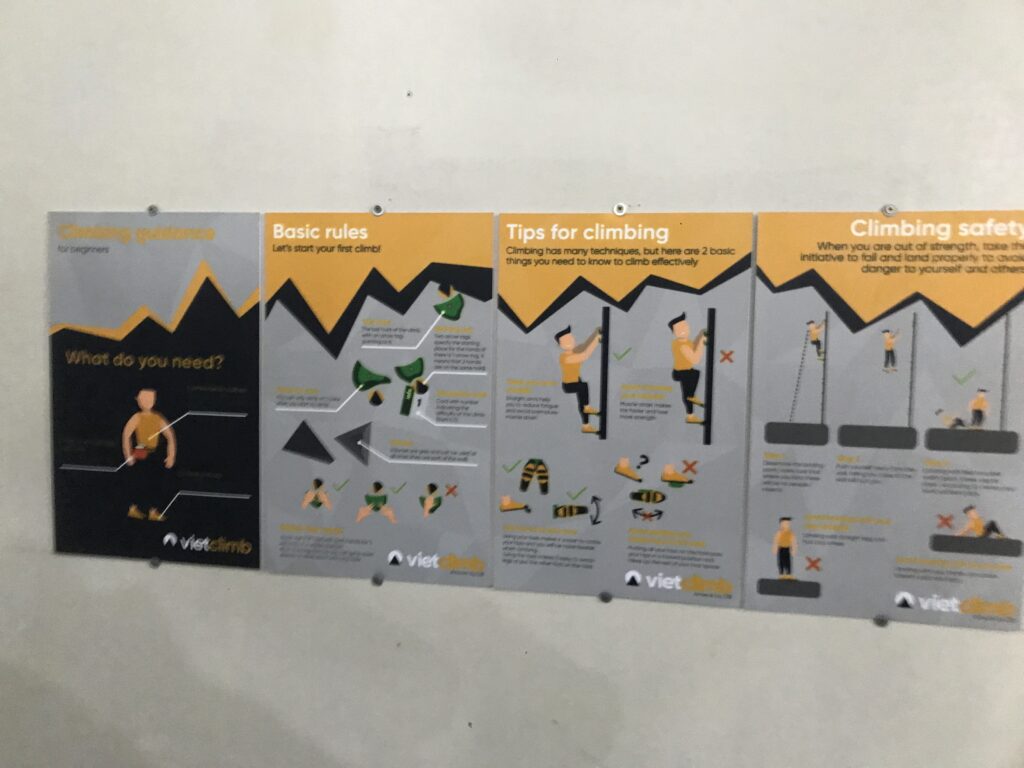 Since it was our introduction to indoor bouldering, we were introduced to the basic rules, which were actually very simple.
There are different routes with different levels.
Each of these routes uses only one color, so you can only grip the holds of the same color.
Colors don't mean anything particular.
You need to start with two hands on some designated climbing holds and finish on one designated climbing hold.
Once you finish the route, you can either jump or climb down using holds of any color.
The difficulty of the routes
As total beginners, my wife, my friend, and I were introduced to the feeling of climbing. The first thing I would say is that it's harder than it looks. It's not as simple as climbing a tree, and the learning curve is quite steep.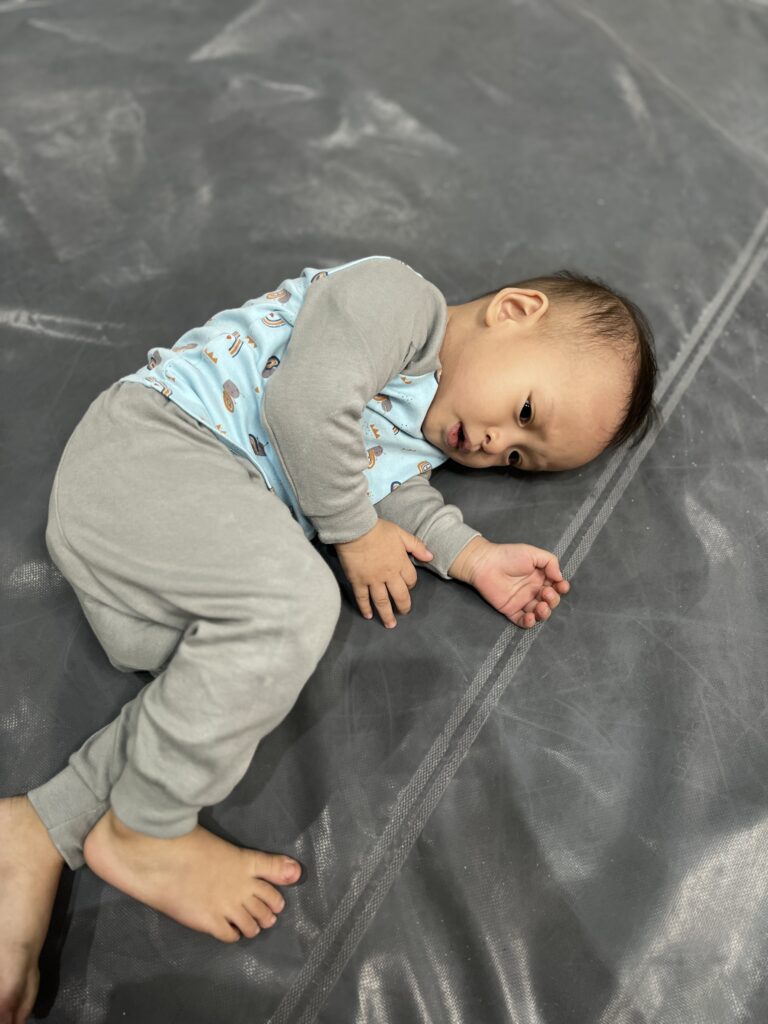 It really has to do with understanding the physics of gravity and the physics of your body. Of course, there are tons of techniques that you can only acquire through the method of trial and error, which basically means falling.
The first levels are holds that are very easy to grip and place, so you can easily move upward without having to make any awkward positions. It's very close to climbing a ladder in terms of physicality.
The second level has holding that is less pronounced, so your grip is not as secure as you would like, but they are still quite easy to achieve; you can do it within 1 or 2 tries usually.
The third level starts to be awkward, and for a beginner, it will start to strain your muscles a bit. Some positions will be very awkward, for example, spreading out, or you will have to change positions within a hold.
The fourth level and perhaps some of the third level will require you to use strength to get to the upper hold. For example, you'll have to jump, or at least risk your current holds, to get a grip on the new hold. Those routes start to widen quite a bit, and the holds spread out quite a bit as well.
The other upper levels are, in my opinion, for people more used to climbing than beginners. for example, you can be inverted, meaning hanging like a roasting pig, and will have to grip like mad not to fall. Sometimes even gripping with only one hand at a time. For us, it looks like this kind of leveling requires some experience and some conditioning as well.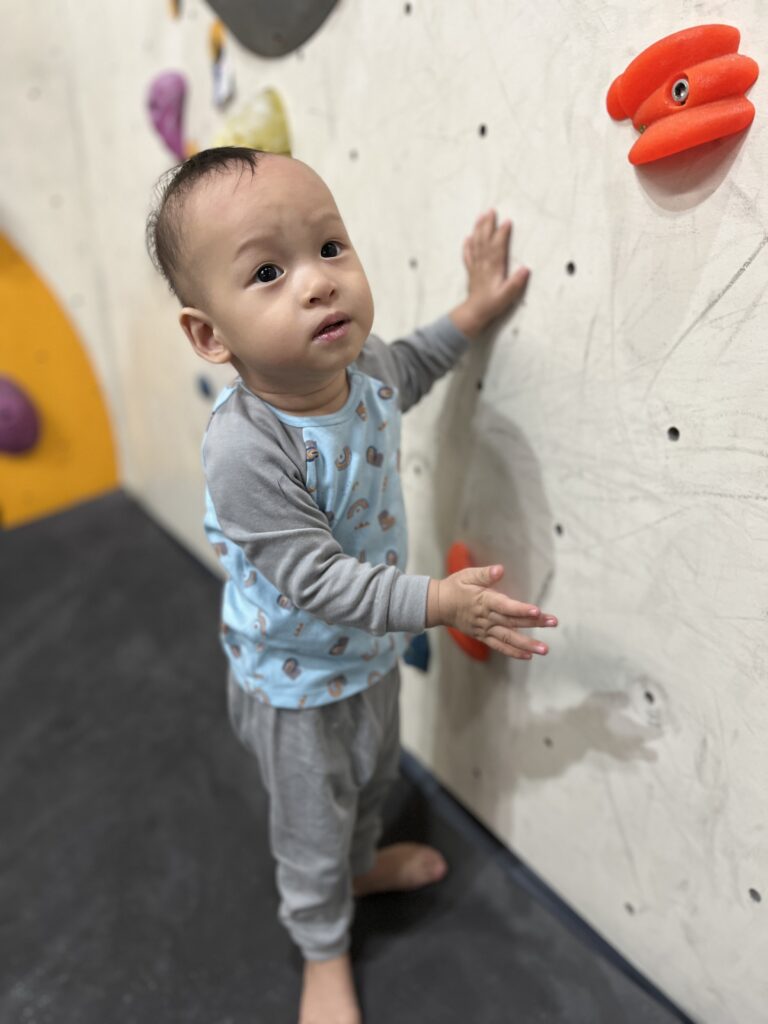 The good thing about indoor bouldering and Vietclimb is that the sensations are here. Even if you fall on a mat, the fear of falling is still present, and you'll learn to use your body efficiently for climbing.
a steep learning curve
Some of the routes will be challenging, and you'll have to try them many times even if you are sore. As a beginner and an uptight person when it comes to muscle, I tend to fold my arm to be closer to the wall, but I should instead let it go so my bone structure will carry my weight.
Another technique is to use the toe of your foot to grip instead of the heel to have better movement flexibility.
So as you might guess, there are an infinite number of techniques and details to learn to become a better climber, just starting with the different kinds of grips. There are actually walls full of different grips where light colors can be activated to trace a route.
I personally love the techniques and mechanics in sports, and bouldering is quite amazing when it comes to the depth of the techniques. Just being on the floor and trying to imagine the necessary movements to climb is already quite enjoyable.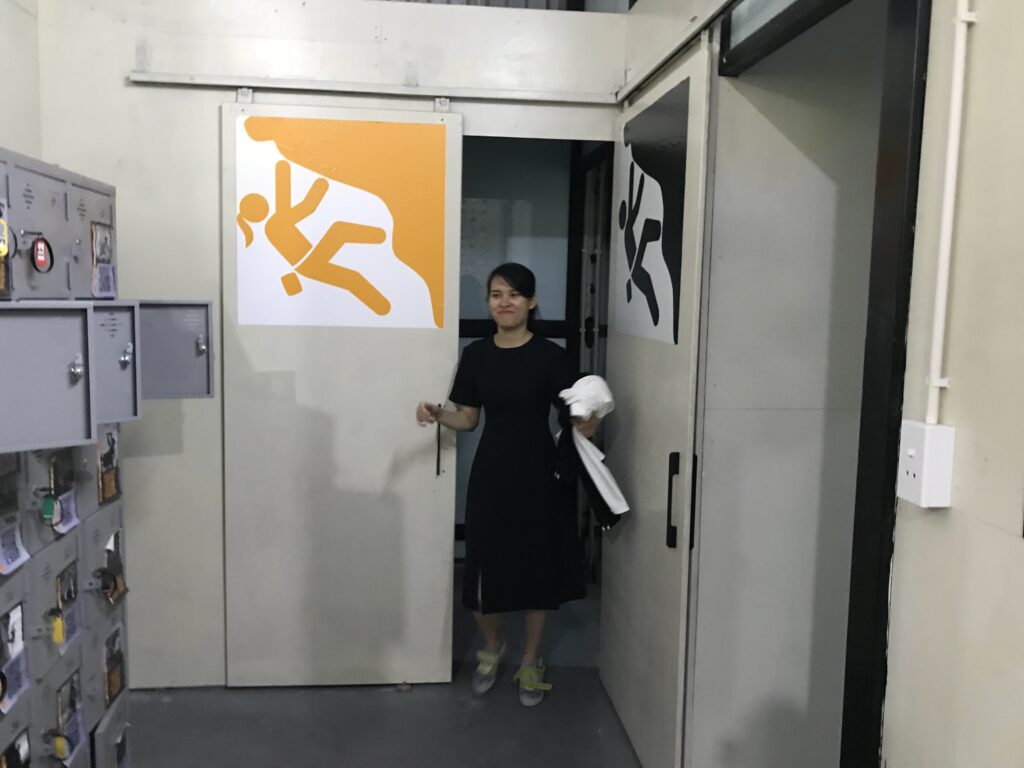 When you finish, I guarantee you that your muscles will be sore and that you'll feel the strain in your arms for days.
Verdict
8.0 out of 10.
I always had a fear of heights, or more precisely, of falling to my death, but indoor bouldering is something quite safe but at the same time quite challenging, both in terms of fear and also of technique.
This mix is a good formula for falling in love and getting more in depth with a person. Climbing is literally what everyone tries to do in their life anyway.
I used to go to the gym to build some muscle, but now I honestly think I've found an activity that's much more entertaining and rich for my personal development, both physically and mentally.
Informations
VietClimb
Address : 2 Ng. 76 An Dương, Yên Phụ, Tây Hồ, Hà Nội 100000
Phone : 024 6662 4352
Website : https://www.vietclimb.vn/
Facebook : https://www.facebook.com/VietClimb/