Sushi Jidai is a small Japanese restaurant located in the 14th District of Paris. First introduced by a good friend of my husband Bona who is quite an expert on restaurants since he's been working in this domain for decades in the Capital.
My husband and his friends use to go there to enjoy some good rolls since Sushi Jidai is quite a nice and original place for Japanese food.
The location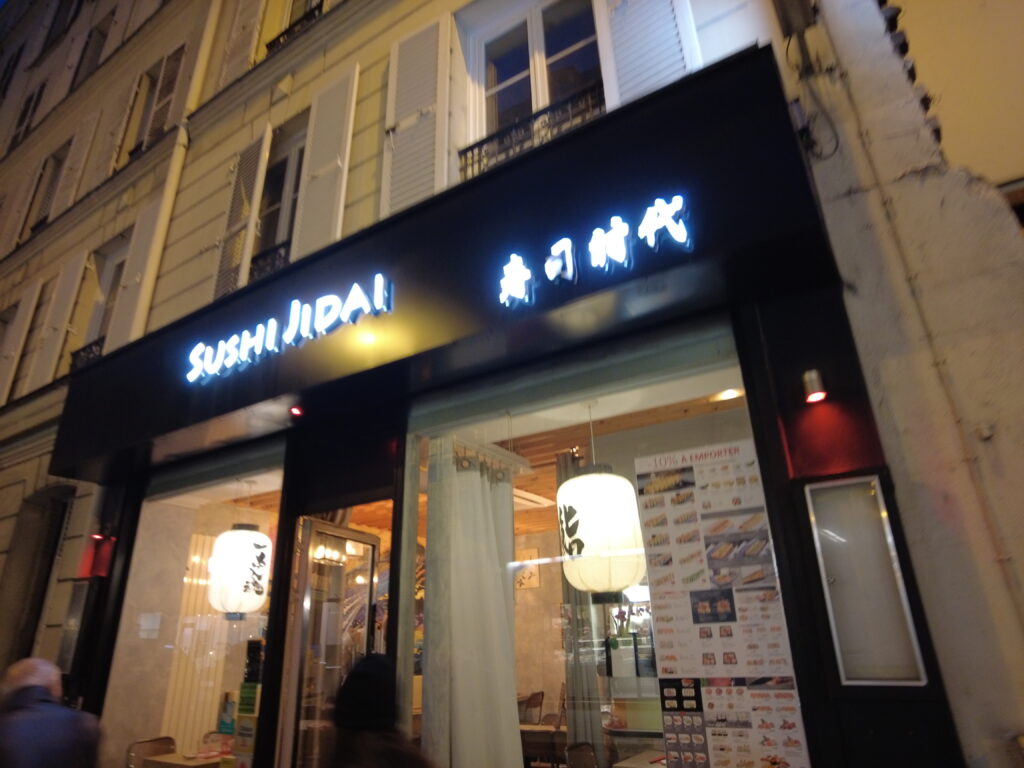 Located in the 14th District of Paris in rue Didot, Sushi Jidai doesn't benefits from being in the most interesting area of Paris. The restaurant is actually surrounded by hospitals and social buildings which is not synonym with safety.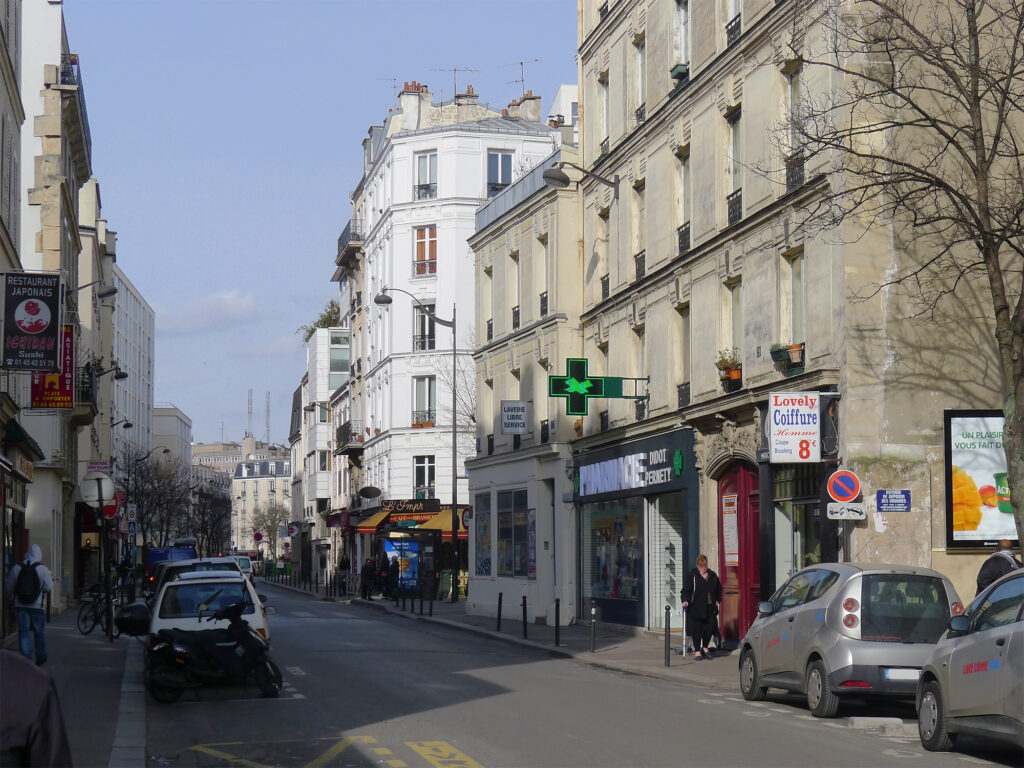 At least it's not too far away from Alesia which starts to be a more interesting area and it's close to the péripherique which means it's not too long of a drive to get there. It's also close to the tramway if you are not driving in the Capital.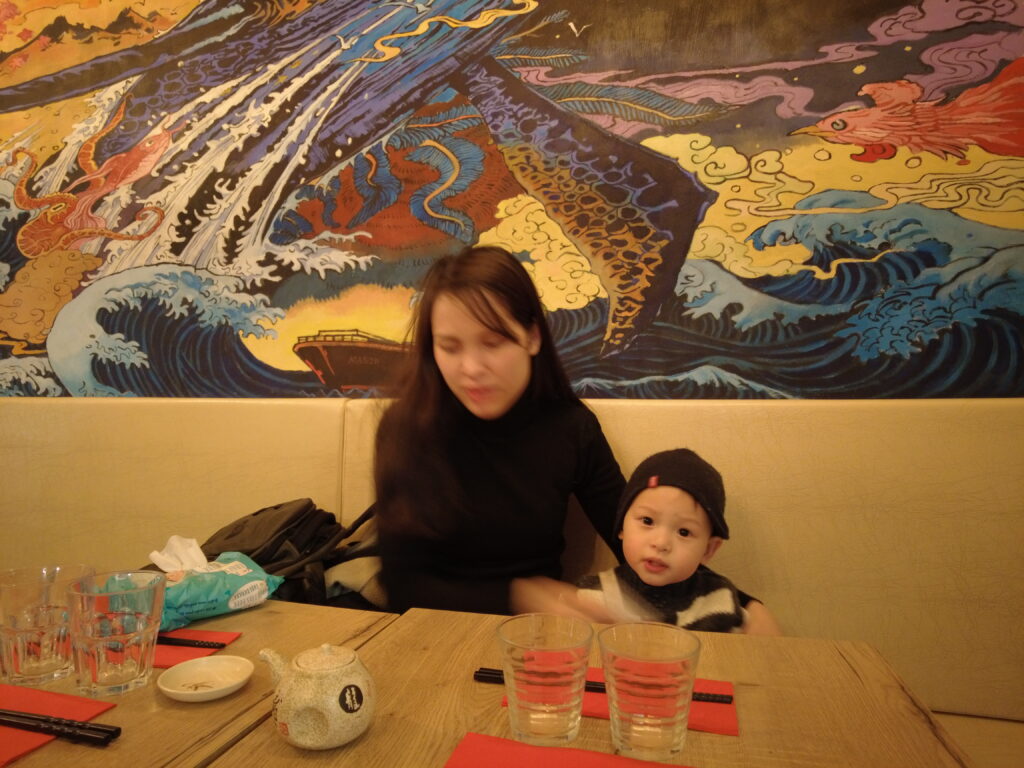 The location is not very big, it's perhaps around 10-15 tables. The decoration is nice without being overwhelming. There is a huge and beautiful Japanese style painting of a whale on the wall, which brings some color to the atmosphere.
The Menu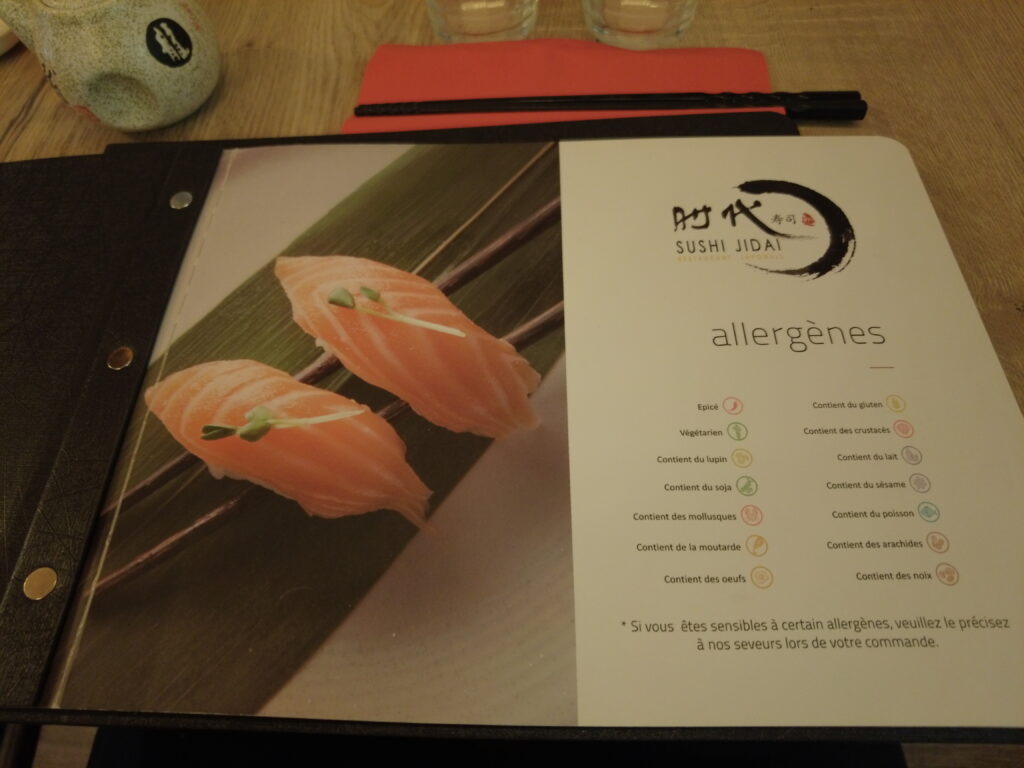 Sushi Jidai's menu is composed of two main sections. The first section is dedicated to the house specialties. In this section you'll find original recipes composed of marinated half cooked sashimis and half cooked rolls.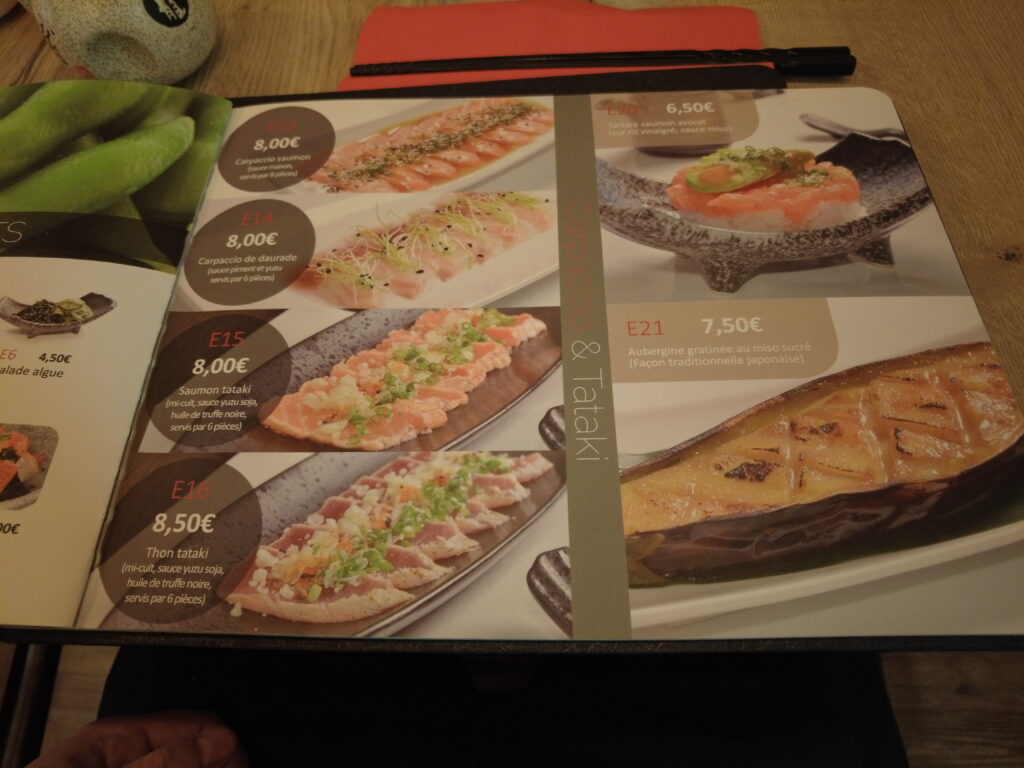 For us this part is simply the most interesting section of the menu, it's the reason you should come to this restaurant in the first place. This section being important, they have huge dedicated pictures which will make you understand with ease what the dishes are all about.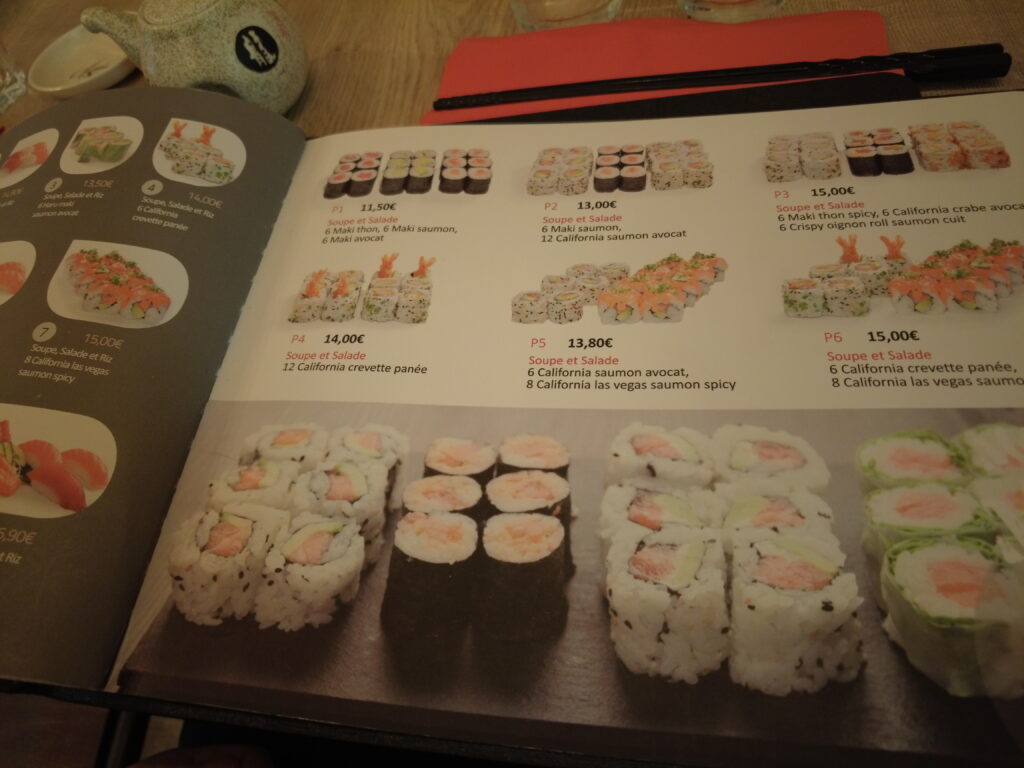 The second part of the menu is the classic dishes you would find in any Japanese Sushi Restaurant in France. Basically Maki, Sushi, Temaki, miso soup, etc.
If we sometimes love to get some simple and qualitative sushi, when we drive to Paris we want to try something different and more interesting. We have a Sushi King in Bay 2 near our home it's already good enough for these types of Sushis.
One thing I like about ordering in Sushi Jidai, is the fact that menus are coded. For example SP1, SP2, SP3, etc. It makes ordering quite more easy.
The taste and the experience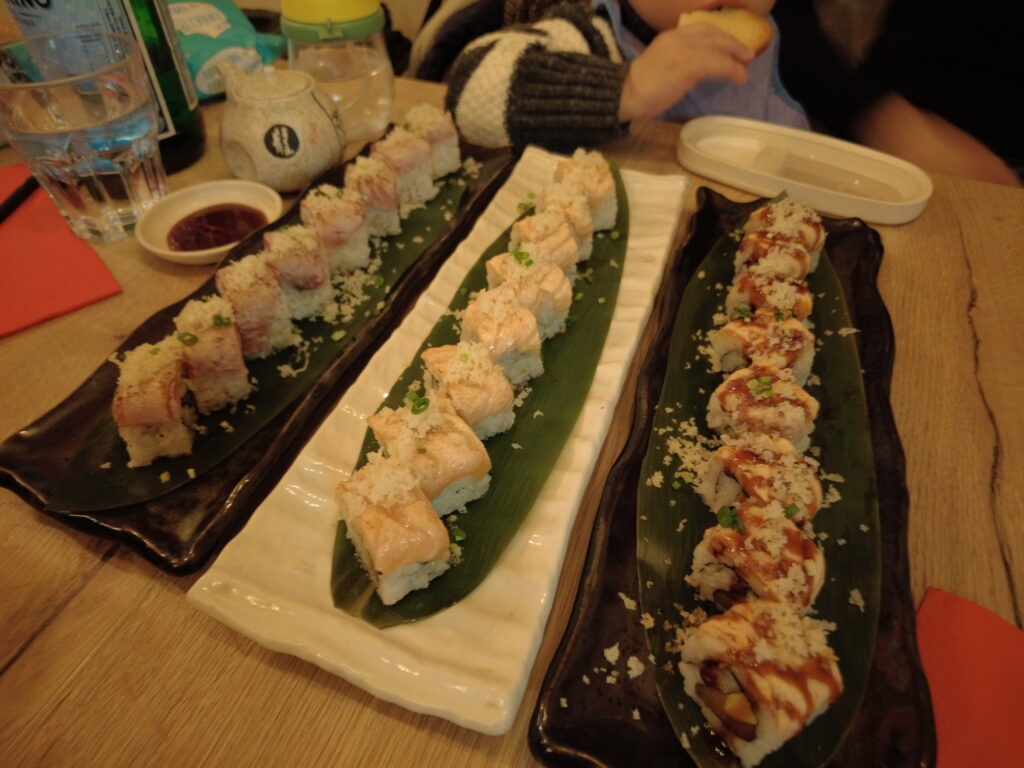 My husband and I tried many times Sushi in Vietnam with mixed reviews. They say it takes 10 years to know how to make sushi rice and we believe this statement from Jiro Dreams of Sushi to be true.
In Vietnam the rice was way unbalanced, either too salty or too acid. Sushi will make you thirsty real quick. So be ready and order some bottles of water.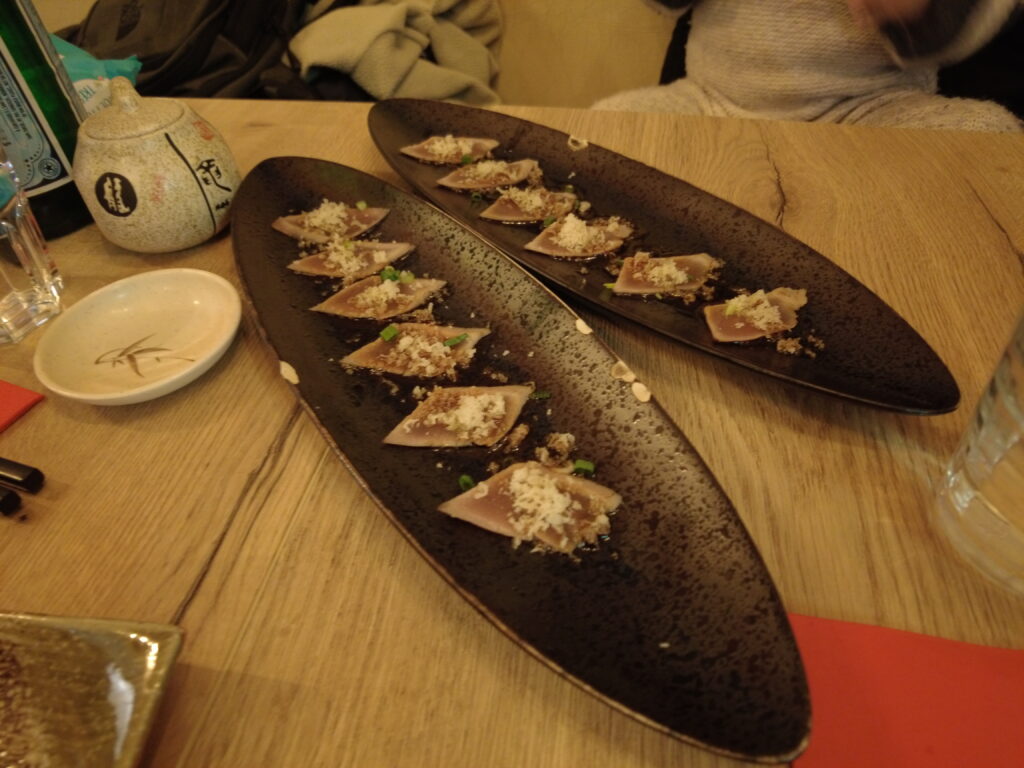 So ordering was quite an easy process with with the codes, we started with the marinated, half-cooked sashimis called Carpaccio. Usually Carpaccio is an Italian dish made out of marinated thin cut slice of raw beef and lemon juice.
I have to be honest. In my husband memory, these sashimis were bigger. The sashimis that arrived were smaller than a leaf. My husband was shocked with the portion. We know that this restaurant is supposed to be a bit gastronomic but these looked like Michelin starred portions.
Who knows, maybe that particular day, the cut we're not generous or the crisis made the portion go down but wow. We we're more shocked by the size than by the thickness of it.
When it comes to taste, it was delicious. A bit acid and salty, a beautiful combination. It's always so satisfying to eat something good and healthy at the same time.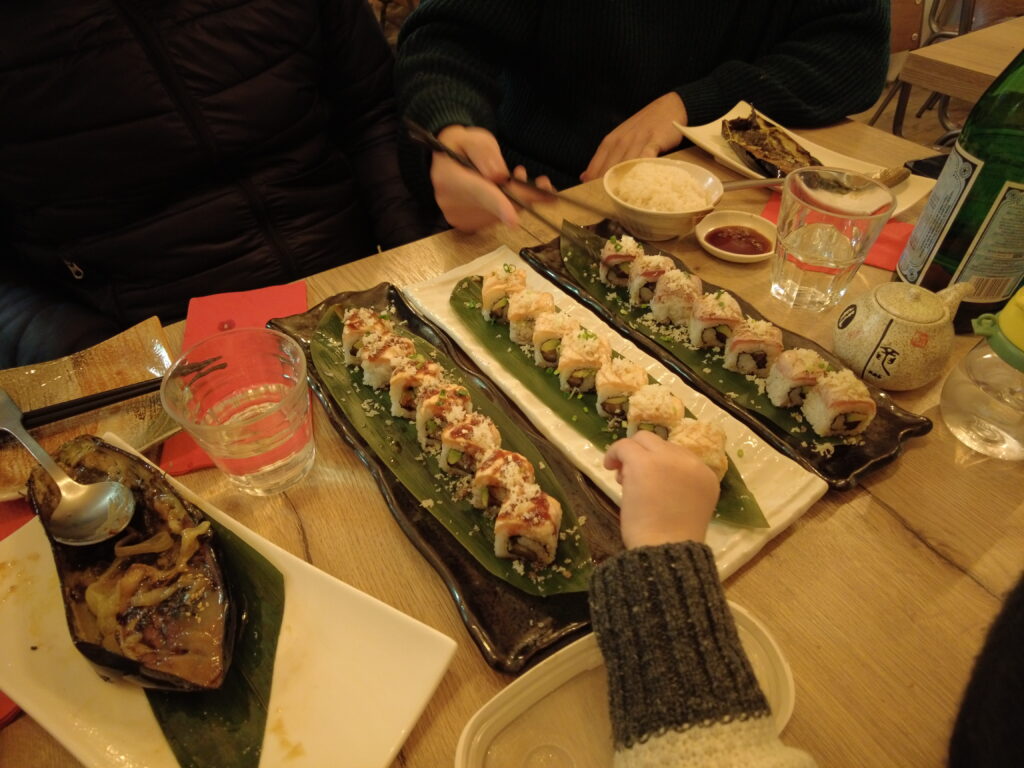 We were relieved that the Rolls came in the regular size. We ordered two Grilled eggplant as well, they were sweet and salty with an umami taste. Everyone liked it.
The rolls were delicious as well. The fish was fresh, the taste was much richer than a regular Californian roll while staying well balanced.
It's almost like a zest of lemon, with some marinated carpaccio, some salt, crispy bits and just a bit of soy sauce and chives. It's a complex and strong taste but so well balanced, definitely not your regular sushis. It's not too far away from a real carpaccio actually when I think about it. It's just not chewy or meaty.
My husband friend being on a diet, we ordered sparkling water and of course San Pellegrino which is for me the best sparkling water was our choice.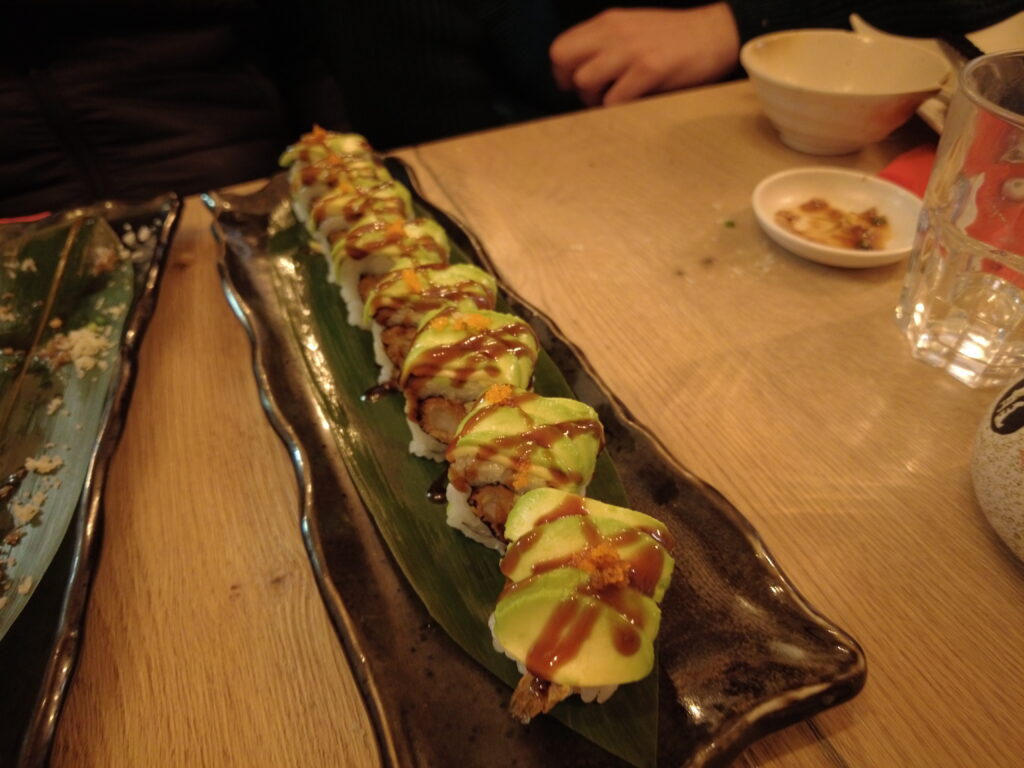 Oddly enough most of the marinated rolls tasted quite similar except for the fish. But the Avocado with fried shrimp recipe, one of the best seller here, even if it was delicious and perfectly executed was a tad classic or boring should I say compared to the other ones.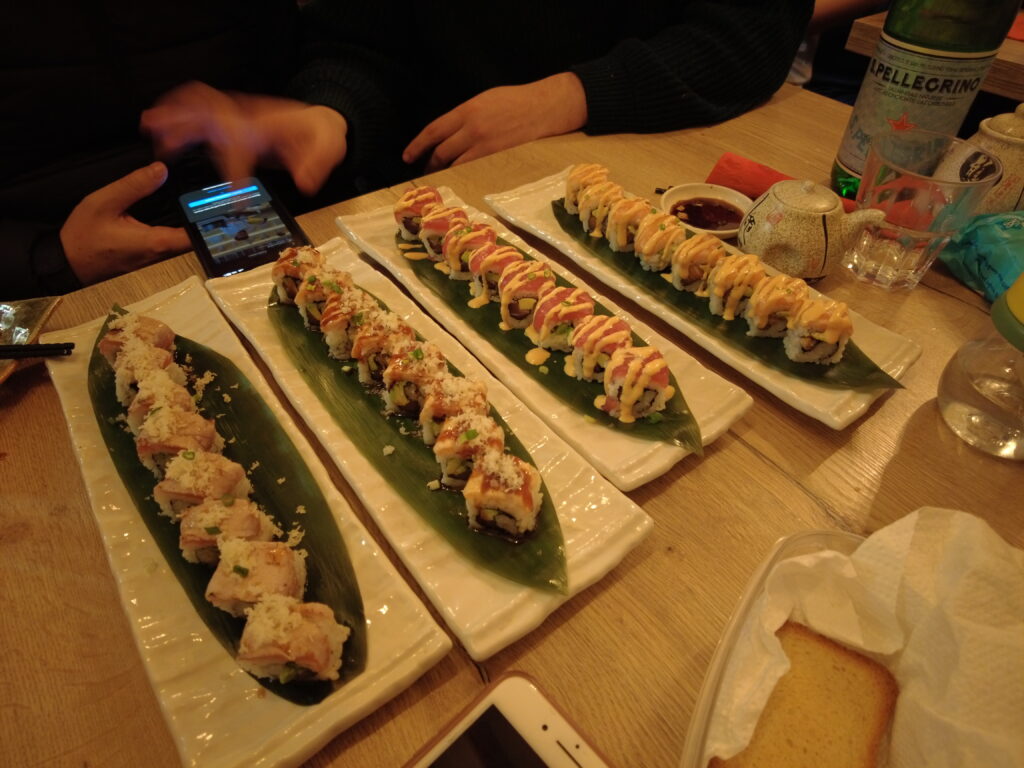 We ended up ordering a second round of Rolls : the Spicy ones and the one we loved. Honestly the spicy ones were so good. It's not spicy in the sense that it's burning your tongue. It was more like a slightly stronger seasoning of spices, which was perfectly fitting with the rest of the dish.
We've tried this kind of Rolls in Isushi in Vietnam and the difference is night and day. This is like a real recipe executed by a real chef, wheras the one in Isushi was just the idea of it with the wrong ingredient and some random people to roll it if this makes sense.
After this, we were more than full or satiated, so we didn't feel the need to order a dessert. The bill was high enough already.
Verdict
8.0 out of 10
Sushi Jidai is one of my husband favorite Japanese restaurant for Sushi. That's why he brought me there to try it and I have to say these sushi or rolls doesn't taste like anything I've tried before in other Sushi restaurants.
The cuisine is much more refined here, with a real work on the recipes and a real execution made by a chef who learned in or at least from a Japanese chef. Not a cook or an employee.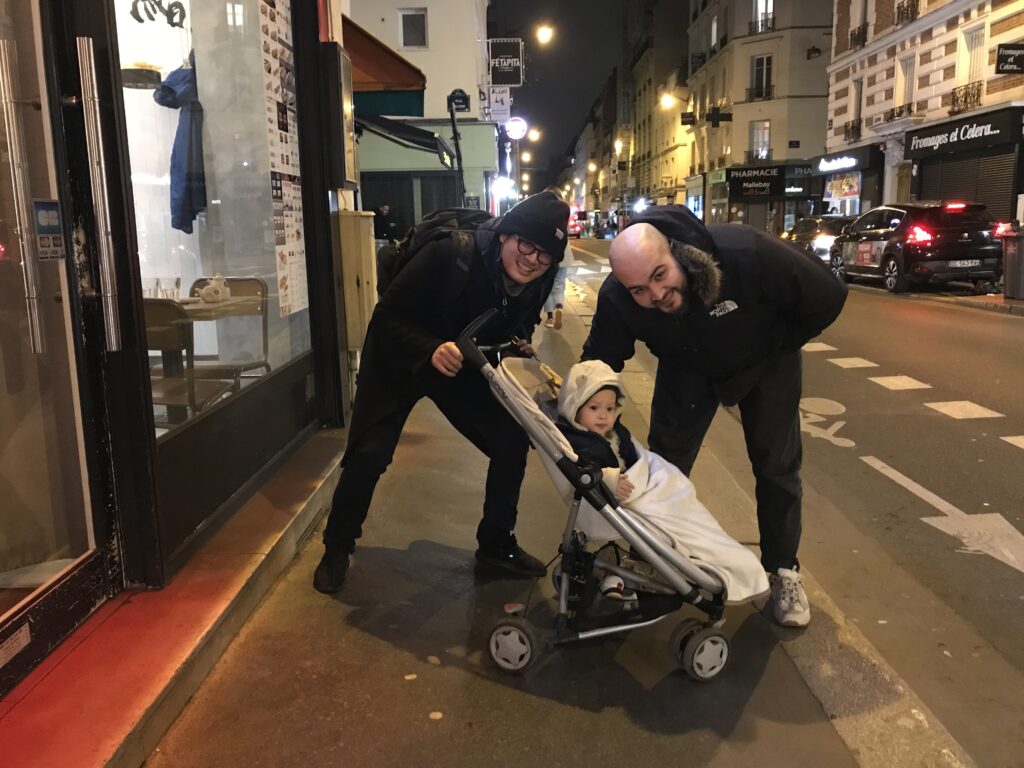 It's without a doubt the best rolls I've tried yet even if they don't really follow the original or classic recipes.
I still love normal sushi which by the way is more about the quality of the ingredients and the cooking of the rice than anything else. But when we want to spoil ourself with some "gastronomic" or "revisited" rolls at a relatively low price, this is the place to go.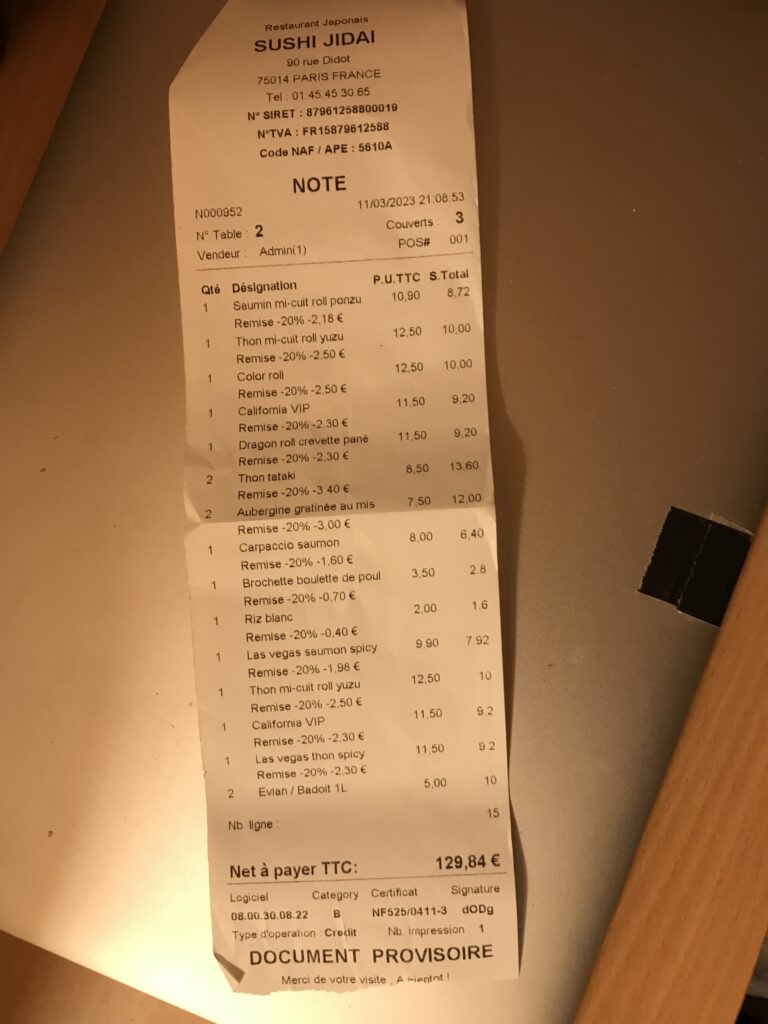 Note that we paid 129 euros for all of this and with a 20% discount from the fork, Sushi being already an expensive option this one almost becoming a premium one. It's not the restaurant you will go and eat every day unless you are loaded but once in a while this is refreshing.
Informations
Sushi Jidai
Address : 90 Rue Didot, 75014 Paris
Phone : 01 45 45 30 65
Website : http://www.sushijidai.fr
Facebook : https://www.facebook.com/people/Sushi-Jidai-寿司時代/100077640969789/