Le Mont-Saint-Michel, also called La Merveille, is a city but also a castle located in the sea. This wonder of architecture looks quite special since, according to the title, it will either become an island or a castle surrounded by sand.
We'll see in this review if you should take the time to visit this place and, perhaps, what the best season is to visit it.
The location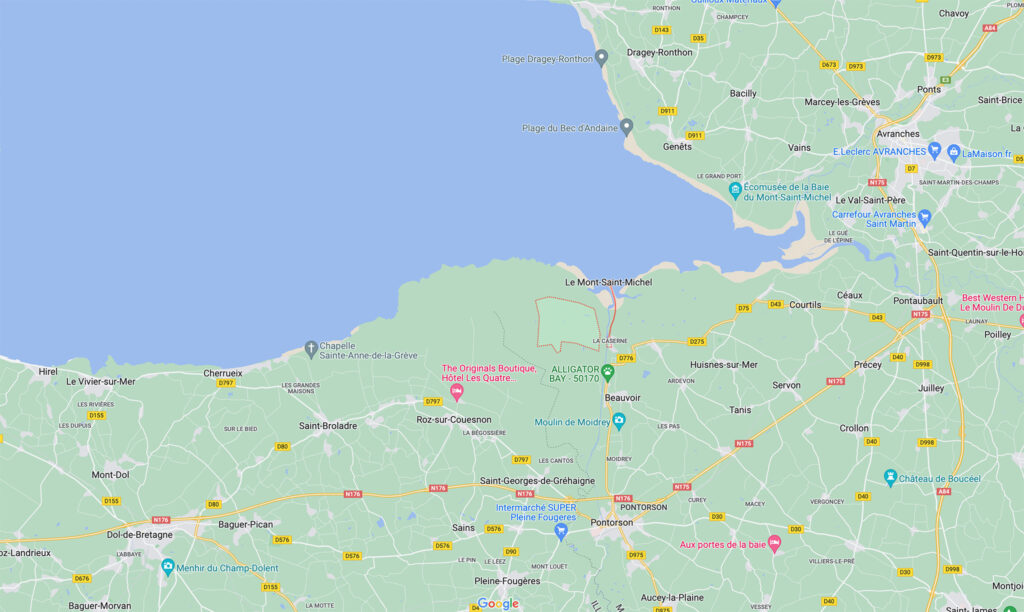 Le Mont-Saint-Michel is located in the north of Rennes, between Saint-Malo and Caen. There's actually not much to do around the Unesco-classified monument. It's mostly farmer land, producer land, and small hotels.
The experience
We decided to try to go to Mont-Saint-Michel at dawn. From Caen, we had something like one hour and twenty minutes of road, but in reality, if you stop one time and there's a bit of traffic, you'll spend two hours.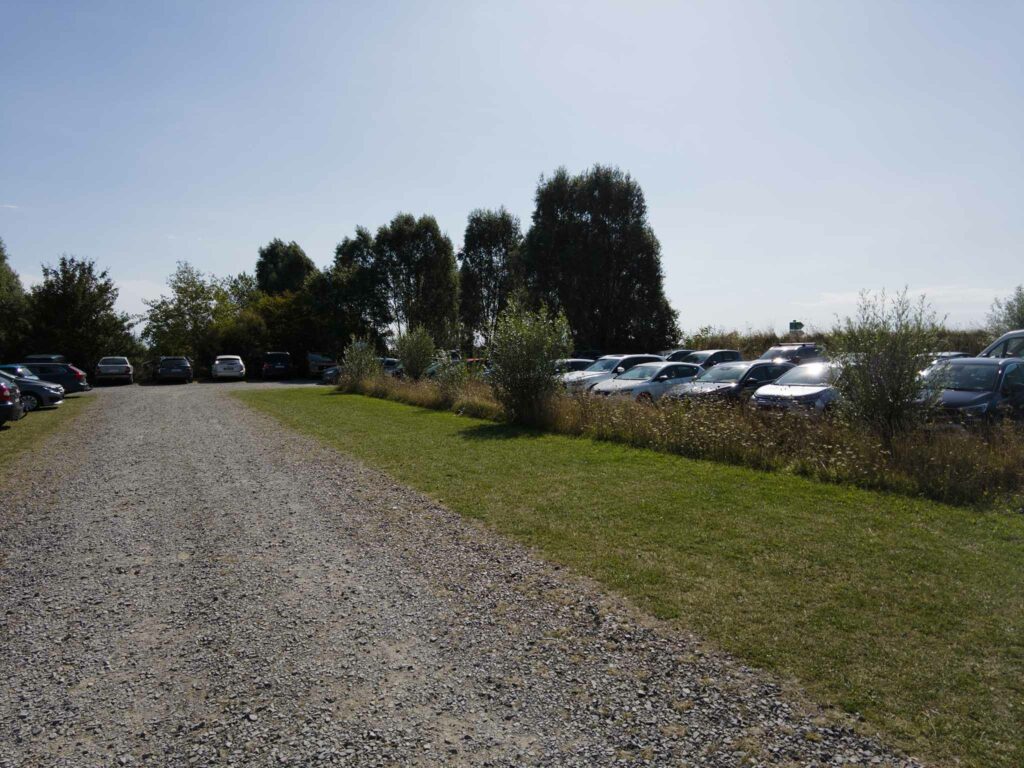 The road near the city is quite nice; you'll find a large parking lot at the end with a free shuttle. It's quite normal when the parking costs something like 34 euros.
For various reasons, we had to visit all these places in August, which is definitely not the best time for Le Mont-Saint-Michel. It's extremely hot, and there are tons—I mean tons—of tourists.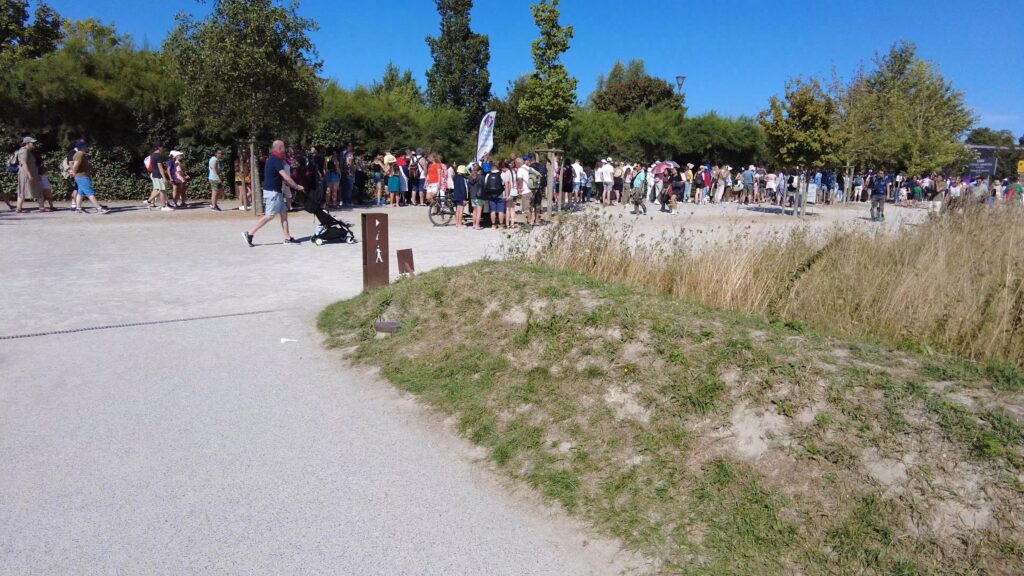 So much so that you can't even walk around without people getting nervous around you. I've come to this place many times, and I would definitely choose a colder season.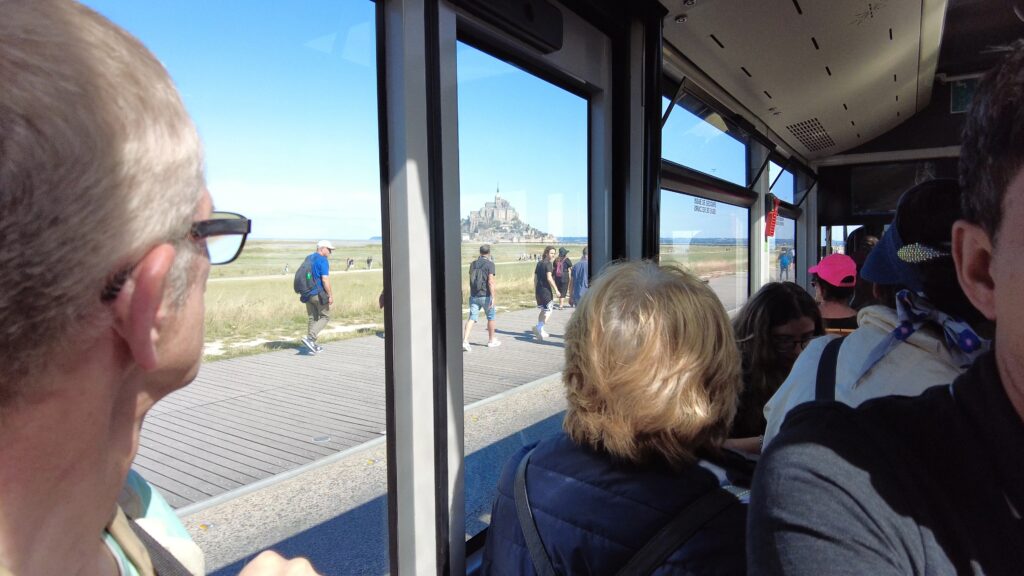 You had to wait something like 30 or 40 minutes in the sun to wait for a shuttle that would take you there in around 10 or 15 minutes. You could also walk there in around 45 minutes. Since we were with a kid, there was no way we would walk these 45 minutes.
By the way there are no air conditioning in the bus neither shades in the station. You literally have to cook outside while waiting.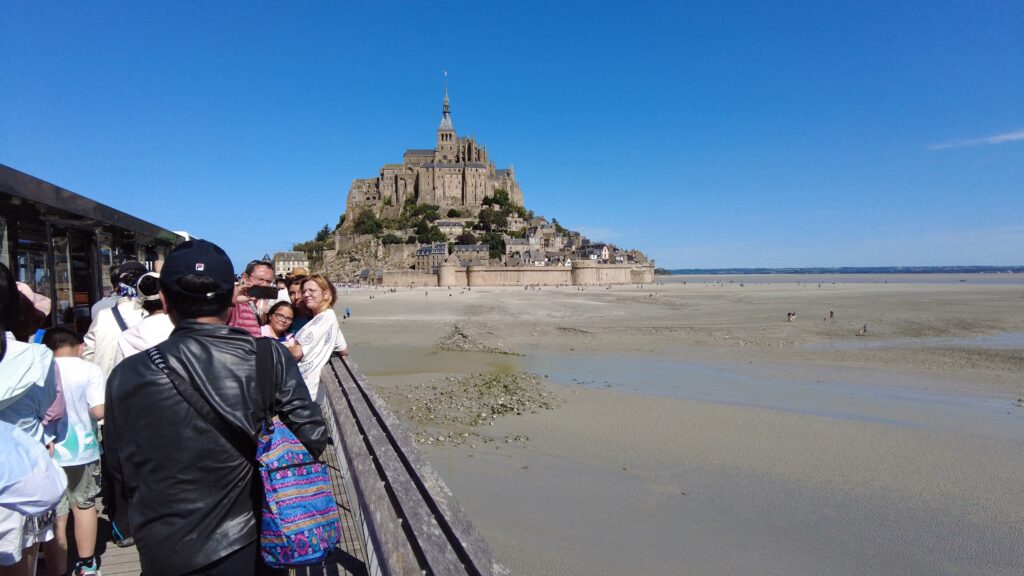 Once you arrive at the terminal stop, you'll have perhaps more than 5 minutes of walking, which is alright because you'll be able to admire the landscape and walk in the sand if you want to.
Walking in the sand was actually the best way for me to get some beautiful pictures or videos, but unfortunately, We were rushed by lunchtime, and then the sun was too strong to hang in there.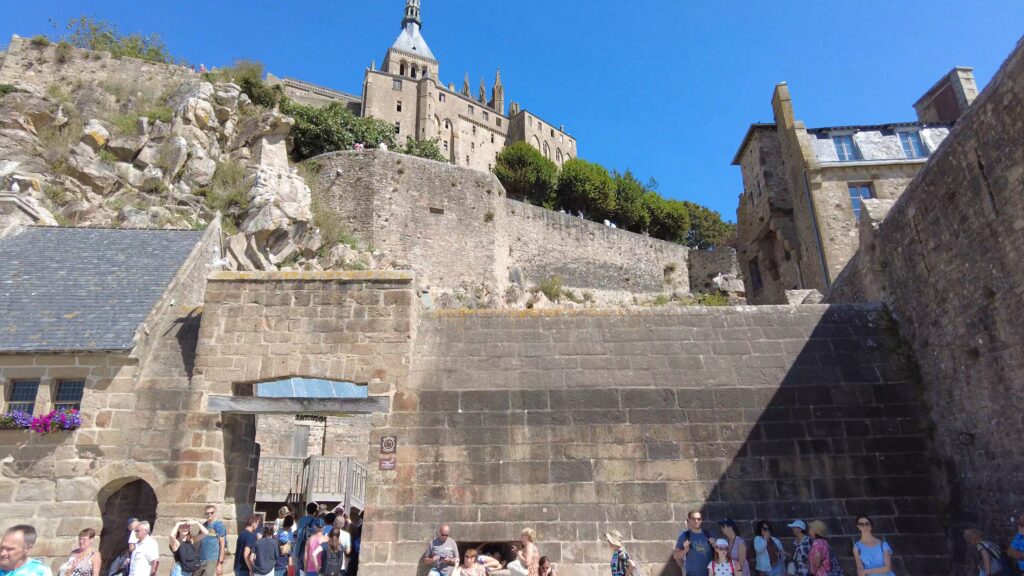 The entrance of the castle is fairly simple, and once you enter it, it really looks like a small medieval city. The only difference is that everything inside this place has become part of the tourist experience.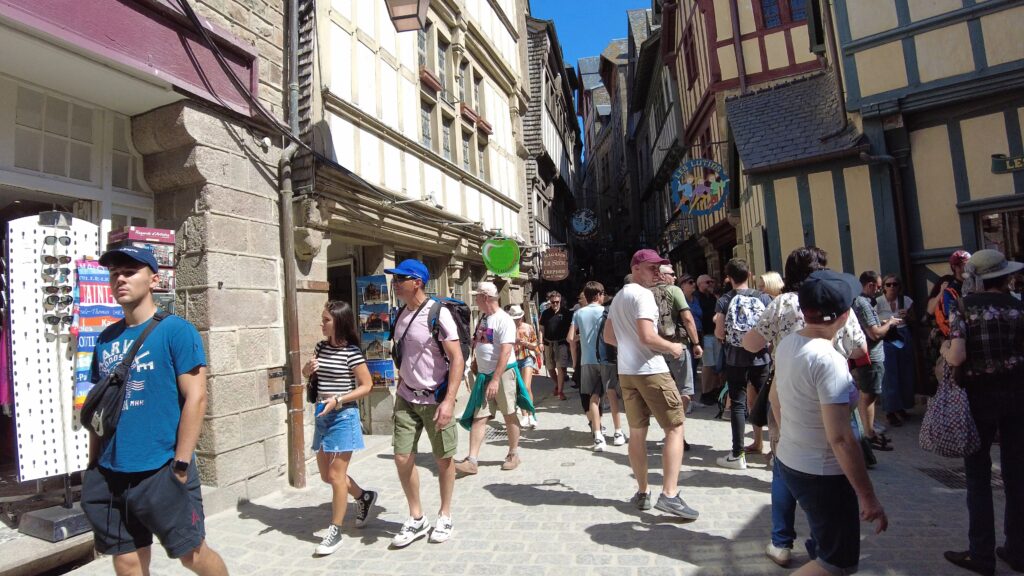 One of the main streets is also the most crowded area. It really feels like walking inside a giant waiting line. It was a bit annoying with a toddler; I can't even imagine what it must feel like with a stroller.
Note that some of the areas are only accessible via stairs. So the stroller can only go so far. We arrived at lunch, so we had to wait in line on this street, half blocking the circulation. It was really awkward.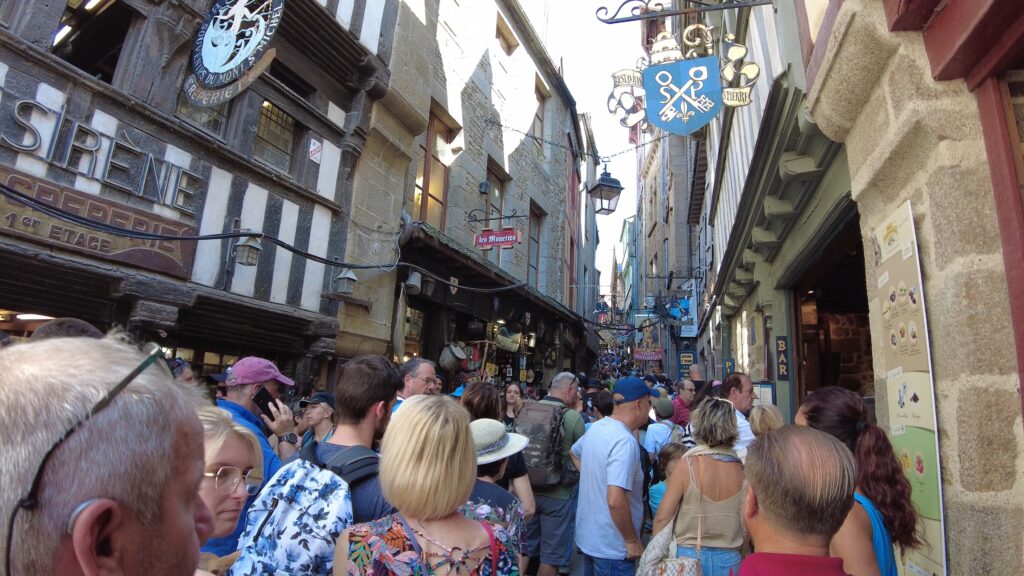 This is not what you expect from a vacation, to be honest. But hey, that's the price to pay for going there during the busiest week in France.
The restaurants
My advice would be to go there in the winter or spring. If you want to go in the summer, eat at 11 a.m., and you'll be fine.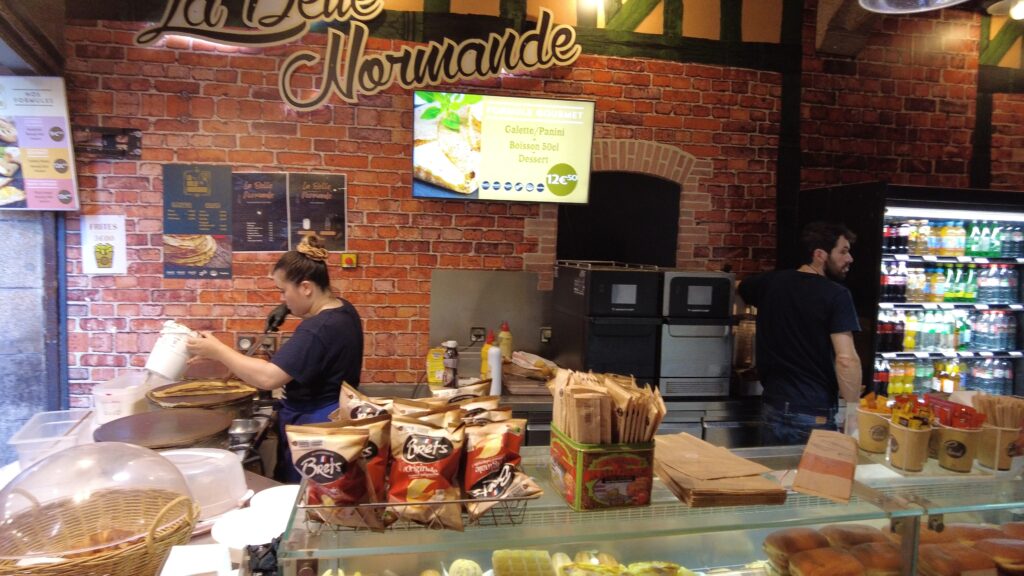 We ended up eating lunch at 12:30, and it was so crowded that we stopped inside a cafe that was making sandwiches as well. The crêpe was simply average, so much so that the woman who cooked it forgot to put the slice of ham in our crêpe.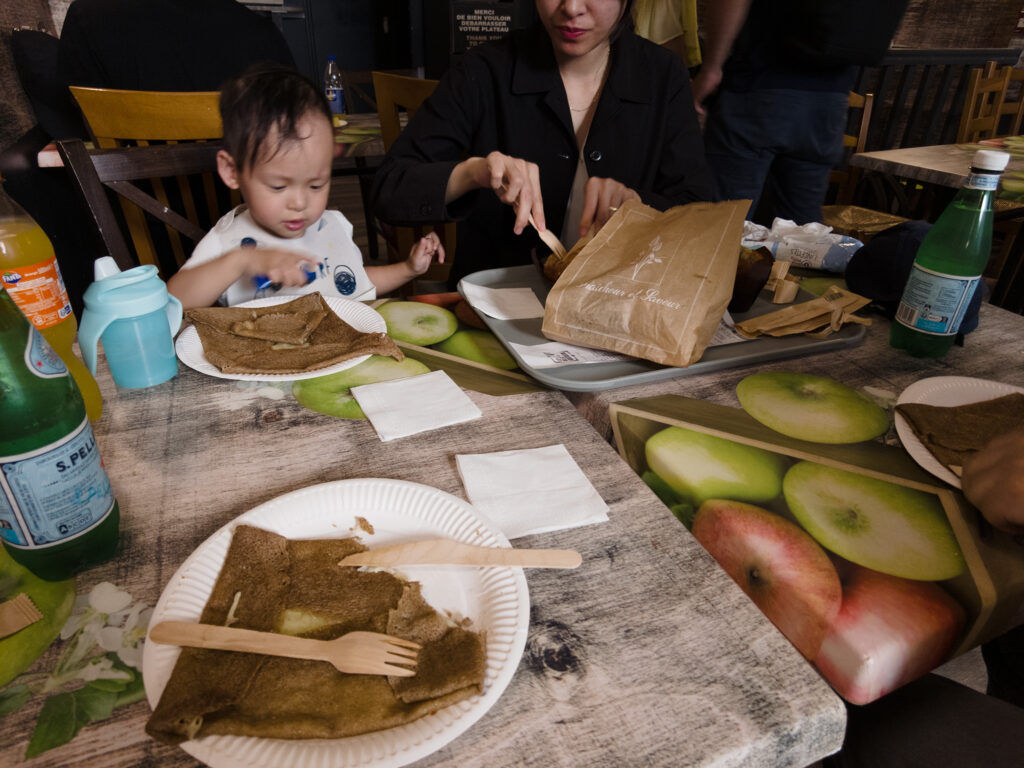 Can you believe having only one job to do and failing to remember the order? Last time I came here, I had some oysters, which were actually pretty good. I would suggest you try a decent restaurant and avoid those places for sandwiches.
The visit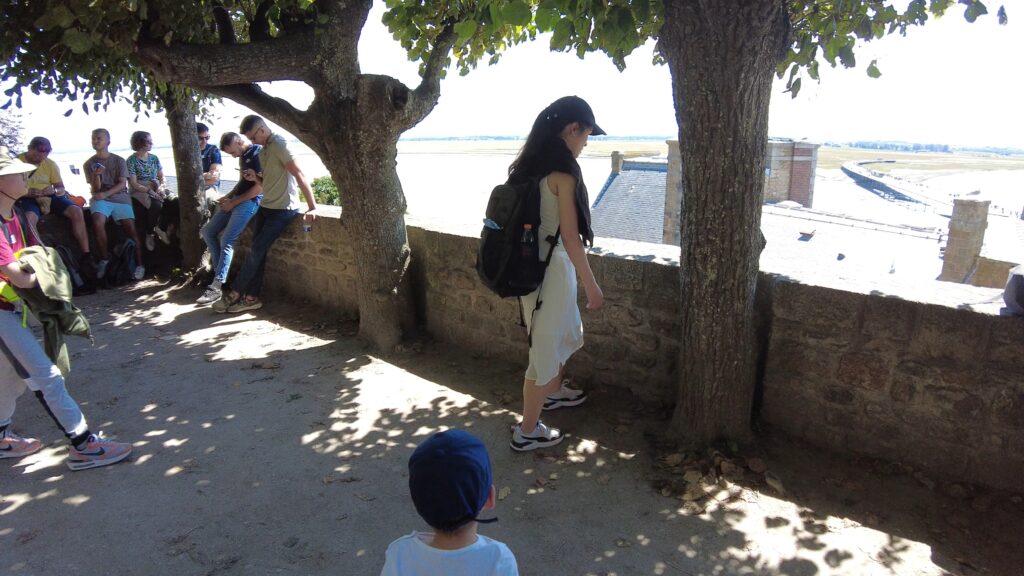 The visit to the place is quite nice, and there are some interesting stairs and a little park where you can see a bit of shadow from the tree.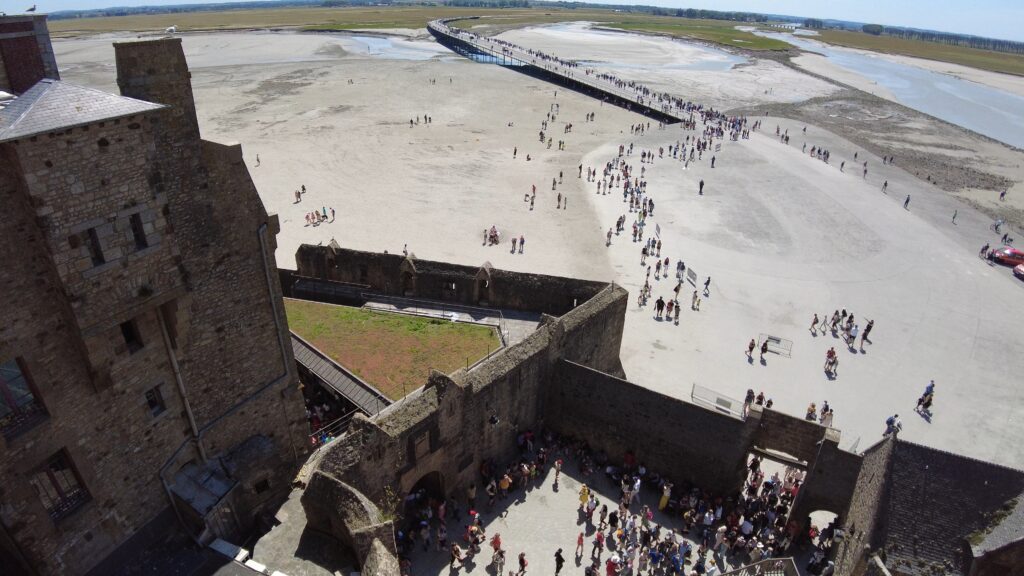 In most of the city, you can enjoy a beautiful view of the surroundings. It's a very nice place for landscape enthusiasts.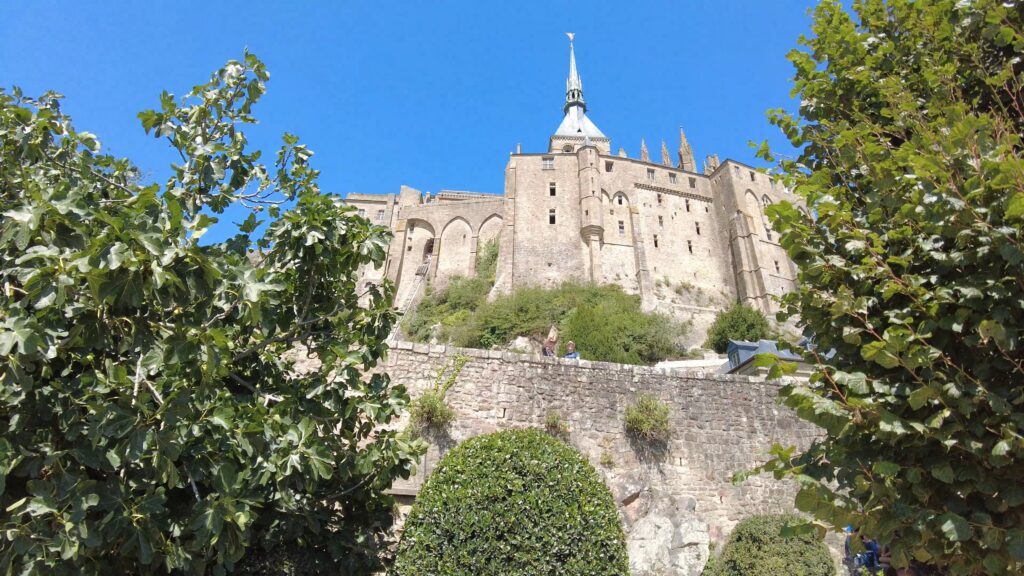 I've actually never been to the church on top of Mont-Saint-Michel; I wanted to try, and we actually had some tickets from the OFII. Unfortunately, there was a waiting line, and my dad was already exhausted.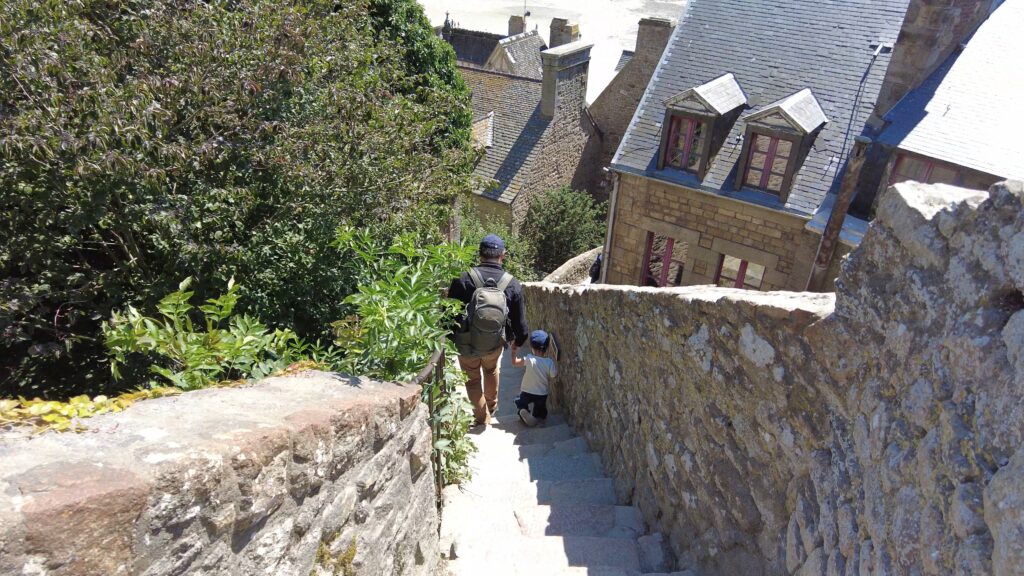 By far, my favorite part of the trip was the narrow stairs. It was actually quite challenging to make my son walk in those without holding on to anything.
We ended up waiting in the sun for the shuttle back to the parking lot. Honestly, I was a bit disappointed this time by this place.
Verdict
8.2 out of 10.
Le Mont-Saint-Michel is a must-visit place for people who love landscapes. But beware; don't bother going in the summer. Go in the winter, spring, or autumn.
In August, there are so many tourists that it's really just a hassle to walk inside and have a decent meal. Even your video and picture will be ruined by a big crowd.
In the winter, it was a great experience, and I would do it again for sure. This time the waiting lines and the burning sun got to our nerves, and we will probably do the same with you as well.
This place is beautiful but it has become a touristic attraction. Unlike Saint-Malo that is still a real city.
Informations
Le Mont-Saint-Michel
Address : Le Mont-Saint-Michel 50170