Saint-Malo and Dinard are probably two of my favorite cities in the region of Bretagne. These two cities are quite touristic places, but unlike Le Mont-Saint-Michel, there are actually people living there all year.
We will see in this review why I think Saint-Malo is one of the best places to visit in Bretagne.
The city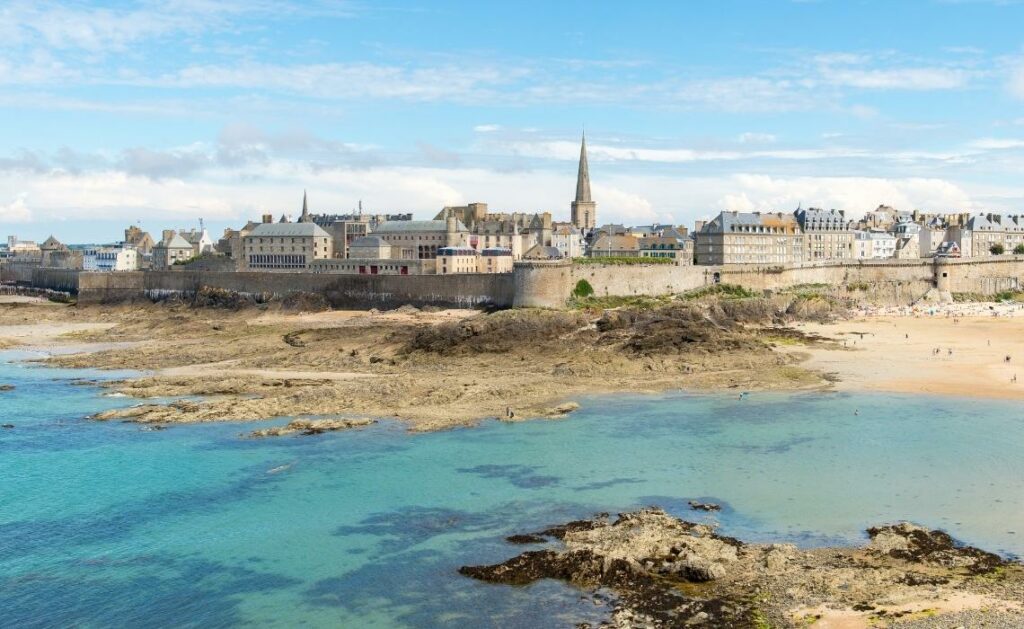 The city of Saint-Malo is located in Bretagne, in the north of France, basically between Brest and Caen.
What is interesting about this city is that it looks like a medieval fort built along the coast. Visually, it's not too dissimilar to Le Mont-Saint-Michel, but it's more like a fairly large and relatively new town rather than just a small ancient place.
Our experience
It was a disappointing trip to Le Mont-Saint-Michel, and we were very happy to finally find a place where we could use a stroller and walk around without burning in the sun.
As soon as we arrived, there were many parking spots very close to the entrance of the city. Great point! Also, there were some stands selling ice cream at a relatively inexpensive price.
Can you believe arriving from a parking lot and having a treat of affordable ice cream to cool you off?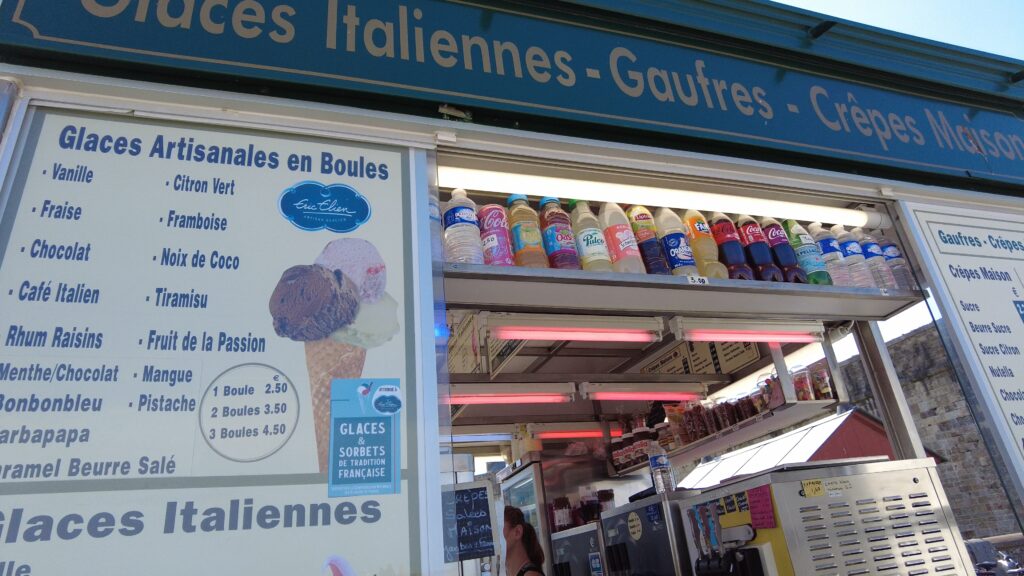 The entrance of the city was much more impressive than the one in Mont-Saint-Michel. One good thing as well is that not many cars will go inside the fort; it's always better to have only pedestrian streets in such places.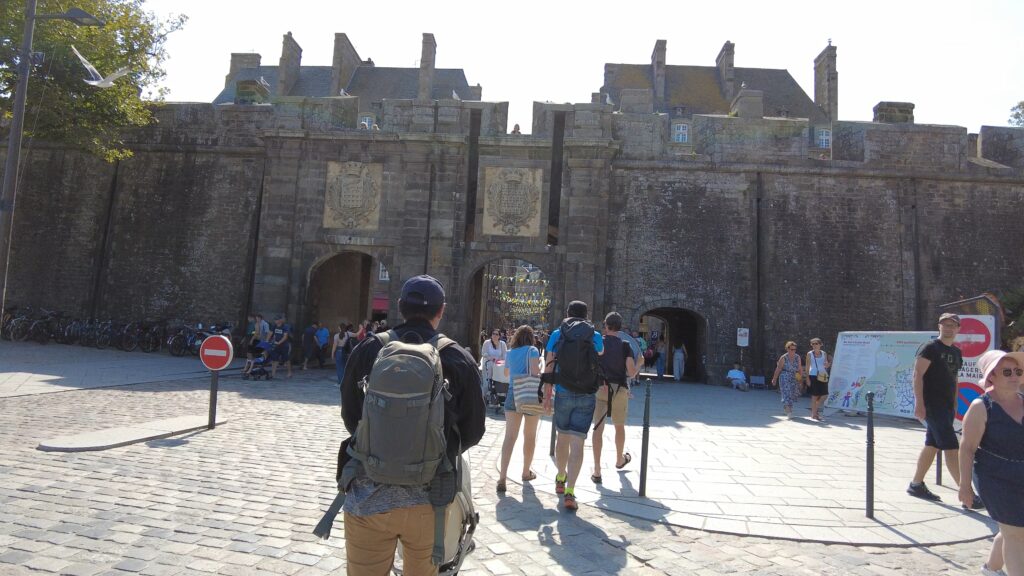 It was also a pleasant surprise to see a square with tons of restaurants and a terrace at the entrance of the city. It means it's easy to find a good spot to have dinner or lunch.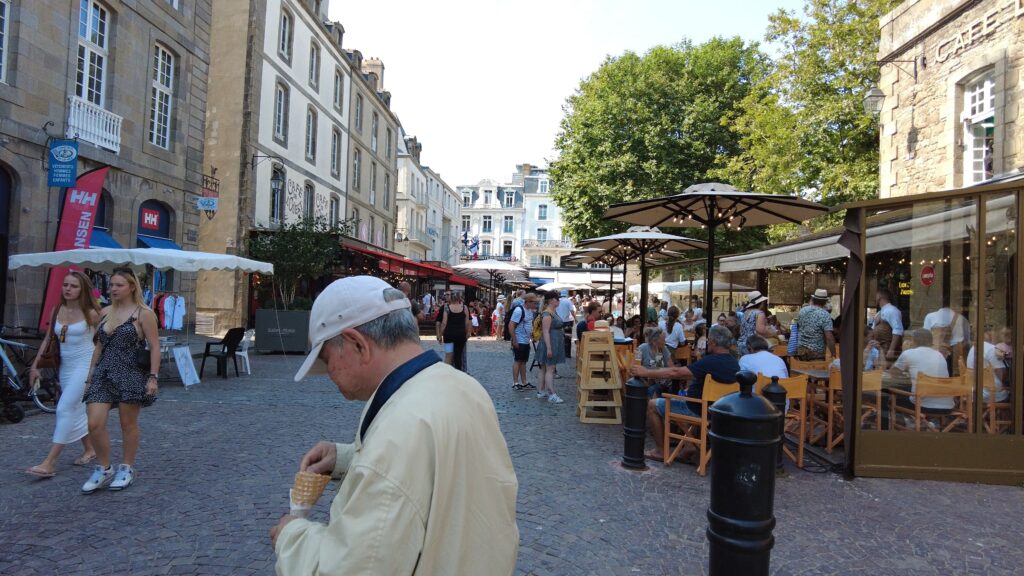 The streets were quite large and full of stores and amenities. It's great to see such a place being alive; it's very similar to the center of, say, a city like Lyon, just with a slightly different set-up and a slightly different culture.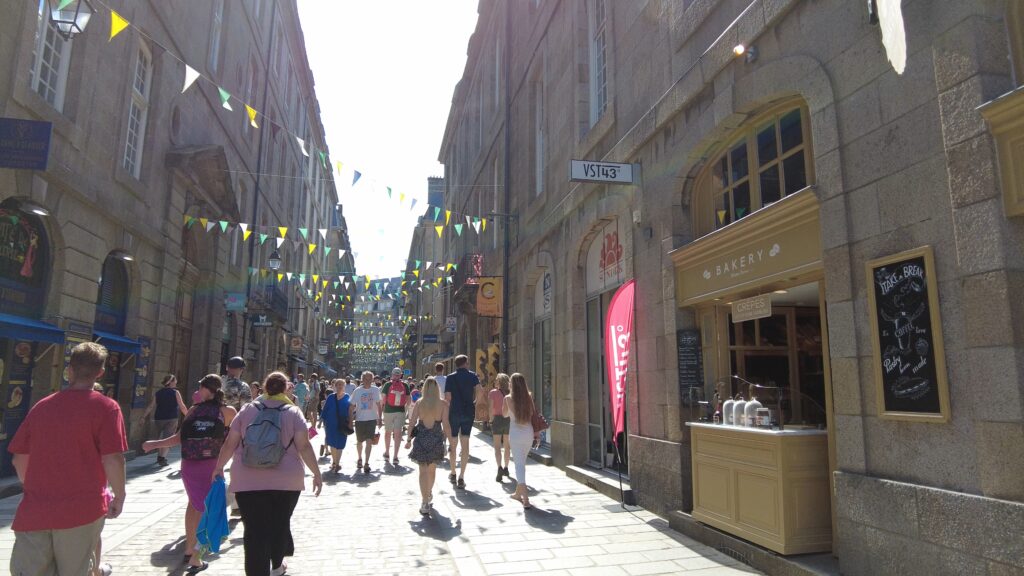 The stores and restaurants
There are actually tons of stores, restaurants, and bars. They even have a Carrefour market for you to buy your groceries.
It's pretty easy to get yourself a treat, such as a crêpe or some caramel.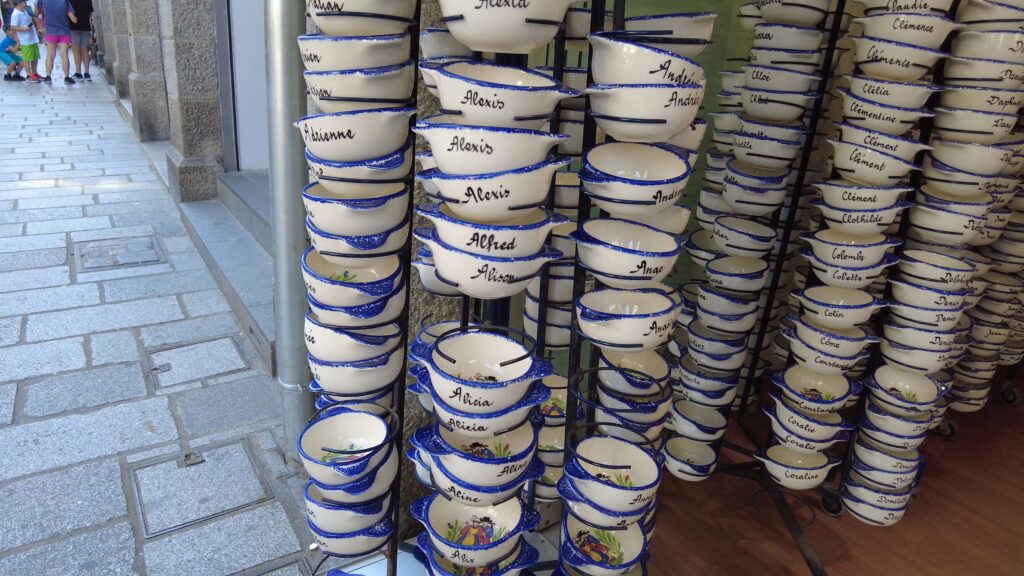 There's also some souvenir stores that are more related to the culture of the region, such as these bowls and cups. We got one for our son, Thomas. We found the prices to be quite affordable compared to what we would expect from a touristic place.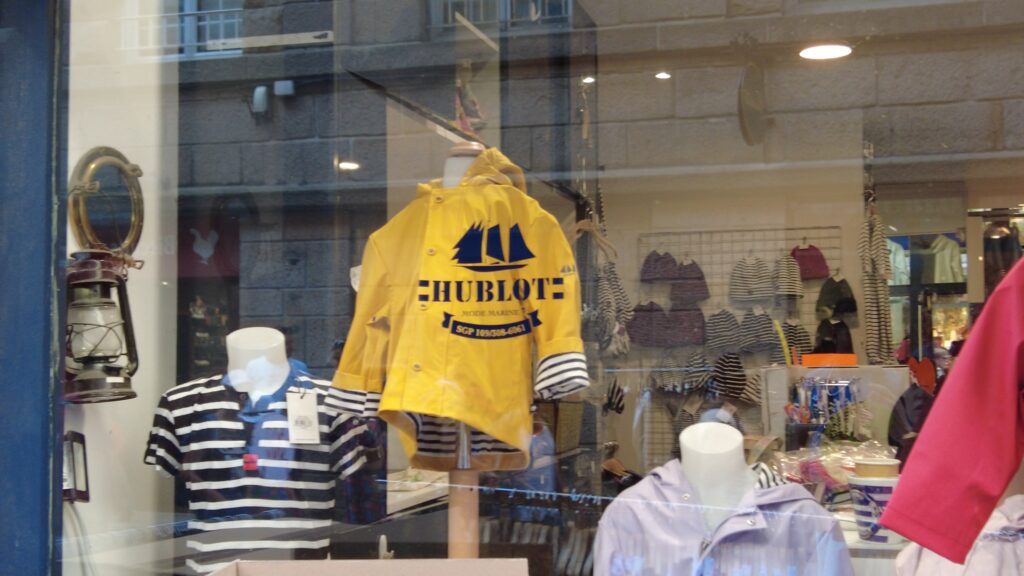 The same goes for clothing. We had the opportunity to find a Hublot store that was selling sailor clothing, such as the classic Marinière (white t-shirt with navy stripes) and the classic Ciré (usually yellow raincoat).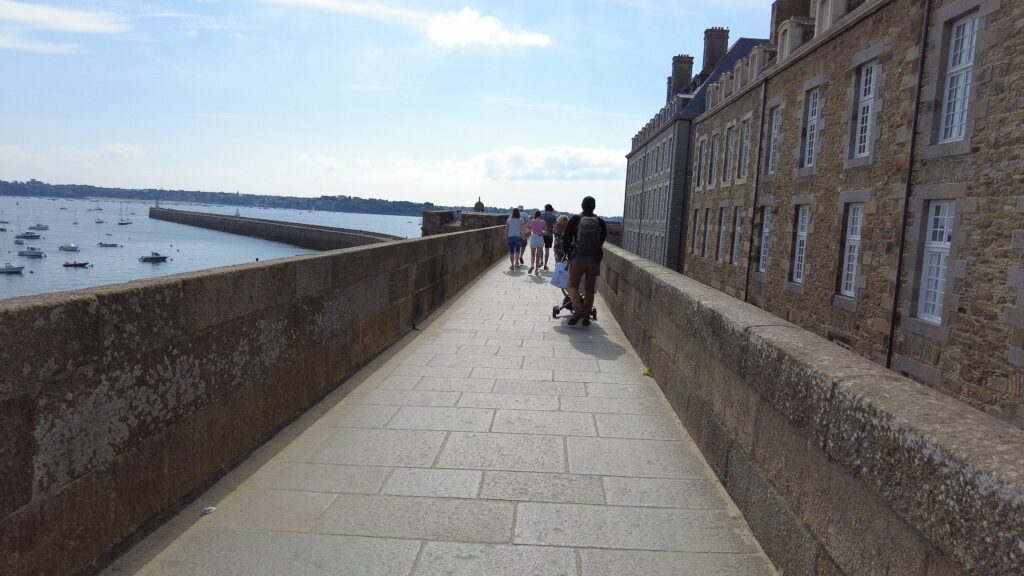 The main tourist attraction of Saint-Malo is the part of the city located near the sea. You can actually walk around those and enjoy the beautiful view of the sea on one side and the very clean architecture of the city.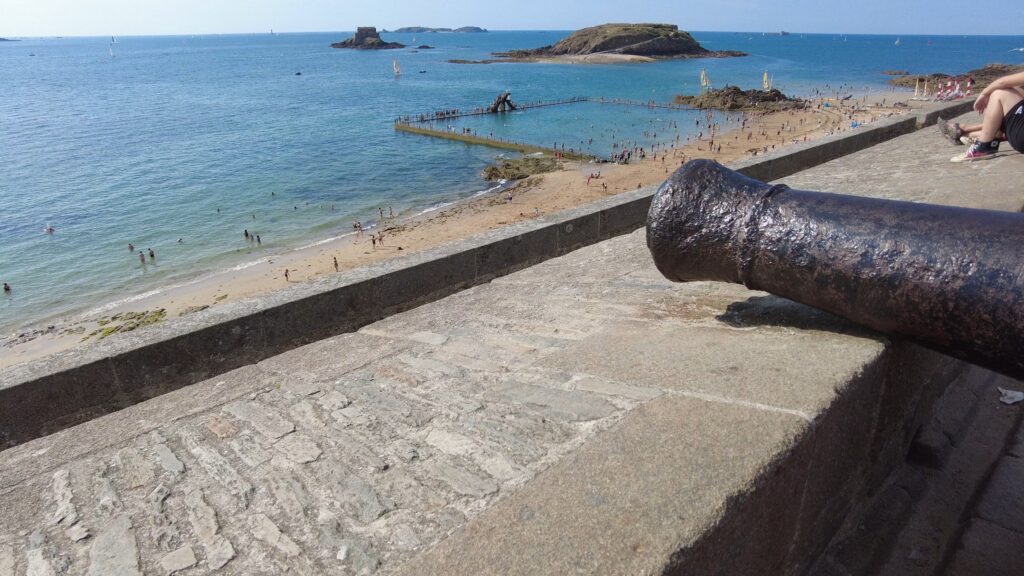 One thing I forgot about Saint-Malo is that they actually have a nice beach out there. The water is very clear, and the beach has a perfect size with some special amenities, such as a place to dive.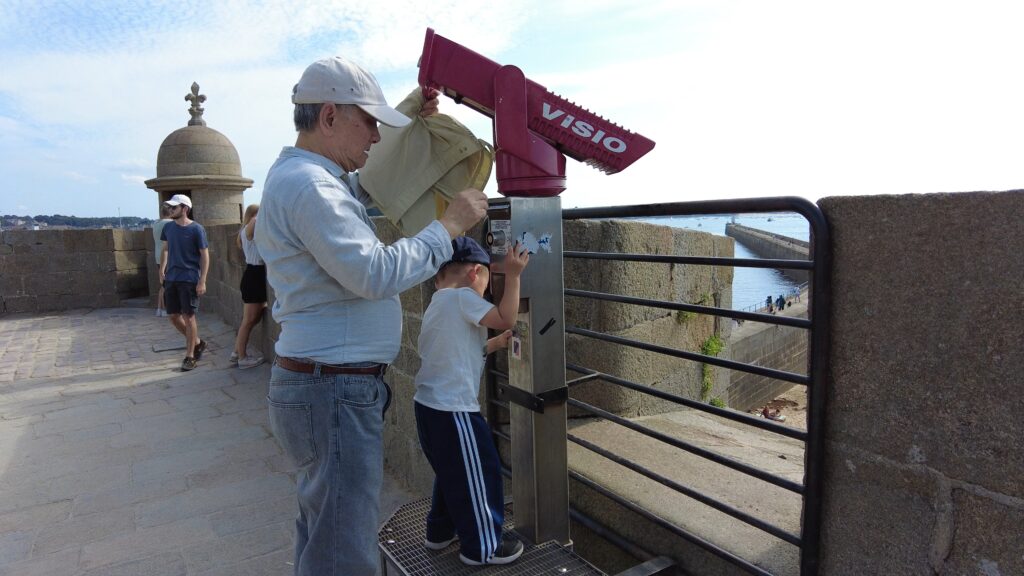 In these regions, you even have some free monoculars to check out anything you want from the sea or the beach.
These monoculars actually have a focus ring and work quite well. The image was clear, and I could spy with ease on people on the beach.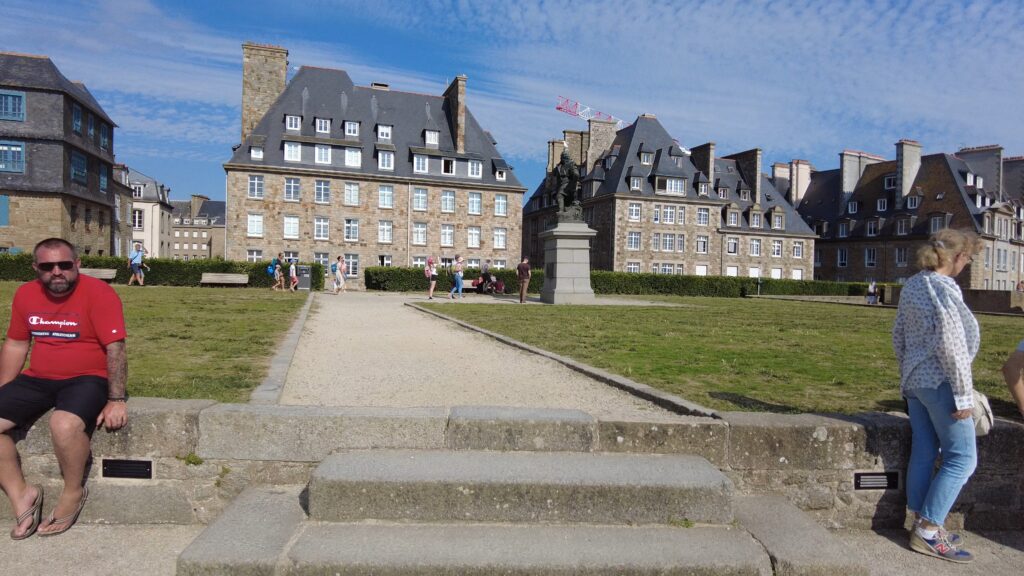 Up the road, you'll also find a small park with grass and a statue. This place is quite nice for you to sit down and enjoy a bit of sun. My son loved to run around in this area.
The beach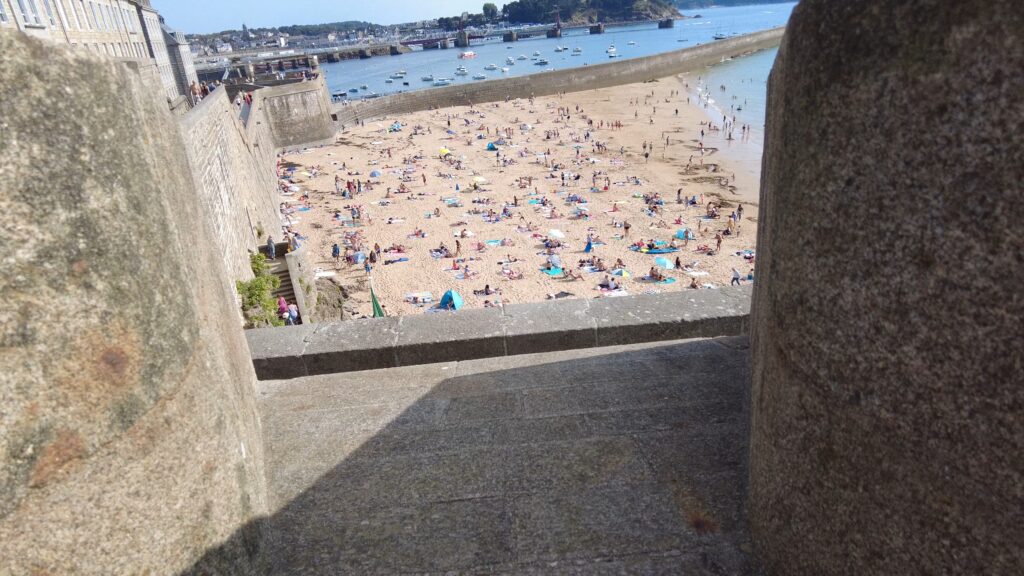 We also spend some time at the beach in Saint-Malo. It was great and crowded; unfortunately, we left our swimsuit, towels, etc. in the car. So we just spent half an hour there so Yooyi could enjoy the water for a bit.
There were not many foreigners on the beach, so even if it was very nice, we couldn't feel as comfortable as in a place like Deauville.
There were two sides to the beaches; one entrance was more on the right when facing the sea. This second beach was way longer, and there's also another beach not located on the edge of the fort.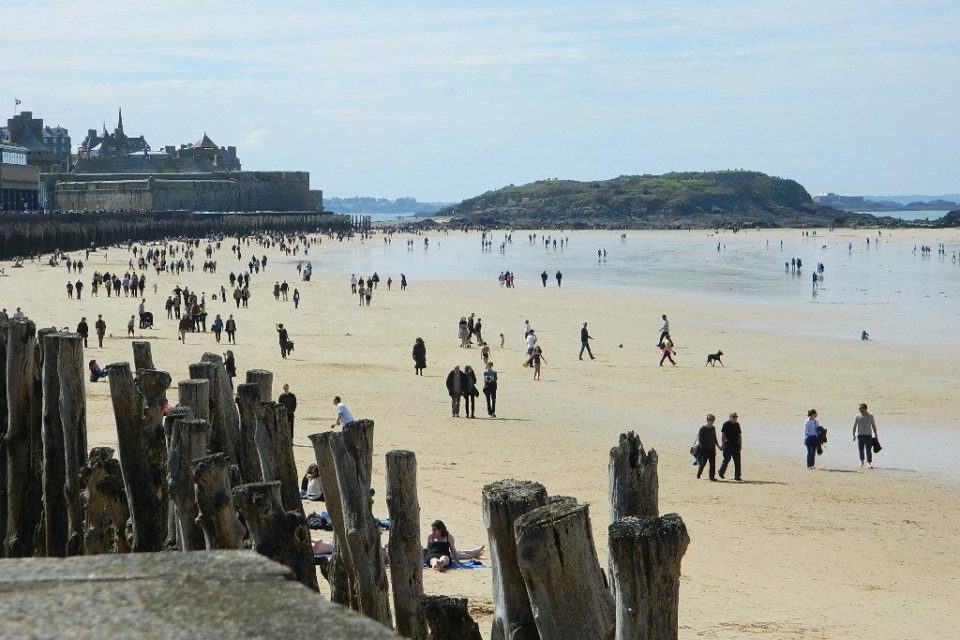 This long beach was actually easier to reach from the parking spaces and looked amazing. I think you could easily spend an entire day over there. It looks even better than the beach in Deauville, to be fair.
Verdict
9.0 out of 10.
Saint-Malo is a must-visit place in Bretagne. It's probably one of the most beautiful cities in France. When you are going on a sea vacation, you are looking to visit some beautiful historical places where there are still amenities such as good restaurants and stores.
You are also looking for a place where you can relax and enjoy the sea for a full day, if needed. I think Saint-Malo checked all the boxes.
I would definitely love to stay there for a couple of days. There are so many things to see in the region, so you'll have to spend some weeks if you really want to see everything.
I would highly recommend you visit Dinard as well. It's a smaller but very charming city, as shown in the movie One Day.
Informations
Saint-Malo
Address : Saint-Malo 35400