If you are living in Vietnam, more precisely in Hanoi and you are looking for American food and an American vibe restaurant, one place comes to my head quickly : The Moose and Roo.
What's more American than Smoked Pork Ribs, Burgers and Macaroni and cheese ? Maybe a sports bar with tons of beers and bourbon. This place name is reminiscent of Moose so perhaps Canada or north America mixed with Roo so obviously Australia.
The location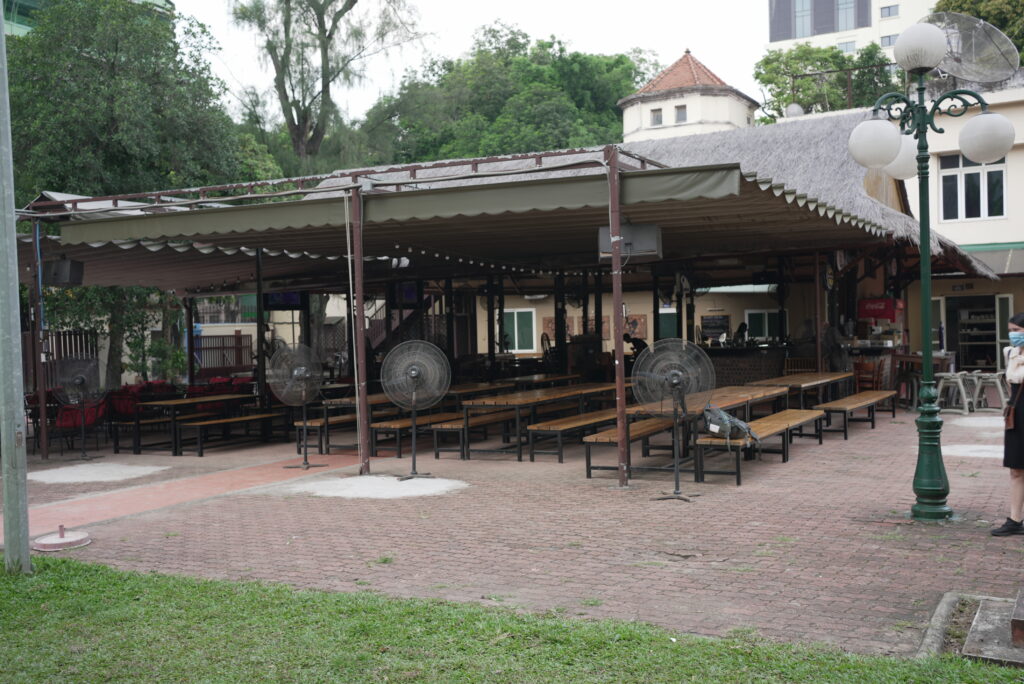 The Moose and Roo is located in Hai Ba Trung very near the Hoan Kiem Lake. It's a very large open space. Actually the space looks like a beach restaurant crossed with a sport center with volley ball and a soccer field.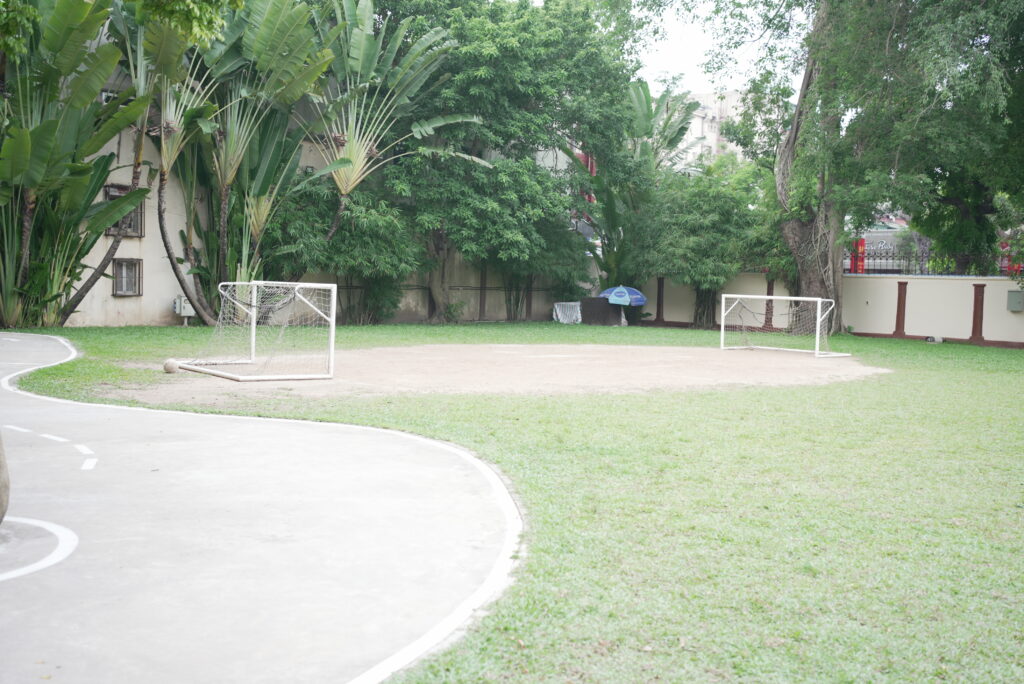 We unfortunately have to come in the restaurant during lunch, but I am sure there are a lot of expats coming to this restaurant during the afternoon / evening to enjoy some beers and why not have a bit of fun playing some sports with friends.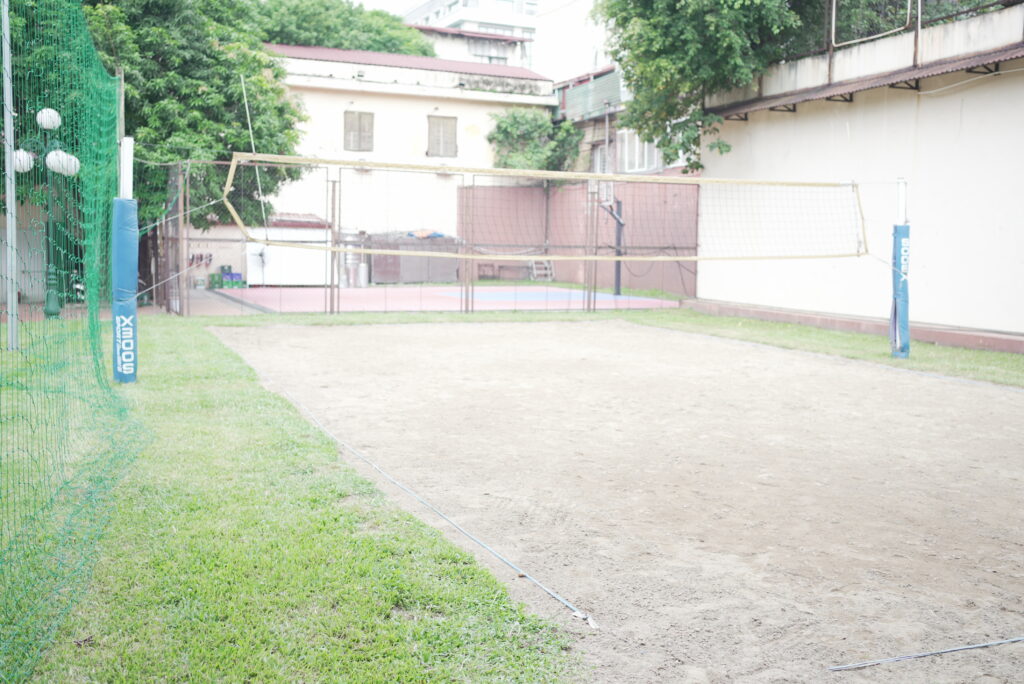 If you are also accompanied by children there's actually a place for them to have fun as well. This place is kind of the perfect spot to relax, chill and have fun the American way with your entire family.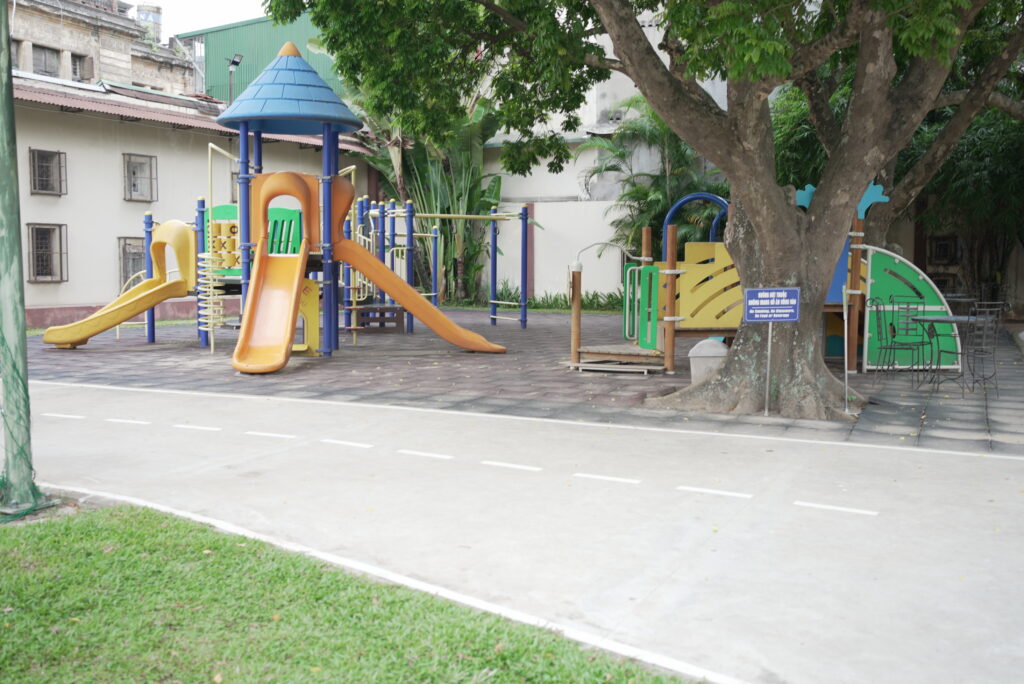 The menu
The Menu at the Roose and Moo is how to say, very American which is exactly what you want from this kind of joint. People should feel right at home while ordering in this restaurant and they do.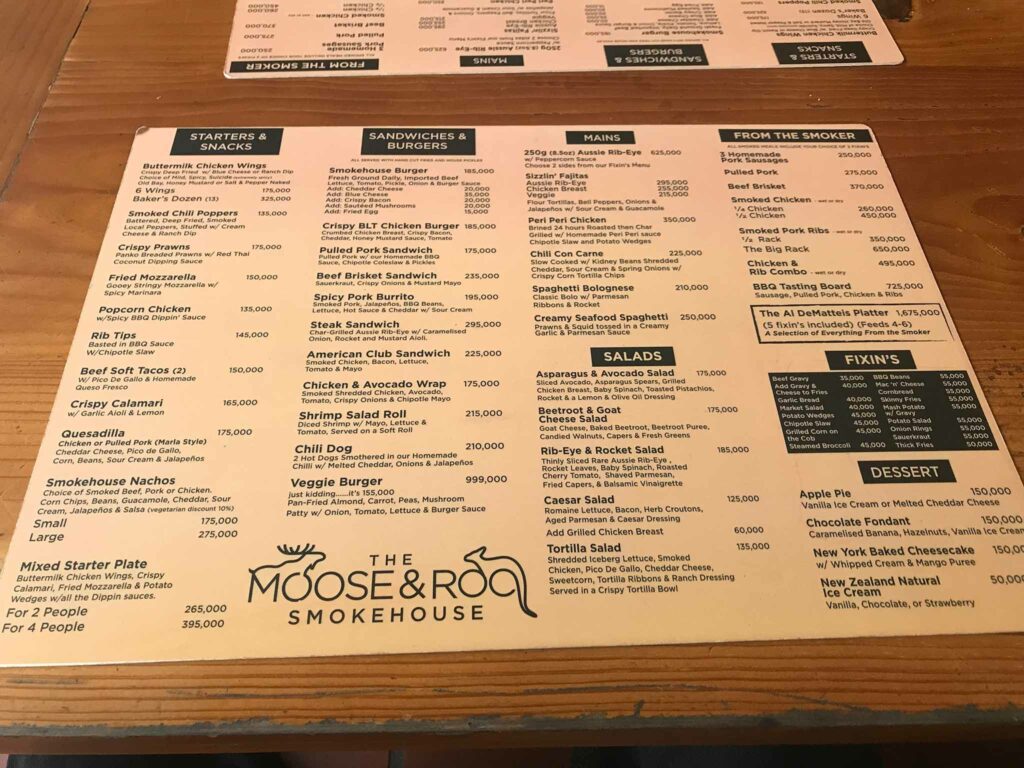 The food menu is very concise and easy to read. You can easily find what you need from classics starters to sandwiches and burgers to pasta and barbecued or in this case smoked meat.
Note that Fixin's or side dishes are included and relatively great in portion compared to others places.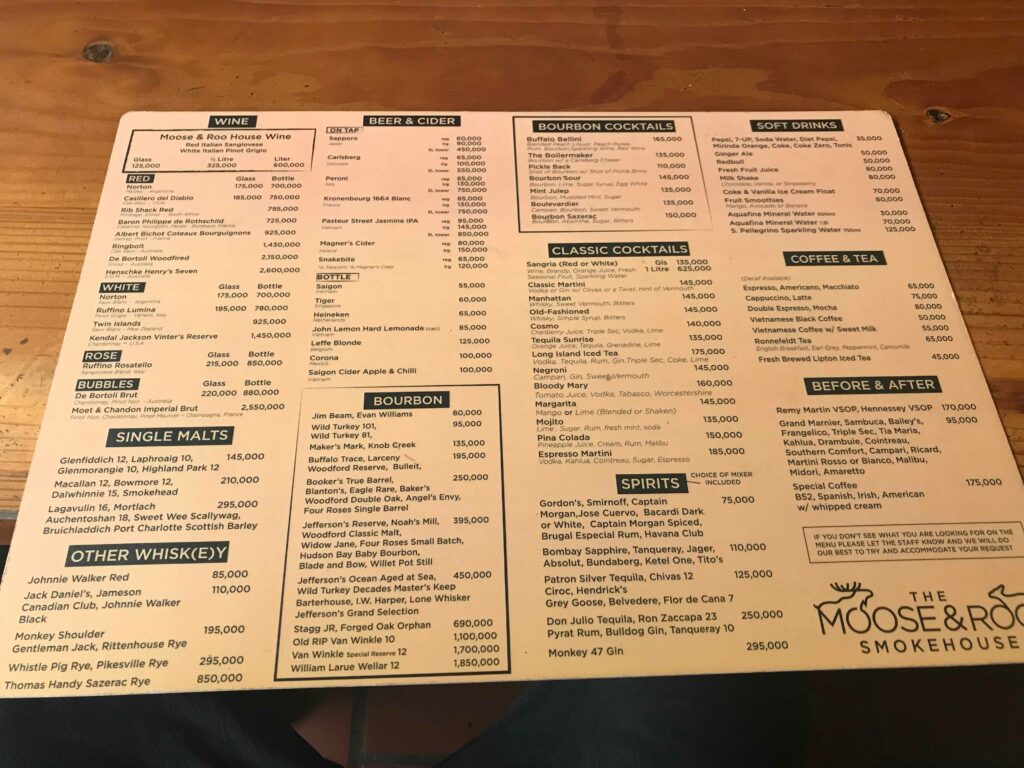 The drinks menu is also very well designed and rich with everything you would need to accompany this type of rich food. The bar is very big and filled with bottles so you'll have many choices and most of the things you are used to from home is probably there.
For example I saw some bourbon bottles like Woodford Reserve and even some Blenton's. I may come back with some friends to get my old fashion, it's been years since I had one.
The experience
This is an outdoor restaurant like they should be : spacious, with a lot of wood, some grass and some barbecues. Really, this is the way to do it especially since the weather in Vietnam is hot all year long, being outside, enjoying the sunset, breathing something else than air from the AC is a breeze for the mind.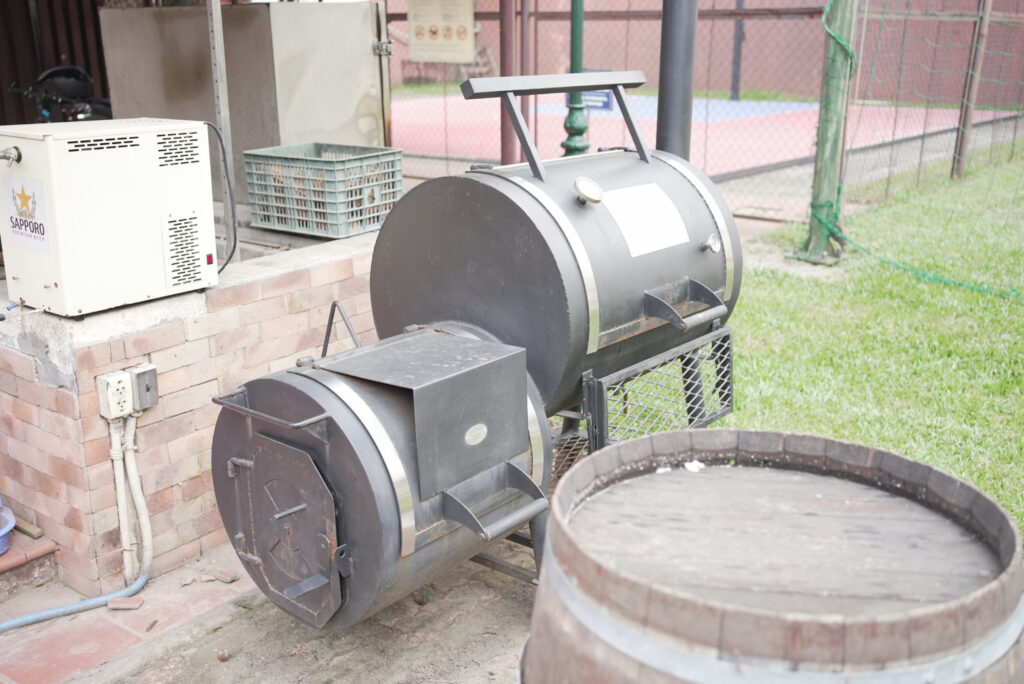 For entrance we chose the classic Mexican starters very reminiscent of what I was having in the US : Nachos with cheese and soft tacos.
I don't know why but Mexican knows how to party an whenever you eat this kind of food it mixes so well with beers, especially Corona. Unfortunately no mexican beer here, but Belgian will do as well.
I ordered for my wife an cider, since women tends to like bubbles and sweetness in alcohol.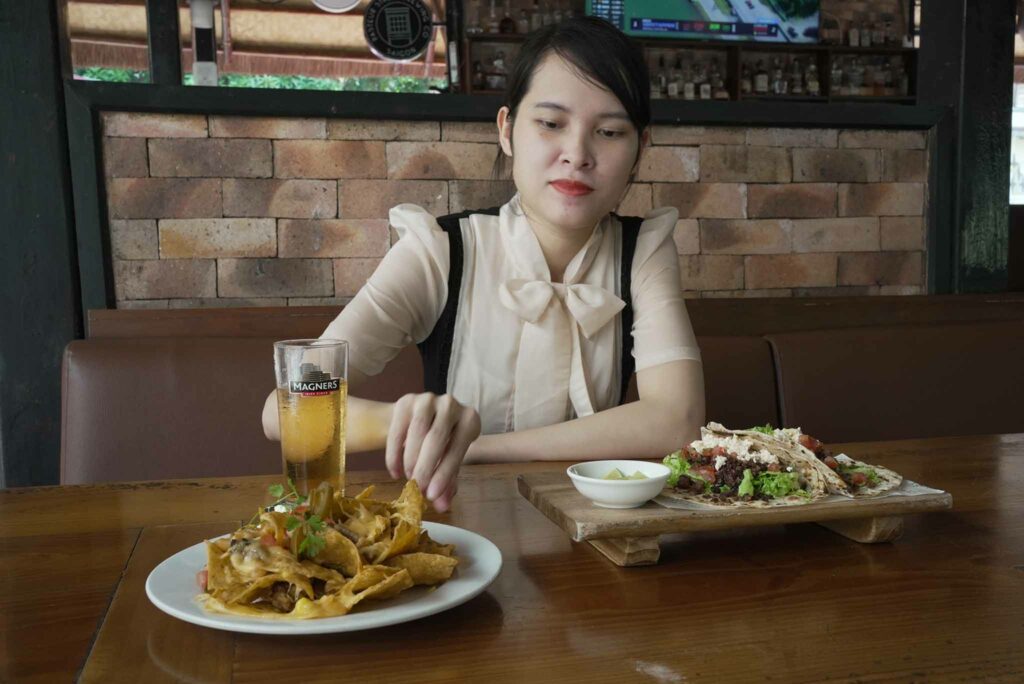 The tortillas and nachos were real, the cheese and garniture was exactly like you would get in the US plus the meat was more than delicious since it was the one being smoked.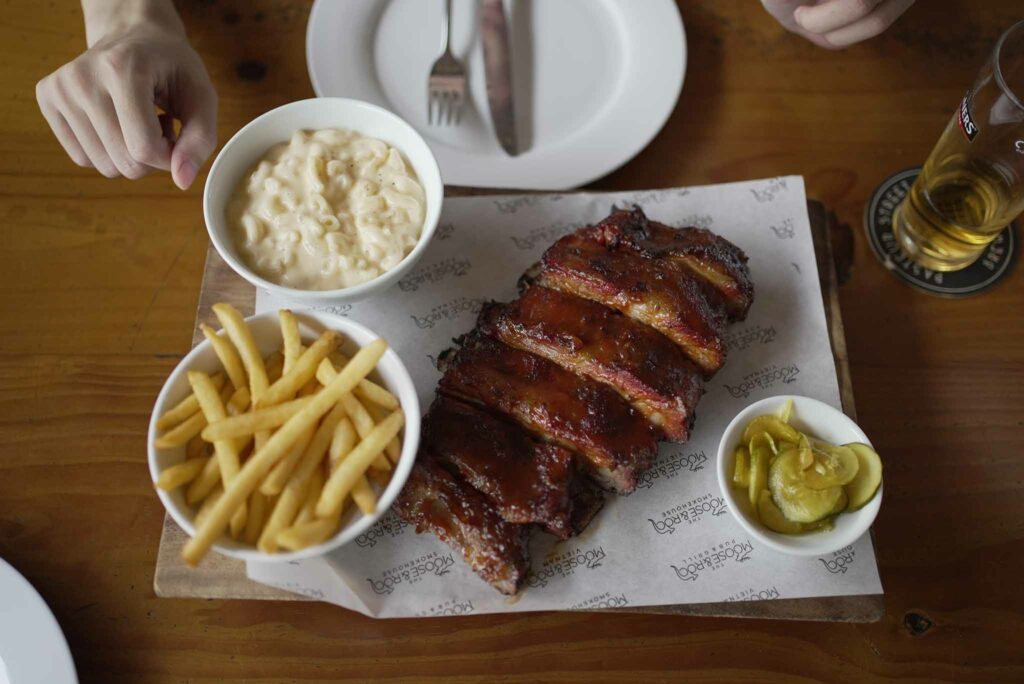 We ordered the half-rib and it was more than enough for us in portion, since we enjoyed 2 starters just before. The ribs came with two side dishes, the fries were delicious, perfectly cooked and the macaroni and cheese was just about average. We had to add some more salt and pepper to get some taste out of it.
Now the barbecued pork rib was delicious, we opted for the wet one, very, very, very smoked in termes of flavor with a coating of the famous barbecue sauce. The meat was very very tender, still juicy and fatty.
The first bites were so delicious, but like most rich food from the US, it's very in your face and can become really sickening real quick. Fortunately we had some delicious pickle mildly vinegared to come with it. A bit like you would eat some ginger between two pieces of sushi to clean your palate.
Verdict
7.9 out of 10
This place is definitely a great place for foreigners and expats to come to drink and have dinner at night in large group or family.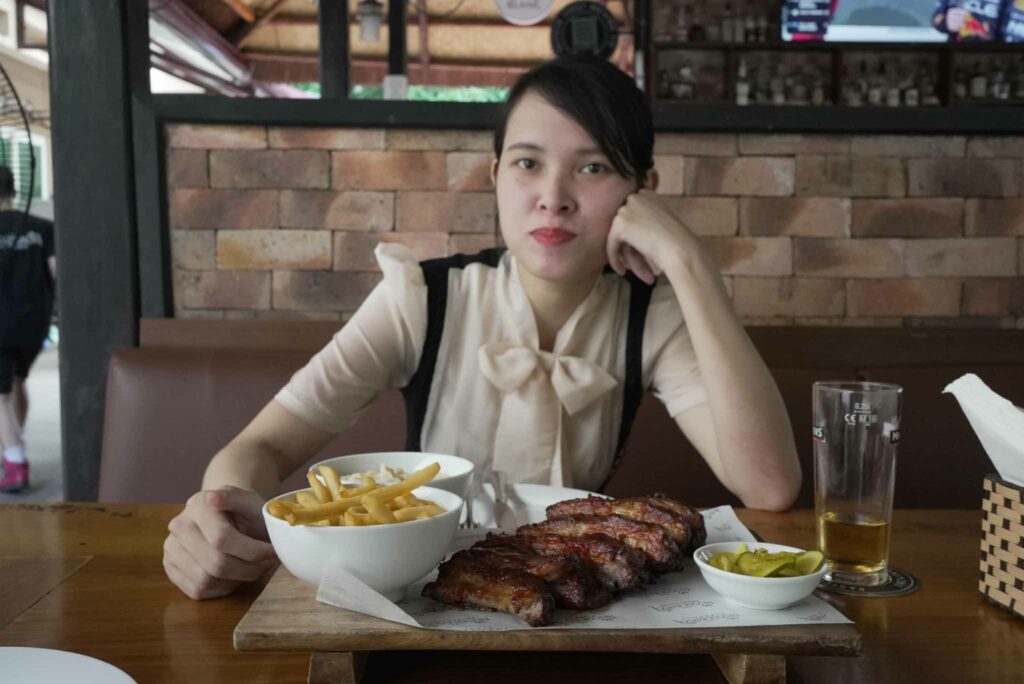 I think this is going to be my spot for when I want to enjoy some sports while having a beer. The location is just perfect, near the lake, very open and big with some sports activities.
The food is delicious and the menu and drinks what you would expect from the place like this in the US. Forget the fake franchise in Aeon Mall, this is the real deal, a joint like you would find in America.
I can't wait to come back with some friends to enjoy some quality time in a good atmosphere and place.
Informations
The Moose & Roo Smokehouse
Address : 21 P. Hai Bà Trưng, Hàng Bài, Hoàn Kiếm, Hà Nội
Phone : 024 3939 2470
Website : http://mooseandroo.squarespace.com/smokehouse-viet/
Facebook : https://www.facebook.com/mooseandroosh/