Royal Kids is to France what Tini World and Kidzooona are to Vietnam. A place where kids and toddlers can play and have some fun, especially when it's raining outside.
But there's a noticeable difference. Here, most of the activities are physical. Let's dive into why you should bring your kid to this playground.
Introduction
It's been a moment since my husband and I were trying to find an interesting place for our son to play. Here in France, most people tend to bring their children to public parks. There are often playgrounds for kids to play on.
If that's enough for most times, sometimes the weather can be harsh. Rain or snow, our child still has to go somewhere to play.
Some places like McDonalds or Burger Kings have a covered playground, but let's face it. Fast foods are not the best place for your kid to find pleasure.
In these moments, the best thing to do is to find an indoor specialized playground and Royal Kids is one of them.
The location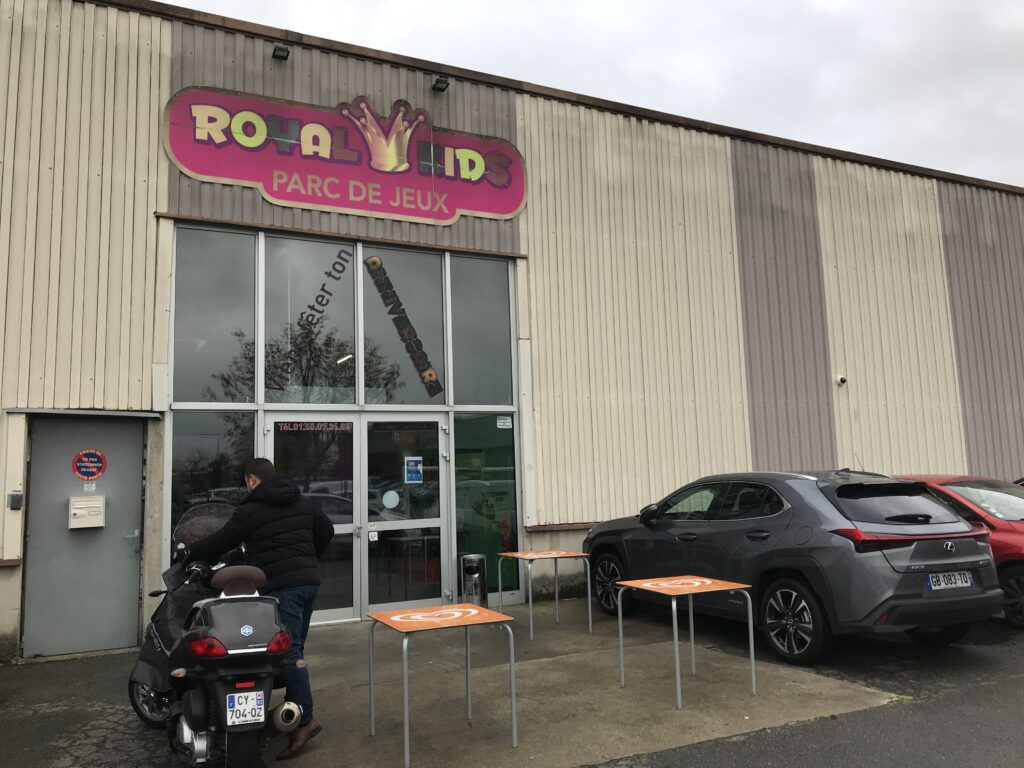 This particular Royal Kids is located in Lagny-sur-Marne. In this city, there's actually a beautiful park near the river, and next to it is a carousel for kids. I really recommend it to the people living nearby.
This day, as you can see, it was raining. So we had to find an alternative, something not too far away and not too expensive, since it was already five in the afternoon.
Royal Kids is located in a commercial zone, where there are mostly large covered surfaces, such as hard discount stores and restaurants. The place is near an Action Store and an indoor soccer field.
The parking is not very big but there seems to be enough space in the side of the complex and if needed in the parking of Action.
The experience
Once you enter the main doors, you'll be greeted at a desk where they will tell you the price and how it works if this is your first time.
The entrance
The price on Friday is 8 euros for a kid under 4 and on regular days, it's 9 euros. For kids over 4, the regular price is 12 euros.
Up to two people can accompany the children for free. This is a really good point. Once you pay the price, they will give you a box to put your shoes in. Here, you have to walk with socks.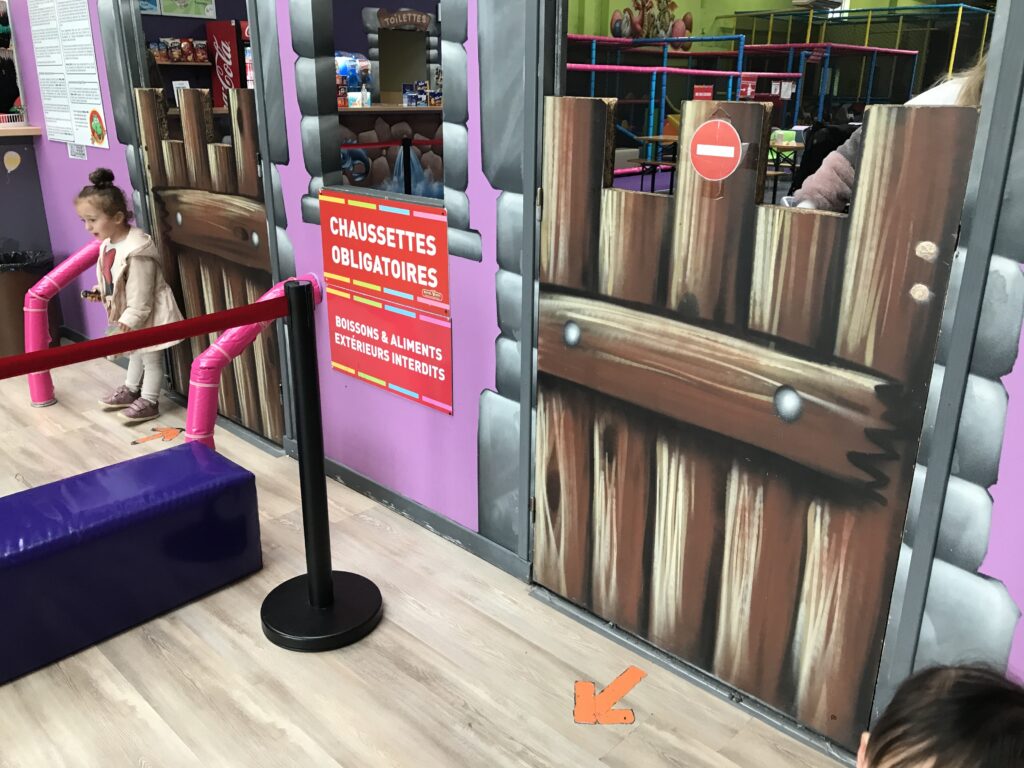 Once everything is set up they will open the door for you and you'll exit the same way. Note that any exit will be definitive.
The main area
Inside the complex is some area for playing according to age and tons of tables for adults to sit and wait for their kids to finish their activities.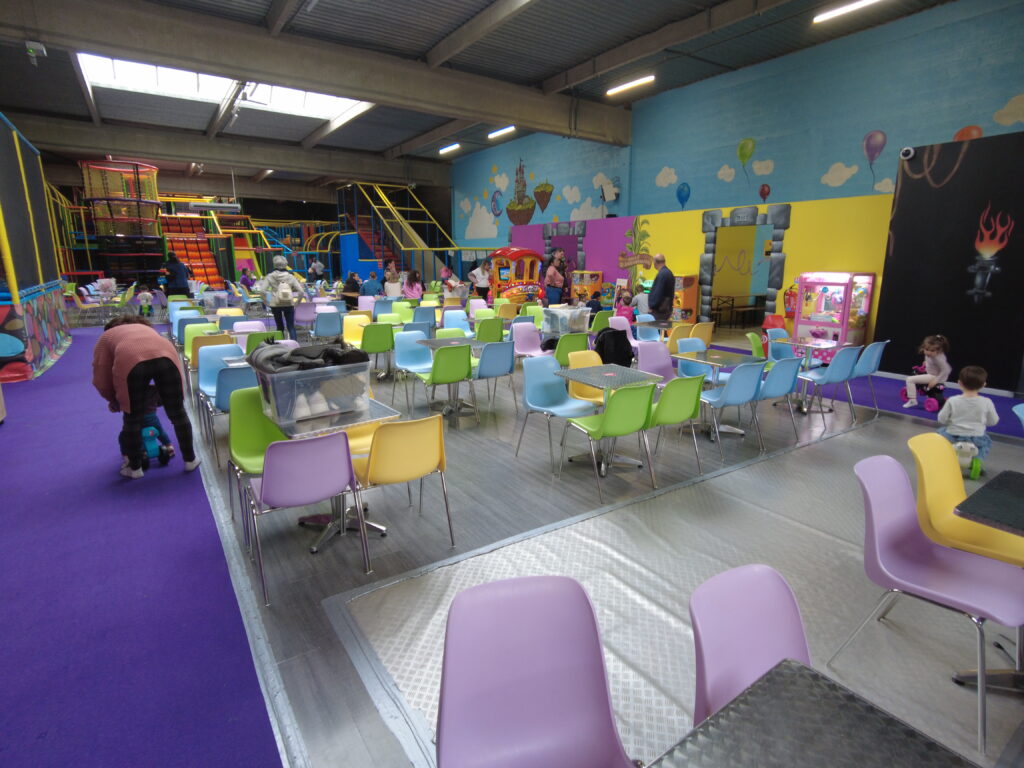 Every section is accessible and free to enter. But first you'll have to find a seat to put your box with your shoes. You can also put your belongings there if you are courageous, even though we would advise you to keep your valuables with you.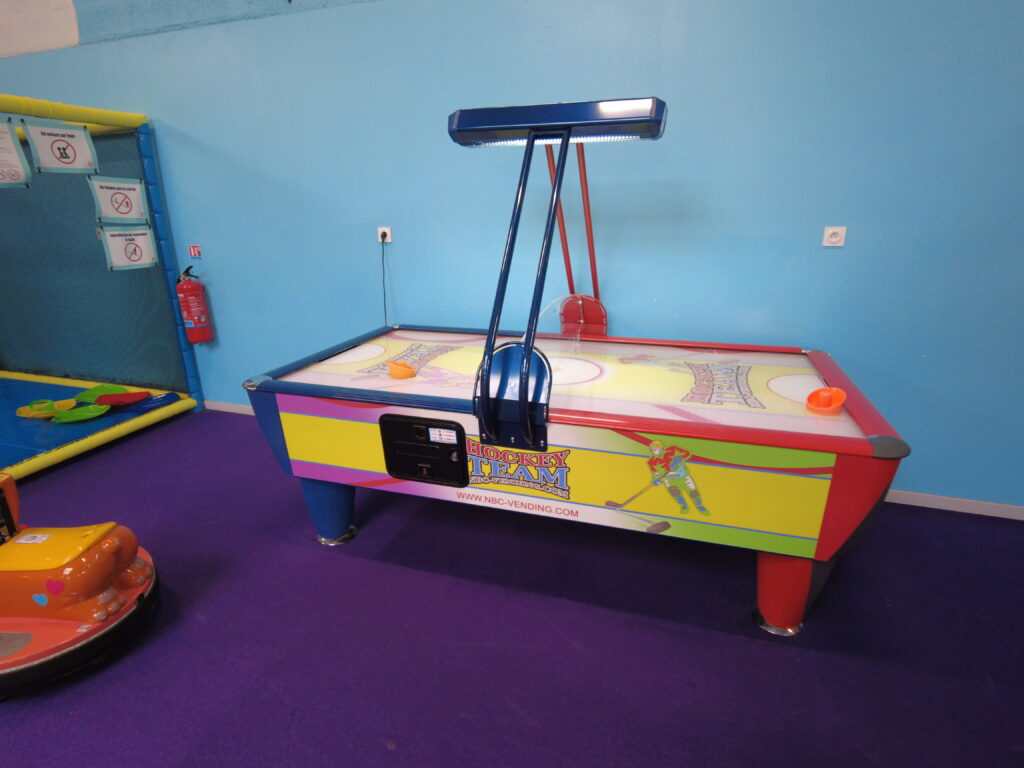 If you can put them in a pocket with zippers, You'll have plenty of chances to lose them inside this playground.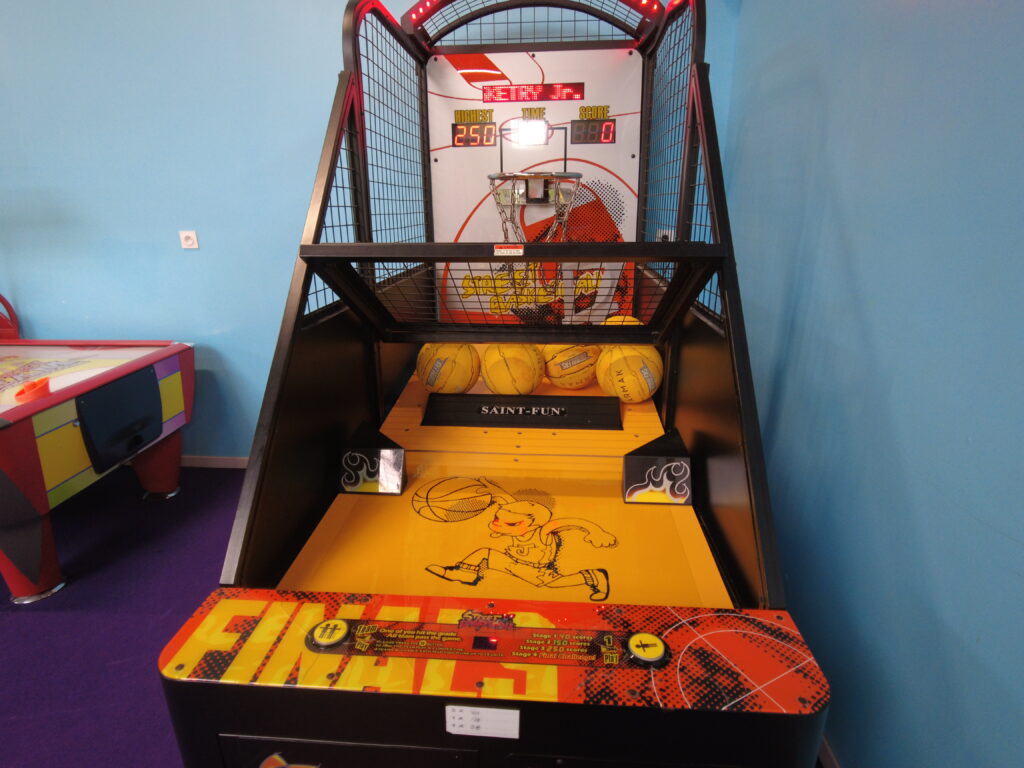 There are some game in this main area for kids and adults such as hockey game, guns shooting duck, small boat and even an arcade basket ball game. I think this is perhaps for the adults waiting for their children.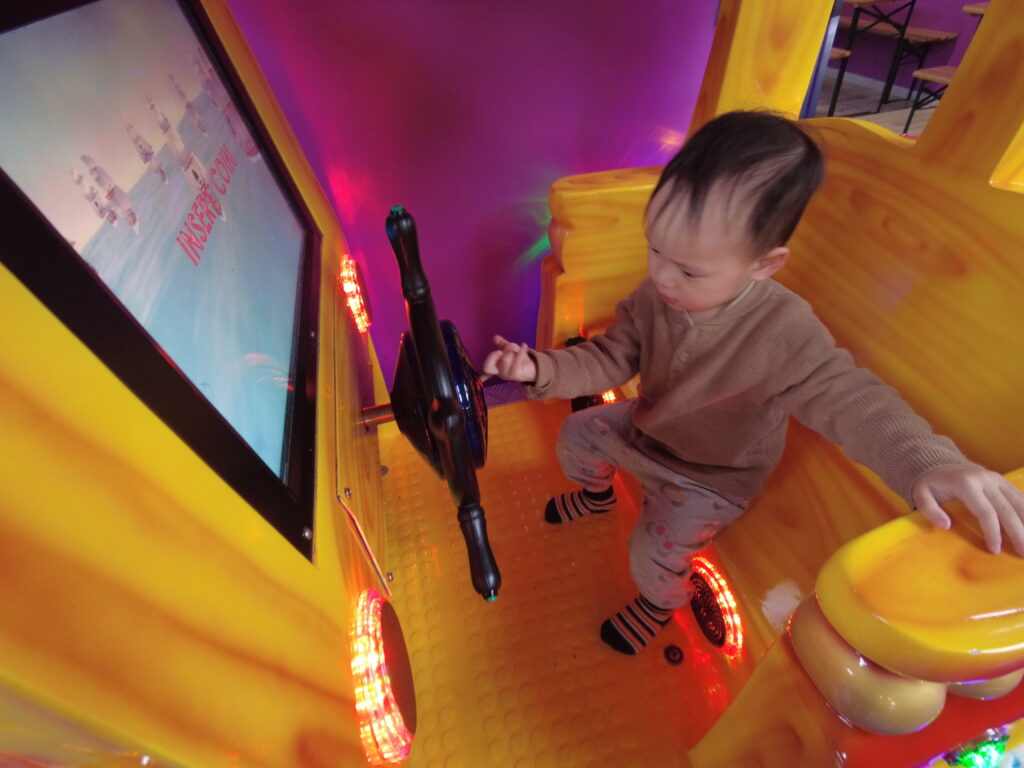 The snack bar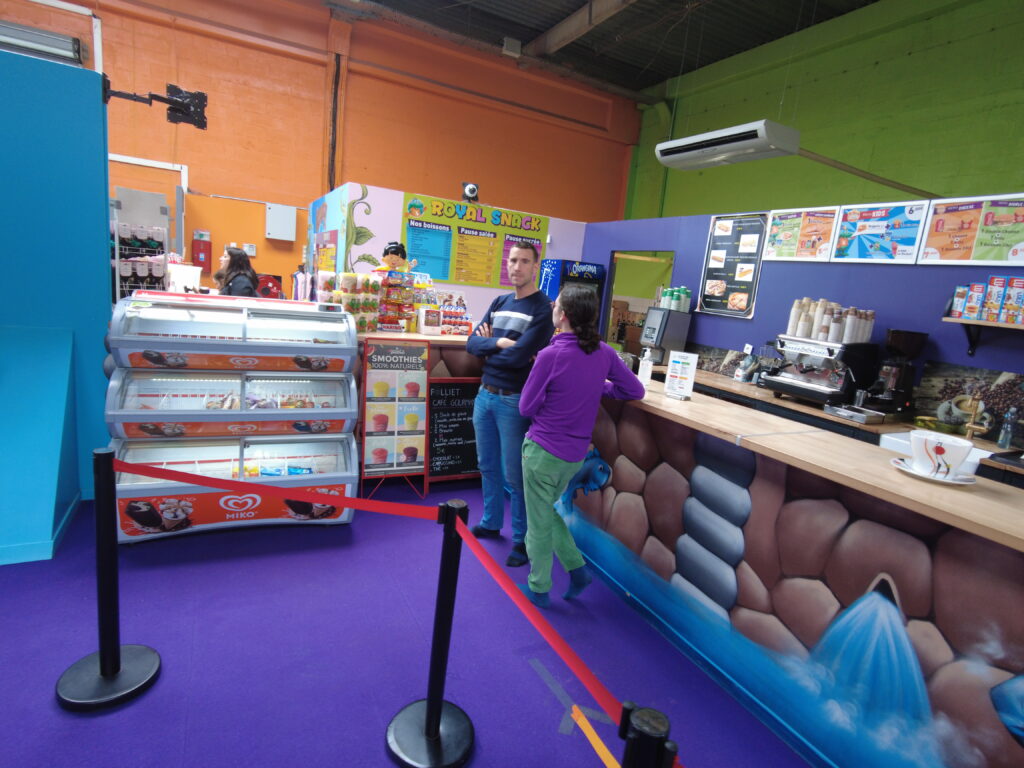 Like in many indoor playground, they are selling beverage and food. Snacks aimed at kids as well as snacks for adults as you can see the coffee machine.
I know that spaces like this have to make a margin on the snacks just like the cinemas do, but I found that the prices were relatively affordable.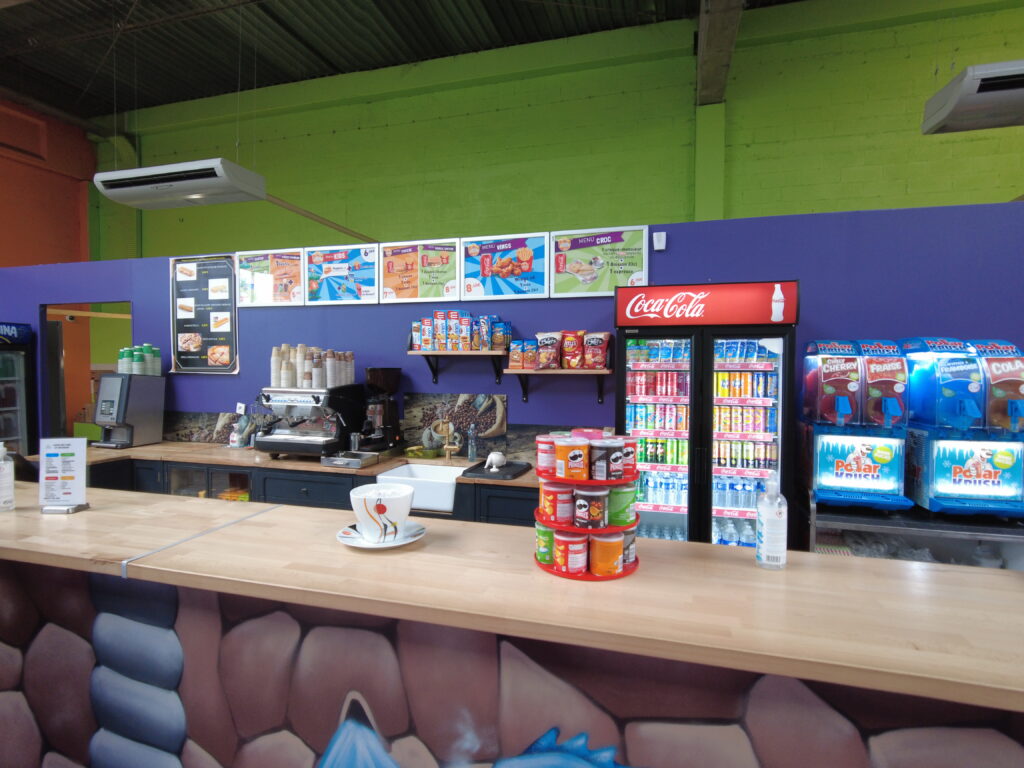 For example, a Capri Sun and a 50 cl bottle of water will cost you 1,50 euros compared to the 4,50 euros in Le Louvre.
The space for kids under 4 years old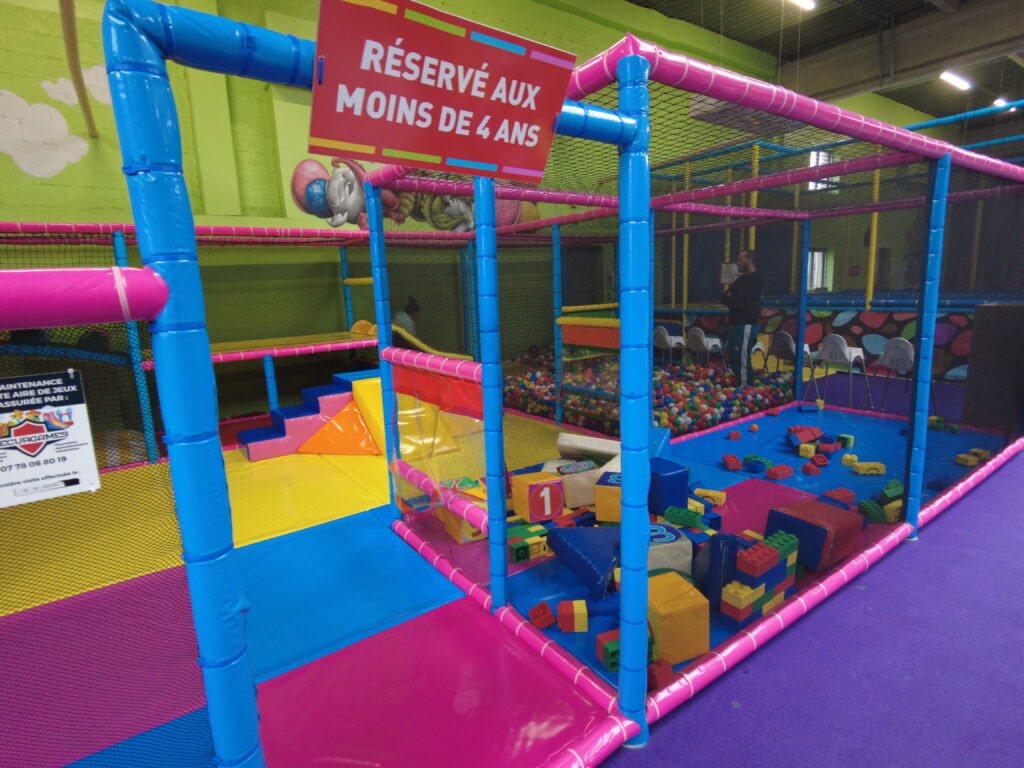 The playground for kids under 4 years old is located on the left side of the complex and has blue and pink colors.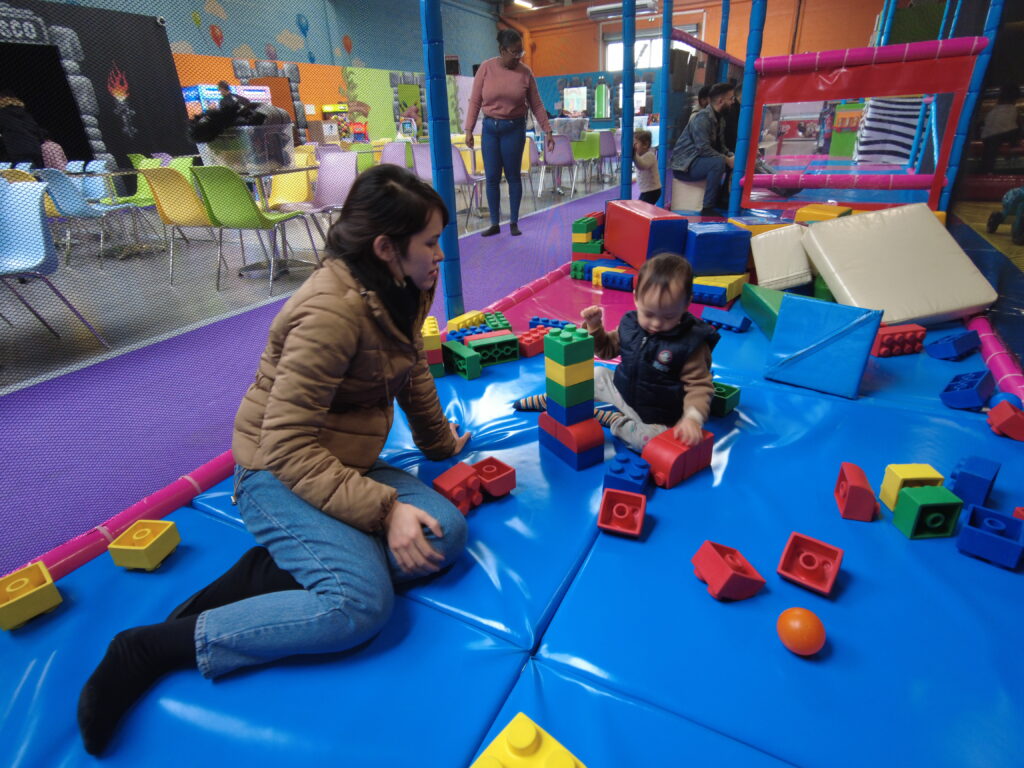 In this area, you'll find toys and activities for the smallest kids. Nothing in here is dangerous; for example, the legos are made of foam, so even if another kid sends them flying in the air, there's no risk whatsoever.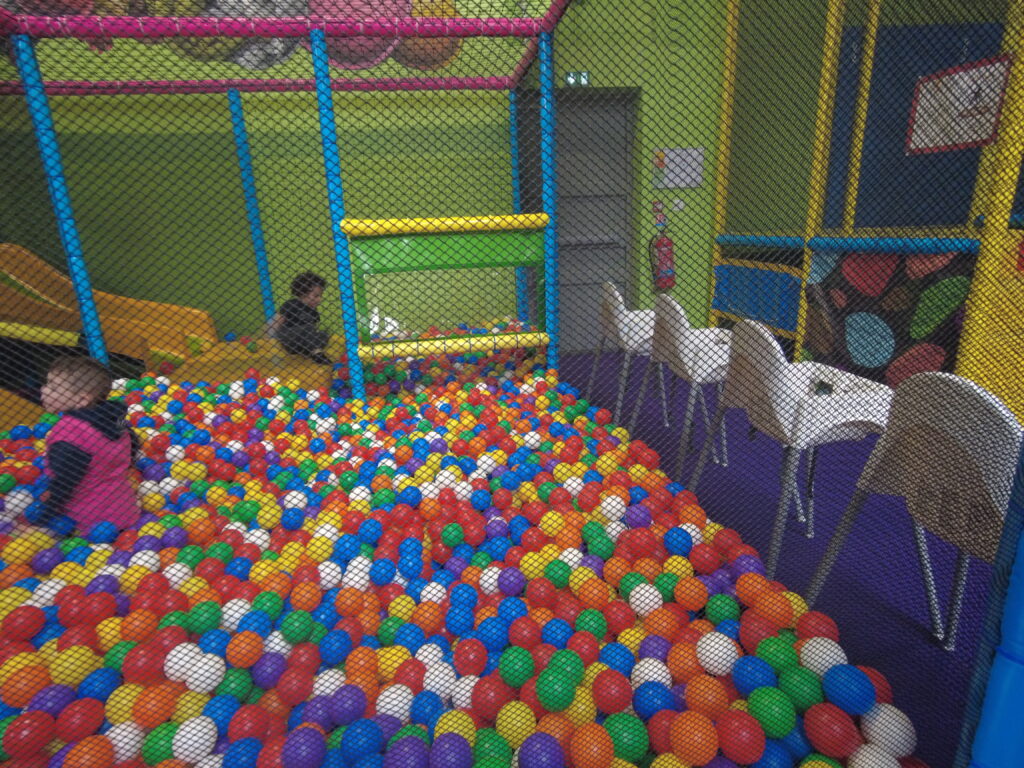 There's also a tiny parkour course that finishes in a ball pool. This reminded us of the pool ball we tried to make at home. You actually need thousands of balls for it to be filled, but our son seemed to love it.
There's also in this area a small trampoline, and I think they are trying to separate the smallest kid from the bigger kids to avoid any form of injury. Perhaps also to avoid any legal issues. Smart.
Parkour for children above 4 years old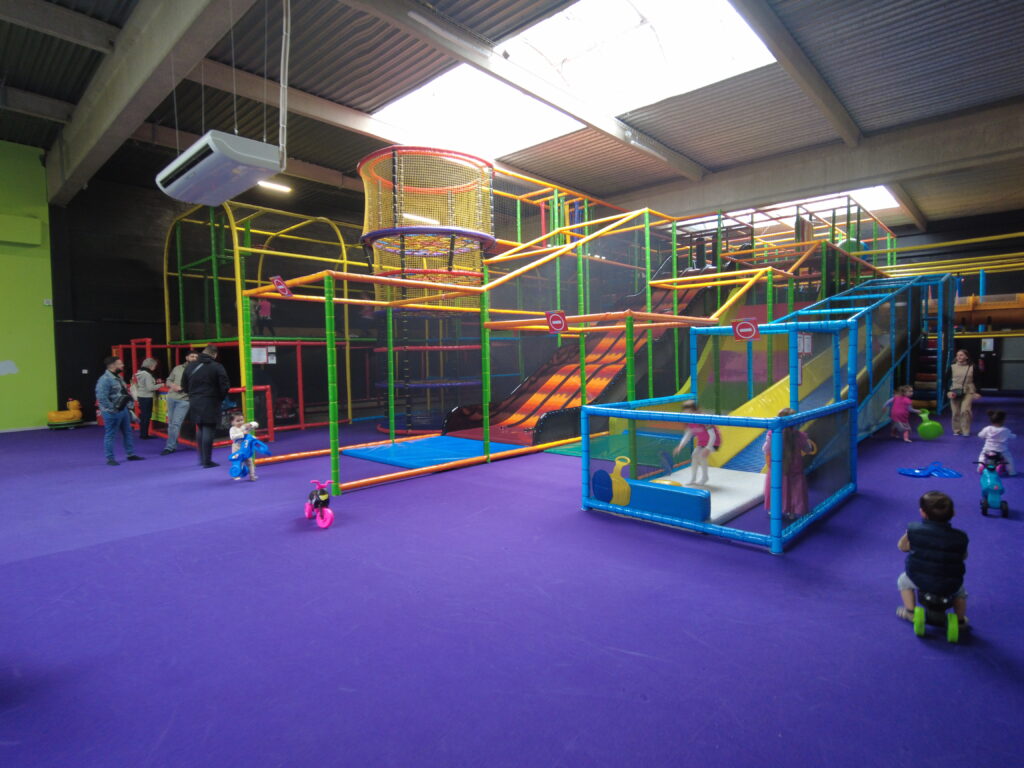 This is probably the best part of the whole complex. These parkour and sliders made for kids are very fun to experience with your children. Even if our son wasn't 4 years old. We still went inside with him, and it was perfectly safe and adequate for him to play inside.
For the kids, it's like climbing, but for an adult, especially with a backpack, it's very close to military parkour. You'll have to basically crawl on the floor and try to follow your kind until you find a slider. We had a lot of fun chasing and filming our son in there.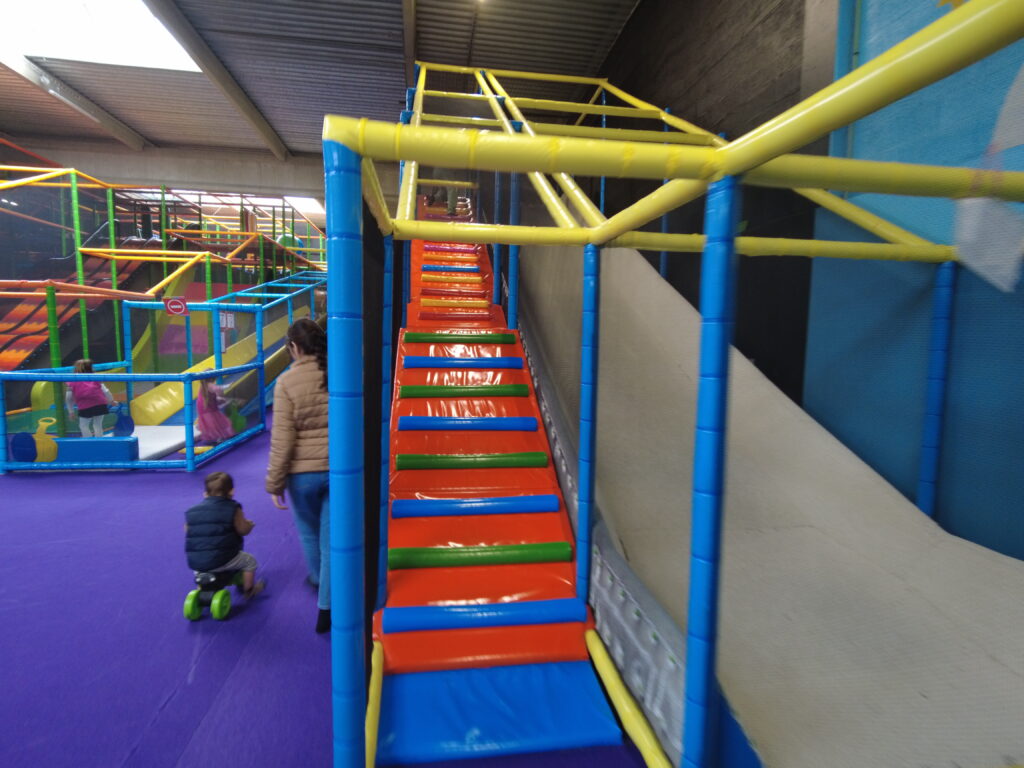 There was a giant slider made out of carpet that you could slide with a sled and another rolling slider made out of plastic tube. This was very hilarious and made us feel like we were on a checkout conveyor.
Trampoline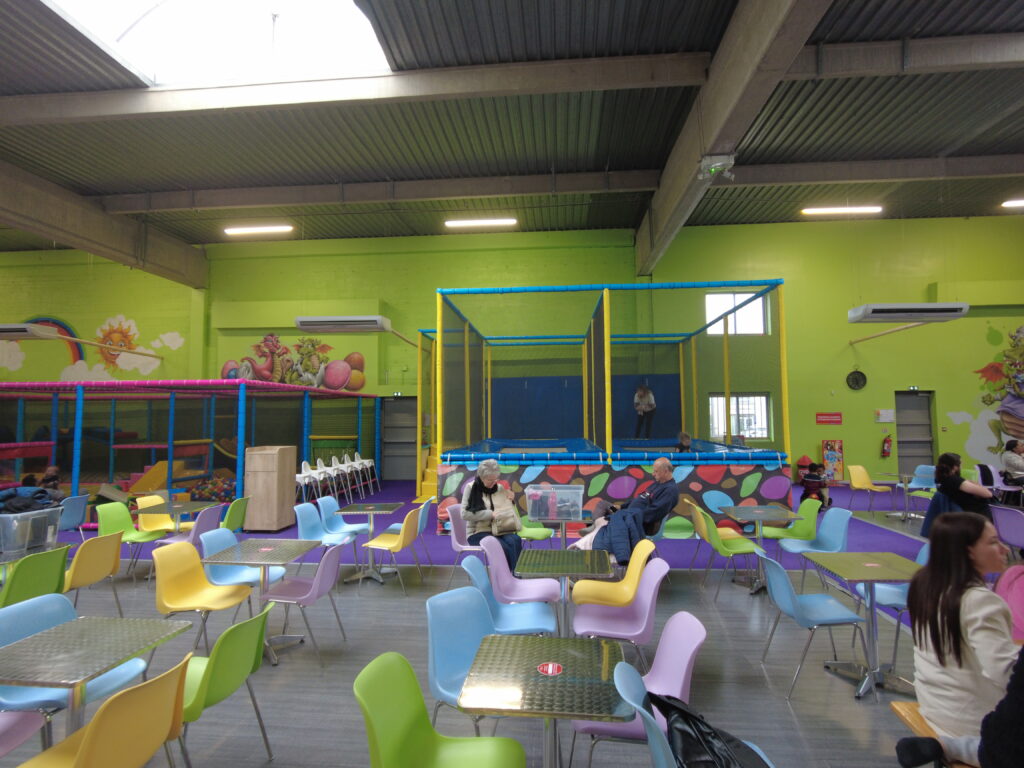 There's a section with trampolines for bigger kids. I feel like this is a good idea since some complexes have trampolines as a main feature, such as Jump City.
Your kid can have much more variety at a place like Royal Kid and still enjoy this specific activity.
Real size construction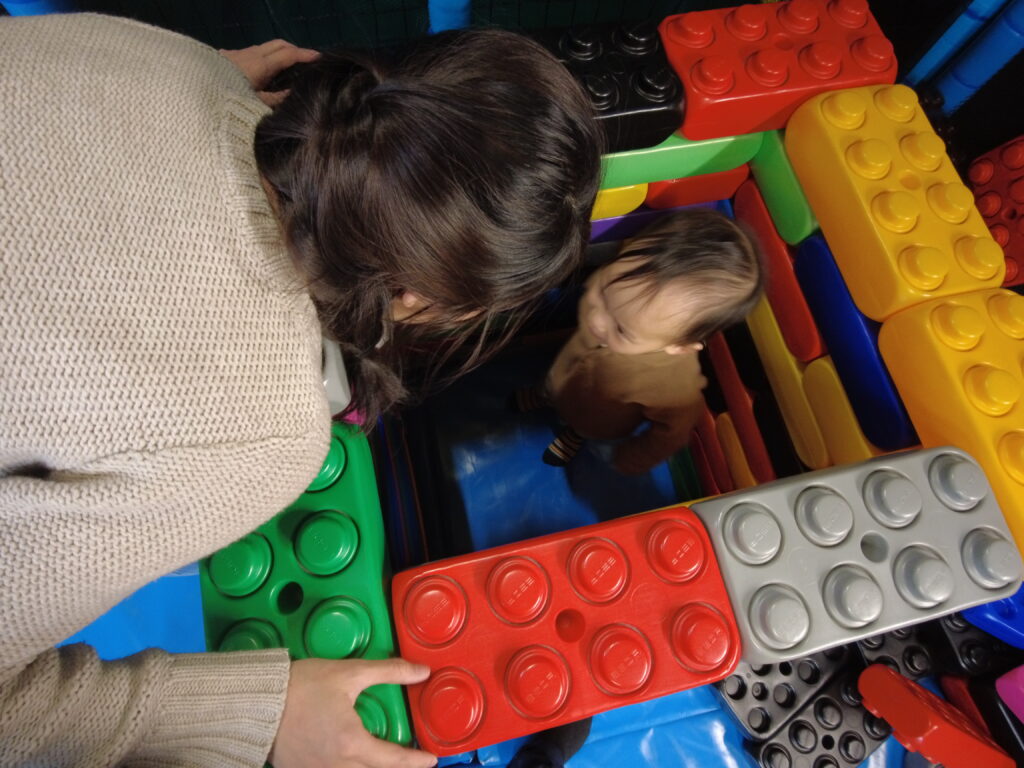 One of the areas was filled with huge plastic Legos. People tended to build homes inside it, or at least walls. My husband and I tried to build a prison for our son.
This place is fun, but the legos are kind of heavy when piled up together. When you fall on your foot, it will really hurt you.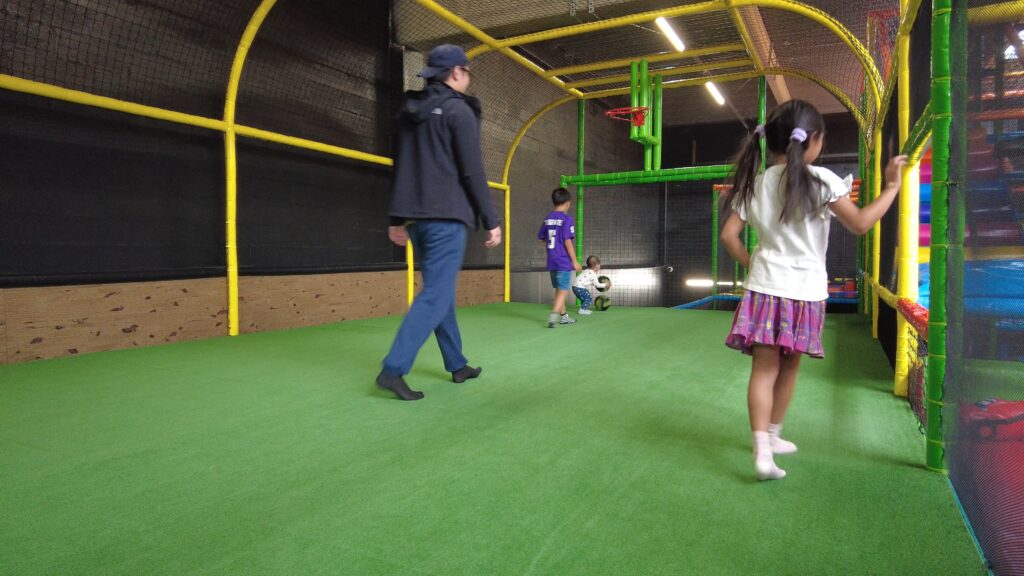 One other space was a basketball and football field that was on the second level. The place was not easy to access but when we arrived in the field, we were basically alone.
Also the ground was moving quite a bit so I didn't run like I would on land, after this is a construction for kids.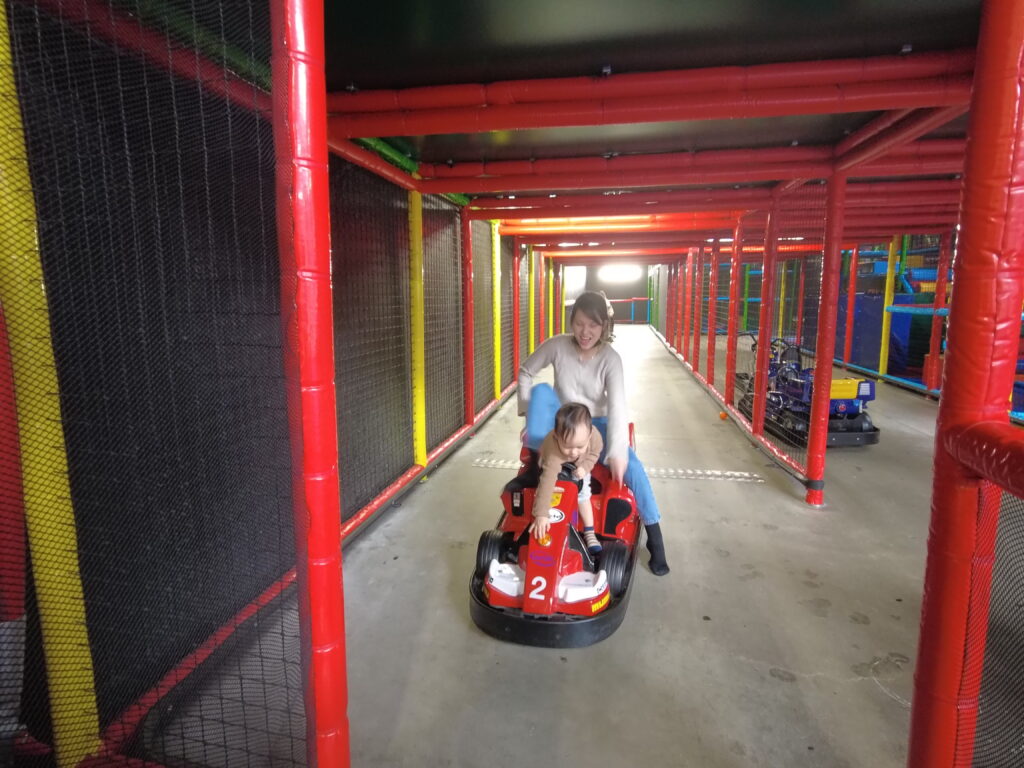 This field was on top of a small circuit with electric cars and bikes. The good thing about this bike is that you can actually drive your kid around if he's still too young to drive.
This game was not free though, you have to get a coin that cost one euro to do two laps. If one euro is cheap, two laps feels a bit short.
Birthday's sections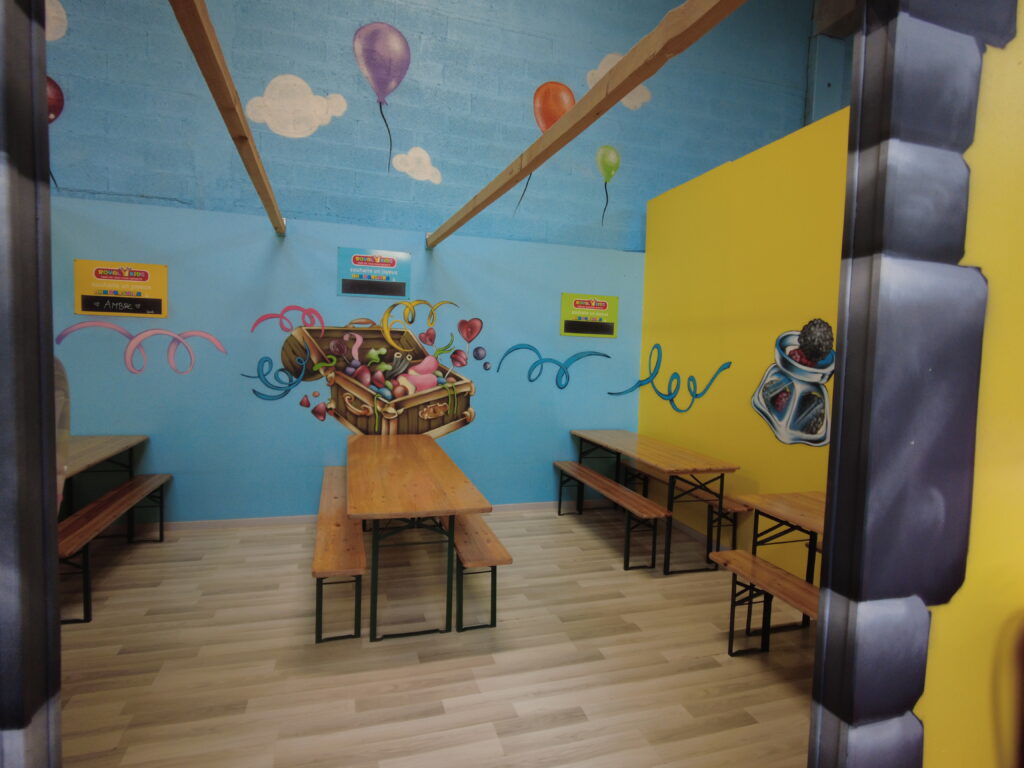 There are actually private sections if you want to celebrate the birthday of your kid in Royal Kids. This section has tables, and you can probably book in advance the service that will provide you with the right amount of cakes, drinks, and candies.
Disco for kids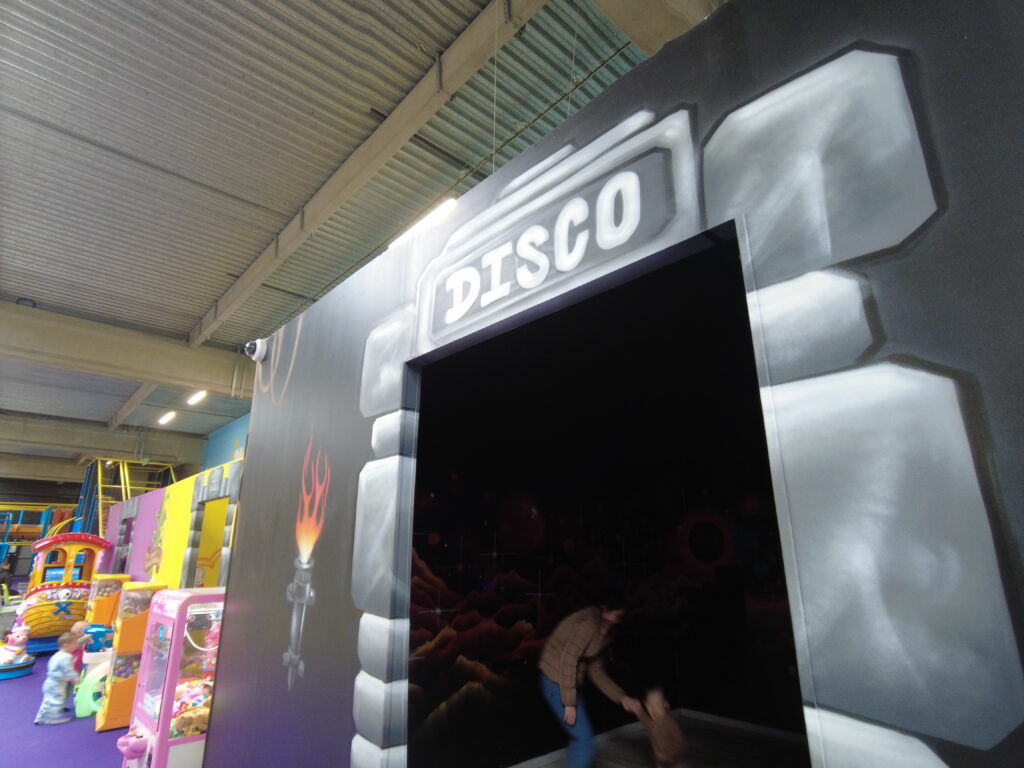 There's a place for your kids to dance; it's a small and dark room with a disco ball and some speakers playing some music. If you and your kids feel like dancing around, perhaps this can be fun.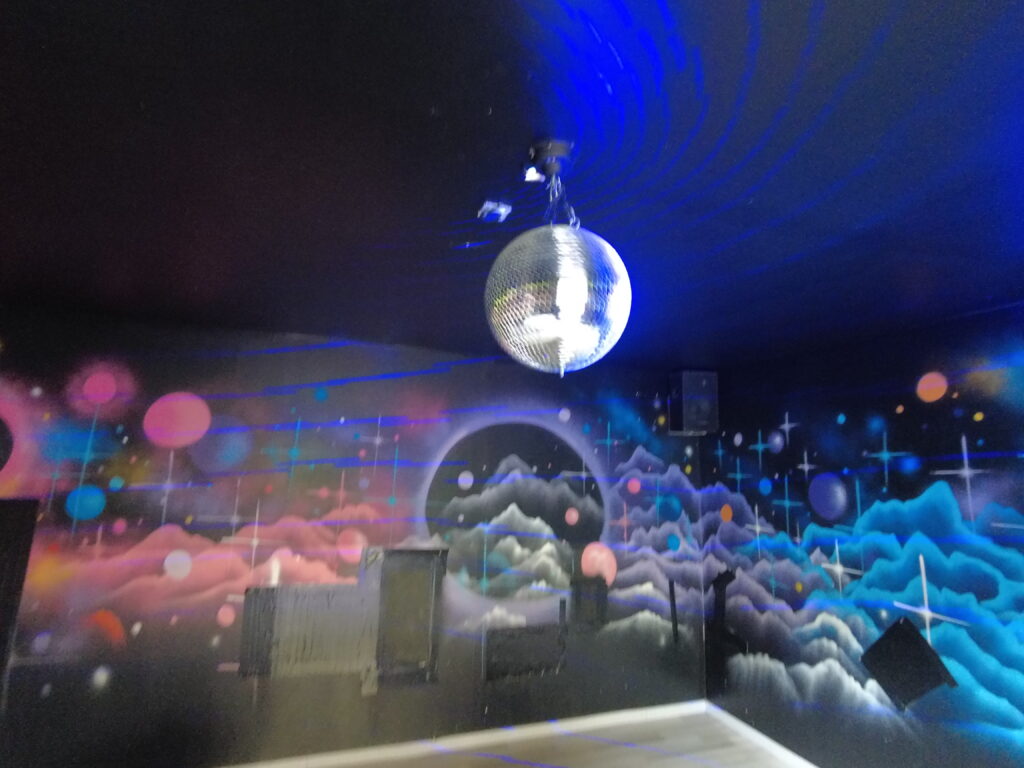 Well, this place at the time was empty, and the music playing, even if it was louder, was the same that was playing outside. This is perhaps the less interesting section, but maybe we came at the wrong time; it just doesn't seem to attract a lot of people.
Verdict
7.9 out of 10.
This place named Royal Kids is fun, it's quite affordable, and there are lots of physical activities for kids.
We came here without much information about the place, but we were not disappointed. For a kid who is less than 3 years old, this indoor playground is perfect.
Our 22-month-old son played almost every game and was not limited to his section. Most of the games can accommodate adults, so you can follow your kid around and make sure he is safe.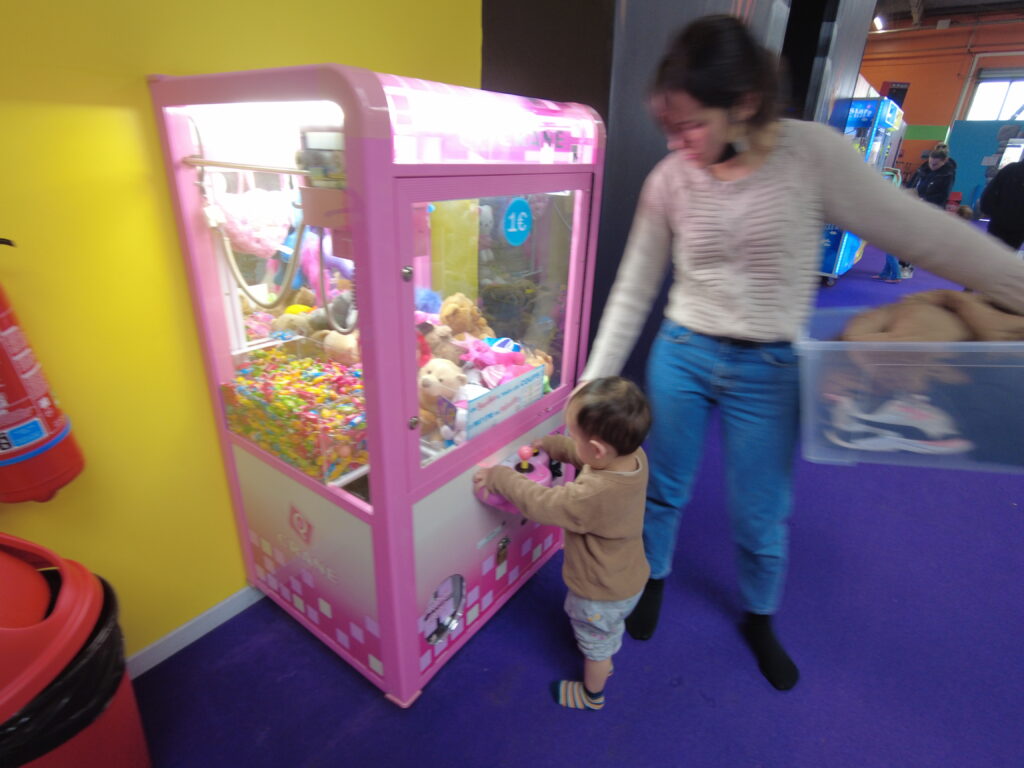 There's also a snack bar that offers food and beverages for kids and adults at an affordable price.
Overall, I think this place is perfect for people looking to have an indoor playground without spending a fortune. These days, especially with inflation, everything has become so expensive.
Last time we wanted to go to the "Jardin d'acclimatation" in the Boulogne wood. It was 7 euros per person just to enter the park, and 27 euros for a one-day pass and access to all the attractions.
I am pretty sure Disneyland was not that much more expensive some years ago.
Informations
Royal Kids
Website : https://www.royalkids.fr
Facebook : https://www.facebook.com/royalkidsfr/
Phone : 01 60 07 36 84