Tini World is an indoor playground for children. Often located inside malls in Vietnam, they are very popular with kids but also with parents.
This service is not too dissimilar to attraction parks, but it is for smaller kids and on a smaller scale. Let's see if spending time with your kids inside this well-known franchise playground is something you should try or not.
Disclaimer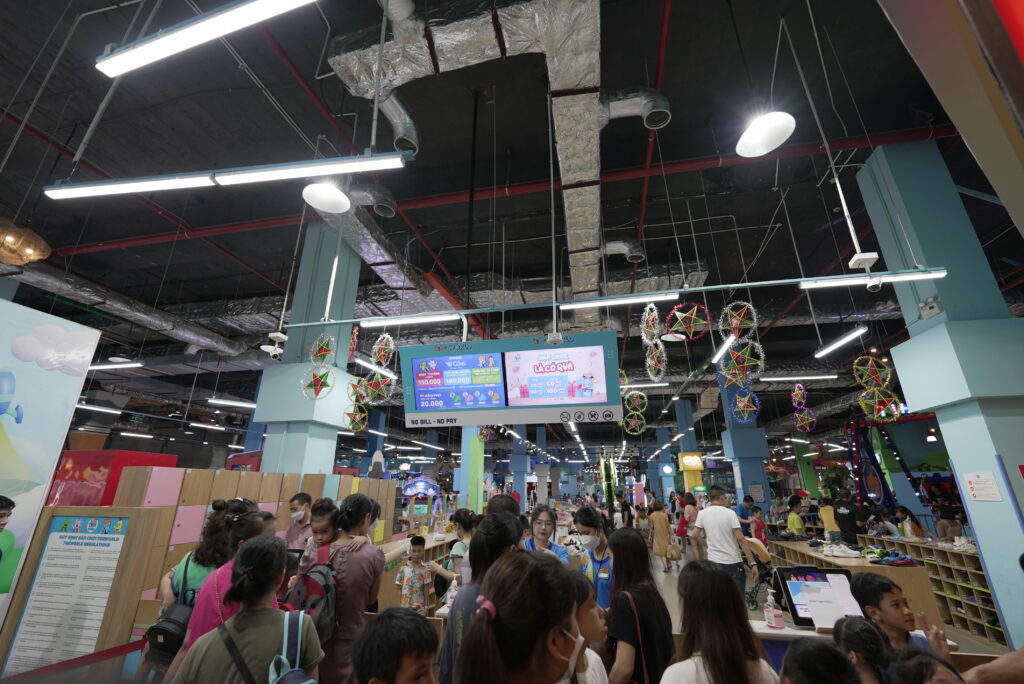 We tried this playground during Vietnamese holidays, more precisely between national day : Ngày Quốc Khánh and Tết Trung thu, a festival aimed at kids. So don't be surprised if it is jam-packed in the following pictures.
The location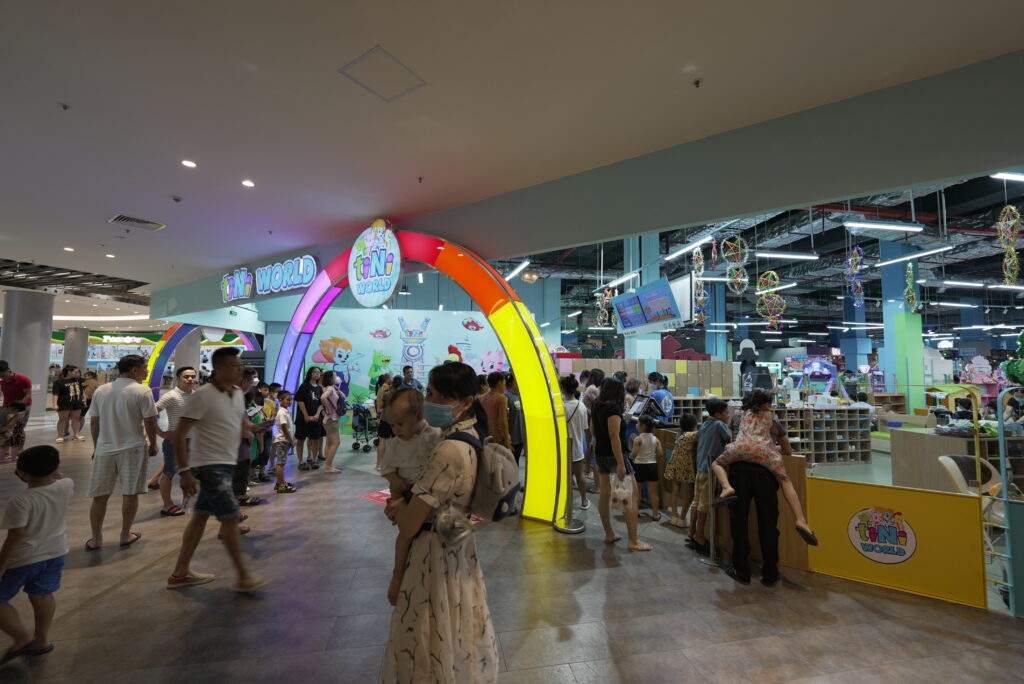 We tried a Tini World in the Aeon Mall Long Bien, but during these holidays the mall was already full of people. I mean, the parking was extended, and there was a waiting line of cars and bikes in the road.
After having dinner early, we decided to check out Tini World, since we had already tried Kidzooona before and had a good experience.
We were honestly surprised because the entrance to Tini World is a bit excentred compared to Kidzooona, so we assumed that it was a smaller version of the Japanese franchise, but we couldn't be more wrong.
It is centered because it is quite large. Actually, it's about 3–4 times bigger than Kidzoona, and they have much more diverse activities.
The services and prices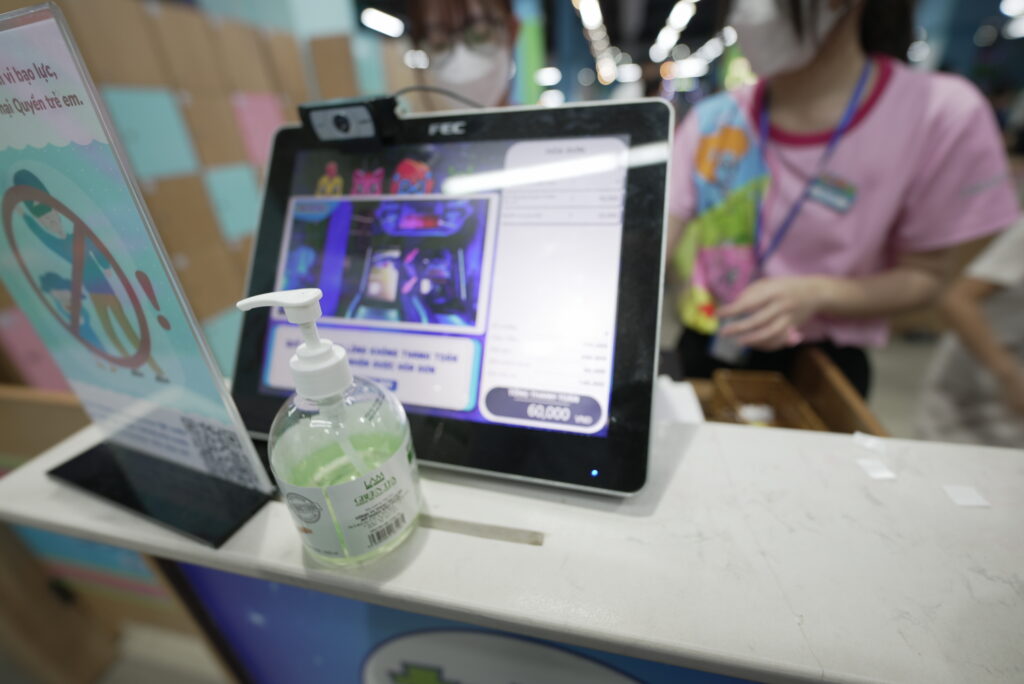 A Tini World is quite popular in Vietnam; there is probably one in most malls in Vietnam. Now I understand why this place is big, has a lot of space for children to play, and is quite affordable compared to other options.
One big surprise we had was that for our son Tom, who was slightly shorter than 90cm, the entrance was actually free!
We ended up paying only 20,000 VND for each accompanying adult plus 20,000 VND for one pair of socks. We were expecting to pay over 200,000 VND like we did in Kidzooona but ended up paying 60,000 VND, what a steal!
Over 90 cm, you'll have to pay around 150,000 vnd according to the location, and during the holidays it went up to 180,000 vnd in Long Bien, for example.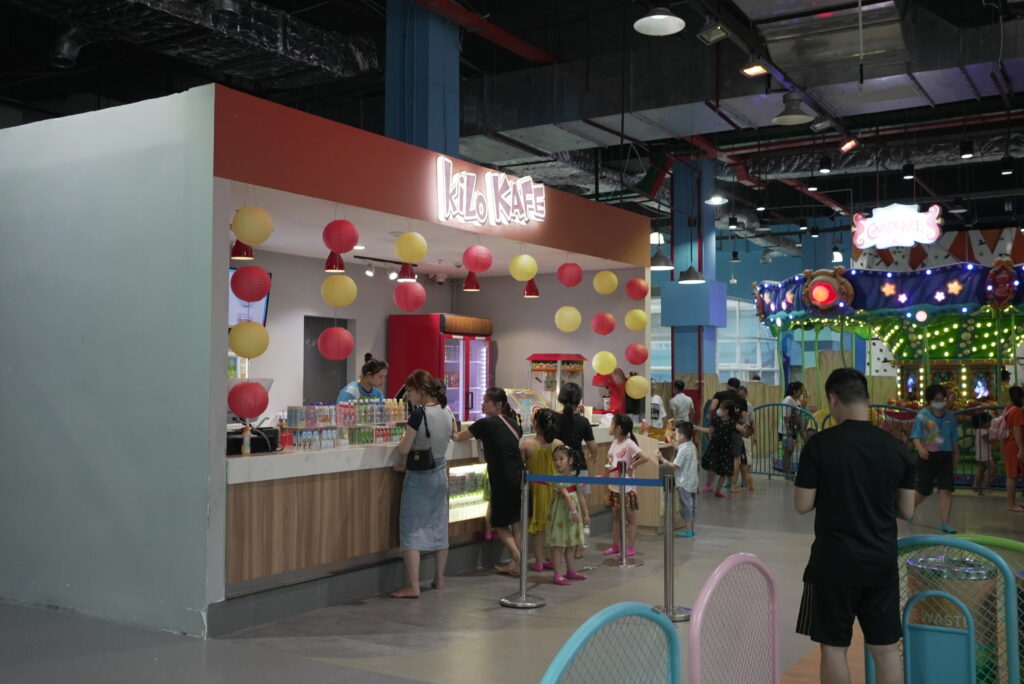 An entrance will give you access to every game, and you'll have the option to buy some food and drinks inside, as there are real, dedicated eating areas.
The experience
Since that day the playground was packed, we decided to take a look at the arcade belonging to Tini World, located outside the entrance. From there, we saw how big it was and how many attractions there were, which ultimately enticed us to get in.
Like in Kizooona, you'll have to remove your shoes, and most people in there use socks, even though I saw a couple of people walking barefoot.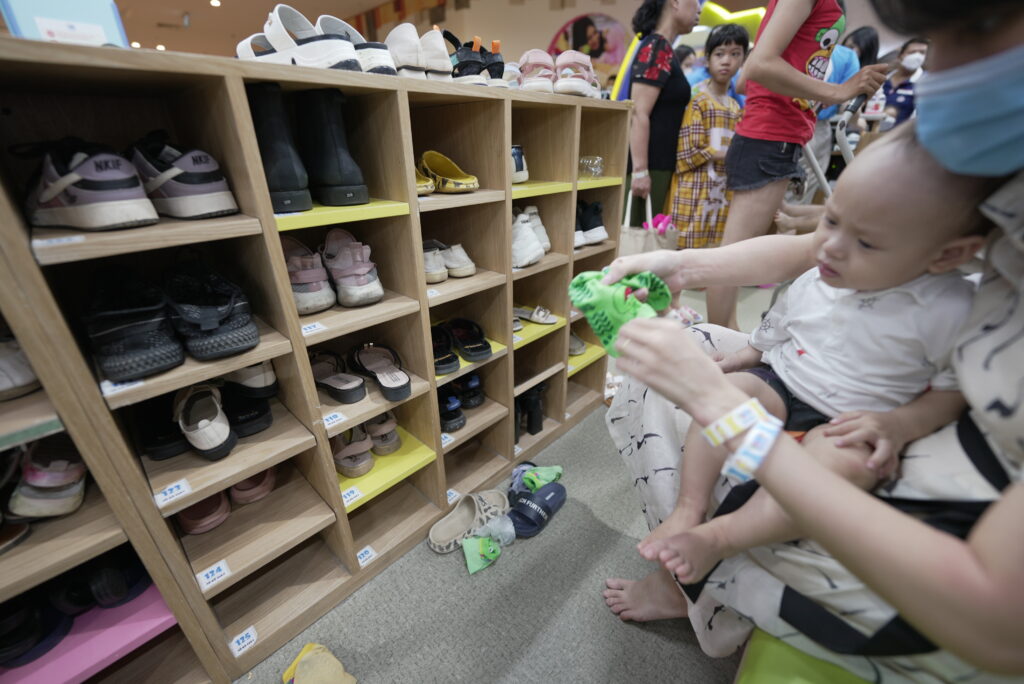 A Tiny World proposes a large variety of games compared to other indoor playgrounds. You'll have tons of choices for your kids, and you can actually enjoy some of the games with them.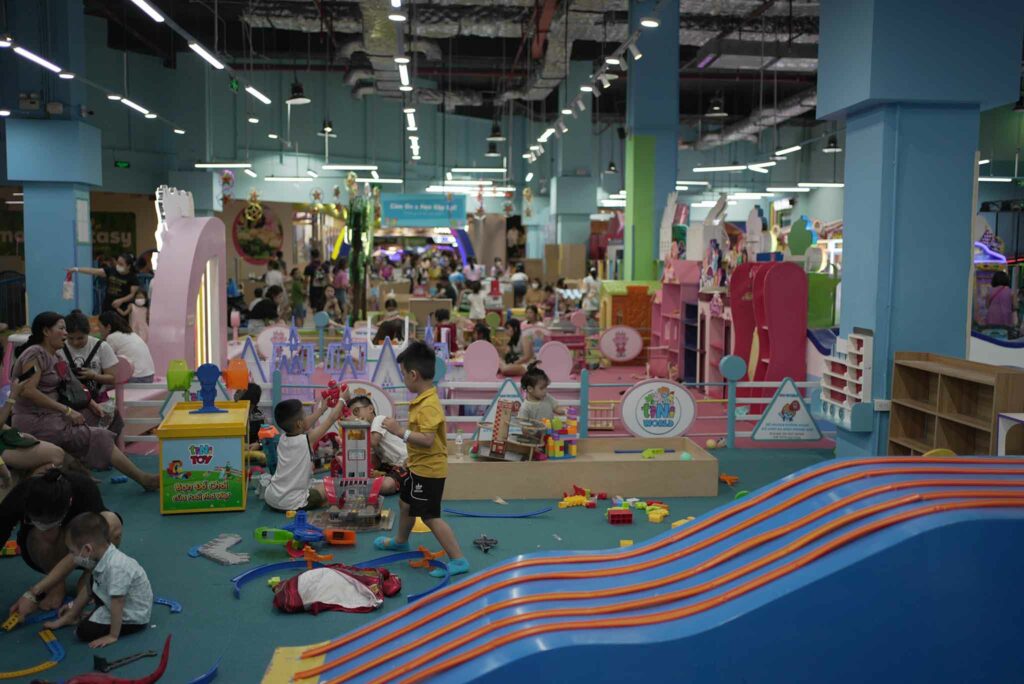 In front of the audience, you have the classic games, like small kitchens, toys, small markets, etc. These games are very popular, and places like Kidzooona already have tons of them.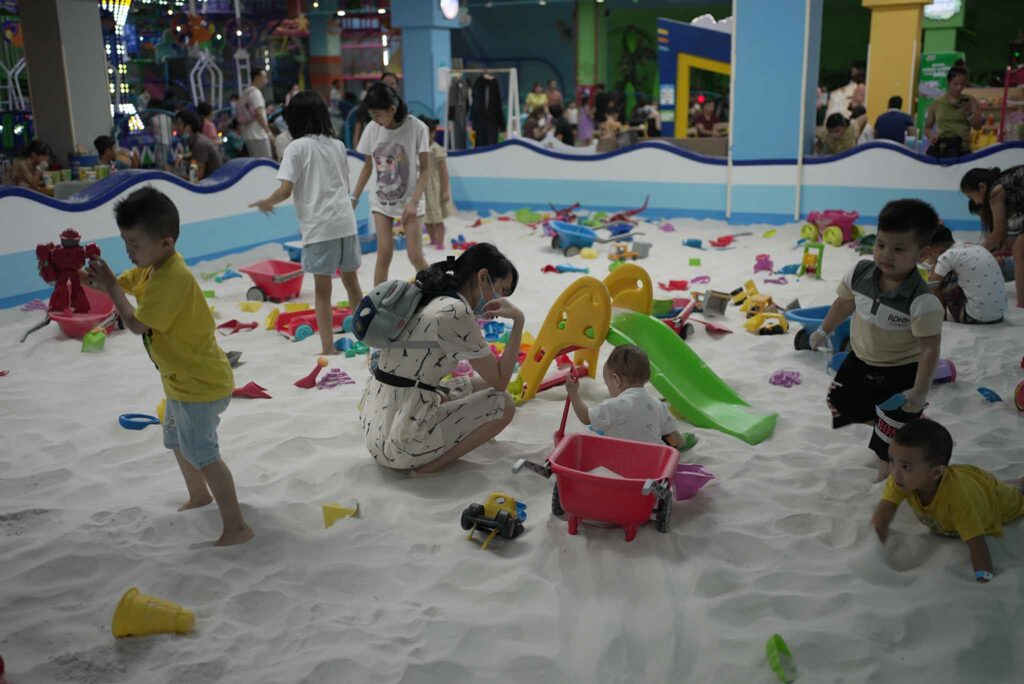 The proposal that made us come in from the outside was, honestly, the playground filled with sand. Our son was too young to play with the sand in Phu Quoc at only 11 months. Also, we didn't buy any sand toys at the time because we weren't sure if he was going to play or simply eat the sand.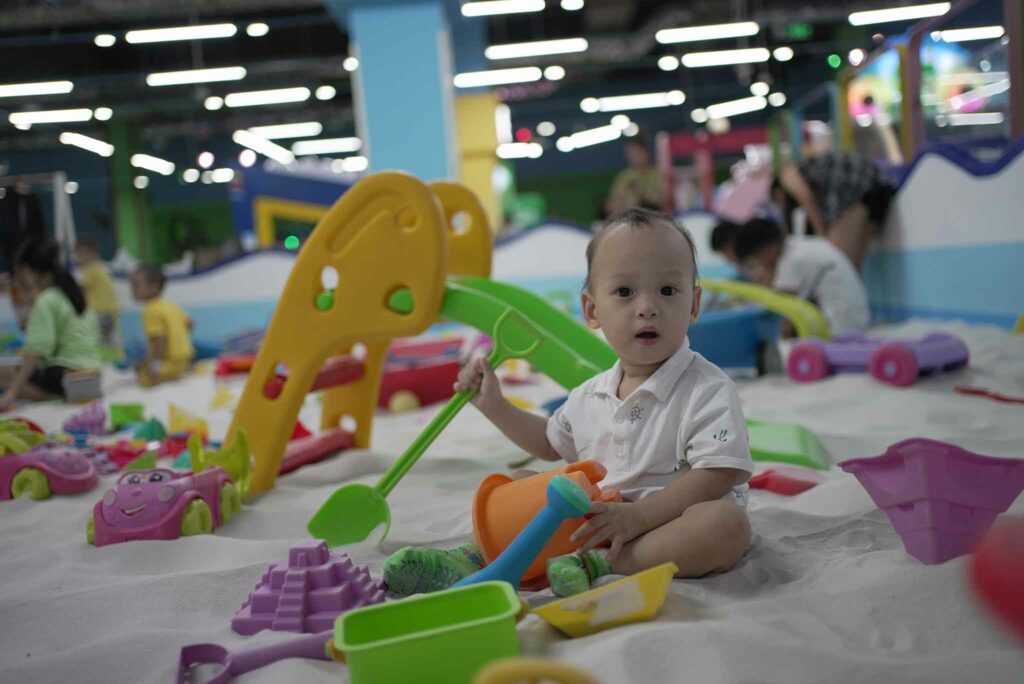 To be honest, at the time he was a bit scared to leave the arms of mommy, but now it's the total opposite; he is very curious and wants to try to get a hold of everything new he sees. Seeing him play in the sand reminded me of him playing with his food in his bowl. Trying to understand basic physics.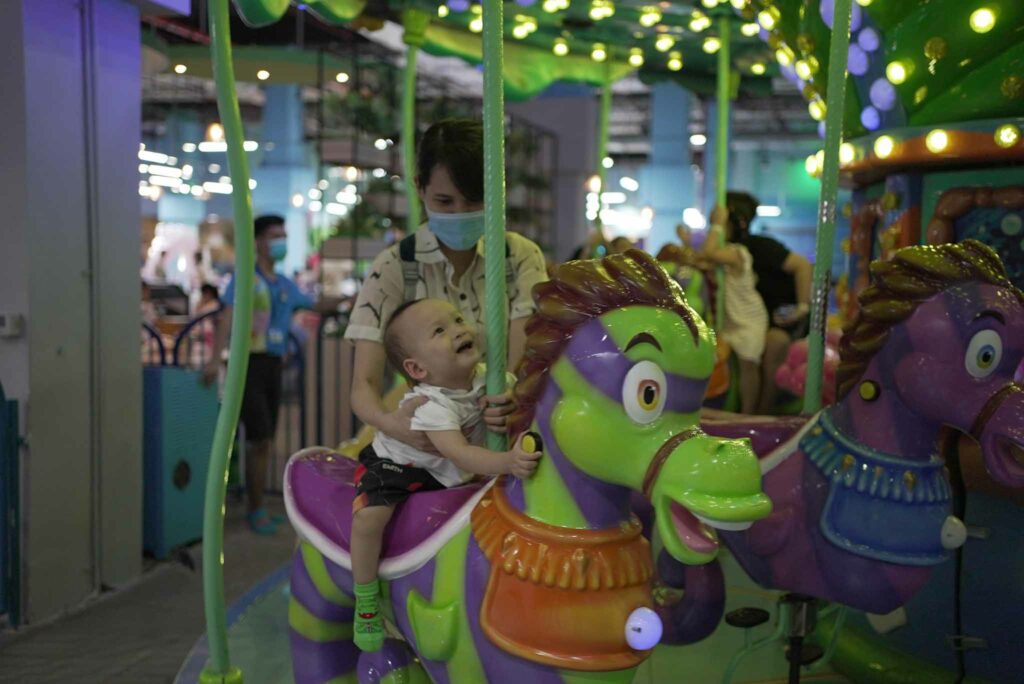 I think the most interesting thing about Tini World is the manèges, merry-go-rounds, or fairground rides you can get into for free. These rides are technically for kids over 90 cm, but with an accompanying adult, you can still enjoy them in total safety.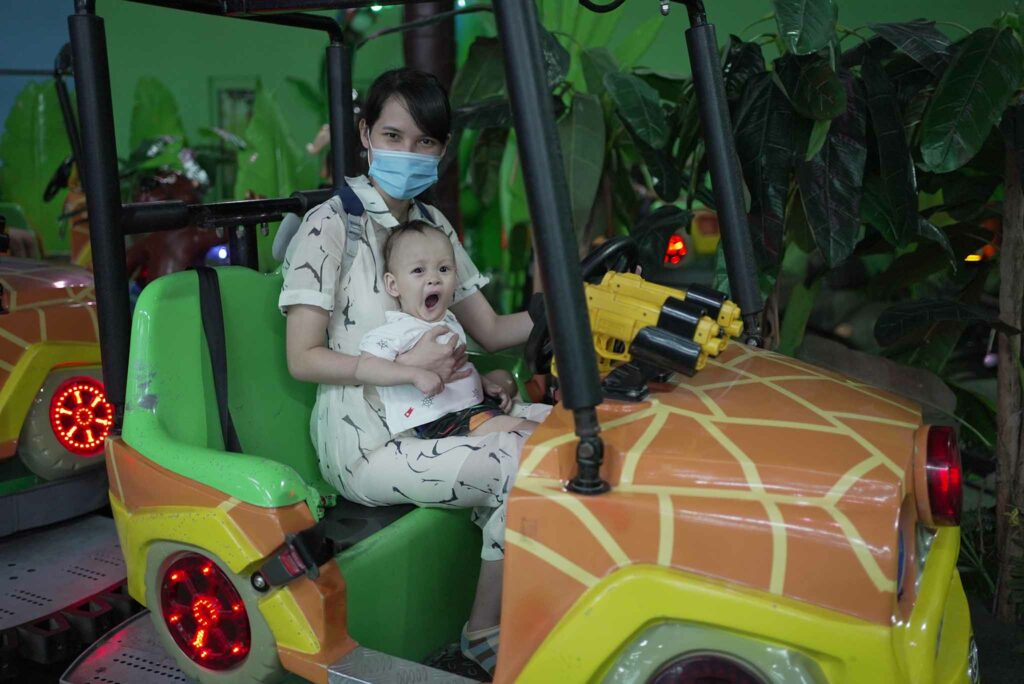 Our son was very interested in the lights that these fairground rides were emitting, even if some of the rides were a bit short and uneventful. The good thing was that you could do the waiting line again to ride them a second time.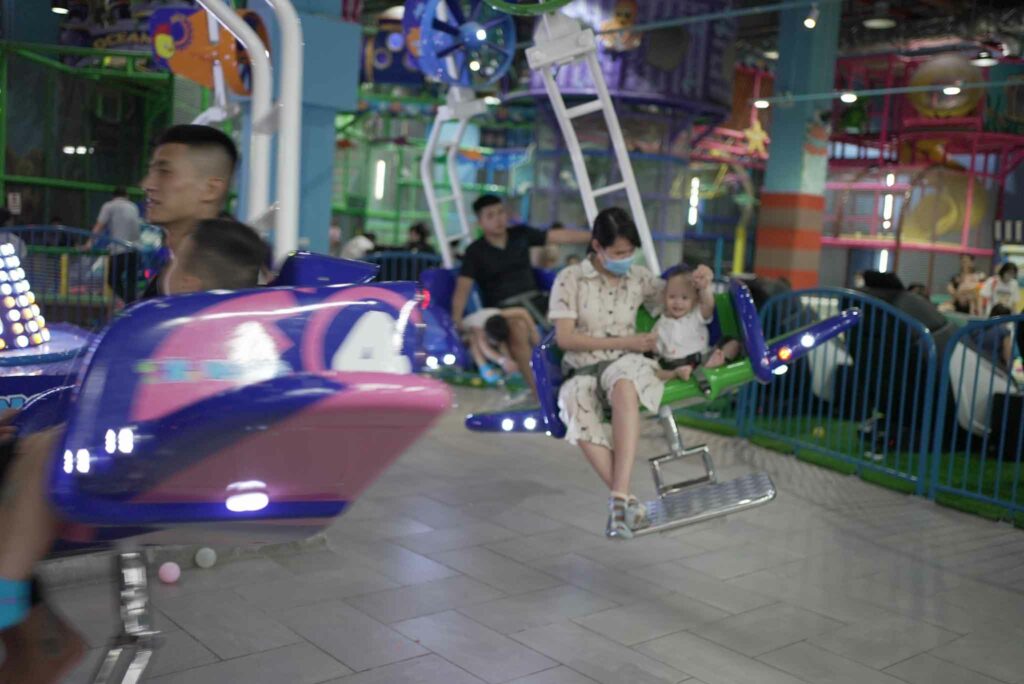 We saw a ride that looked quite fast for the age of our son, but we knew as well that kids love to be thrown in the air and turned around with a bit of velocity, so my guess was that Tom was going to enjoy this ride, and it turned out to be true. My guess is that throwing your kid in the air and catching him is a form of trust-building.
I think the duration of these rides is perfect for kids. Adults like rides to last for at least 5 to 10 minutes, but for a kid, you don't know if he's going to enjoy the ride or not. He might cry, have a tantrum, or worse, throw up, so getting these rides short is a good idea.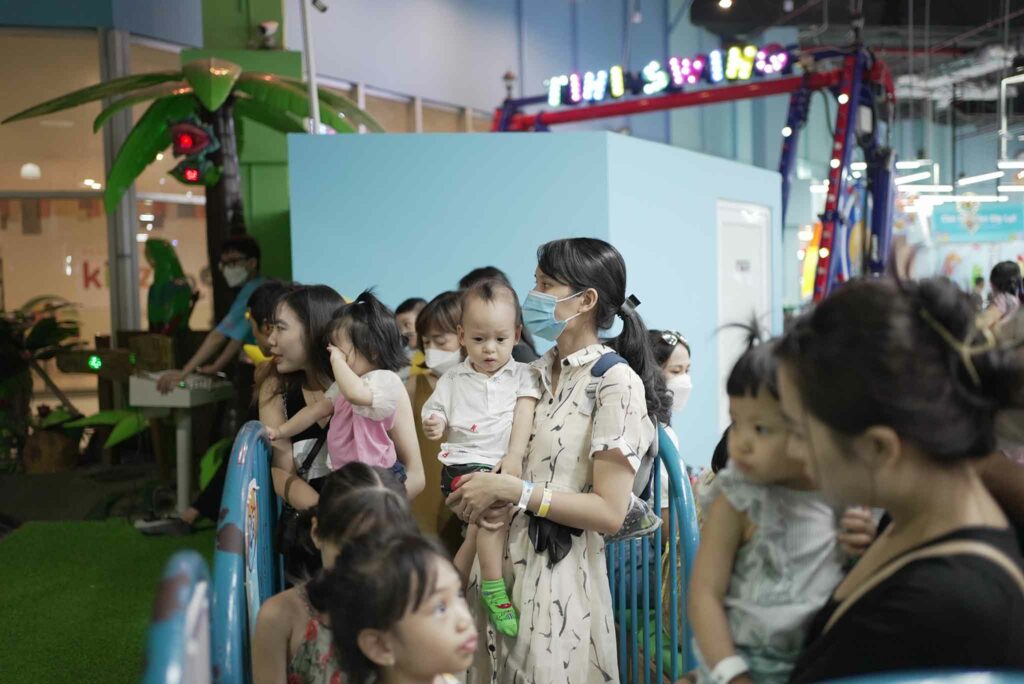 The waiting lines are quite quick anyway, but be careful since most Vietnamese have no concept of waiting line order. It's very common for people to cut the line here, so be ready to stand your ground.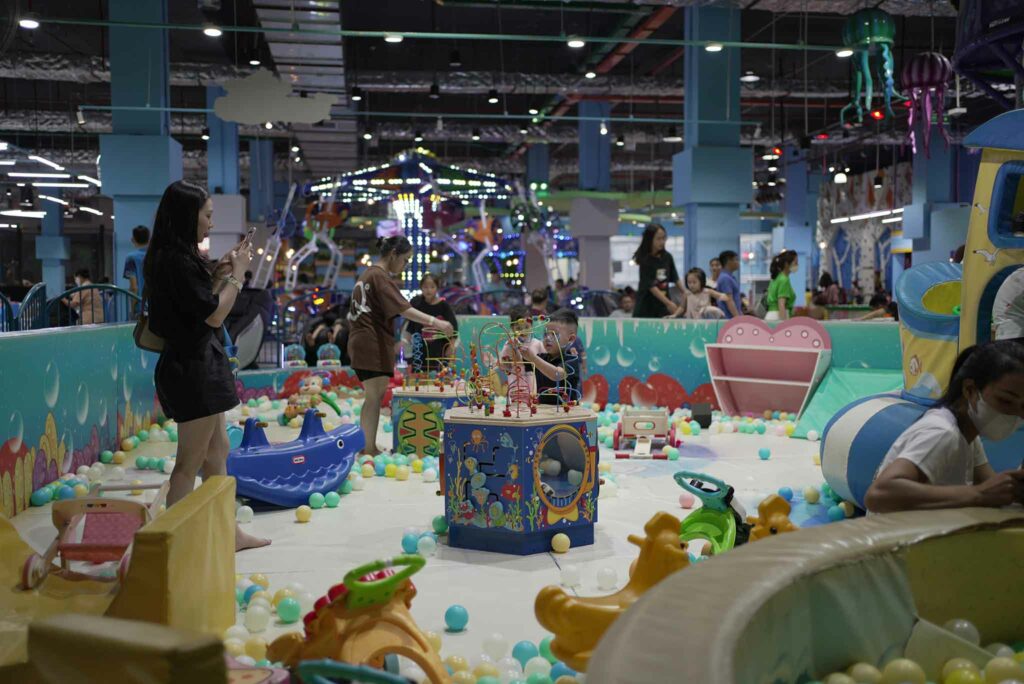 A Tini World also has classic ball pools and games for very young kids, such as children's slides. Our son was a bit scared to slide by himself, even though the setup was pretty safe. Perhaps it's a good thing, because without fear we would run into a lot of trouble, especially as toddlers.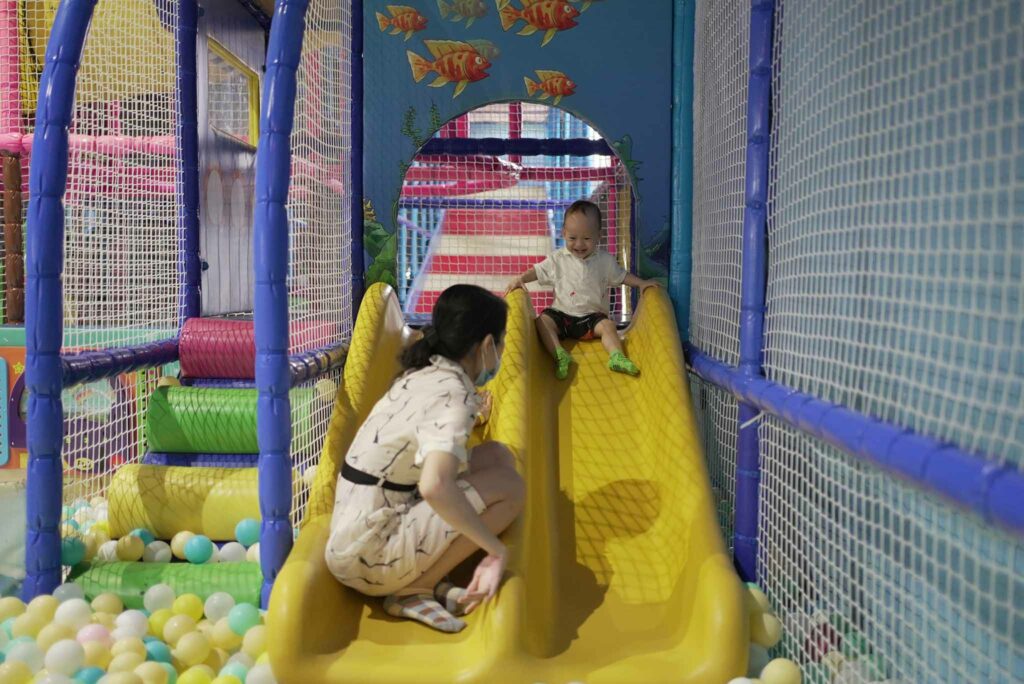 One thing that impressed me about Tini World was the amount of activities, especially the basketball and soccer fields. So young kids can meet and play team sports.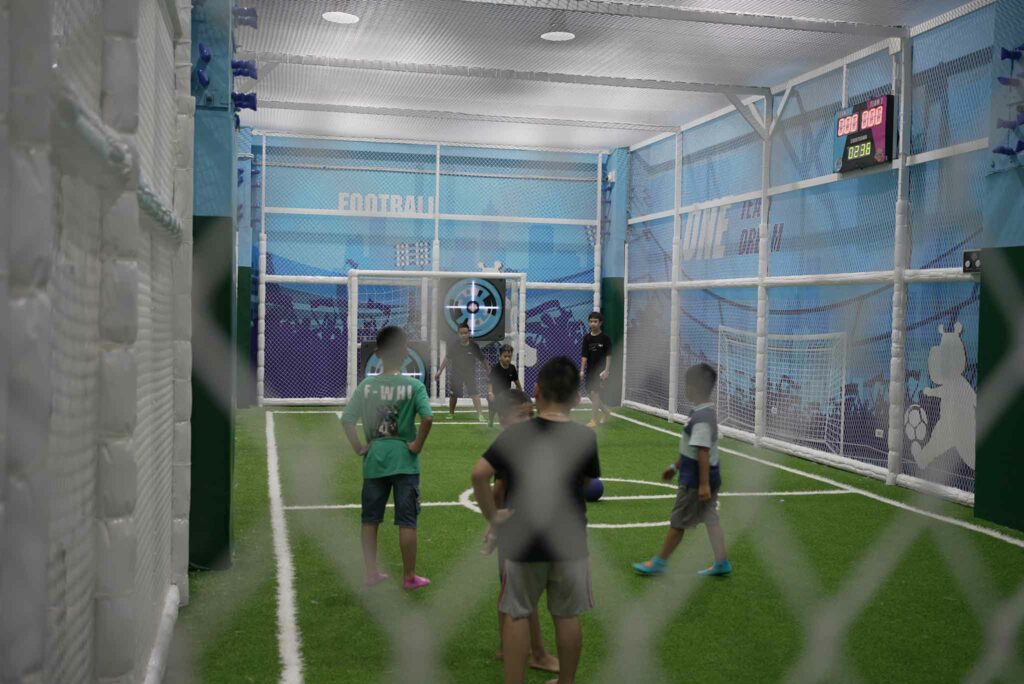 They even have a space for fishing and bouldering. Yes, if your kid is old enough, he can start learning how to climb indoor walls, and all of this in a mall, the same place where you buy your groceries!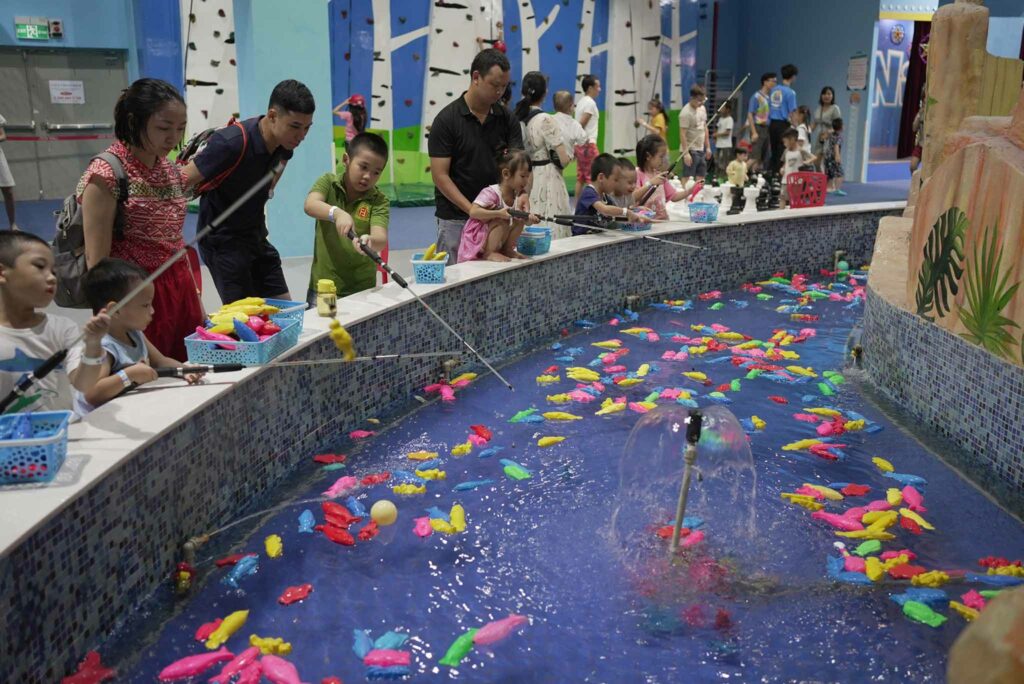 Overall, the place really looks like an indoor fair, which is a good thing. Because fairs are fun, especially when the entrance is at a fixed price, and you can enjoy any activities you want after that.
Verdict
8.5 out of 10.
Tini World is simply the best indoor playground for kids. At least from our experience in Aeon Mall. The diversity of games can't be matched. The place is so big that it can accommodate many activities, including soccer and basketball fields, classic toys and games for children, as well as some fairground rides.
The most unbelievable part about this is that for children below 90 cm, the entrance is actually free! For 40,000 vnd, which is less than 2 euros, two adults can spend an entire day in an indoor playground with one kid smaller than 90 cm. In some countries, it's actually less than one fairground ride.
Most adults I've seen in there were actually having a good time as well. There are a lot of massage chairs that will cost you only 30,000 VND for 18 minutes. Vietnamese tend to love this chair.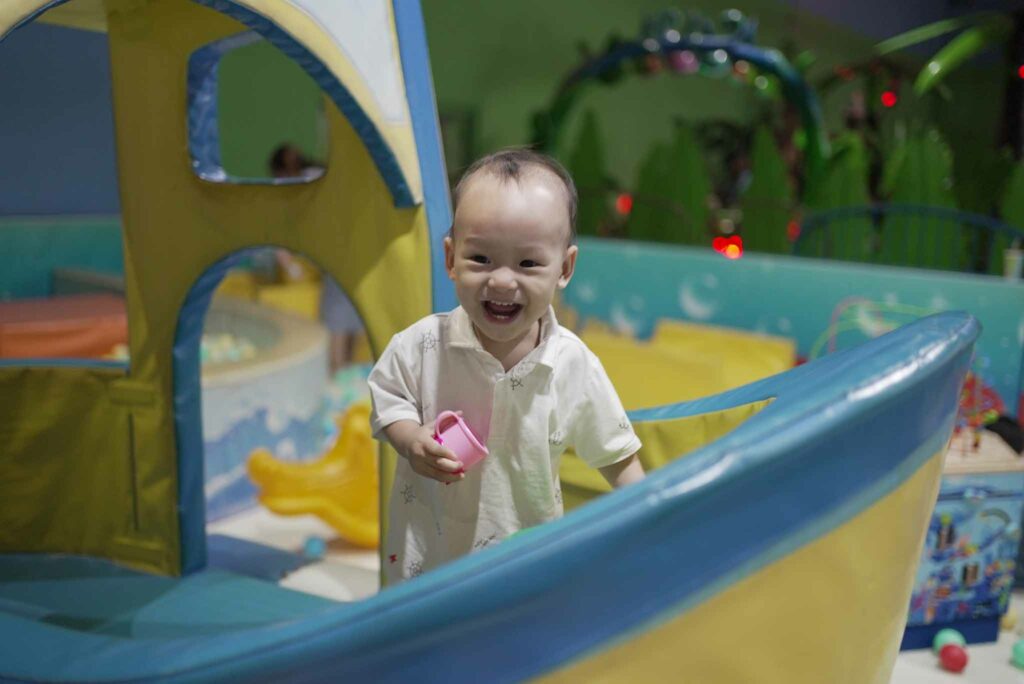 Personally, I think I would pay the entrance fee of 150,000 vnd, so for this experience to be free and cost 20,000 vnd per adult, it's more than a deal; it's a steal that you MUST TRY!
Informations
TiniWorld
Address : Aeon mall, 27 Đ. Cổ Linh, Long Biên, Hà Nội, Viêt Nam
Phone: +84 90 141 40 60
Official Website : https://tiniworld.com/tiniworld-aeon-long-bi-n.html
Facebook : https://www.facebook.com/tiNiWorldAEONMallLongBien/