Tous les jours, meaning every day in French, is a bakery chain well implanted in Vietnam, notably in major cities like Hanoi or HCMC.
Unlike a traditional Vietnamese bakery, Tous les jours is very reminiscent of a French bakery crossed with a coffee store. You can actually buy some croissants and drink your coffee in the store.
The location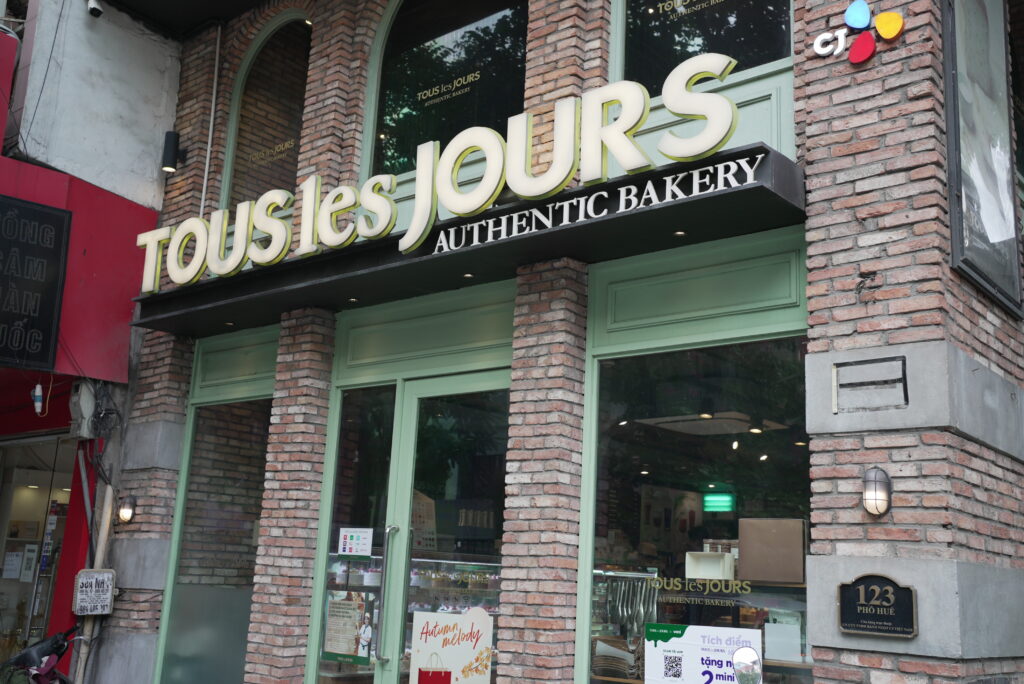 This upscale franchise for bakeries is very well implanted in big cities, where the demand for high-quality bakeries is present. Well implanted in Hanoi, we tried the store located in Phố Huế Hai Ba Trung.
Most customers are usually people who are accustomed to good bakeries, perhaps people who already travel or have lived abroad, or simply people who know how to enjoy these delicatessen.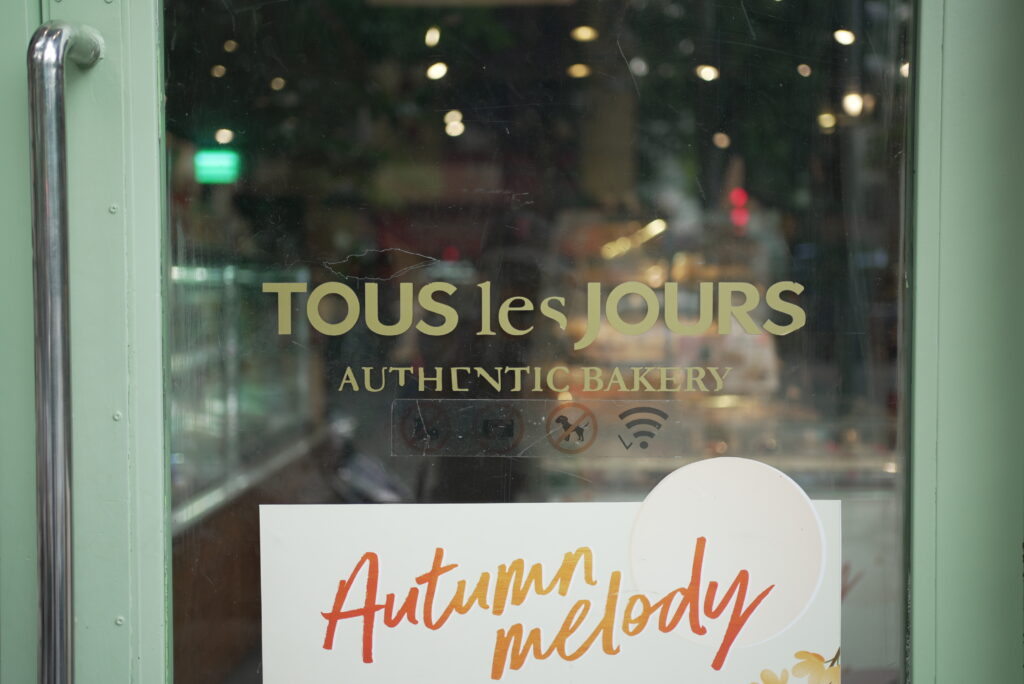 The store looks way better than the average bakery, like Anh Hoa. This particular store actually looks more like a New York City building with visible red bricks than a traditional French bakery, which is a good thing since you have a very beautiful view of the streets from the first floor.
The products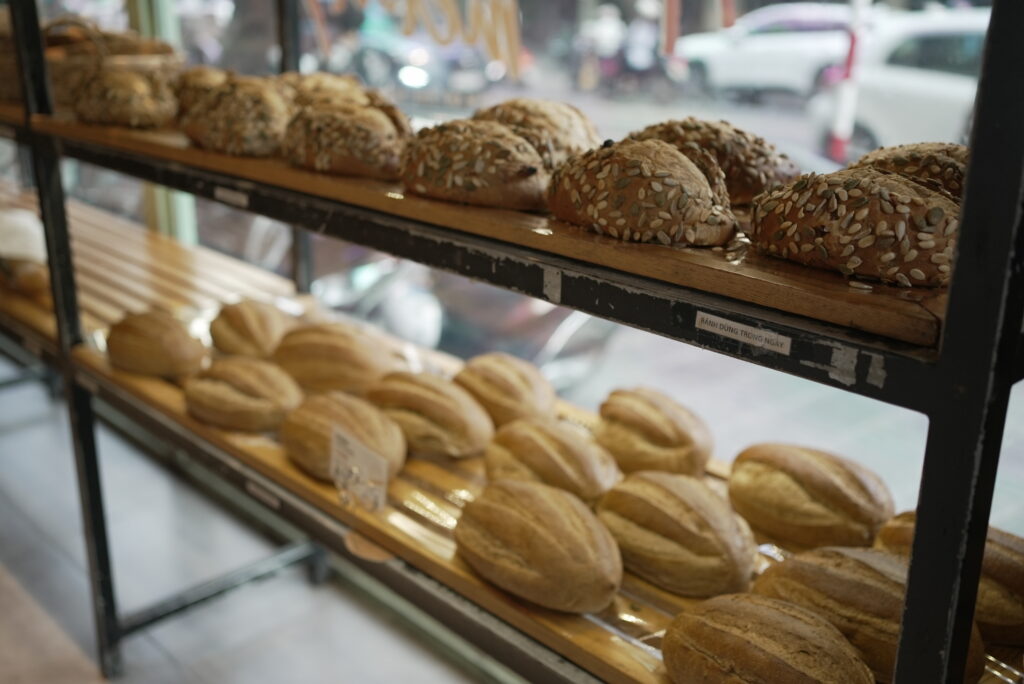 As a bakery, Tous les jours obviously offers some diversity in its bread. We personally tried the rye bread and the bread with seeds. Both were delicious, though slightly different from French bread. This bread was more light and soft to the touch.
We bought these breads to make classic mayonnaise sandwiches with salad, tomatoes, and ham, and it was delicious. We also used an oven to make the bread crispy again after sitting all night in the fridge. That is usually the way to do it in Vietnam, unless you buy it freshly made in the morning.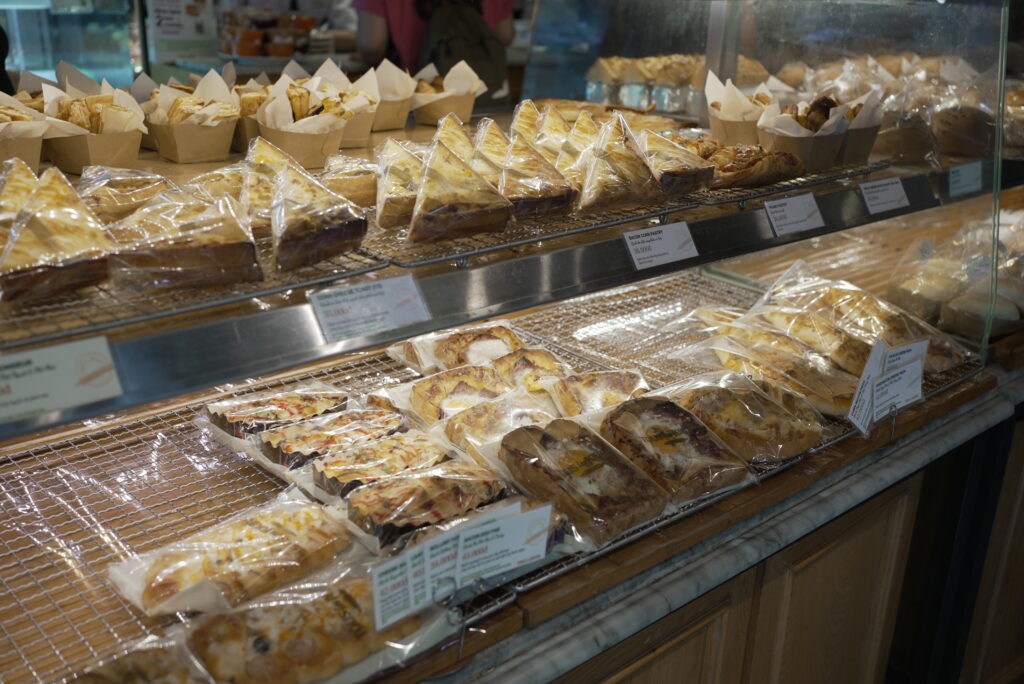 Tous les jours also offer some salty treats, almost like fougasse, pizza, or croque madame. We didn't have a chance to try since we were not here for dinner or lunch but for an afternoon repast. They definitely looked yummy.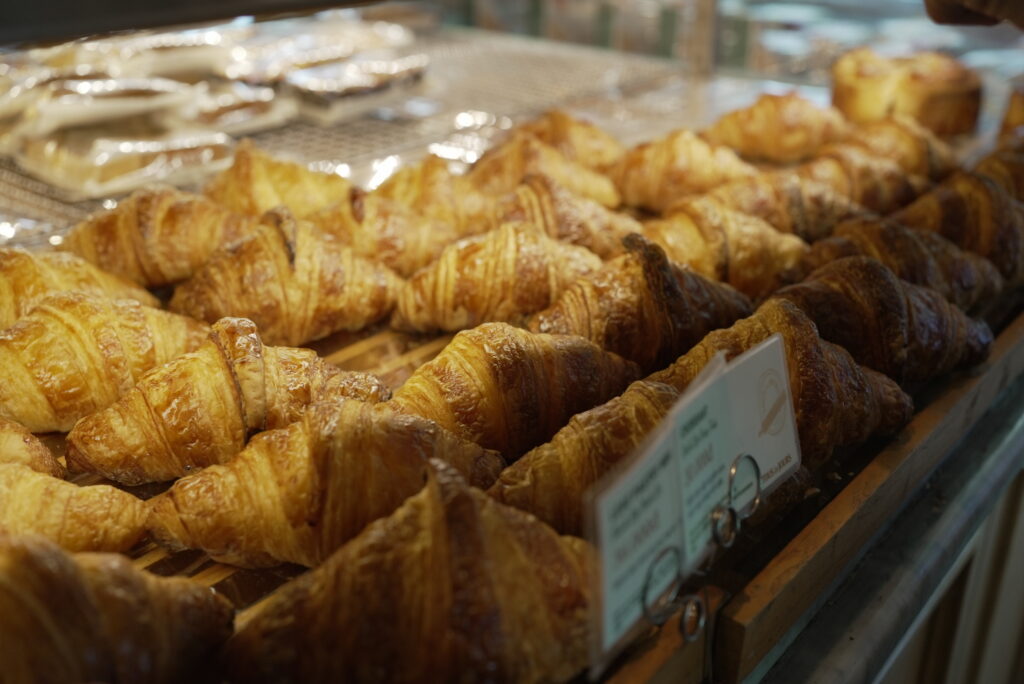 They also have classic bakery items like croissants and pain au raisins. Unfortunately, we didn't see pain au chocolat or chocolatine. In Vietnam, it is actually hard to find real chocolate for some reasons. On the other hand, they have some unique specialties you can't find anywhere else, like a sort of almond feuilleté and others that are slightly sweet.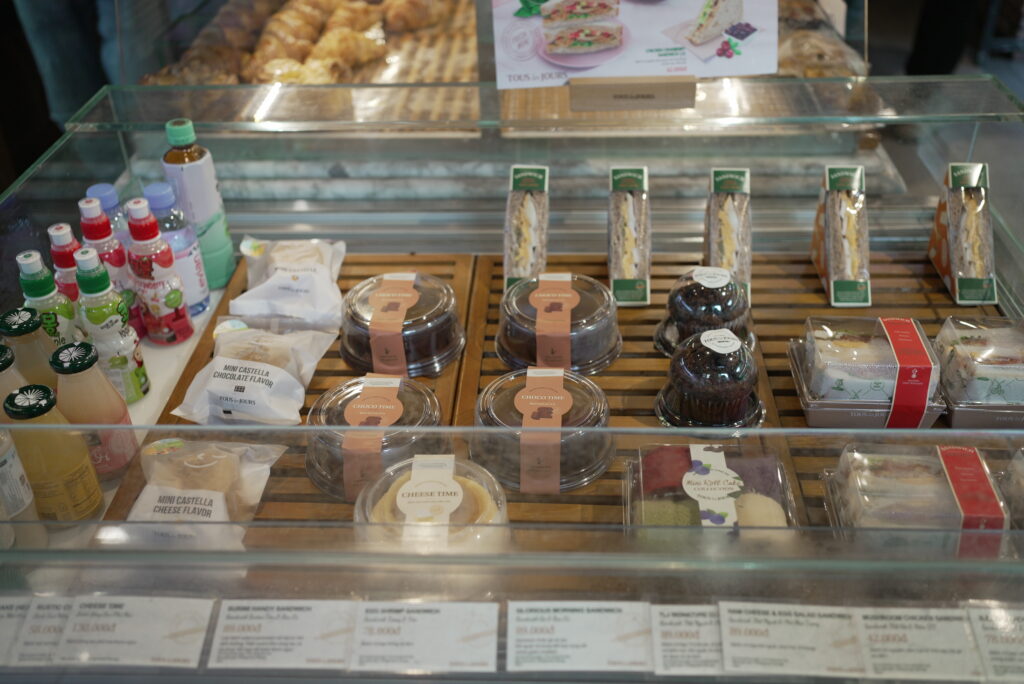 You obviously have the classic sandwiches—or triangles, should I say? It is very reminiscent of what you would find in some countries, but instead of a baguette, they use pain de mie or soft bread.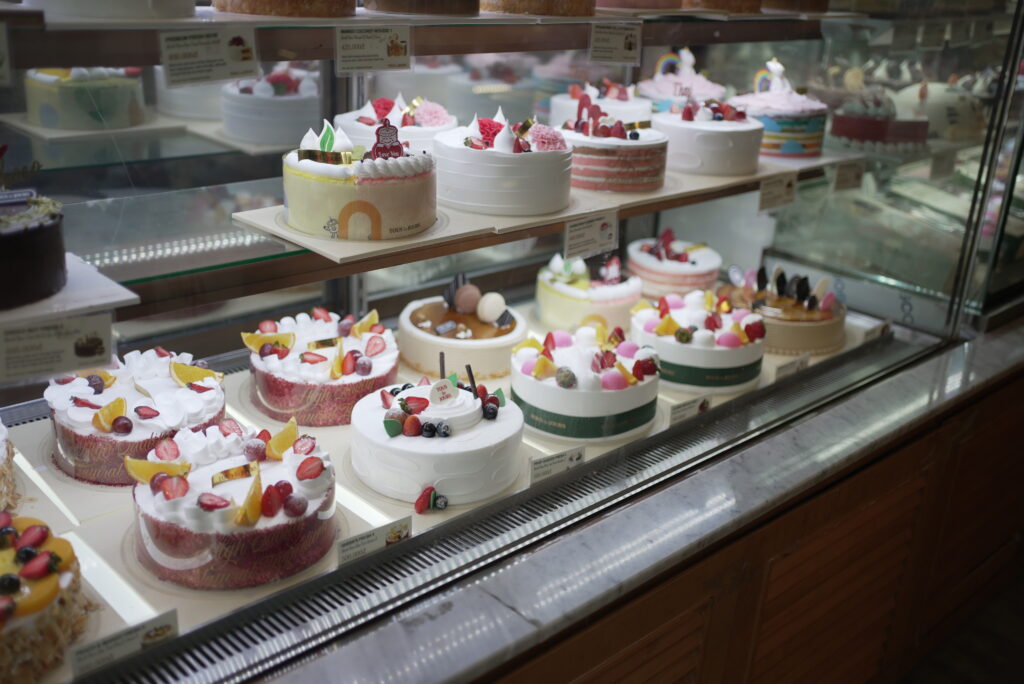 Tous les jours also bake some birthday cakes, which we had the opportunity to try for my wife's birthday. We ordered a strawberry one, and I have to say it tastes way better than the classic cake you can buy here for 250,000 VND.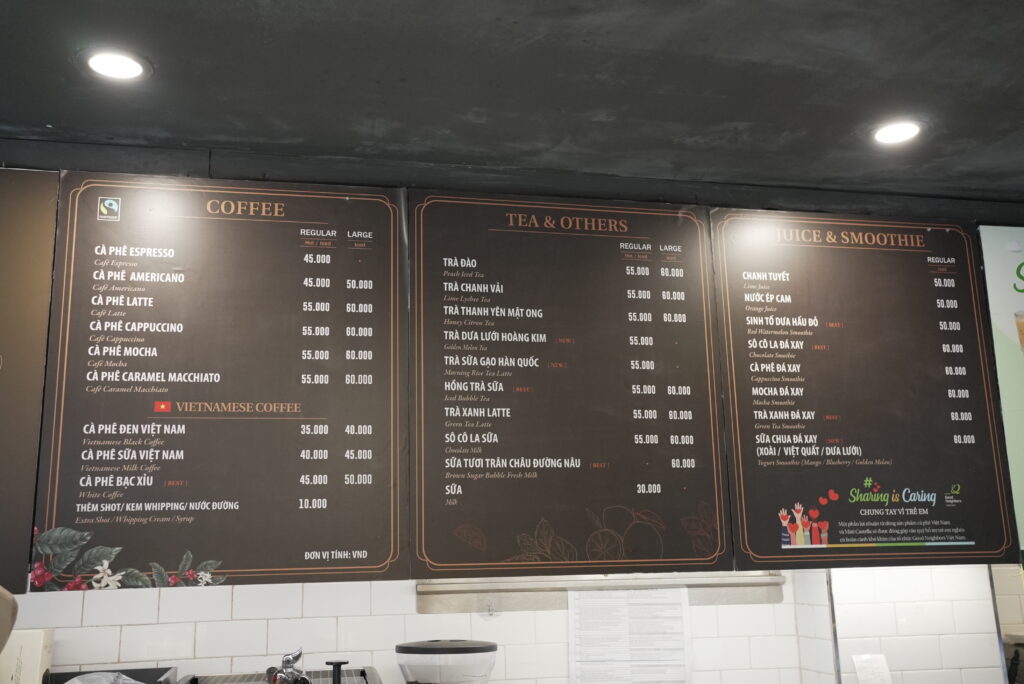 Like I said before, this place is also a place to sit down, relax, and enjoy your food. That's why they also offer drinks, from coffee to smoothies.
The taste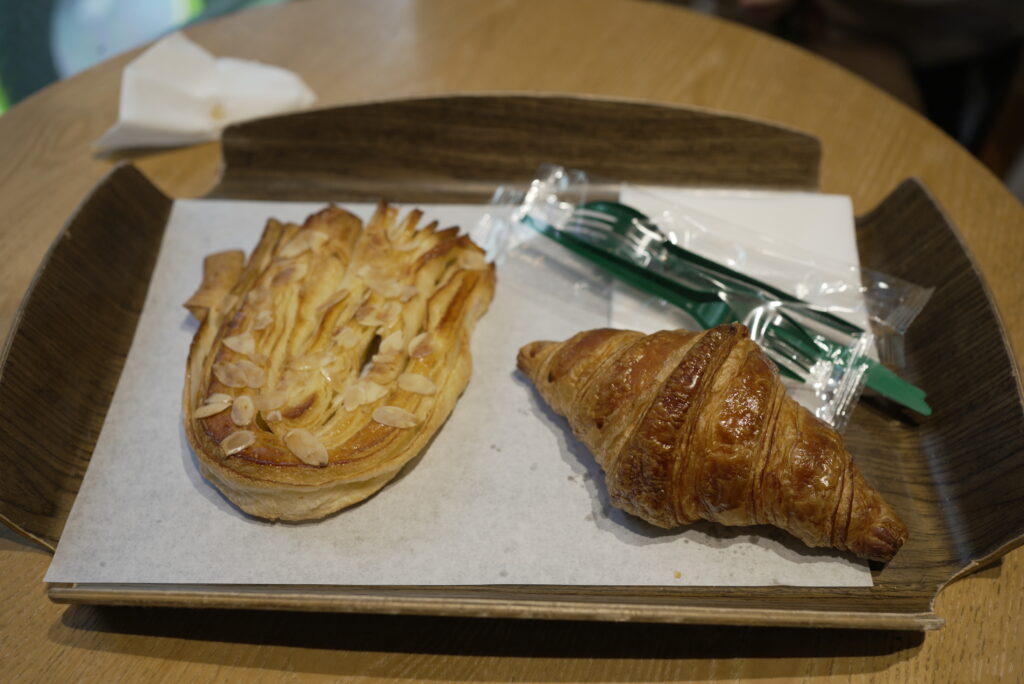 This time was the second time we went to Tous les jours and we were invited to an all you can eat nng. That's why we couldn't order as much as we wanted.
The croissant and the sweet almond feuilleté were a bit old, meaning just a tad chewy. Perhaps they were from the morning, and we went in the afternoon, so it's understandable.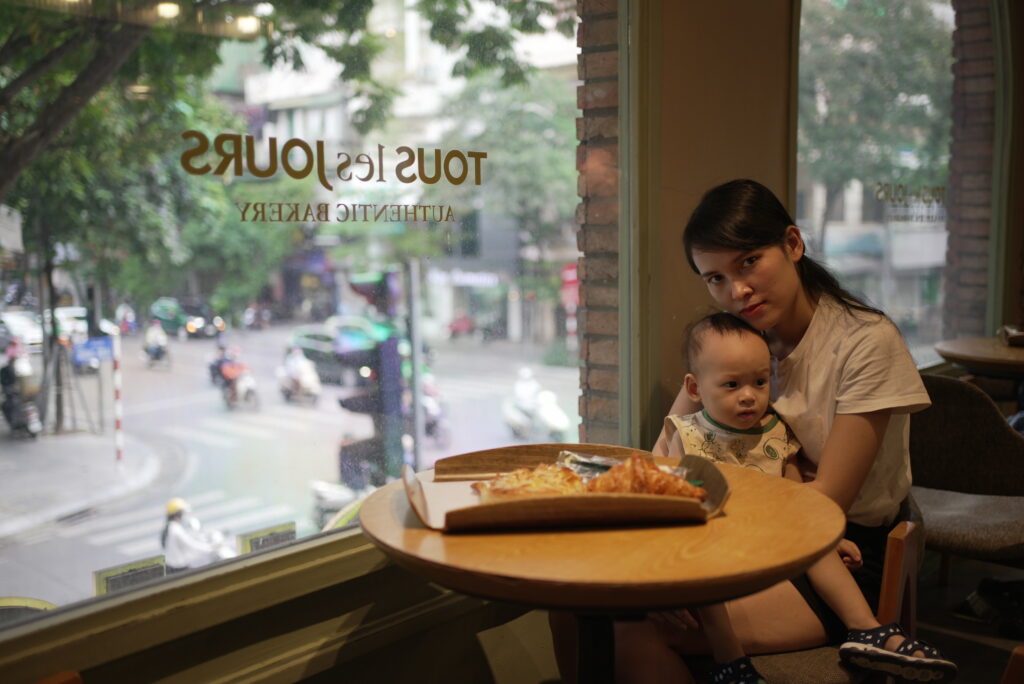 The location in Pho Hue Hai Ba Trung has a beautiful view of the street and a cross section where you can see the bikes come and go.
We went into this bakery multiple times, and the first time was a very good surprise for us. We were just walking down the street, which is famous for having a lot of clothing stores.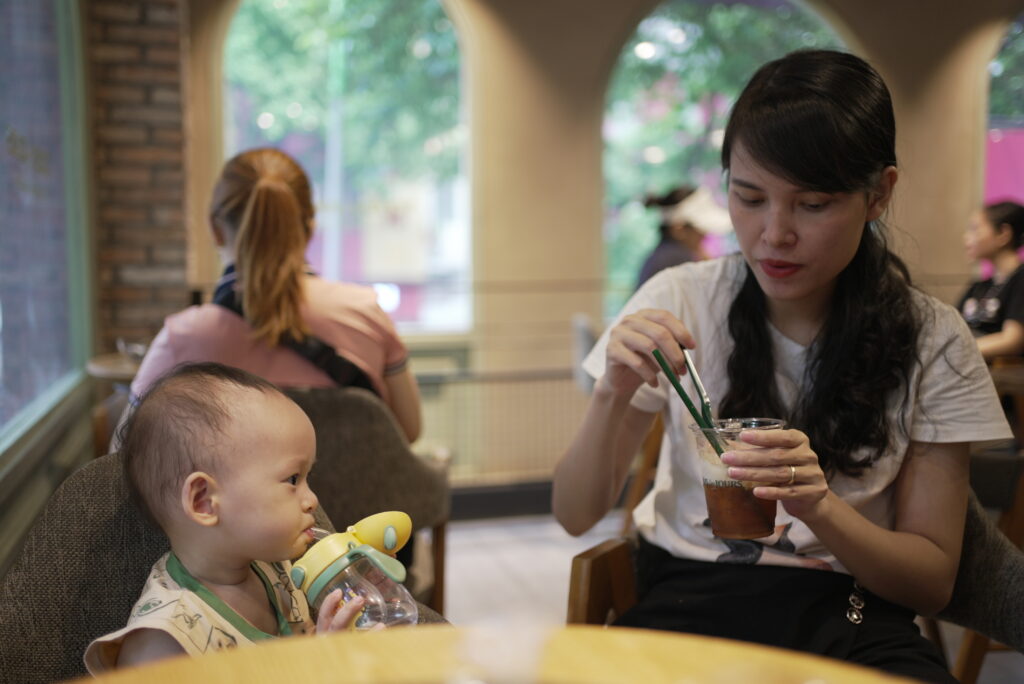 The tea was handed to us later by a waiter, and the quality was good too. The peaches were actually sirop can peaches of a good size, much better than Highland coffee in my opinion.
Verdict
8.0 out of 10
Overall, Tous les jours is, I believe, the best bakery in town. It's hard to find a better diversity of delicatessen in other stores, and the quality is much better than the average store. Even the shelf looks so much better. The taste is almost like in Europe or France.
The place looks amazing, and the second floor has a beautiful view over the streets. The prices are a tad higher than in other bakeries, but it is honestly worth the price, in my opinion, especially if you are sitting for some time inside.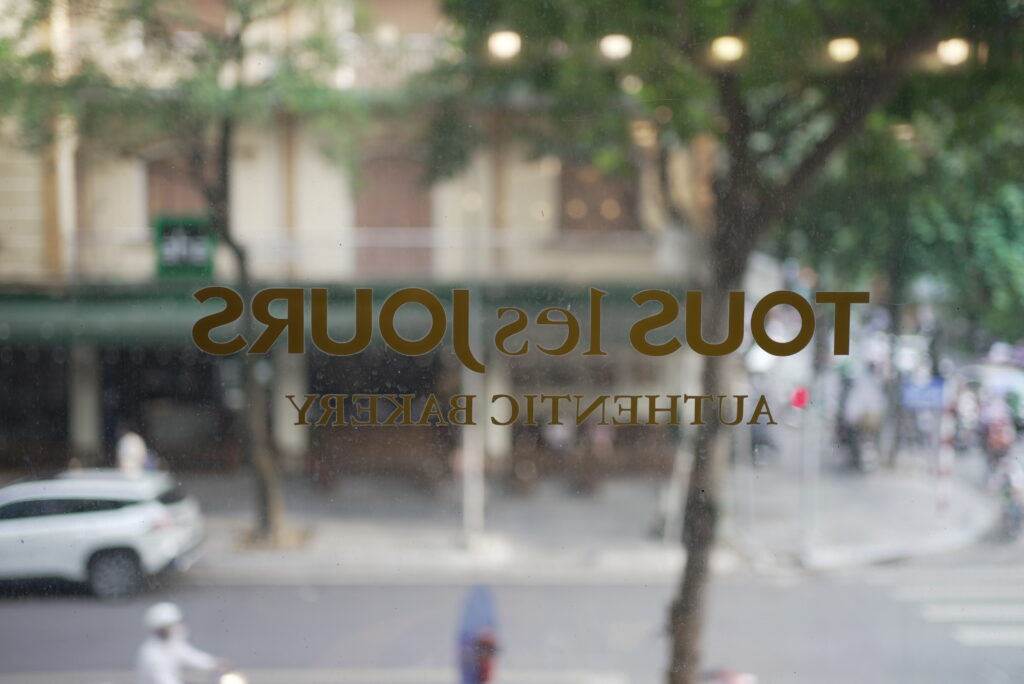 We had a baby to hold, so we couldn't stay more than an hour, but this is definitely my kind of place to hang out in.
The only other bakery I would perhaps recommend is Gao Bakery & Coffee, which has some of the best sourdough bread in the city.
Informations
Tous les jours
Address : 123 P. Huế, Ngô Thì Nhậm, Hai Bà Trưng, Hà Nội
Phone : 024 3633 1186
Website : https://www.tljus.com
Facebook : https://www.facebook.com/touslesjoursvietnam/