James Cameron is one of the best directors, especially when it comes to box office numbers. Most of his films were huge hits. Even if his movies may be a tad popular with people who love independent movies, you have to admit that his work is simply stunning and that his success is more than justified.
Avatar 2 has already grossed over 900 million dollars at the time of writing this article; it would be surprising if this opus does not break new ground again. But is this movie as great as the first one, and is the experience worth the hefty Imax price?
What is Imax and Imax 3D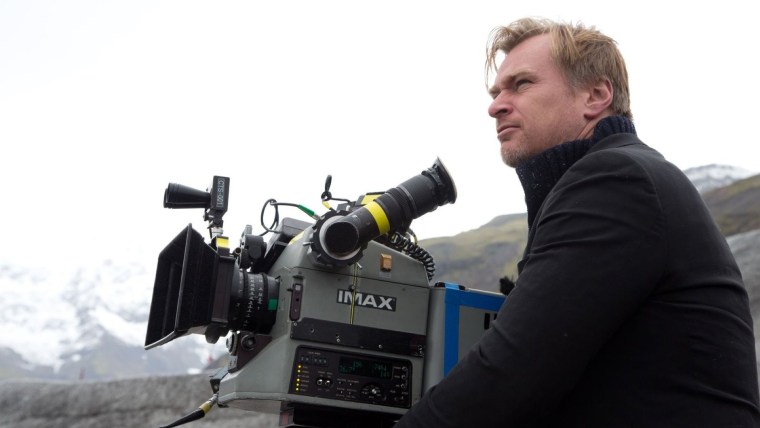 Imax is basically a very large negative (65 mm) compared to the standard super 35 mm used by most films as the industry standard.
Having a larger negative means that the image is more defined and clean, the dynamic range or latitude is more important, and most importantly, the perspective with lenses changes.
When I say that perspective changes with lenses, it means that things look larger than real life while retaining a large field of view. Basically, you can see more, and characters look larger than life for a more immersive experience.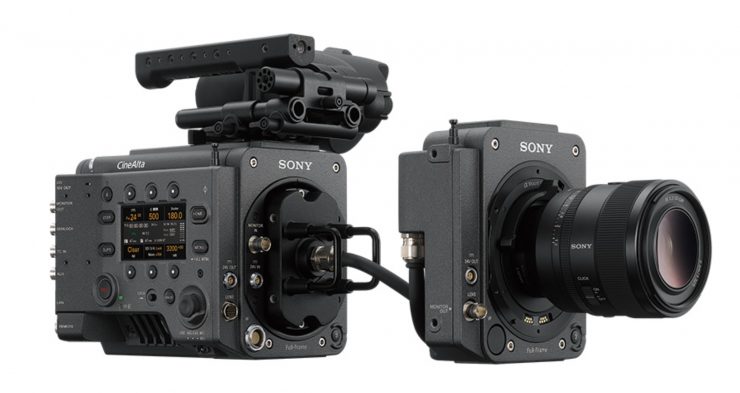 Avatar was shot on the Sony Venice 2, which is not a real Imax camera; it's basically a digital full-frame sensor, and while movies like Tenet or Interstellar are really shot in Imax negative, Avatar 1 and 2 are technically not true Imax experiences.
But while resolution and dynamic range may not be in the favor of digital sensors, it's much more convenient to shoot 3D movies, especially on the Venice 2, where you can use a mirror setup with two cameras and extended sensors.
Price of the experience
This is where it hurts. With a constant inflation rate of 7% a year in France, going to the theater is expensive. So going to see a 3D movie in Imax is basically as expensive as it gets. Perhaps the only thing more expensive would be Imax 3D, with 4DX meaning moving seats, spraying water, etc.
For two people, we paid a whopping price of 43,20 euros, which is over 21,60 euros per person. I mean, this is almost half the price of admission for a full day at Disneyland.
It's way too expensive knowing that it has been shot digitally and that no roll of Imax film had to travel around.
These prices were paid in Gaumont Disney Village.
The story
The story of this second opus is, straight up, not as good as the first one. It almost feels like a repetition of the first act, by which I mean characters learning a new culture, fighting with humans, losing and winning all over again, etc.
The first part of the movie actually feels like a long introduction to the real movie, which starts in the water. I feel like this introduction is not as well written as James Cameron's other scripts.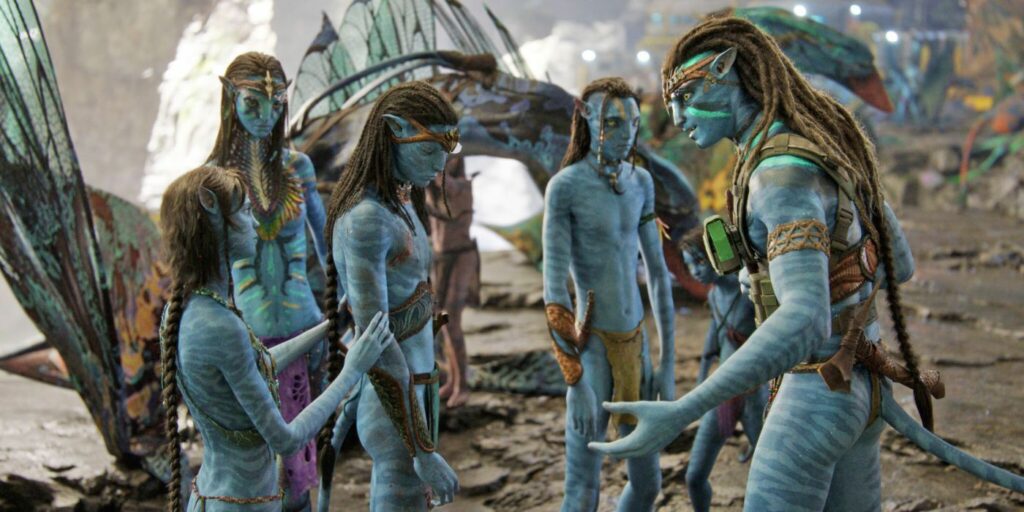 The positive aspect of the story is obviously the continuity of Jake Sully's experience, this time as a father. Everything about this movie is about experience as a family member and leader, and as a father myself, I can say that I can relate to the character and to this opus more generally.
As soon as we leave the introduction, the movie starts to make sense, and the pleasure begins. Even when it comes to graphics and art, I feel like this part is better made.
Of course the script is always well made; it's a James Cameron blockbuster at the end of the day, but you can feel that Avatar was not meant to be a quadrilogy in the first place.
The experience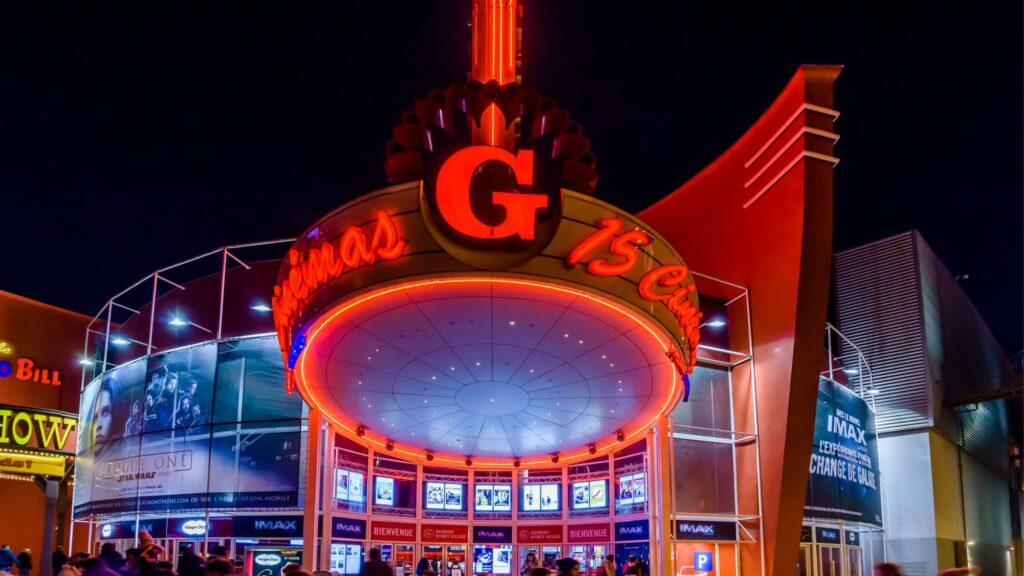 We went at night to watch the movie, which started at 21:30 and finished at 1:00 in the morning. It was the only VOST showing, and me and my wife had to leave our kid for the first time with his grandpa.
Preface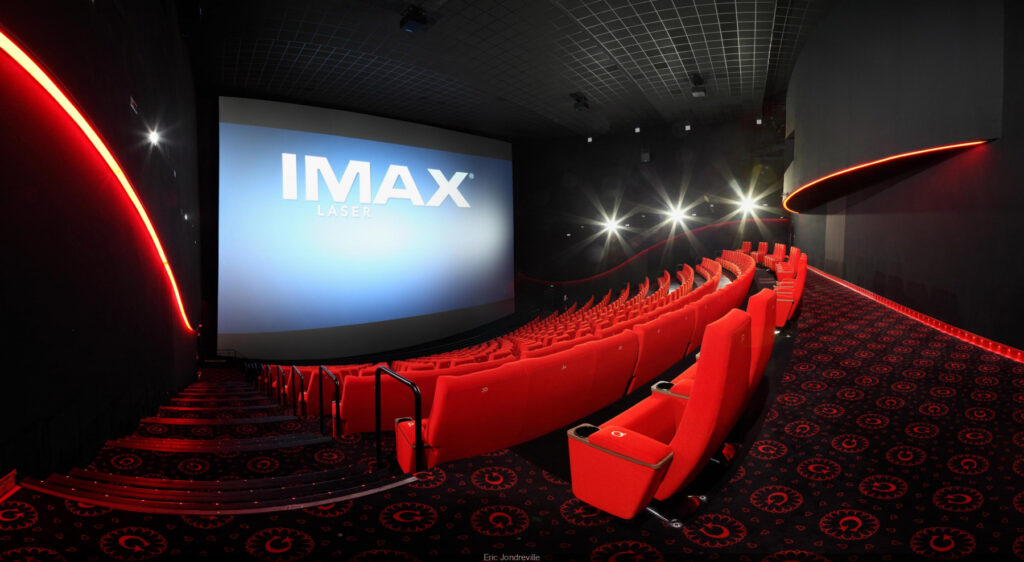 The first thing to know is that the movie was projected in Imax Laser in Disney Village. I personally prefer real projected Imax films because I feel like I can see the pixels, but since this movie was shot digitally, laser has its advantages too, like better contrast and color reproduction.
The first thing I noticed about the movie was that there were two frame rates, which interchanged depending on whether the scenes had action or not.
I also feel that the action scenes with better frame rates have less resolution and lightning effects. This was very disconcerting; it really felt like watching a video game cut scene and switching to gameplay. There's always this difference in quality, which, in a movie, makes it feel almost like viewing a beta version of the movie.
I know this movie was shot not a long time ago after Avatar, the first opus, and for X reasons, notably COVID and other crazy events, it had to be postponed multiple times. Some scenes feel like an upgrade from Avatar 1, but others seem like the first one or even worse (action scenes with a high frame rate).
I even feel like the second part of the movie looks way better than the introduction, almost as if we were watching a director's cut and the second part took all the CGI budget.
Underwater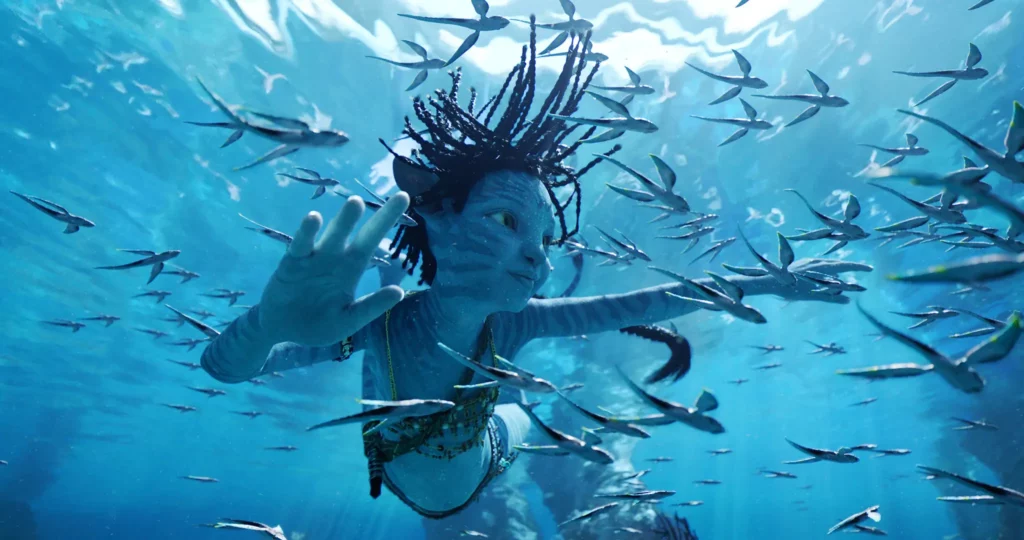 Now when it comes to the second part underwater, the only thing I have to say is WOW. With the 3D, it's the closest thing to snorkeling and free diving you will ever experience.
Everything was shot underwater in a pool, and actors had to learn how to retain their breath under water. Some of them even did it for 7 minutes straight (Kate Winslet).
There is some sort of peace you feel while exploring Pandora's underwater universe, like you would do on earth as well. Since snorkeling is one of my favorite activities, I felt right at home watching this movie.
Even if the script was nothing original, the overall experience with a parenting story was enough for us to escape for a brief moment and enjoy this parallel life and universe.
Verdict
8.2 out of 10
Overall, even if the price was hefty, we really enjoyed watching Avatar 2 : the way of water in Imax 3D.
To be honest, I am sure the experience with a classic theater would be enough for most people, but since I consider myself a cinephile and Avatar 2 took 13 years to be released, this was the occasion.
Watching a movie is something I enjoy, but watching an Avatar opus is like another experience. Something between a video game and a movie.
For people who love cinema and nature, in particular snorkeling, this movie is a no brainer.
Information
Gaumont Disney Village
Address : Disney Village, 77700 Serris
Website : https://www.cinemaspathegaumont.com/cinemas/cinema-gaumont-disney-village
Facebook : https://fr-fr.facebook.com/GaumontDisneyVillage/
Our Video Production : https://www.neonnight.fr
Our other blog : https://www.neonnight.fr/en/blog/