Vinpearl Safari is an animal conservation and care park located in the north of the island Phú Quốc near the Vin Resorts. Unlike its name suggests, Vinpearl Safari is closer to a zoo than a traditional African safari, even though a portion of it is actually experienced from within a vehicle.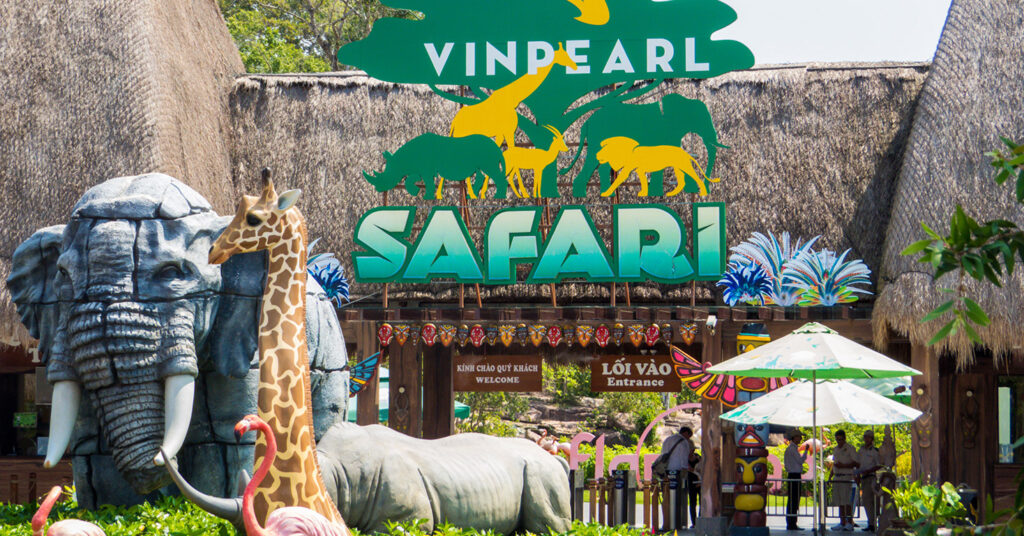 To enter the Vinpearl Safari Park, you'll need to pay 650,000 vnd (27 euros) for an adult and 390,000 vnd (16.50 euros) for kids and seniors. For very small children, like many other attractions, the entrance is free. The park is open from 9 a.m. to 4 p.m., so it closes fairly soon, and you will have to come soon to see everything.
The Map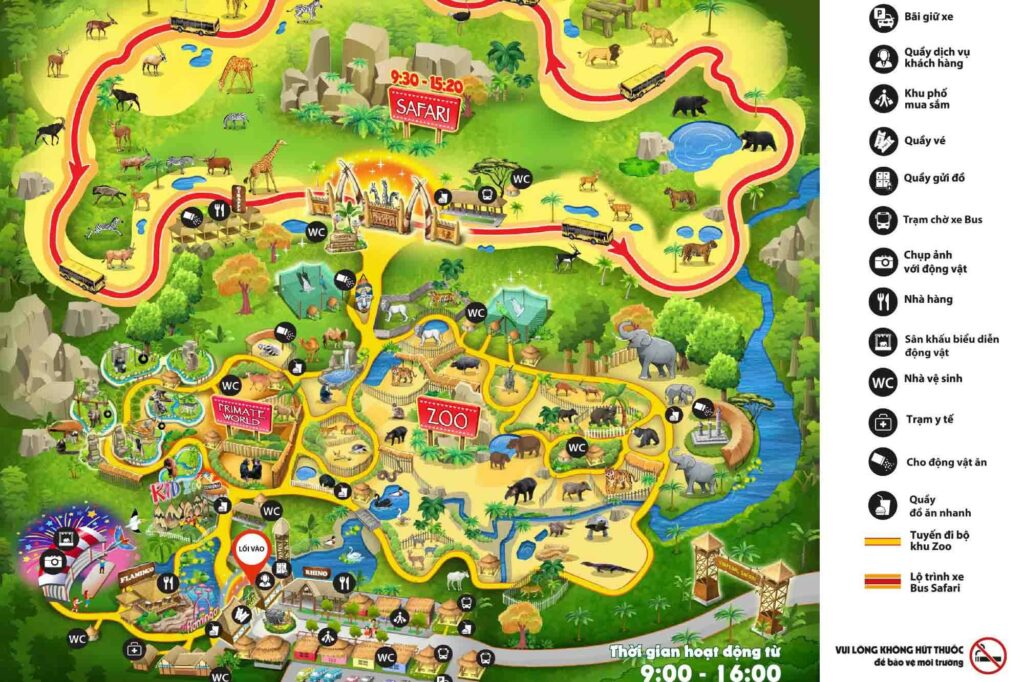 It has to be noted that the entrance to the attraction is not accessible by foot. The road from the main gates to the entrance must be somewhere between 3 and 5 kilometers long.
Electric Shuttles
The Vinpearl Safari Park is fairly big, so much so that they offer a shuttle service with electric carts for 100,000 VND. Note that you can also rent a private, smaller vehicle for 1,500,000 VND..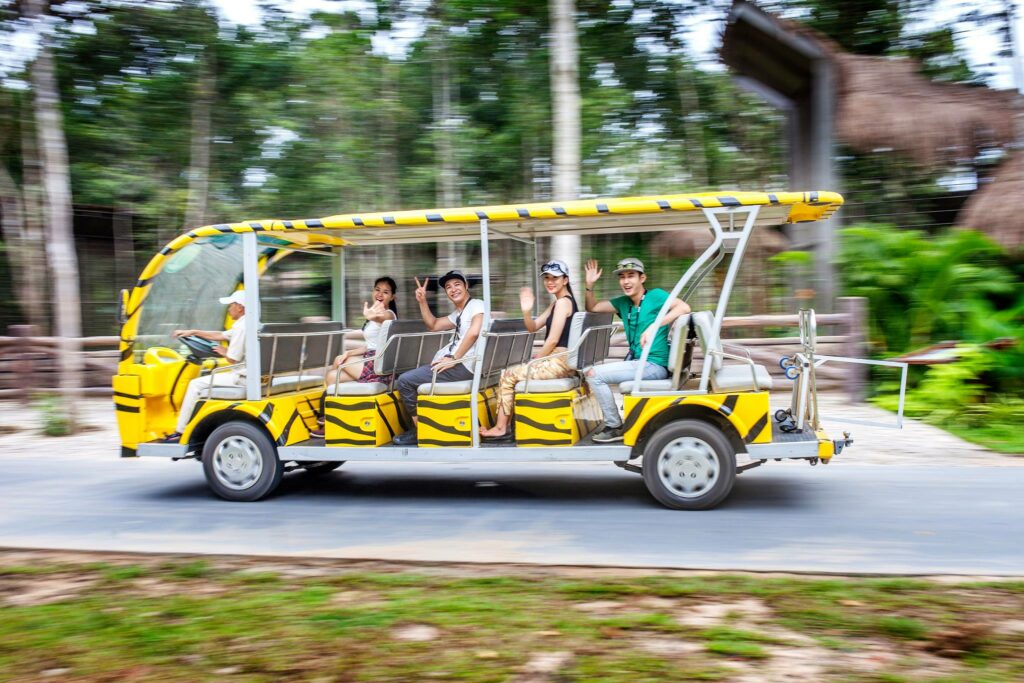 The attraction can actually be walked by foot in a day, but the issue is that in tropical weather between 10 a.m. and 5 p.m., the sun is burning hot. You won't last more than a couple of hours in it without an umbrella and tons of water. Note that the last electric shuttles will ride at 3:30 pm, so if you are at the end of the park, you will have to exit by foot.
The Kid Zoo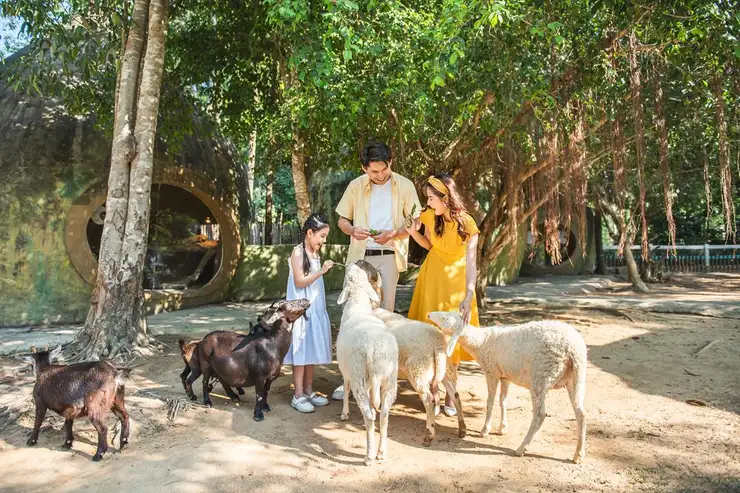 The Kid Zoo is a safe space for children and animals to meet and be in direct contact. In there, you'll be able to feed and pet sheep, baby goats, and other unharmful animals. This place is very friendly and is one of the only places in the park where you will be able to pet animals.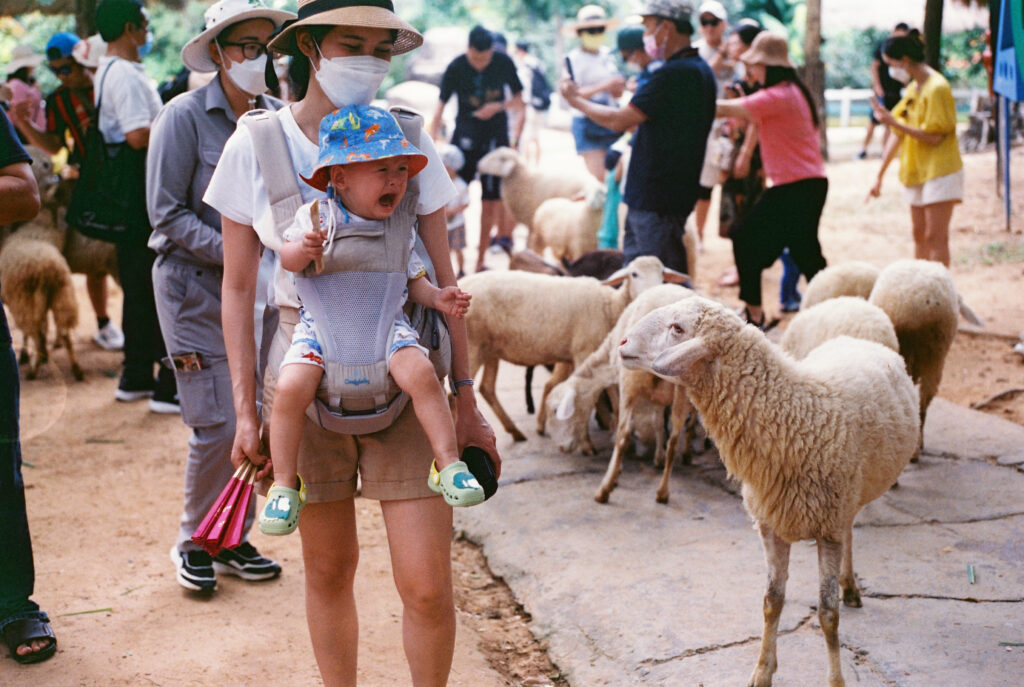 Some of the zoo employees will give you some leaves to feed the animals. Our son was a bit young to walk around and play with the animals, but we still managed to take a great picture of his interaction.
The Bird Show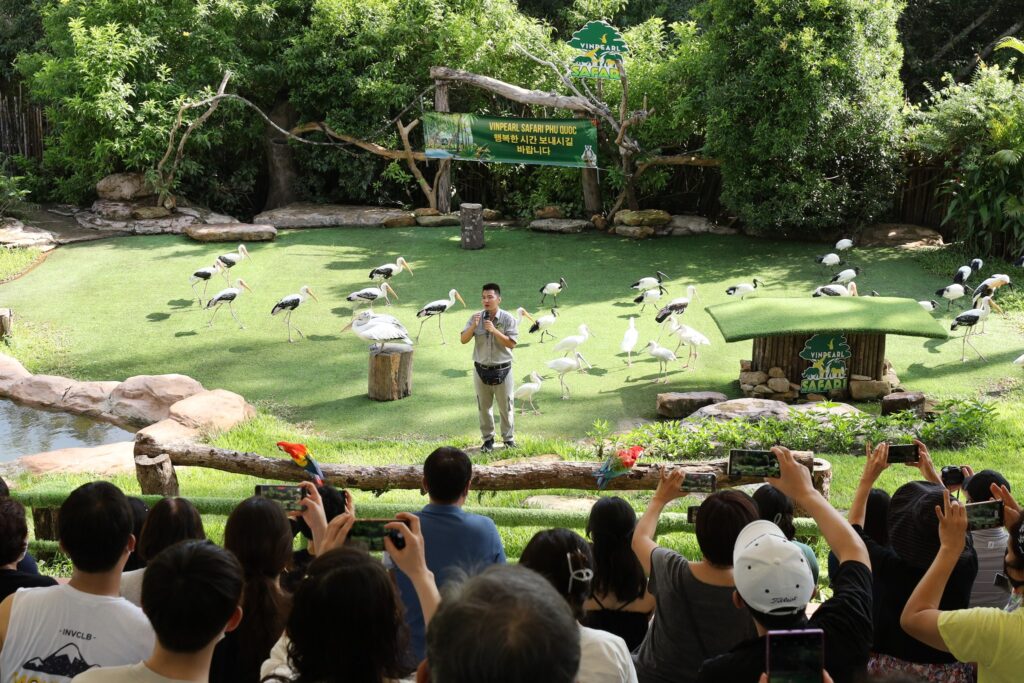 The Bird Show is located in an arena near the entrance and the Kid Zoo. The show takes place twice a day, at 10 a.m. and 2 p.m. Like the Zoo, the show is targeted at families. You will see some birds perform tricks in a humorous and cheerful ambiance. The highlight of the show is a bird taking money from the volunteers and a competition between two parrots. Let's go, Jerry!
The Zoo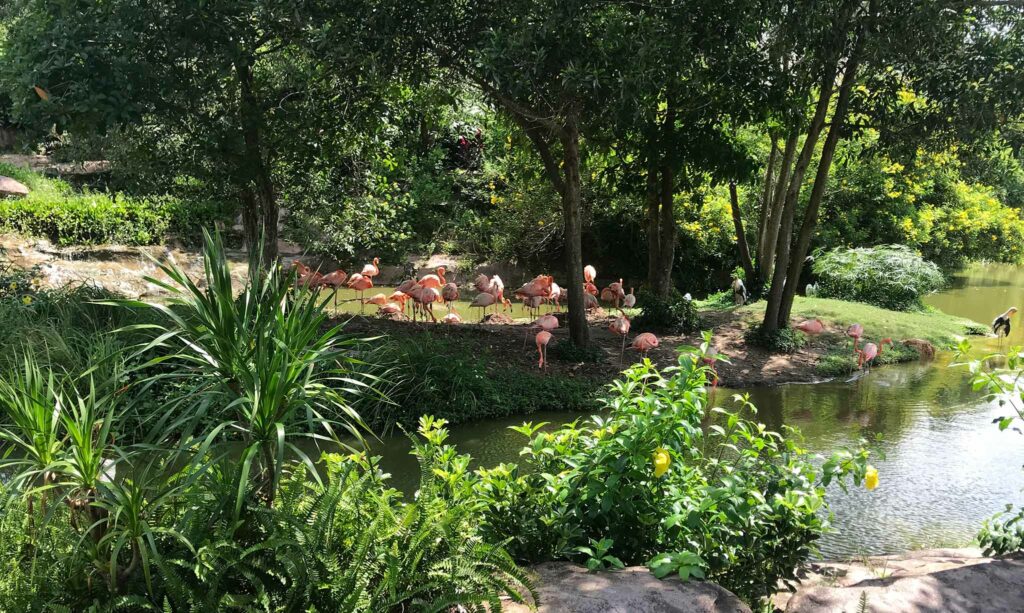 The main zoo attractions are diverse. You will be able to see from a distance some animals in an open environment, like flamingos, monkeys, camels, elephants, etc. Some other animals, like reptiles, will be located in caves, where you can only see them through a window.
Most of the stops dedicated to one type of animal will have a dedicated area for resting, snacking, or drinking but also a place to queue up for getting back into the shuttle. Since the weather is so hot, you will find a lot of food and ice cream stands and self-service vending machines. Beware, the price will be expensive. Count 50,000 VND for a Bánh Bao(Baozi) or 70,000 VND for a decent ice cream.
The Bird Aviary
One of our favorite parts of the zoo was the bird aviary. It is an open space with birds freely flying around, including some very big birds. That's how a zoo should be, in our opinion, as soon as humans and animals can coexist; they should be free and sharing the same space.
The Giraffe Restaurant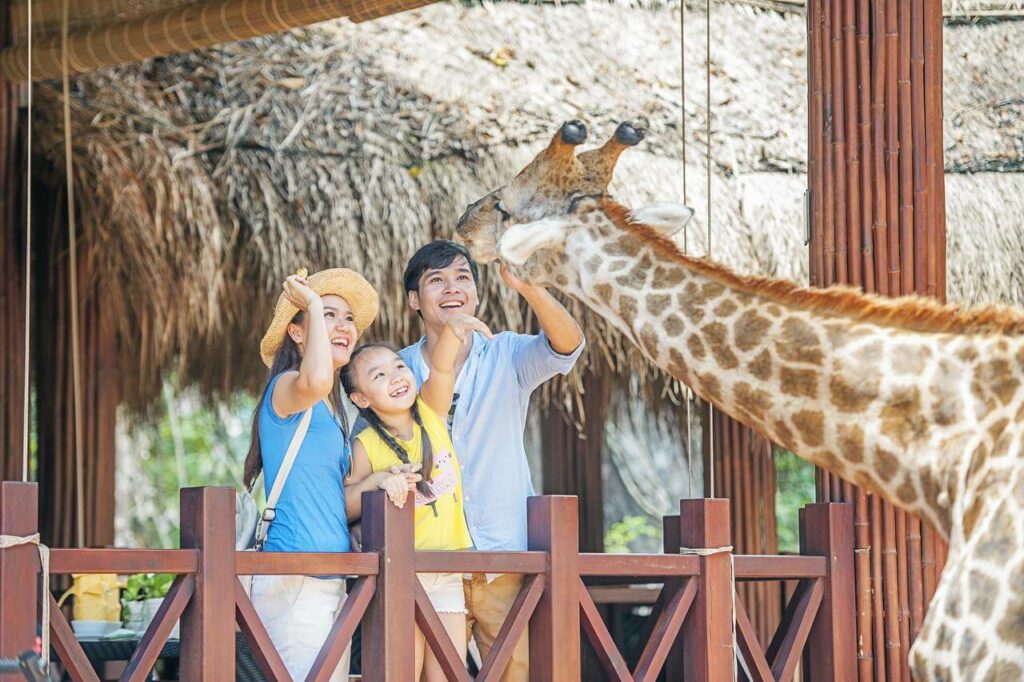 The highlight of our day was the restaurant inside the giraffe enclosure. This restaurant is located between the Bird Aviary and the Safari section of the Zoo. It's an open-air restaurant with a lot of tables and a simple menu like the one you would find in a fast food joint.
The restaurant is offering food such as burgers and fries, spaghetti bolognese, fried chicken, and other popular dishes. The prices are honestly a good deal for the location, much more than the 40,000 VND ($4.90) for sausage sold in the other snack sections.
You will have to make the line to order and wait at your table to be served. We paid 140,000 VND for the Burger Combo with fries and a drink. The service is quite fast, and the place is usually crowded with people.
You can pay additional money to get a box of veggies and bananas that will serve as food for the giraffe. Technically, the giraffes are supposed to have a long enough neck to reach your table, but in truth, you'll have to get up from your chair so as not to disturb your neighbors during lunch. We really like the concept of this restaurant and enjoyed feeding huge but kind animals like giraffes.
The Bus Safari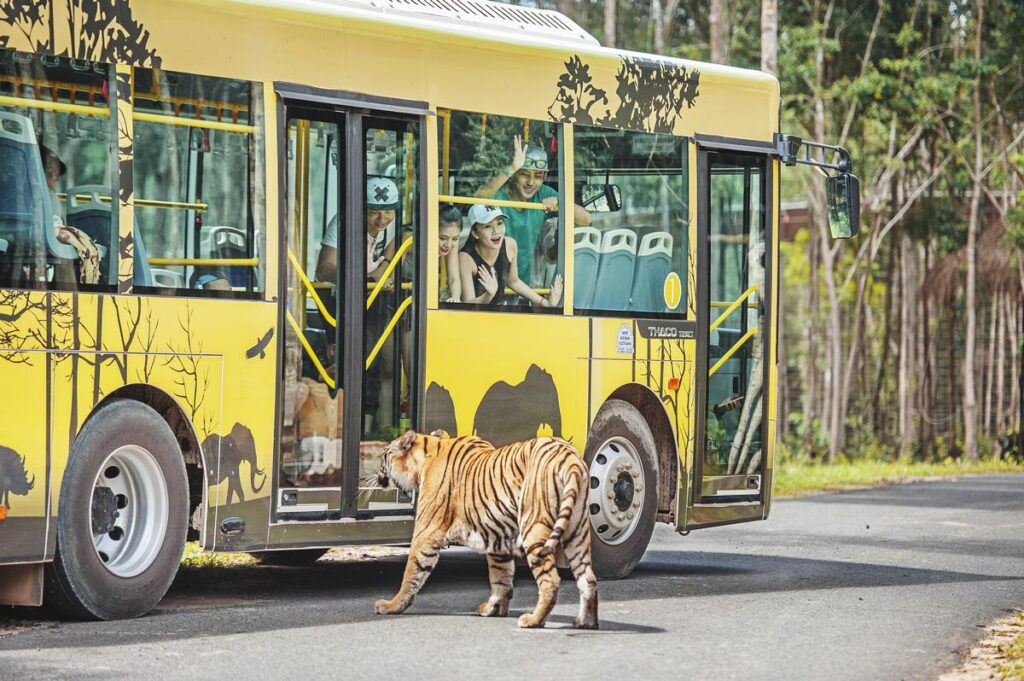 Finally there is a section of the Zoo emulating the experience of a Finally, The only difference is that the animals are in captivity, and instead of riding a Jeep, you will be riding the bus! So on the one hand, you will be protected by widows, but on the other hand, you will have to watch from a predefined circuit behind a glass.
The ride lasted around 15 minutes. Inside the bus, a speaker will present in Vietnamese the different animals and some facts about them. Animals can be seen on both sides of the bus, and there are sections separated by double gates and checkpoints so the animals don't eat each other.
In this section, you will be able to take a closer look at tigers, lions, bears, zebras, and other animals. Riding the bus makes it a bit of an industrial experience, almost like riding a slow train in an amusement park.
I think the appeal of going on a safari is to watch animals live their lives in their natural habitat, meaning they can be chasing a prey or doing something else interesting during their daily lives. Unfortunately, in a zoo, most of the animals will either be eating or laying.
We understand that there have to be compromises since it is a zoo aimed at families, including kids. So there shouldn't be any kind of risk. Also, to be fair, the animals were not afraid of the bus and were willing to stay very close to it.
Verdict
8 out of 10
Going to Vinpearl Safari was, overall, a good experience. The park is big enough for a full days visit. The circuit is well thought out, and most animals can be seen with ease. In our opinion, the electric cart drive is a must, even though sometimes you will need to walk and be patient to see the animals.
The Giraffe Restaurant is, in our opinion, something to try. Even though the Zoo is closing at 4 p.m., which is very soon, we were able to see most of it and be exhausted at the end. Having to carry a young baby and the climate also didn't help.
Information
Vinpearl Safari
Address : Bãi Dài, Gành Dầu, Phú Quốc, Kiên Giang 922200
Official website : https://vinpearl.com/vi/vinwonders-vinpearl-safari