Grand World Phu Quoc is an attraction park reproducing different famous cities in the World but also proposing unique concepts and pieces of architecture. Built by the Group Vin, Grand World is a singular attraction that I've never experienced elsewhere.
An Entertainment City Without Sleep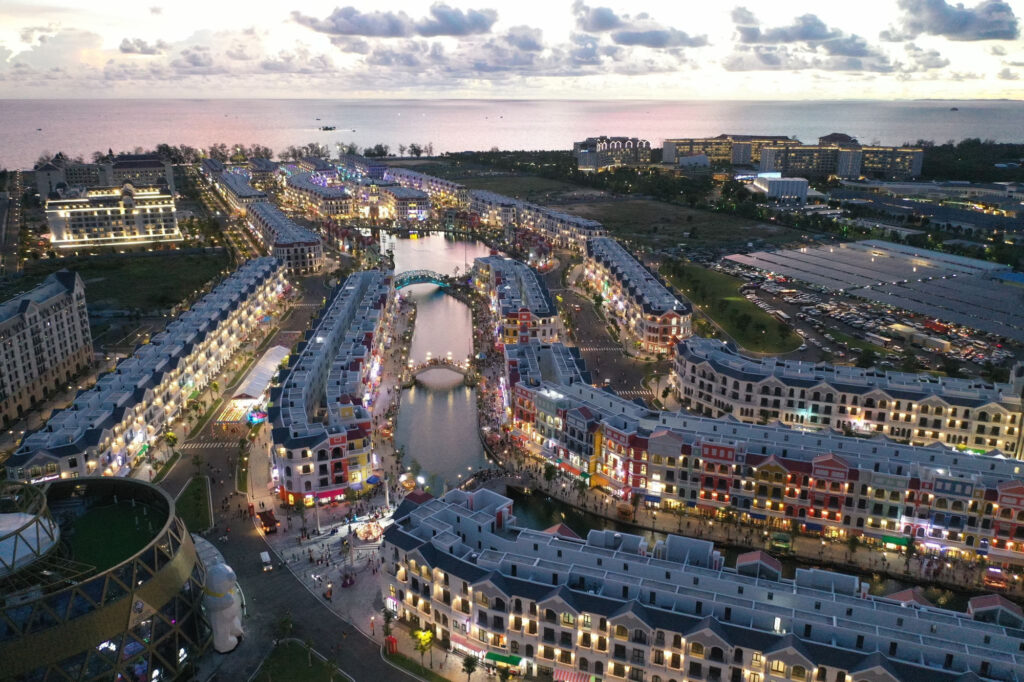 A 24/7 entertainment city that never sleeps is the value proposition of the park. Located in Gành Dầu the park share this massive area in the north of the Island reserved for all the Vin Constructions. This area being far away from the center of Phu Quoc and its main attractions, the group including Vinpearl Resort, Vin Wonders and Vin Safari had the great idea of building their own cities and own day and night life activities.
A park accessible with electric bikes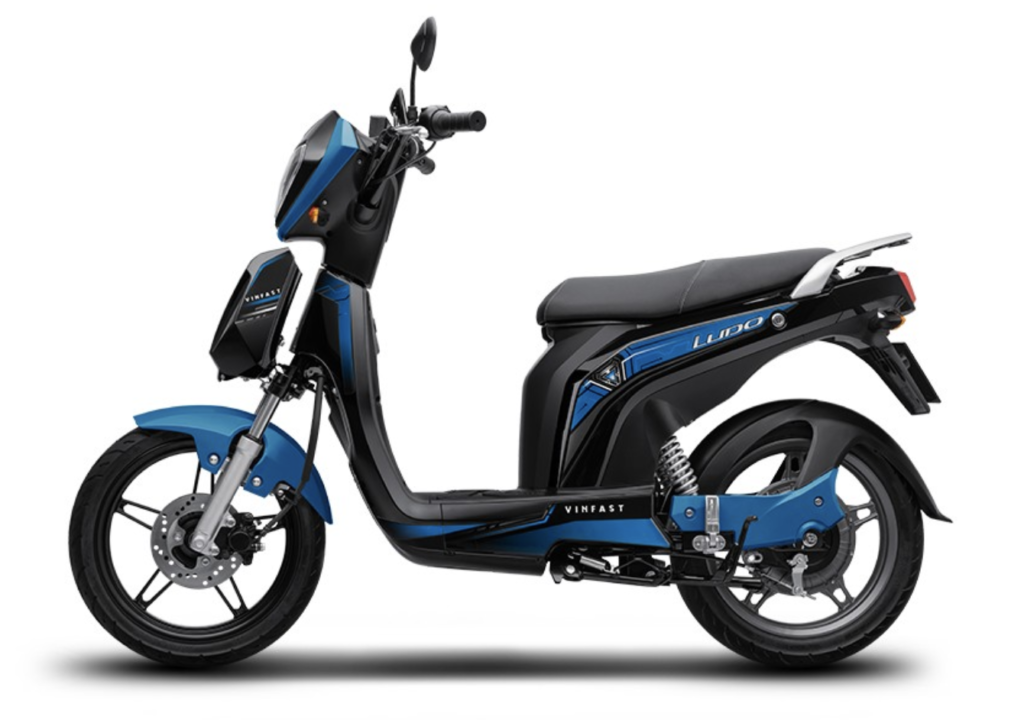 For me the most notable feature of this park is that you can rent and use an electric bike and drive inside the whole complex. Very much like people would move around in Vietnamese cities but with lower noise and pollution. As soon as you arrive in the parking lot, you will be greeted by coffee shop and hotel owners renting brand new electric bikes from Vinfast for 60.000 vnd an hour. The entrance of the park will only let electric vehicle come in for obvious reasons.
Teddy Bear Museum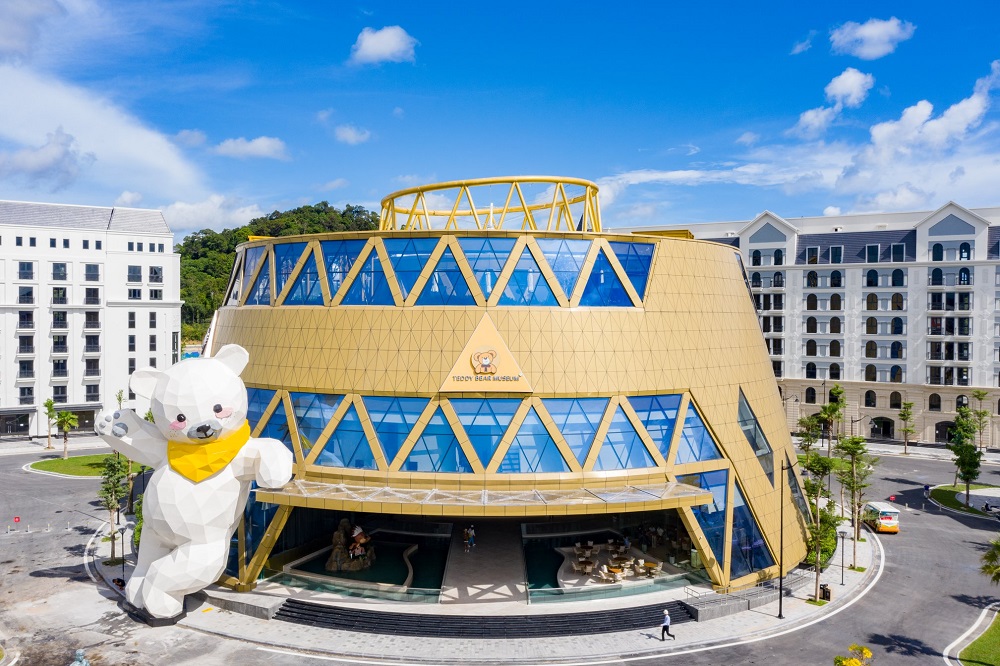 Once you get through security and drive in, you will be greeted by a big Teddy Bear and its museum. The entrance of the museum is 200,000 vnd and 150,000 for youngsters and seniors. You would think the museum is aimed for a young audience and you couldn't be more wrong, this museum uses reference to movies and history staging Teddy Bears in miniature decors. References mostly understood by adults. At the end you will find a restaurant and shop selling obviously Teddy Bears.
Water park and architecture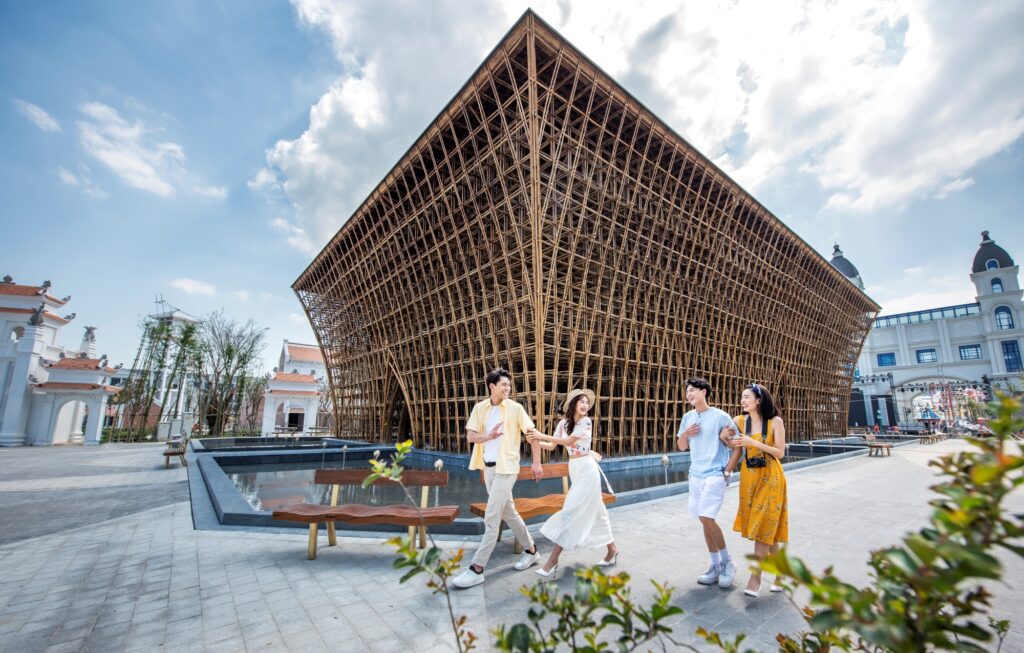 Next, you'll see an open section with architectures and water fountains, perfect for taking pictures. An impressive construction made out of bamboo is set up as a Welcome Center. I think the team who build this city understood the importance of social media and sharing pictures today.
A reproduction of Venice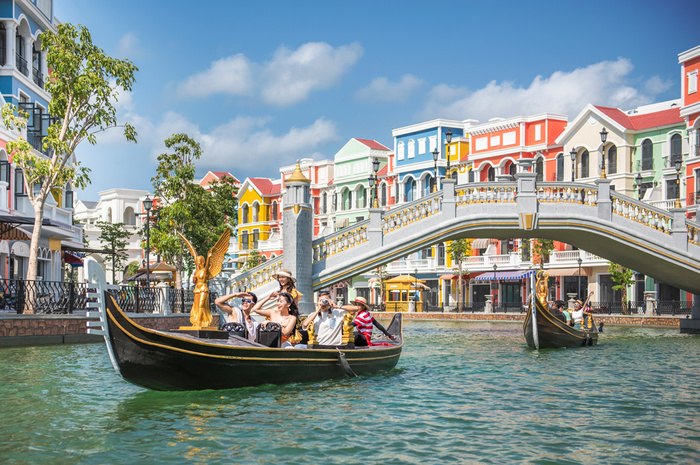 I was first surprised to see a reproduction of a Venetian Canal in the north of the Island, but after all, the name of the park is Grand World. I remember seeing a reproduction of the Almafi Coast being constructed in the South of the Island next to the cable car station, so my guess is that Vietnamese have an affinity with Italian architecture. One of the main attraction in this canal is the Gondole or boat touring around the river, sometimes with an Italian Opera Singer onboard.
On both side of the river you'll find activities such as restaurants, coffee shops and stores. These shops are reasonably price for being within the park but don't expect the food to be excellent or original. We didn't have a chance to try the packed Sea Food restaurant that looked decent. These stores looks like venues you would find in Disneyland, with a nice façade but an empty interior especially on the higher floors. You can rent an electric bike in some of these stores and some buildings serve as hotels.
A City Full of Lights
The Park will start to have more activities as the sun goes down and the lights will start to illuminate the city. A Night Market is set up in the near end of the park close to the private beach of the complexe (Bãi Dài). Next to this you can find light trees looking not too dissimilar to Singapore tree lights and some other interesting activities.
At 10 p.m. the park offer a free Water Show telling a part of Vietnam History. I've also seen the place sometimes host huge open air parties notably for its opening. Unfortunately we had to come home sooner to let our baby sleep, so we couldn't comment on the show but heard some positive reviews about it.
Verdict
8 out of 10
Grand World is not an easy attraction to comprehend. I think it serves mostly the visitors from the Vin Resorts and Attractions. The customer of the group can finally have a place near, where they can enjoy activities during the day and especially at night. Since the real Night Market and City Center is so far from Gành Dầu (26,5 km or more than 50 minutes by car), it is more than a great idea to build such an attraction.
For us, the fact that you can drive inside the park with Electric Bikes and that the access is free makes it a must see attraction in the Island. We just wish that the Water Show was a tad sooner since we were staying in Ong Lang at the time, but perhaps we were not the targeted audience afterall.
Information
Grand World Phú Quốc
Address : ĐD2-06, Khu phố Indochine, Grand World, Bãi Dài, Gành Dầu, Phú Quốc, Kiên Giang