After three years without driving a car in Vietnam, since using a bike and Grab is much more convenient and enjoyable, we came back to France, where I had to re-learn how to drive a car.
In France, with the transition to clean energy, the used car market was highly inflated, and prices of cars were sometimes even more expensive than retailer prices.
Since electric cars are too expensive and not ready in terms of infrastructure, the demand for low-emission combustion cars was through the roof, and buying a new car was synonymous with delayed delivery.
That's why hybrid cars, even though they are expensive, are the best choice out there at the moment, especially in the used market.
Background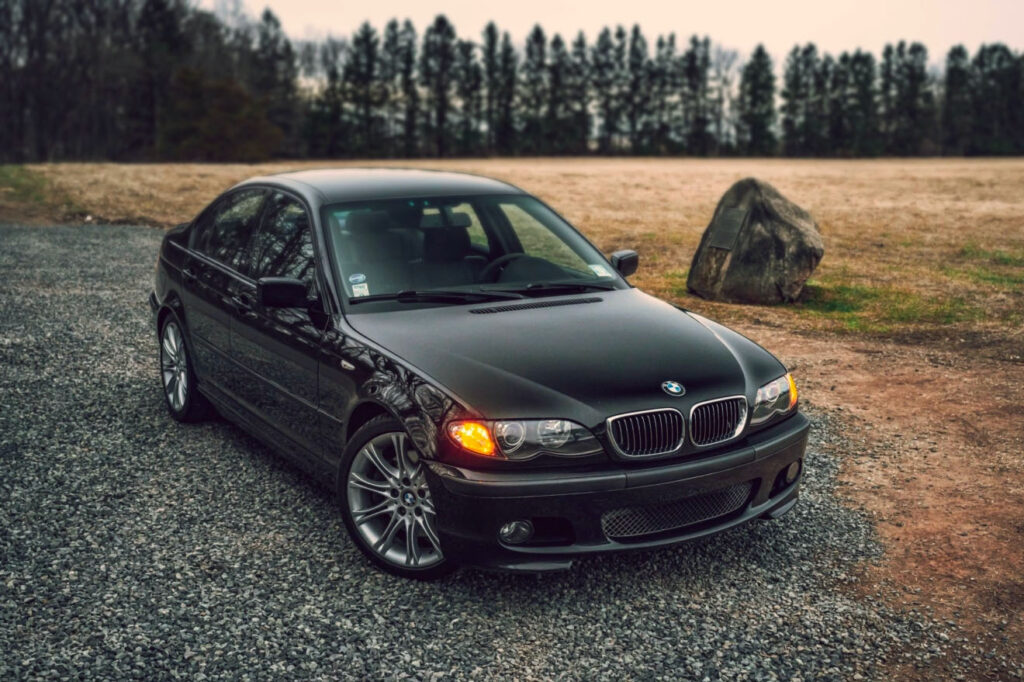 I've always liked German cars. I've owned an Audi A4 and a BMW 3 Series. If you have to ask me, my favorite forms have always been the sedan and coupe. Hatchbacks are still hot, in my opinion, and great for families.
My favorite cars to drive, though I don't have that many brand experiences, were BMWs. To me, propulsion cars drive and steer like a dream. My E46 BMW was the best car I've driven in terms of feel.
Even though these cars were great to drive and luxurious inside, at least at the time, both of them weren't trouble-free. My Audi A4 fell apart piece by piece. To the point that the breaks snapped during the technical control and I had to drive home without breaks.
My BMW, which is more reliable overall, had the biggest issue of all. An engine failure due to engineering. One of the swirl flaps broke and got sucked into the engine while chasing a Ferrari.
Being a family man now and having experienced all the hassle of opening and fixing an engine, I had to make a wiser decision, and I decided to go with a safer choice.
Why choosing a Japanese car ?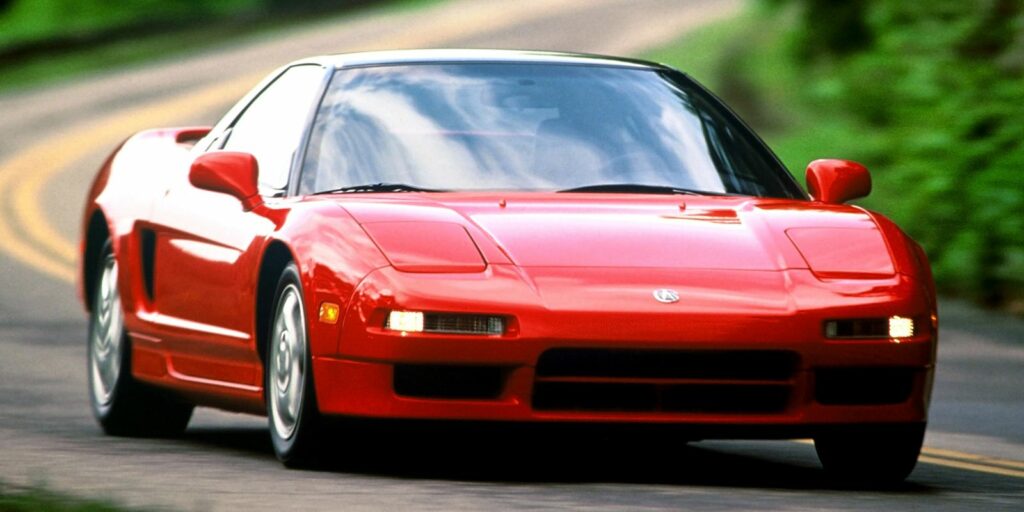 Japanese cars like Honda and Toyota are known to be the most reliable cars you can buy. I used to believe that their reliability was purely due to their culture and attention to details, but that's only one part of the equation.
Unlike German cars, Japanese cars are simple in design. They only iterate safely on their technology, whereas German cars are full of innovations. Innovations combined with powerful engines always lead to less reliability. Every new system, even if well engineered, will always have some unpredictable flaws.
German cars also use a lot of plastic parts in their engines; who knows why, since the materials used for the interior can be quite fancy?
Japanese car interiors, on the other hand, feel and look quite dated and less premium overall, even if the assembly is often well made and very durable.
I feel like German vs. Japanese manufacturing when it comes to cars can be explained the same way for cars and for cameras.
Leica Cameras feel premium, heavy, and amazing to the touch like a mechanical watch or a piece of jewelry, but let's be honest, they're nowhere near a Canon 7D when it comes to reliability and durability.
Canon bodies can fall through stairs, be frozen and burned, and still work. Whereas a simple drop of your Leica from a decent will probably break its internal mechanical parts and burn through a lot of its value.
This is well documented in the Digital Rev episode, just as Toyota reliability was documented in an episode of Top Gear.
Why choosing Toyota ?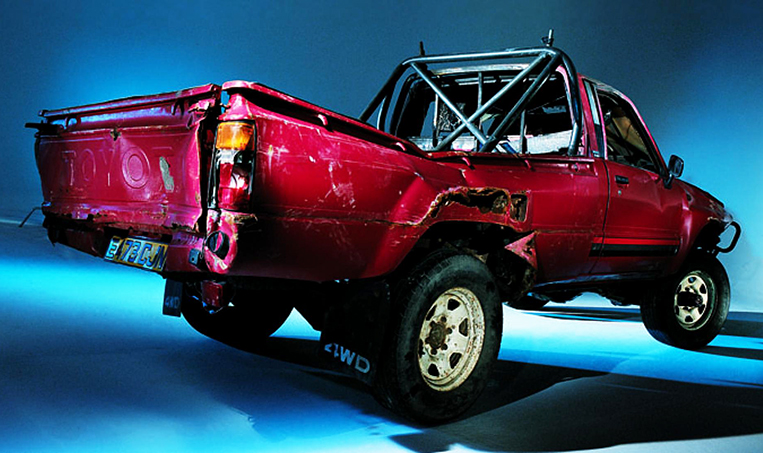 Toyota and its higher-end division Lexus is simply the best choice when it comes to reliability. They are currently number one and hold the highest market share in the world.
If you had to ask me which car is the most reliable in the world, I would have to go with the Toyota Land Cruiser. It's the kind of car you would want during an apocalyptic event. All the parts are overengineered, so much so that the car can last 500,000 kilometers with ease.
Most manufacturers outside of Tesla don't make huge profits on car sales. So where do they make their money, you would ask me?
I believe they basically make their money on maintenance. That's the reason why German cars are innovating like mad. They want their car to go to the garage as often as possible after warranty, and they want the parts to be as premium and expensive as possible.
Even taxis use mostly hybrid cars for their cost-effective properties. A Toyota Prius can last 400,000 km, and a lot are still sold in the used market after 200,000 km, all this while French gasoline cars are supposed to last at 150,000 km.
Why Choosing a Hybrid car ?

My first choice has always been diesel engines. It's extremely reliable, it's cheap, and your engine can last forever.
Unfortunately, in Europe and in France, governments are now trying to ban diesel engines after prescribing this "clean energy" to us for the last 30 years.
Sometimes, it feels like they are trying to get some money through the TVA on new vehicles every 30 years. Since all their bonuses don't come close to the taxes on a $50,000-$80,000 vehicle. It's simple: the more new cars sold, the more money they make, knowing that cars are the second biggest expense for a family and are used to last a lifetime.
So now, instead of buying a cheap 5000-euro diesel that will last forever, people have to pay at least 8000 euros for a used gasoline car, thanks to the inflation created by these laws.
Of course, buying a diesel means you won't be able to drive in major cities thanks to the Crit'air requirement, and if it's a company car, you'll have to pay TVS, or taxes on company vehicles.
We are talking about 860 euros per year for a mid-engine gasoline SUV car. Keep this car for 15 years and you'll have paid the price of the car in taxes, which is insane.
That's basically why people have to either be beta testers of electric cars or PHEVs or drive an underpowered car.
That's why hybrid cars are so popular at the moment. Combining both an electric and gasoline engine makes the car decently powered and still low on emissions to avoid paying overpriced taxes.
Why choosing a SUV or Cross Over ?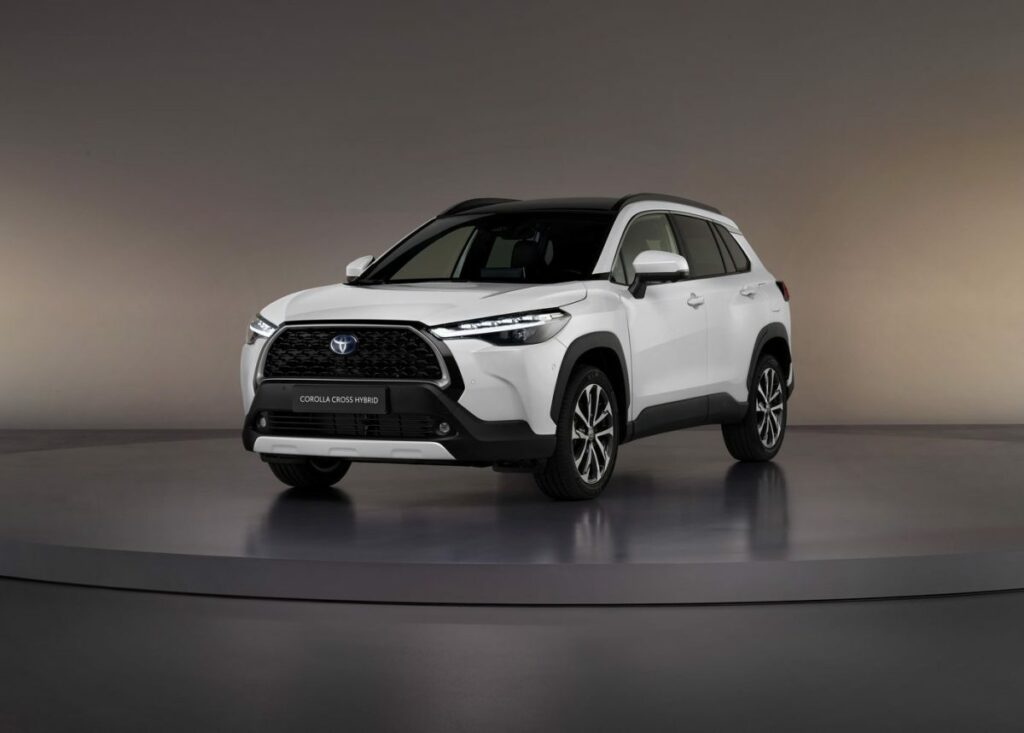 With a market constantly moving towards larger cars, it's only natural that people want to drive in a higher position and feel safer.
If you compared a 3 Series from the 1990s with a 3 Series from today, it would look like the new car took steroids. The cars of today have big bodies with overall more bumpy and aggressive shapes. My wife says that cars that look muscular look stronger, basically like human bodies.
Oddly enough, SUVs don't drive very well and are not the most maneuverable cars around since their center of gravity is high. I'd say SUVs are more likely to roll over in a tight corner than a sedan.
Also, this SUV trend is actually increasing the need for power, which increases the size of engines and their gas emissions.
With that said, and to be honest, when it comes to accidents and safety, size matters. A smart car wouldn't stand a chance in a collision against a truck. If an SUV had to collide with a small car, it wouldn't even scratch its bumpers, whereas all the tail lights of the car would probably be crushed.
Why choosing a Toyota CHR 122H ?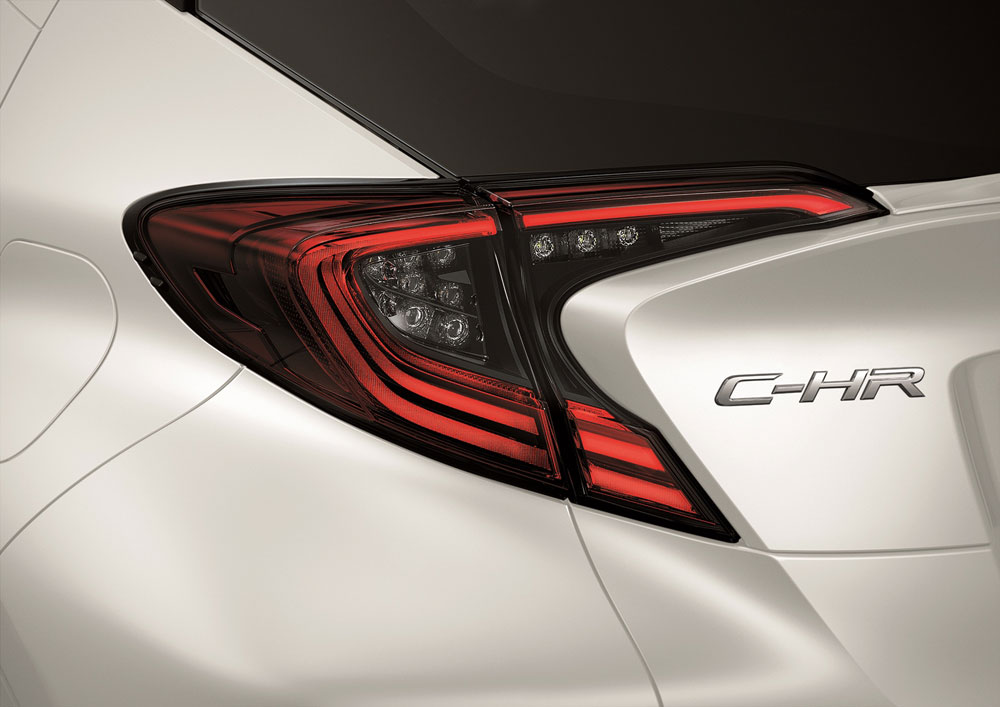 With all that said, if like us you are looking for reliability, safety, and economy, there are not tons of choices.
It should be noted that TVS also charges taxes relative to the age of the car, disregarding the level of CO2 emissions. That's why we suspect these regulations are not motivated by ecological needs.
For me, a car is just a tool to get from point A to point B. I enjoy driving and the luxury, but at the end of the day, a car is just a liability. Its value only goes down, and you can lose 30% of its value the day you take it out of the dealer.
If it were up to me, I would buy an old diesel or, with the new laws, a small Toyota gasoline car like a Toyota Yaris. If I really wanted to get my last pleasure from a gasoline engine, I would take an atmospheric straight six-cylinder from a BMW E92 325i with a relatively reliable N52 engine.
Now that I have a family, I have to invest a bit more money for their safety and make sure we won't be stranded on the side of the road, which happened to me on several occasions.
The look of the car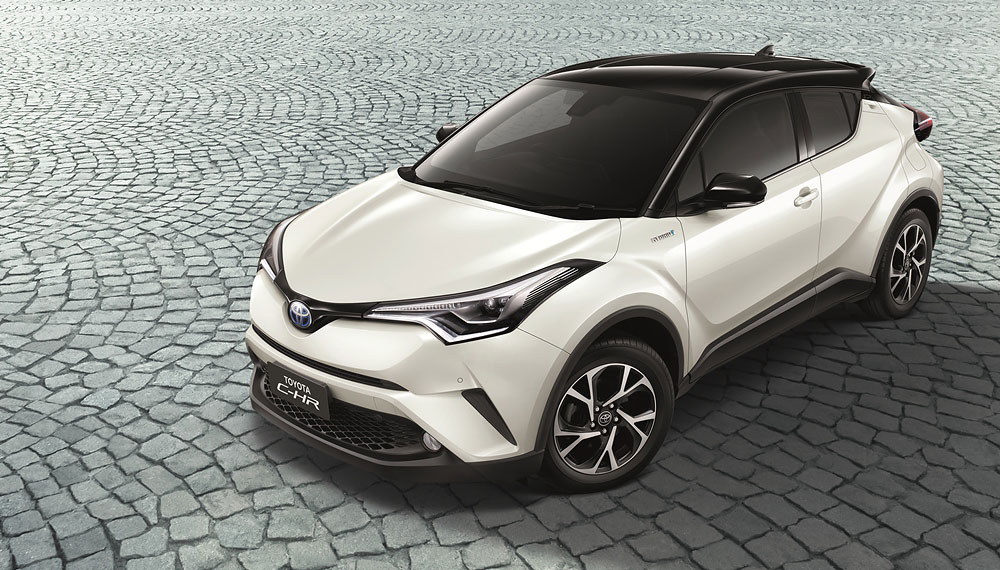 The first time I saw the Toyota CHR, I have to admit that it caught my eye. The side of the car and the door design are very elaborately carved.
The door handles on the back doors are very flush; this car almost looks like a concept car compared to regular models. It was originally supposed to be a Scion design, which is more oriented toward a younger audience.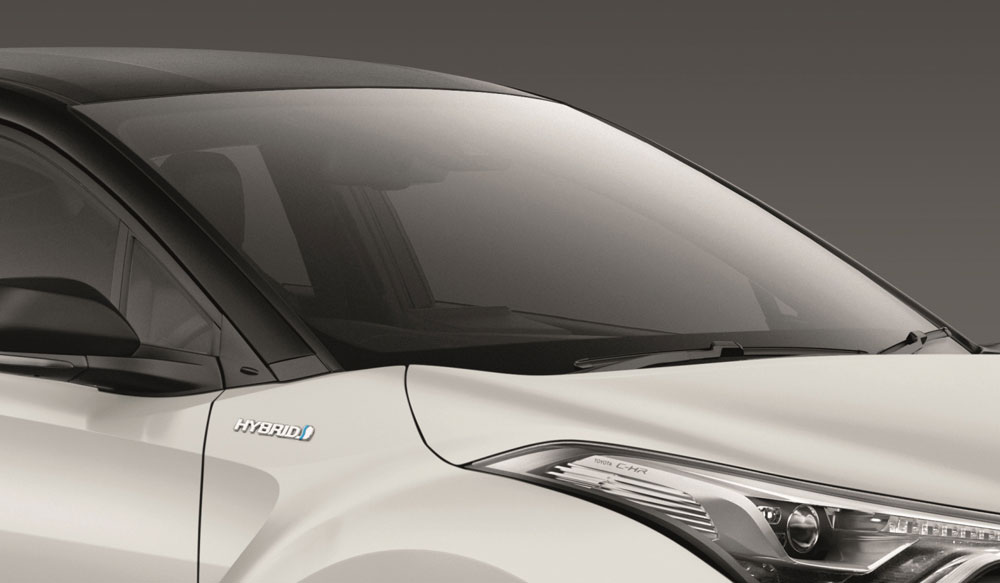 To be fair, Toyota and Japanese design haven't been my cup of tea. Sure, some models here and there looked stunning, but I found most Toyota models boring, borderline ugly. For example, the Toyota Auris checked all the boxes for me but looked like a bold eagle. It was so ugly that I didn't see myself in this car.
Now Toyota is more focused on design. Their 2023 Prius and CHR concepts look absolutely stunning. This CHR pre-facelift looks great in my opinion, even if it somehow looks like a 2-year-old remote-controlled car. There must be a reason why boys love shapes like this.
The interior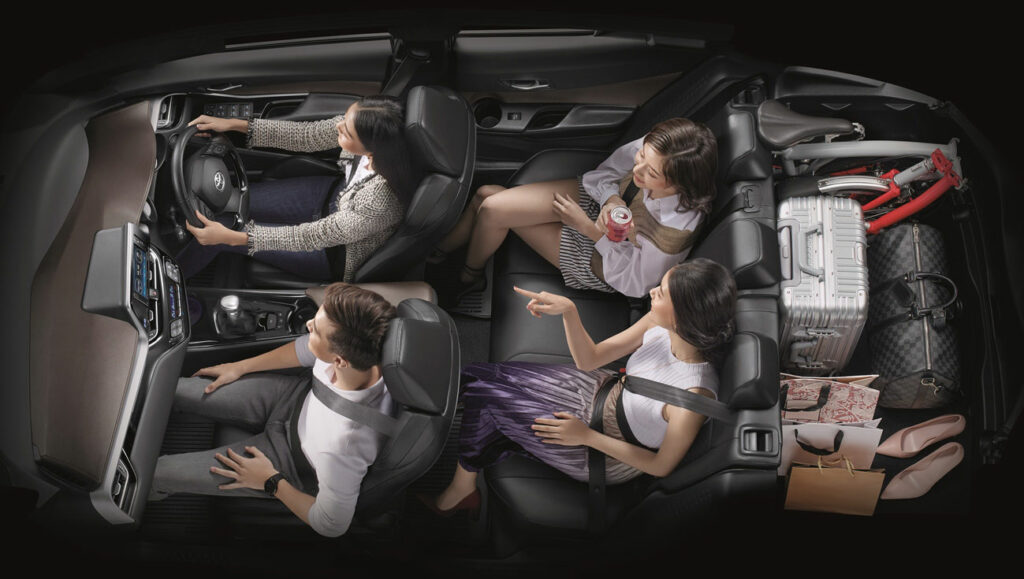 The interior of the car looks interesting and pretty good for a Toyota. Of course it can't compete with German cars like Mercedes, Audi, or BMW, since they are luxury brands and their interiors are almost works of art that still look amazing 30 years later.
My BMW E46 interior still looks great in my opinion; it's timeless and overall looks better than most modern cars.
My CHR has the Graphic Pack, which means leather seats, heated seats, and many more options. It's the top-of-the-line pack, and the interior feels pretty good in terms of build quality and materials. It's not a luxury interior, but it's on par with or better than some French cars like Citroen.
Audio System
This pack has a JBL speaker system, which is decent, but listening to music from the radio is never the best experience anyway. It does its job, but it's definitely not a Burmester audio system, though it's much better than the basic audio system of my BMW or Audi already.
Funky design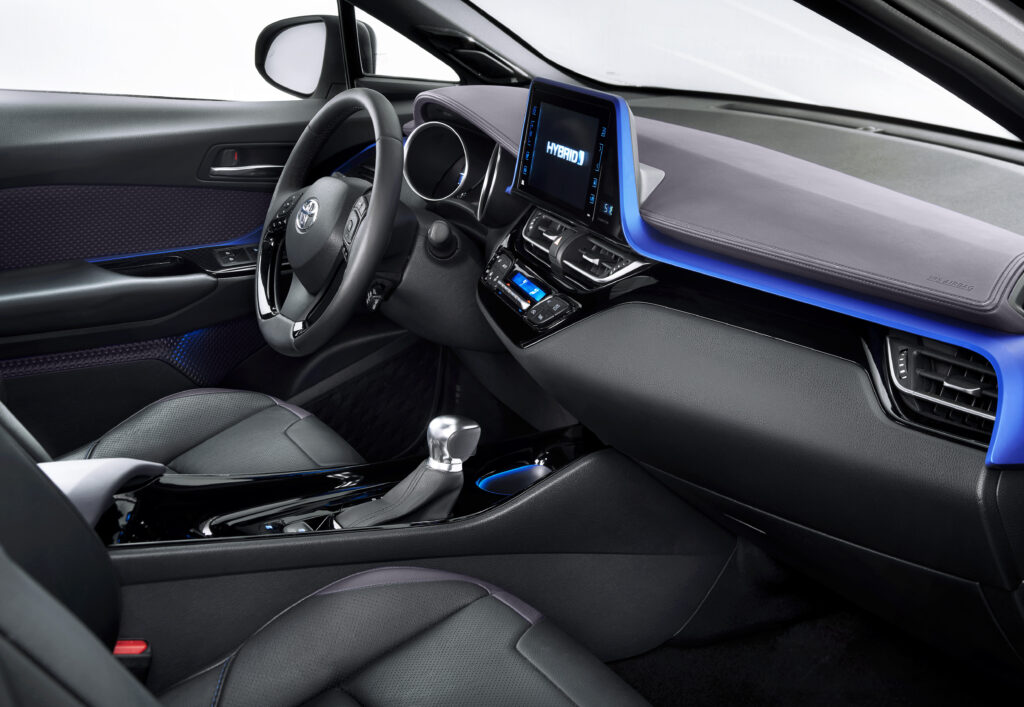 It's a bit funky in there; there are tons of diamond shapes. If I am a relatively sober guy when it comes to design, for example, because I love Tesla interior designs, I feel like this interior is more than adequate.
You don't feel like you are driving a metal can like in a Twingo, and the seats are comfortable. They don't feel as expensive as 2004 Audi A4 leather seats, but at least they don't hurt your back during long driving sessions.
Assembly made in Turkey
The assembly of this particular model is made in Turkey and not Japan, so there are hints. For example, the plastic part covering my wheel position setting is not properly interlocked, but the rest of the assembly is flawless.
Downsides
Perhaps the only downsides of the habitacle are that the roof is quite low, so your head tends to hit the roof every time you go in and out of the car. Even my dad, who is not that tall, can touch it.
One other downside is the back windows. The car being some sort of coupé, the back windows are very small, and the C pillars are huge. It makes riding in the backseat quite a claustrophobic experience.
Finally, the car would benefit from having a back ventilation system. Indeed, even if the car has dual climate control, people in the back will have a slightly different temperature and flow of air than those in the front.
The trunk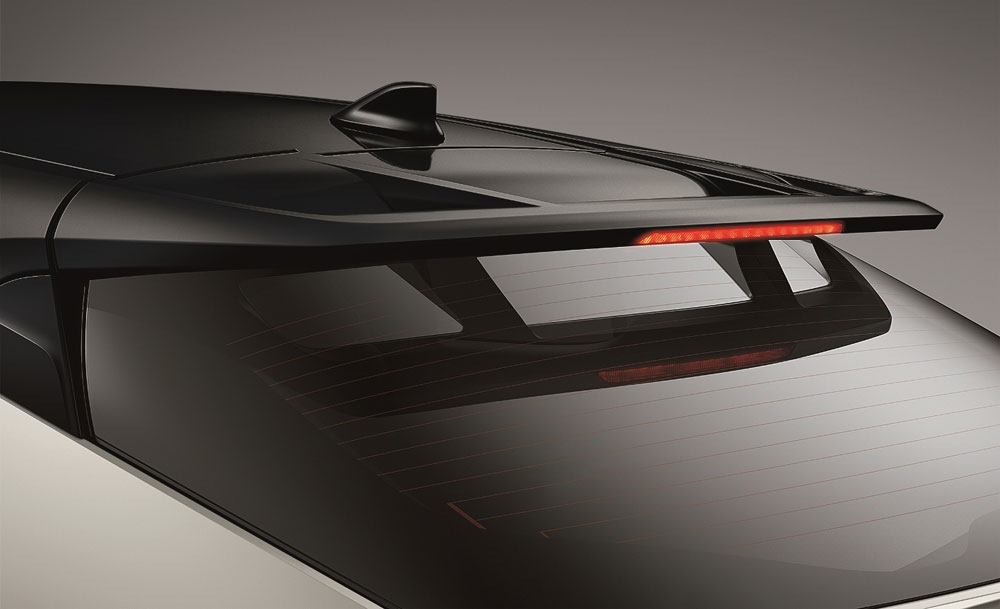 The trunk space is decent; it's not the best in its class, but it's enough for holding a stroller and some groceries. A hatchback or sedan will have more space inside than this car. This is a crossover, which means citadine on steroids and larger wheels.
The downsides of this trunk are that the seats don't fold flat and the trunk has a manual door that you have to lift, which is quite heavy. It also has a bit of a gap, meaning that you won't be able to slide your suitcase out either.
To be fair, it's already much better than a sedan trunk when it comes to practicality. There's also a JBL Subwoofer in the back and some storage compartments below to store tools, but not a spare wheel.
The ergonomics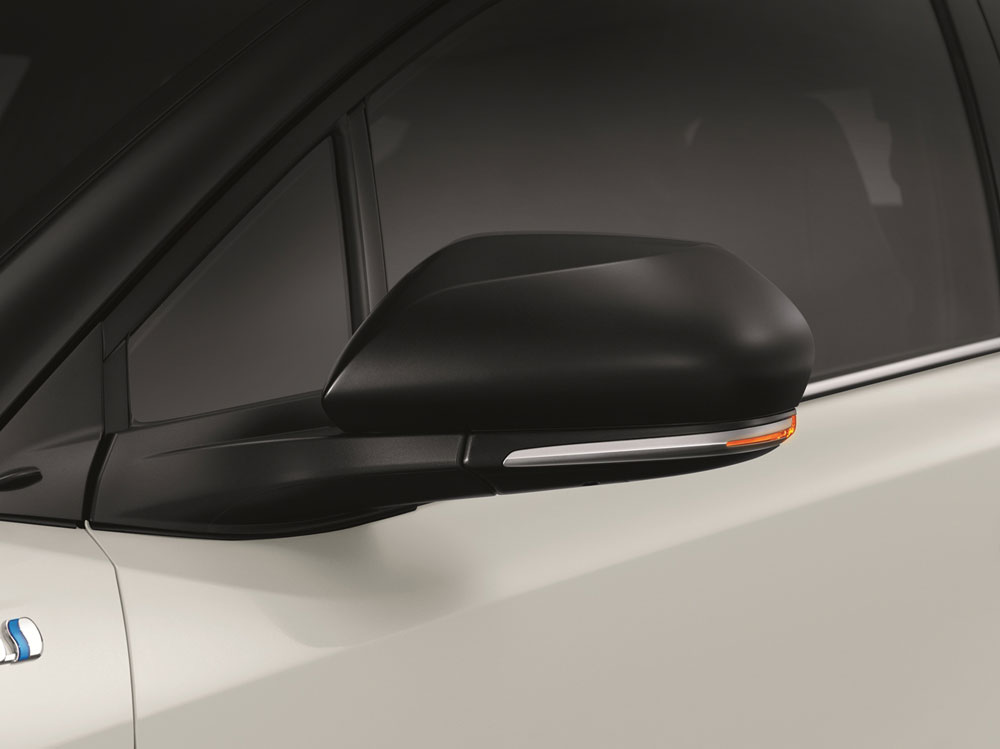 Overall, I find this car to be extremely intuitive to use. It's nothing fancy, but it does the job well.
For example, Keyless Entry and Engine Start mean that having the key in your pocket is enough to unlock the door when you touch the door handle. The engine will start and stop at the push of a button if the keys are inside the car and you are pushing on the brake pedal.
There are even lights coming out of the rearview mirrors, lighting the floor next to the door when you are near the car.
Standard options include automatic lights, which will turn on as soon as it gets dark and a position led light during the day. There are automatic wipers in the front and back windows as well, which work pretty well.
I've never used cruise control to maintain speed, so I can't say whether it's adaptative or not.
Automatic Parking Break, which is activated every time you put the speed on P, can also be activated manually.
This particular model has plenty of options like automatic high beam, which means it will move accordingly depending on whether there are cars in front of you or not. Automatic Reversing Camera and sensors that are always on, by the way, so you are always aware of your surroundings.
The C-Pillars Being so thick, the automatic rear mirror also has blind spot detectors and signals, which I have to admit is more than handy.
Driving experience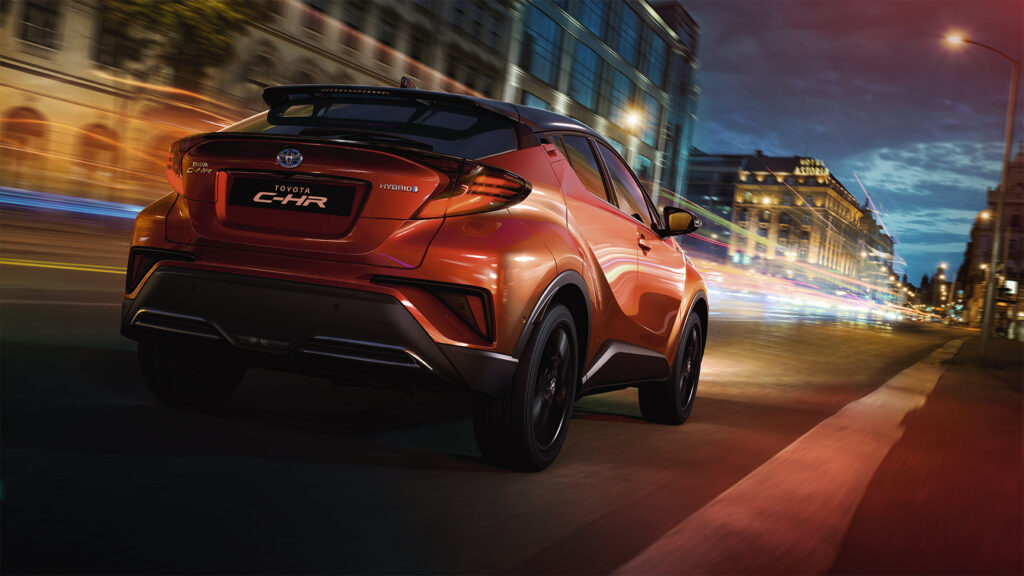 This particular CHR is the 122H, meaning hybrid, combining a 1.2-liter petrol engine with an electric motor for 122 horsepower. This was my first experience using a hybrid car, and I have to say I've grown to like cruising around, or more precisely, pulsing and gliding, while trying to achieve a new consumption record.
The 122H version is clearly underpowered: 1.5 tons for 122 HP is almost turtle-like and somehow annoying for other users. Especially on highways during the acceleration. The power combined with the CVT gearbox makes it very hard to get up to speed. I think the 184-HP version would be much better, though more expensive in taxes.
The driving experience is quite nice on small roads, especially for an SUV since its center of gravity is lower than most SUVs.
It's definitely not a propulsion vehicle, but it's still an enjoyable experience. The car can steer quite precisely and around sharp corners for traction. It's perfect to slide between cars in the city.
It's also quite comfortable cruising on highways. The position and seat are great; perhaps the door armrest is a tad low, but I can drive many hours in it without any discomfort.
Practicality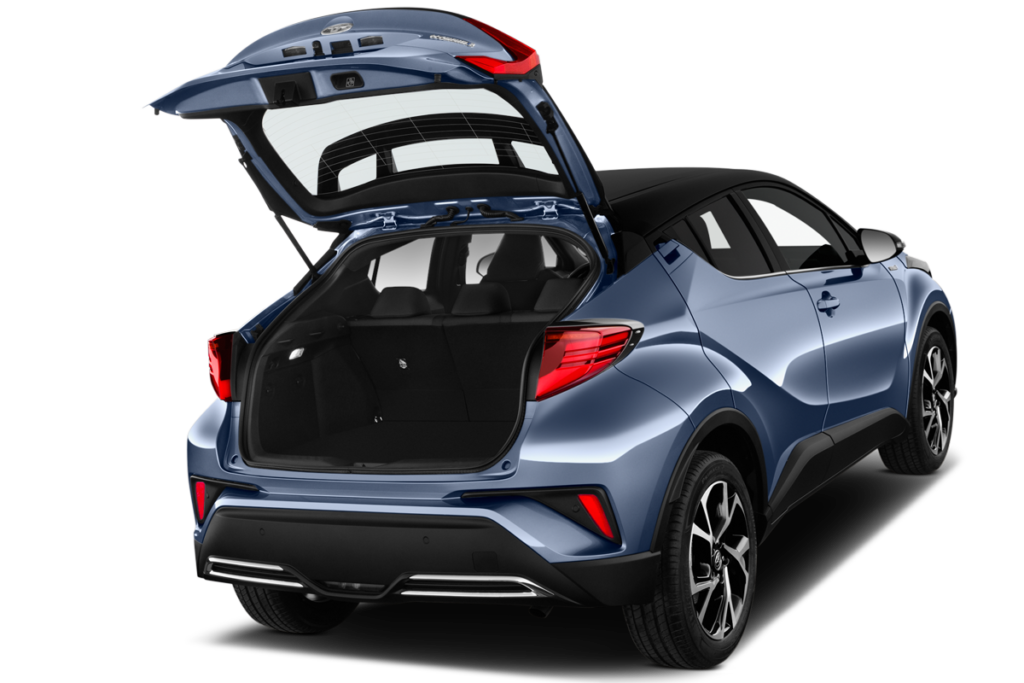 This car was chosen to be a family car. To be honest, it's more like a young couple's car or a car for a family with one toddler. The trunk is not that big, but the worst part is the backseats, which are so low and the windows so small that it's honestly like being stuck in some sort of bunker.
The door handles in the back doors are not easy to grab or understand for children. This car has a black roof line, which makes it very dark. It's the kind of car that would benefit from a panoramic roof.
Safety
This car is pretty safe and feels pretty safe. Like I said before, being a tad higher than sedans and having muscular shapes, the car feels sturdy. It's also equipped with front and lateral airbags. It got a 5-star rating from Euro NCAP.
Ownership
This car has a big flaw; perhaps this flaw only concerns this particular version, and the facelift is free of this problem, but this car is very easy to steal. I've learned this the hard way.
The day I started to write this article, I didn't know it yet, but my car had been stolen. The night before, I came back at 11:30, and my street's parking spots were fully occupied. I had to find a real place somewhere else in the closest street, literally 2 minutes away from my home, in front of a building.
Now I understand why the insurance was so expensive. I was attributing this to the fact that I lost my bonuses and that it was a company car, but the truth is that this car can be stolen with a JBL Bluetooth speaker, and it only takes a few minutes.
That's why keyless cars like the 2008, 3008, CHR, and RAV 4 are simply the most stolen cars in France.
Verdict
7.8 out of 10
I really liked this car a lot; it was like our first family car, and we loved to cruise inside it, visiting Paris in a smooth and silent manner.
If I had to buy it again, I would, but perhaps I would take the 2.0-liter hybrid engine, and I would make sure that this model has everything it needs when it comes to fighting thieves.
Unfortunately, the higher the horsepower, the higher the insurance quote. There's still the updated version of the 122h, which is underpowered but still decent enough for a company car.
It's just a bummer and a definitive no-go that this car can be stolen so easily; it makes traveling, parking, or simply owning this car not a safe investment.
Even if this car has the original looks, feel, reliability, safety, and economy, I just can't recommend it because of the risk you'll take parking it outside.
If you buy this car, get yourself a GPS tracker or at least hide some Airtag in your car.
Informations
Toyota CHR
Official page : https://www.toyota.fr/vehicules-neufs/c-hr
Website : https://www.toyota.fr/