Le Menhir is a restaurant chain specializing in crepes. It's not everyday that I eat crêpes; I actually found this dish to be expensive for what it is.
I think the most affordable crepe comes from Paris, where they really pack it up like a burrito. This time, these are going to be traditional crepes, et nous verrons in cette review si c'est une place worth trying.
The location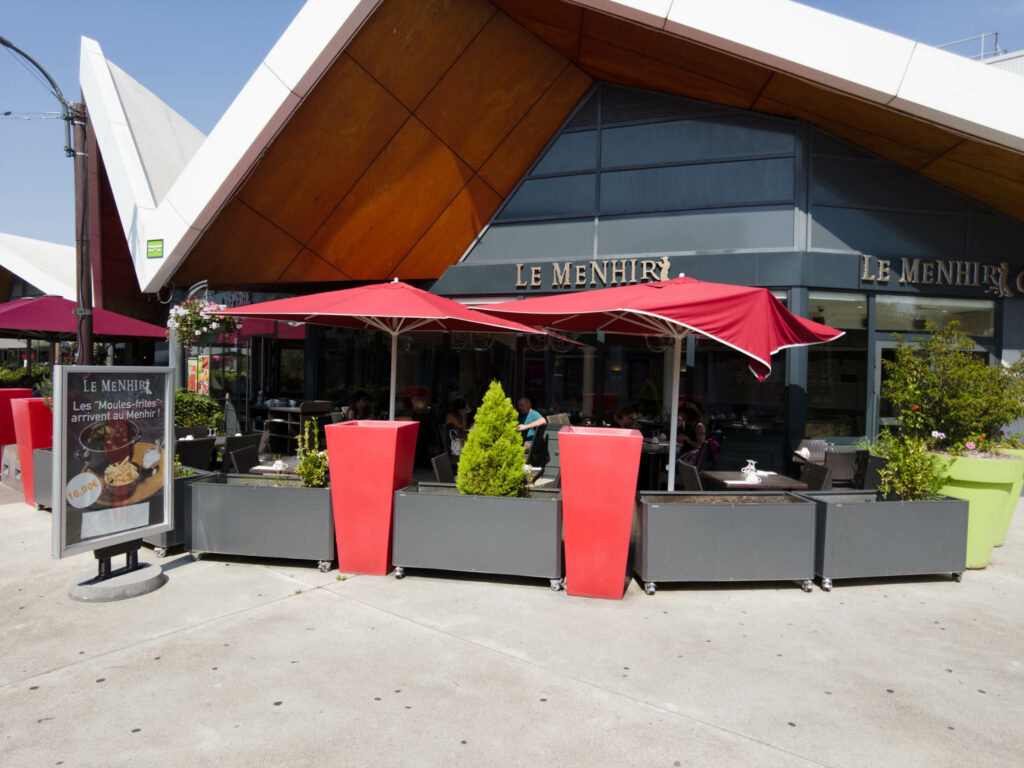 The location we went to was nearby, where we live in Bay 1. I've always wondered what this restaurant was all about. To be honest, with the name, I'd first thought it was an oriental restaurant.
I think this restaurant is trying to showcase the atmosphere and cuisine of northern France. Perhaps regions such as Normandie or Bretagne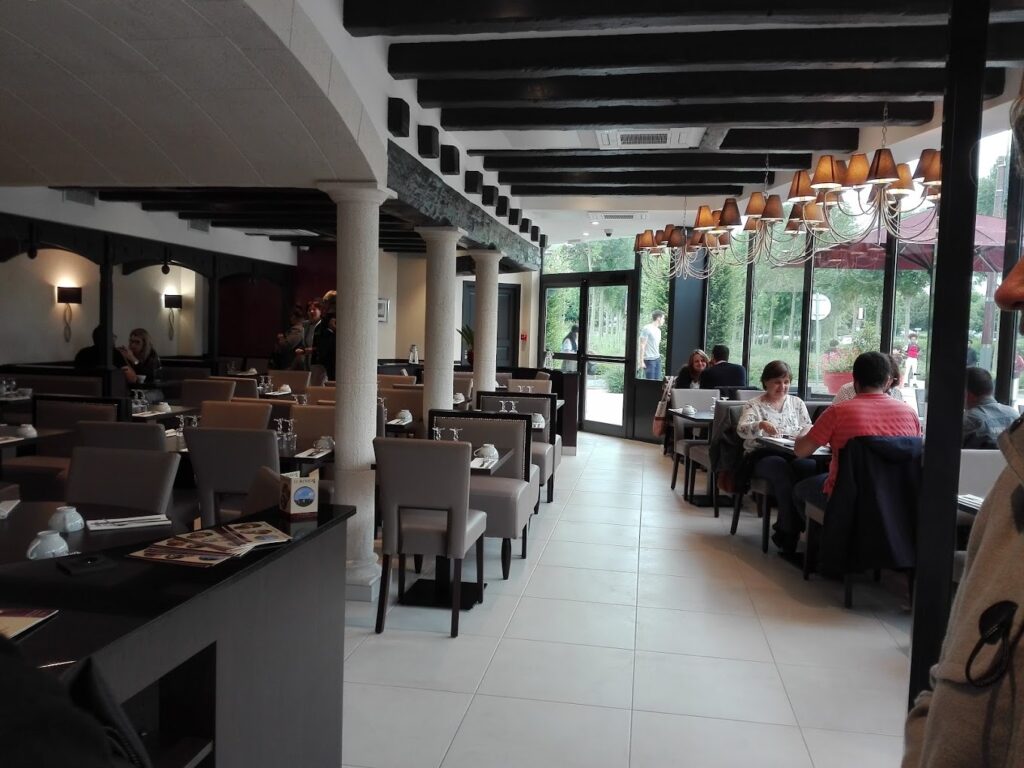 The place is quite big and occupies an excellent spot in the area. The closest restaurant to Bay 1 Parking is in the corner. Everybody will cross this restaurant when walking on the pedestrian street.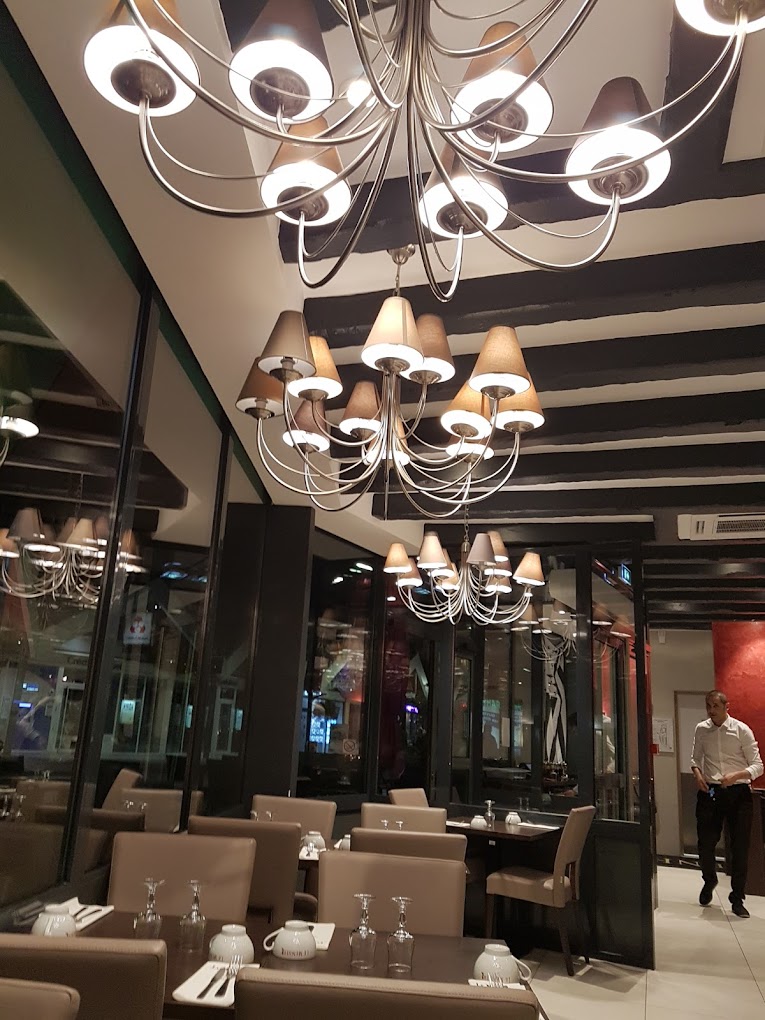 The interior seems to be well decorated and maintained. This is one of four restaurants in the area. I don't know if all the restaurants have the same decoration; here there's not a theme coming out of this interior. They do have some local products on the table, such as a bowl to enjoy cider.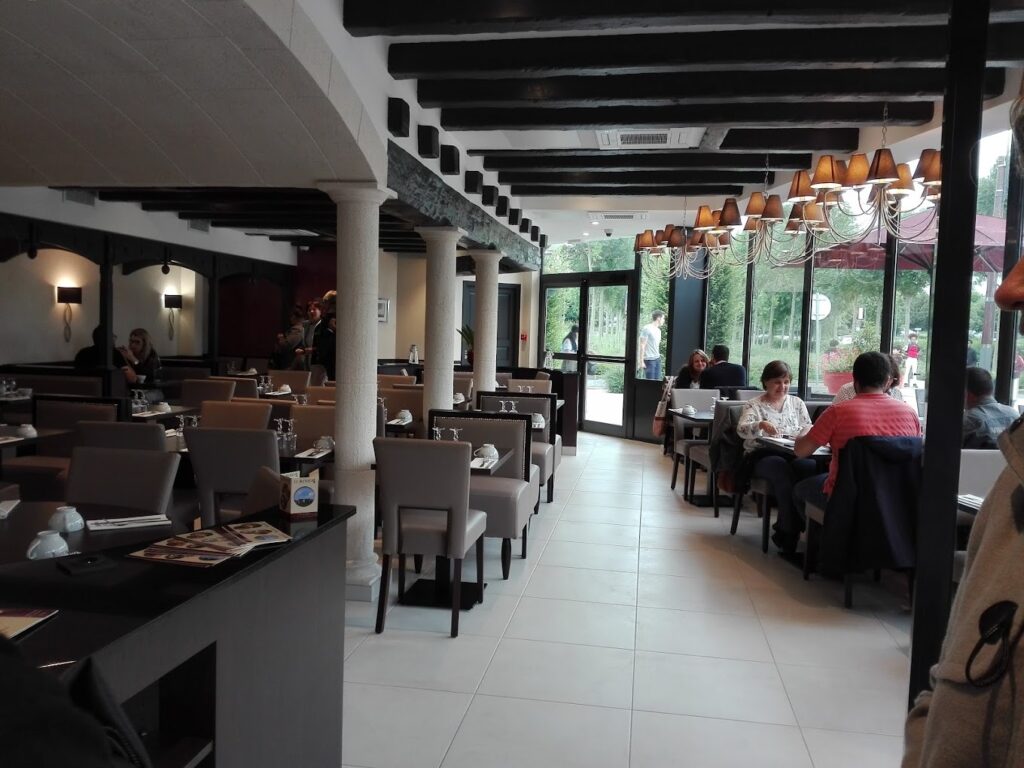 If the interior is clean and we feel like it's a bit impersonal, we would have loved to see some typical paintings or objects from the region.
The menu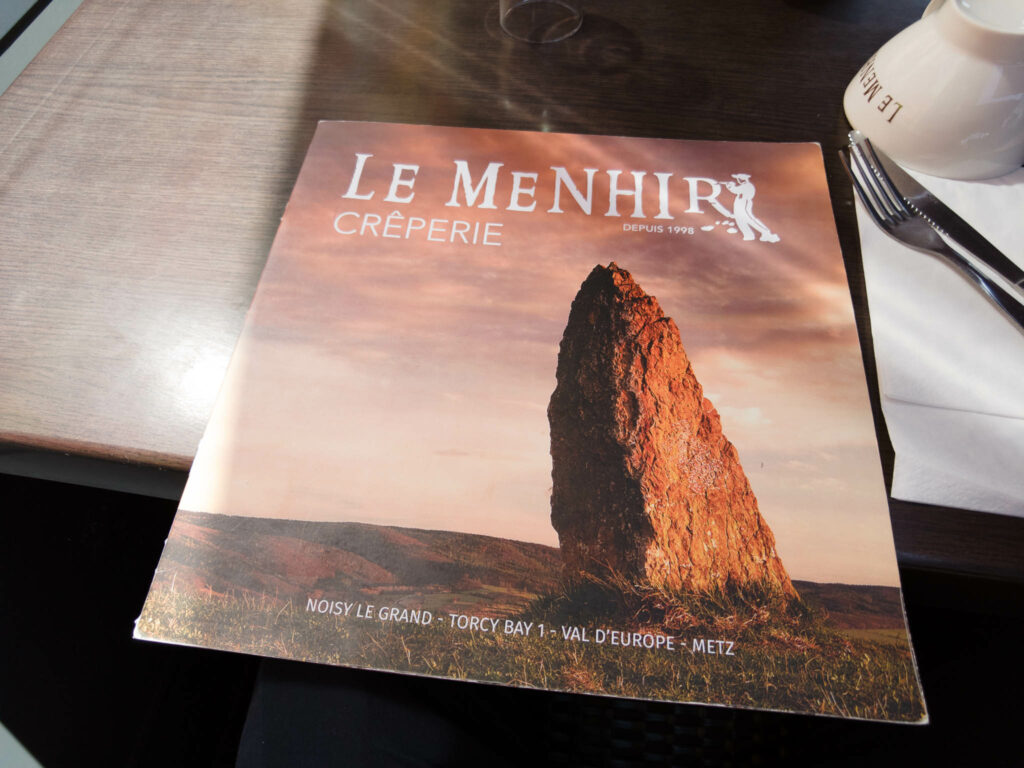 Le Menhir means megalithic monument, elongated stone erected vertically. We strongly believe that this is something reminiscent of the Bretagne region.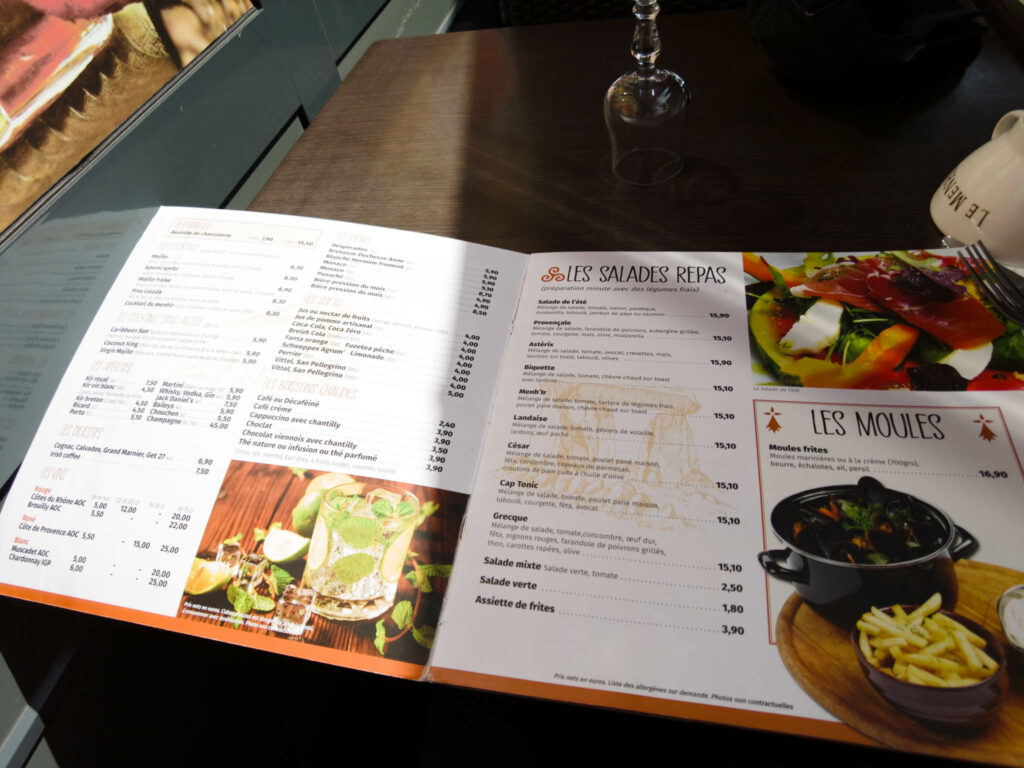 The menu is rich but at the same type the typologies of food present are quite simple. You basically have entrance likes salads.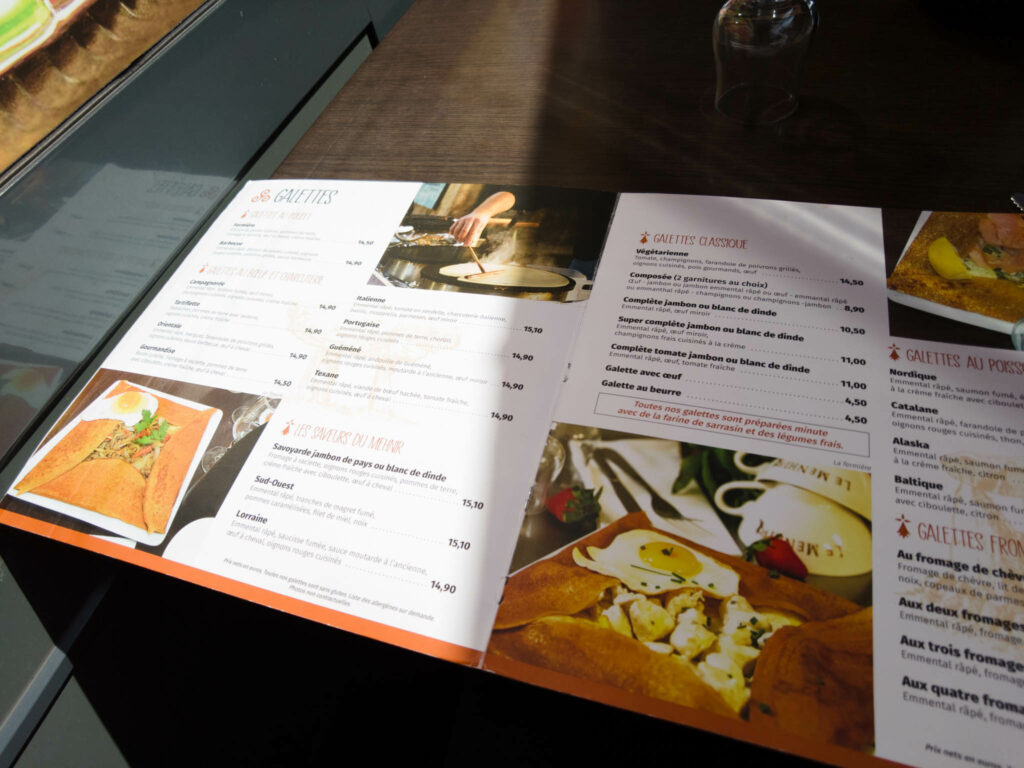 You also have for main dishes some salty crepes, here we call them galettes. Sometimes we can also call them crepes sarrasin. These crepes are a bit darker and taste slightly different.
These are the main attractions, in my opinion. Everybody knows about crepes, but not many people really eat salty crepes. Here, you can have tons of variation. The classic ones are cheese or emmental, ham, and eggs.
But of course, when you come to a crepe restaurant, you want something a bit more special. So they'll serve different types of crepes, such as Nordic ones with salmon and cream or countryside ones with bacon and oignons.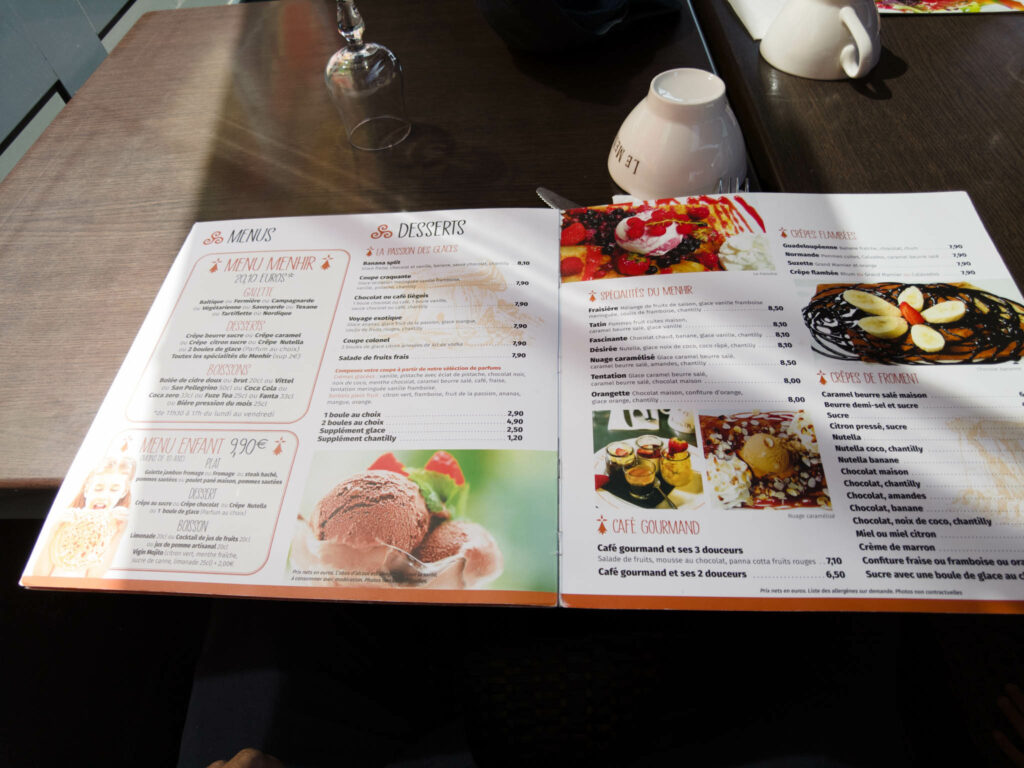 Of course, you'll also have some desserts, classic ones such as ice cream and, of course, sweet crepes. Those sweet crepes can be made straight with butter and sugar, or you can add some particular fruits.
Our experience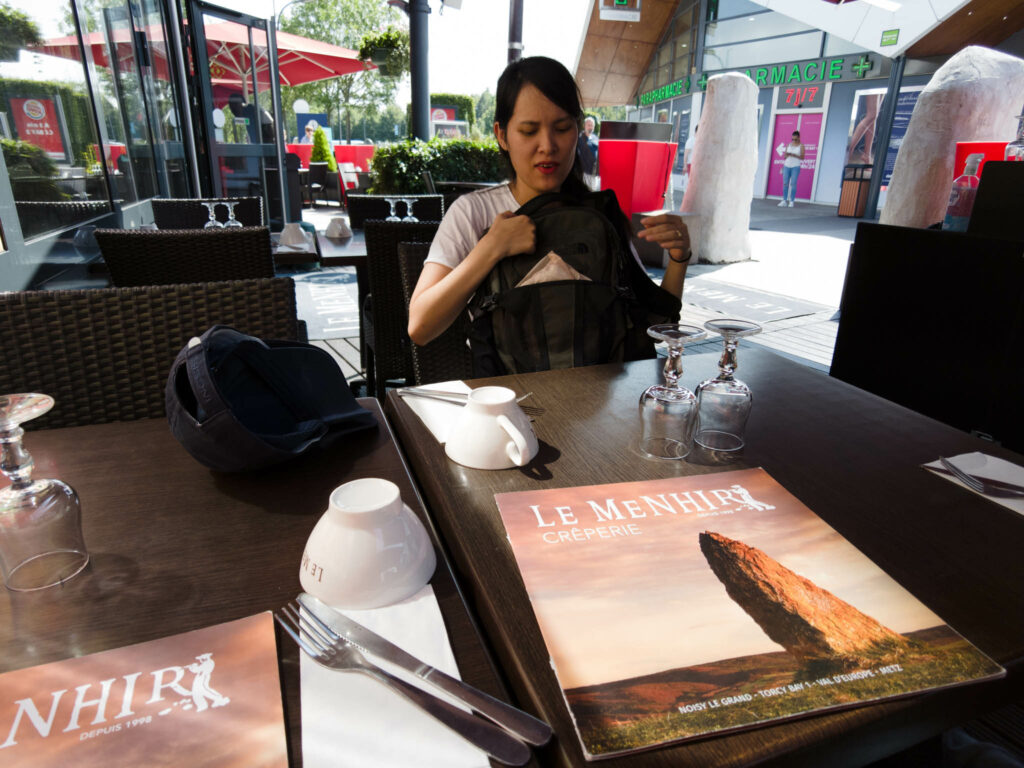 After a few days in Normandie and Bretagne, where we ate one of the most appalling crepes ever in Mont-Saint-Michel, we felt the need to eat a proper crepe somewhere, just to remember the real taste of it.
As soon as we arrived, a waitress helped us find a seat, and even though it was one of the hottest days in France, we decided to sit outside.
With the warm days being scarce in France, you really have to make the most of them.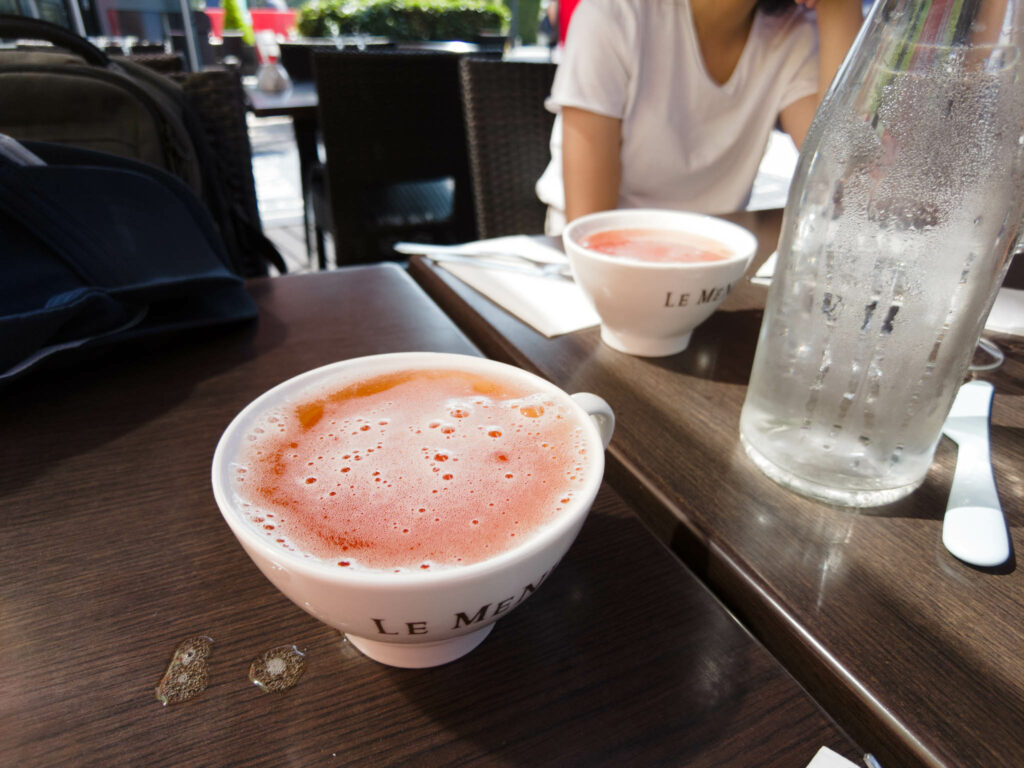 We both ordered a menu that included a drink, a main course, and a dessert for 20,99 euros. I'll be honest, for a crepe, I think it's expensive.
I understand why people would want to eat Asian or even Italian food. At the end of the day, the food is more sophisticated and complex to cook, and the taste is more interesting too.
One thing we enjoyed was the cider, which was excellent. Very sweet and fruity, and the bubbles were highly present and very fine. I wish I could have had a second glass.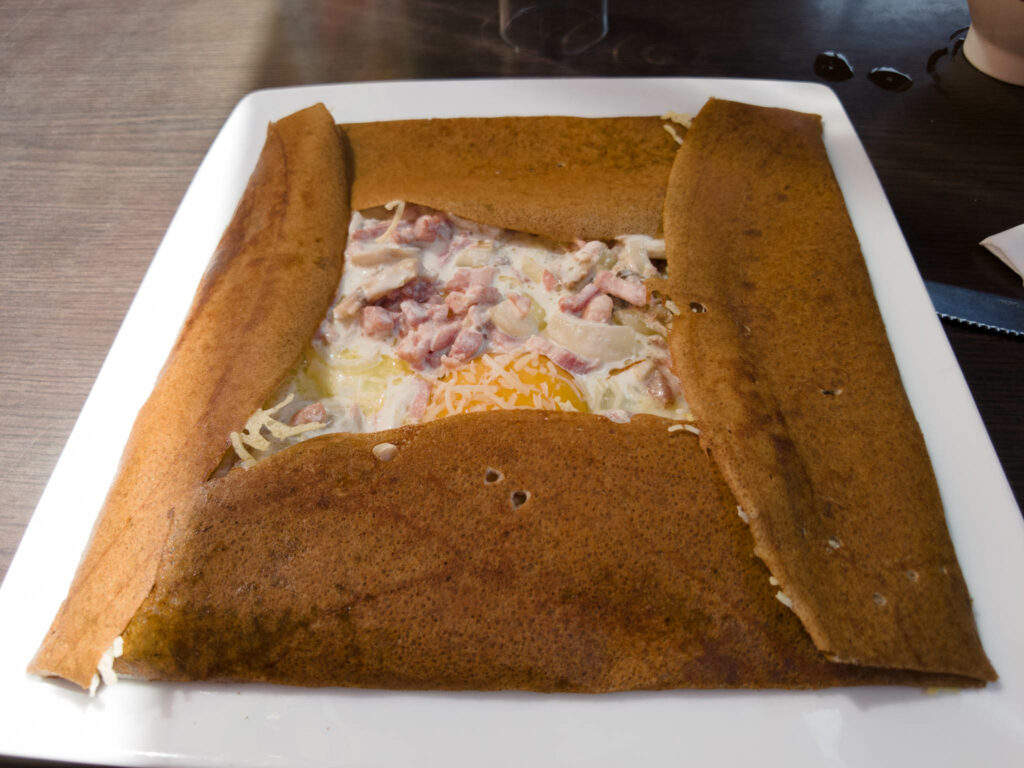 The first crepe to arrive was mine, a countryside one, or campagnarde, if you will. This is basically bacon strips, or lardon, as we call them here, with an egg, some cheese, oignons, and cream.
The crepe was good to the taste. It was light, crispy, and not too salty. Inside, it was warm, creamy, and overall tasty.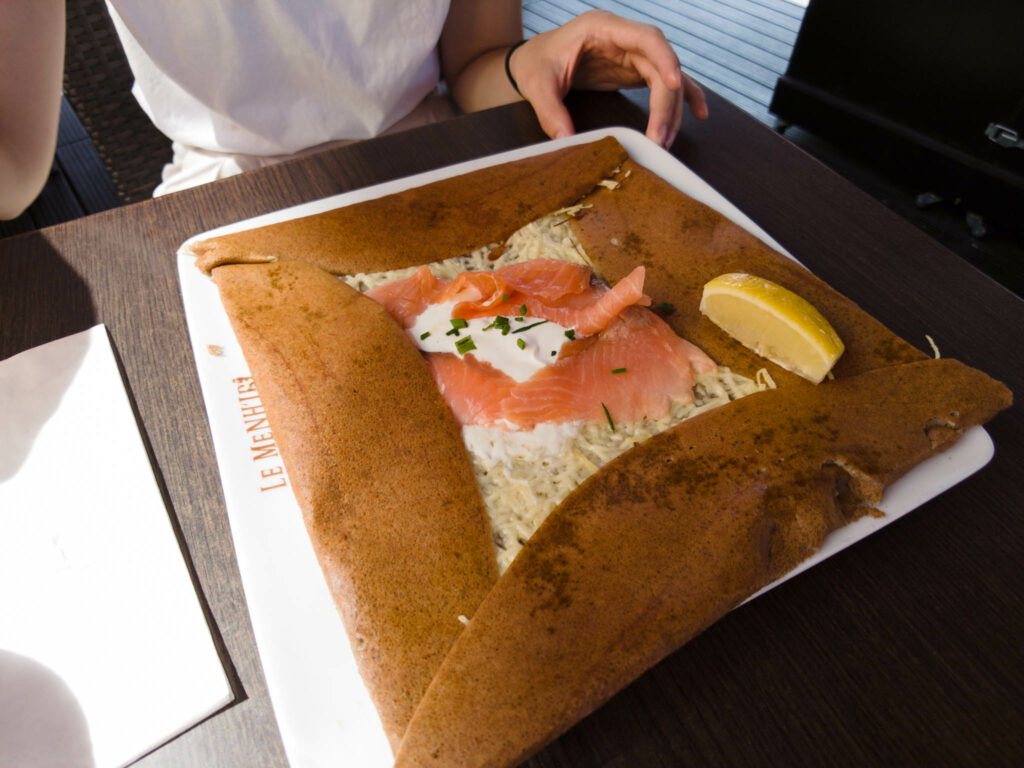 The second crepe to arrive was the Nordic one. With only cheese, salmon, and cream. This recipe is quite simple. They gave us a lemon as well to mix with the smoked salmon.
My wife enjoyed this crepe. I thought it was too simple of a crepe, and the best part was just in the middle.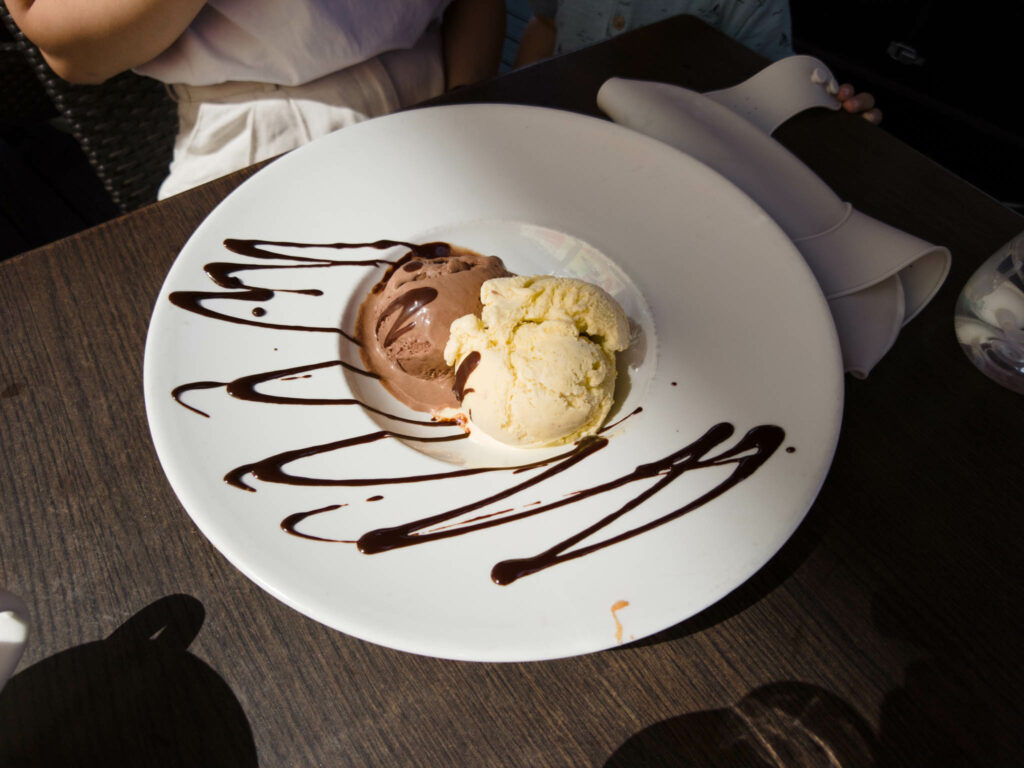 The desserts included on the menu were two bowls of ice cream and some basic sweet crepes. If you wanted, you could add an extra 2 euros to get a special one with fruits.
The ice cream was basic, the taste was decent, but it's nothing compared to Häagen–Dazs ice cream or even a 3,50 euro pot from Lidl.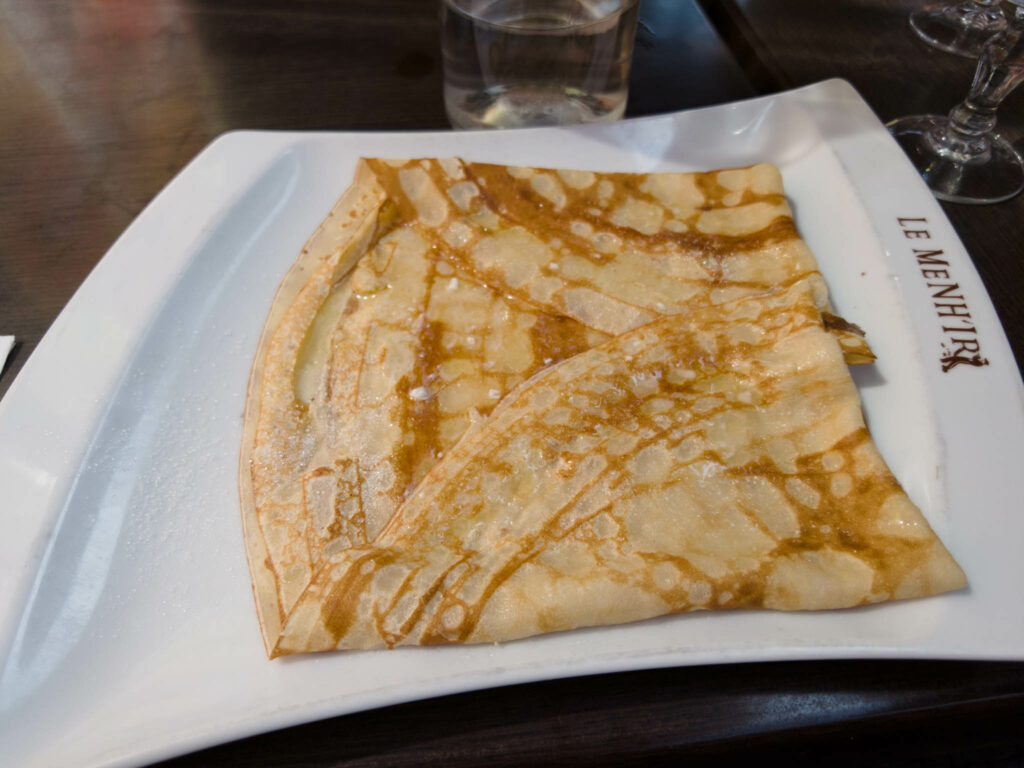 My crepe with sugar and butter was good but at the end of the day, you can't pretty much make your own crepes at home. You can even have 20 crepes for a few euros.
Verdict
7.7 out of 10.
Le Menhir is a decent place for people craving crepes. For me and my family, we don't feel like it's a good deal to eat there.
The food is good, and the cider is quite nice, actually. The only issue is that for the same price, around 40 euros for two menus, you can almost have a full boat filled with sushi and maki in the next-door Japanese restaurant.
Even when we go to Le Royal de Torcy and eat two Loc Lacs to go, we still feel like we get more value out of it. Because making crepes is quite easy. Just wheat flowers, eggs, cheese, ham, and eggs. All the ingredients are extremely affordable and come in a box, already ready to eat.
It's hard to really call this cuisine. For that reason, we'll never truly be satisfied eating crepes in general. If you like crepes, Le Menhir seems to be more than a decent place to have one.
Informations
Le Menhir
Address : 13 Prom. du 7e Art, 77200 Torcy
Phone : 01 77 37 06 15
Website : https://creperielemenhir.com/decouvrez-notre-carte/