Le Louvre, located in the heart of Paris, is perhaps the best-known museum in the world. Thanks to its architecture and these famous pyramids of glass, but also because it is the home of the most famous painting in the world: the Mona Lisa.
But how does this museum compare to other institutions in the world, and is it a must-visit place when coming to Paris?
This is what we'll try to answer for you in this article. This is not a review of the art present in the galleries, since we are not specialists. more of an overview than a touristic experience.
The Location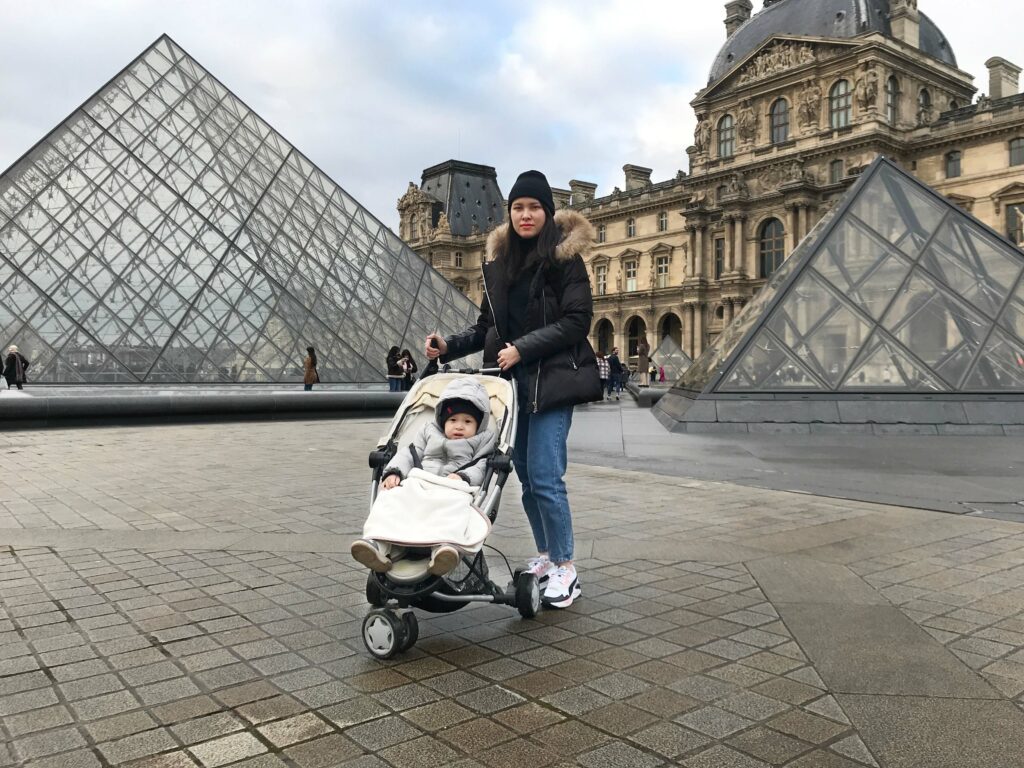 Paris is quite a beautiful city. One reason for that is that it has been built uniformly by the elite at some point in the past. It gives it a quite homogeneous architecture, and more than that, most monuments are aligned.
The Louvre, for example, is aligned with the Jardin des Tuileries, Place de la Concorde, and the Arc de Triomphe, etc. This makes Paris quite an interesting place to walk around if you are willing to burn calories.
Le Louvre is almost in the perfect center of the city, so it's dead on the 1st district of Paris. The districts of Paris go up in number like a snail shell or in the golden ratio.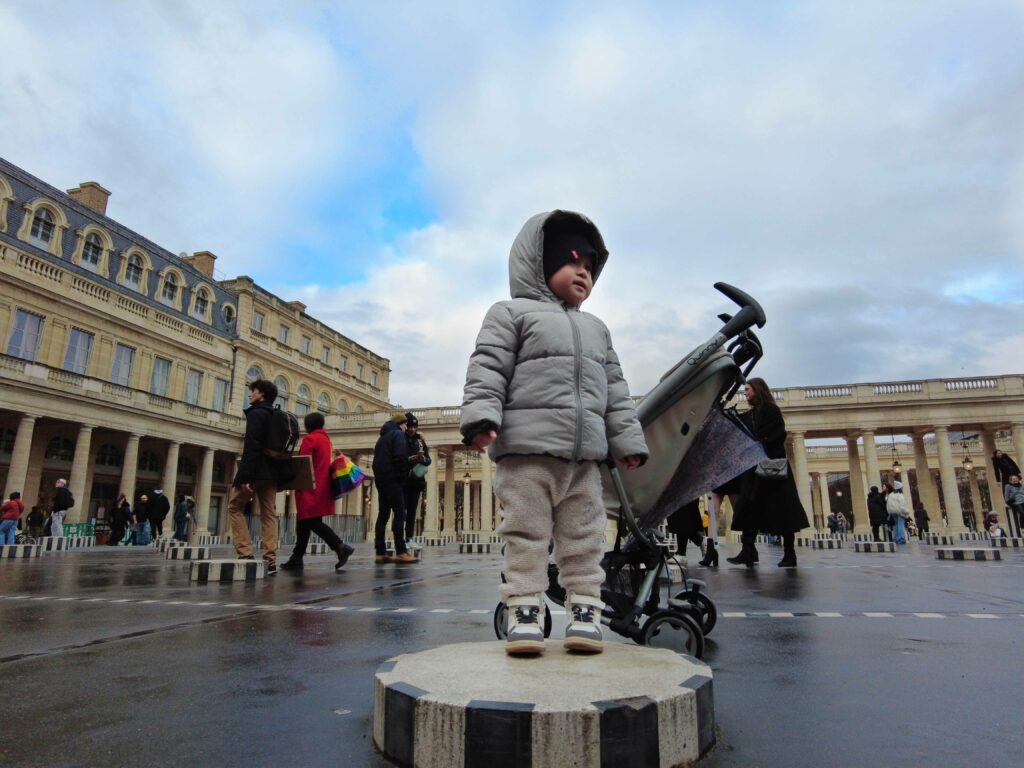 In this district, you'll find a lot of amazing things to see: Rue Saint Honoré, Rivoli Street, Pont des Arts, Colonnes de Buren and Palais Royal, Opera Garnier, etc.
Le Louvre and its main entrance are located under the massive Pyramide. It has something like 4 levels, and it's so big that you probably won't even have the time to check everything in one day.
It's quite a beautiful museum as well. Some parts of it are so luxurious that they are almost indecent. The space is quite accessible for people with limited mobility as well.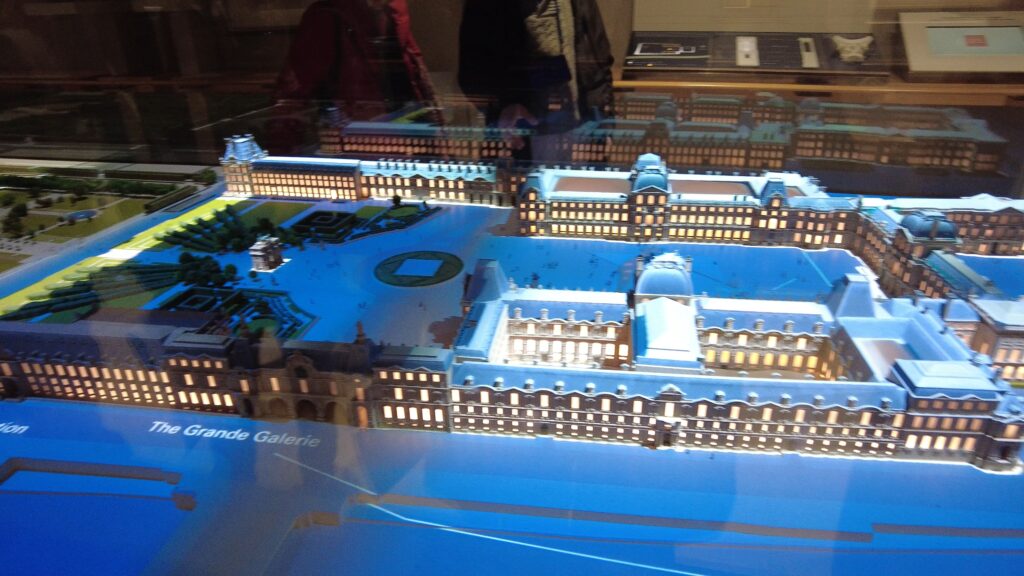 I've personally been to a lot of museums, notably the Museum of Natural History in New York, and to be honest, nothing compares to Le Louvre when it comes to scale and infrastructure. There's even a shopping mall inside with restaurants.
There are a lot of stairs, elevators, and escalators. It's basically like a giant mall or some giant Hausmannian buildings with a huge underground area.
The Experience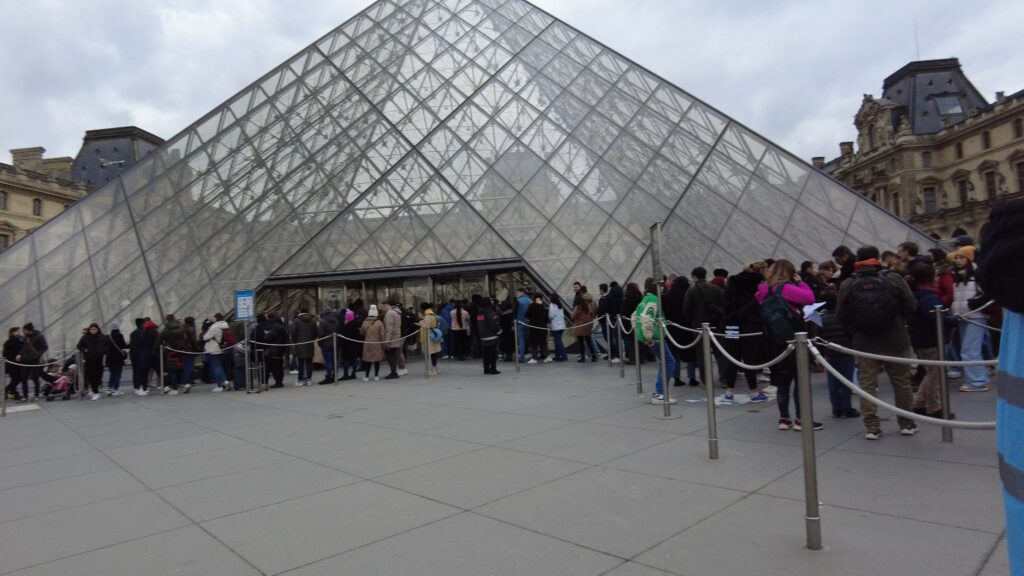 We came to the Louvre during fashion week, so parking was a nightmare. There was also at this time some sort of anti-pollution action that made every parking space around the museum unavailable. We literally had to park 15 minutes away near the Opera Garnier to find a free spot, and the traffic was terrible; we were stuck for 30 minutes in one street. Do not go by car during fashion week.
Once we parked, we went for a quick lunch in Saint-Anne Street and walked to the main entrance of the Louvre. There, a guide saw us with the stroller and made us jump the line. I have to say the staff at Le Louvre is very concerned with the well-being of families and babies.
I would recommend that you buy your tickets online to skip both the lines outside and inside to buy the tickets. We didn't have too much time, but we were lucky. If we didn't have a child, we would have waited a very long time.
Price of admission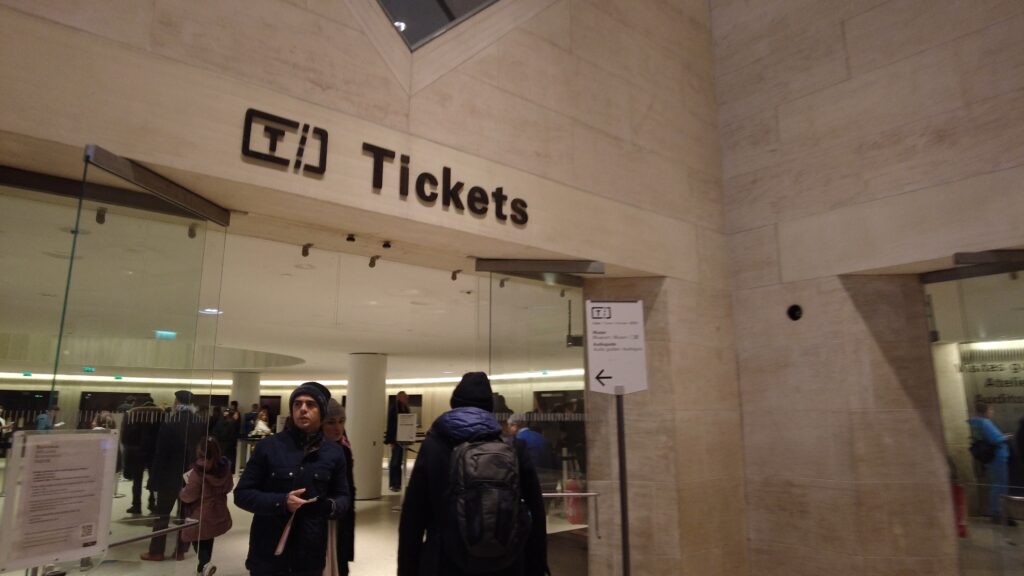 One ticket is 15 euros, and of course, babies are free to enter the museum. Once you get your ticket inside, you can get a map in the main area under the pyramid. The maps come in the most commonly used languages: French, English, Chinese, Arabic, etc. Of course there is no Vietnamese map, but obviously they can't produce as many maps as there are languages.
Multiple spaces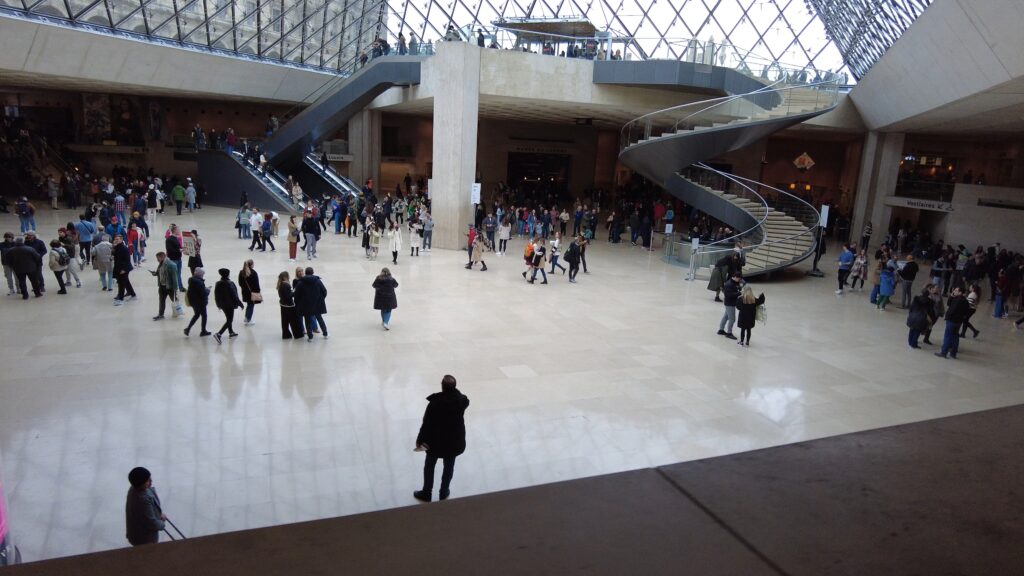 In the museum there are many spaces you can visit, so there are as many entrances as there are sections—four, if I recall correctly. They say you can go out two or three times to get some food and change. Being inside the Louvre can feel like being in a maze. Sometimes the best way to get somewhere is to use an exit, so be careful about how many times you go back to the main area.
Egyptian art or Sully section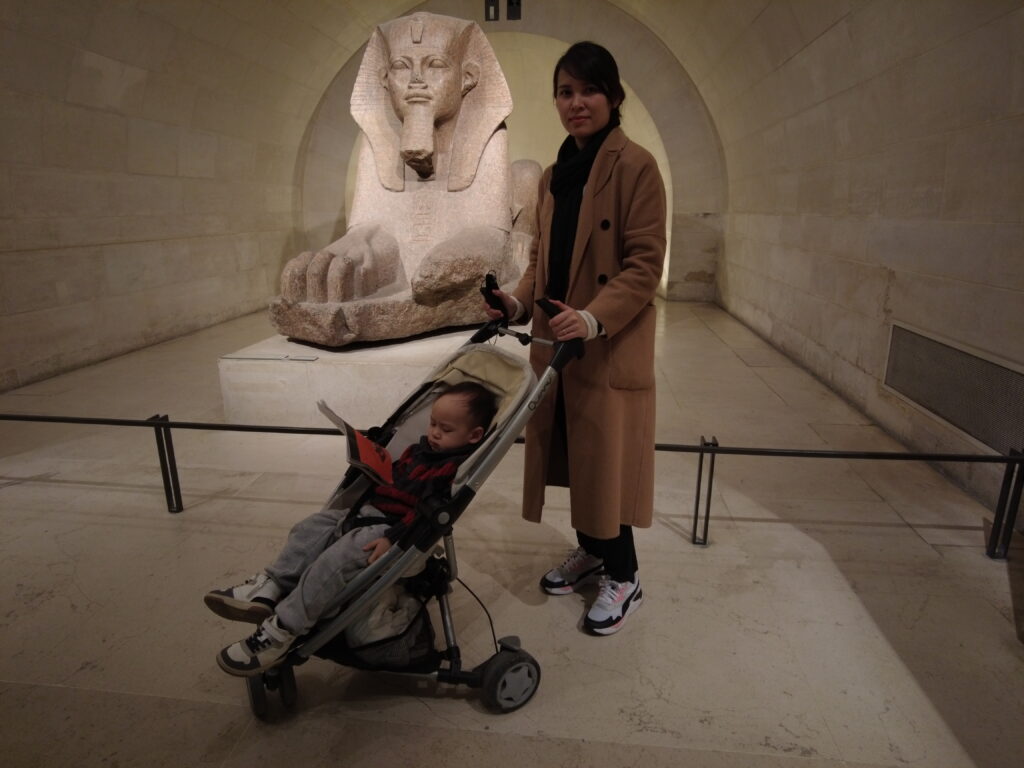 We started with the Egyptian art, which is quite large. In the underground, you'll find some of the pyramid constructions, which will give you a sense of scale for what the real thing is. It's quite impressive. The upper levels will show you some of the famous art, such as sarcophagi, papyrus, wall writings, and other famous statues. I personally really enjoy this section and am amazed at how advanced this civilization was before JC.
French Paintings
The French Paintings section was quite impressive because of the sheer size of some of the works. Some paintings are so big that you can't put them anywhere else than in a museum or on a huge wall. It's a billboard-size painting with an extreme level of detail. We wonder how long it took for the painters to finish their work, which is quite impressive.
Richelieu Section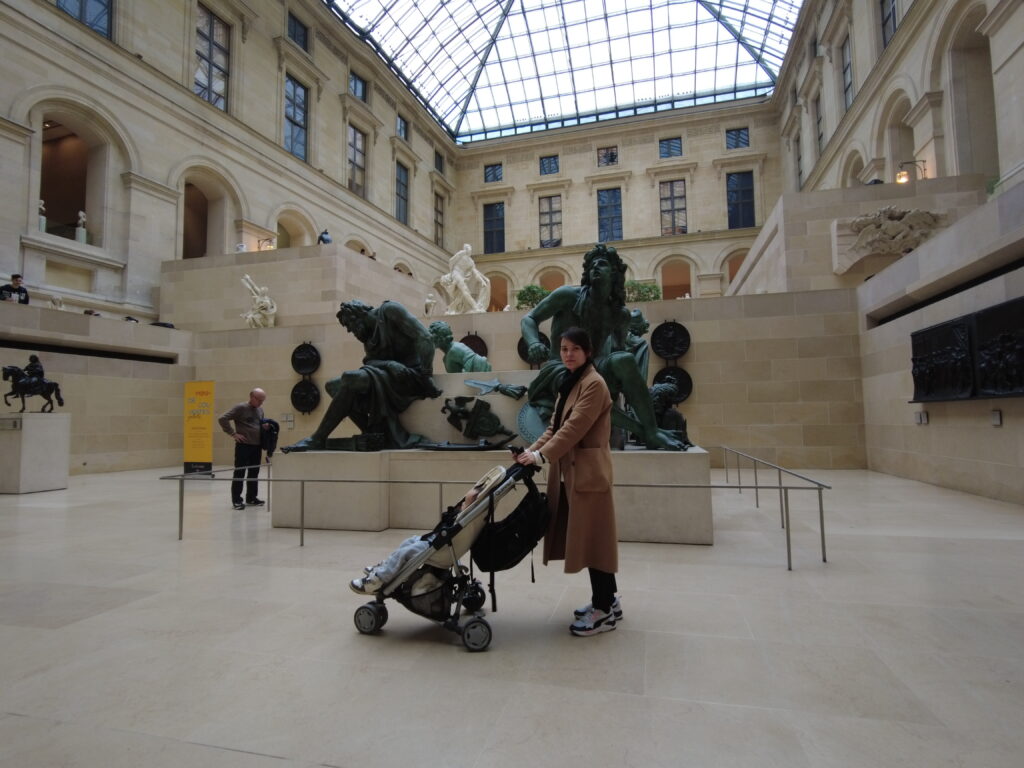 The Richelieu section is quite interesting; it has some decorative art like statues, and I think much of Rodin's work is exposed there. There is also a section on oriental art, which is interesting. We have no idea why there are no or few Asian works of art in this museum.
I think in the section were also the appartements of Napoléon III, who was an Emperor of France. It's one of my favorite areas, and I was impressed by the decorations, and the dinner table was something out of this world. You can't really imagine how emperors used to live and the huge bank accounts they used to organize.
The Italian Gallery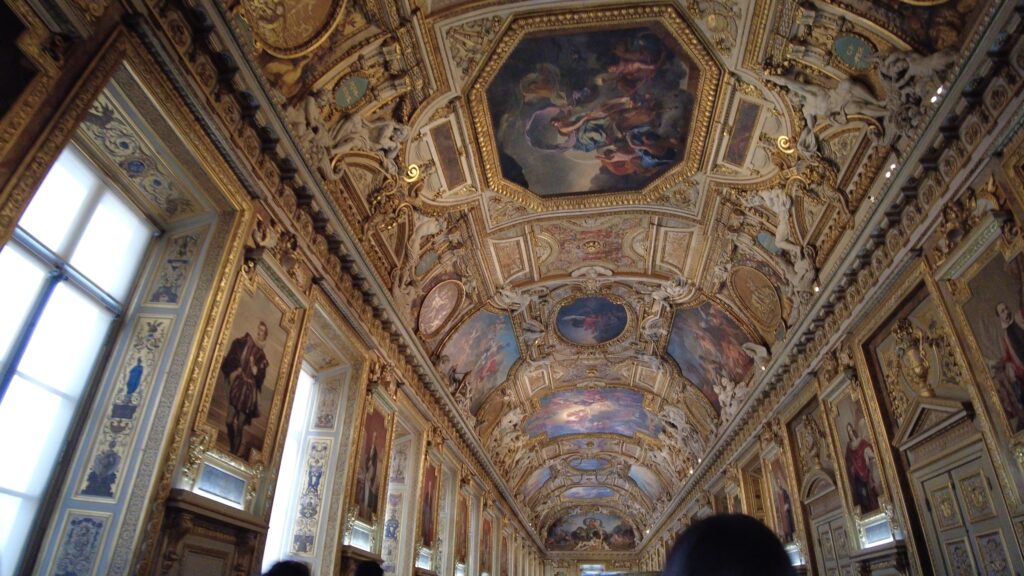 The Italian Gallery was for us the main attraction of the museum. Note that it's a jam-packed area, so most people will be there looking for a famous da Vinci painting.
Even if I am impressed by French paintings, I have to say that Italians can be absolutely magical when it comes to art.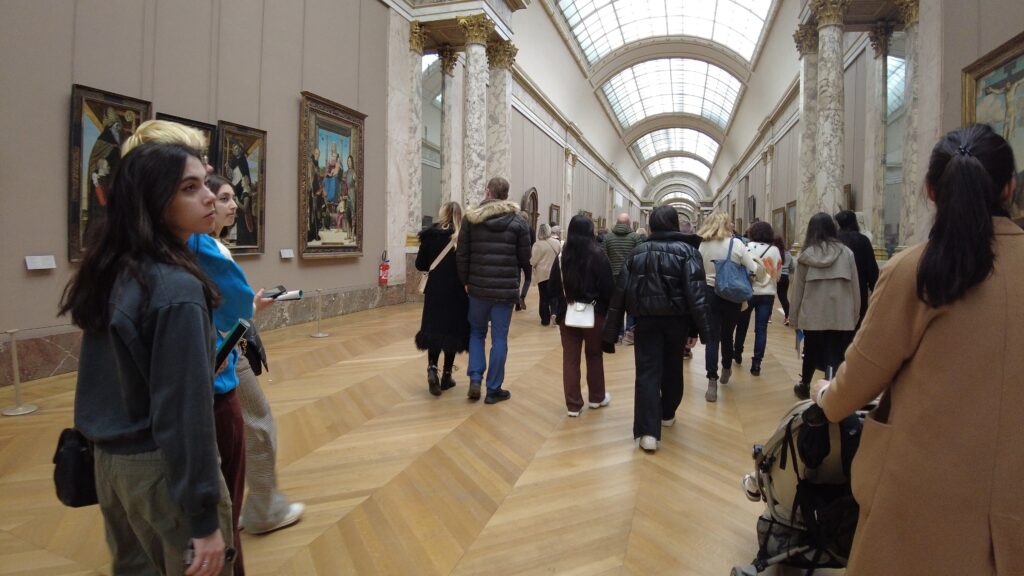 This section benefits from a beautiful natural lightning, in here the paintings are absolutely gorgeous and you can find some Roman busts as well.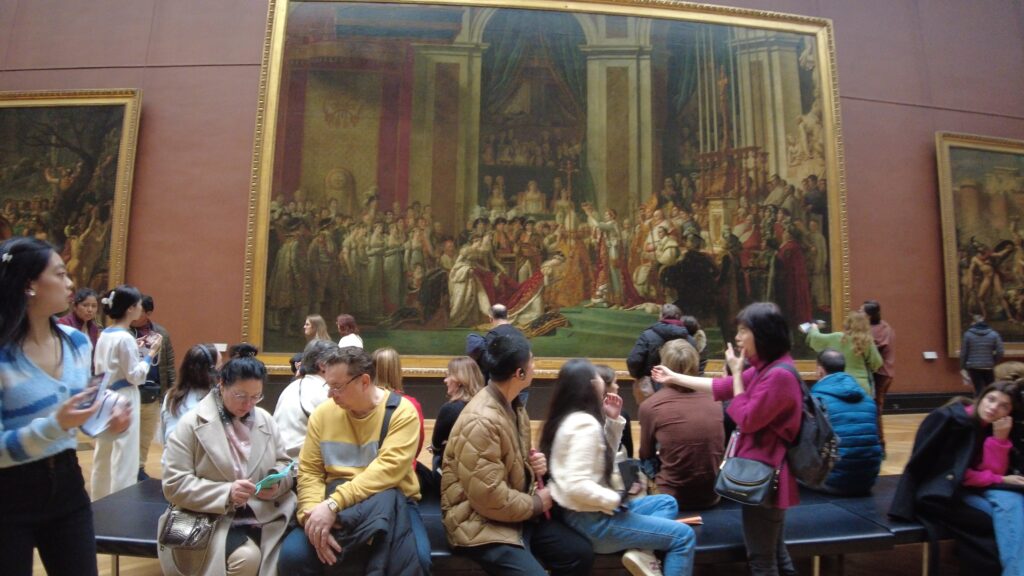 One of the paintings people love to gather around is the Coronation of Napoleon III by Jacques-Louis David. Every French student has seen this painting through their history books. Funny fact: this coronation happened in Notre-Dame de Paris.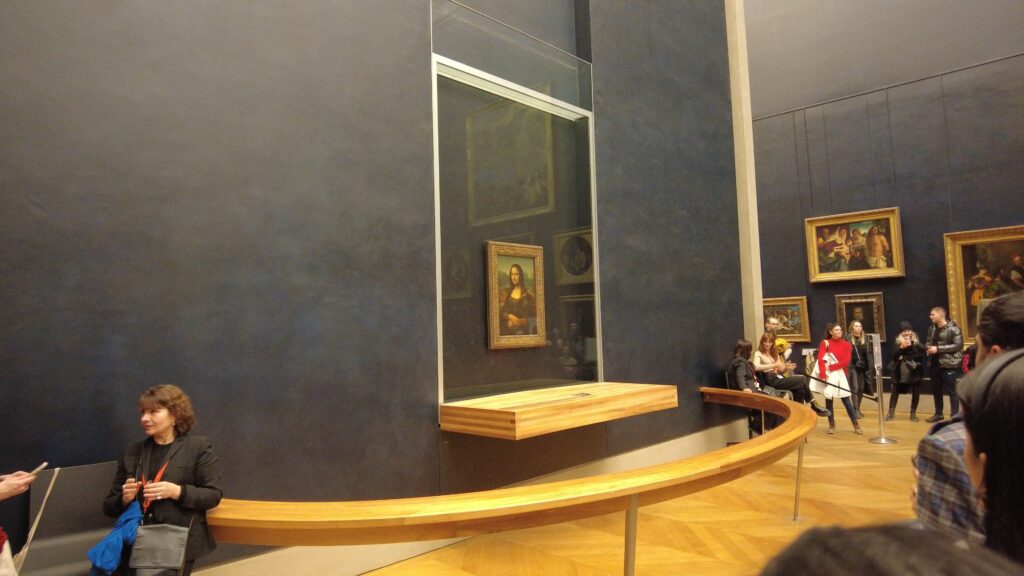 The most famous painting in the world, the Mona Lisa or La Joconde by Leonardo da Vinci. This room, and more importantly, this painting, have their own lines of traffic.
It is well protected by bulletproof glass; no wonder this painting is estimated at between 1 and 2 billion euros. Of course, this is a national treasure and is invaluable; even in the past, an Italian thief tried to get it back from France by stealing it.
Napoleon III Appartments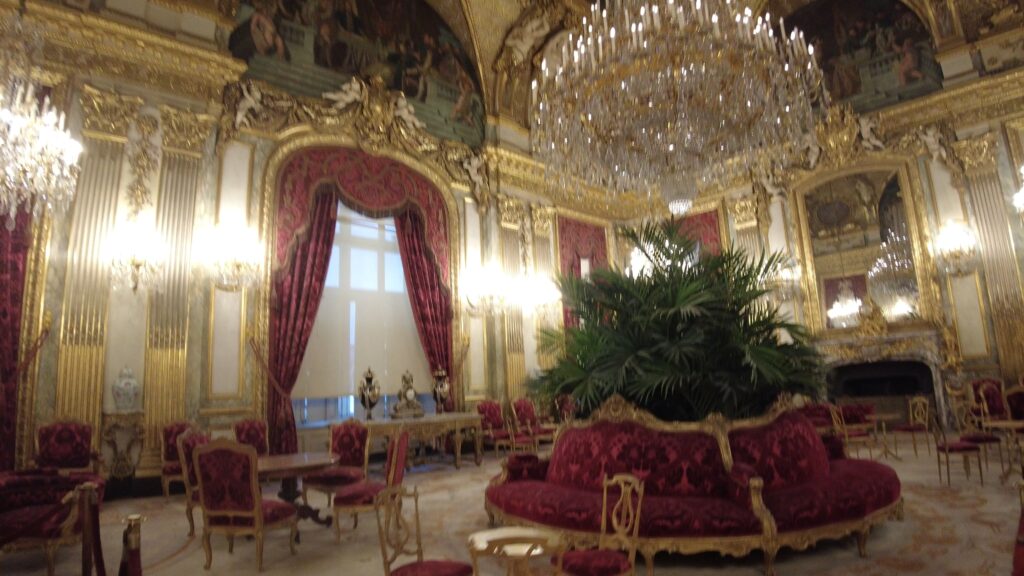 We will end up this review with Napoleon the Third's apartments. This is one of the sections that left a huge impression on me. It's hard to fathom how wealthy kings and emperors were in the past. They basically shared all the money from all the populations.
They could basically decorate their apartments without any limit on budget or scale. The ballroom and diners must have been something quite special, and I can imagine that these parties were a daily event.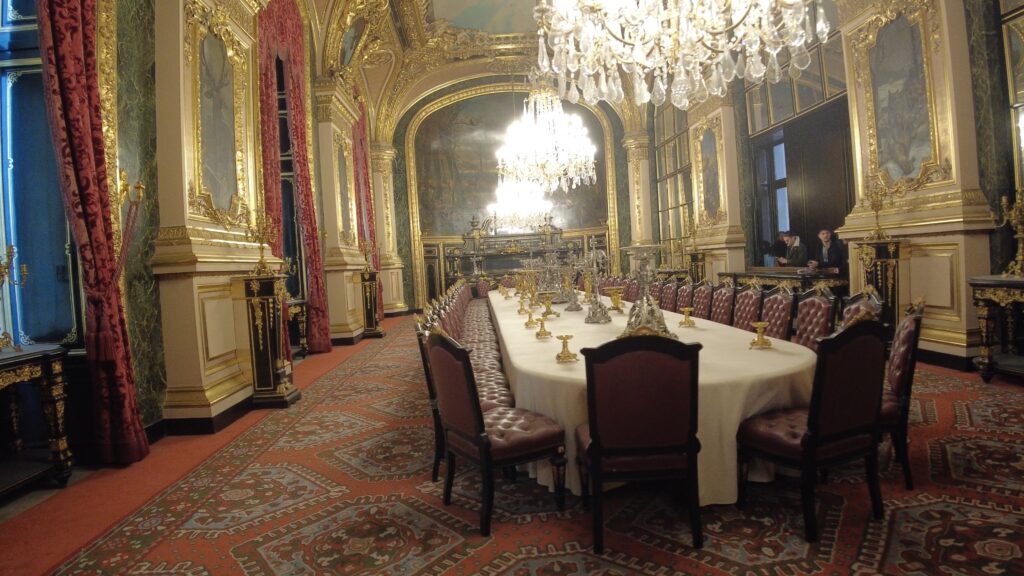 This section gave me a hint of what the golden age of culture was in France and why the elite enjoyed and tried to preserve it. France is definitely a country that has explored the art of luxury farther than almost any other country.
Verdict
9.0 out of 10
Le Louvre is simply a must-visit museum in France. If you are passionate about art and history, this place can be a dream place.
I think a one-day visit is not enough to really explore everything. In only half a day, we were already overwhelmed by the quantity of art present in each section.
The service in Le Louvre is quite nice, even if the price for food inside is through the roof. A bottle of water is 4.5 euros and it's only 75 cl, for example. People are very helpful, and every room has a lift for people with reduced mobility or people with a baby.
It's like Disney World, but for intellectuals. There are so many things to see that it's becoming hard to take the time to pay attention to anything.
Perhaps the only downside of the museum is that you'll have to come at least multiple times to really enjoy it, and unfortunately, there's another interesting museum in Paris alone.
Also, this place used to be free on the first Sunday of every month for youngsters and the disadvantaged, but not anymore.
Informations
Le Louvre
Address : Rue de Rivoli, 75001 Paris
Website : https://www.louvre.fr/
Facebook : https://www.facebook.com/museedulouvre/?locale=fr_FR