Higuma is a famous Japanese Restaurant or Cantine should I say, since it's very popular and very inexpensive, especially for a restaurant located in the heart of Paris.
But is it any good and is it worth doing the long waiting lines, just to have a meal there ? In this article we'll try to answer these questions for you.
The location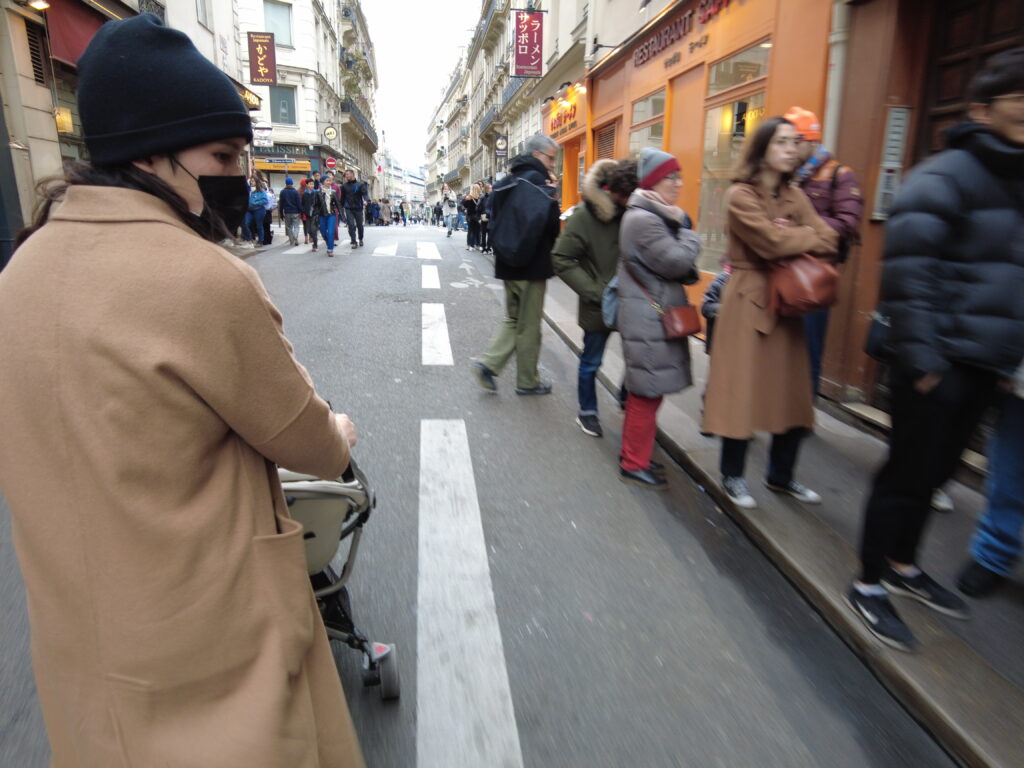 Higuma like many other real Japanese restaurants is located in rue Saint-Anne in the 1st district of Paris, not too far away from the Opera Garnier in the 8th district. The Metro Station to get off of would be Pyramides.
The Saint-Anne Street is basically the Japanese Quarter of Paris. In there, you'll find plenty of Japanese stores, hotels and of course Restaurants.
Oddly enough, most people would think of Japanese restaurants as places serving fresh Sushis and Sashimis, here they are mostly serving other types of Japanese popular dishes.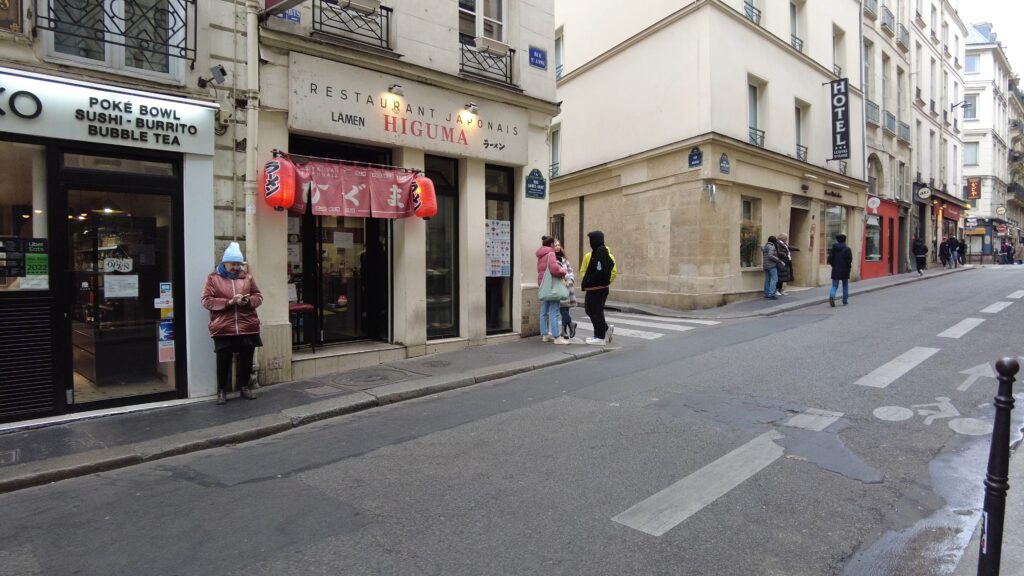 This Area is quite central, from there you can easily get to the Grand Boulevard, Le Louvre, Madeleine, or Place Vendome.
The restaurant is in the Rez-de-chaussée and have a pignon sur rue. This basically just means that it's on the first floor and have an entrance accessible from the street.
The restaurant is in the angle of a small street and the entrance is quite narrow though the space have many rooms including an underground if I recall correctly.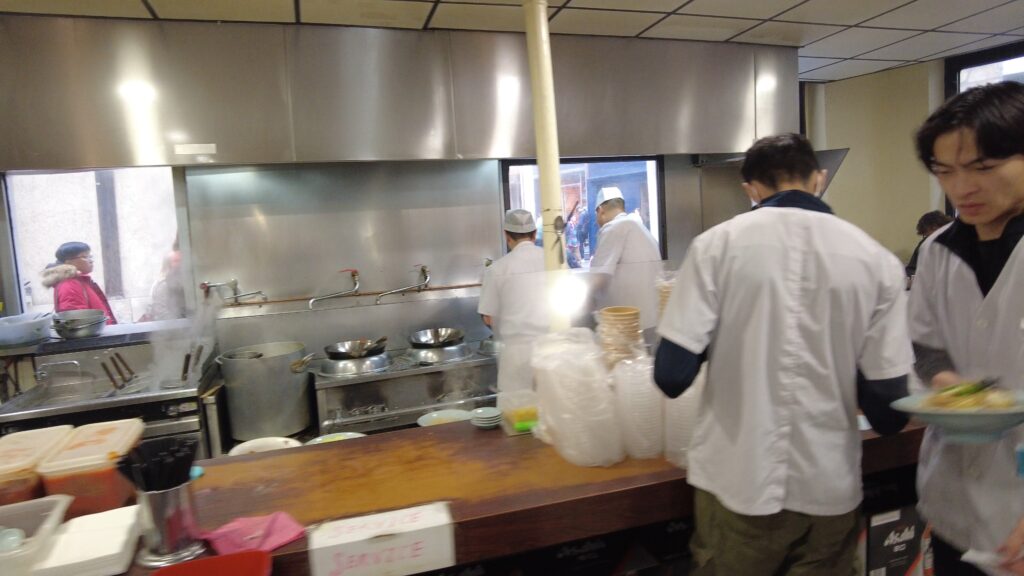 The decoration is quite simple, nothing fancy even the glass and the carafe d'eau are very reminiscing of that of a School Cantine. There is a nice open kitchen in the entrance where you can see the cook in action.
It's quite noisy in there, which doesn't bother me. One thing I love about the restaurants in this area is that every employees and cooks are really Japanese.
The menu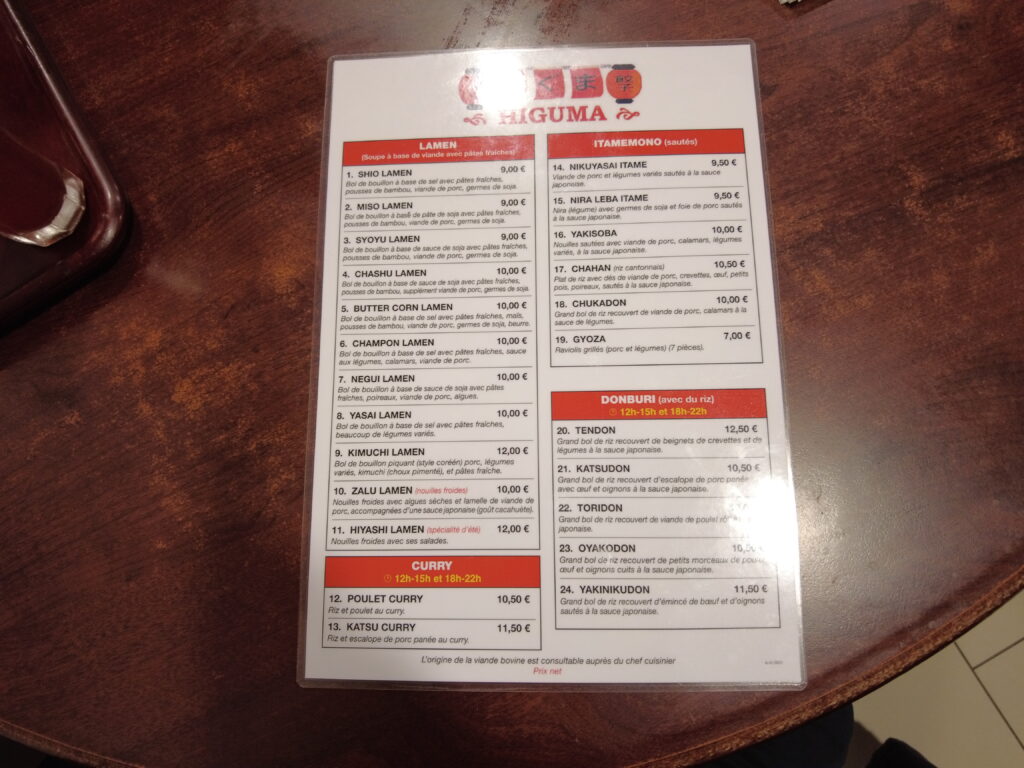 The menu in Higuma is quite simple. It's the kind of joint where you come, you eat and you go. So orders have to be decided quickly. That's why the restaurant basically have a single double sided page as a menu and no images too.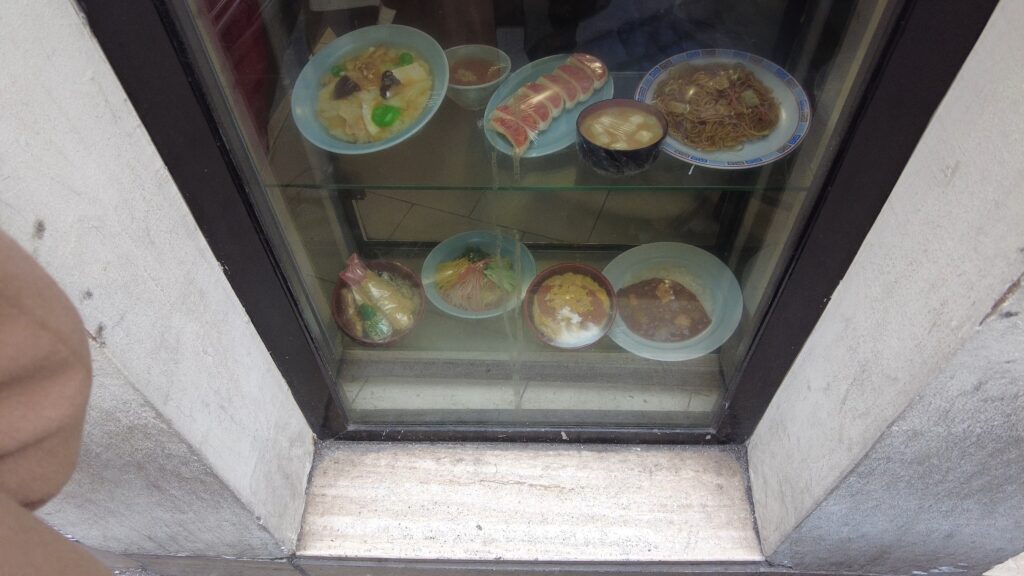 Note that there is a sort of food showcase in front of the restaurant giving you a hint of the different dishes the restaurant offers. You can then easily figure out with the description which dish is which.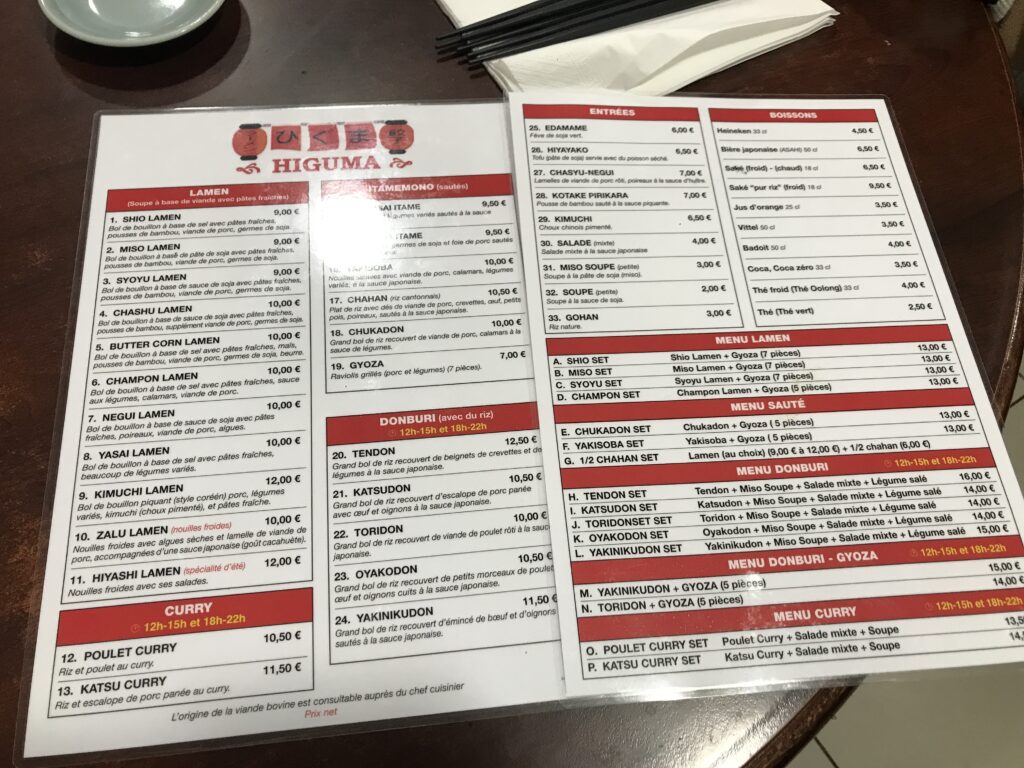 You basically have Lamen, Curry, Itamemono (wok), Donburi (food on rice), Menu, Starters and Drinks. These menus often include a soup and some Gyoza (7 pieces).
For the drinks, outside of the classic soft drinks and water, it's either Japanese tea, beers or sake and that's basically it.
The Experience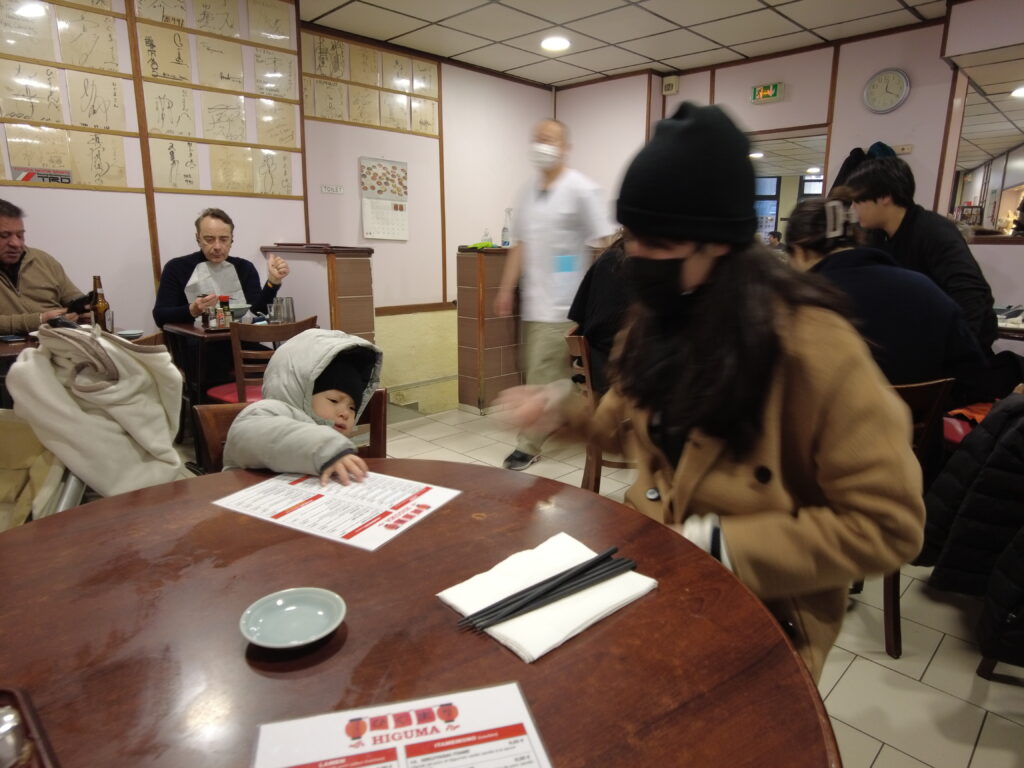 It was not the first time my husband try this restaurant and he told me about it once when we crossed the street. This joint is quite famous because it's inexpensive and have a good cuisine like many other restaurants in this street to be fair. It's everything you would ask from a Popular Asian Restaurant.
The restaurant being in the center of Paris, it's quite easy to end up eating in there. For example that day we were trying to find a parking spot to go to the Louvre and the Saint-Anne street was simply in the way.
We were a bit stressed about the stroller we had since the entrance is quite tight, but once inside we had more than enough room to sit down and the waitress was very helpful.
We ordered 3 dish since we didn't had time to eat breakfast. My husband had to wake up a night to watch some UFC fight. First one was a Shio Lamen, a Katsu Curry menu and Yakisoba with two Japanese tea since my husband is trying to quit alcohol.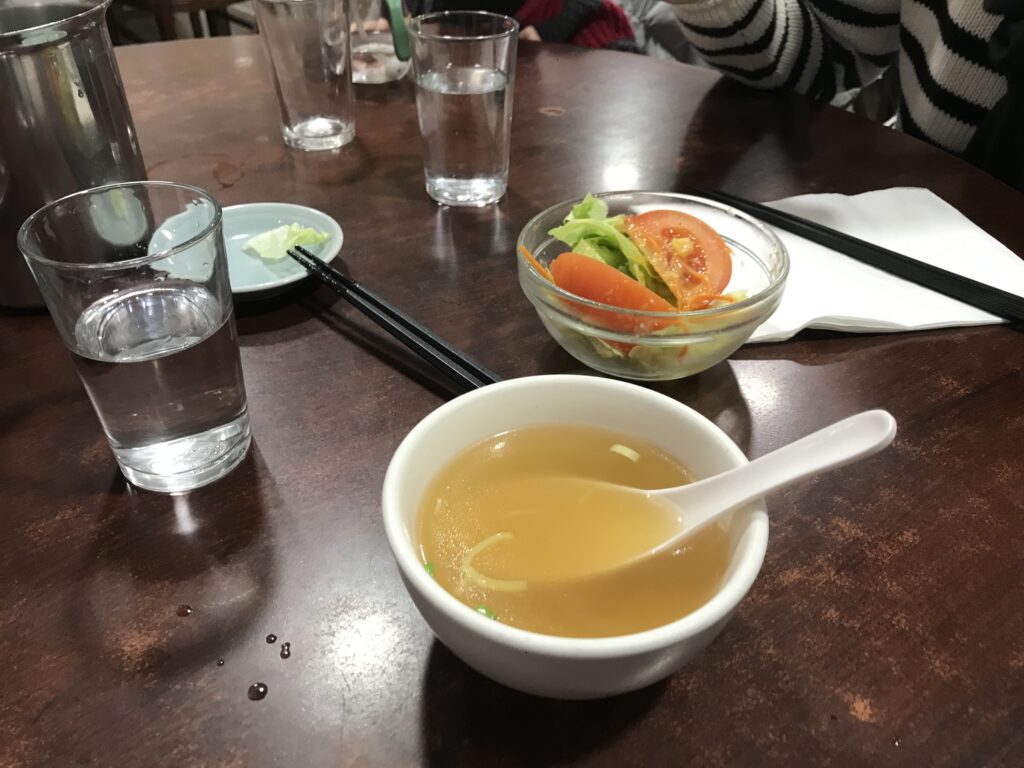 The first dishes that came in were the entrance of the menu. I was expecting some miso soup and a classic white cabbage salad that you get in sushi restaurants. Here we got some broth soup and some salad tomatoes, carrot and cucumber salad. Nothing fancy but still the salad sauce was quite good.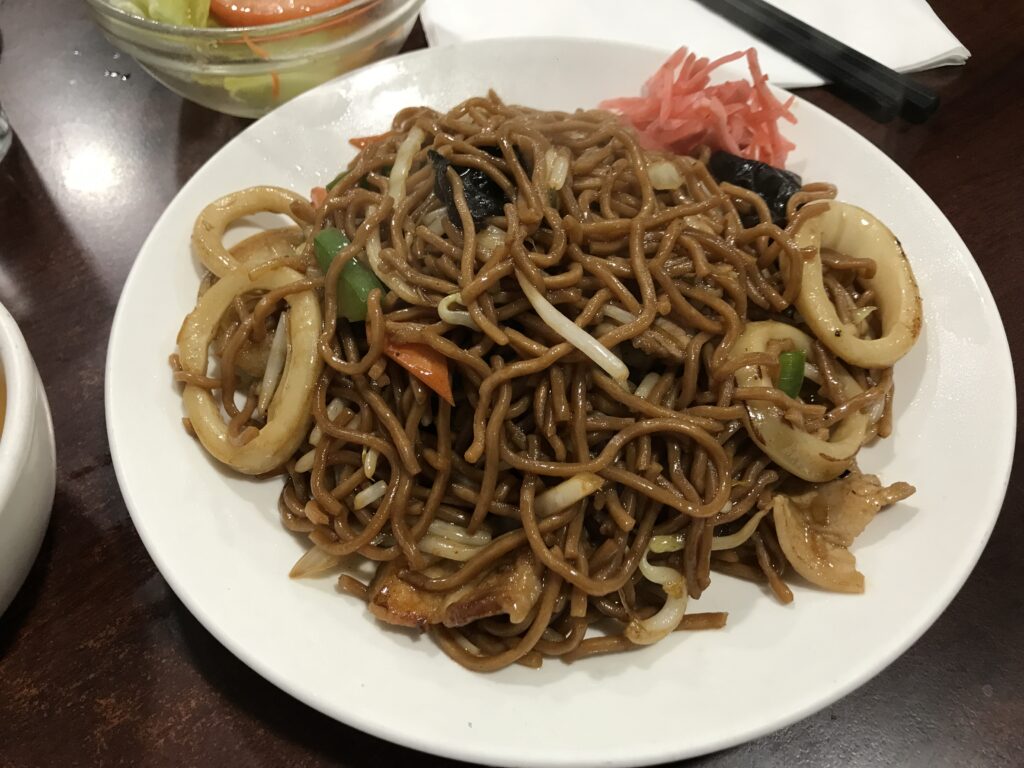 The Yakisoba was very good, way better than the average wok you can get in buffets. This one was tasty, the squid were soft and not too chewy, the pork sliced very thinly was melting in your mouth.
Yooyi ate most of this dish. We know we shoudn't give him this kind of oily food but like us he only likes what have strong taste.
Some freshly cut ginger in vinegar was disposed and was quite fitting with the dish.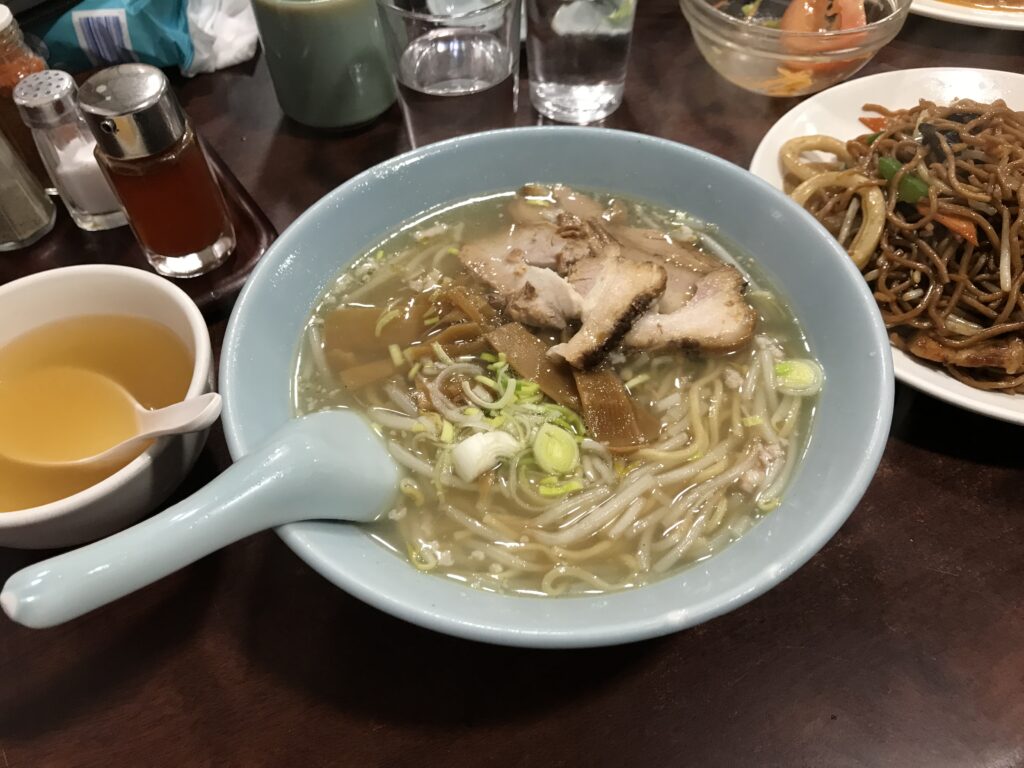 The Shio Lamen wasn't the best Lamen we've eaten, but still the quality was good. The noodle were freshly made and the pork was quite tender also a decomposing in your mouth kind of experience.
The bamboo in there was good and the broth a tad salty maybe a little light on flavors. I am the kind of person who eat salty anyway.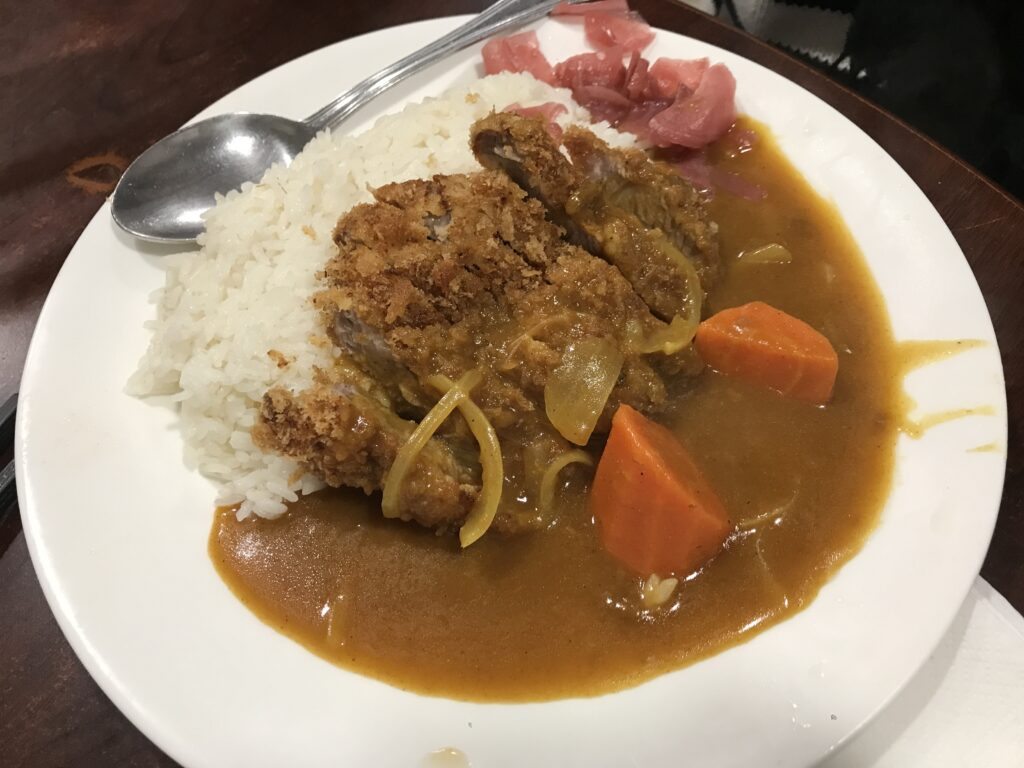 Now, one of the most popular dish in this street is the famous Katsu Curry. Well the sauce was delicious, not too spicy or strong like many restaurant cooks. The pork cutlets were home made and freshly fried. No too thin no too big, about perfect. The rice, well.. perfectly cook but at this point it probably came out of a Zojirushi Rice Cooker so nothing impressive but still enjoyable.
I think this dish was our favorite in this restaurant. Simple but very effective. They even had some cooked vinegar and sweet ginger which was perfectly fitting with this dish. It's the first time I tried a cooked and sweet version of those and I think it's a great idea.
The Japanese Tea was good too, very well balanced, served very hot, you could see the leaf in the bottom of the cup.
Verdict
8.0 out of 10
Higuma is the type of restaurant I enjoy. Popular, good and inexpensive. Going to Paris is already an expensive activity for a Suburban. It's not uncommon to spend 100 euros per day for a family for a basic day without any form luxurious endeavor.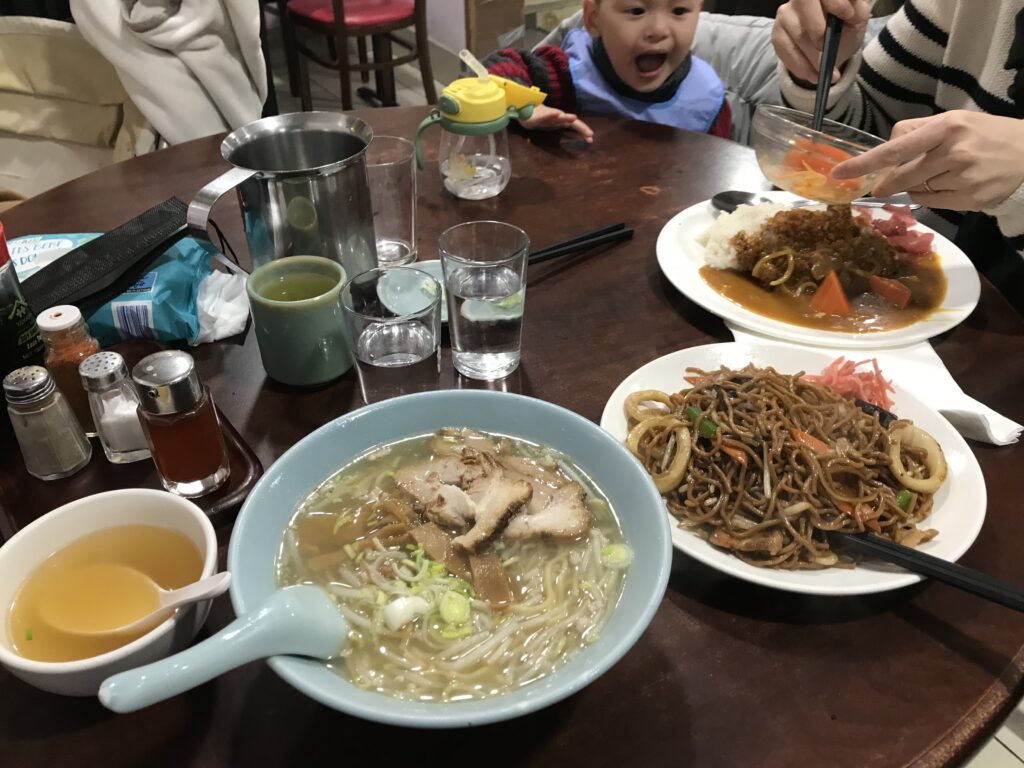 Here a menu is 13 or 14 euros. It's basically the price of an Asian restaurant in Lognes but in the heart of Paris. Which is kind of mind blowing when you think about the difference of prices in rent and by the fact that everything in Japan is more expensive than in the rest of Asia.
The food was quite good, well above the Japanese restaurant with non-Japanese cooks. This place reminds me of a Cantine. It's popular, noisy and there's a big waiting line but for good reasons.
It's the kind of pleasure every one can afford and every one can enjoy and as Japanese food it's most probably healthy. So there's really no reason not fall for it.
Informations
Higuma
Address : 32bis Rue Sainte-Anne, 75001 Paris
Phone : 01 47 03 38 59
Website : http://higuma.fr