Phu Quoc is one of the most popular destination for Vietnamese and World Wide Tourists visiting the country. Located in the Gulf Stream of Thailand, the Island is well known for its beaches and resorts.
Phu Quoc is also a great place for discovering and enjoying delicious cuisine and restaurants. Weirdly enough, my wife and I tasted some of the best dishes we've ever tried in the Island. Discover with us which of the restaurants you shouldn't miss.
1. The Pepper Tree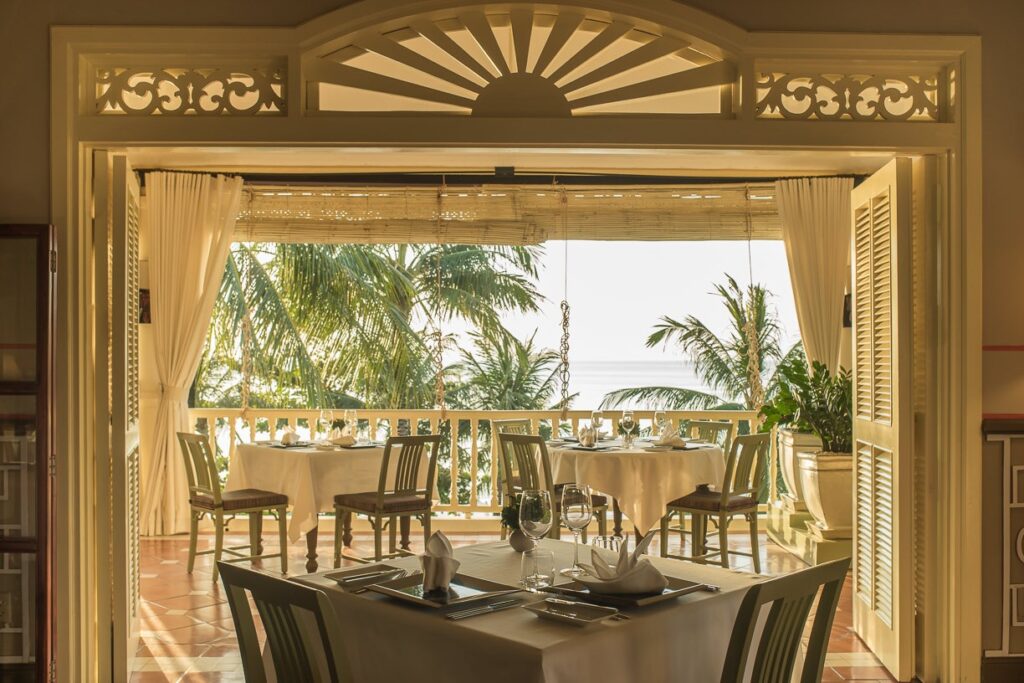 The Pepper Tree is the restaurant of the well known resort La Veranda. With a beautiful French Colonial Architecture, the restaurant is one of the most beautiful and genuine place in the Island. The cuisine is very refined thanks to the menu helmed by Chef Huỳnh Hoàng Sin, famous for being in the Top 3 in Top Chef Vietnam 2019.
If the idyllic 1940's setting is not enough for you, you can also get your food cooked in front of your eyes. We personally tasted the Prawns with Tamarind Sauce and the Loc Lac which were both delicious.
This restaurant and its special menu are only open at night. If you are travelling to Phu Quoc, we highly recommend you to book a table or even book a stay in the resort since this kind of places with a lot of history is getting more and more scarce.
Address : Hẻm 118 Đường Trần Hưng Đạo, Khu phố 7, Phú Quốc, Kiên Giang 920000
Phone : 0297 3982 988
2. Tempus Fugit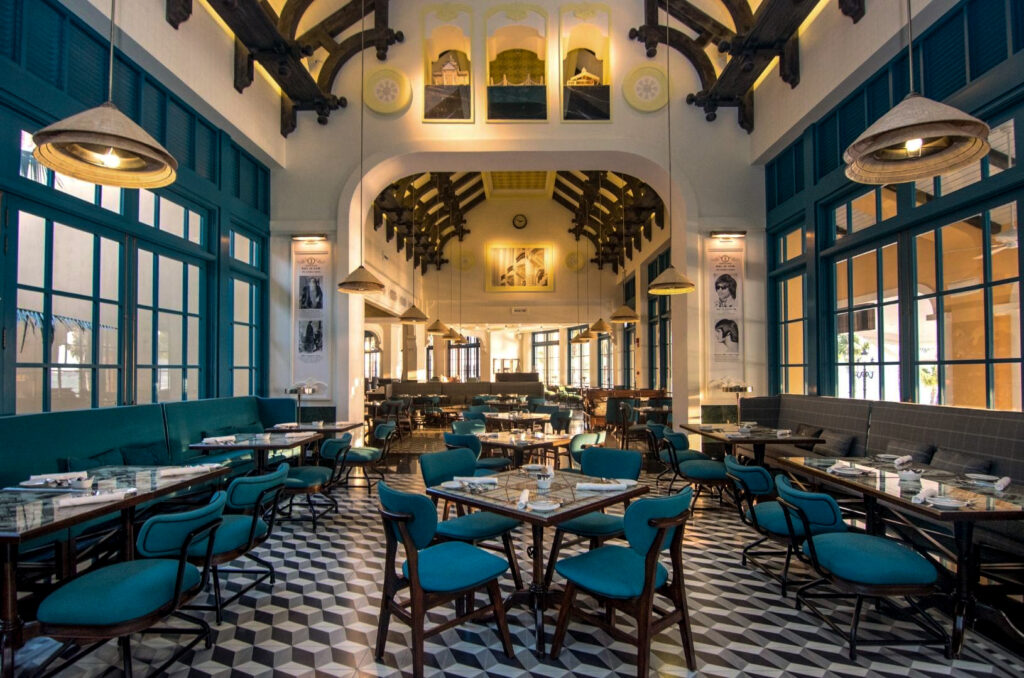 Tempus Fugit is a Buffet Restaurant located in the luxurious JW Marriott Phu Quoc Emerald Bay. Since it is one of the most prestigious 5 stars resort, the quality of the food is indeed excellent.
You will find an impressive variety of cuisines : from French to Vietnamese and even some Japanese recipes. You will have at your disposal fresh imported products from Charcuterie, Fromage and Jambon.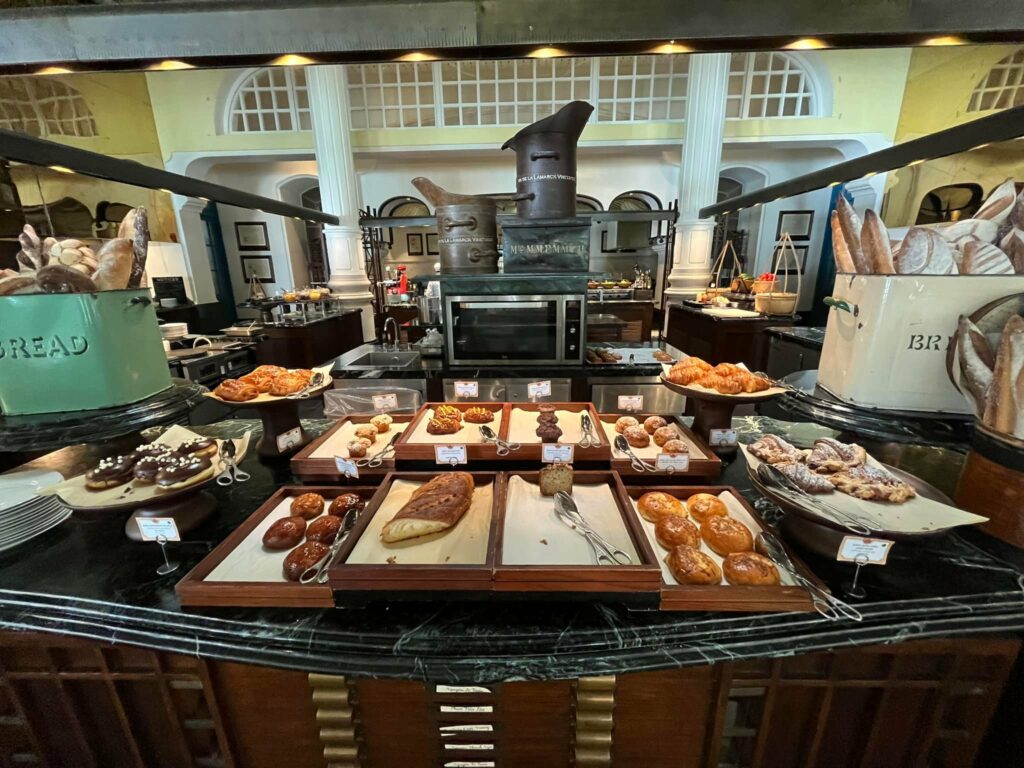 You will also be able to order dishes from the kitchen such as Californian Maki or Lamb chops.
Address : Khem Beach, An Thới, Phú Quốc, Kiên Giang 92000
Phone : 0297 3779 999
3. Eat Pray Love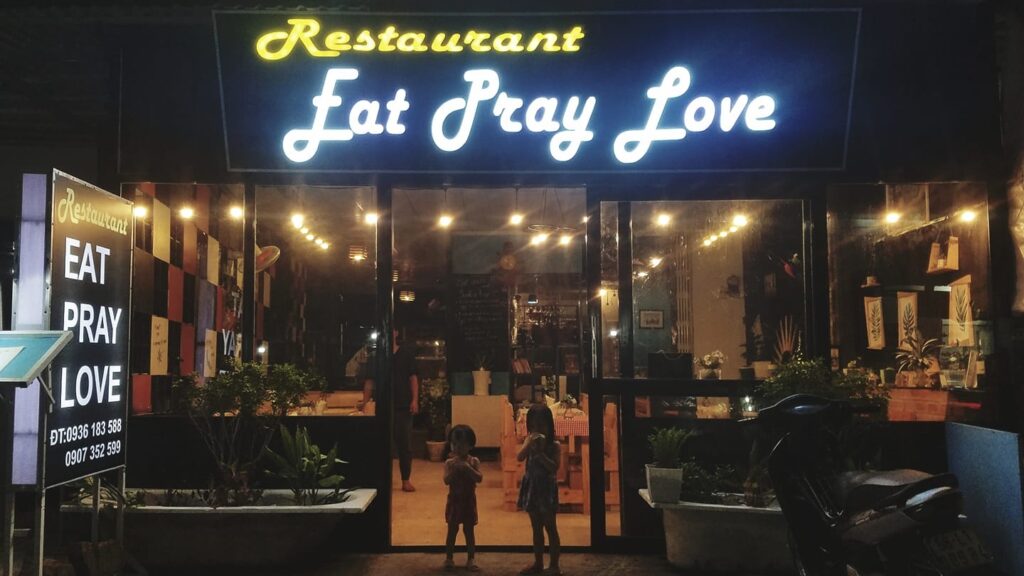 Eat Pray Love is a restaurant located in Ong Lang in the DT45. This is a family run restaurant and you can feel the warmth in the decoration. The food is surprisingly good, I would even go as far to say that it is on par with some high end restaurants.
We've tried the Squid Ink Risotto and the Moussaka and both were delicious. The family and kids were very social and kind to us and our kid. Overall the food at atmosphere were very peaceful probably like the movie that shares the same name.
Address : Tổ 4, D. Đông – Cửa Cạn, Ông Lang, Phú Quốc, Kiên Giang 920000
Phone : 093 618 35 88
4. Tin Tin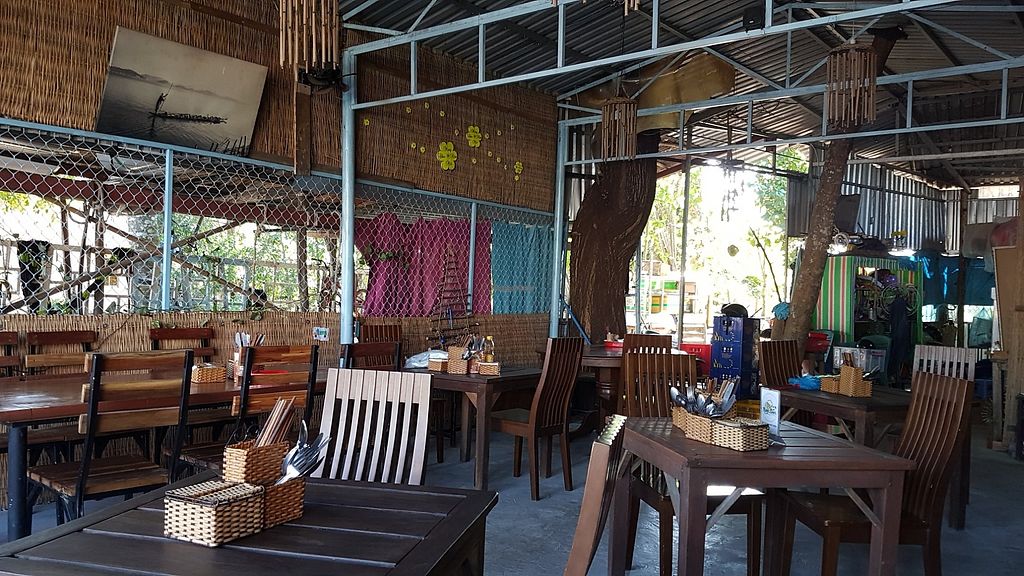 If you like Traditional Vietnamese food from the South, we believe Tin Tin is the place to go. It is a modest road restaurant with very good cuisine. The ambiance is very relaxed with tasteful background soundtrack (Buena Vista Social Club and other BB King). The owner was very kind and helpful.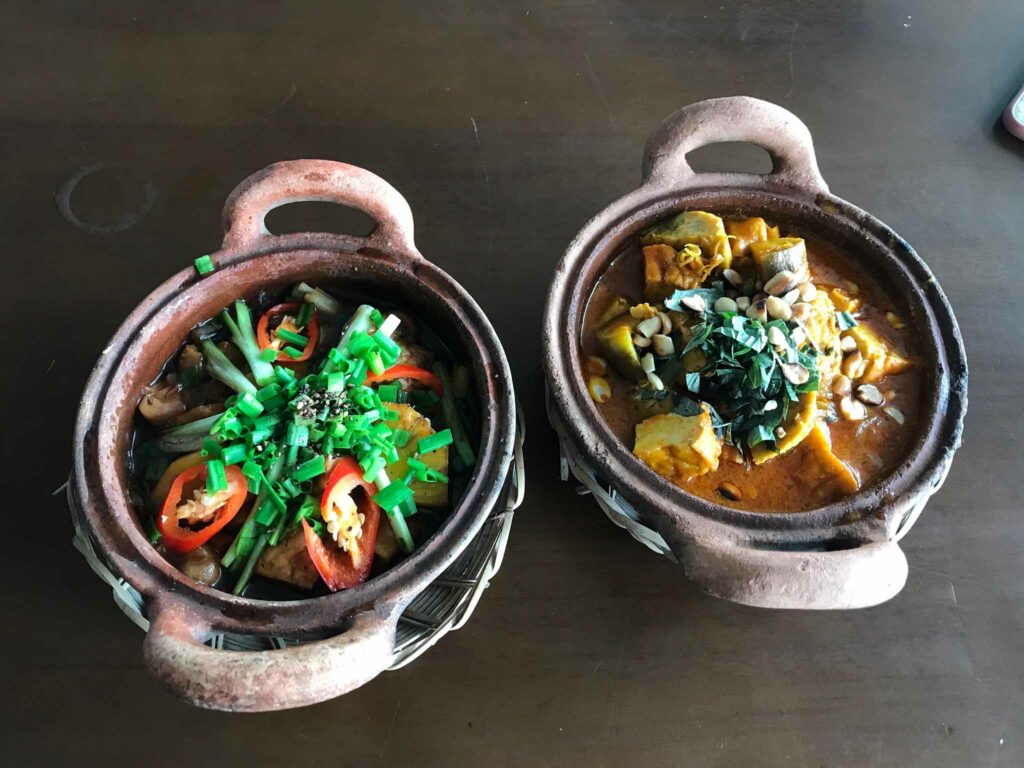 We ate at Tin Tin at least three times and our favorite choices were the Đậu hũ kho and Cà Ri Đậu Hũ which were both cooked in a Clay Pot. Westerners love this place as well. In fact, I've seen people asking for selfie from the owner. A definitive must try if you are staying in Ong Lang.
Address : tổ 4 ấp ông lang, xã cửa dương, phú quốc , kiên giang, Phú Quốc, Kiên Giang 922221
Phone : 091 997 13 88
5. On the Rocks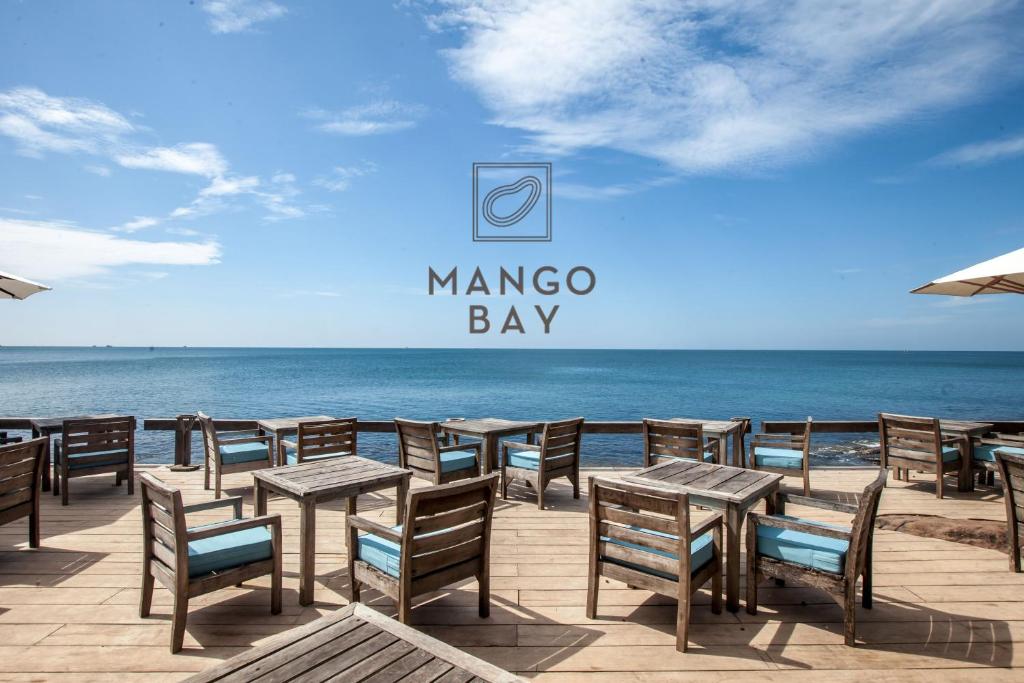 Mango Bay Resort is an eco-friendly resort aiming to have a minimal footprint. This resort have a restaurant named On The Rocks with a beautiful view over the Ong Lang Beach. Literally sittings on the rocks of the beach, the restaurant is well known for offering traditional and western dish as well as fusion food.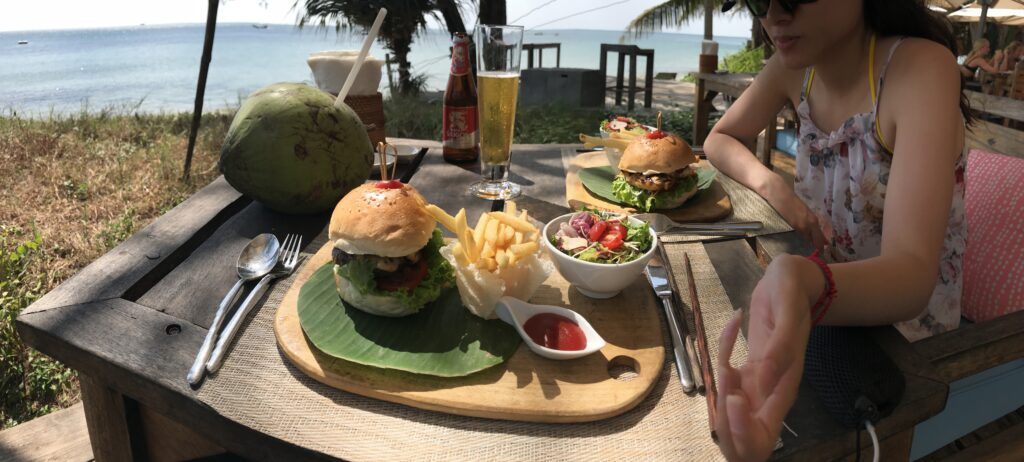 The location of this restaurant is something very special, especially during Sunset. They also have a second restaurant named On The Sand on the right side of the beach. Perfect for lunch after spendint time in the beach.
Address : On the Rocks restaurant, Mango Bay Resort, Ong Lang Beach, Phu Quoc Island, Kien Giang Province, Vietnam.
Phone : 0297 3981 693
6. il Muro Italiano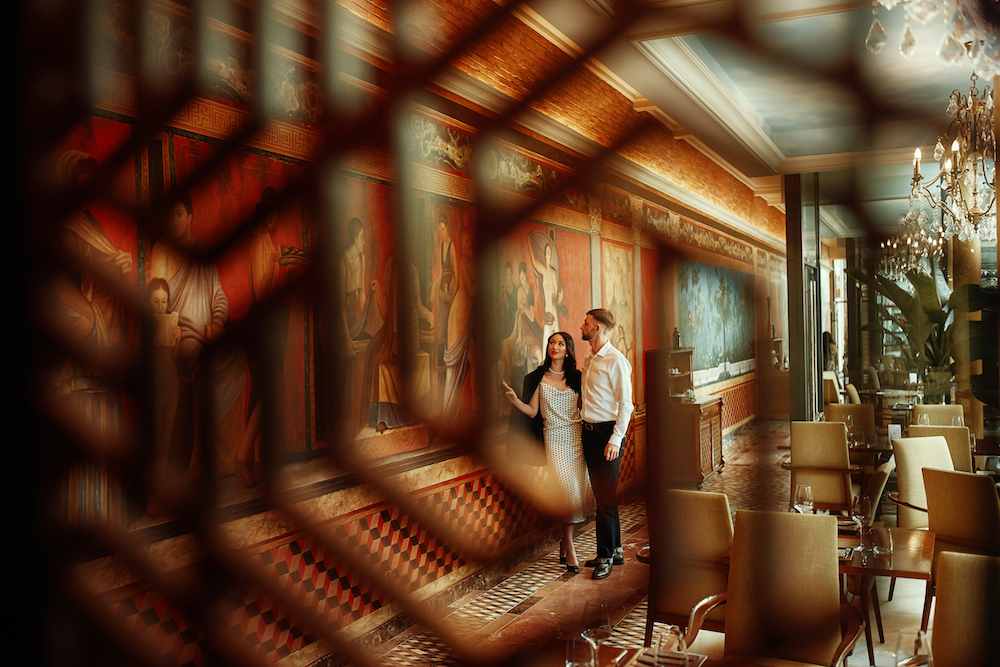 il Muro Italiano, literally meaning the Italian Wall, is a restaurant located inside the Salinda Resort. One of the most popular resort in the Island. Helmed by executive Chef Simone from Sicily, Italy, the restaurant proposes Italian Gastronomic Food.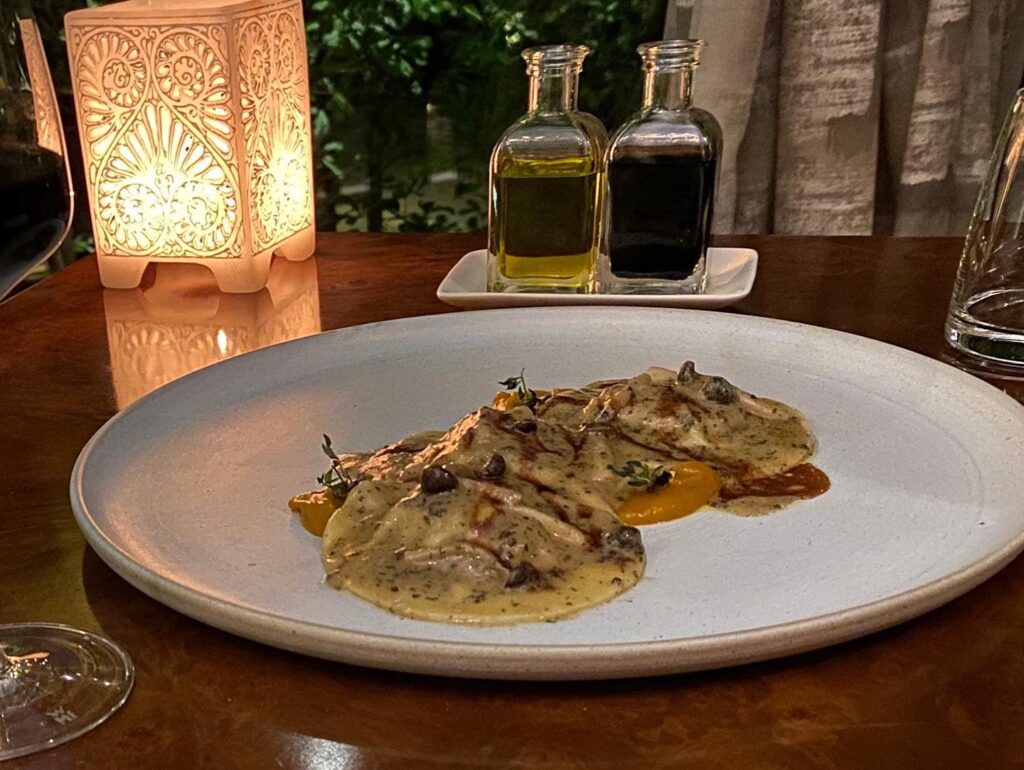 If you are a fan of Italian fine cuisine, you will fall in love with the menu. The ravioli with truffles and mash potatoes mixed with mushroom is nothing short of amazing.
Address : Commune Vietnam, 1 Tran Hung Dao, Hamlet, Cửa Lấp, Tp. Phú Quốc, Kiên Giang
Phone : 0297 3990 011
7. Cát Biển 1
Cát Biển 1 is a seafood restaurant located in the center of the Island. So popular they opened a second one, Cát Biển 1 is a traditional Vietnamese Style Sea Food Restaurant. This means small plastic chairs and cheap beers. More Seriously the Restaurant is big with a view on the river. The offer of seafood and fish is huge, you basically find anything you want in this restaurant.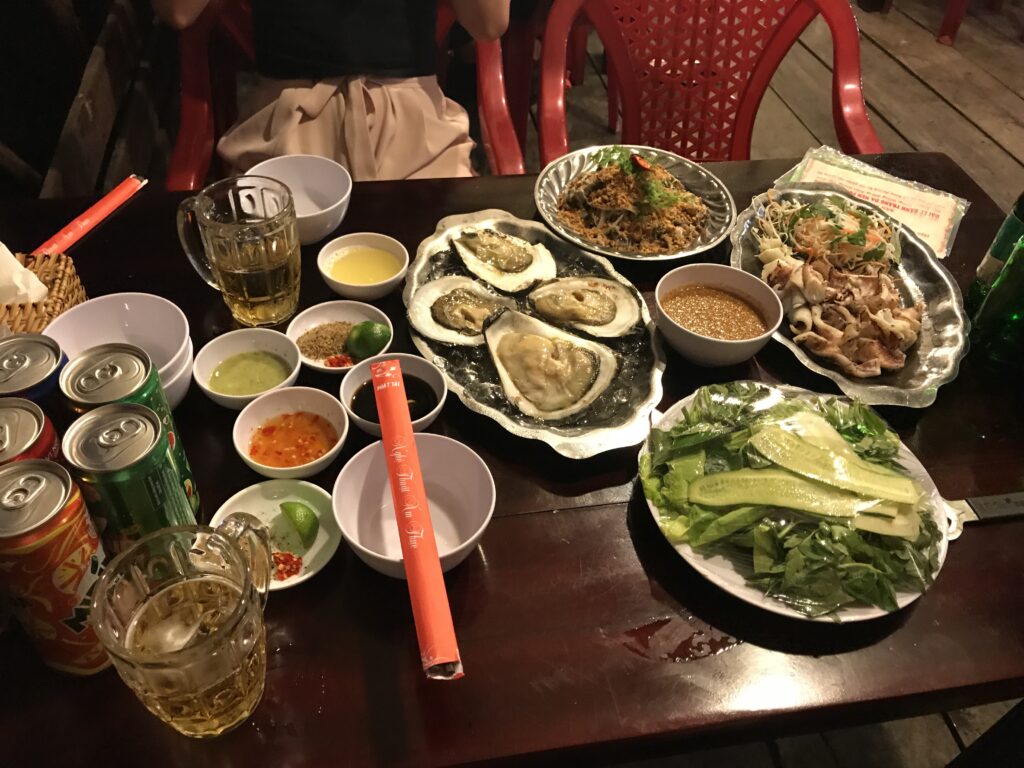 The oysters were so big and milky, I think they were the biggest I've ever ate in my life. The Gỏi Cá an uncooked fish roll in paper rice was delicious simply the best I've tried. If you are looking for Straight Sea Food cooked Vietnamese style or you want to eat and drink with your team screaming "1, 2, 3 yo !" this joint is for you.
Address : Đường 30 Tháng 4, Khu Phố 1, Phú Quốc, Kiên Giang 91000
Phone : 0789 677 377
8. Bún Quậy Kiến Xây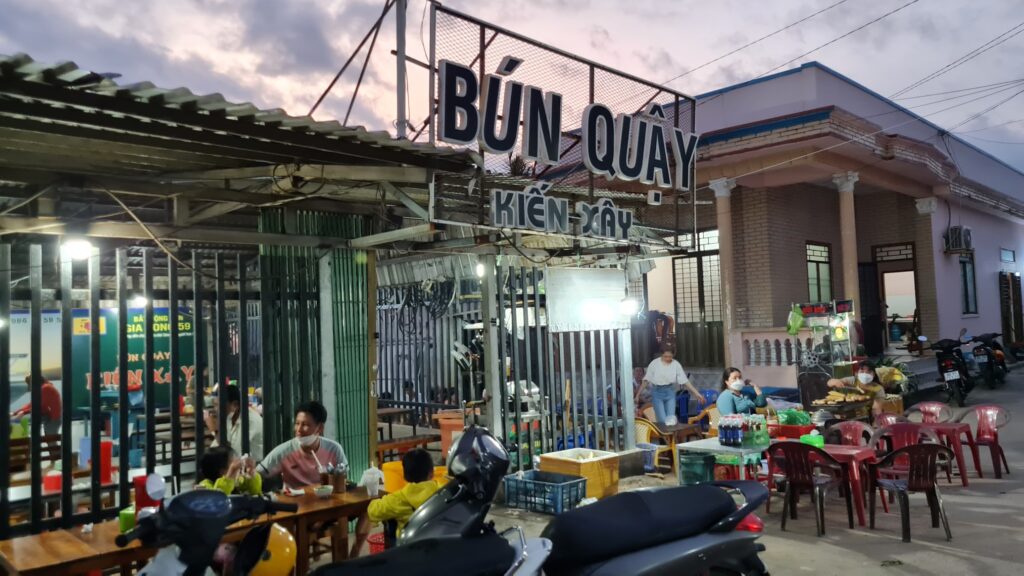 Bún Quậy Kiến Xây is originally born in a restaurant located in Trần Phú. It is a soup made out of fresh Bún (Vermicelli) which is very rare and taste absolutely different than the industrial ones and some sea food broth. In this restaurant you will have to make your own sauce (Gia vị). They also have a more modern and bigger version of the restaurant in the city center.
If you like Squid as much as we do you will love this dish. Beware, the grounded fish (Chả cá thác lác) is a bit spicy for regular westerners but still delicious. Just order some Sugar Cane Juice (Nước mía) before you enter the restaurant.
Address : Hẻm Đối diện 222 Trần Phú, TT. Dương Đông, Phú Quốc, Kiên Giang 920000
Phone : 0838 718 714
9. Phu FOC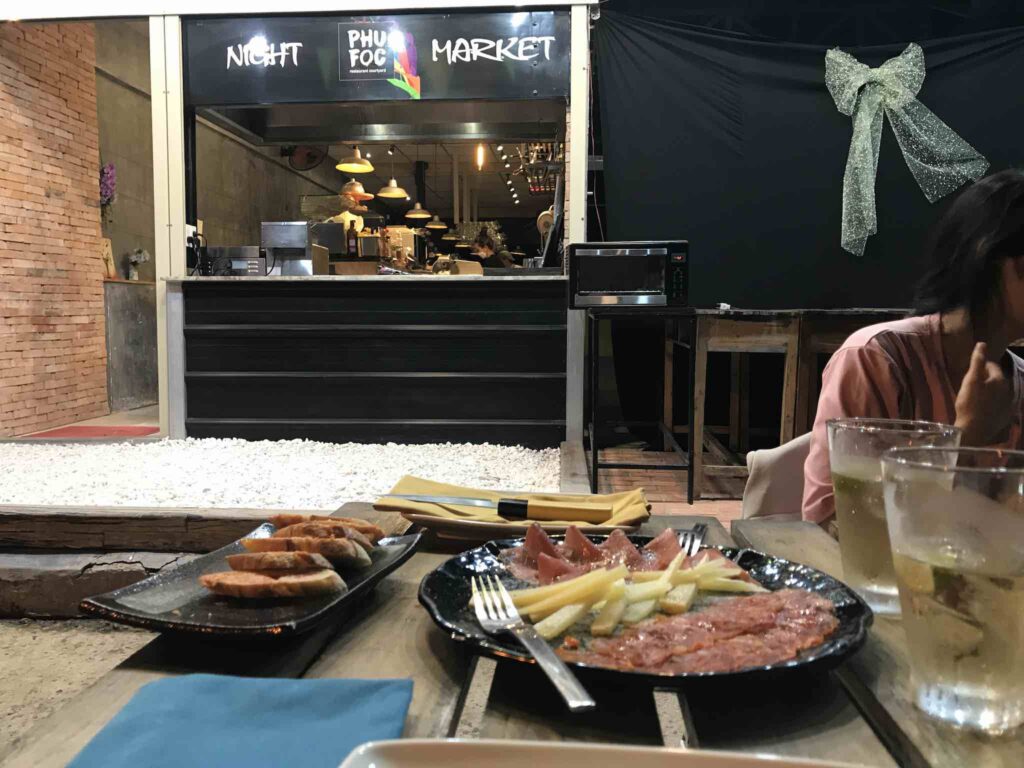 The best Paella I've ever had was in a Phu Quoc Restaurant called Itaca and the dish wasn't a traditional recipe and not even on the menu. Unfortunately the place is definitely closed but don't worry, if you are looking for some spanish Tapas and a Good Traditional Paella, Phu FOC is a great place to try.
The restaurant is located inside the Night Market and it offers plates of selected Meat and Cheese including Black Iberian Pork and Chorizo. I've personally been in Spain and loved the food over there. Going to Phu FOC brought some nice memories of my past vacations.
Address : 76 Đường Bạch Đằng, Khu phố 1, Phú Quốc, Kiên Giang 92000
Phone : 0782 870 566
10. The Home Pizza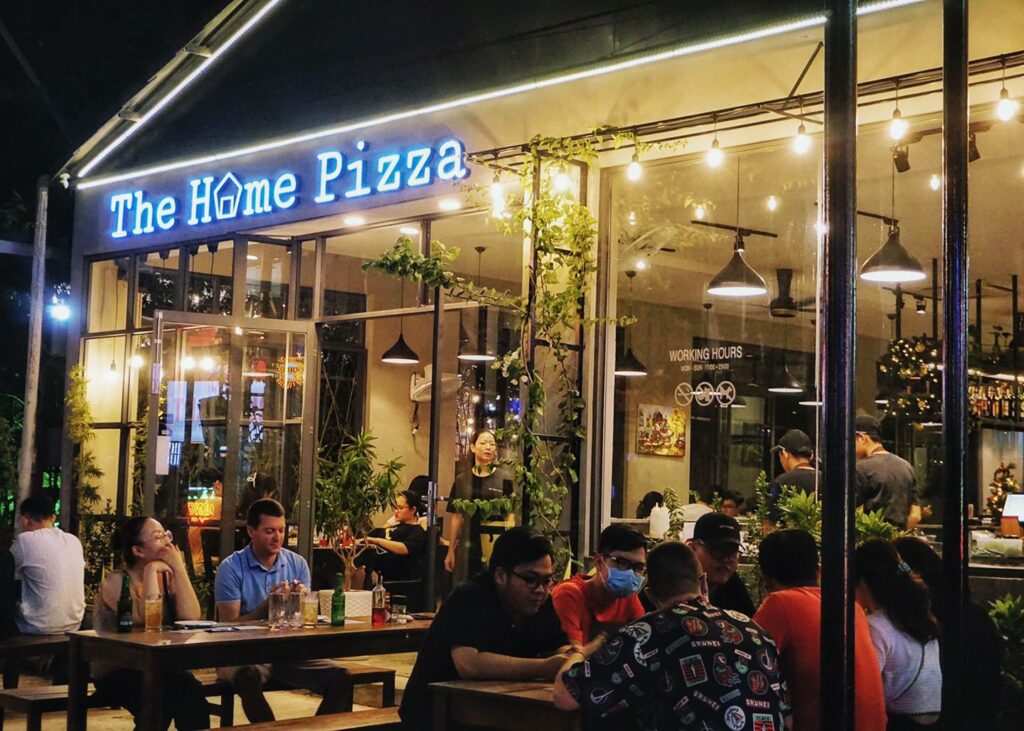 The Home Pizza is probably one of the best Pizza joint in the Island. Located in Long Beach, the restaurant have a menu not too dissimilar to Pizza 4p's menu, which is a good thing. You will find in the menu some half and half pizza and other crab, clams, bolognese pastas, etc.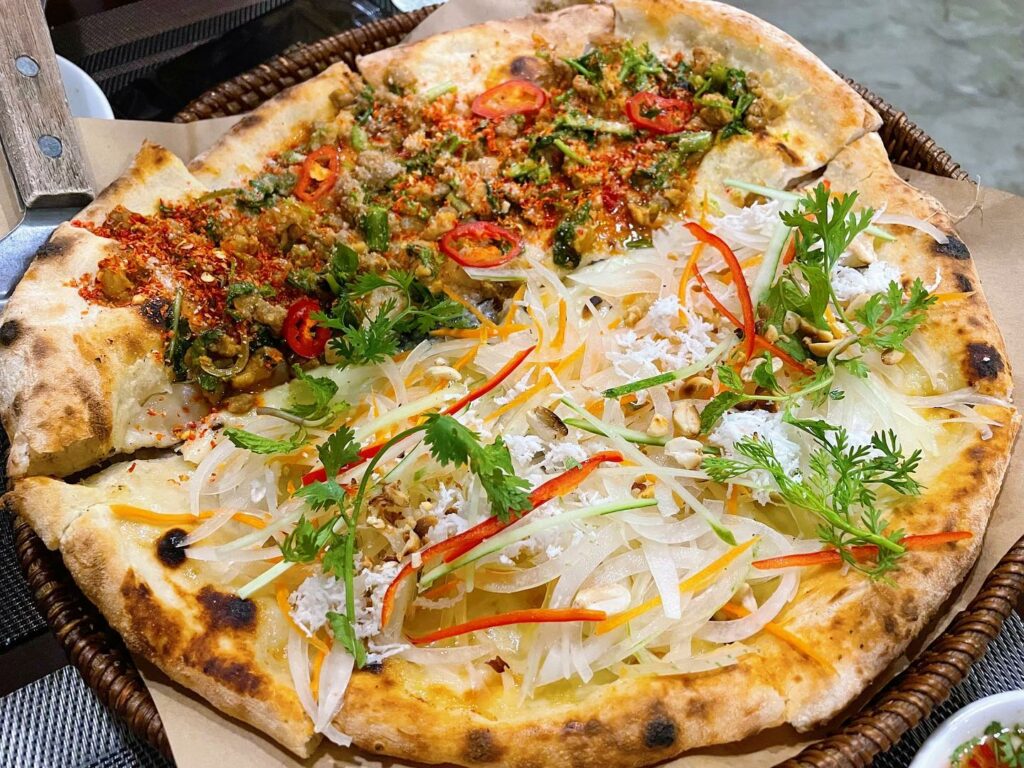 Burgers and Pizza are the most popular foods in the world, so no wonder this place is very busy at night. Not only International Tourists are loving their food but also Vietnamese as well.
Address : 128 Đường Trần Hưng Đạo, TT. Dương Đông, Phú Quốc, Kiên Giang
Phone : 098 837 37 93
11. Bonus round : The Best Gà Nướng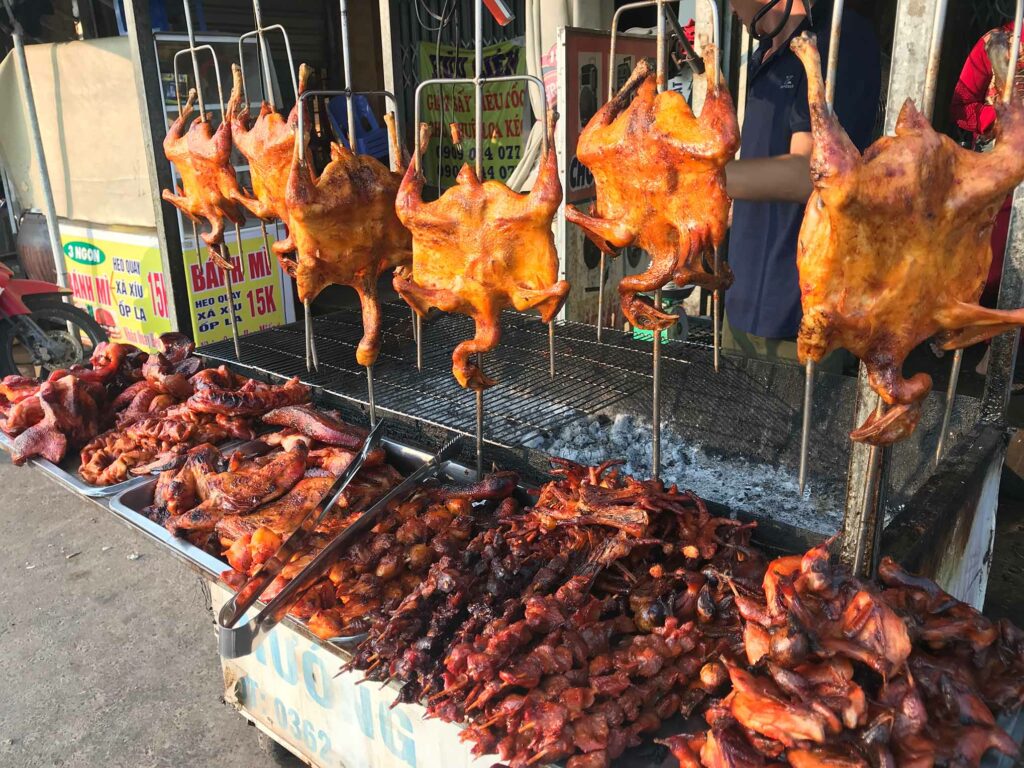 If you like Roasted Chicken, we would highly recommend you to try this small shop located in the DT45. The Sweet and Salty taste from this chicken is delicious and the sauce (Gia vị) is simply amazing. Be sure to ask for a chicken being roasted for the best possible freshness.
This particular shop only roast its chicken in the afternoon. Since Vietnamese eat around 6pm, we would suggest you to come around this time.