Royal Noisiel is a fairly new Chinese restaurant located in the city of Noisiel, not too far from the Paris Store in the same city.
It's a restaurant I was not familiar with, to be honest, but since we are starting to eat a lot outside our home these days, it was time for a change. We'll see in this article if this is a restaurant you should add to your bucket list or not.
The location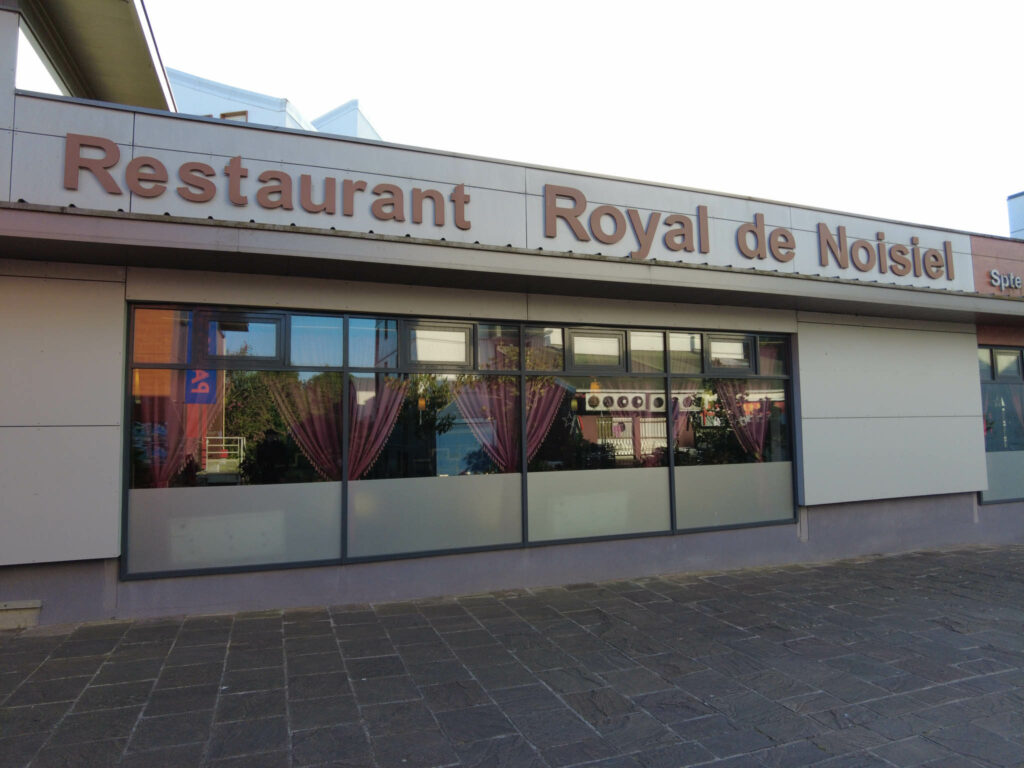 So the Royal de Noisiel is located in Noisiel, a city near Lognes, and that is not the safest city on earth. But Noisiel also has things that Lognes doesn't have.
A huge and beautiful park and a market where you can find some delicious Middle Eastern food. This restaurant is located very near the largest Paris store in the area. It's probably the best and most abundant store, even bigger than Tang Frères.
There's also a small Laotian supermarket in the same area where we buy some food once in a while. It's a very well-known place in the Asian community.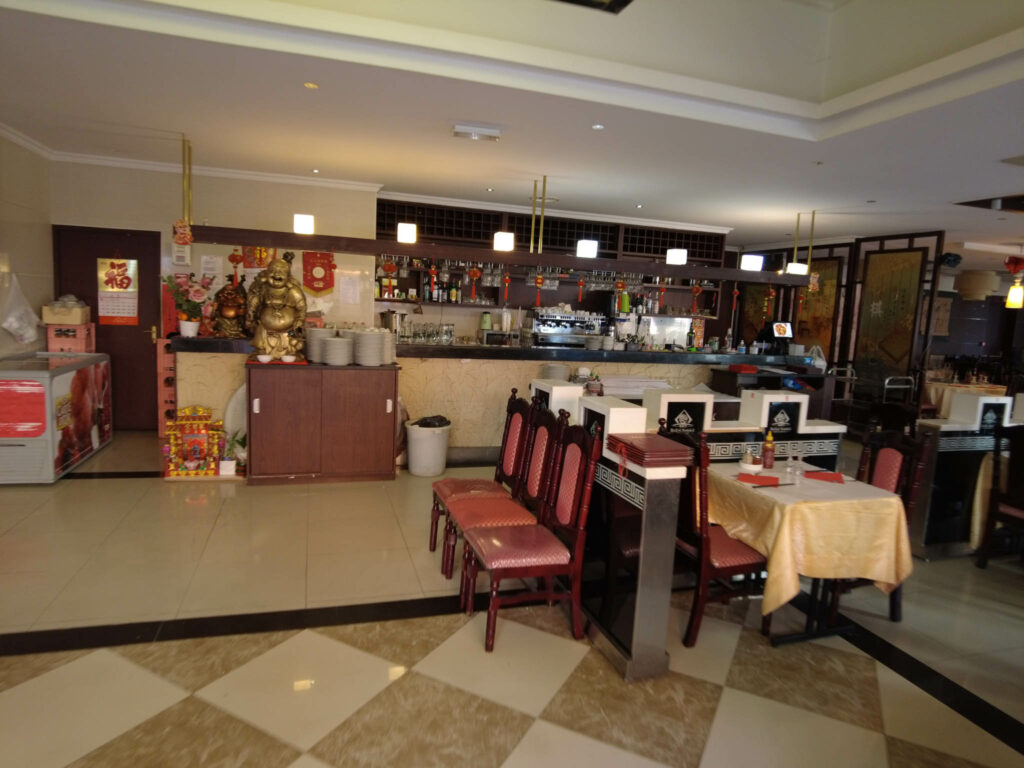 Inside the restaurant, there is a pretty large room. It almost looks like this place could be a buffet, to be honest. Even the decoration is very reminiscent of the buffet in Torcy.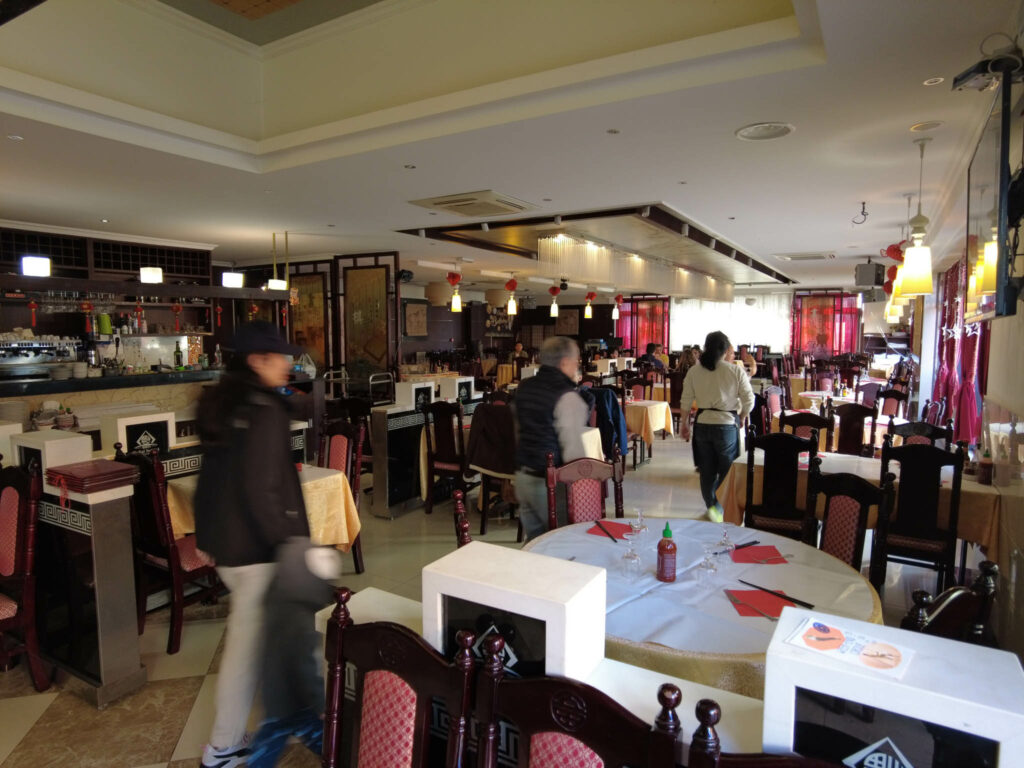 Inside the restaurant, there are a lot of tables, and most of them were empty when we arrived, but not too long after, they started to fill up bit by bit.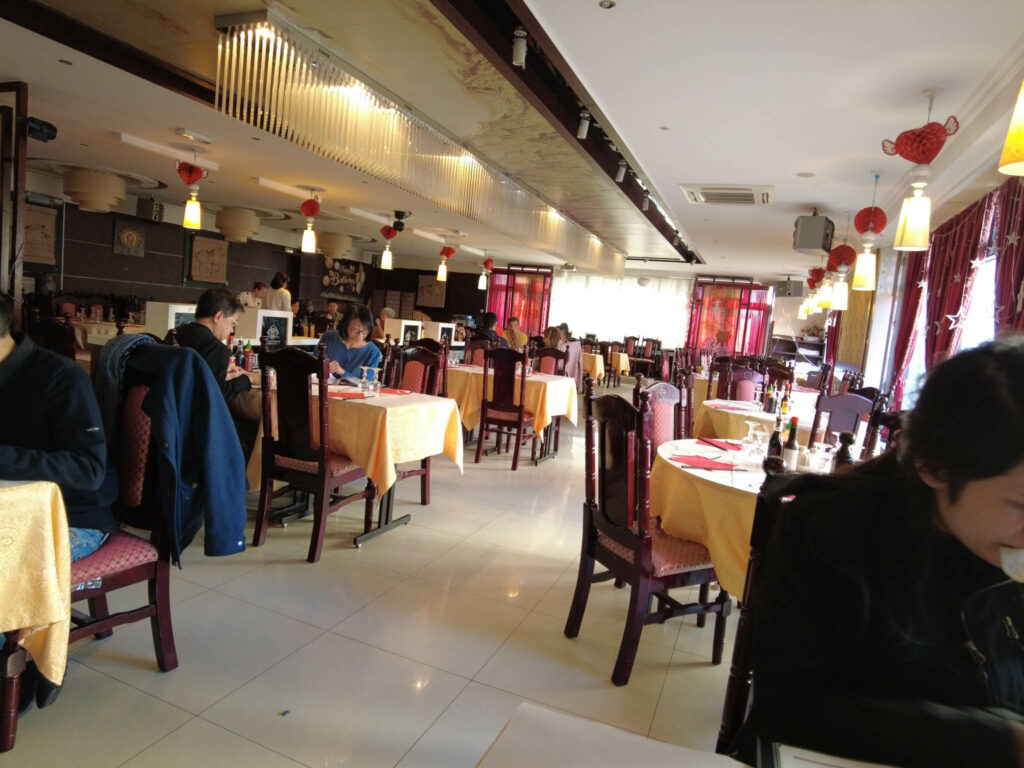 Most of the tables are for 2, 4, or 6 people, but I am sure they can combine some of them to accommodate a larger group.
The decoration is classic; nothing out of the ordinary stands out; it looks like any other Chinese restaurant. The place looks quite nice and benefits from a good amount of natural light.
It doesn't feel expensive, though, and maybe it should be, like the surroundings of this restaurant anyway.
The menu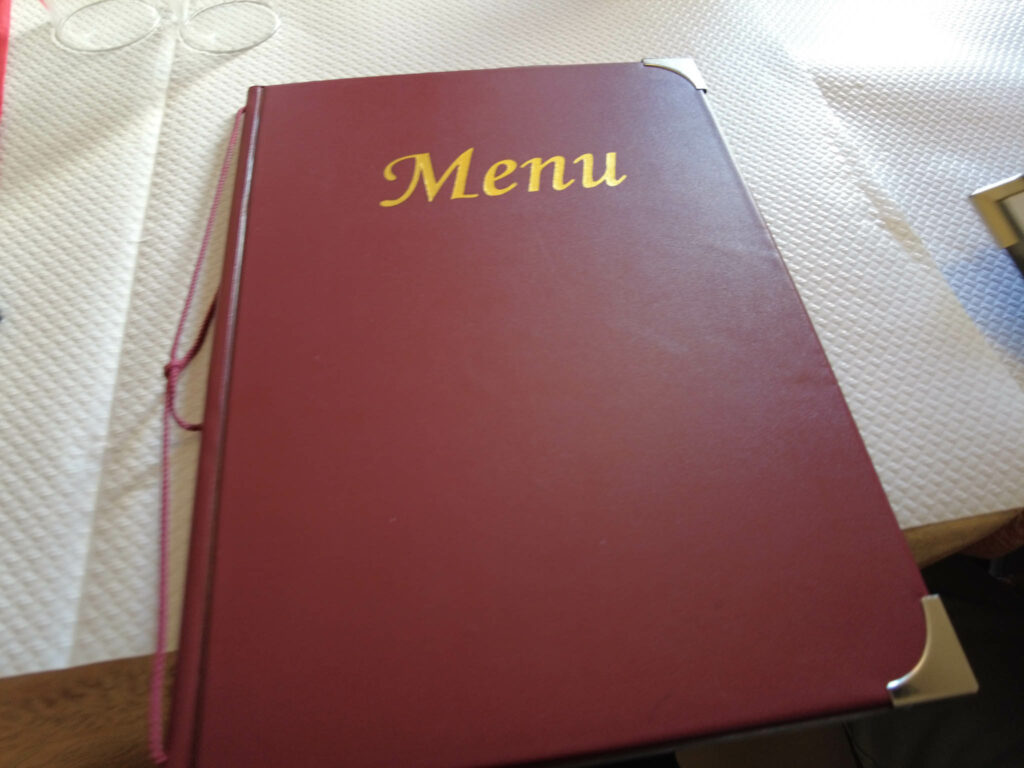 The menu of the restaurant looks actually quite nice from the exterior. Inside it's very reminiscent of restaurants like Royal Torcy. Meaning there are a lot of dishes and pages to choose from. Perhaps too much.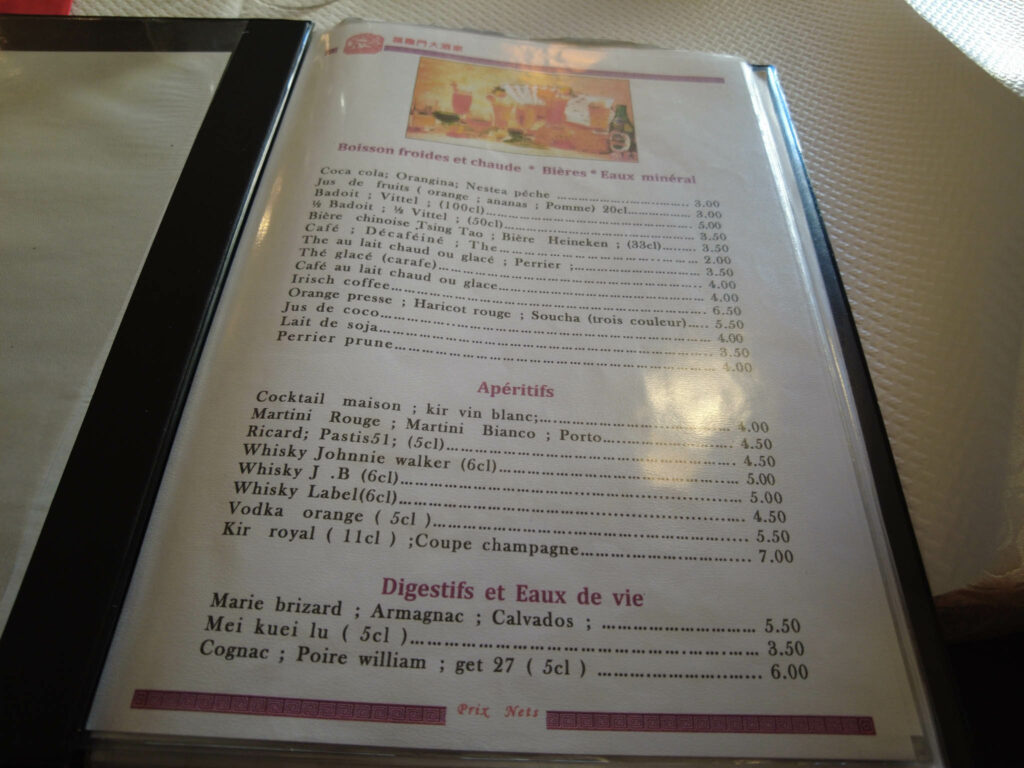 On the first page of the menu are the drinks; that's odd; usually they come at the end, just before the wine. Here are the classic drinks that are sold at a regular price in restaurants, perhaps except for the 1 liter bottle of Badoit or Vittel that is priced at 5 euros. That's quite expensive; we are not too far from prices inside Le Louvre.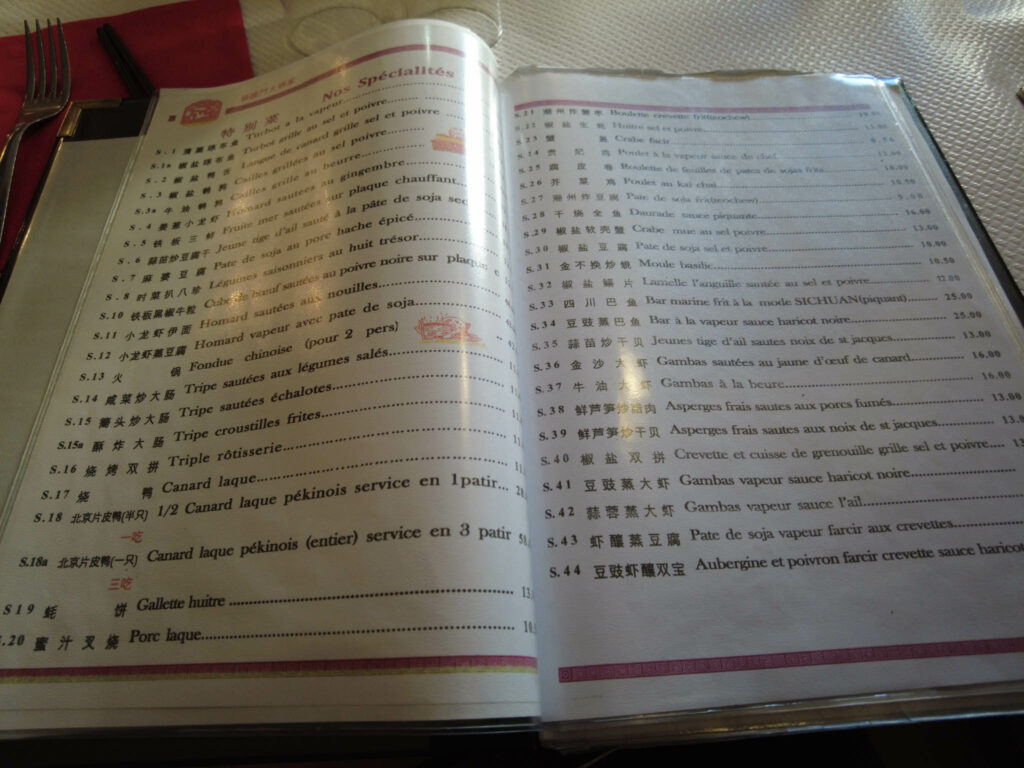 This restaurant has as much variety of dishes as a buffet, perhaps even more. That's generally not a good sign when it comes to serving food.
You can even find some lobster in some of these specialties. Obviously, we will never have the chance to try some of these dishes, and perhaps they are excellent. It's just that it is not necessarily the case in restaurant that tries to do as much as possible. Restaurant that excel at one thing tend to focus on this.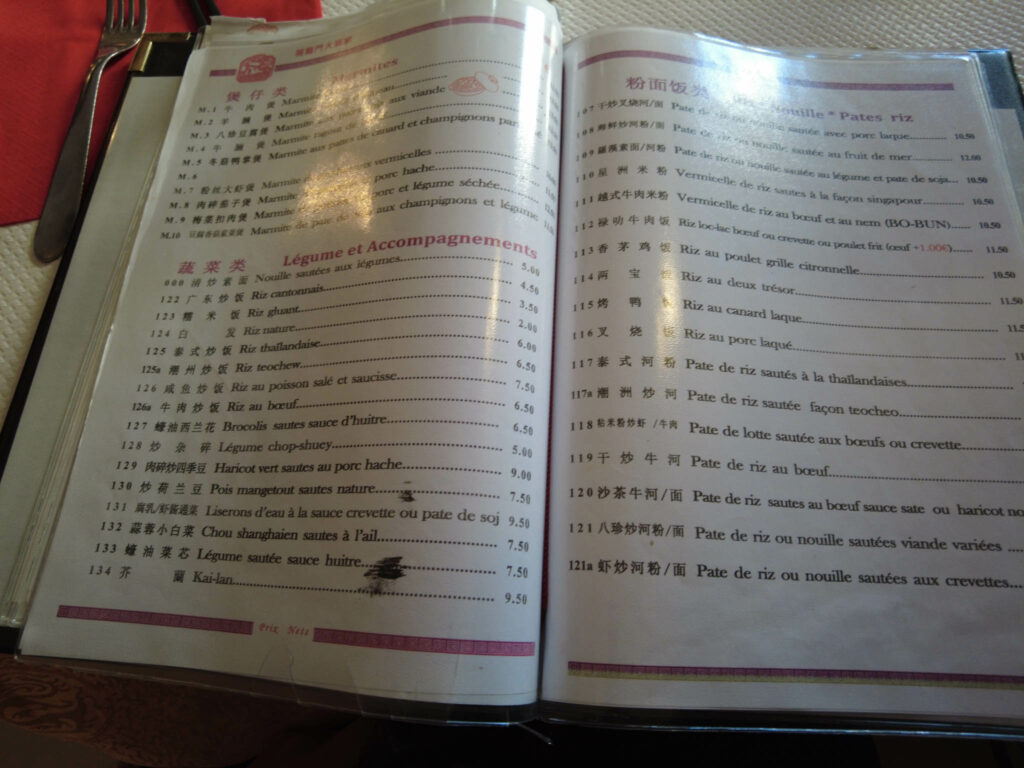 There are so many dishes on this menu that the only thing you need to note is that most of them are Chinese, which is a good thing. Obviously, some classics from other Asian restaurants are there, but only the main ones.
Prices seem to be aligned with other restaurants in the area, which can be a good or bad thing depending on the quality of their dishes.
The experience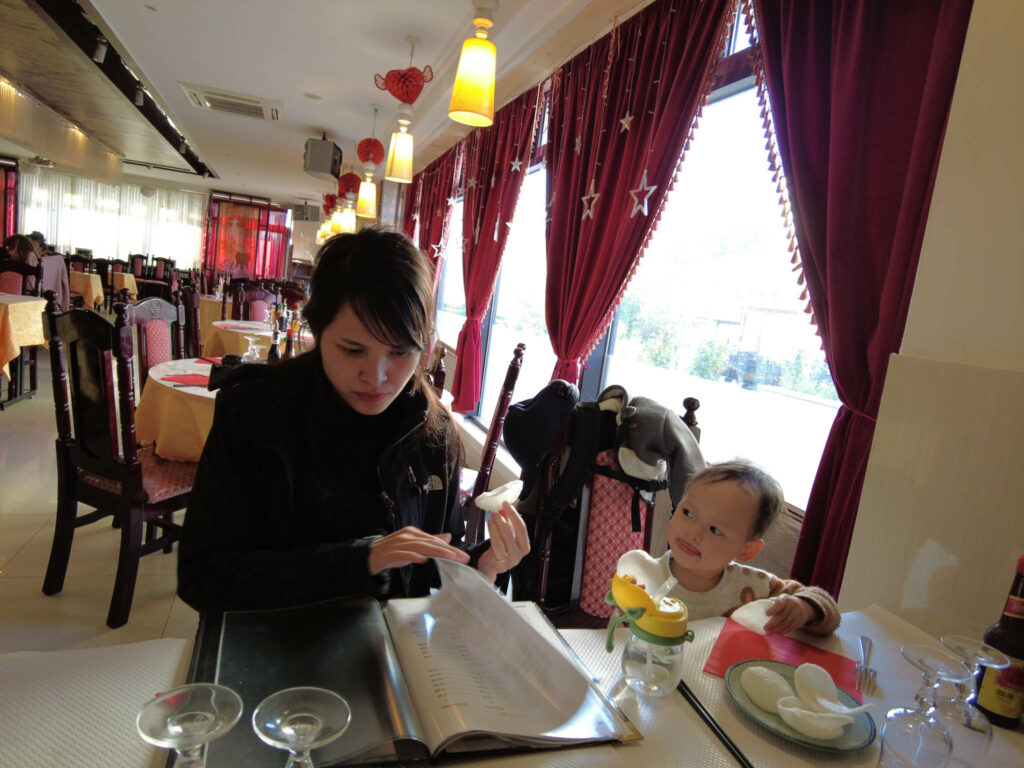 One thing they do right is the service. The staff was limited compared to a busy restaurant like Royal Torcy, but the staff was very attentive and helpful.
The waitress set us up and took our order in no time, with a smile, and our order came out very quickly. She even brought a baby chair without asking, which was nice attention.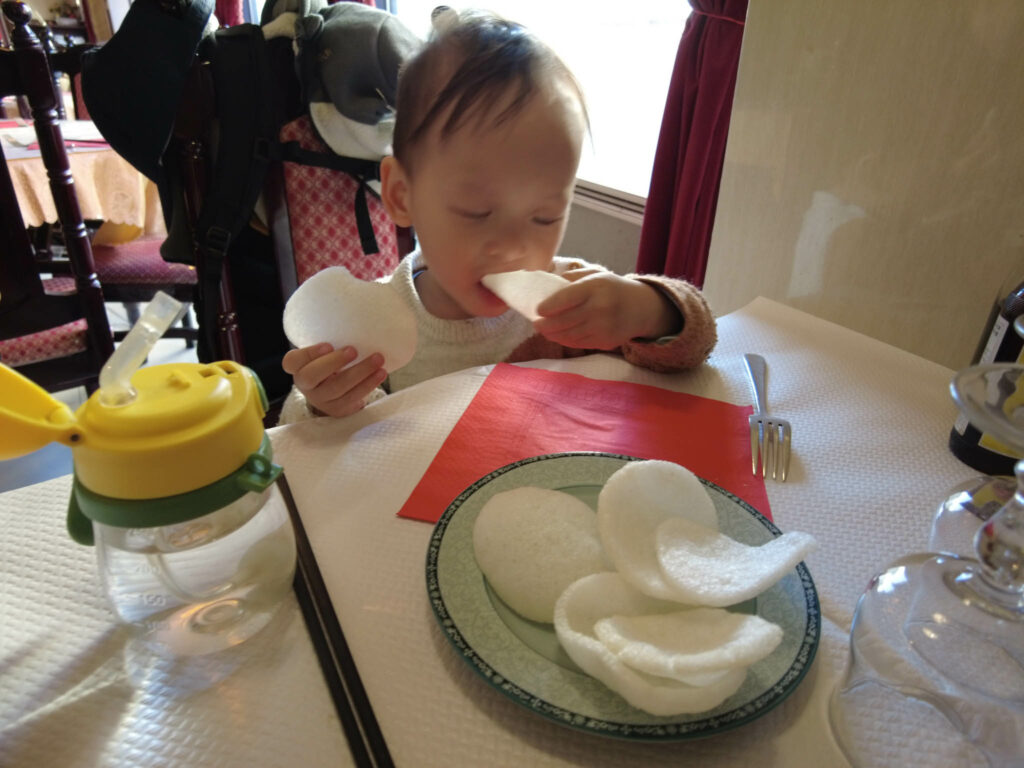 She even brought some fresh shrimp chips for our son, who loves this kind of attention. This is not something that all restaurants will do for you.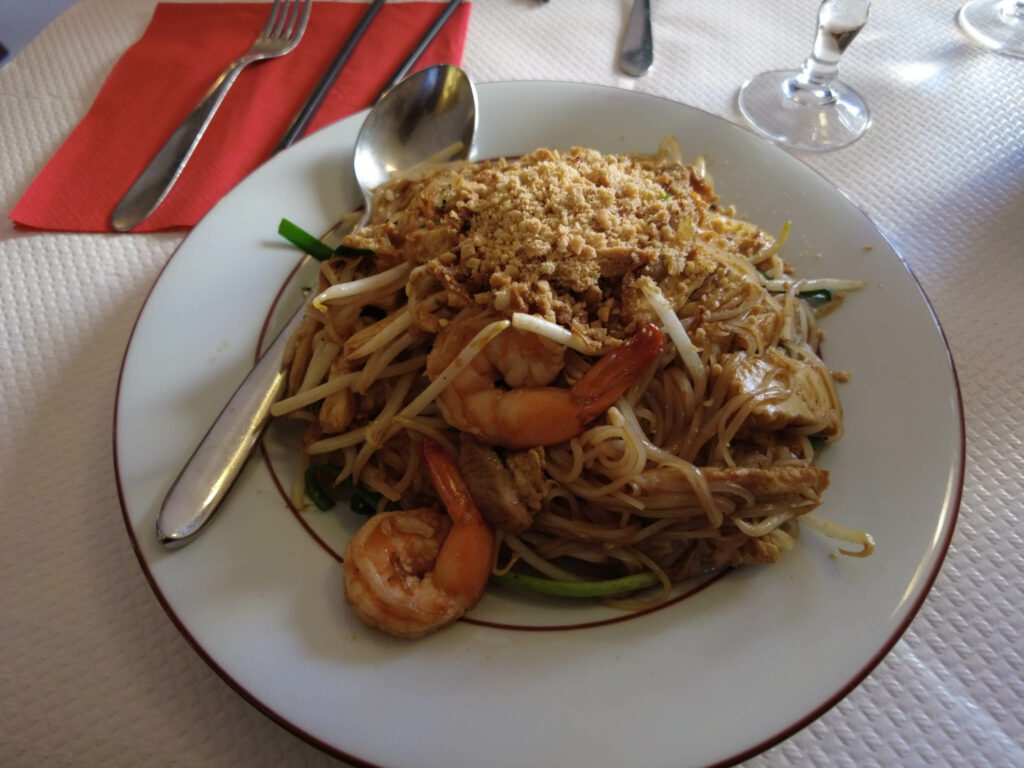 The first dish to arrive was mine, a Pad Thai. The plate was big, and there were tons of rice noodles on top. This restaurant serves generous portions, which is a great thing.
The taste was good and strong, maybe just a tad salty overall. The noodles were cooked as they should, firm but still easy to break. I've tried many Pad Thai in my life, this one was neither the best one, neither the worst one.
I think outside being a bit salty it would satisfy most European taste buds.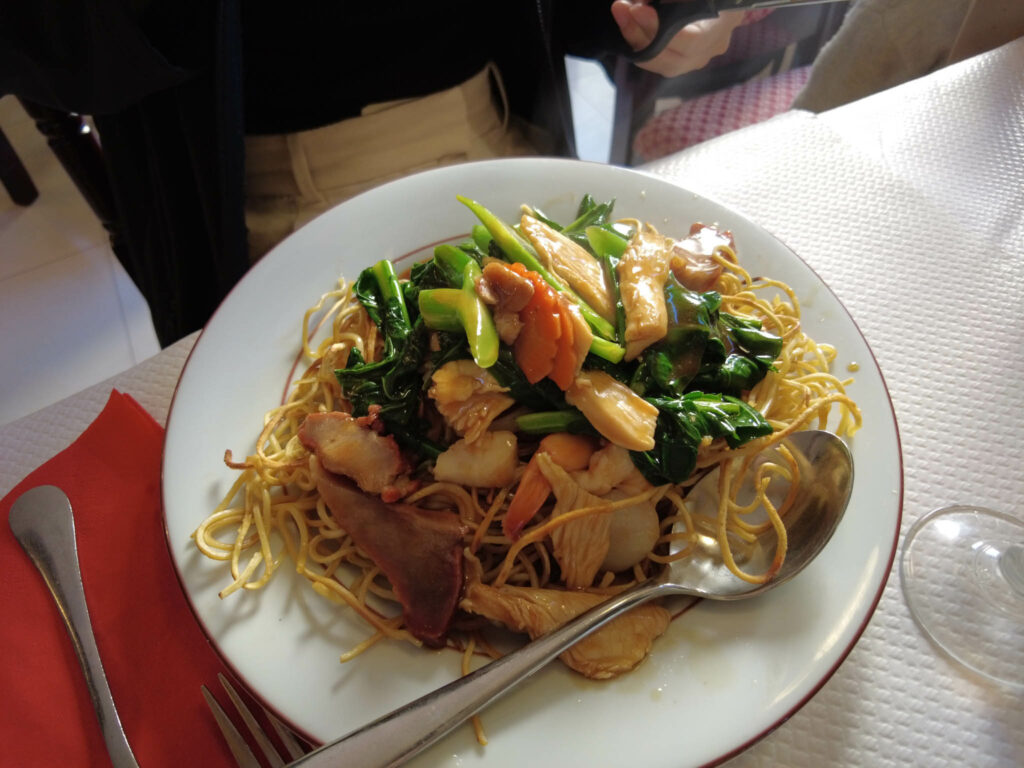 My wife ordered the fried noodle with different meats, which had quite the same profile. It was overall good. Perhaps better than the one in Mekong, for example, but the dish was overall a tad too salty.
The portion was generous as well, and there was no complaint when it came to the freshness of the meat. Overall it was good but nothing to rave about.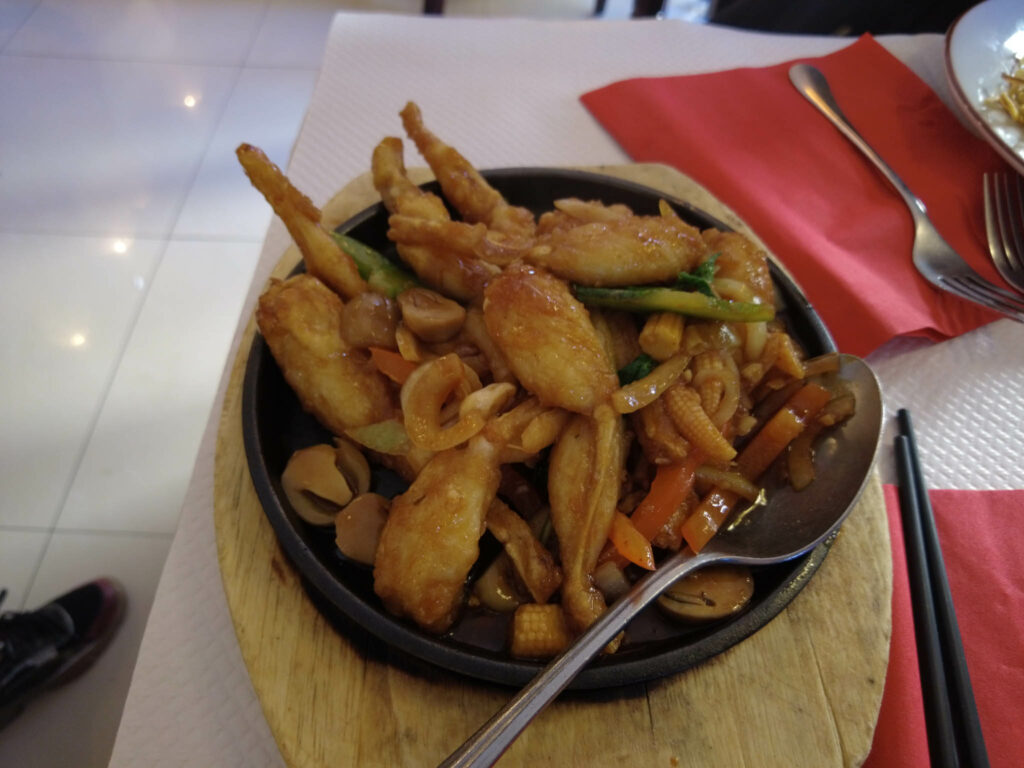 We ordered frog legs sautéed with basil on the side. Again, the taste of the dish was decent but nothing to rave about and a tad too salty for our taste, and we love salty. The meat, compared to, let's say, Bonjour Saigon, really had a strong taste of frogg, which is something you may like or dislike.
Me I am not a fan of the real taste of frogs. For me, I like it to taste a bit like chicken with a different texture.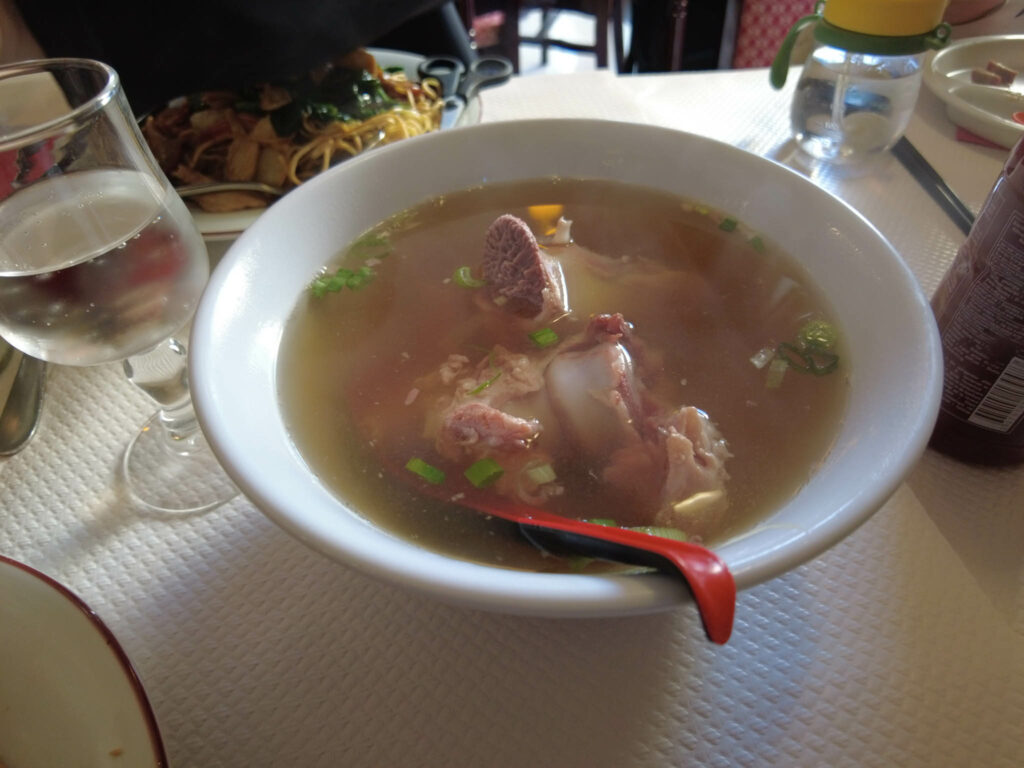 Another good point was that they offered us a classic pork bone soup, which tasted not too dissimilar from the one in New Saveur d'Asie but was not as good and a tad salty again.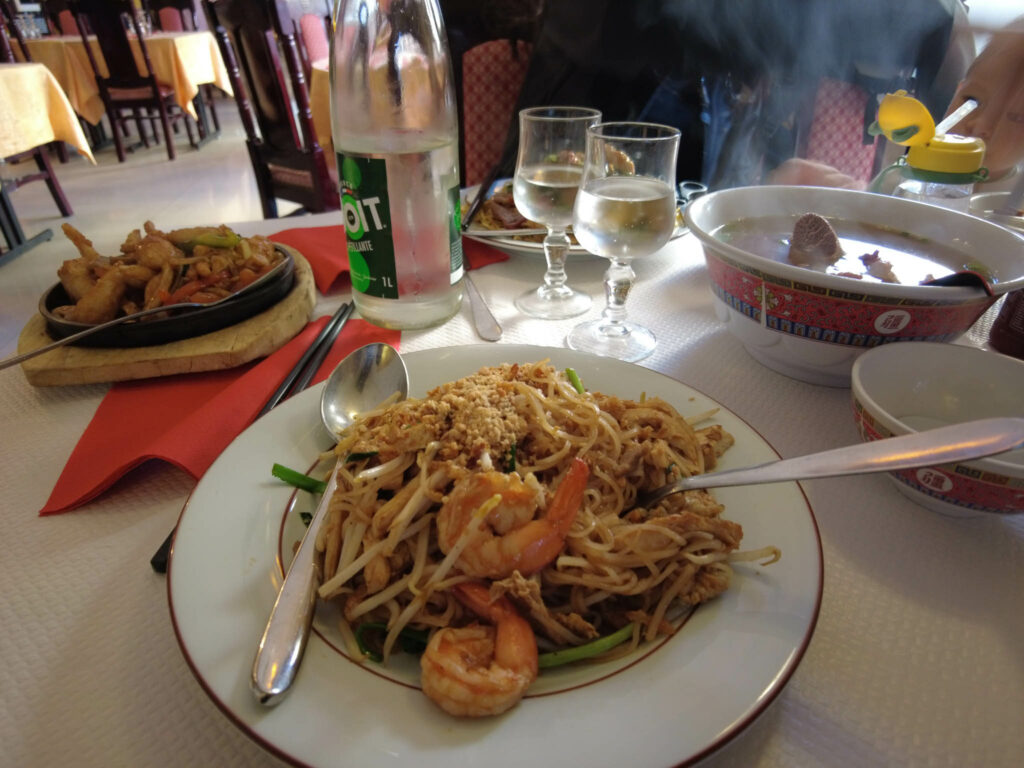 As you can probably guess, there seems to be a theme to these dishes. They taste good but are a bit too salty for our taste. They are neither the best we've ever tried nor the worst. They do the job. Perhaps if they were a tad less salty, this would change our perspective.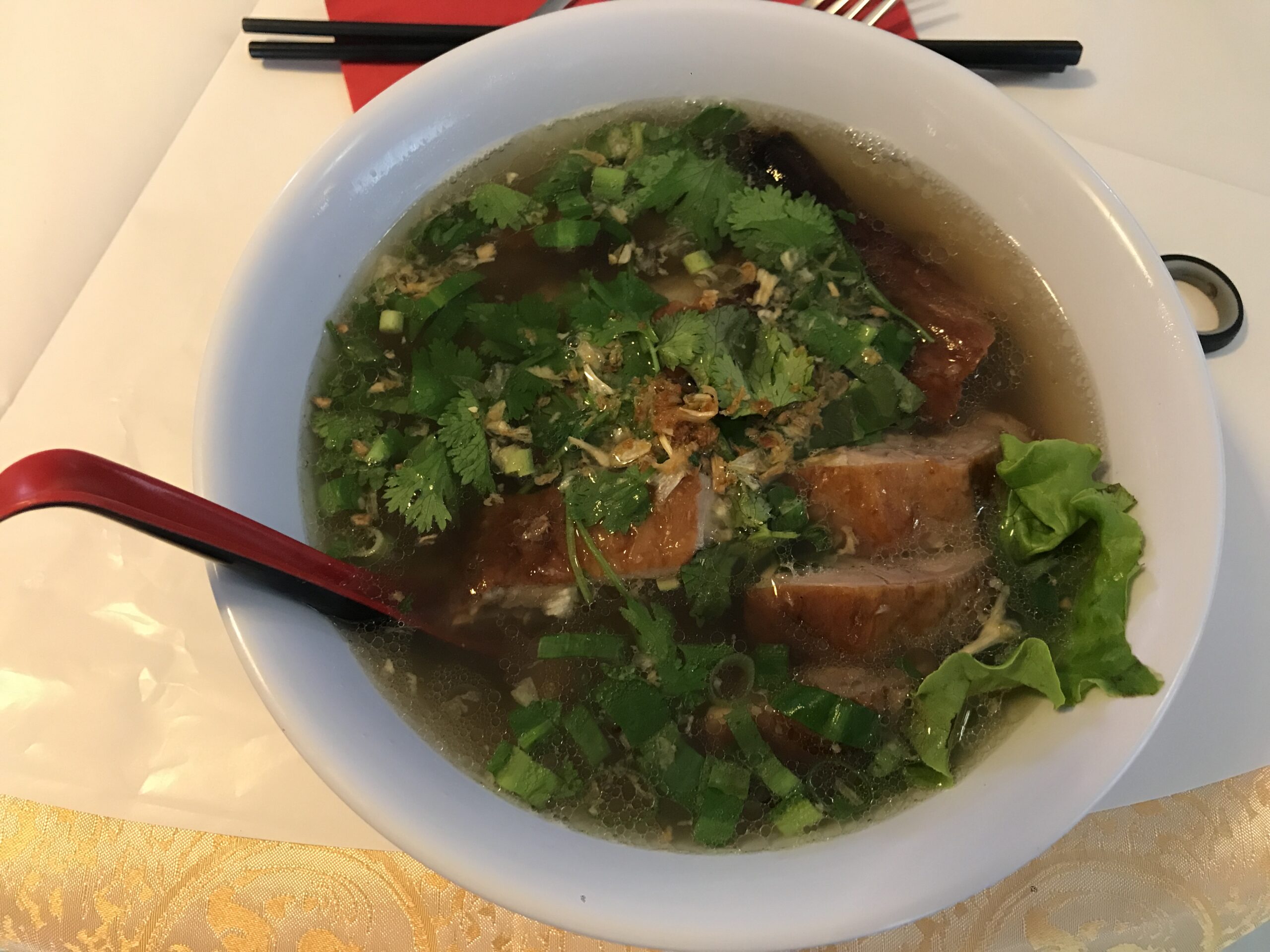 We came back a second time, and my wife ordered a duck soup; perhaps she was expecting a vit, but the taste was very different according to her and very salty. She didn't enjoy it as much as she would at another restaurant.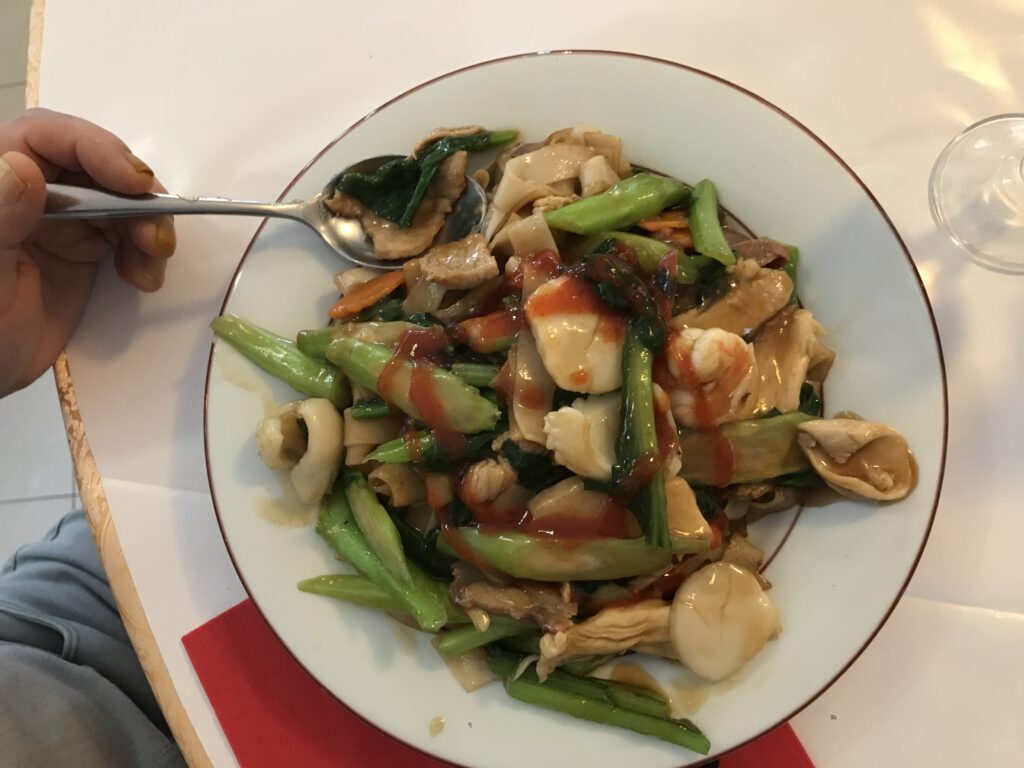 My dad ordered a Pho Sao, which is basically rice noodle sauté with meat or sea food. This one was particularly generous. My dad didn't finish and brought about half home. I think he felt like it was decent, but I don't know if he was really enjoying it.
Verdict
7.8 out of 10.
Royal de Noisiel is a restaurant that is a bit isolated but near a big Asian convenience store. The location is not the best since around the restaurant there are a lot of social buildings.
Still, the location has a large size and looks decent. The service is very good, and the staff is very helpful. Perhaps the only downside is that the food, while good, is a bit too salty.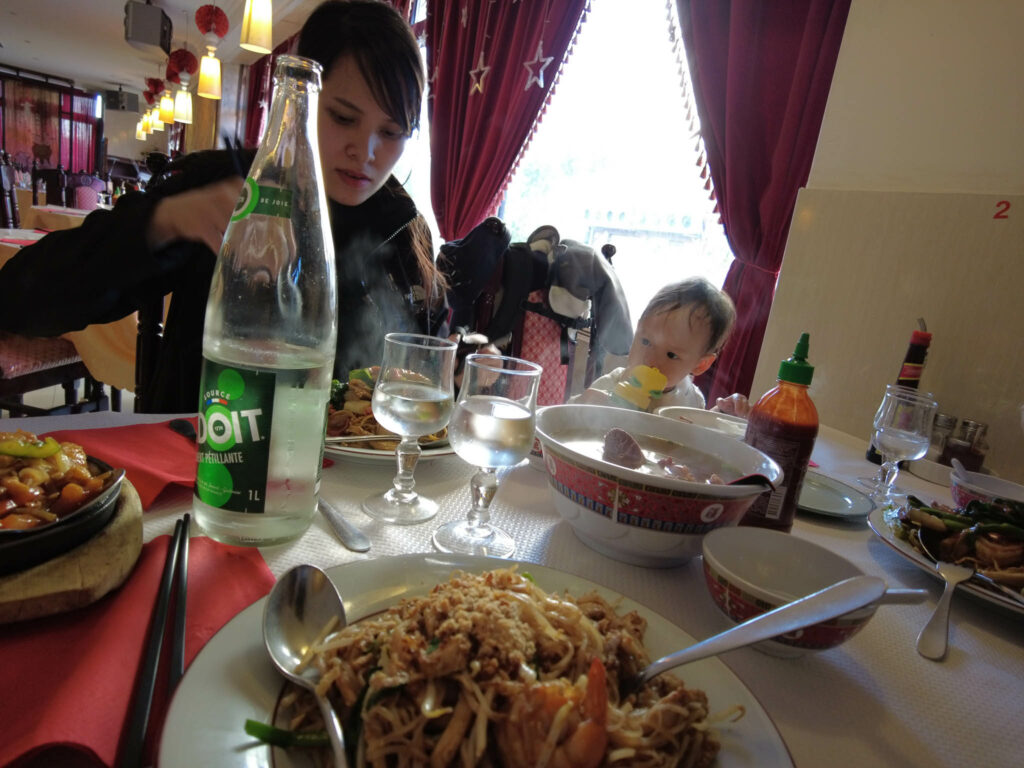 Also, they don't seem to have any dishes that are exceptional. I think in this day and age, there are so many offerings that are sometimes more convenient that you must offer something different or significantly better than the competition.
Overall, this restaurant is solid, but unfortunately, they don't have this little spark that makes the difference for us to drive all this way regularly.
The positive aspect of it is that they are not too far away from it. They just need to lower the sodium and be very good at one thing.
Informations
Royal de Noisiel
Address : 2 Pass. Louis Logre, 77186 Noisiel
Téléphone : 01 64 80 08 89
Facebook : https://www.facebook.com/pages/Royal-Noisiel/438493906201521/