Nhu y is a Vietnamese restaurant located in the city of Torcy. This restaurant was founded by the same people who opened Pho Quynh in Lognes.
This place is, according to my friend, the best pho in the area. We will see in this review if this is true or if it is just another restaurant.
The location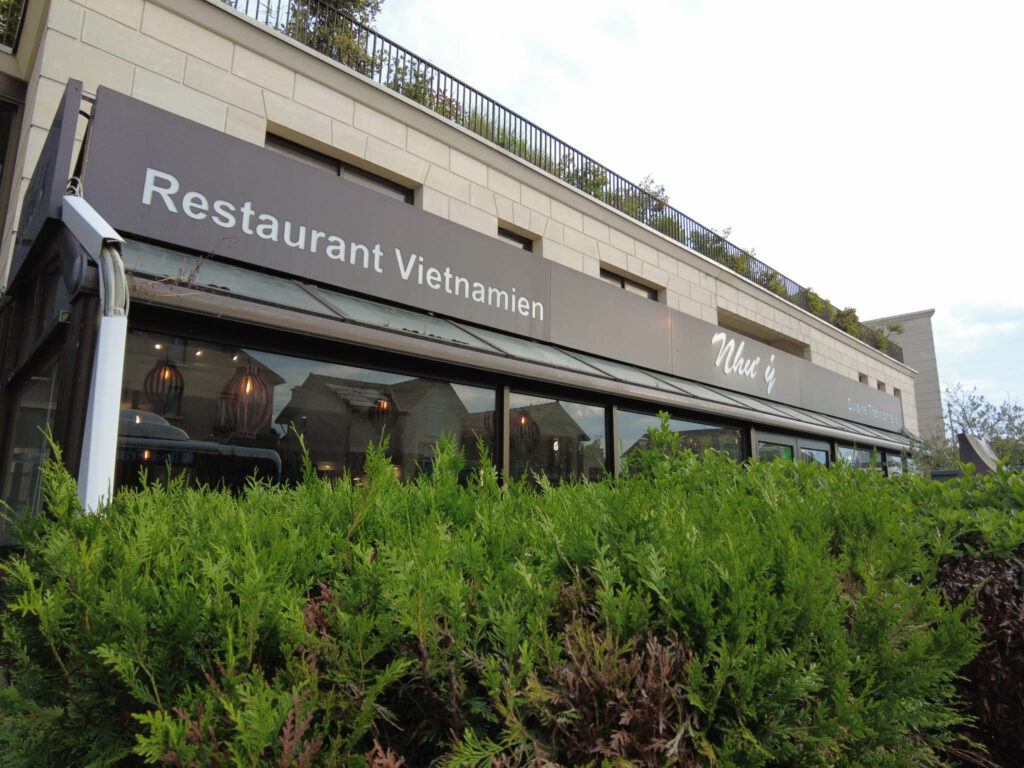 Nhu y is located in Torcy, not too far away from the old Video Future. It was the place where my family and I used to rent movies back in the day.
To give you more information about the geographical location, it's quite far from the center of Lognes and close to the old village of Torcy.
To be fair, you'll most probably come to this place by car, but if you live in the area, it's not the end of the world, and they even have some parking spots for you.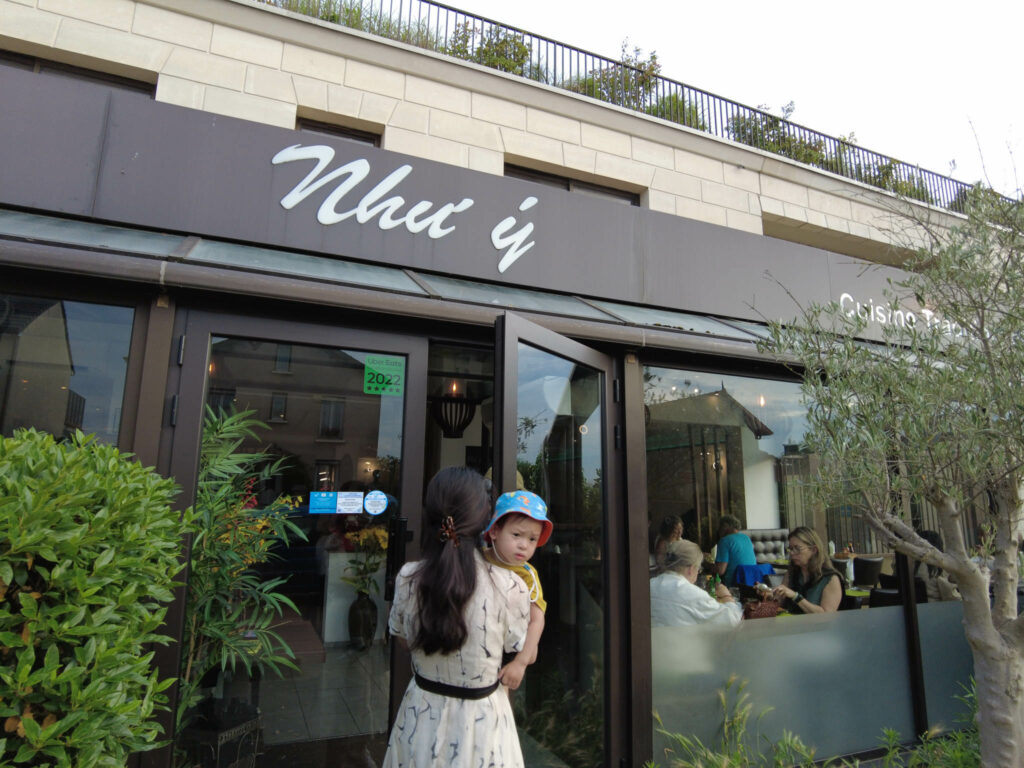 The restaurant is moderately large and benefits from a small veranda with tons of natural light. The restaurant looks quite clean and has tons of vegetation around it. It's fair to say that it has quite a nice atmosphere.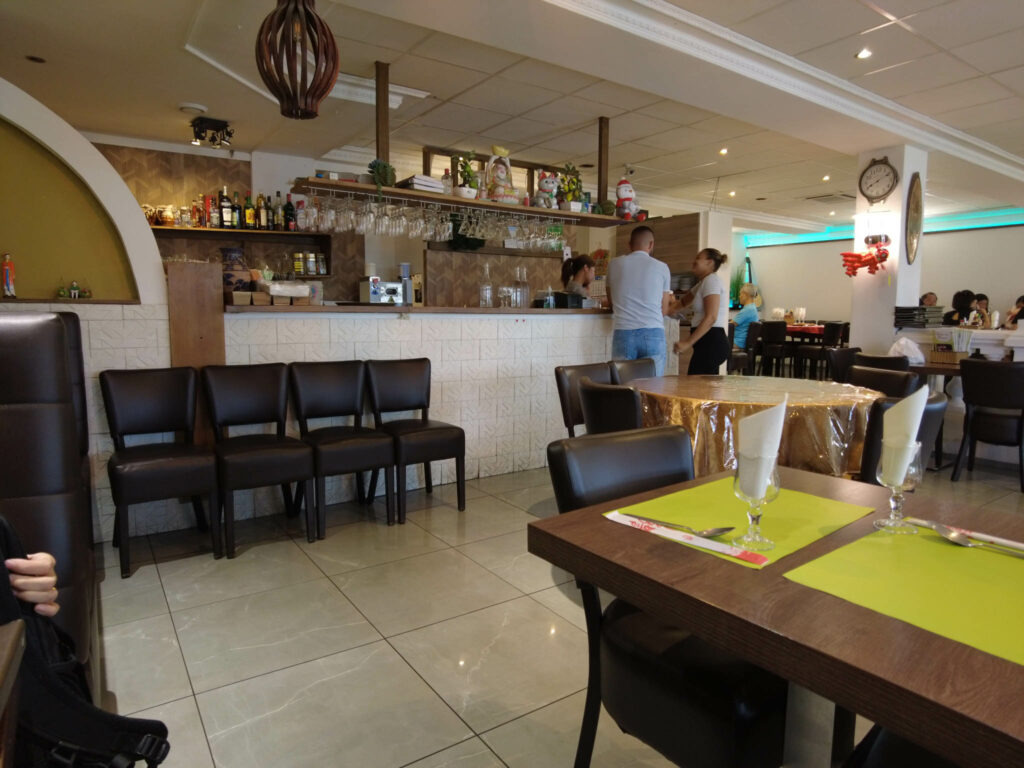 The restaurant is one big room separated by some pillars. Those, I suppose, are here to make the ceiling hold. I quite like the color theme inside the restaurant. It has a natural vibe to it, with brown wood and some green touches.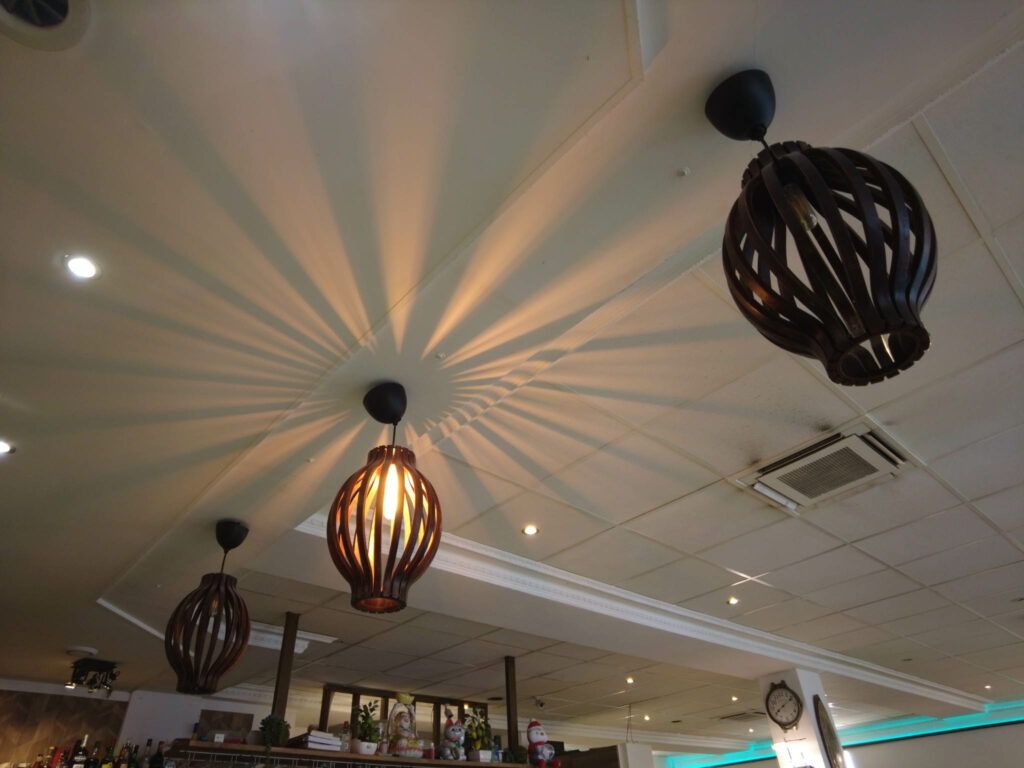 They are still using some traditional tungsten lights, which I am a big fan of. I quite dislike fluorescent white light; nothing looks good under it. Obviously, since then, most of us have turned to LED lights, but they don't quite hold the charm of these old, warm lights.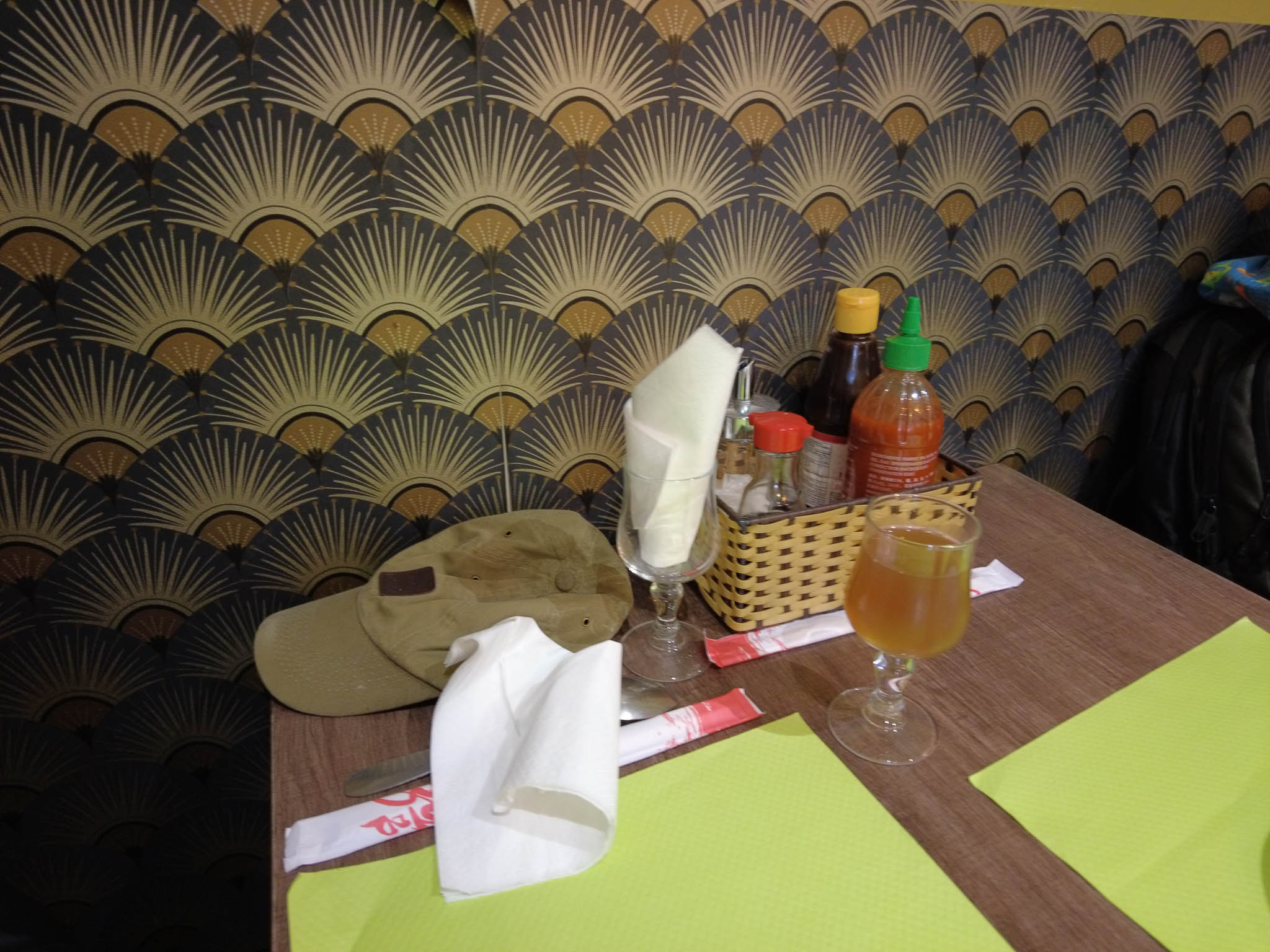 Even the walls have some interesting details or patterns that make the place look quite nice compared to other restaurants. I would definitely rate this one better than some other places when it comes to interior design and attention to details.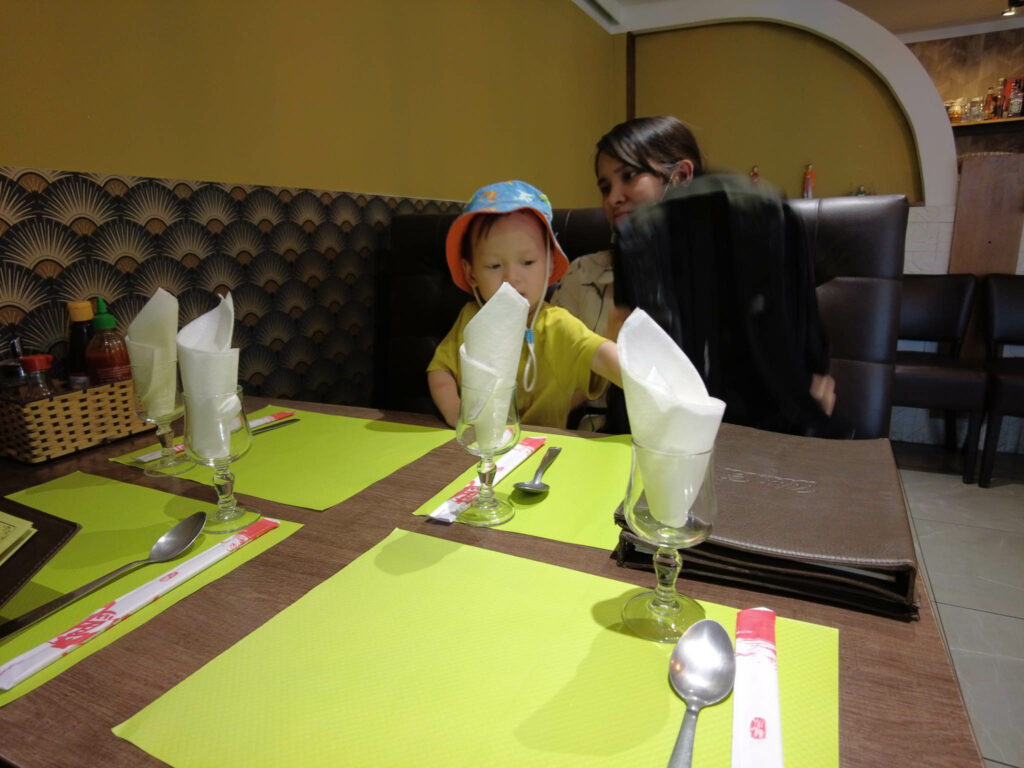 I don't know why, but I have always been a fan of the banquette, or bench in English, inside restaurants. Especially the ones with leather. It's the coziest configuration for a family of three or four.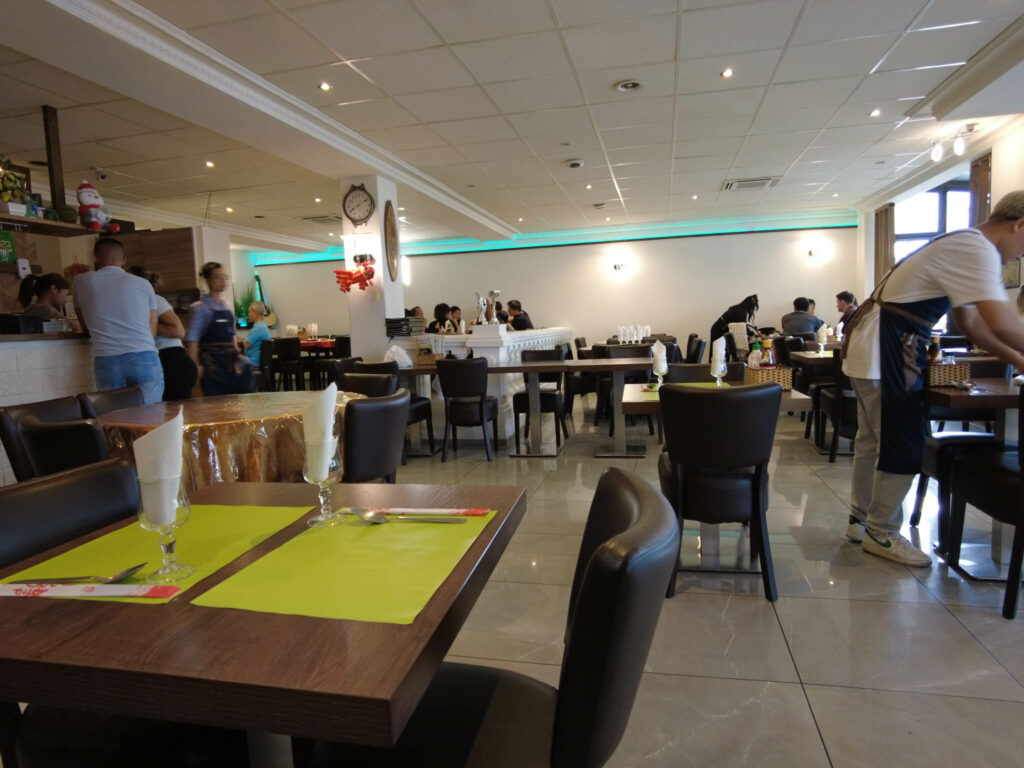 There must be at least 100 seats in this restaurant, and the inside feels quite spacious since there are distinct sections that can be used by different groups. Small tables are often on the veranda, whereas larger groups are placed in the back of the restaurant.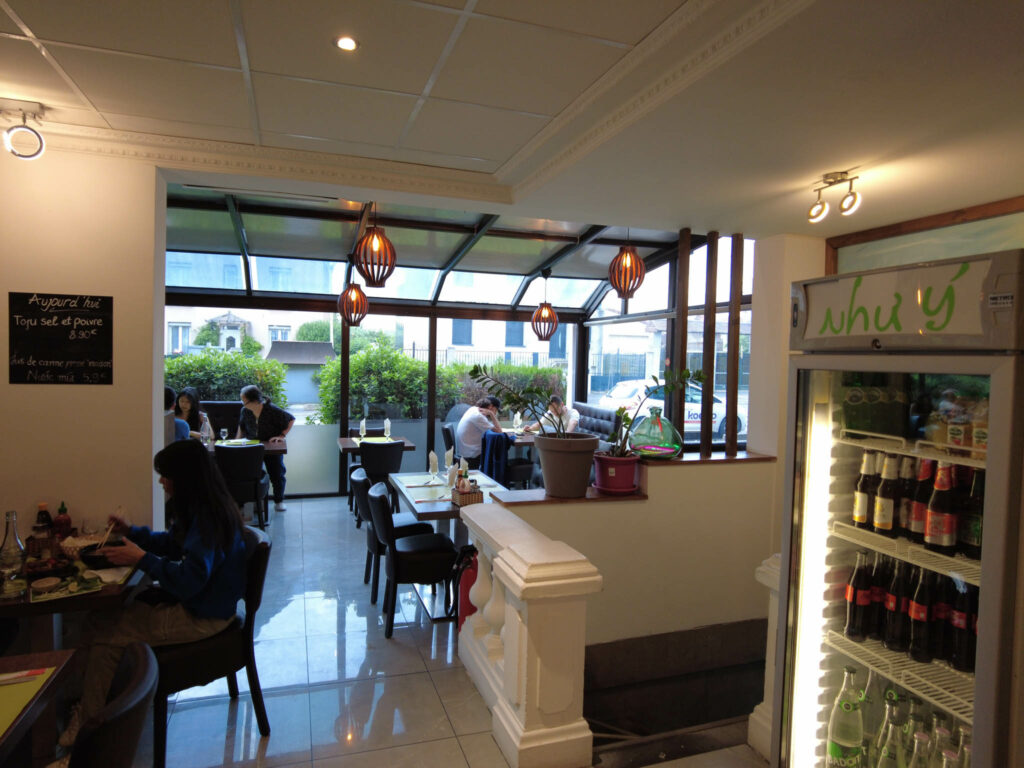 The veranda is quite nice, and we didn't particularly feel like the temperature inside was suffocating, like in Pho Quynh. Perhaps they have an exposition to the north, and we came late in the evening.
Overall the place looks great, airy, with great colors and nature. Very clean and enjoyable space.
The menu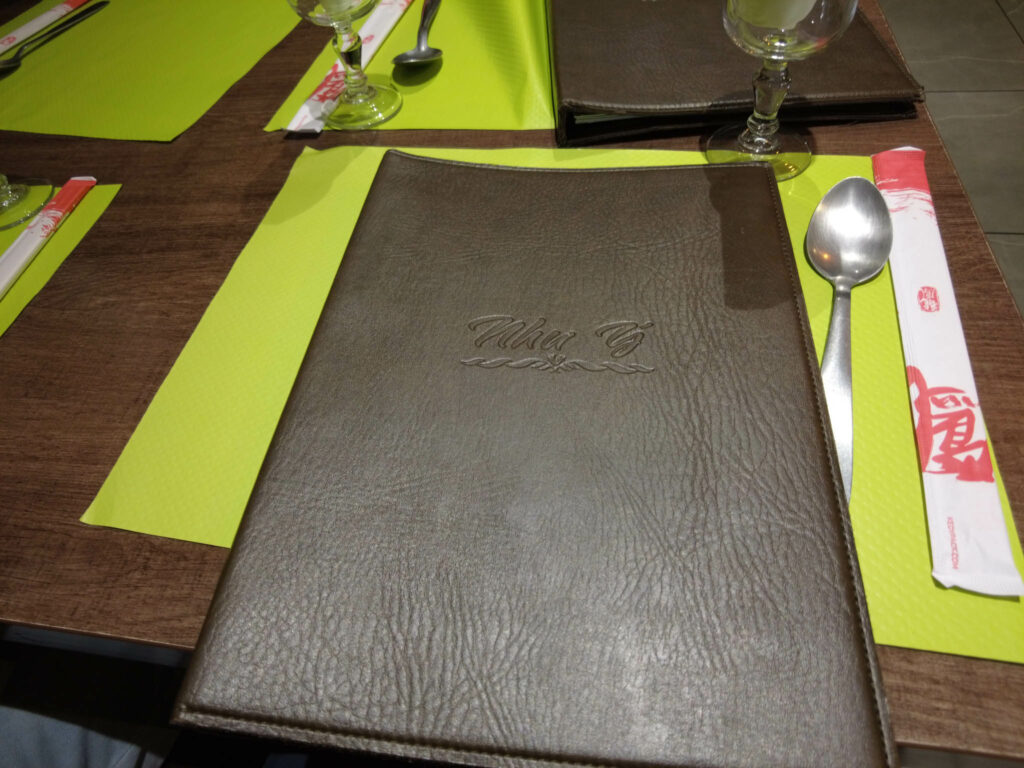 This restaurant definitely pays attention to the details. Look at this menu, for example. It screams quality. The book is quite large, and the feel of it is very nice to the touch.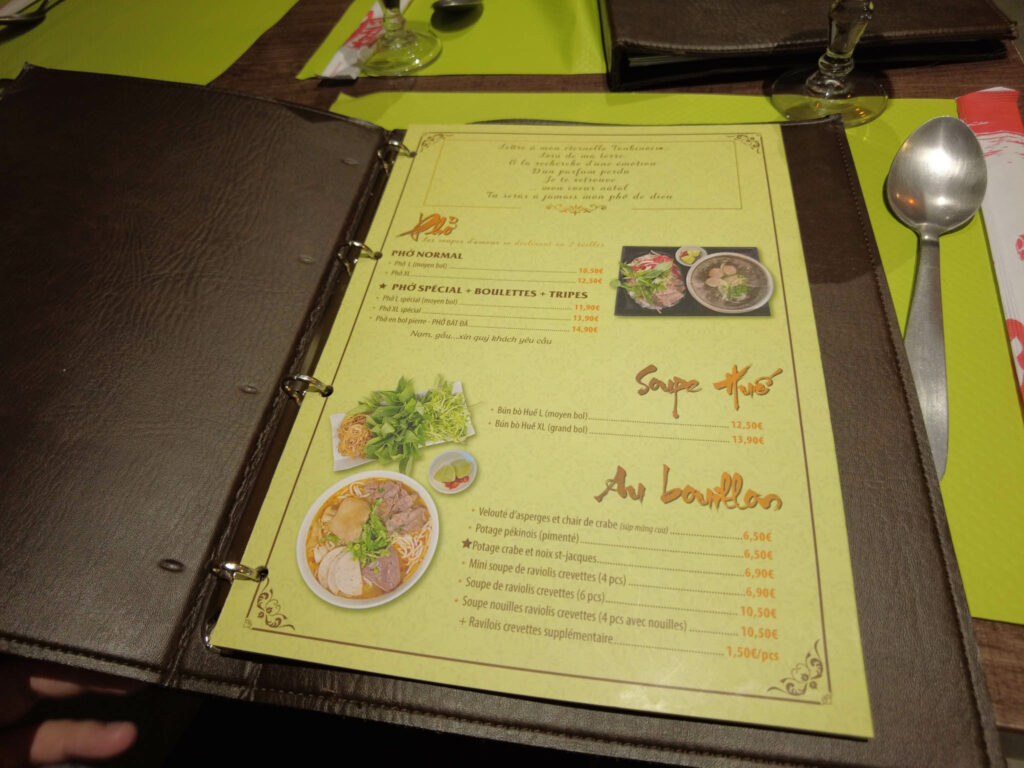 Even the interior of the menu is designed by a real professional. You can tell that they have a color scheme that is homogeneous. I am quite impressed; usually Asian restaurants don't go that far when it comes to design.
There is no need to say that the menu is extremely easy to read and understand. There are even some illustrations inside with some great over-the-top pictures. You'll find the classic Vietnamese starters: spring rolls, fried spring rolls, banh bot loc, some papaya salads, etc.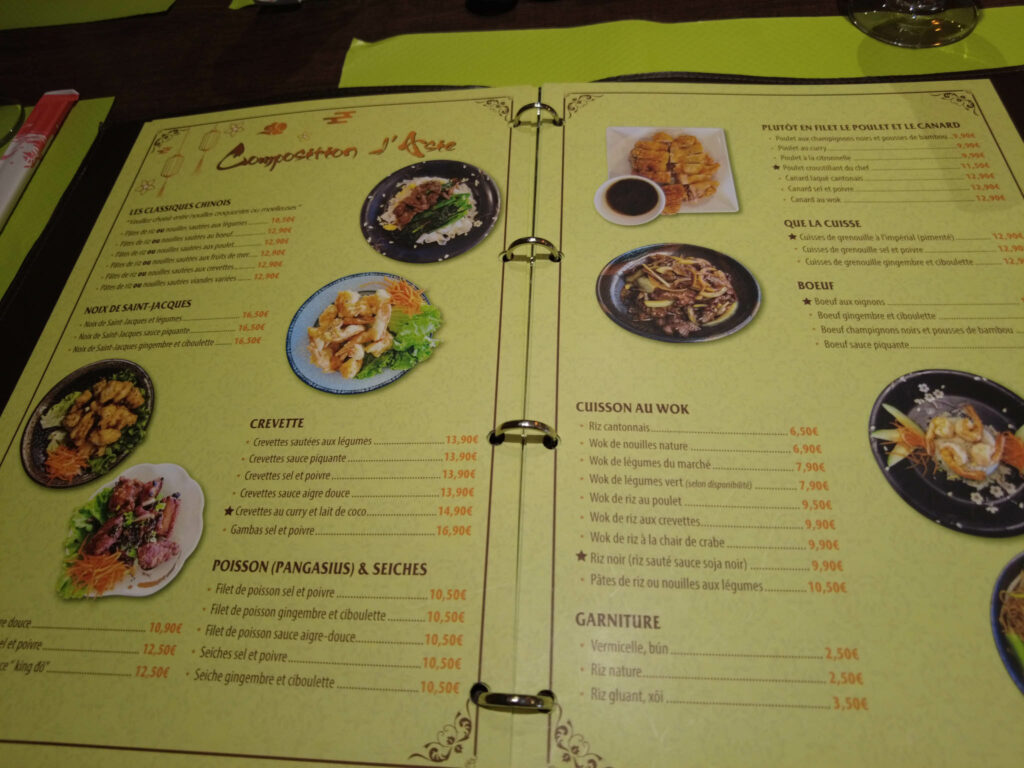 On the menu, you also have some classic Chinese dishes, some made out of shrimp, fish, and other ingredients stir-fried on a wok.
This place being a Vietnamese restaurant, the main specialties you should order are: pho, which occupies the first page of the menu; Bun Bo Hue; or Bun Bo Nam Bo.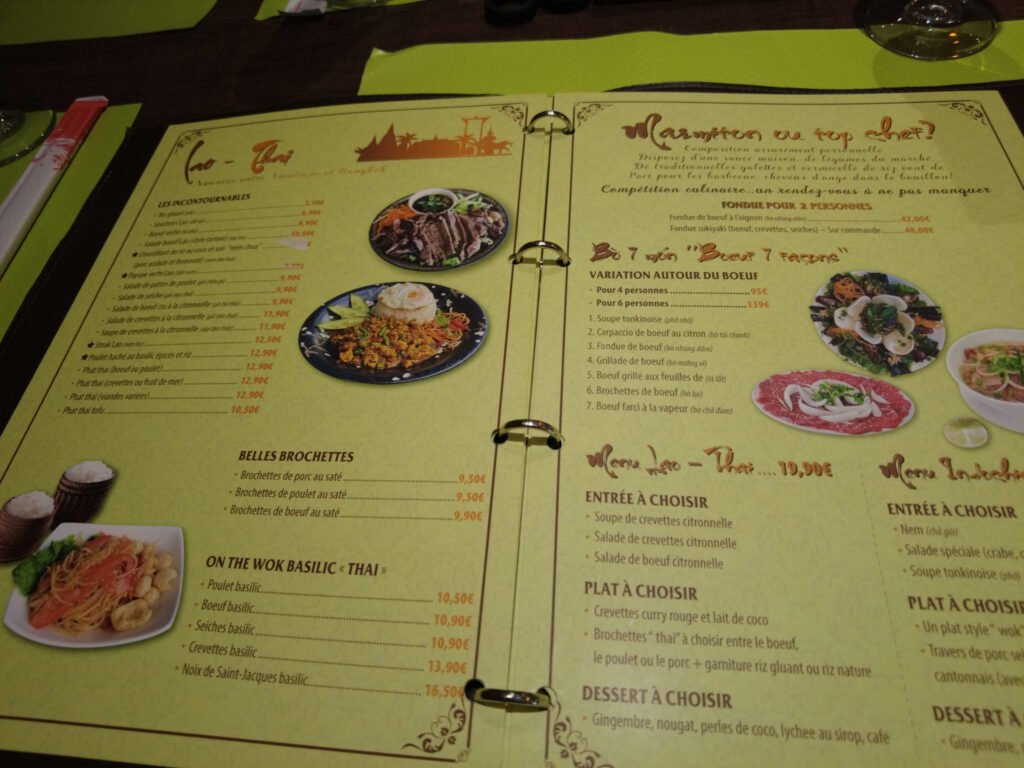 Their menu includes salads as well; it's always a good idea, especially in the summer, to accompany your burning soup with some salad.
On the menu, they have something that not many Vietnamese restaurants offer, which is fondue. I wonder if some people really order this dish.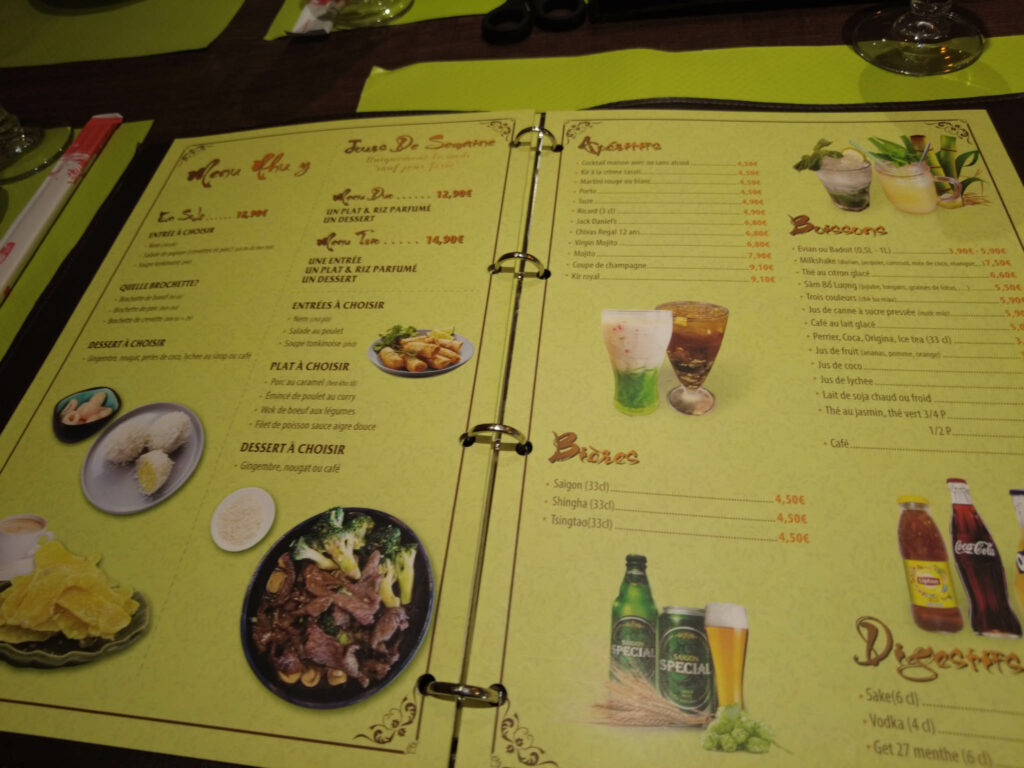 Like many other restaurants, Nhuy also proposes a menu that will include a starter and a dessert. They also have some of the famous Vietnamese beer as well as some desert drinks like the famous 3 Colors.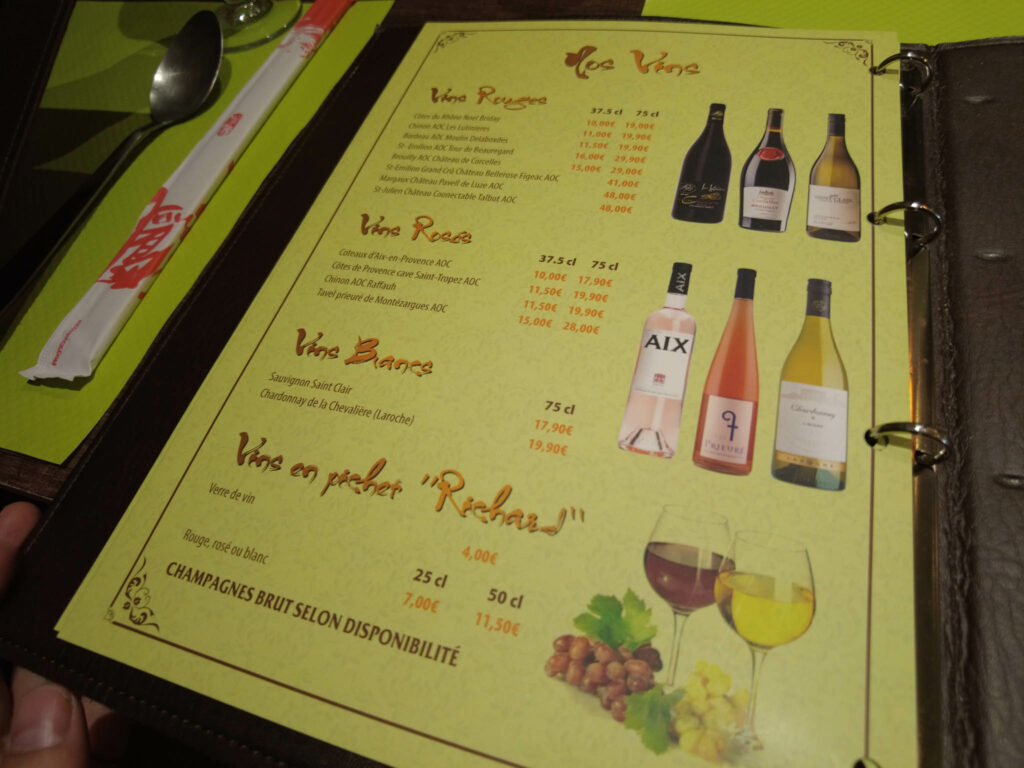 Obviously, alcohol is present on the menu. Vietnamese are usually drinking rice wine; that's basically all they really drink with beer, but since we are in France, it makes sense that here we appreciate bottles of white, red, and rosé wine.
The experience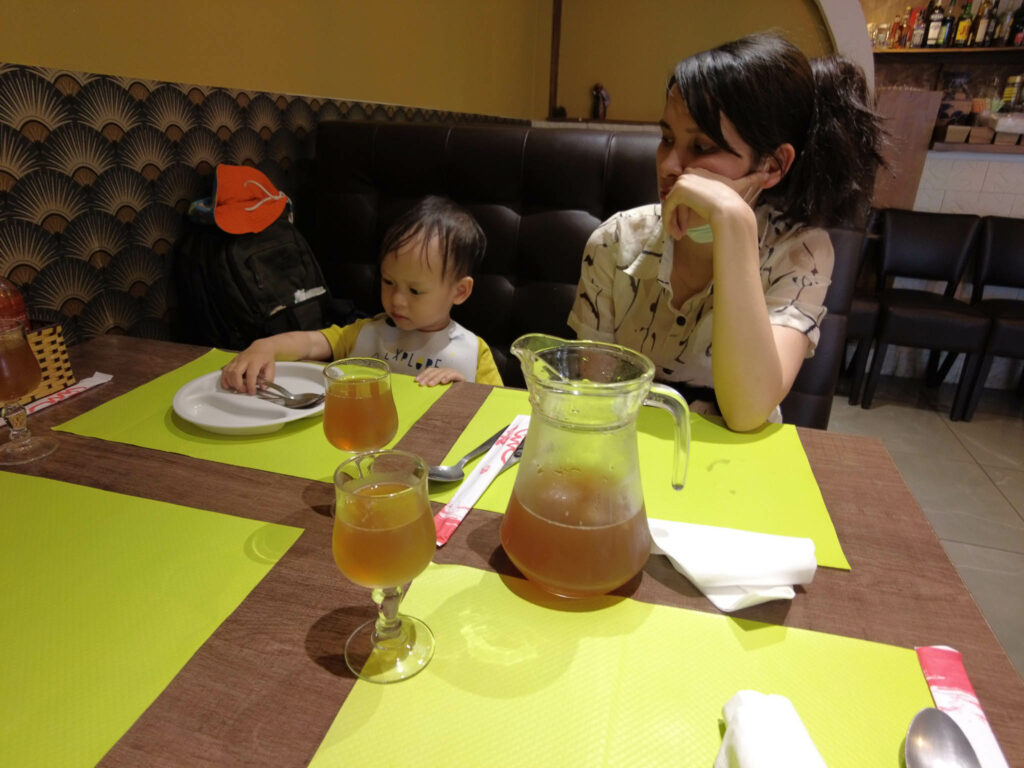 It's not the first time we come to this restaurant, we've been here over ten occasions already. Here waiters and waitress are young and they speak Vietnamese as they are Vietnamese.
They are very welcoming and serious in their work, usually Vietnamese people working in restaurant in France are extremely hard working people.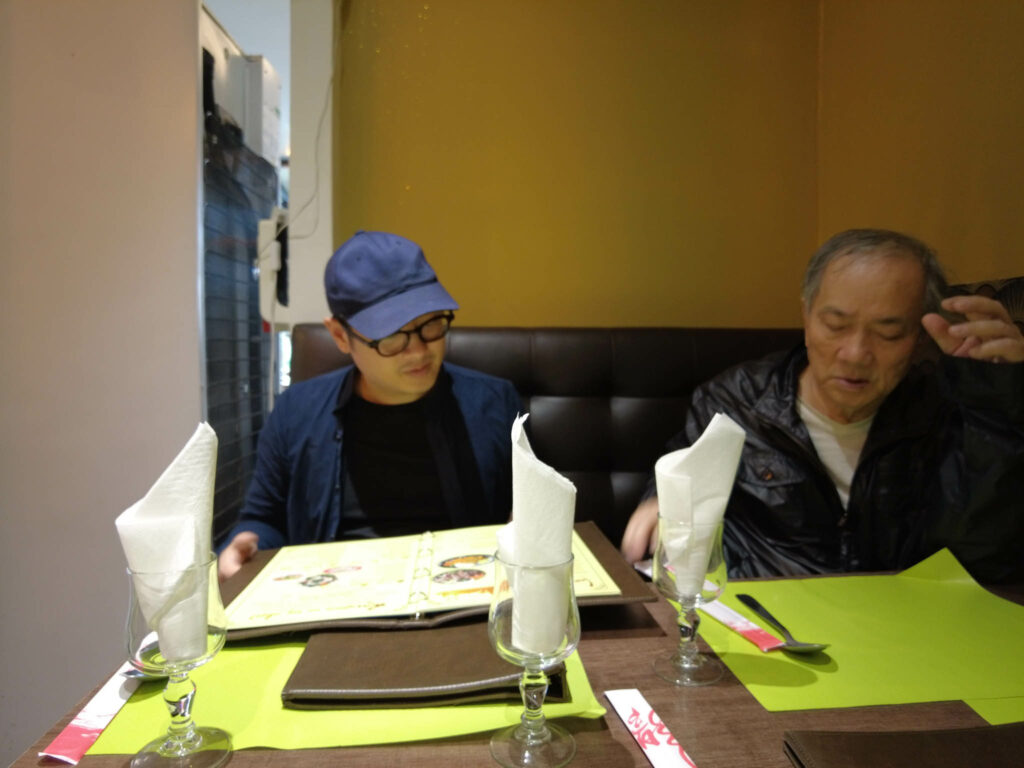 My dad is the one who always wants to eat out. It's something I would consider in Vietnam, but even there, I feel like eating at home is always the healthiest option.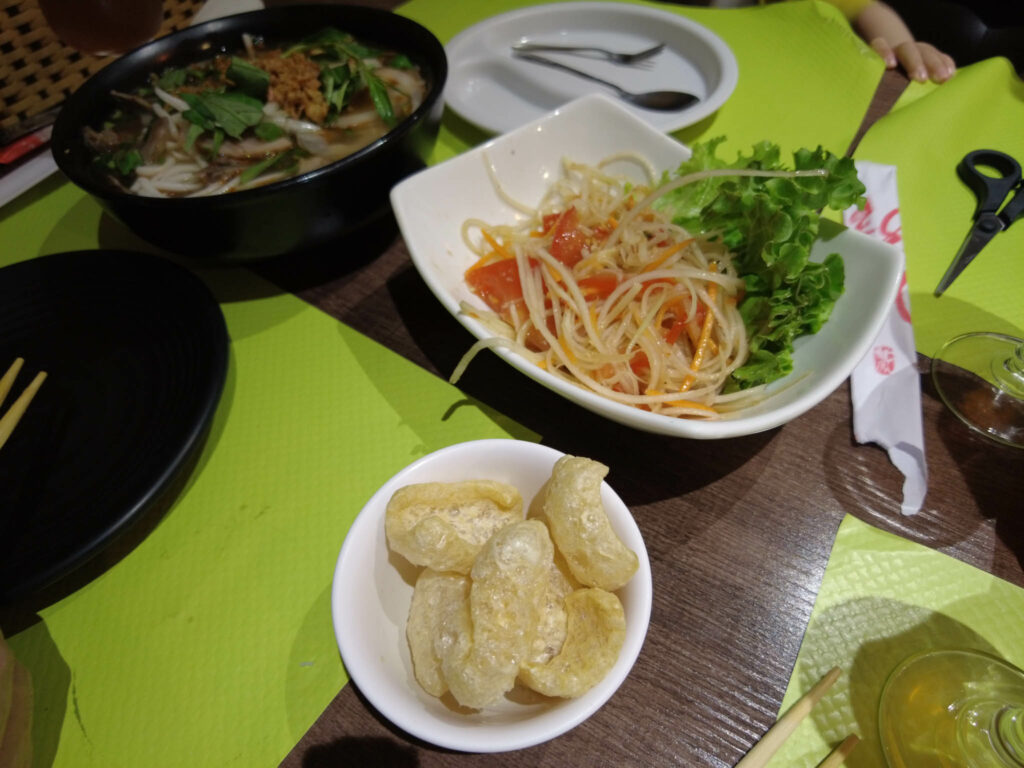 We started with a Loatian papaya salad, which was without the traditional small crab for taste but, on the other hand, was pretty generous in spice. I couldn't eat a lot of it since, in addition to my pho broth, this felt like fire in my mouth.
It wasn't the tastiest salad I've tried, but overall it was solid, perhaps a tad too spicy for my taste, but again, this salad is supposed to be very spicy.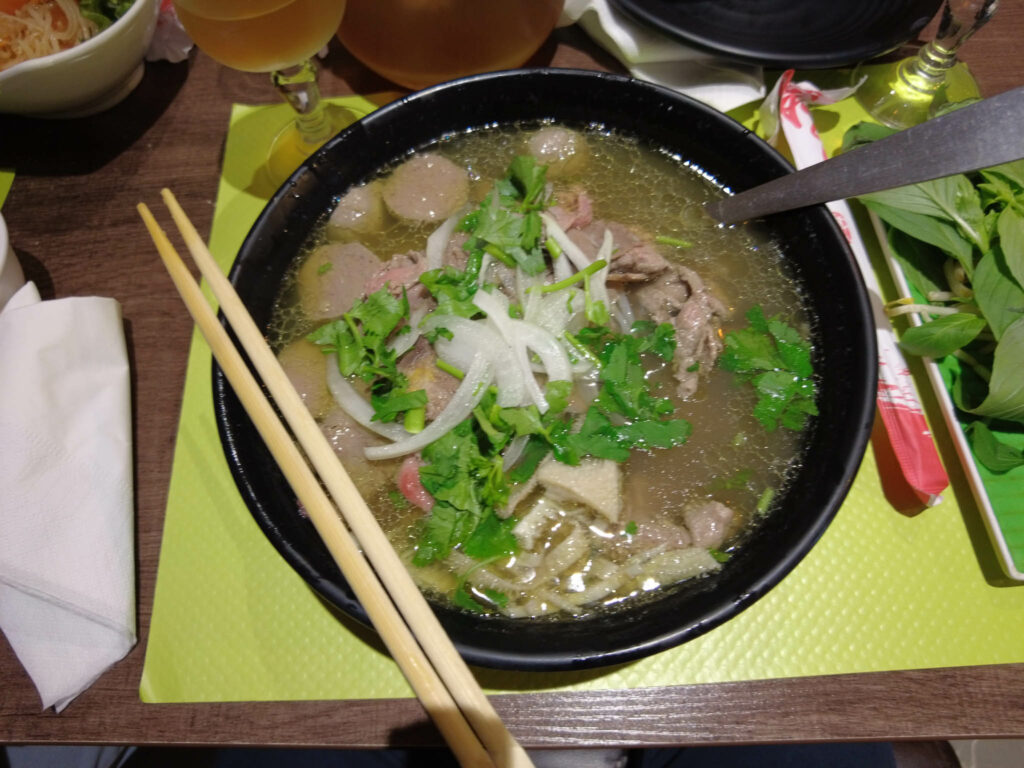 I personally ordered a Pho Dac Biet; it's not that I don't like other types of food. It's just that for me, Pho is the best Vietnamese dish. You can't go wrong with this choice; it's like ordering a burger or a Margherita pizza. You know satisfaction will be achieved.
The Pho was decent, but this particular day the broth wasn't very strong in taste. Actually very close to water, to be honest. A couple months ago, I tried the same dish, and it was more salty, and the meat was tastier as well. So I guess it all depends on your luck and how they buy their food this particular day.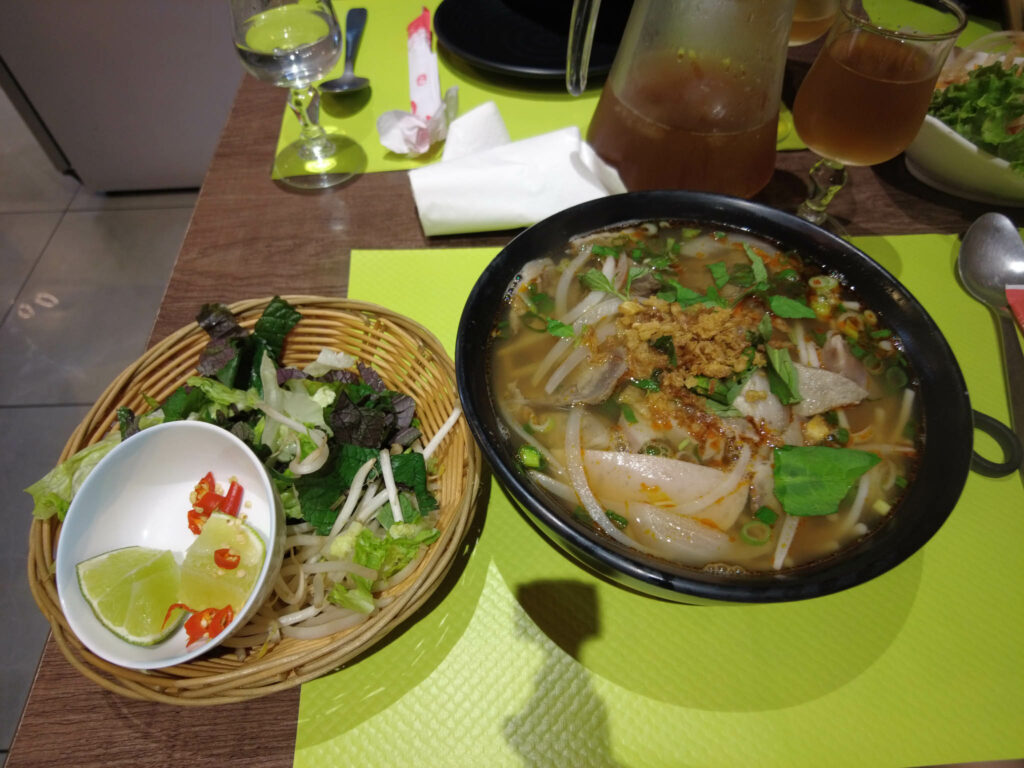 My dad and wife both ordered Bun Bo Hue; it's the kind of dish that is super good as well. But you can't eat it as often as pho, in my opinion.
This particular Bun Bo Hue was pretty good. If we had to rank it compared to the other restaurants we tried in France, it would be just between May Hong and Pho Quynh.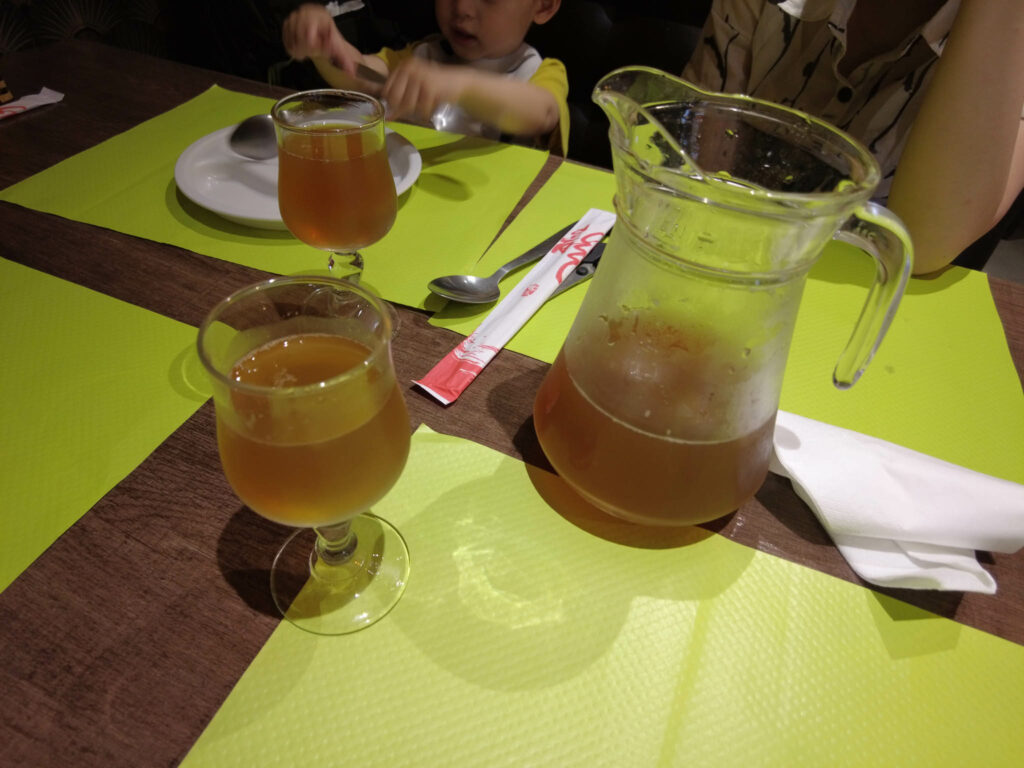 The drink was all right; it tasted not as sweet and chemical as in Pho Quynh but definitely more industrial than the one in Saveur d'Asie.
Verdict
8.0 out of 10.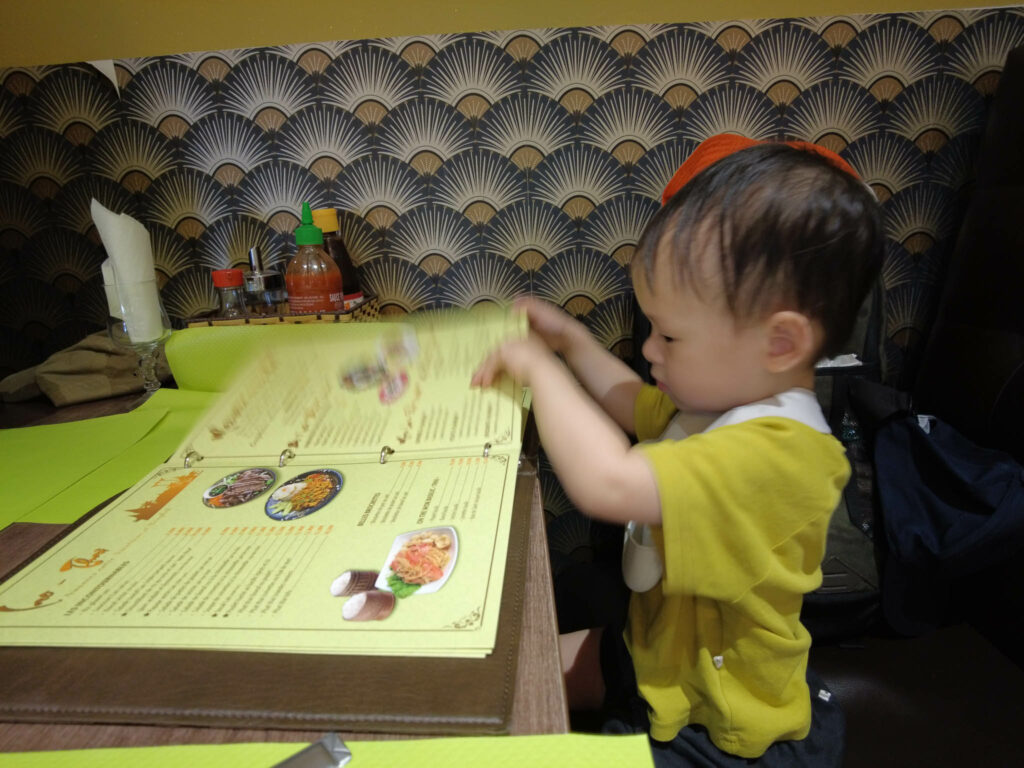 Nhu Y is a solid place to eat Vietnamese food. This particular day, my dad was actually looking to eat in Le Mekong, but since I've never been satisfied over there, Nhu Y seemed to be the perfect alternative.
If I had to compare both, I would say that they are different. For me, Nhu Y is on the same level as Pho Quynh but still less interesting than Bonjour Saigon.
It's just that sometimes we need to change the air and see something different for a change. I have to say that this restaurant is one of the nicest-looking places.
Overall Nhu Y, is a great choice if you live in the area and are looking for some solid Vietnamese food. We recommend as much as we recommend Pho Quynh.
Informations
Nhu y
Address : 99 Rue de Paris, 77200 Torcy
Phone : 01 60 17 65 11
Facebook : https://www.facebook.com/nhuy.torcy/