Mediterraneo is a traditional Italian restaurant located near the Saint Joseph Cathedral in Hoan Kiem, in the city of Hanoi.
No need to say that the restaurant is extremely well located in an area where tons of people and especially tourists converge, but is this place serving good Italian food and is it a good deal for the area?
The location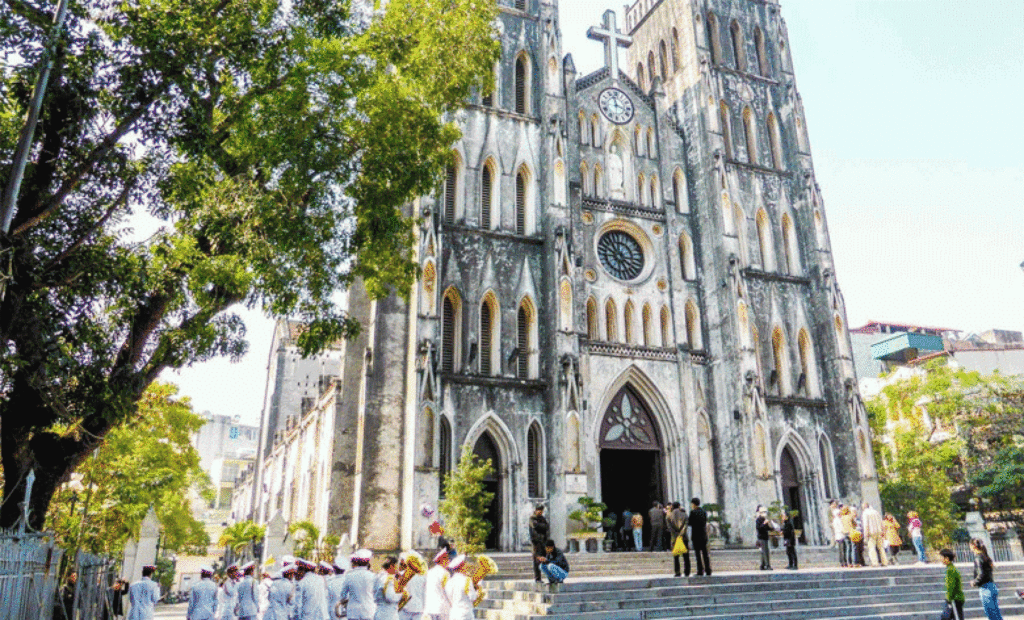 In Hoan Kiem, the Saint Joseph Cathedral area is probably my favorite. The square is big, and the place is busy but less noisy than in the old quarter.
You have tons of options for dining or simply for coffee. The view is quite amazing, and seeing the crowd moving while enjoying some food is always a reminder of French brasseries.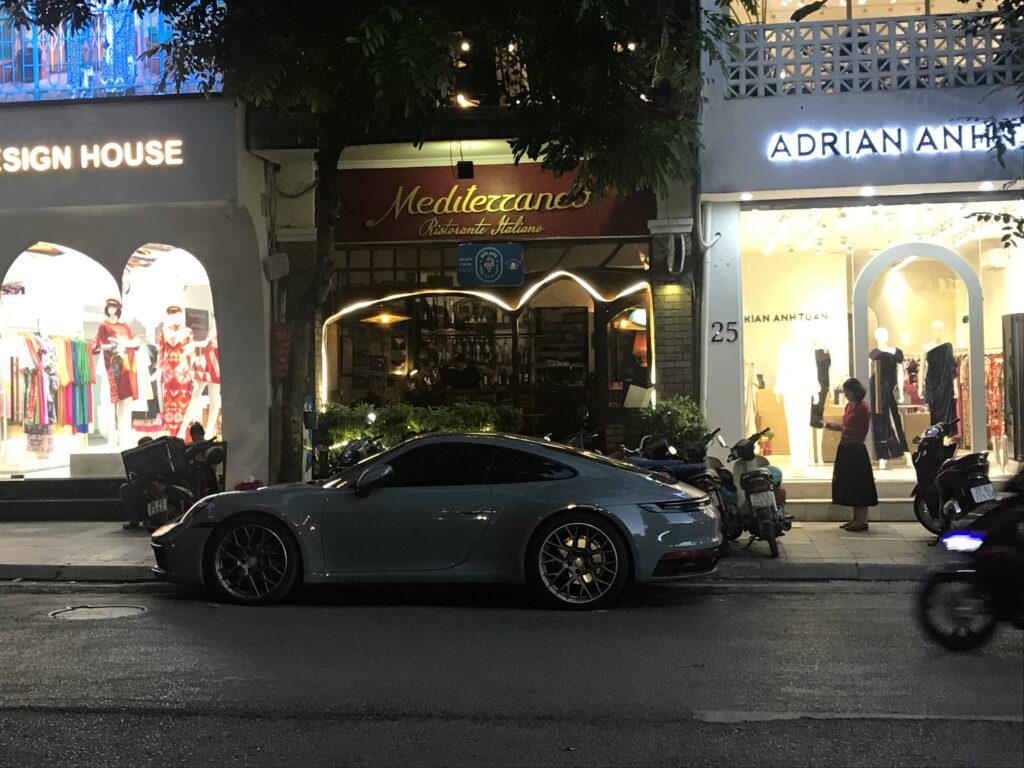 The restaurant is fairly small on the ground floor, but it benefits from having a second floor.
Both floors have a great view of the streets and the church. I have to say it's quite refreshing to enjoy a meal, some fresh beer, and San Pellegrino with some fresh air.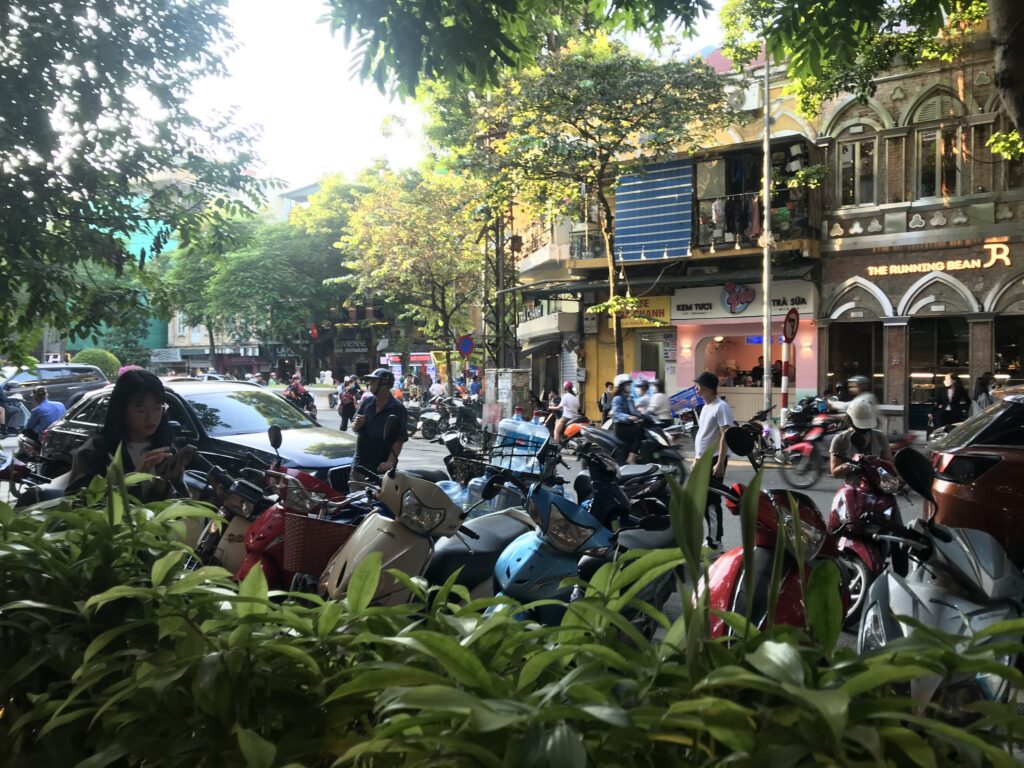 My wife and I came in to eat lunch very late, around 4-5 p.m. We had to take our visas 1 km away from this location.
The interior of the restaurant has a traditional vibe with brick walls, tons of dark red tones, and dark wood. Not so different from Il Grillo, but a tad better in my opinion.
There's even a pork leg or jambon drying inside the restaurant. The tables and chairs are very comfortable, big, and heavy. There is no issue with your children fooling around in these, and there are enough spaces to put many dishes and bottles on the table.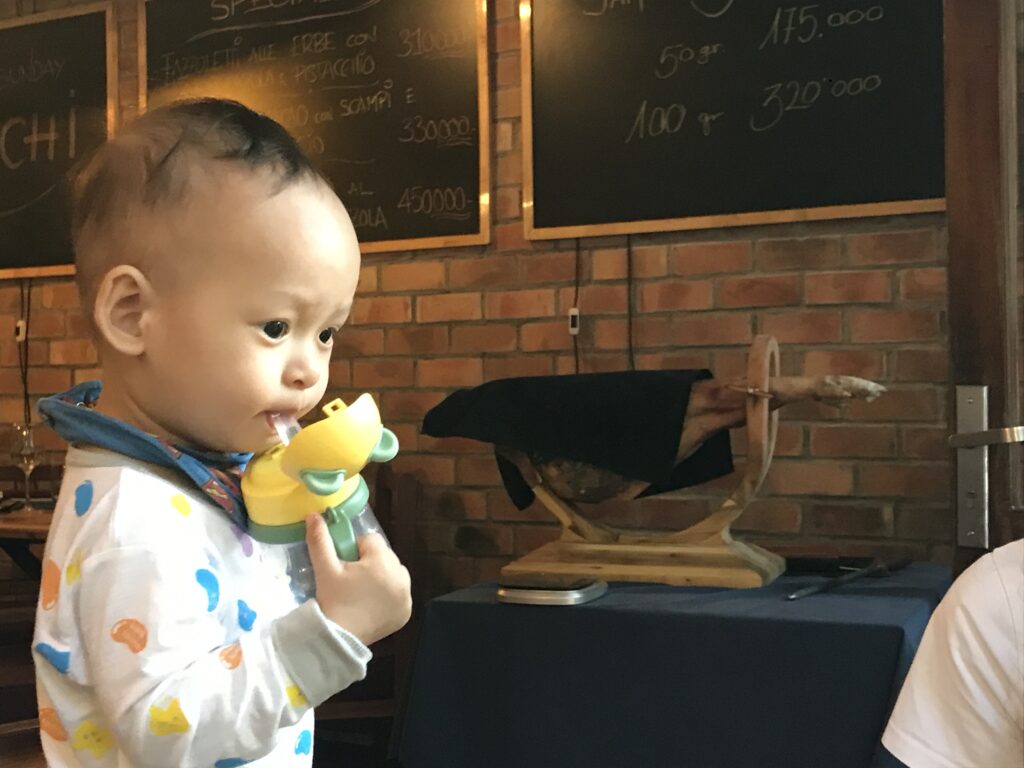 The menu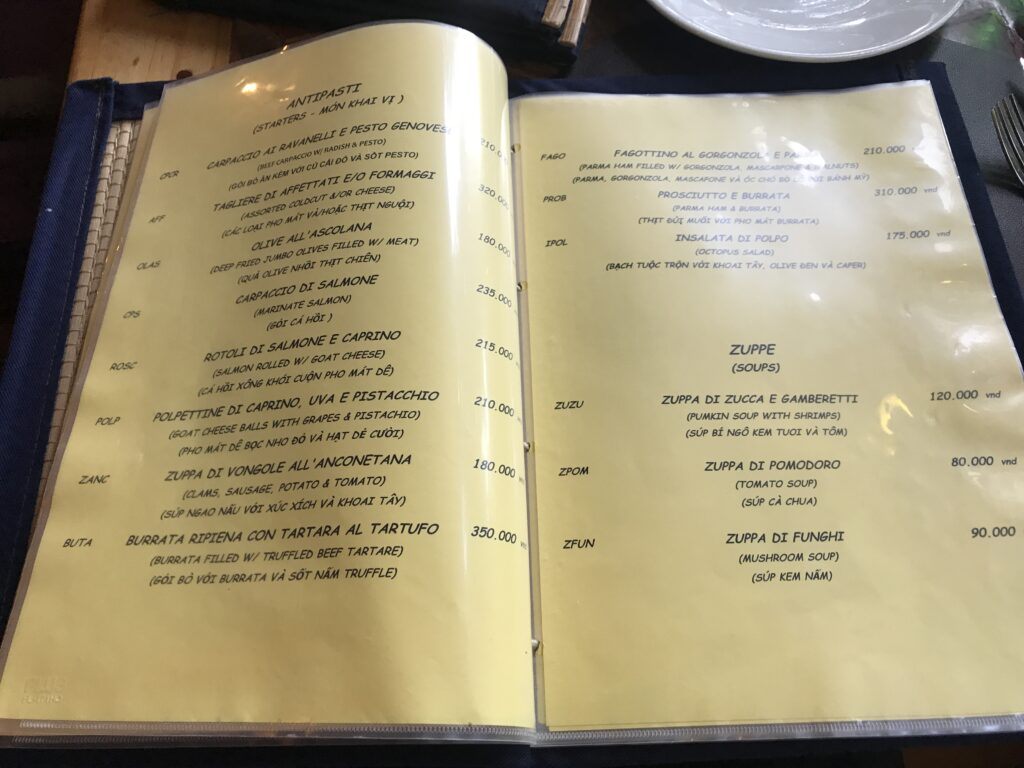 The menu is pretty much what you would find in a real traditional Italian restaurant in Italy. The names of the dishes are actually written in their original languages and translated into both Vietnamese and English.
In this menu, you'll find, like in most traditional Italian restaurants: antipasti, primi piatti, secondi piatti, zupe, and dessert.
Starters include some cold plates, cheeses, and traditional appetizers; main dishes include pasta, pizza, and other Italian specialties such as lamb cooked in truffle sauce.
Overall, the menu is very rich, with many traditional recipes that are not well known to the public but are probably well known in the home country. It's fair to say that you would definitely find something new to try in this restaurant if you don't have an Italian background.
The experience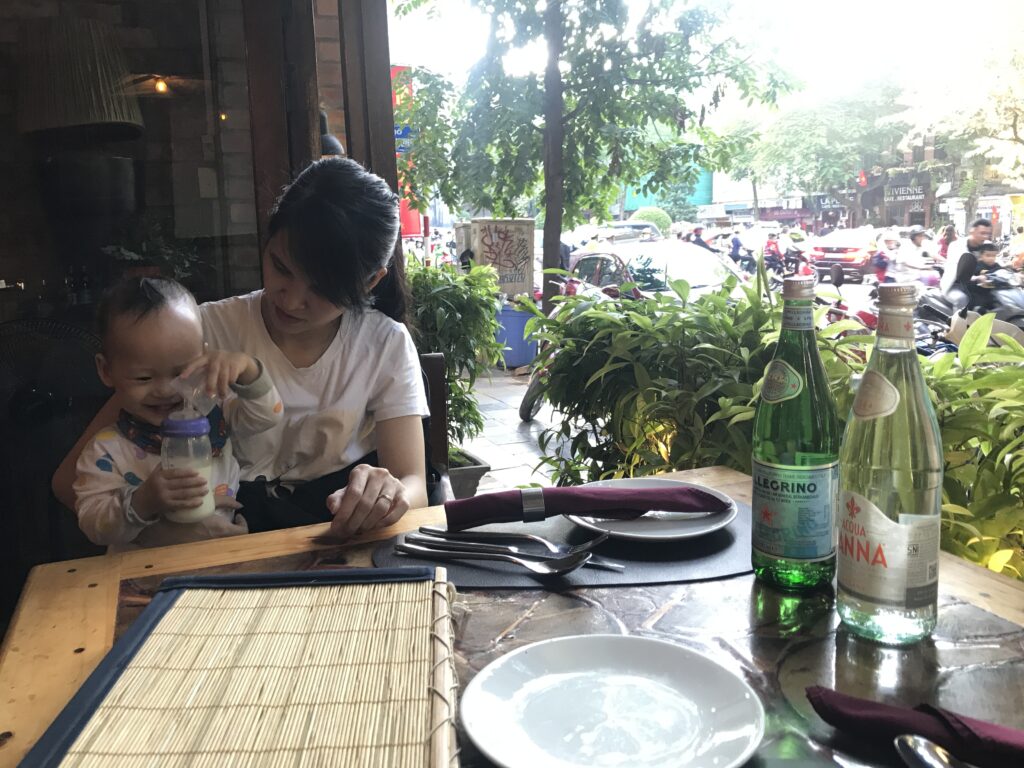 Since the location is one of my favorites in the city and we had a view over the street, the experience started well. Also, my wife and I were having lunch at 4 p.m., so we were starving.
We started with some different types of bread offered by the restaurant. Olive oil, balsamic vinegar, and salt and pepper were already on the table for us to make a sauce to dip in.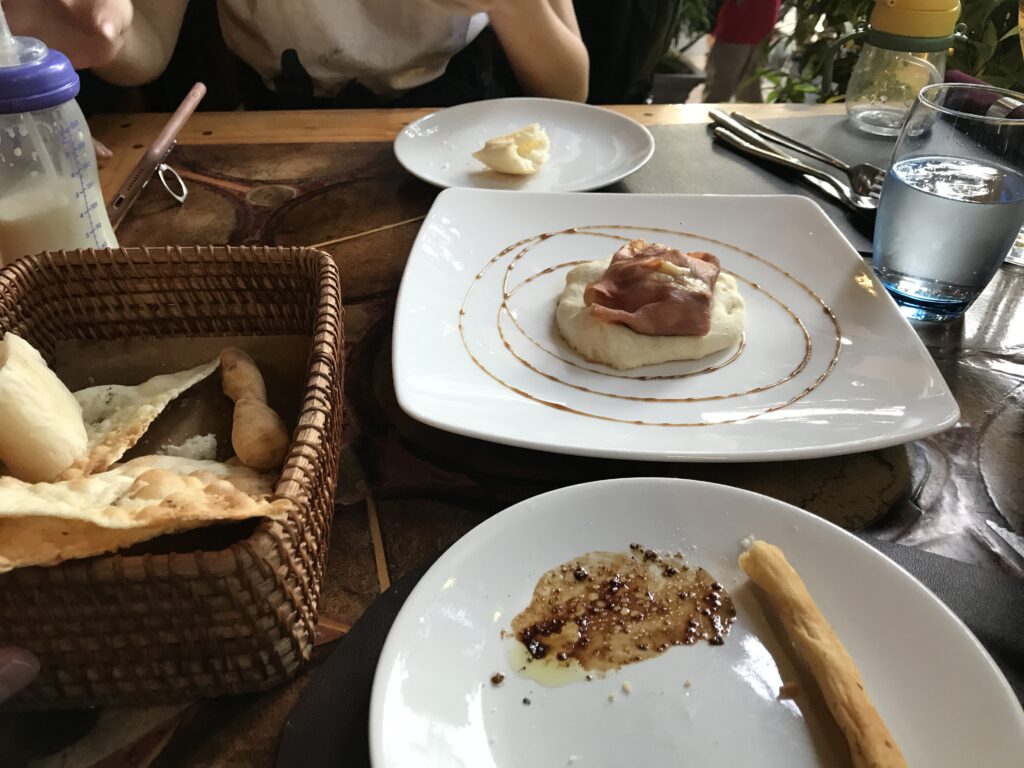 The fagottino didn't resemble the real thing; instead of puff pastry, it was more like pizza dough with some ham on top covering up some gorgonzola. The taste was still good, but the gorgonzola was very mild compared to, say, the one in a 4-cheese pizza.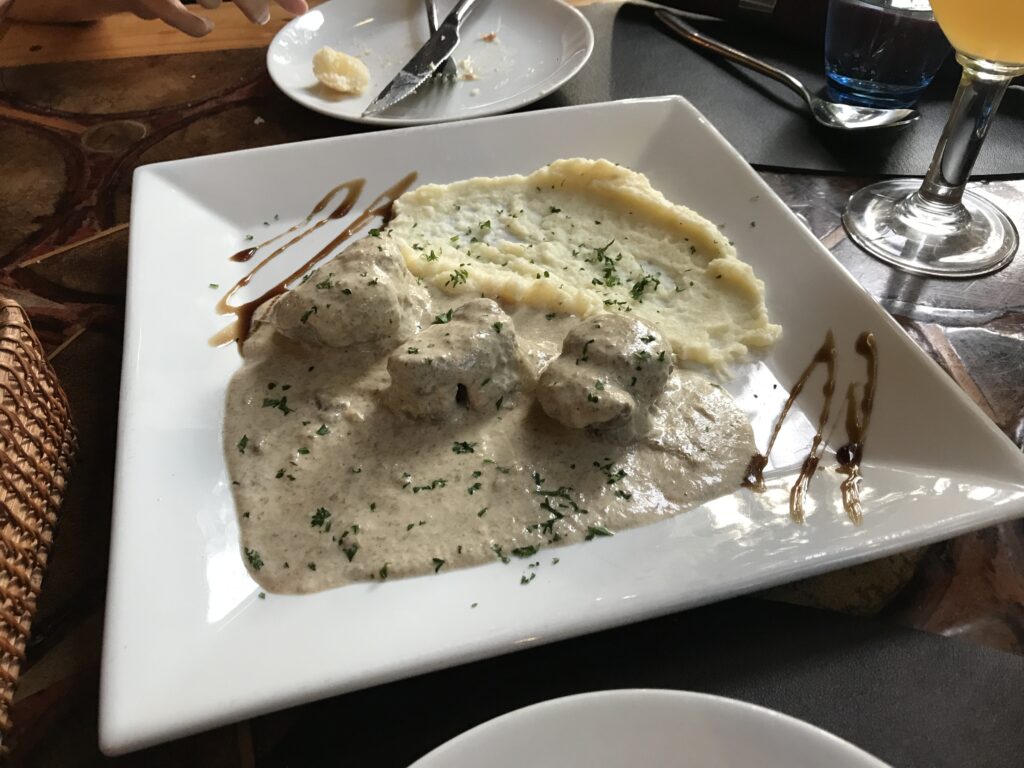 The second dish is the lamb with truffle sauce and mashed potatoes. The first thing that comes to mind is, Wow, did they really use half a potato for this? Really, you could see the plate through the mashed potatoes.
The lamb was decent and the sauce good, but it was very mild in flavor. I've tried some truffle pasta in Big Mama Paris, and the taste is 10 times stronger, and you get real truffle inside the sauce.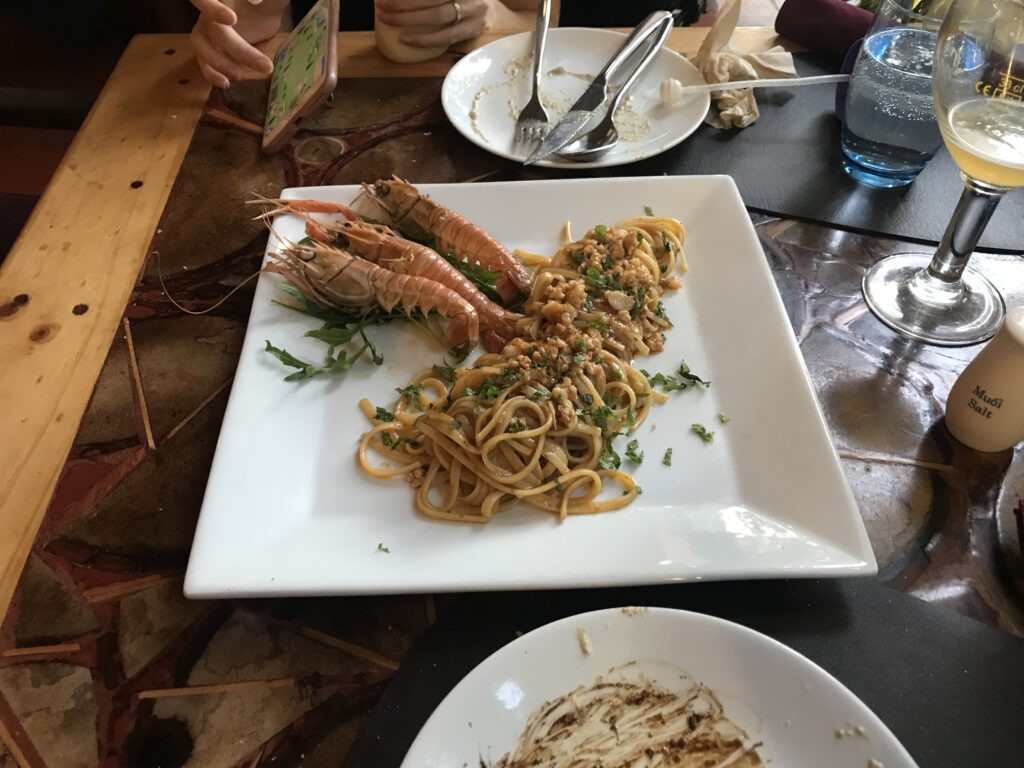 Finally, we had the shrimp pasta. This dish was delicious and very strong in taste in comparison. The only thing was that it was slightly too salty—perhaps 30% too salty. The shrimp were already decorated, so the shells were for decoration.
We decided not to have dessert since there was a nice ice cream restaurant just in front that we wanted to try.
Verdict
7.5 out of 10
Mediterraneo is well located, and the menu is very traditional when it comes to Italian food. The place is nice, and the set-up, meaning the chairs and table, are very comfortable.
On paper thepaper,terranean should be a place tourists run towards, but unfortunately, the quality of the food is not all it could be.
The food was overall good, but on three of our dishes, there was something a bit disappointing. For example, replacing puff pastry with pizza dough, giving half a mashed potato as a side dish, or using shrimp only as decoration are the kinds of techniques that really remind me of a restaurant trying to cut corners.
Even though the price is not that expensive, at the end, some competitors have a better price-quality ratio for their food.
If you are really looking for a nice view and some traditional Italian food, this restaurant can still be an option.
Informations
Mediterraneo
Address : 23 P. Nhà Thờ, Hàng Trống, Hoàn Kiếm, Hà Nội
Phone : 024 3826 6288
Facebook : https://www.facebook.com/Mediterraneohanoi/