Le Requis is a French brasserie located in the charming city of Crécy-la-Chapelle, France. This day, I felt like my wife should get to know more about France and its culture.
This city was located twenty minutes away from home, so I thought, why not try to eat at a French brasserie on this sunny day?
The location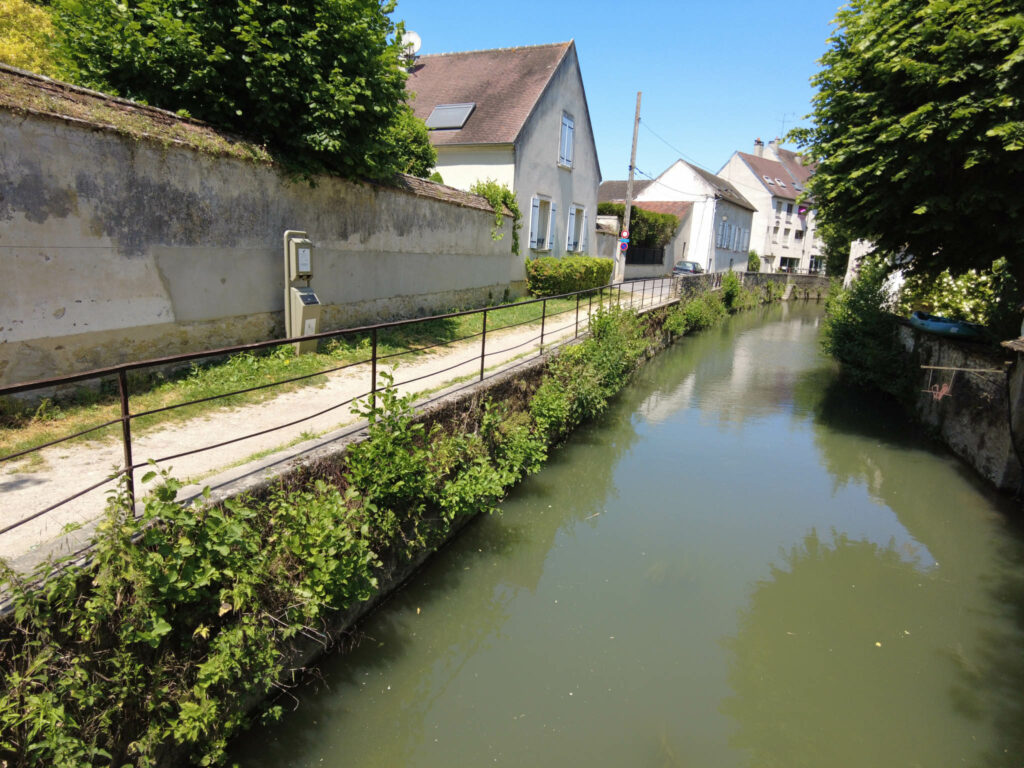 Crécy-la-Chapelle is a beautiful town, almost like a small village in the Seine-et-Marne department. This place has some houses located very near the river, with small bridges. Some of these houses still have a moulin to make electricity.
It's honestly quite a charming place to visit. You can even go canoeing or kayaking if that's the type of activity you enjoy.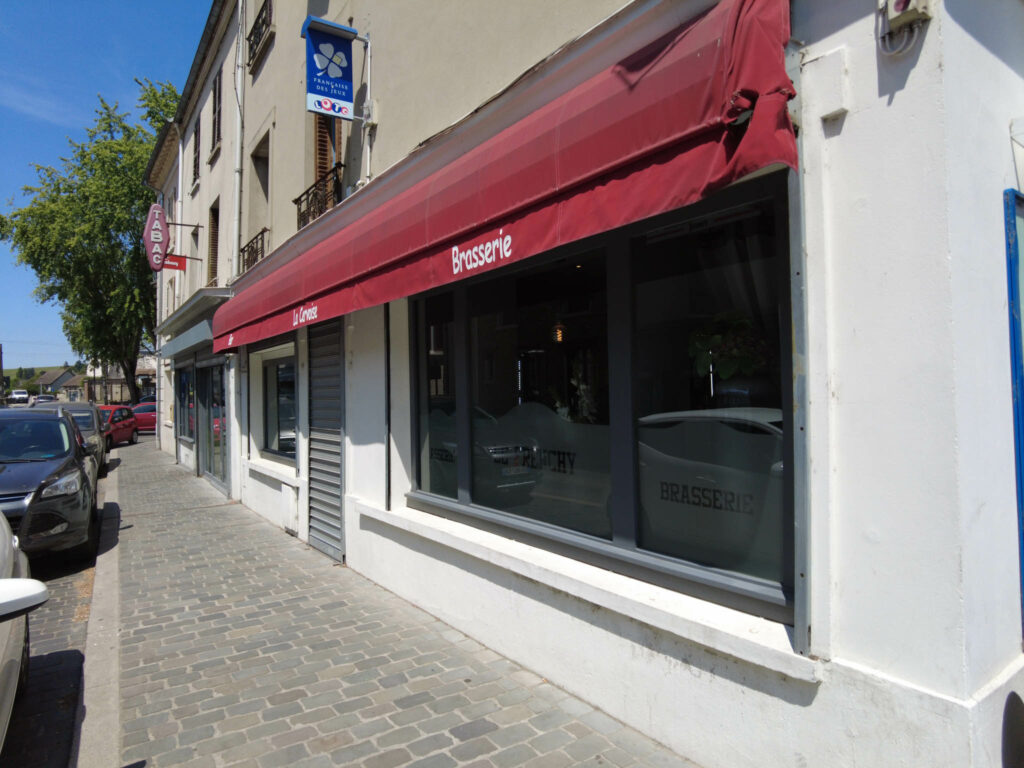 In France, these types of places are generally multi-tasking. They are selling tobacco, lotteries, and other games of luck; they have a bar; and they also have tables for food.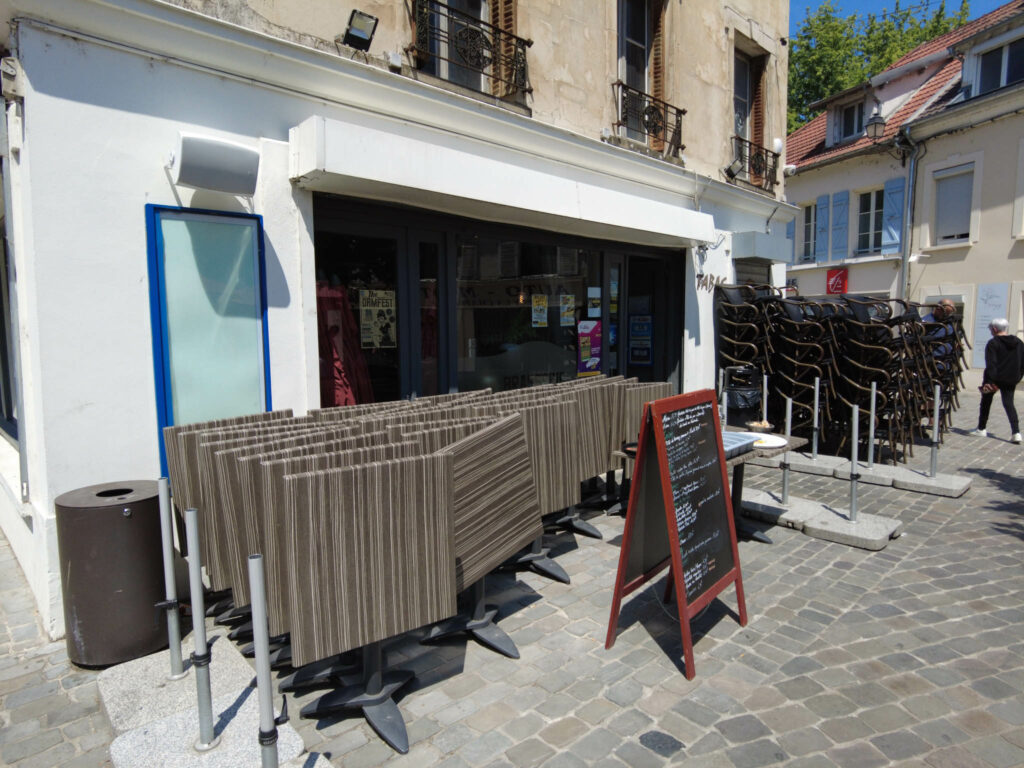 This particular brasserie is very well located since it's literally inside the main square of the town. Crécy-la-Chapelle is not the closest city to Paris. It's not a recent city either, but an old and charming town.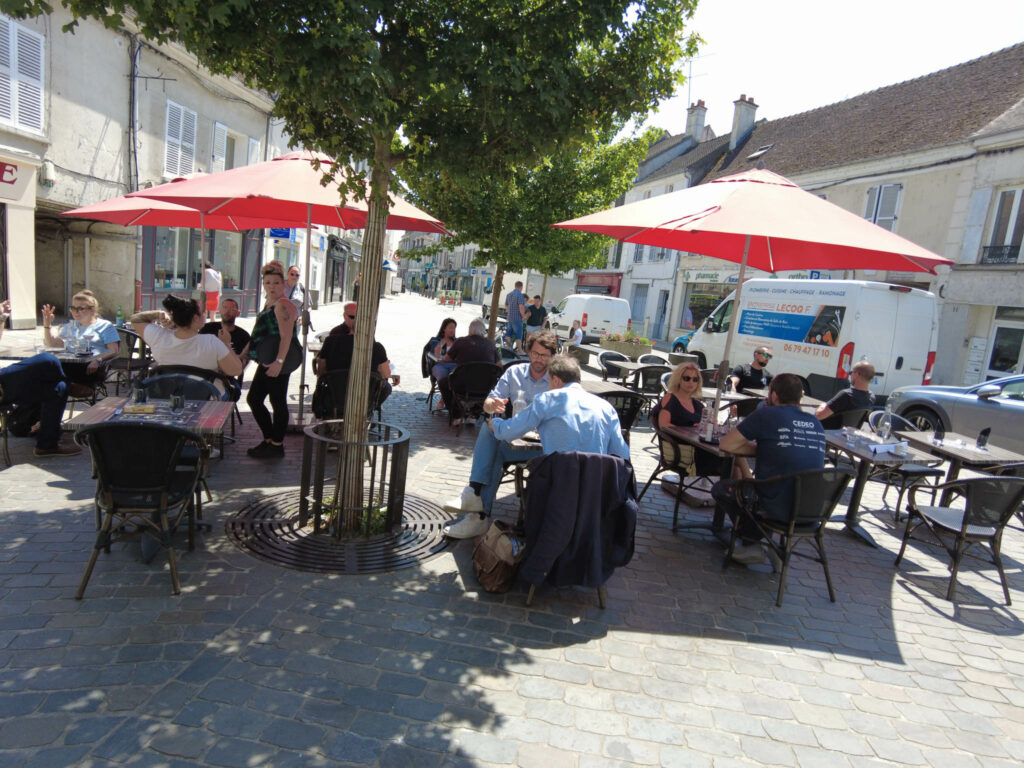 The restaurant has seats outside where you can actually enjoy the weather. For us, the sun was a bit harsh at noon, especially for children, so we decided to eat inside.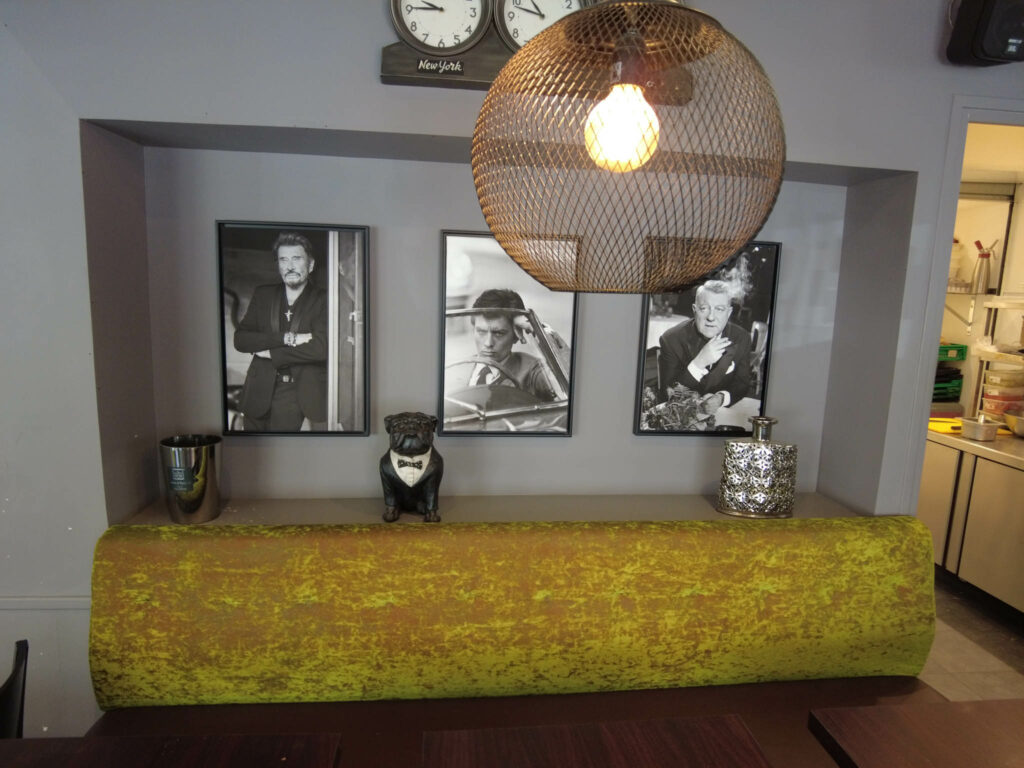 The brasserie size is quite spacious, and the interior design looks quite cool, with a lot of black, white, grey, and green. They have some paintings of famous French celebrities. Most of them are quite unanimously loved: Johnny Hallyday, Alain Delon, Jean Gabin, and Louis de Funes.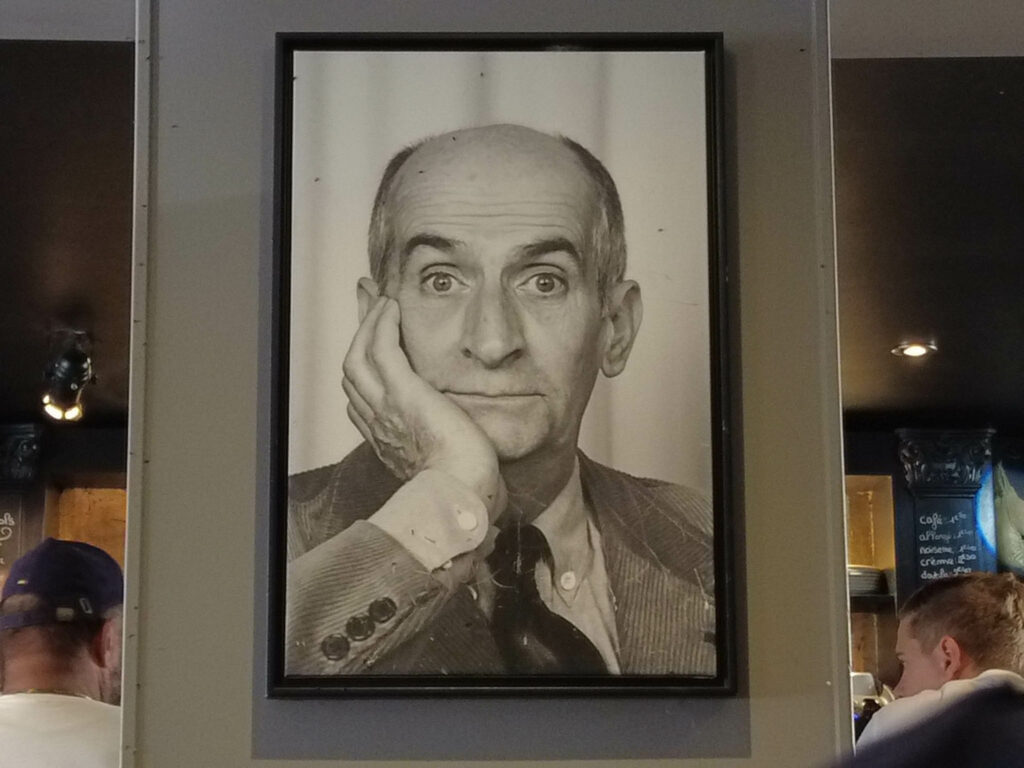 I used to watch Louis de Funès movies as a child, and they made me laugh quite a lot. I remember some of the movie almost playing at twice the speed.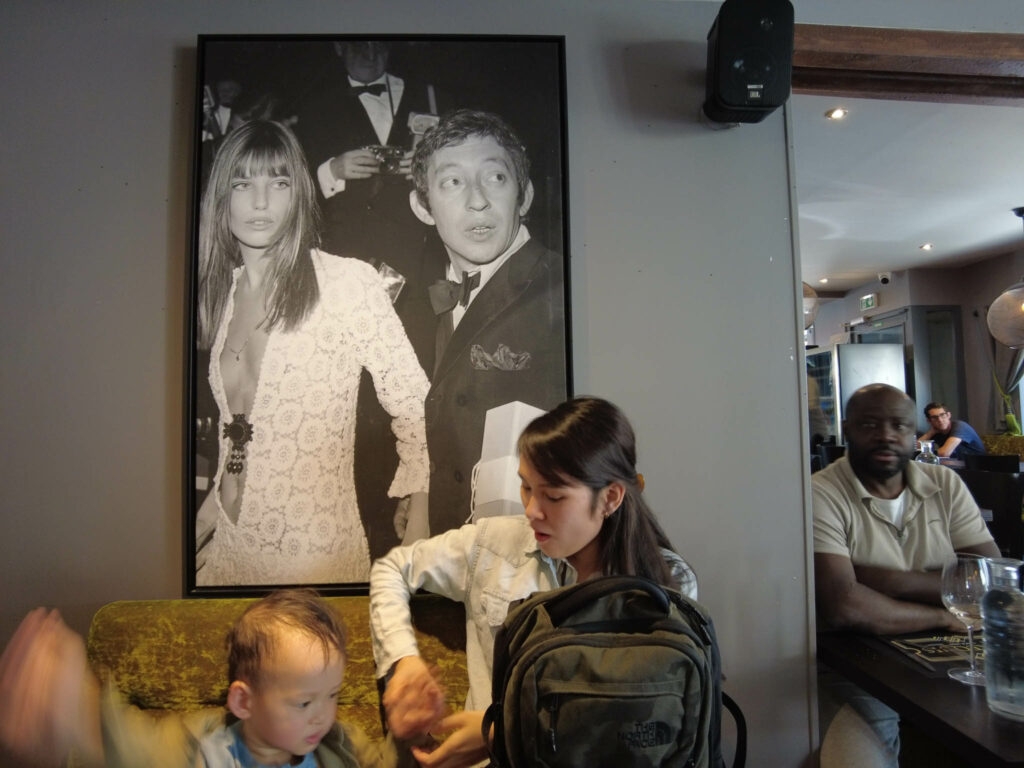 One of the most iconic French couples is Jane Birkin and Serge Gainsbourg. They actually have a daughter named Charlotte, with whom I am more familiar, being from 1987.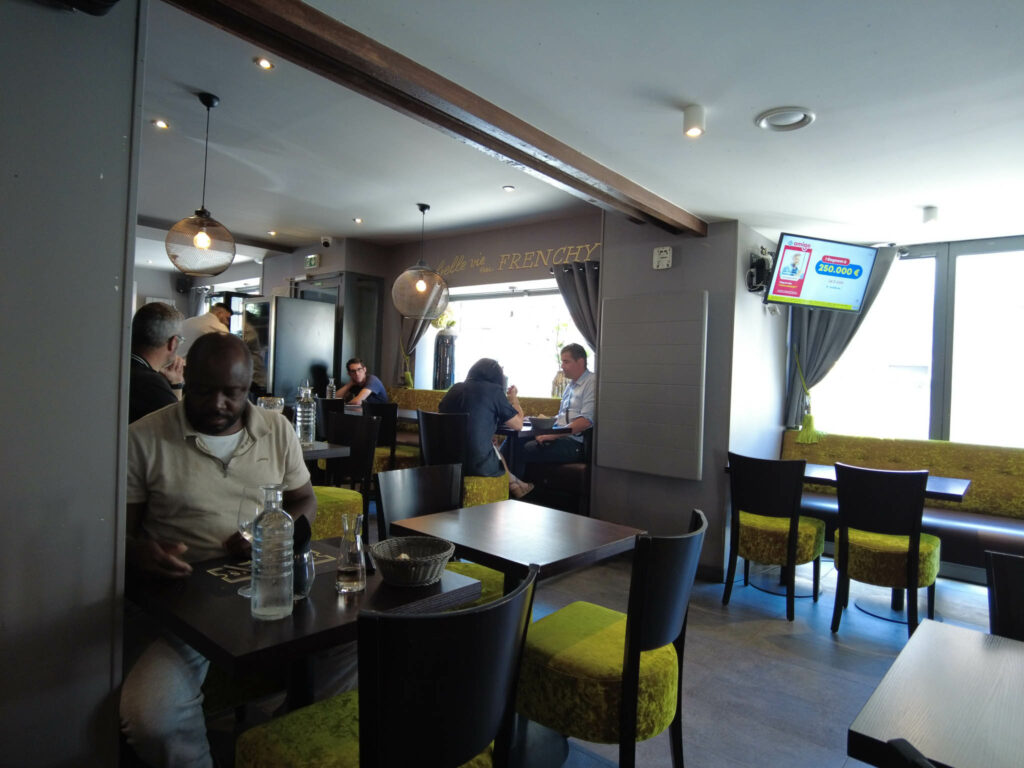 The brasserie is well lit since it has a side full of windows. The design is quite nice to be honest, it looks like they've done some renovation recently.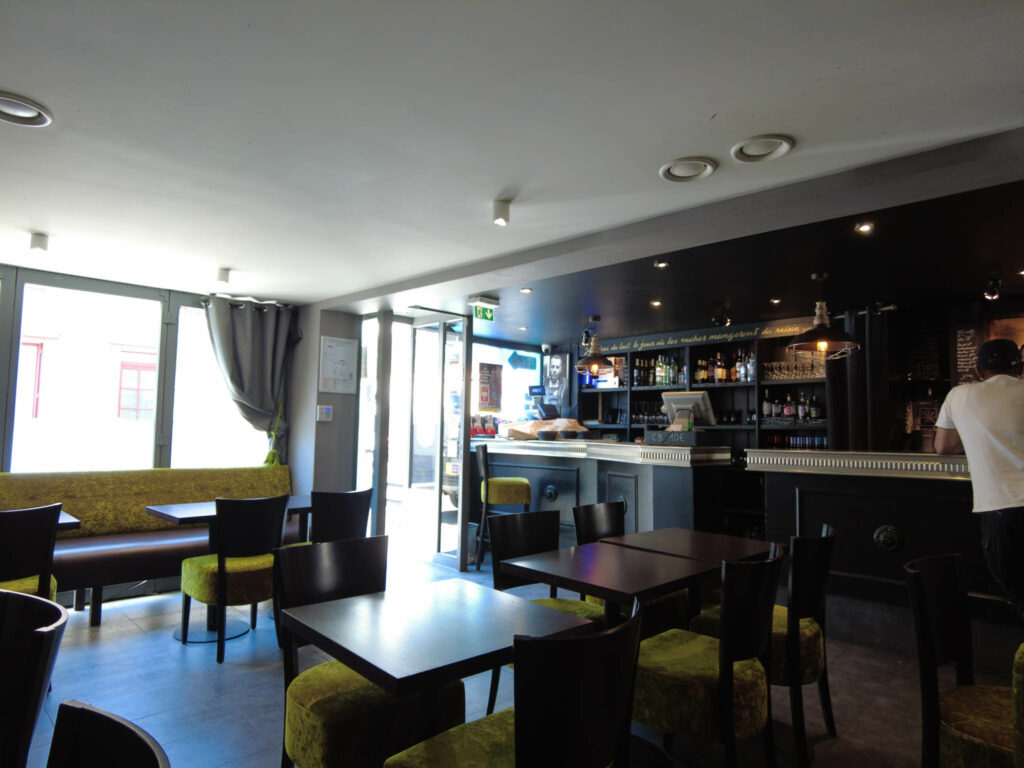 There's a bar with a second entrance which is very cool. Unlike the PMU's in the suburbs this place looks to be well attended.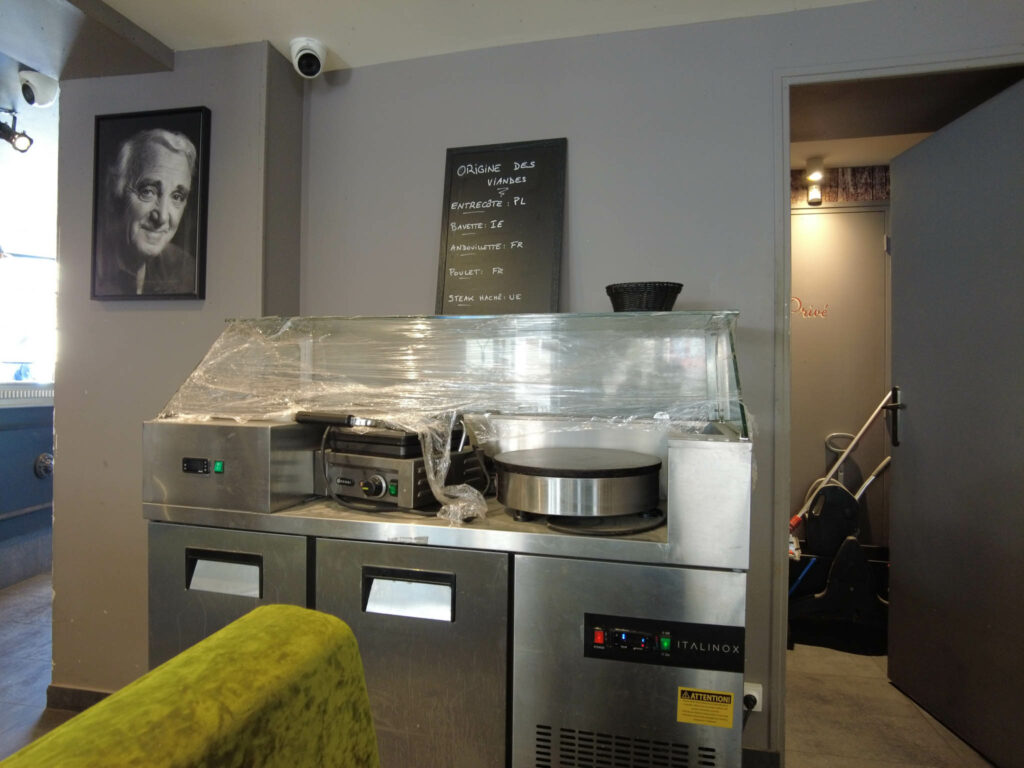 This place looks like it has quite an offering; we saw inside the brasserie a machine for crepes and even one for granitas.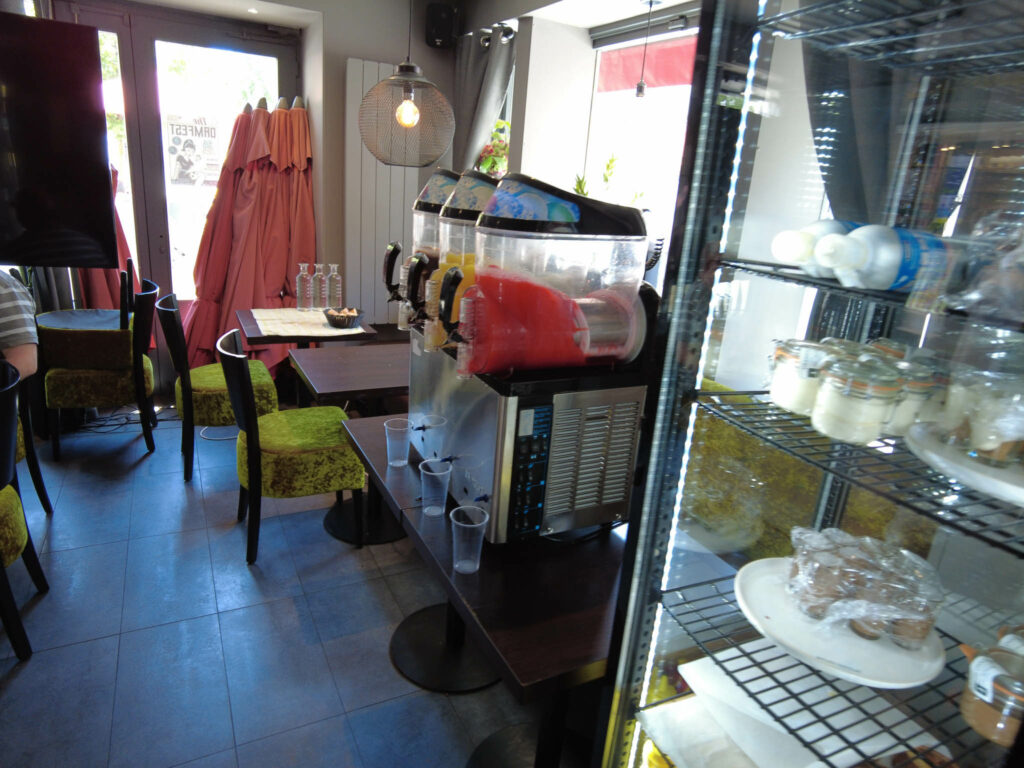 It's quite uncommon to have that many types of foods and goods to sell, and it's a good thing, especially in a small town. This place was by far the most animated.
The menu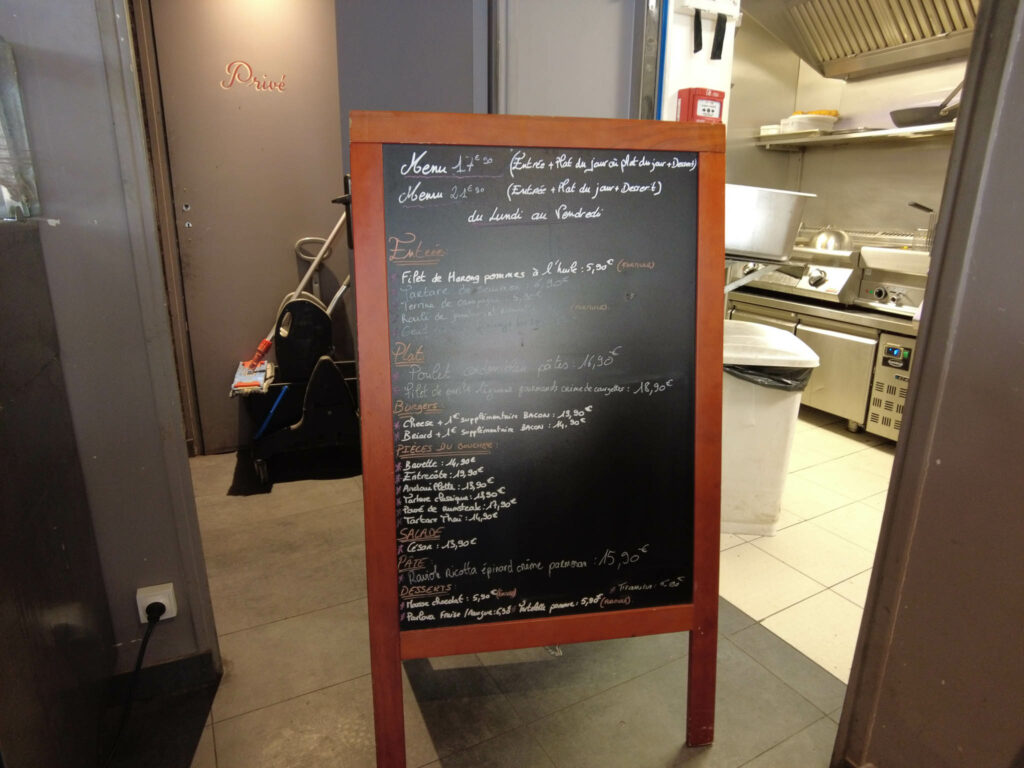 The menu is quite simple; there was no paper whatsoever; the waiter brought us the board, which served as a menu. This is unusual as well and must be quite tiring for him. But it seems to work, so why not?
The menu is quite simple: some starters, some main dishes, some desserts, and some menus. That's all you need. The fewer options you have, the more likely the food is to be fresh and delicious.
Usually, some classics like steaks, burgers, and some fish are on the menu. After all, it's a brasserie; it's supposed to serve regular meals to everyday customers.
The experience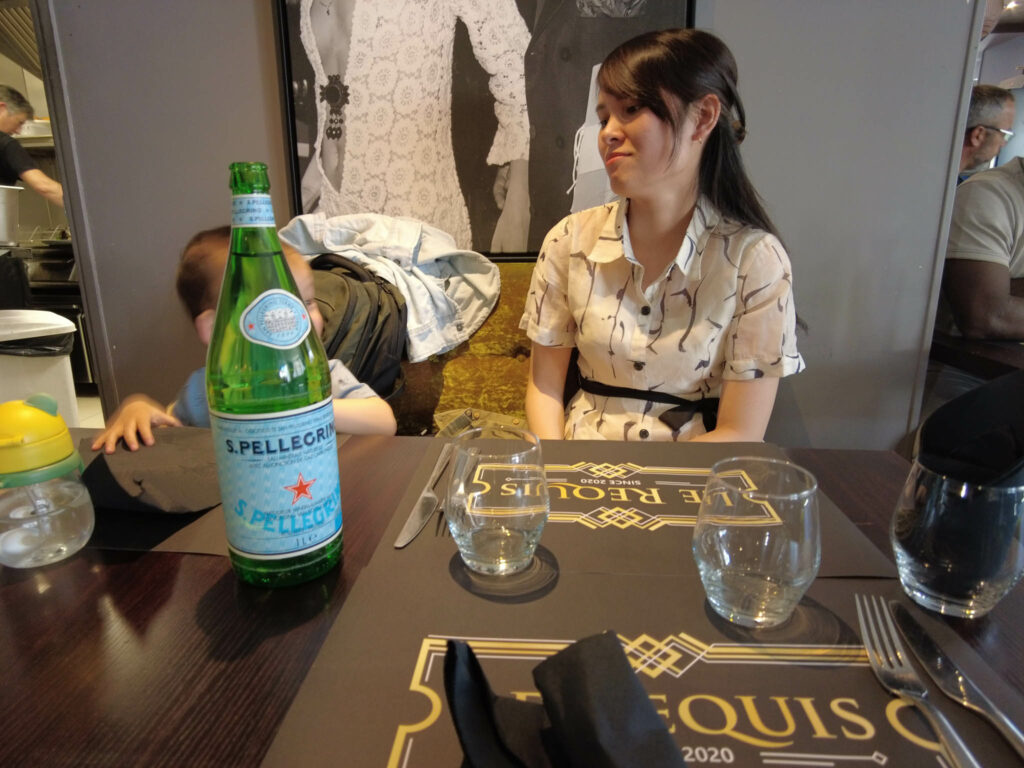 French brasserie tend to have better service and quality than Asian restaurants. It's not always the case, but if you go to a decent brasserie, generally, waiters have a real formation.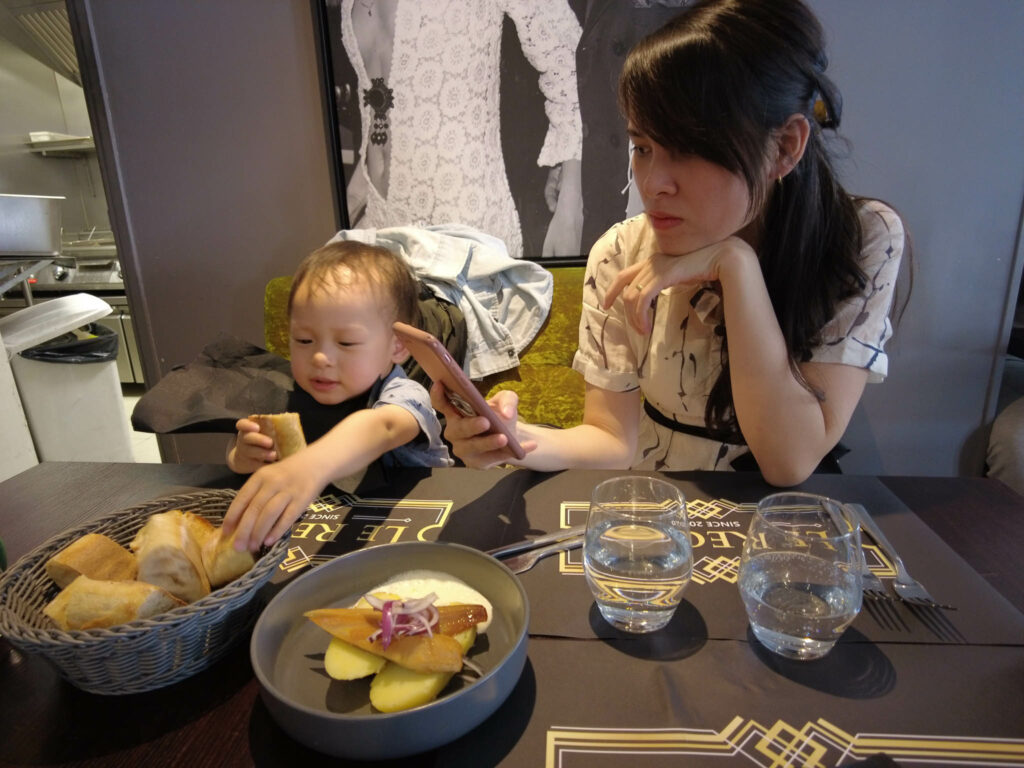 One way to know if you are in the right place is to check the bread. Usually, a bistro tends to give out some bread baskets. The quality of the bread is often in correlation with the rest.
The bread in this bistro was great, probably coming out of the bakery on the same street. I love to be served the traditional baguette, which is more dense and overall more tasteful and nutritive than a regular modern baguette. The fact that it's not old is also a good hint.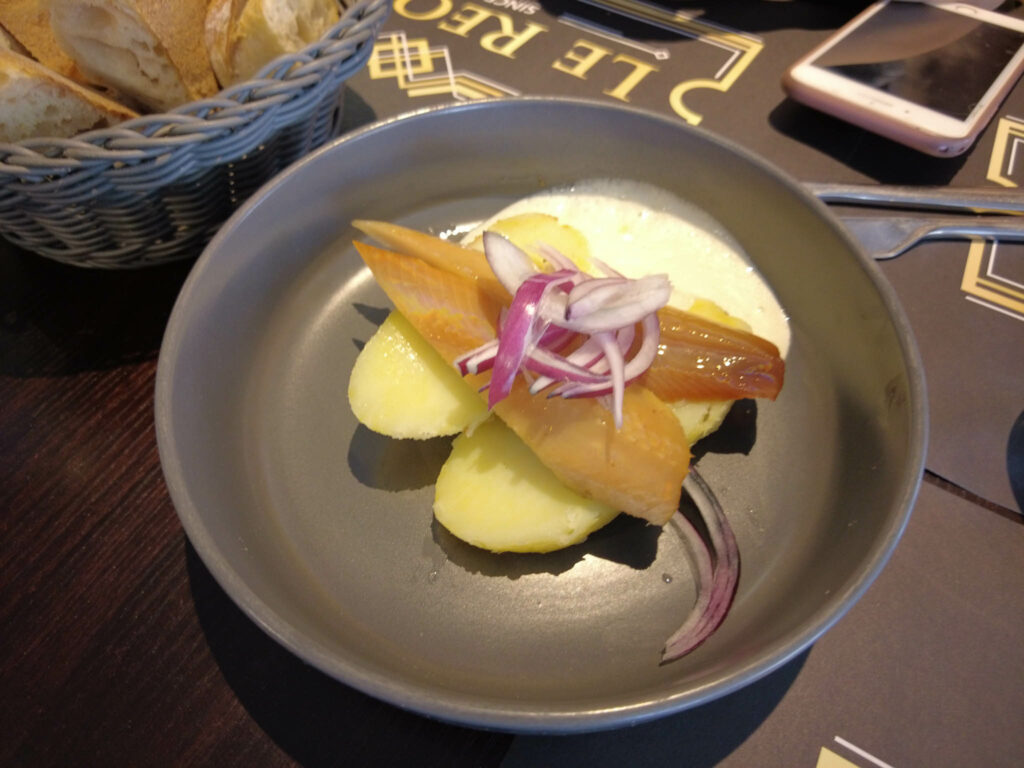 This is a dish I am used to eating at home; there is nothing special about the preparation. You can get the smoked hareng directly from the refrigerated section of most supermarkets.
I usually eat this with some salad dressing, but in this instance, they had some form of white emulsion. It tasted like béchamel, honestly, something salty and a bit buttery. The portion was a bit small, but for 5.90 euros that was to be expected. Usually you'll need two starters for two people.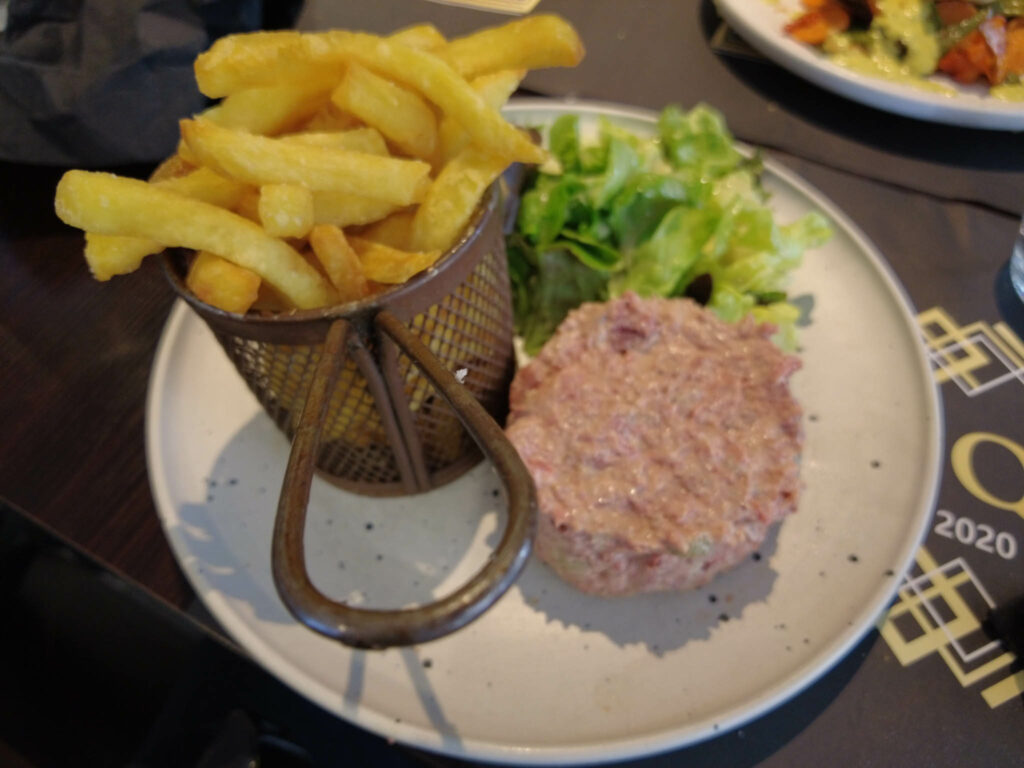 My wife doesn't eat raw meat; it makes her have stomach issues. We Europeans are used to eating beef bloody or even raw. But Asian people can't, since in Asia there is no cold chain. Eating raw meat means becoming sick.
I wanted my wife to try it at least once, but since she just had some issues eating some well-cooked beef and duck breast, this time wasn't the best time.
The tartare was good, and the fries were great—crispy, light, flavorful, and perfectly seasoned. This was not the fries from your regular Kebab but something closer to Belgian fries.
The raw meat was good as well. Great seasoning and texture. The meat was fresh, I could still see the color of the meat.
Perhaps it wasn't as acidic as I am used to, and putting some pickles or capers inside would have been a good idea as well. It was good but definitely not the best tartare I've ever had.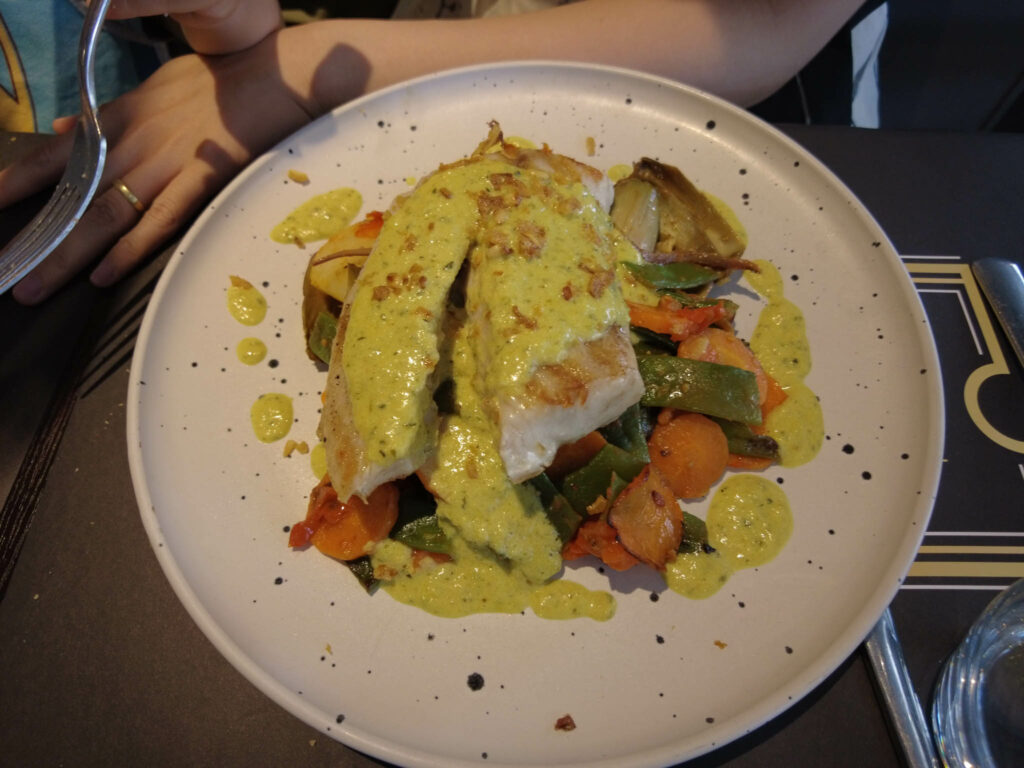 I ordered the fish for my wife, which was a perch fillet. The cooking of the fish was excellent; it was crispy on the outside and still moist and tender on the inside, slightly uncooked.
I tend to cook my salmon steak this way, personally, since there's nothing worse than a dry and rubbery fish.
The veggies were well cooked and seasoned as well. Perhaps the only thing I would change about the dish is the sauce. While we eat fish, we tend to add contrast by adding flavor to the sauce. The sauce was good but a bit blended. Perhaps it was a choice to not overshadow the taste of the fish.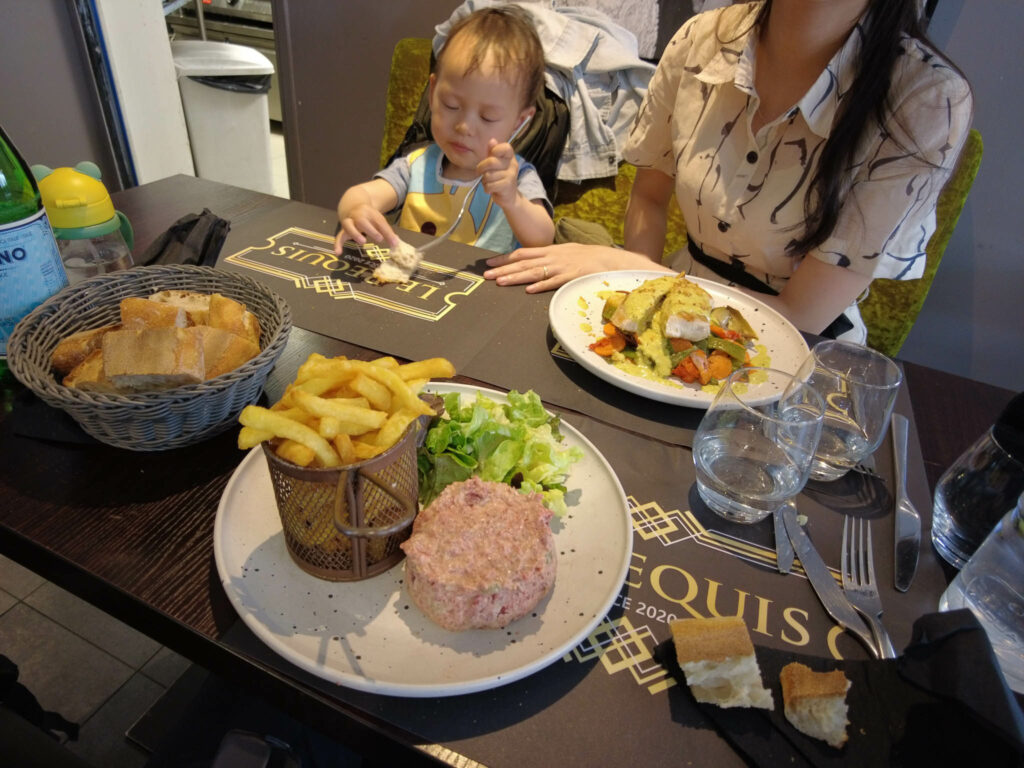 The experience with the staff and waiter was excellent. He was very helpful; he brought us a water pitcher and refilled our basket of bread. All of these without us having to ask for them. That's the kind of service you wish you had back in Paris. I understand some waiters are busy, but still, it's a nice change to not have to call multiple times for something.
Verdict
8.2 out of 10.
Considering the location, I think this bistro is quite a perfect place to have lunch while visiting this charming town.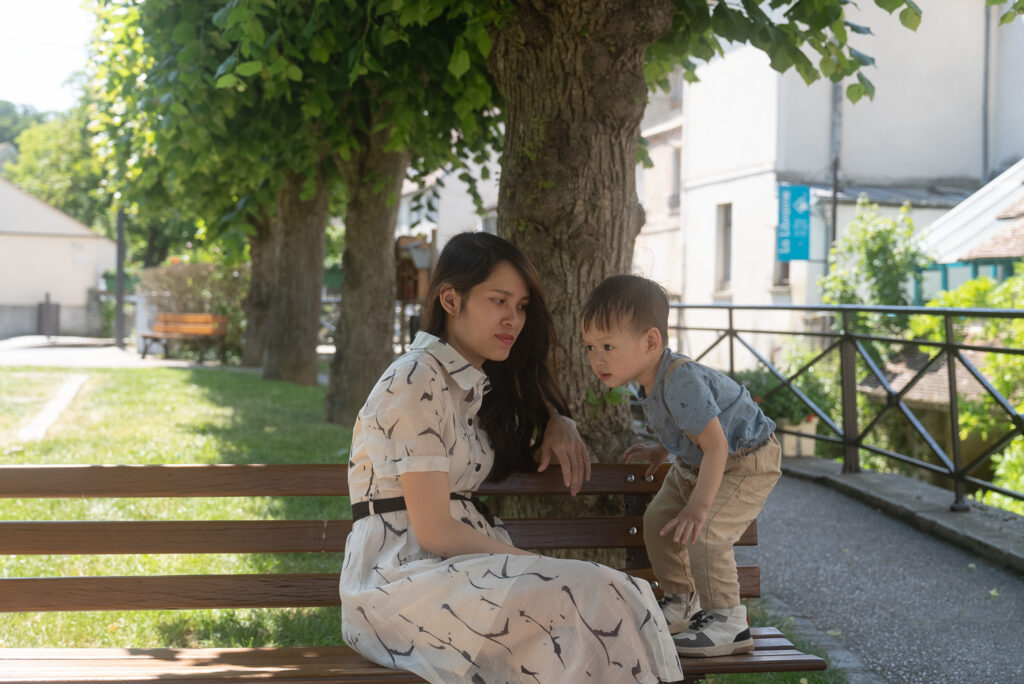 Especially if the weather is sunny. They have everything you would need. Space inside with a very moderate climate and a terrace outside.
You can have a beer, buy some cigarettes, get a very good meal, and even order some granitas. Like the painting on the wall, this place has simple but good taste. It will make everyone agree.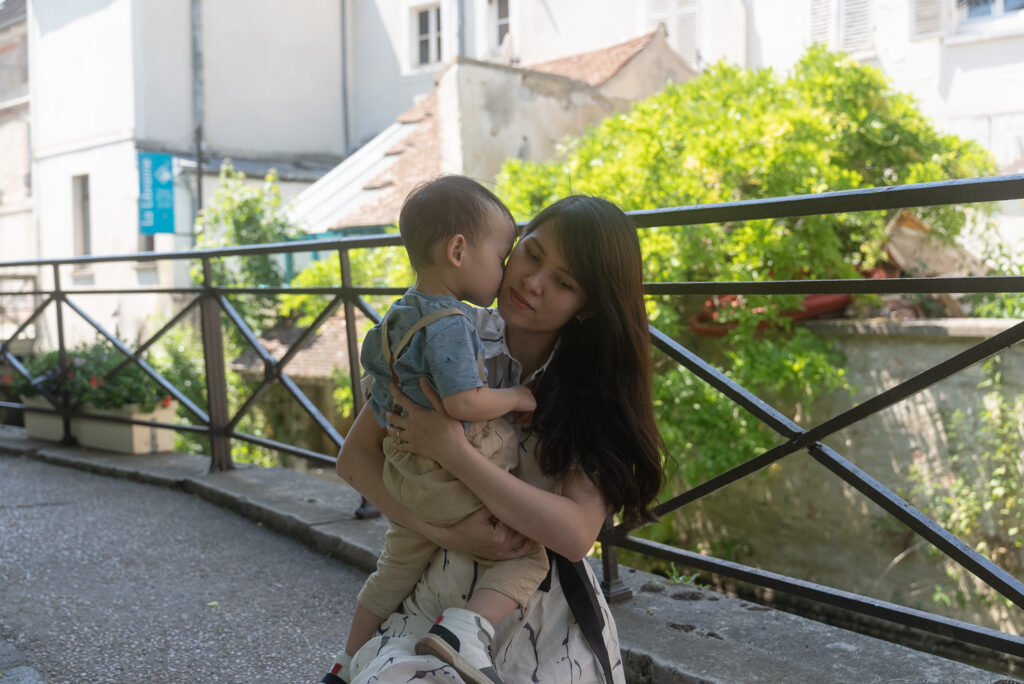 I don't think you can be disappointed by the experience since everything is quite professional and solid. That's usually what you get when you come to the most animated restaurant in a town.
Informations
Le Requis
Address : 14 Rue du Marché, 77580 Crécy-la-Chapelle
Phone : 01 64 63 70 90
Website : http://lerequis.fr