La Perle du Maroc is a restaurant serving principally Moroccan dishes as well as Algerian. My dad and I have always enjoyed couscous at home. We also enjoy oriental dishes, such as semolina bread, olives from Morocco, and other specialties.
I've tried many times to find a Moroccan restaurant, but I still haven't found one nearby. Could La Perle du Maroc be our favorite place to eat this type of dish?
The location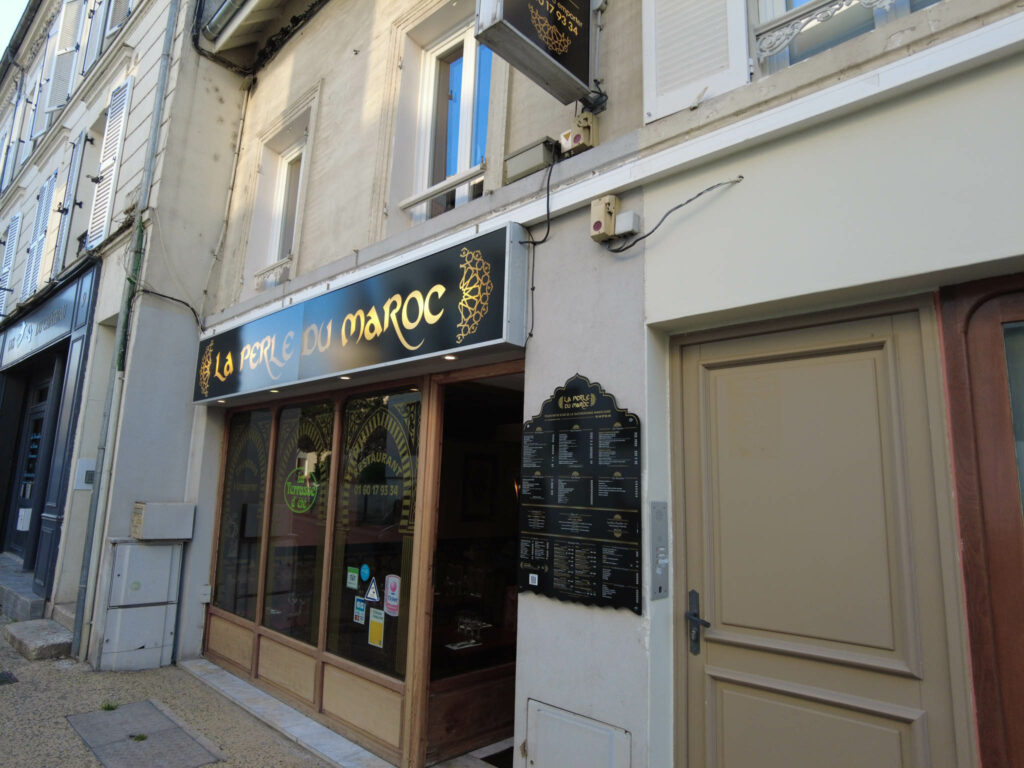 La Perle du Maroc is located in Champs-sur-Marne, which is a small city near Noisiel and Lognes. This city is actually quite nice; the city center looks like a charming small village with a castle.
The restaurant is actually very well located inside this center, on a small one-way street.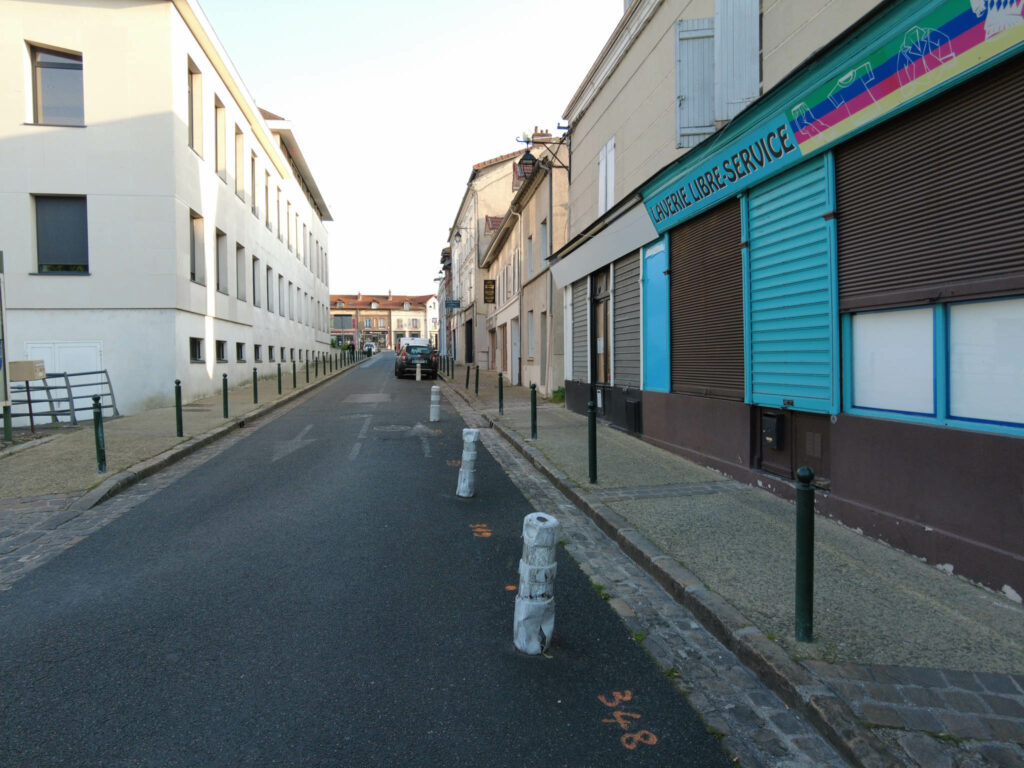 You even have free open-air parking a few meters away from the restaurant. You can stay a couple of hours, and after 7 p.m., there's no more need to keep track of the time. There should be enough space for you to park anytime of the day, as this city is nowhere near as busy as Paris.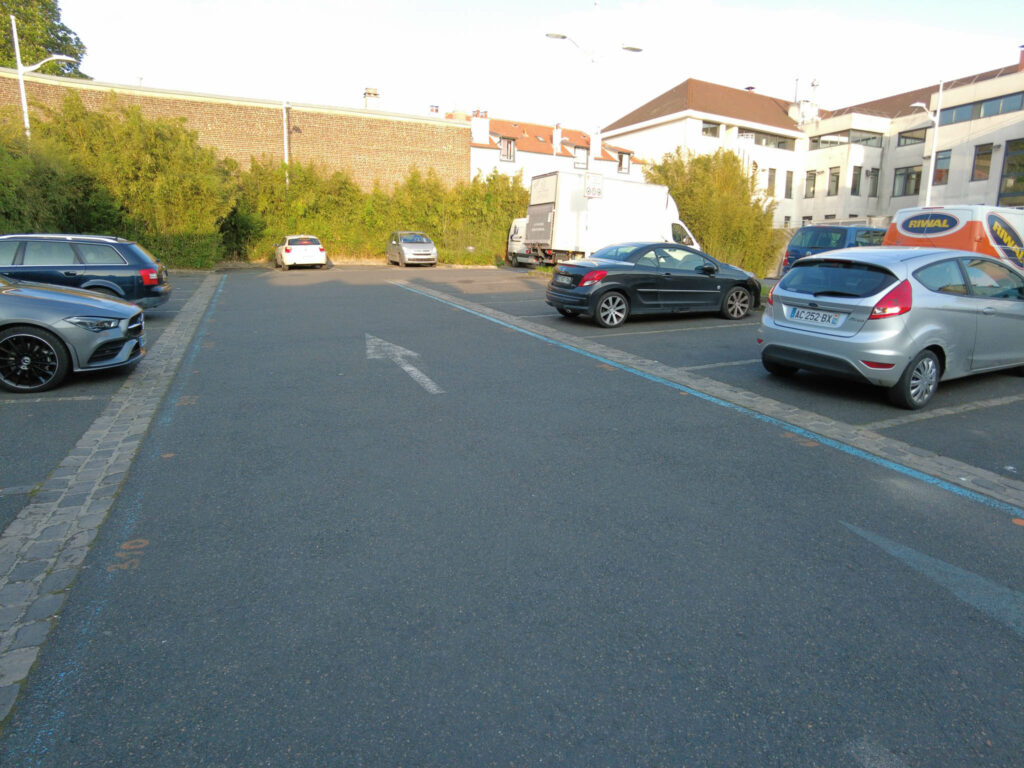 Like most Moroccan restaurants in France, the size of the venue is medium. They have a second floor accessible from the stairs, but I do not know if there are more tables. I know that they have a sort of tent setup in the backyard of the restaurant.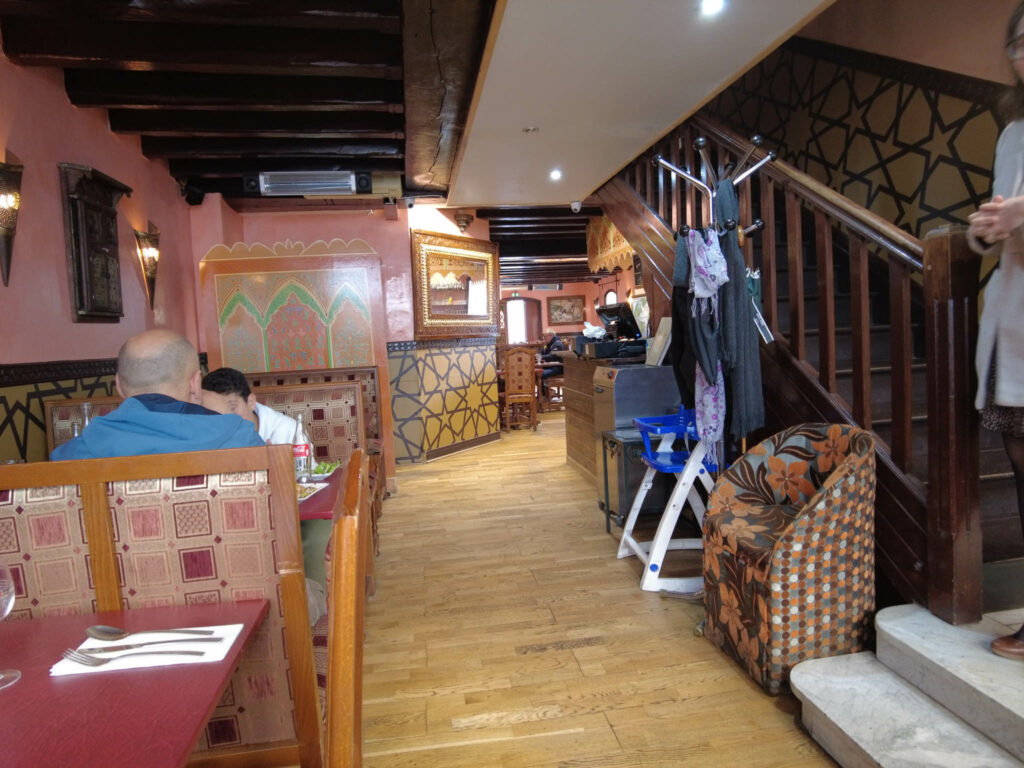 The restaurant looks quite charming; its interior and exterior are very reminiscent of Moroccan architecture, but within a house with exposed beams since we are in France. The decoration is quite nice actually and quite upscale for the location.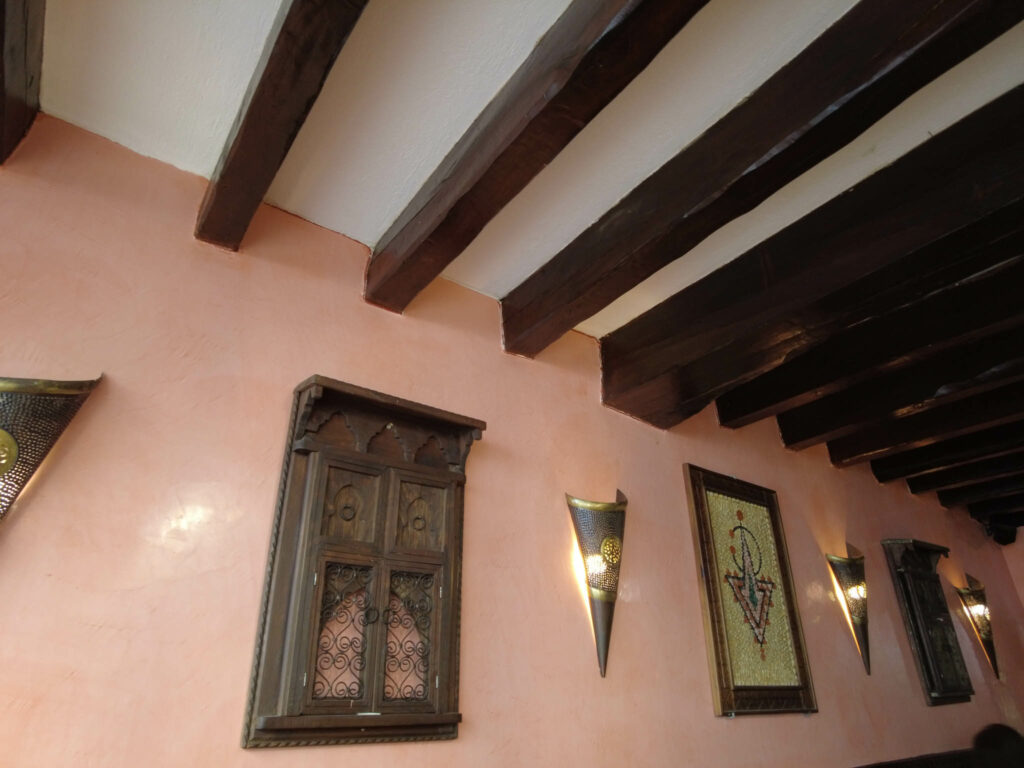 The tables are quite comfortable, and they look great. I am really surprised by the quality of the furniture. Perhaps I am accustomed to the standard of Asian food. Moroccan restaurants are more niche and, therefore, more upscale and expensive.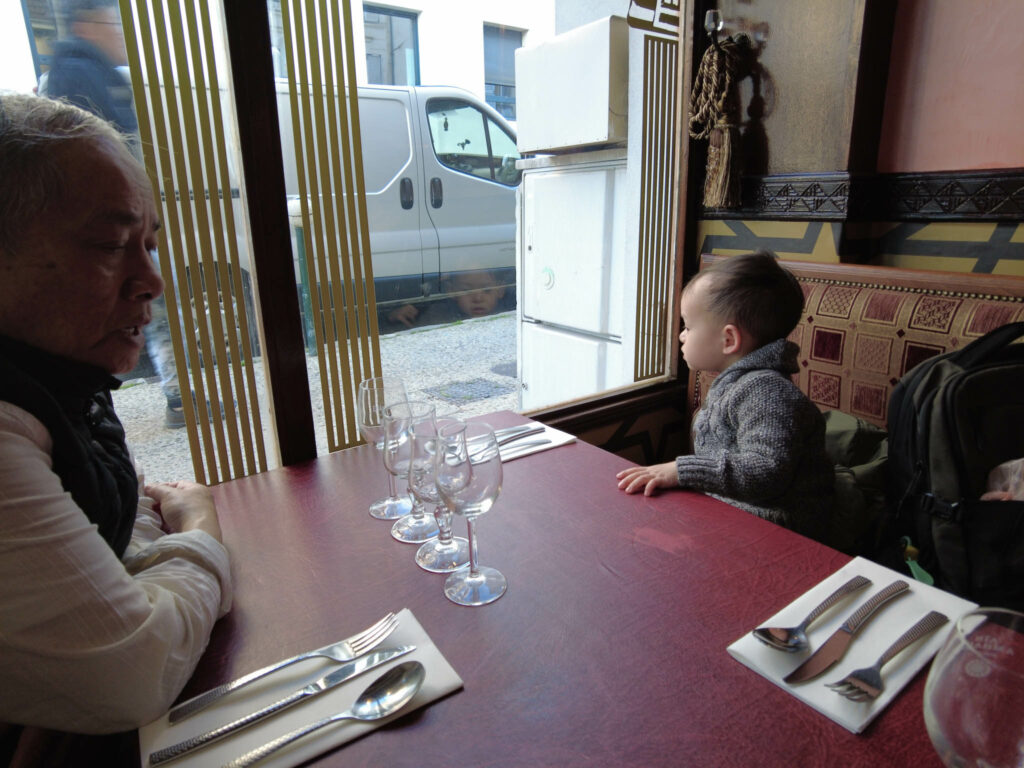 All the glasses and cutlery are coming from the north of Africa or using a brand from there. The level of detail is quite impressive. Usually, you just see plain cutlery.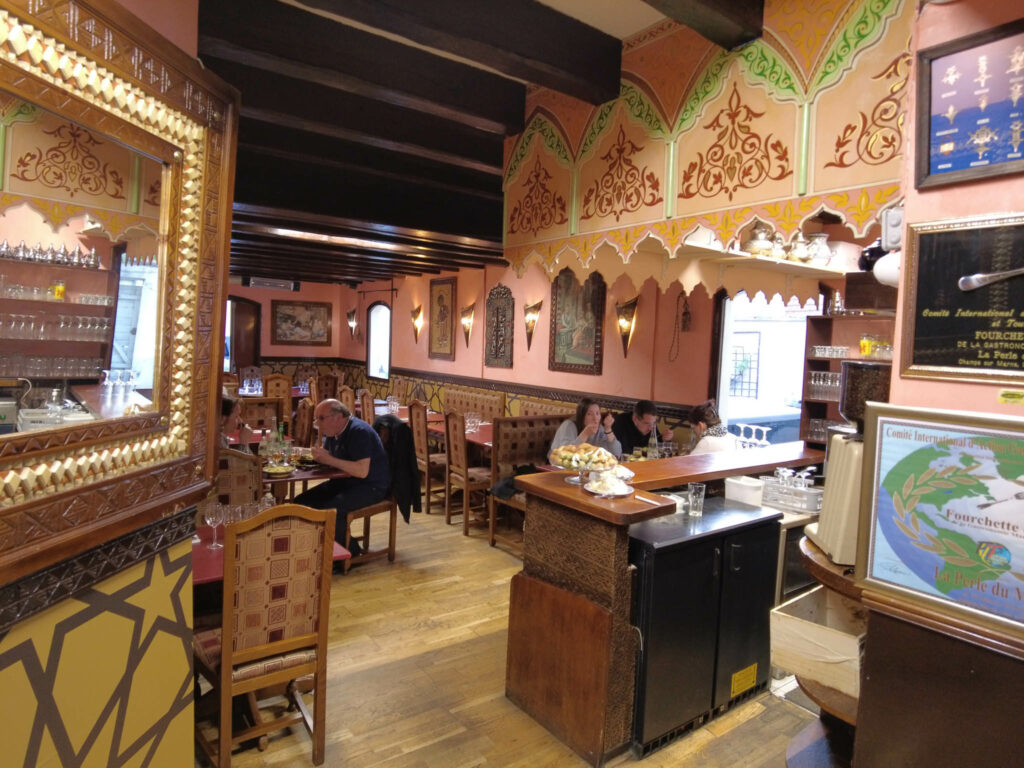 I wish I could have taken a glimpse at the back of the restaurant; perhaps they have a beautiful garden or something. It was just that it felt a bit impolite to go around to take pictures. Usually, when reviewing, it's better to be discrete.
The menu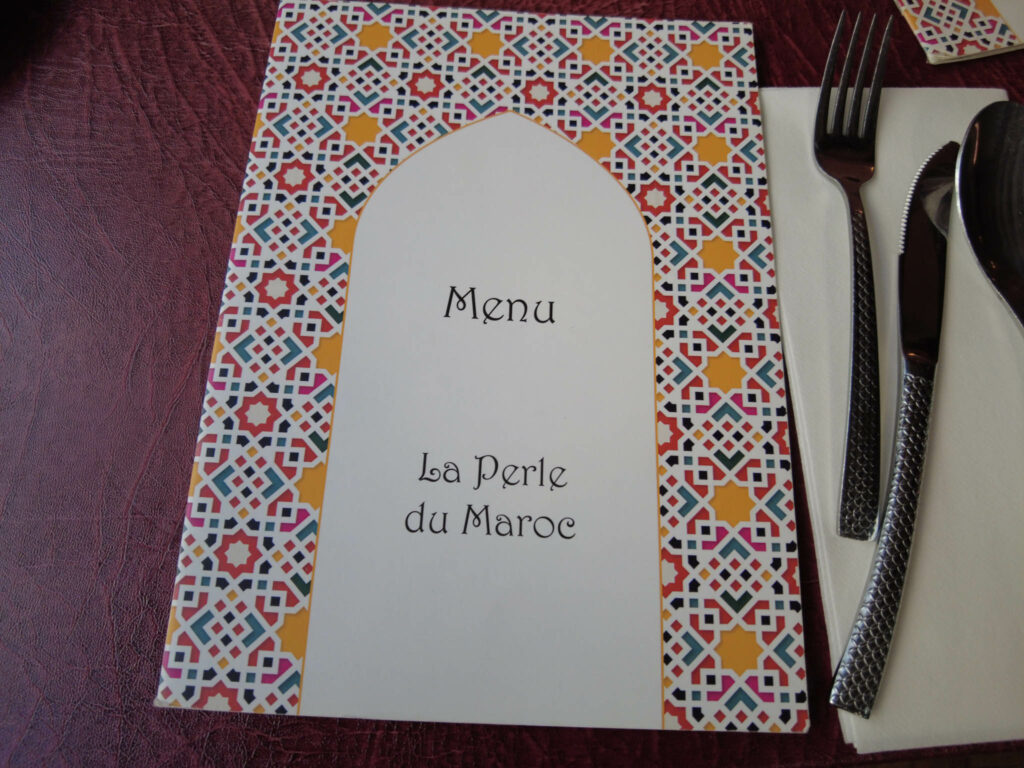 The menu looks amazing, and it's perfectly designed. I am quite impressed; it's simple and clean and only has four pages. Most restaurants should take inspiration from this.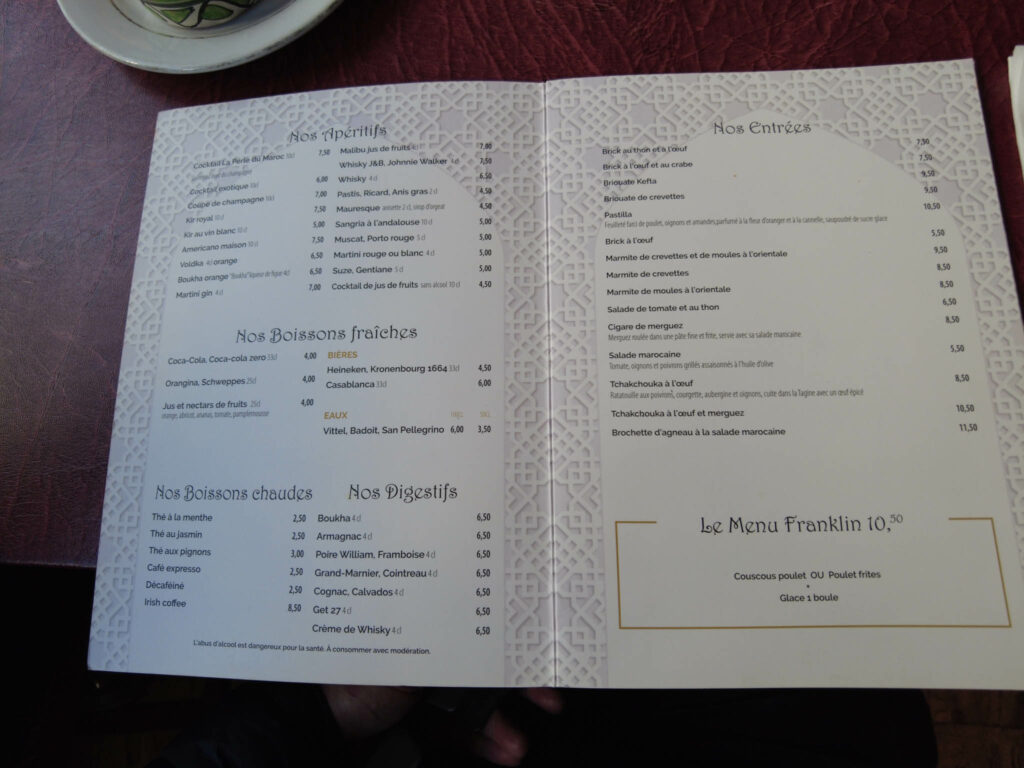 Inside the menu, it's simple, spaced, and easy to read. No fancy dark colors or pictures. You can find what you need with ease. Even my wife, who is Vietnamese, was able to find the dishes easily.
The menu starts with the drinks, followed by the starters. I think it's well thought out since we tend to take an aperitif before eating in France.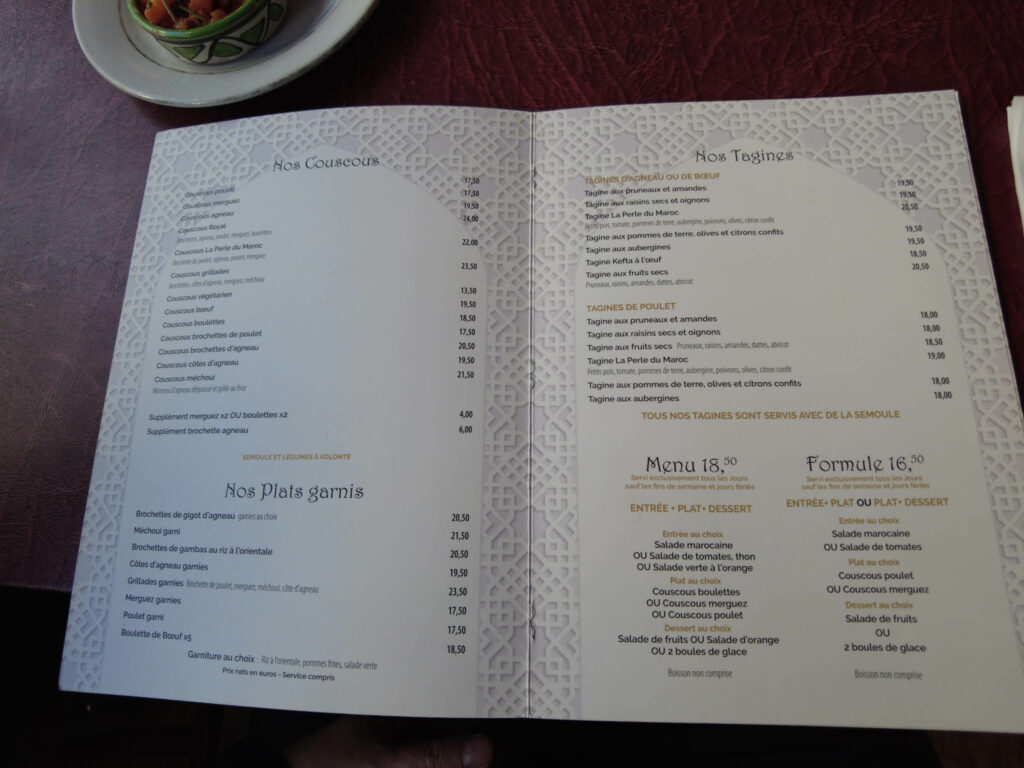 Again, the menu is extremely well laid out: couscous, garnished dishes, tagines, and menus. I am starting to believe that a family member of the owner is a designer.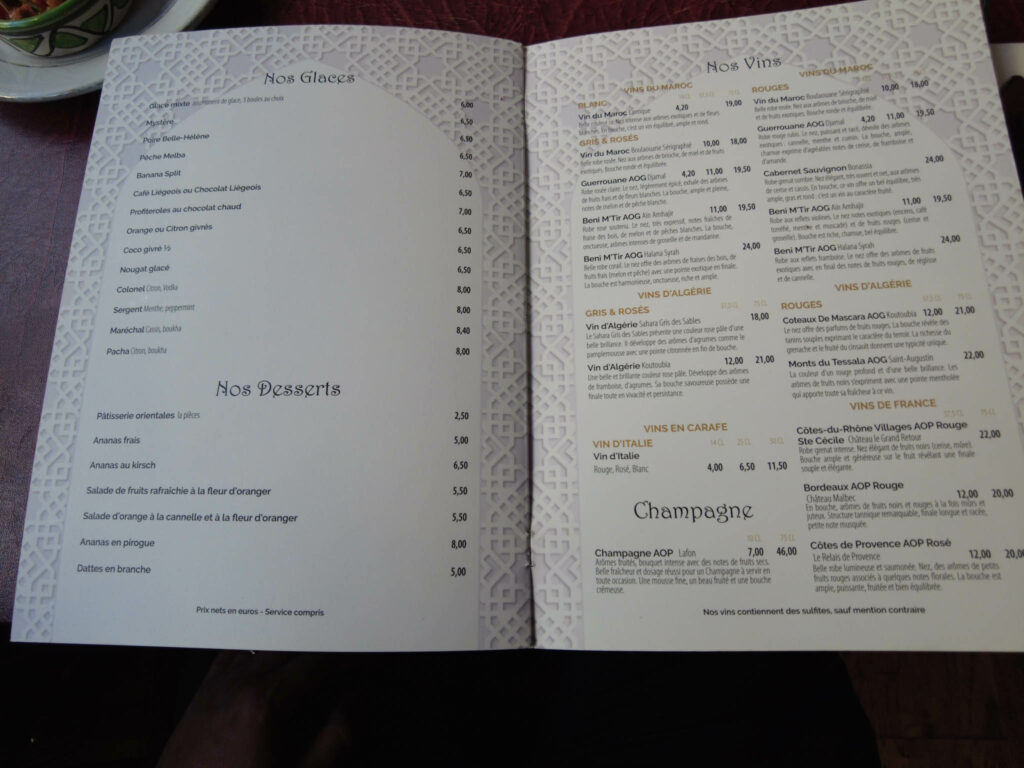 Finally, the last pages are reserved for ice cream, desserts, and bottles of wine and champagne. They don't have an overload of selection. These are the products from the region, and that's what you'll find here.
I didn't know Morocco and Algeria had some red wine, but I was impatient to try some. Overall, the menu is exactly what it should be. Simple, concise, easy to read, and easy to choose.
The experience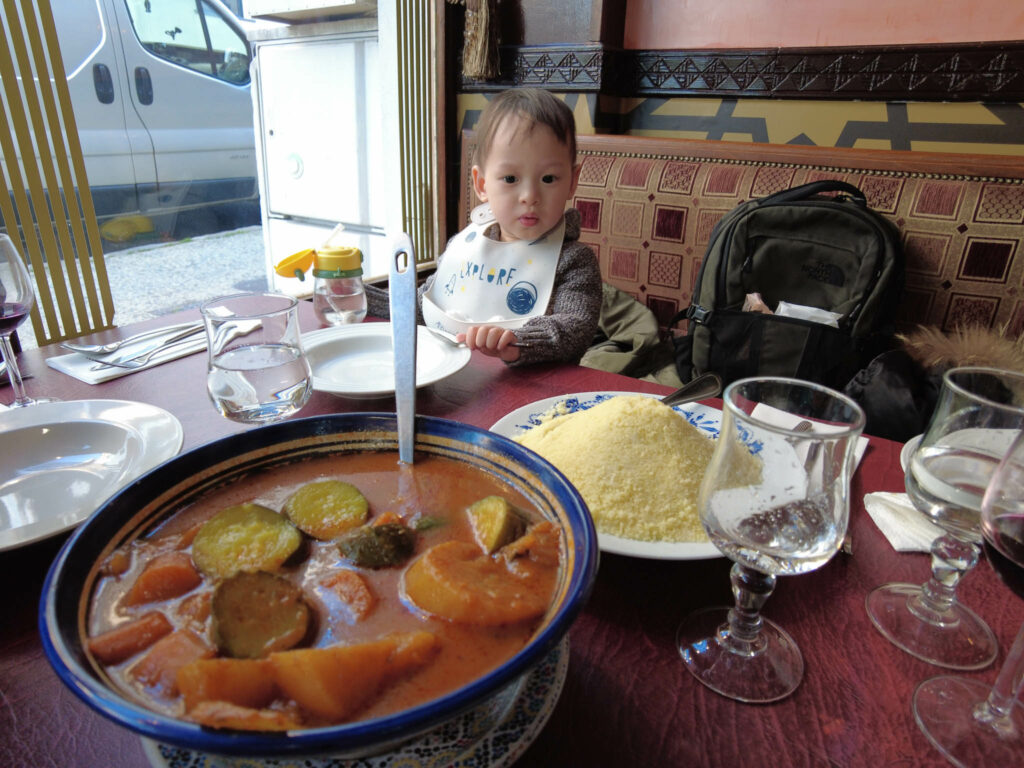 The experience from the start was great, the staff were very welcoming and helpful. They had the perfect balance between service and leaving you in peace.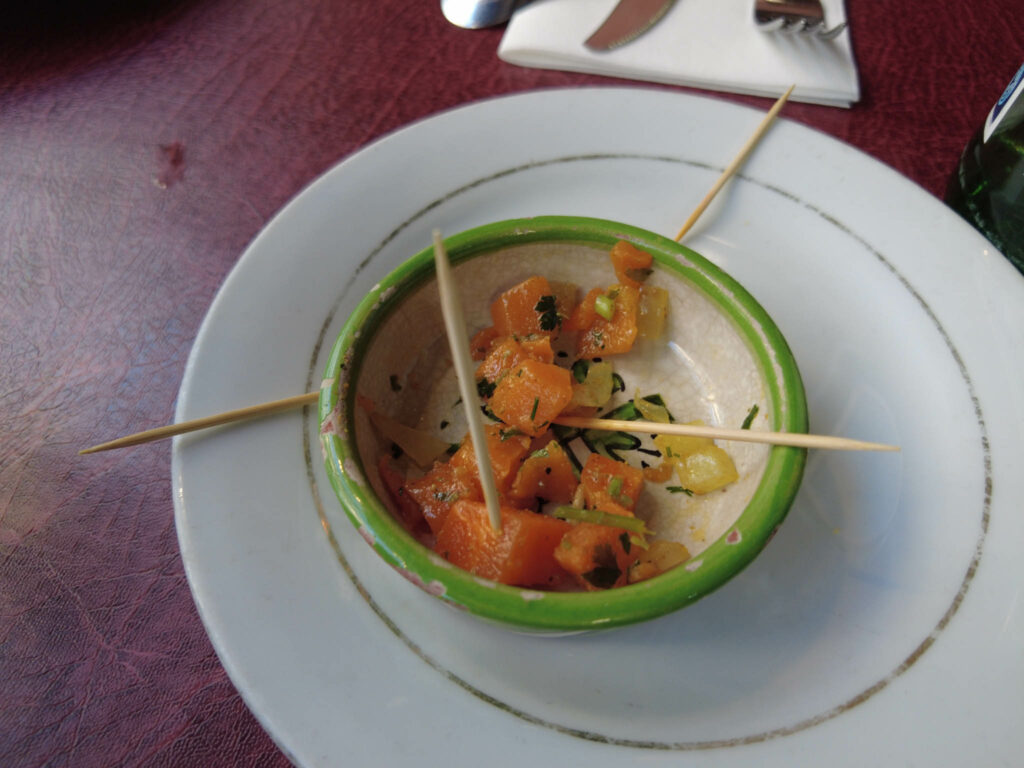 The restaurant gives you a free starter, probably some cooked carrots marinated with cumin and herbs. It was good; perhaps some olives would be even better.
We all ordered Couscous Royal. At the beginning, when I saw the plates, I thought it was not going to be enough for us to be full.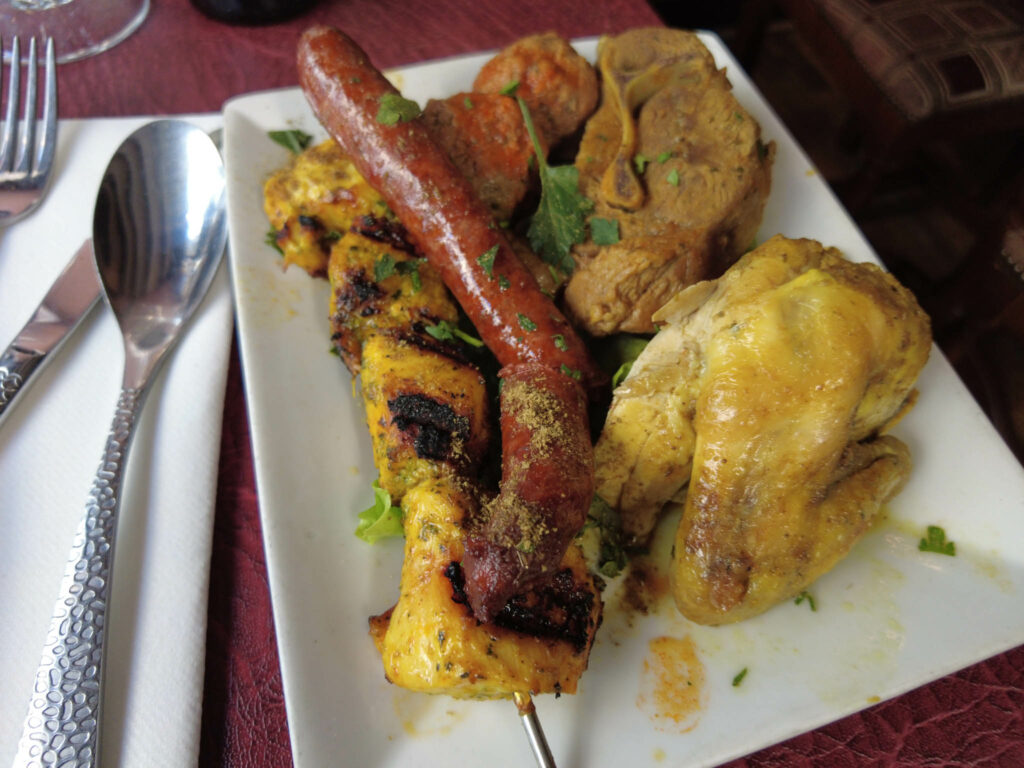 But I think I've never eaten that much in a restaurant, even at an all-you-can eat buffet. Perhaps the semolina is growing in the stomach.
This is probably me second time eating a couscous in a restaurant and I have to say, compared to the one we make at home (Vietnamese's style) this one is so much more refined.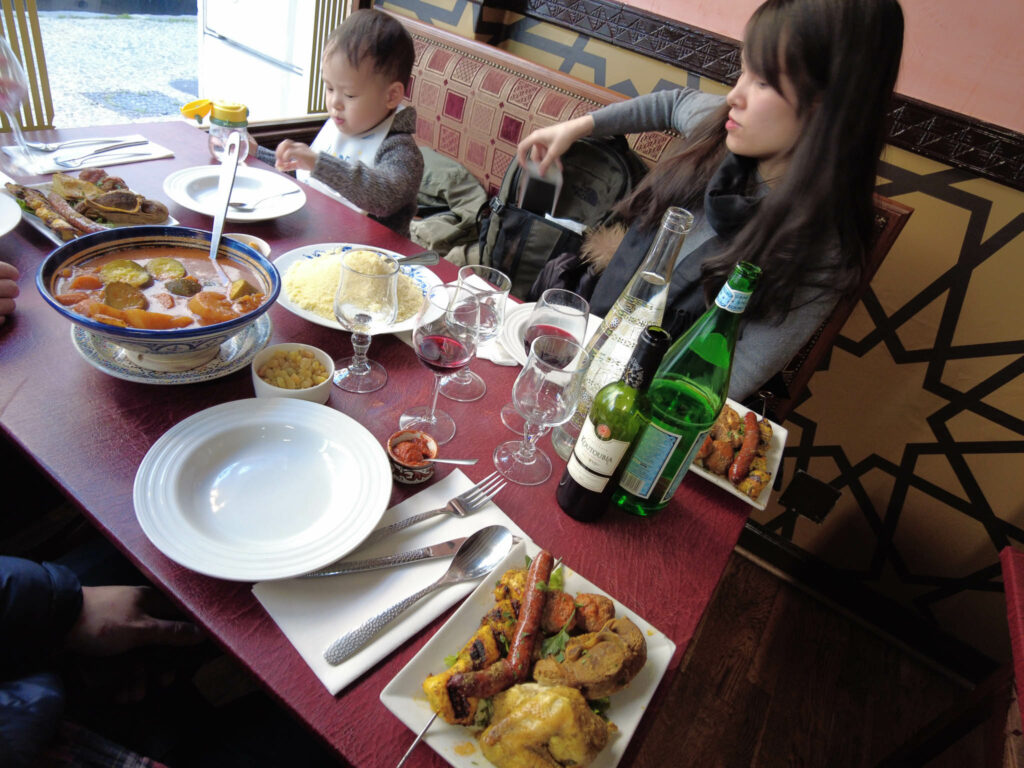 The taste of each dish, like the vegetables, is finely seasoned. Everything tastes slightly different. The semolina was nothing I'd seen before. It was airy, light, and small.
It really felt so much different than the one we use at home. I don't know if it's because of the size or because of the quality. It's obviously the best semolina I've ever tried.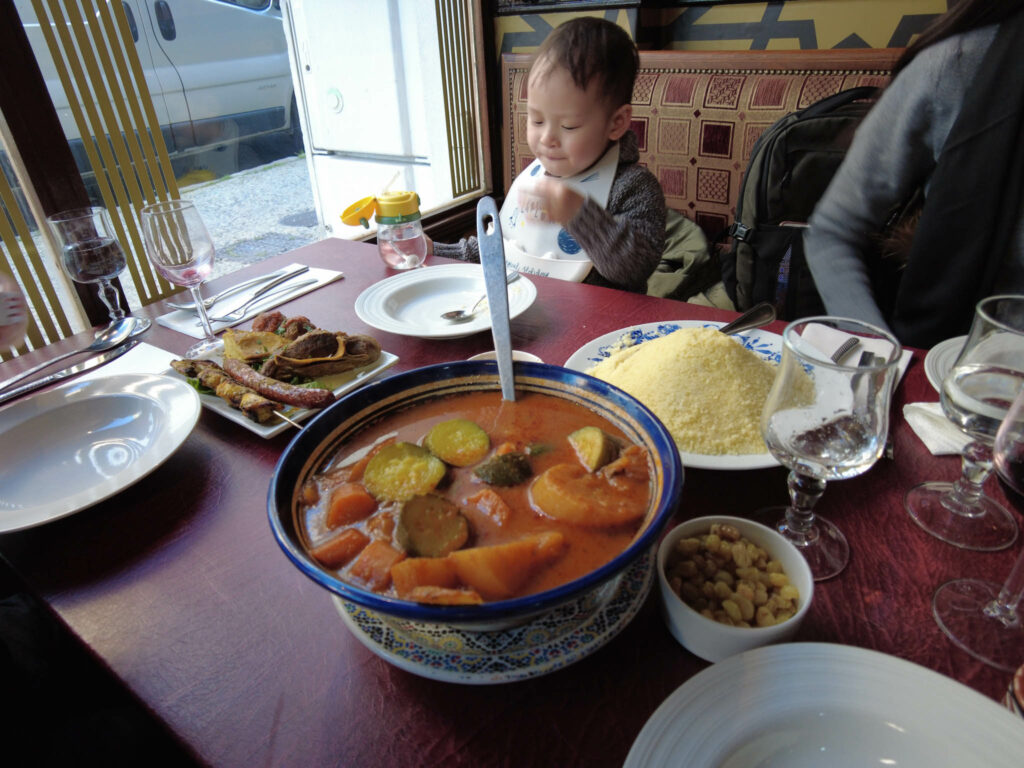 The soup wasn't particularly salty, but it was tasteful—not the kind of strong taste you would expect from the color, but something very refined.
The meat plate was very generous in portion. Like the vegetable soup, each meat has its own seasoning. It was honestly like discovering what this dish should taste like. At home, we mix everything, and it almost becomes a strong taste of the same thing.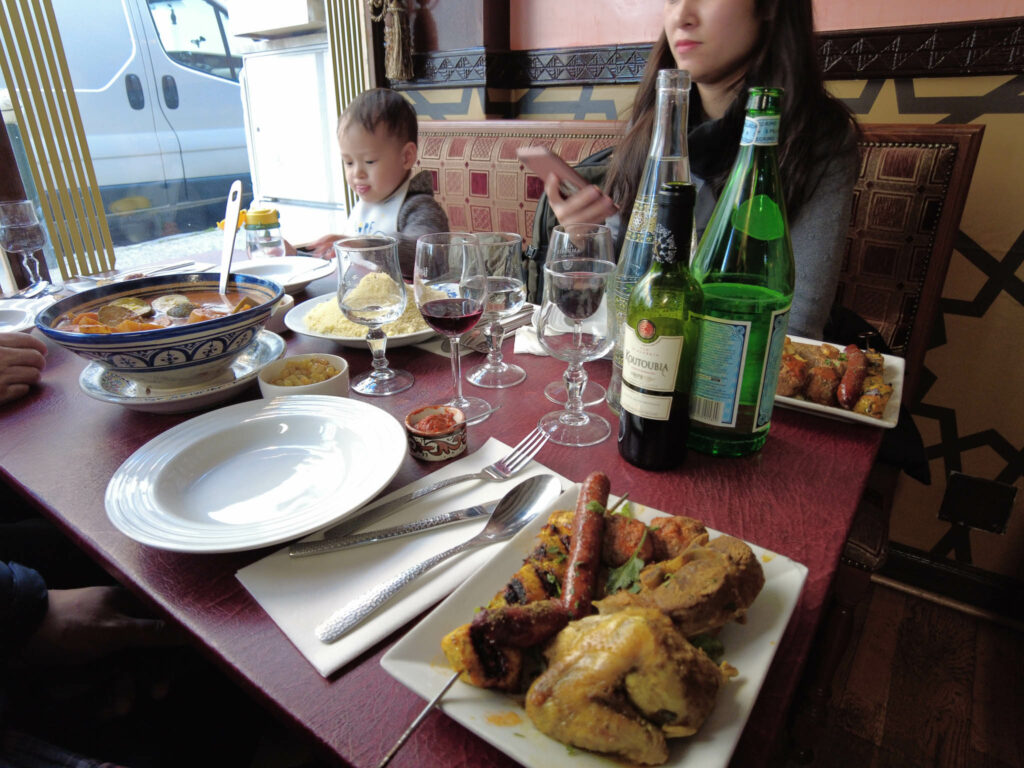 Here, everything is separated so it can taste as it should. The merguez was delicious, but nothing out of the ordinary. The lamb was good as well, but we were hoping for something more tender and fatty.
The meatballs were good and well seasoned, and the chicken was all right. We usually roast a chicken at home, and for me, it tastes better, but at least I know now what it should really taste like.
The skewered chicken didn't feel like poultry in texture; it was firm, almost solid, and slightly bouncy. I wonder if this is not a turkey or something.
Overall, this couscous was delicious; perhaps the meat was not as expected, but everything was well cooked and seasoned.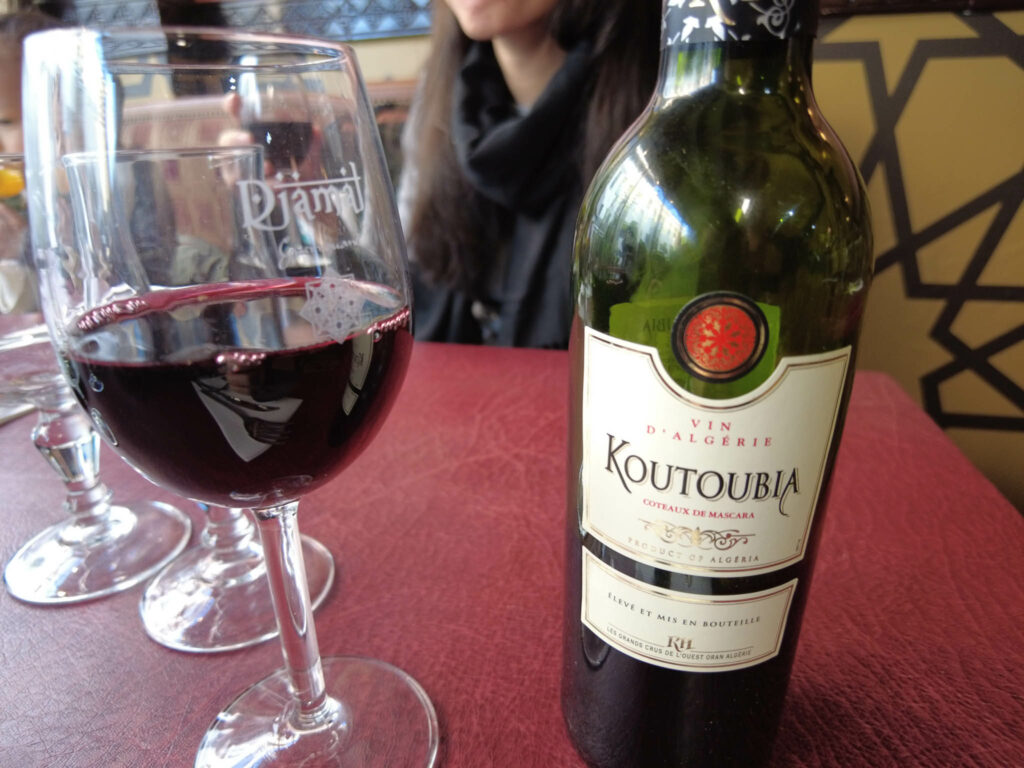 We decided to try some Algerian red wine, and we weren't disappointed. I have to say that the wine was to my taste and actually tasted better than Vietnamese wine.
Perhaps they've learned from countries like France or Italy that have a similar earth and climate. A very positive experience indeed.
We hope to one day try the famous Boulaouane wine from Morocco, which is perhaps the most famous wine in North Africa.
Verdict
8.0 out of 10.
La Perle du Maroc is a very good Moroccan restaurant; I don't know if it's the best since I've only tried two, the other being L'olivier du Maroc in Soisy-sur-Seine.
Both of them were good, and this one happened to be located near my hometown. The couscous was very interesting and refined.
The price for one person was 24 euros, so it's more expensive than the average Asian restaurant, but at the same time, the location looks the part, and you'll have twice the quantity.
We are not experts on Moroccan food, but we always felt like it was some sort of comfort food. At least this is what it was like for us at home.
This restaurant showed us a different side of Moroccan cuisine, and we don't regret our visit.
Informations
La Perle du Maroc
Address : 11 Rue de la Mairie, 77420 Champs-sur-Marne
Phone : 01 60 17 93 34
Website : https://laperledumaroc77.com
Facebook : https://www.facebook.com/profile.php?id=100083351172711