La Foire du Trône is the largest fair festival in France. This usually occurs in Paris between April and May. Since 1964, the fair festival has occurred in the Bois de Vincennes within the limits of the 12th District.
It used to be an event announcing spring and reuniting families, but this fair has become infamously synonymous with insecurities. This year we decided to try to get our son to experience this event at least once. We'll see in this article if the atmosphere has changed.
Introduction
So this year, we decided to try La Foire du Trône as a family activity. We wanted to give it a second chance since, in my memory, it was a very nice experience, especially as a kid. Sometimes, even if there's a bit of risk, you still need to go out and live.
We decided to go on the weekend during the afternoon. We thought that was the time when most families would spend their time there.
The location
As always, the festival is located in the 12th district of Paris, in Pelouse de Reuilly, but in reality it's almost outside Paris in the woods of Vincennes, just outside the périphérique next to Charenton-le-Pont.
The parking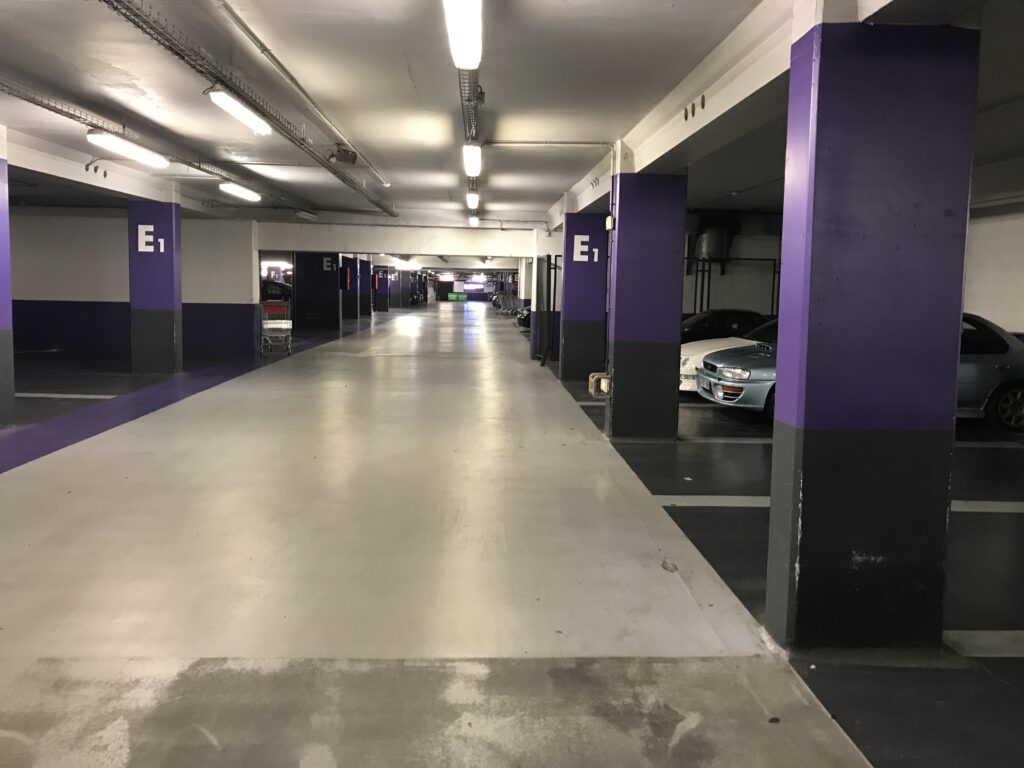 The fair attracts quite a number of visitors each year. It's very complicated to find a parking spot in this area in normal times, so with the fair, it's pretty much impossible.
That's why the official website recommended that we go to the parking lot located in the mall Bercy 2 to park and pay 5 euros for 5 hours. This price is very cheap compared to the price of parking your car on the street during the day.
The issue is that the parking is located 22 minutes away from the fair festival, which means 40 minutes of walking plus walking in the fair. The way to get there is also very unpleasant; you have to cross many empty roads and even freeway cross sections.
On top of this, the parking lot is quite a hazardous place; I wouldn't recommend anyone using it, especially at night. You'll have to go inside claustrophobic staircases that smell like urine and some passages that are empty, closed, and without cameras—a perfect place to get robbed or worse.
The fair festival experience
Other than these hassles, the rest of the experience was fairly good. I was expecting insecurity inside the park, but during the afternoon it was ok.
No big group of thugs; security in front of each entrance. We really felt more safe than we were expecting.
The fair is quite big, and there is a diversity of games. I think the minimum required age is two years old, but five is the best age to enjoy games such as haunted houses or crazy parkour.
The types of games
In this type of fair, you'll find many types of games, so people of all ages can have a bit of fun. These are the main ones:
Game of skills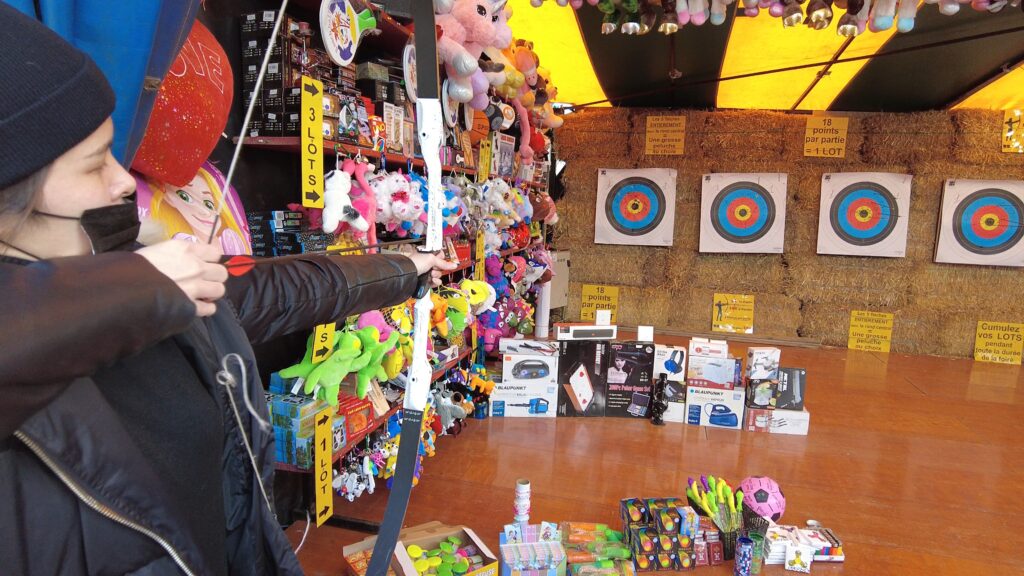 There are still games of skill at festival fairs, but the only catch is that you'll have to be pretty good at them or play a lot to win big prizes.
For example, archery is one of them. It's a game that is possible to win, even if they stack the odds against you. For example, the rope from the bow is quite soft, and the arrows are not in the best condition.
Still, they will give you a gift ticket if you are close enough to the 18 points required. This is the best technique to incite you to play more for a bigger prize. At least these games are kind of fair.
Pellet guns, paint balls, and other guns—even soccer balls shot at targets—are also in this category.
A fake game of skills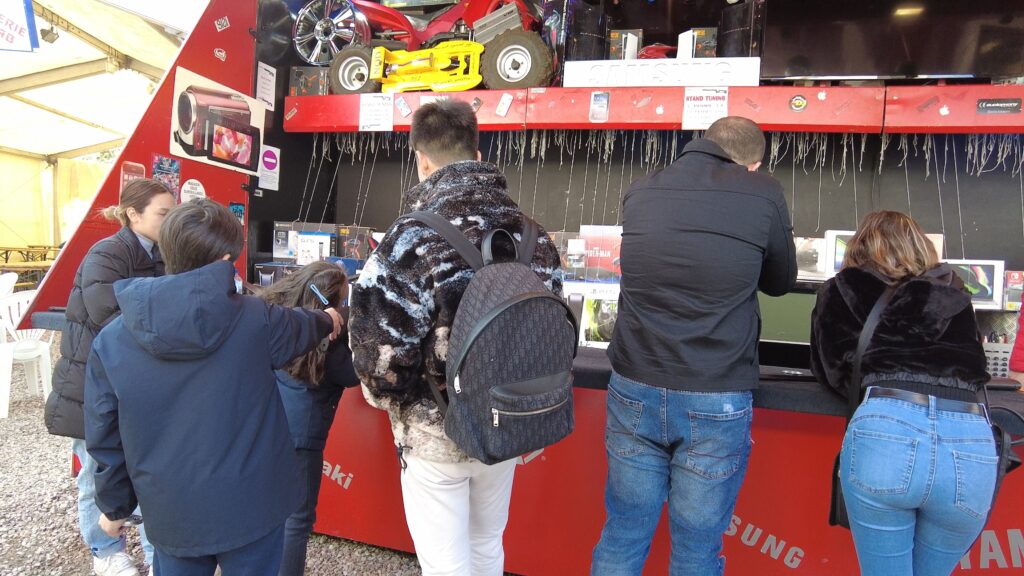 Then there are the games that look easy but are pretty much impossible. These games include the wire you have to break with pellets, the games to catch teddy bears, and other electronic goods. Basically, if you see an iPhone, a Macbook, or a motorcycle, don't expect to win it.
Some games border on mini-gambling casinos; that's basically the stuff for adults.
The parkours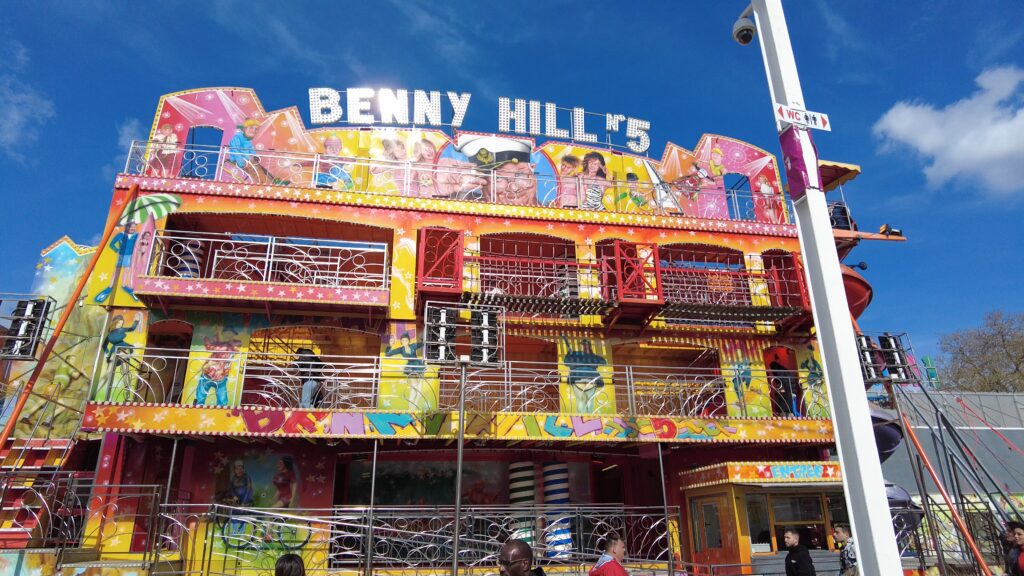 These are the games you enter, and you'll have obstacles, mirrors, and air jets coming at you. We wished we would have been able to try this, since it sounds like tons of fun. Unfortunately, with children under two, it's simply forbidden. I guess we'll have to wait for this.
The trains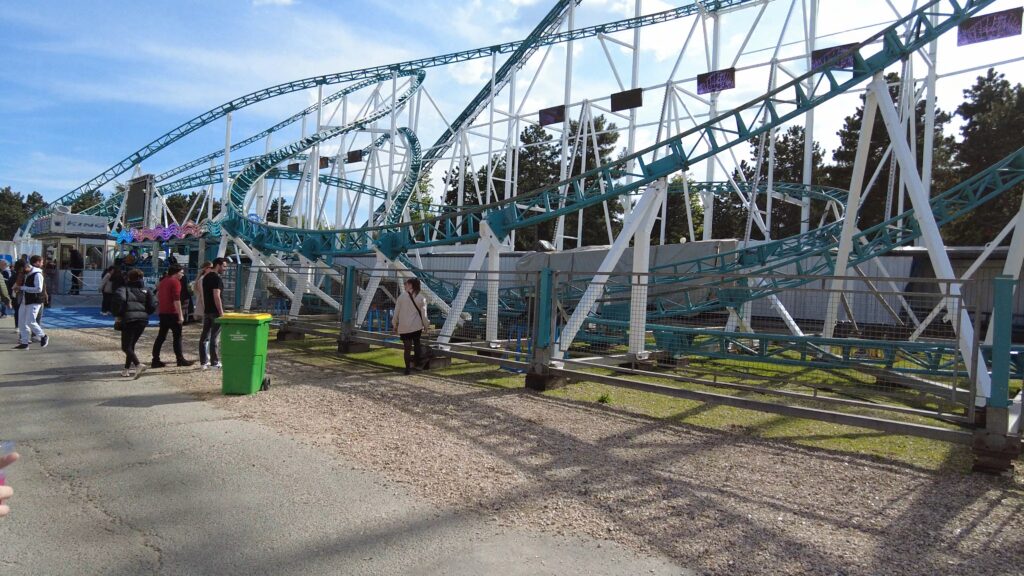 There are trains or vehicles on rails for all ages. From the mini-Russian mountains for adrenaline junkies to the carousel for kids,
These don't need presentations anymore; they are the most iconic attractions at a fair festival.
The festival wheels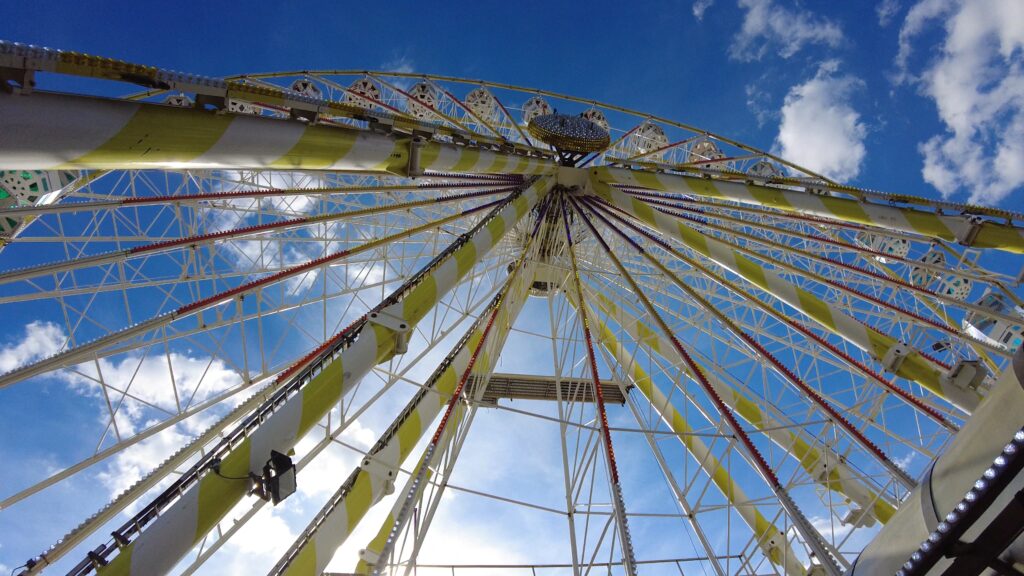 This one is a classic for families who want to enjoy a beautiful view without any concern about their safety. It usually spins for ten minutes and lets you enjoy three full laps.
The dangerous games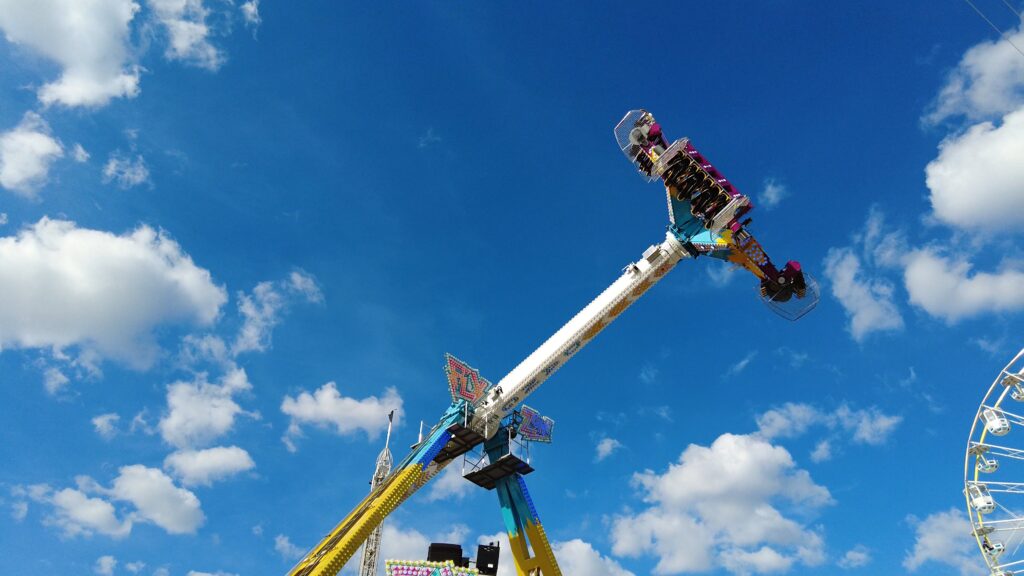 Well, these games are not necessarily dangerous, but they're the kind of game you look for when you want to feel some fear of speed and some acrophobia. These go from spinning to falling and jumping carousels.
To be honest, it's not my cup of tea, but it's still a lot of fun for some people.
The newer games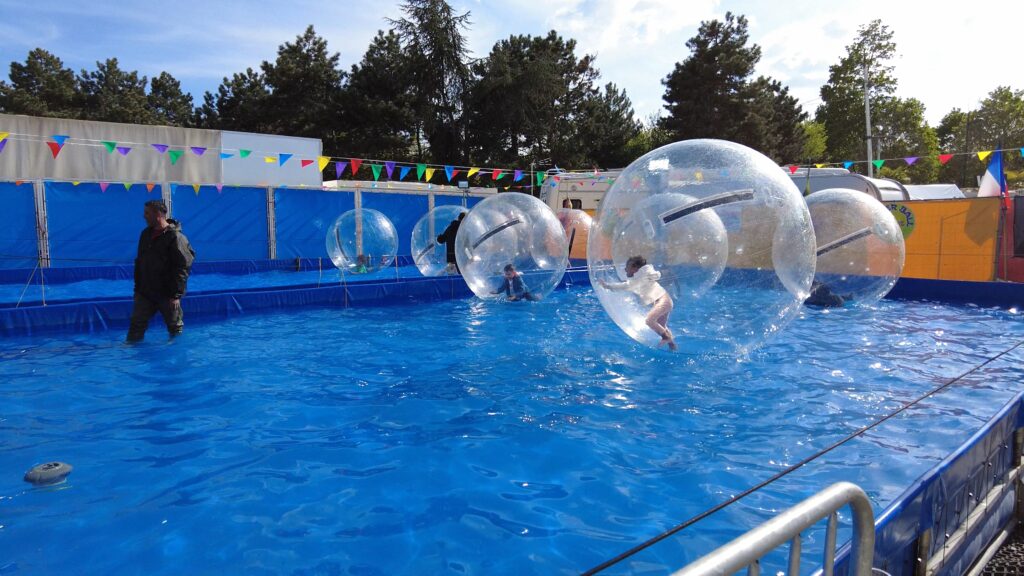 Some games are fairly recent; they're the sort of games that add some novelty to their concepts, enough for you to want to try this new experience for the first time. For example, this year they had a lot of inflatable balls for kids to enter into and the balls to be thrown on water.
This looks fun, but if you look closely, kids can't really do the hamster wheel and will fall most of the time.
The infrastructure
Inside the fair festival, you have a small eco-system to make sure everything is running properly and that you have everything you need to stay as long as you wish.
The food trucks and restaurants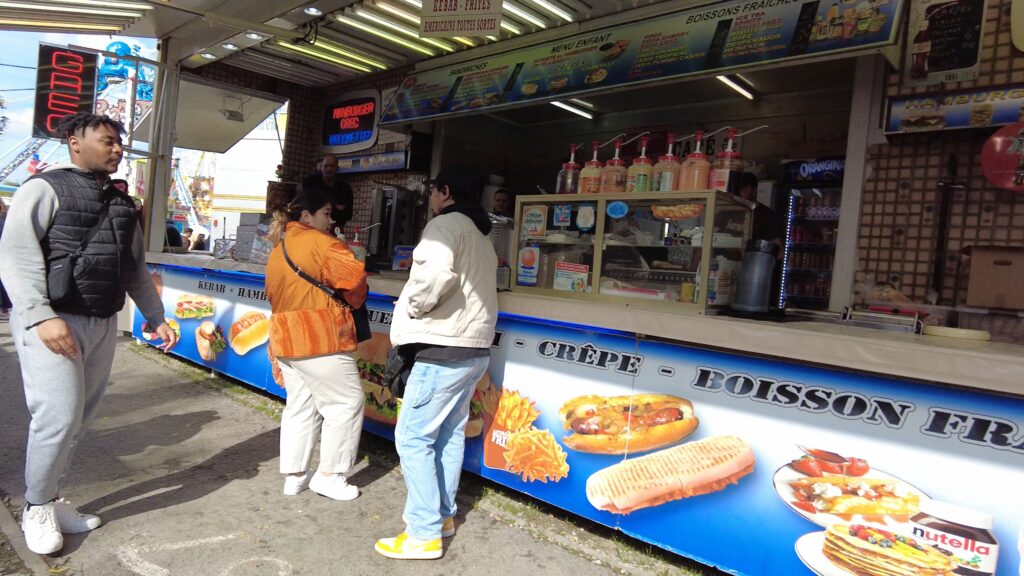 There are many places where you can order food or delicatessen. From the famous cotton candy, sweet candy apple, or granitas to the kebab or sauerkraut,
This year there was a creole restaurant; we wish we could have tried their Colombo, but we already had a dinner planned that night.
ATM machines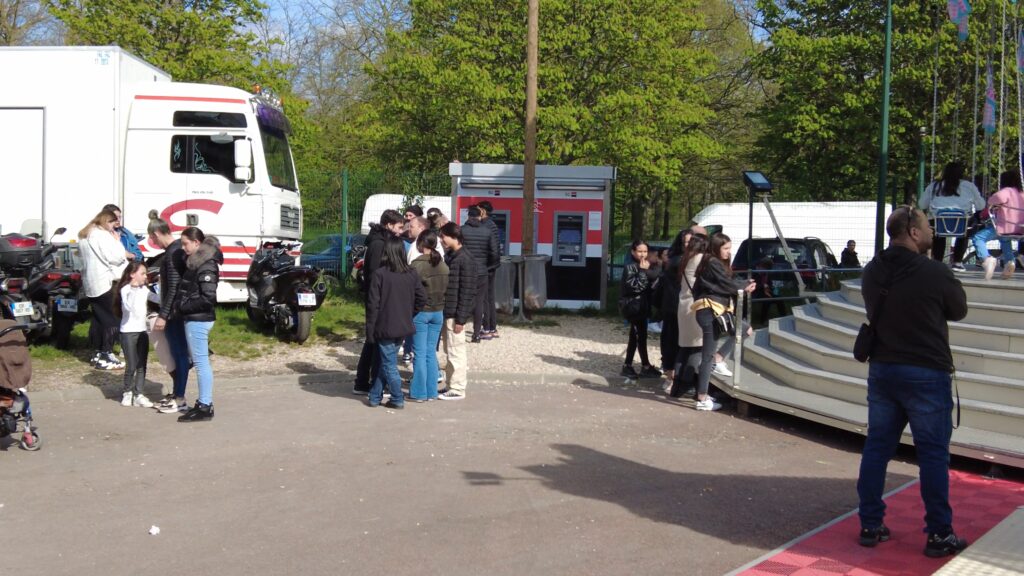 This year, the Société Générale generously put two ATMs at the fair for any person looking to withdraw more cash without having to leave the fair. In my opinion, this is a good idea as long as security is present.
WC
Obviously there are some toilets as well. If you need to go, it would be a pity to have to go home just for this. There are some toilets available; the price is one euro, which is fair considering someone has to maintain them.
The price of the attractions
Well, this is where the inflation is spoiling the fun; the prices have simply doubled. Before you could fish the ducks, you just needed 2 euros. The same goes for a carousel spin. Now everything is 4 euros at least.
If you want to play some more advanced games like archery or guns, you'll have to pay 10 euros. Wow, that's a fivefold increase since the last time I came.
The addition will go up very quickly, perhaps as quickly as a weekend at Disneyland.
Verdict
7.8 out of 10.
La Foire du Trône this day was a safe place to have fun. That's the most important aspect of a family activity. Without safety, you can't really have fun.
Overall, we had a good time there, even if the parking was a bit of a hassle and the prices went through the roof.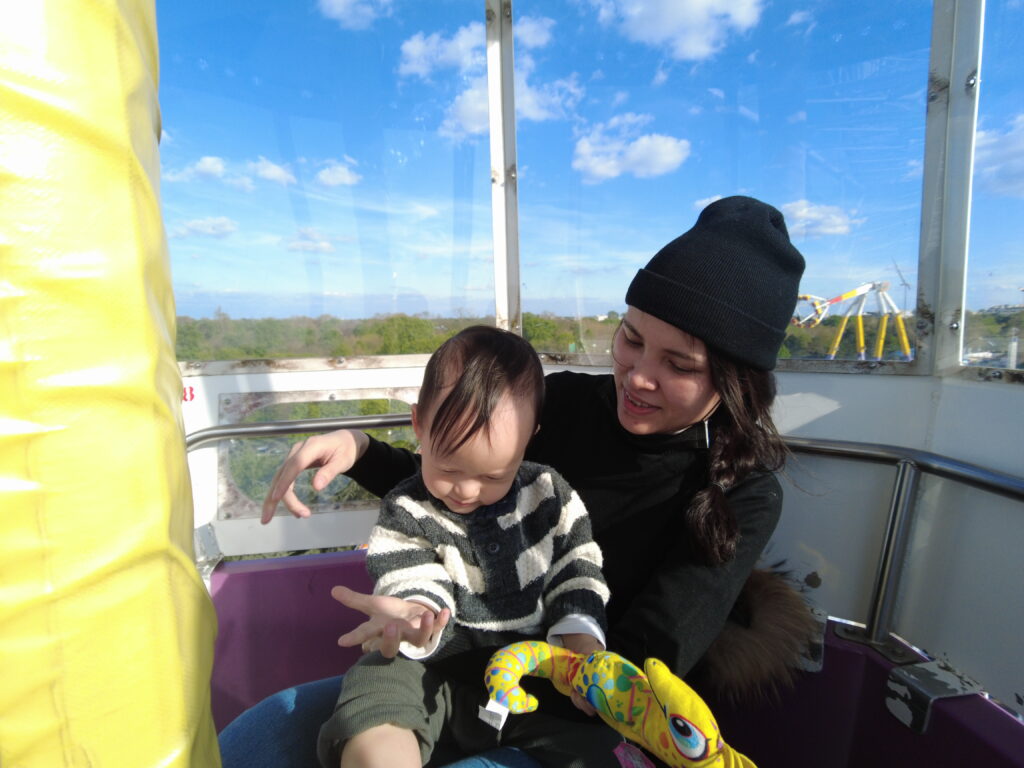 As long as your kids and family can have a good afternoon, I would still recommend this activity. Keep in mind that you'll probably encounter some form of insecurity, and make sure your belongings and family are safe.
We would recommend you go by metro and choose a time when there are tons of people on the street and outside.
Informations
La Foire du Trône
Address : Pelouse de Reuilly, 75012 Paris
Opening : from 12 pm to 9 pm
Website : https://www.foiredutrone.com
Facebook : https://www.facebook.com/foiredutroneofficiel/