Jacksons Steakhouse is an American Style Grilled own by the Alfresco's group surprisingly. They currently only have one location in Hai Bà Trưng Street, Hoàn Kiếm, Hà Nội.
This restaurant is an upscale American dining experience. Far away from the traditional red seats, black and white floor tiles and the burgers served by waiters riding rollers, Jackson Steakhouse is more on the high end spectrum of the dining experience.
The location
Located in Hoan Kiem the center of Hanoi, the restaurant is very near the Trang Tien Plaza. The location have a fairly narrow but deep surface on two levels. From the entrance of the restaurant you can see the Tiffany and Co advertisement and expensive cars coming out of the Plaza Parking.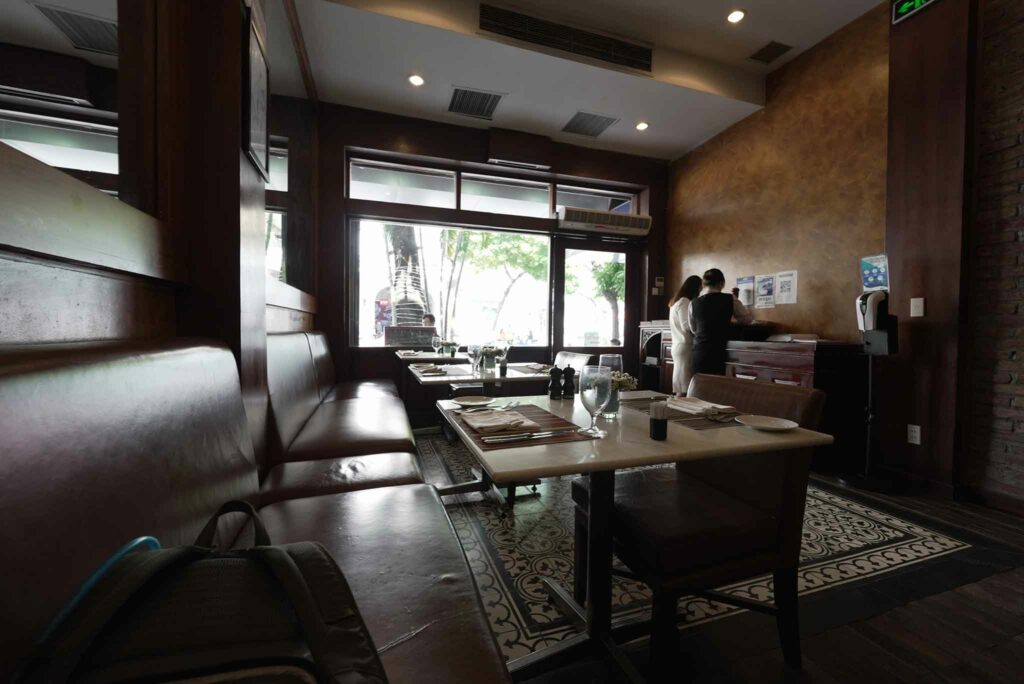 If the restaurant doesn't have a view over the lake, it is only located one block away from it. The restaurant look the part when it comes to American fine dining which in my opinion looks like a mixture of Italian and British.
The decoration is very subtle and the tables well arranged. On your table you can find flowers, salt pepper mill and multiples tablewear. The place is simple but elegant.
The menu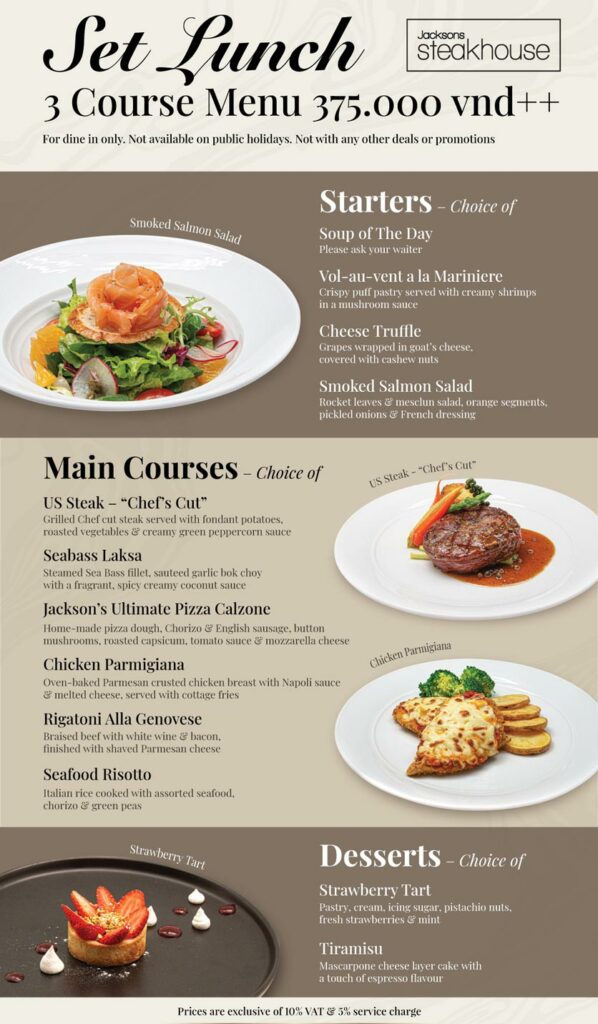 There are different menus. One is the Set Lunch Menu where you can have a selection within multiple choices for 3 courses : Starters, Main Courses and Desserts for a price of 375,000 vnd which is honestly a great value for money.
You also have a Menu à la carte where you'll find the more sophisticated or specialized dishes such as beef Wellington, Lamb chops and other Lobsters.
Like every fine dining you will also find a menu for the drinks and wine.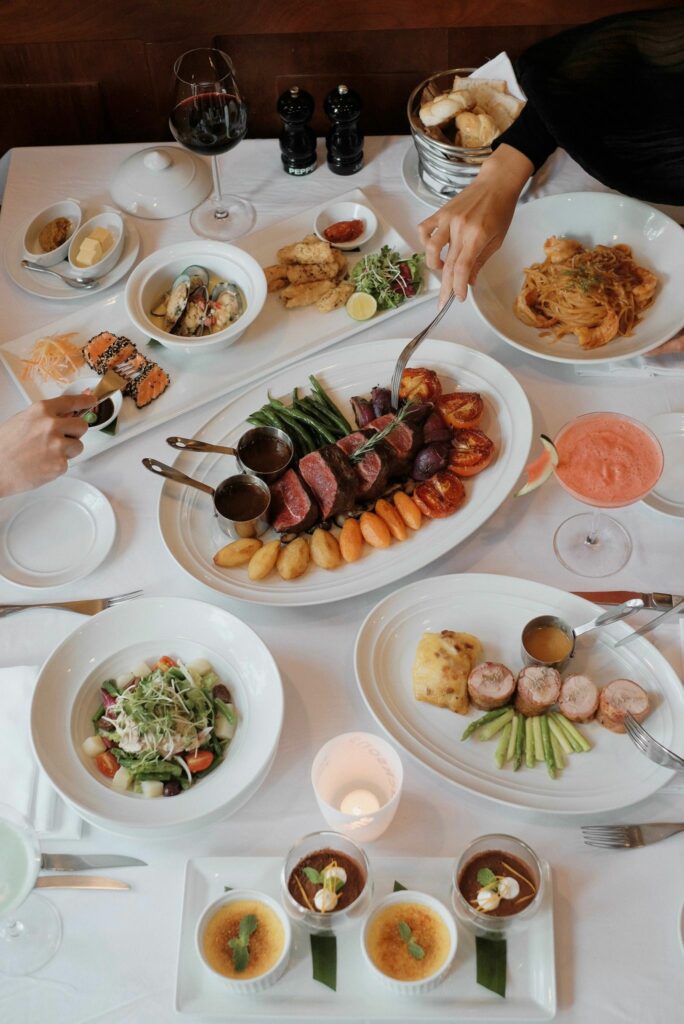 We found the menu to be very well made and the dishes well chosen. To be honest this restaurant have a strong Italian influence. There's Carpaccio, Calzone, Chicken Parmigiana, Risotto and Rigatoni on the menu. Which is a good thing for us cause we love Italian food and deliciously cooked meat.
The experience
I came to Jacksons Steakhouse not knowing anything about it. I was honestly expecting a Franchise like an upscale Buffalo Grill. So no wonder I was pleasantly surprised to find out that first, there's only one of these restaurant and two the experience is quite pleasing and the food very good.
We've personally ate a lunch in there late after a trip to the Embassy so we opted for the convenient Sets.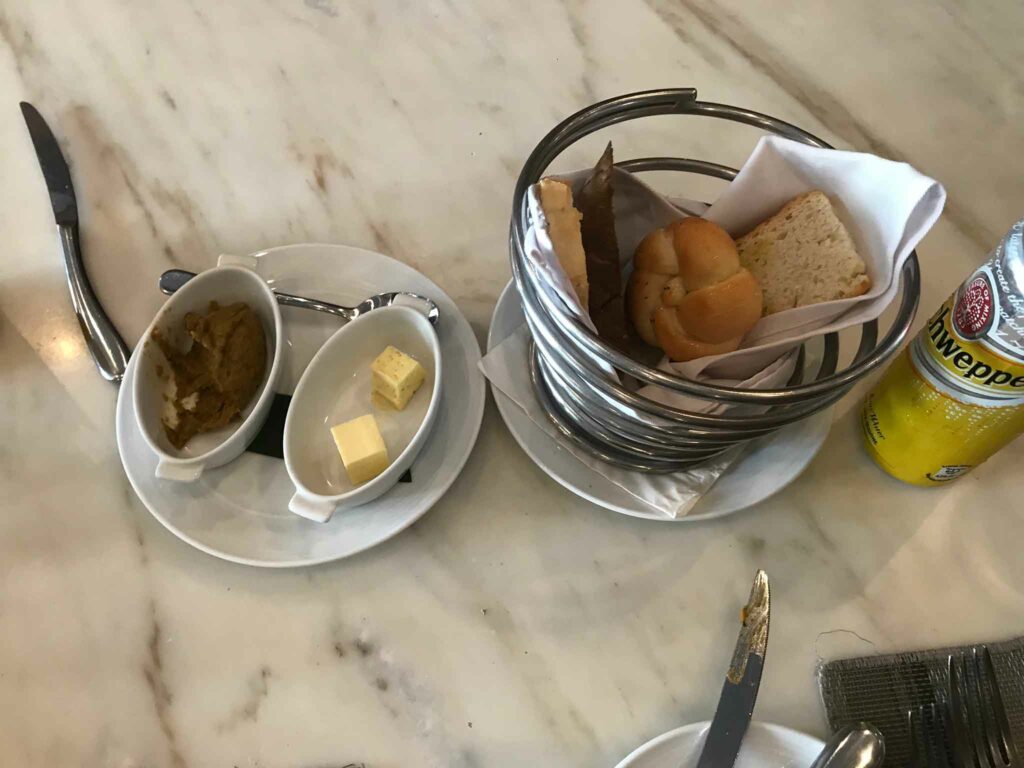 The restaurant give us a pre-appetizer : a selection of bread with different butter with some sort of an eggplant dip. It was honestly very good and the waiters didn't hesitate to refill our basket.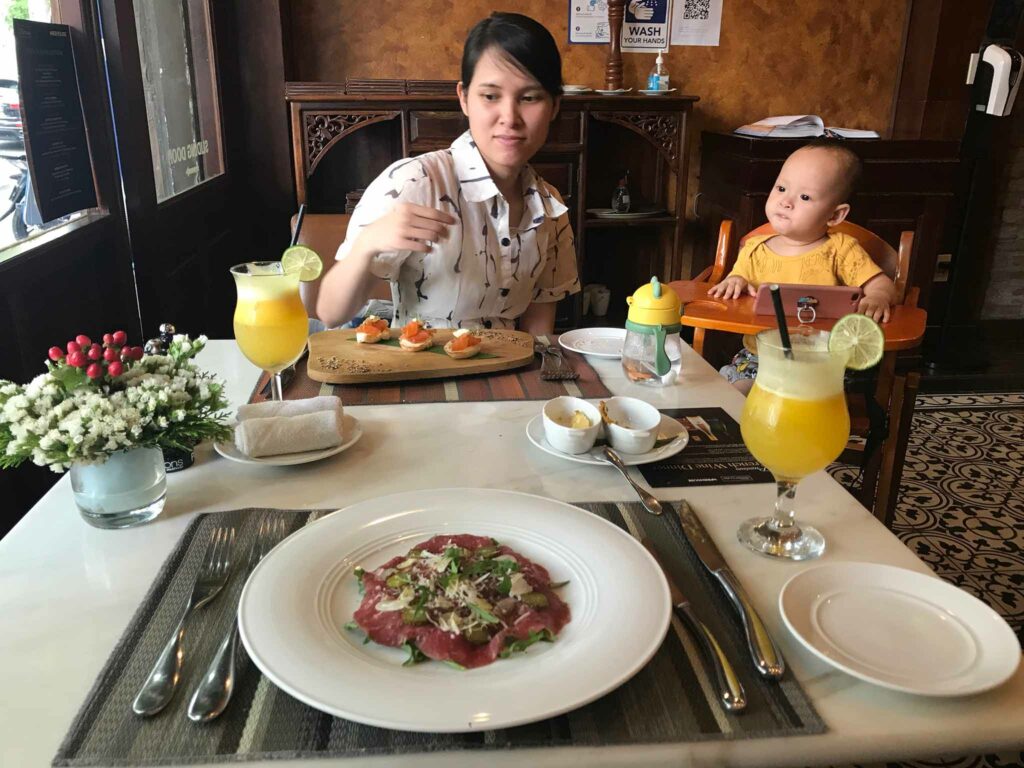 For Starters we choose the Carpaccio and the Smoked Salmon Crostini. Both were very delicious. The smoked salmon was delicious like the one you can find in nordic countries in Europe not the over salty cheap salmon you usually get from restaurant.
The Carpaccio was also delicious, I was surprised at first not to find any vinegar or lemon to slowly cooked the beef, but the olive oil used and the rocket salad mixed with just the right amount of black pepper, salt and cheese were to die for.
One thing to notice is that the center of the Carpaccio meat was still a bit frozen but this is probably because these are imported products and it didn't teint my experience by any means.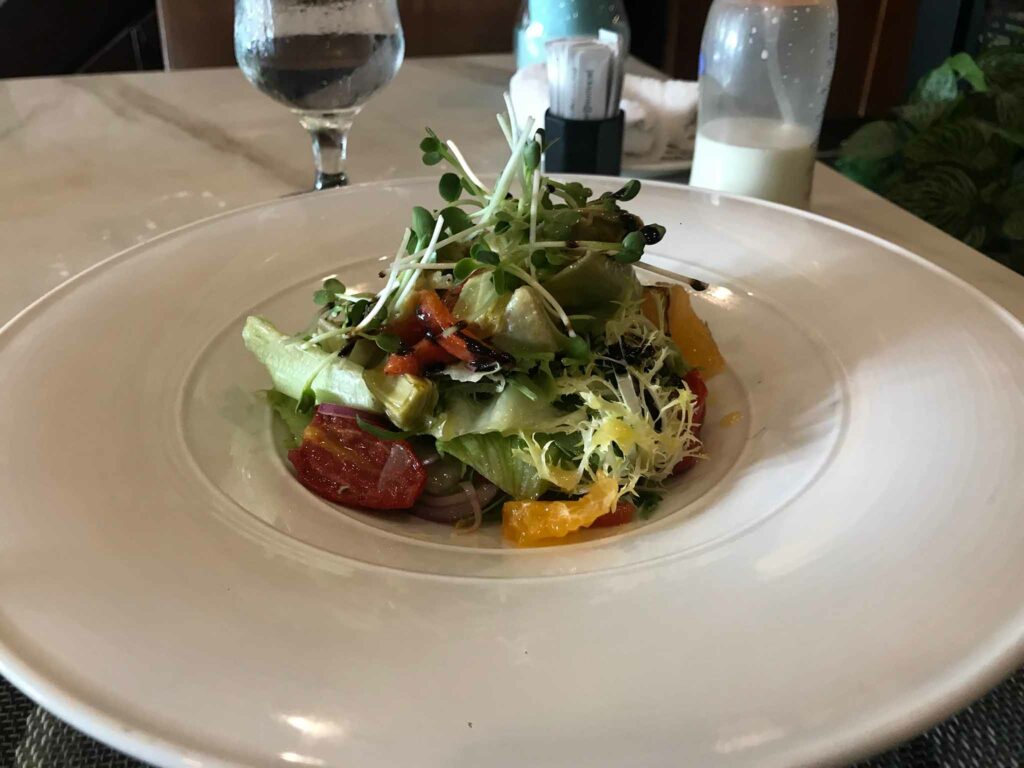 We also had the opportunity to come a second time and try different entrance. The Cauli Flower Salad was simple but delicious : cauli flower, orange, salads, dry tomatoes with a touch of balsamic vinegar.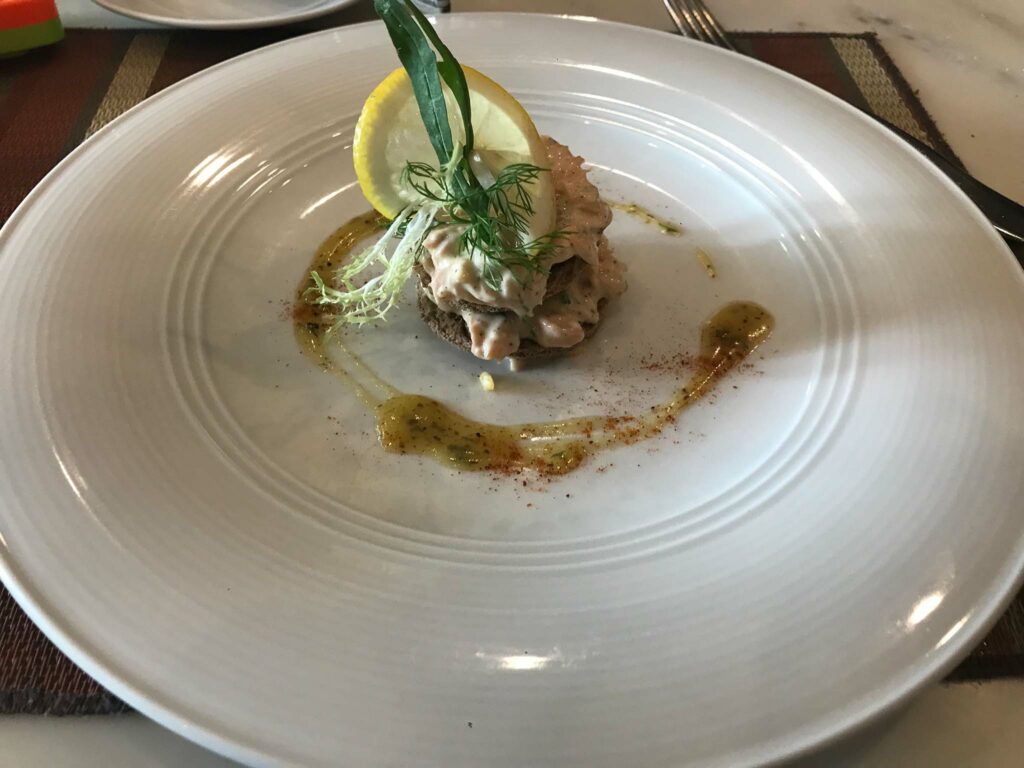 The starter Salmon on a toast was delicious and well balanced even though a bit small in portion.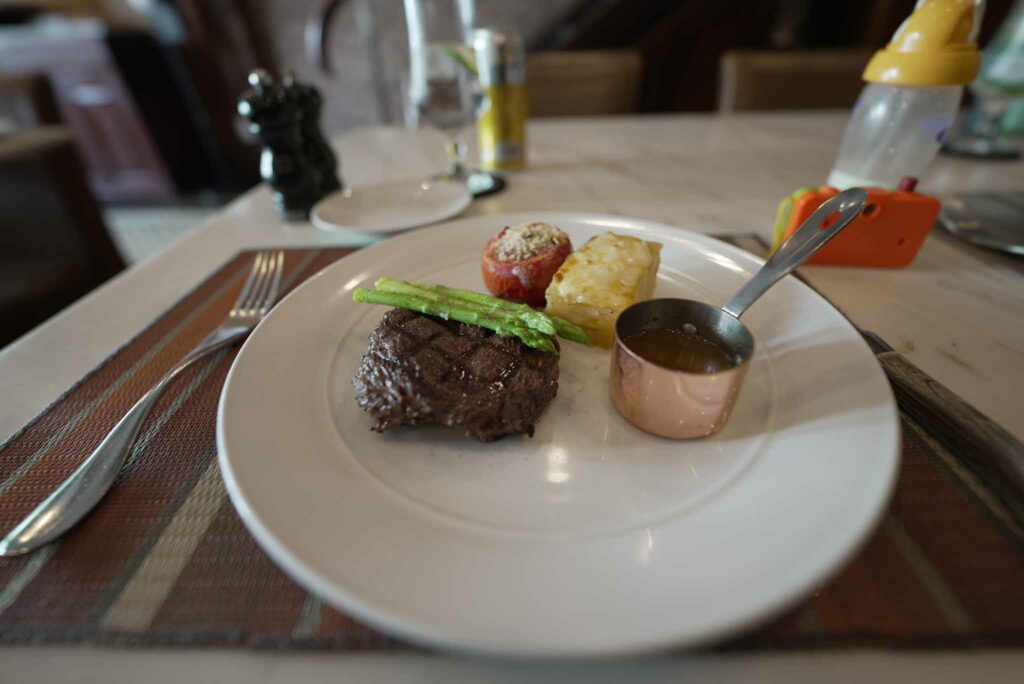 We both chose the Steak as main course so the only difference was : I was supposed to get a medium rare and my wife a 70% cooked steak.
The steak arrived warm a bit undercook but for me it was not a problem, since I am used to eat my ribeye bloody. The Steaks were served with a sauce, some Mashed potatoes and some broccoli's Gratin. We were offered some mustard from Dijon and some old style mustard.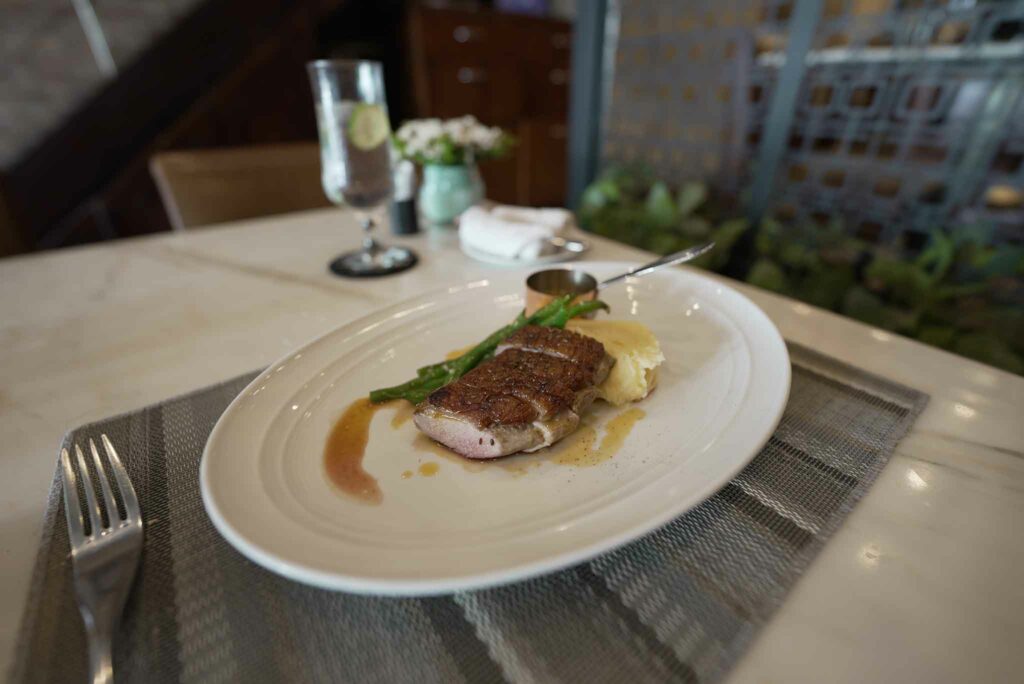 The duck à l'orange was well cooked, still rosé in the inside with a crispy skin. Perhaps slightly under seasoned with salt but that's not a problem since there's self serving salt on the table.
Overall the Main Course was simple and effective. The menu was not overly complicated or fancy and well executed.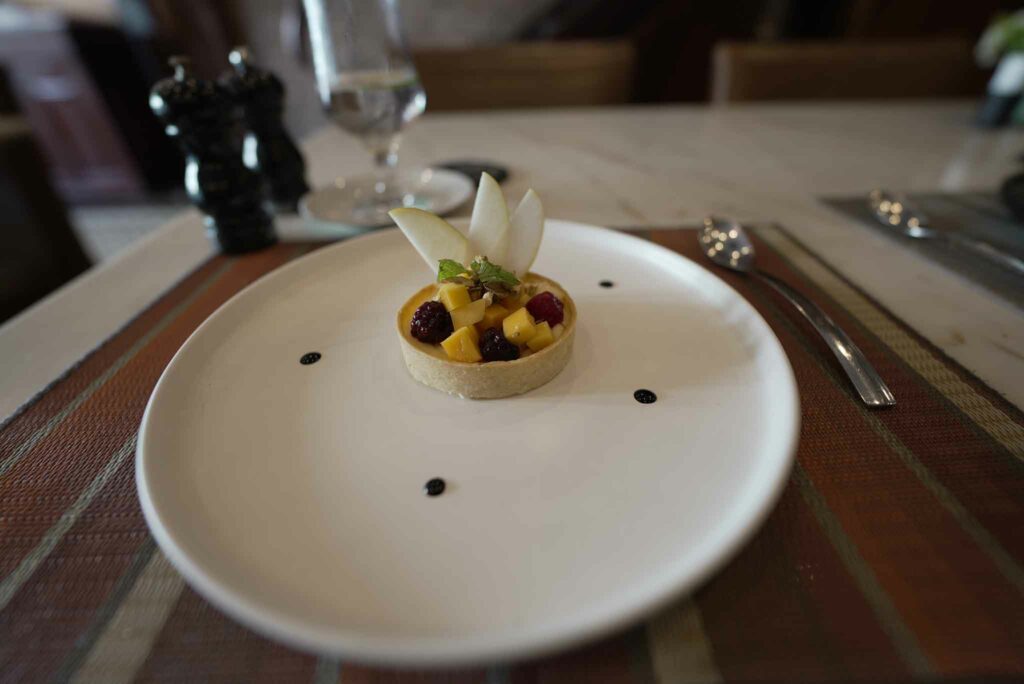 The dessert were delicious too, perhaps on the small size but it is expected from a set. The thing that caught our attention was the effort of the staff to make our stay enjoyable. I have to say it was a great service overall.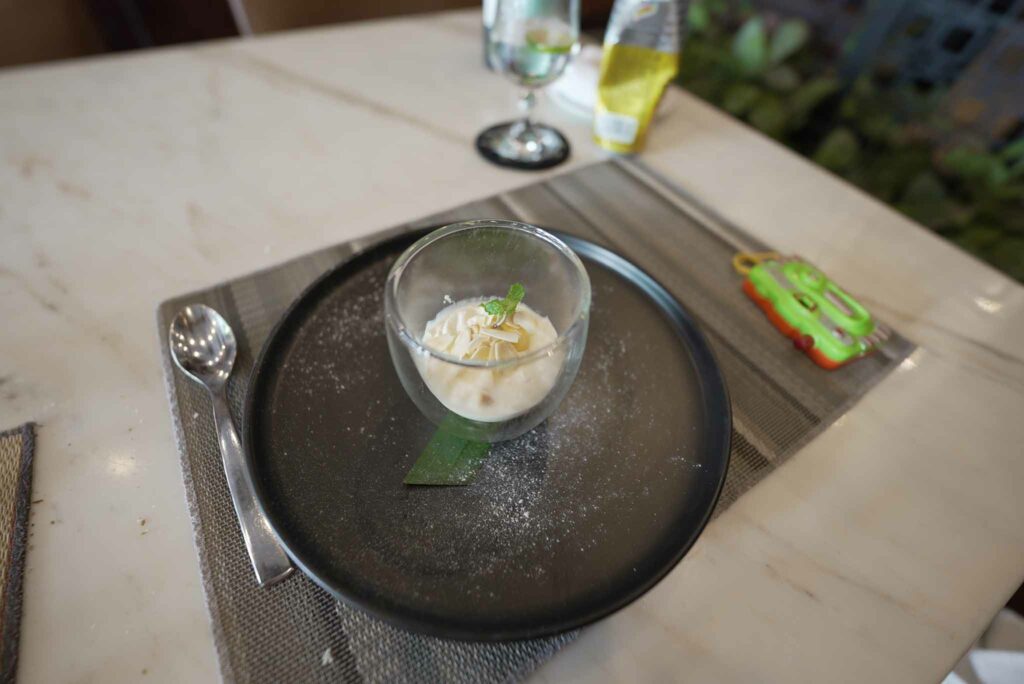 I have to say the portion of the lunch set menu are about perfect. You'll feel full but not too much and you'll stay full until later in the evening.
Verdict
8.2 out of 10
Jackson Steakhouse is basically more or less what I was expecting to find in Hanoi when we tried the Italian Restaurant Il Grillo.
A simple and elegant place with good food at a relatively affordable price. Basically a great option for foreigner who love steaks and Italian food.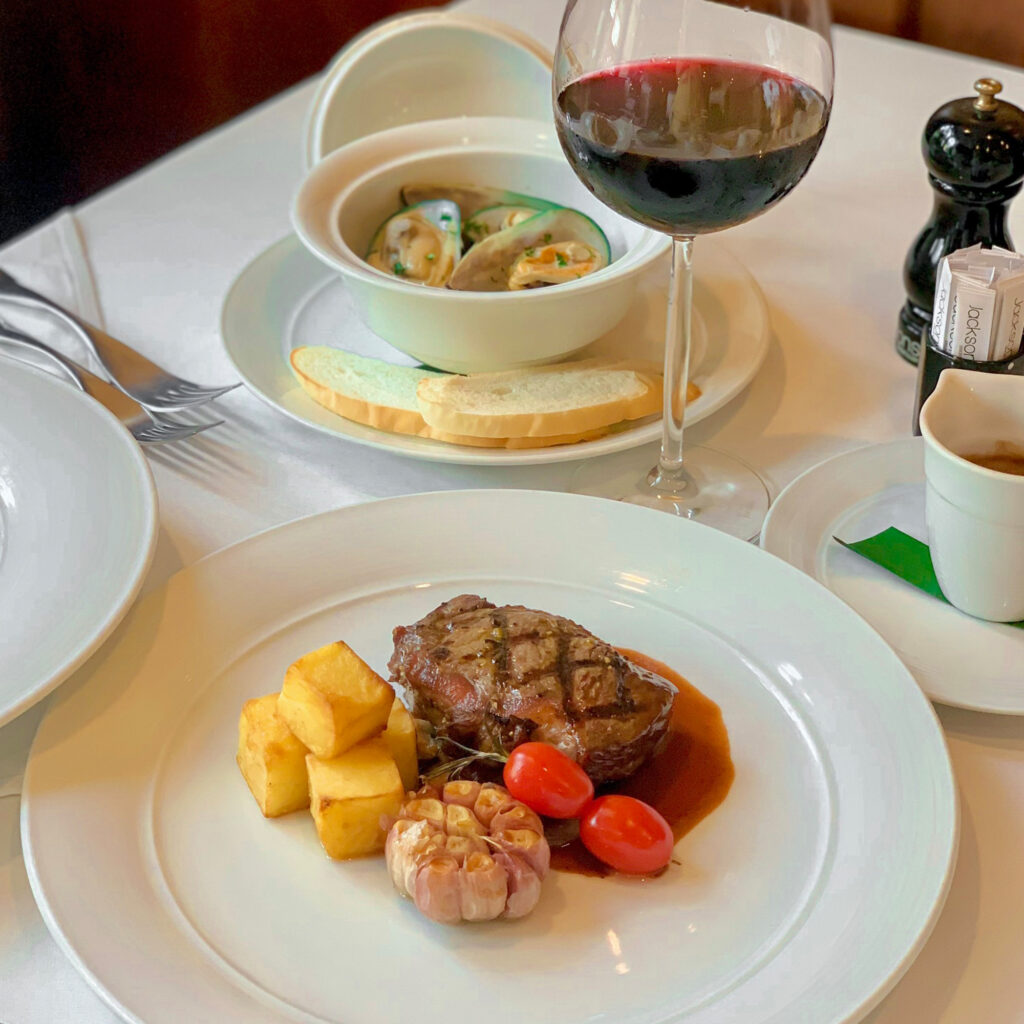 All of this with a great service, where you don't feel like they are trying squeeze every ounce of value out of you but instead simply trying give you a great experience.
I think this place is under rated and it is a must for Foreigners looking to eat simple and good quality food in a relaxed atmosphere in the central city.
Informations
Jacksons Steakhouse
Address : 23J P. Hai Bà Trưng, Hàng Bài, Hoàn Kiếm, Hà Nội
Phone : 024 3938 8388
Website : https://www.jacksons-steakhouse.com/
Facebook : https://www.facebook.com/jacksonsvietnam