iSushi is a restaurant chain that is part of the Golden Gate Group, which also owns famous franchises such as GOGI, Sumo, and Cowboy Jack's.

As the name suggests, iSushi is a restaurant serving Japanese raw fish, more specifically an all-you-can eat buffet with mainly fresh sashimi, sushi, maki, and California rolls. Surprisingly, they also propose barbecued selected meat, perhaps in case someone from the group cannot eat raw fish.
The location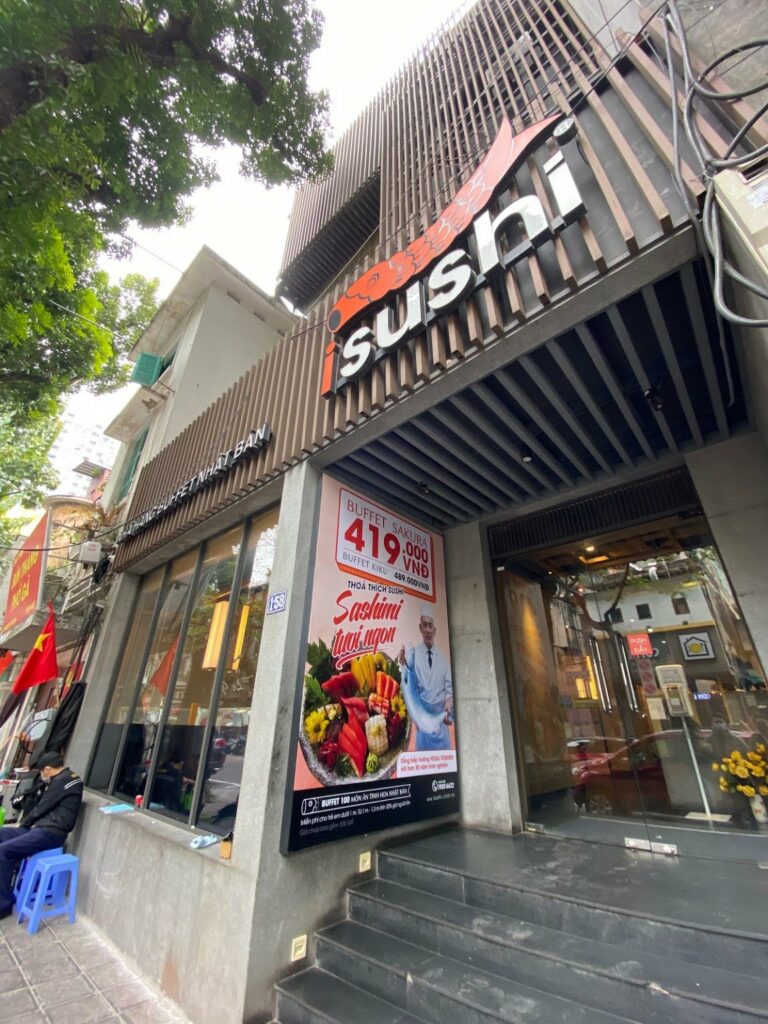 We first tried iSushi in Hai Ba Trung for Valentine's Day, and at the time I honestly didn't know this was a restaurant part of the Golden Gate group. I was just missing sushi, and even more all-you-can eat sushi.
The thing with sushi is that you can eat as much as you want and you'll unlikely feel guilty or unhealthy afterward. The idea though, when you eat this kind of food, is to favor health and therefore avoid hurting your belly. So it's rare to see people stuff themselves with raw fish.
The place in Hai Ba Trung was fairly big and well located. Inside the restaurant were a lot of customers, including the middle and upper classes. By the decoration and the logo, we understood quickly that this was a chain restaurant. Not that we are against chain restaurants since popularity often rhymes with fresh stocks.
The building is covered by some sort of wood, and inside there's enough room and space between tables. We were very comfortable with a baby since the staff gave us a dedicated baby chair.
Note that we also had an experience in Aeon Mall Long Bien that was very different.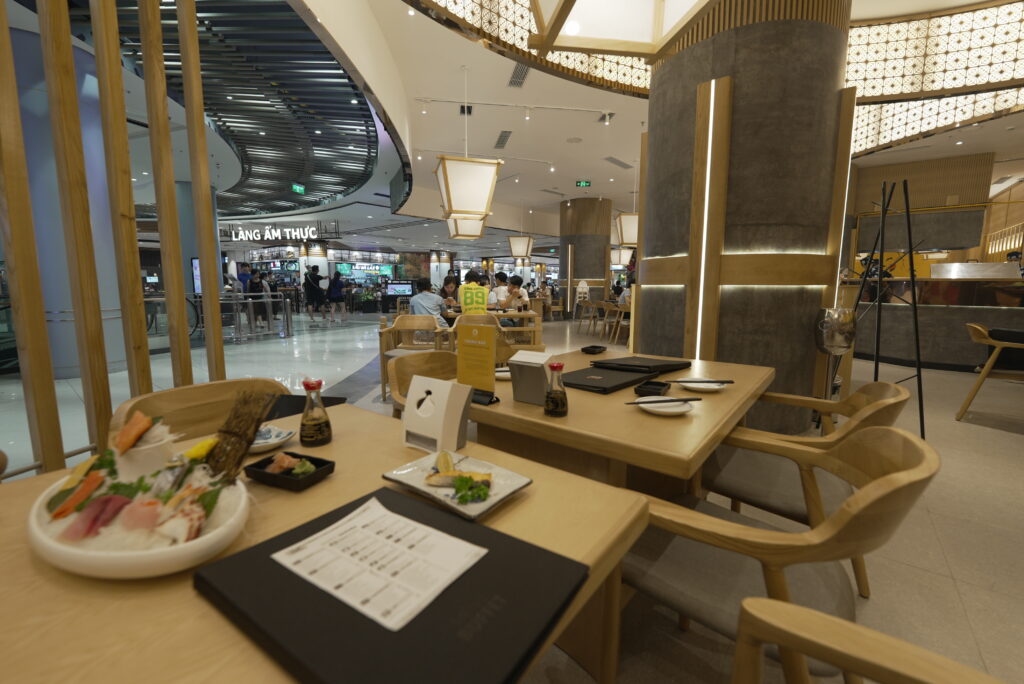 The menu

There are only two options available for buffet: Sakura 529,000 vnd and Kiku (619,000 VND). As I remember, the first one had only sushi, and the second one also had meat and beef in the formula.
The variety of the food is quite interesting; you can obviously find the classics like salmon, tuna, shrimp sushi, sashimi, and maki, but you will also find octopus, hareng fish, fish eggs, eels, etc.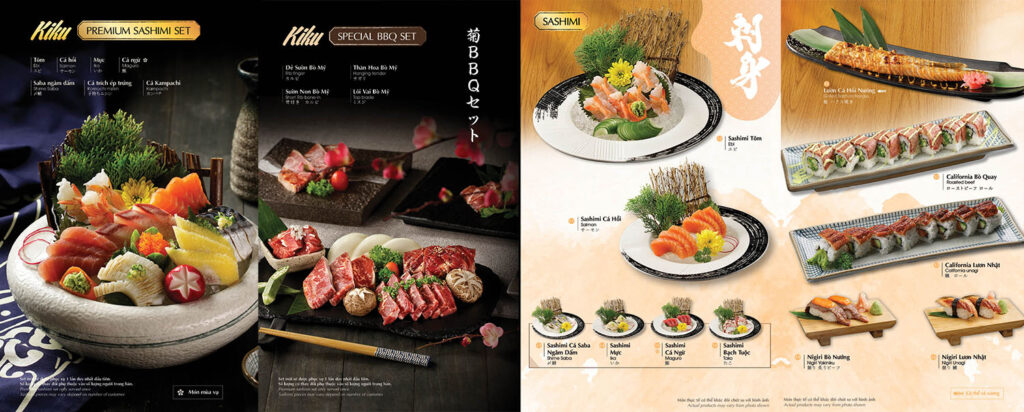 Where the value proposition seems to be interesting, at least for me, is when it comes to Californian rolls. I personally am a big fan of it, especially creative variations such as mi-cuit, or half-cooked, with a touch of sweet soy sauce.
The experience
The experience at iSushi was good; it's a bit more upscale and better in quality than the traditional sushi buffet I've experienced in France. I wouldn't say it's as good in preparation and taste as a dedicated sushi restaurant, but the products are definitely fresh and of decent quality.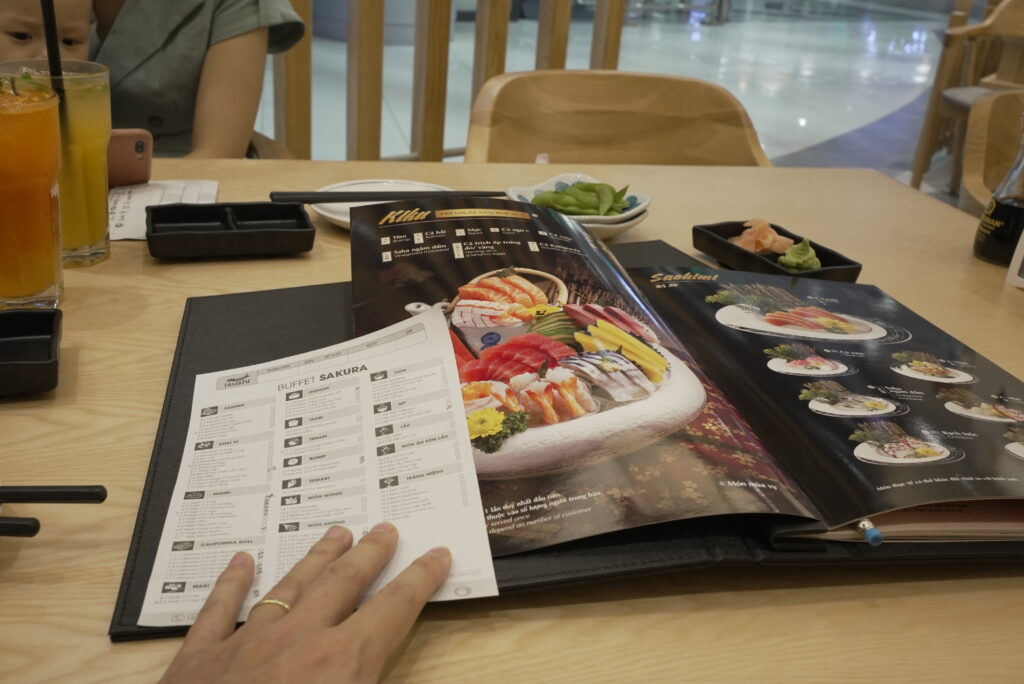 This holds true for sushi and sashimi; unfortunately, when it comes to Californian rolls, the taste is decent but could be so much better with the right finishing. We like it when sweet and salty are mixed, but here it is only salty. Also, I am used to eating sweet soy sauce, but the only option there is salty soy sauce. It's a good thing they have wasabi and fresh ginger.
As far as buffets go, honestly, it's not easy to eat a lot in this kind of restaurant, at least for us. We'll usually try 70 or 80% of things before being full and just lusting after the thing we liked the most.
For me, Sashimi is a product that shines on its own. Making real sushi is an art; as Jiro would say, it takes a decade to know how to do the vinegared rice properly.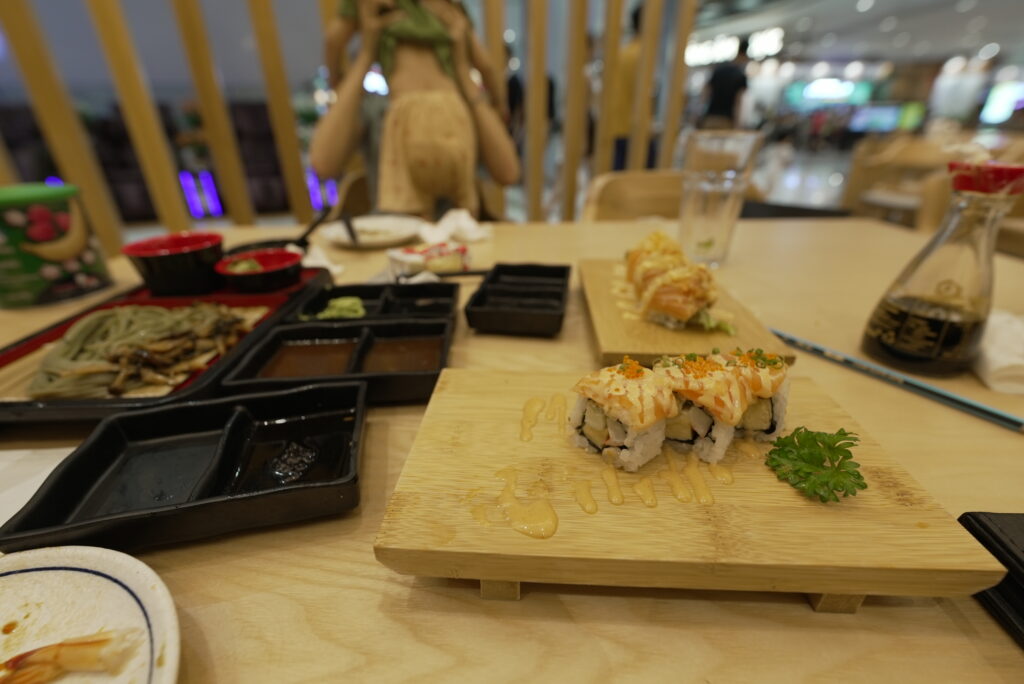 At the end of the day, the sushi was good enough for a buffet-type restaurant.
The juices were 59,000 VND, which is quite expensive compared to the street, and they are nothing to write home about. You'd honestly do just fine by ordering a simple soda.
The desserts, like most buffets, are just here to give a sweet note; the quality is just okay.
Warning
But beware, because since we tried the restaurant iSushi in Aeon Mall, the quality and services were on a much lower level.
We can understand that consistency is hard, especially in the beginning, but this day there was no tuna whatsoever, the orders came out all wrong, and we have been switched tables multiple times at the beginning.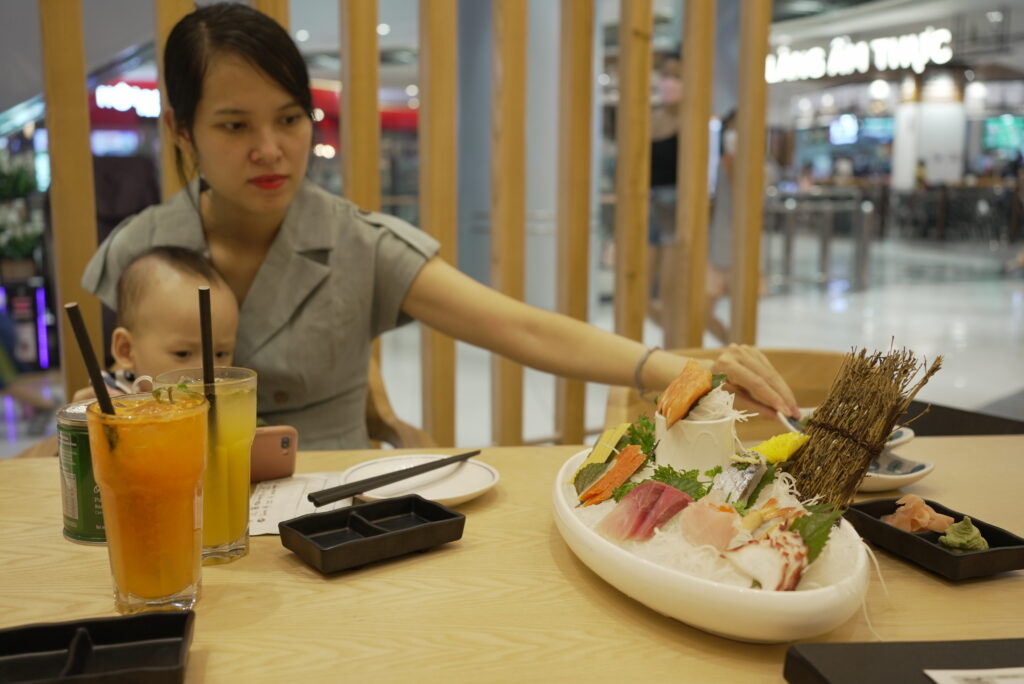 The plate came out with fewer pieces than in the pictures and with less decoration than in the Hai Ba Trung restaurant.
Like most crafts, you need time to master them. In the kitchen, you could tell that people were still learning more or less. Some sushi came out extremely salty, and by that I mean extremely, and some other sushi came out just fine.
Verdict
7.8 out of 10
Sushi is a good restaurant, especially in Hai Ba Trung. Not the best sushi you will ever have, but if you are looking to eat some buffet with sushi, this place is probably a good start.
Unfortunately, the consistency between restaurants is not great at the moment. If our experience in Hai Ba Trung was good, our experience in Aeon Mall was a bit disappointing. We think it's because they just opened, so we will be forgiving for this grade.
The sushi is good and fresh, but it tends to be a bit salty, which can make you thirsty. The best option is really to go for a restaurant that has been established for a long time with experienced chefs.
Informations
iSushi
Address in Hai Ba Trung : 158 P. Triệu Việt Vương, Bùi Thị Xuân, Hai Bà Trưng, Hà Nội 100000
Address in Aeon Mall Long Bien : p., 51 Đ. Cổ Linh, Long Biên, Hà Nội
Phone : 043 222 3000
Website : https://isushi.com.vn/
Facebook : https://www.facebook.com/isushi.BuffetNhatBan/