Five Guys is an American Burger Joint, made famous by no one else but Obama himself. Supposedly his favorite place to order a burger.
Their concept is to propose fresh burgers with many ingredients that you can chose to create your own sandwich.
The quality of the products are supposed to be very noticeable and the burgers delicious but is all the hype real or is it just another well marketed chain ?
The location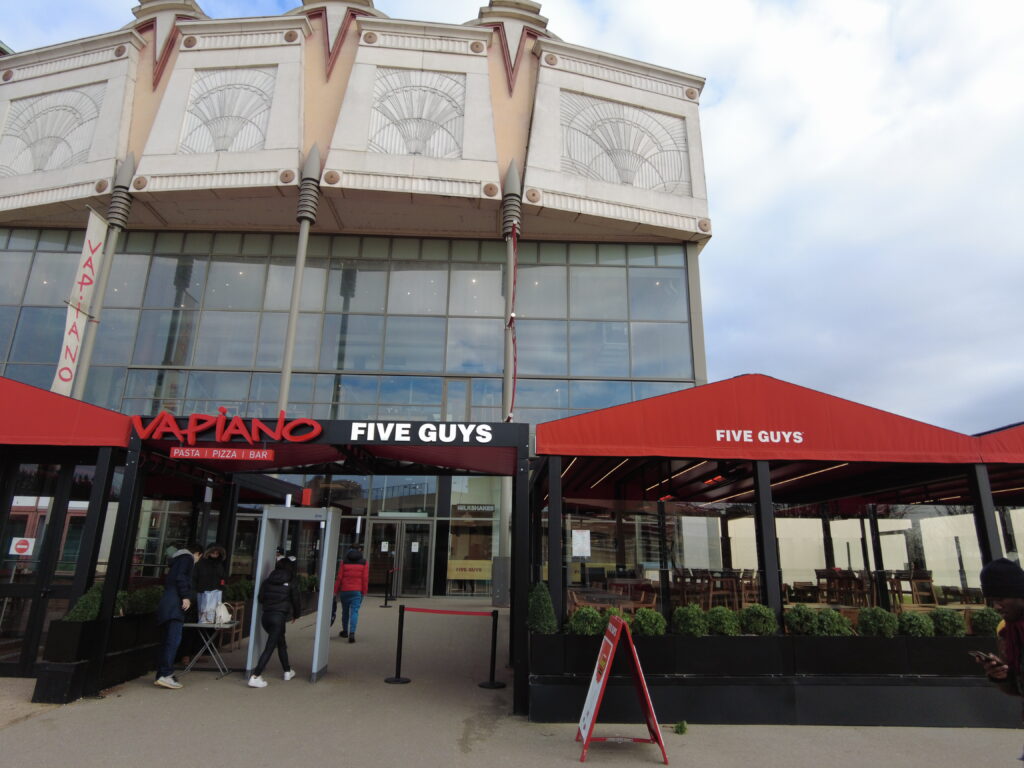 The Five Guys we will try is located in Disney Village, Chessy, France. To be more precise it is located outside near Vapiano, which is a good and a bad thing since being outside means it's easy to order it for delivery but bad because the people coming from the village or park have to go through security check to eat their food and come back, which means two security check at least, ouch !
I've been to multiple five guys and this one is exactly like the one in Bercy Village when it comes to design. It's pretty much white and red inside.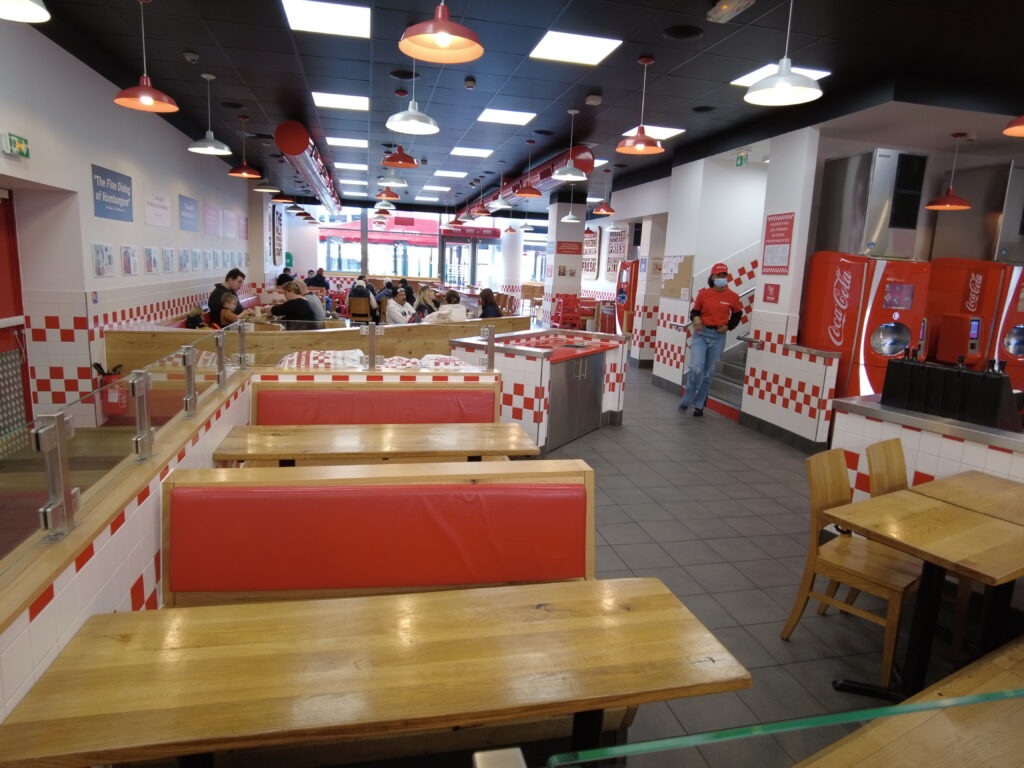 It's simple but reminiscent enough of the American Dining Style. The tables and places to seat are pretty much like in any other fast food chain. This particular venue have a second floor and the decoration is very minimalistic and retro.
It reminds me of an old news paper for some reasons, there are even decoration like old pictures and articles on the wall.
The menu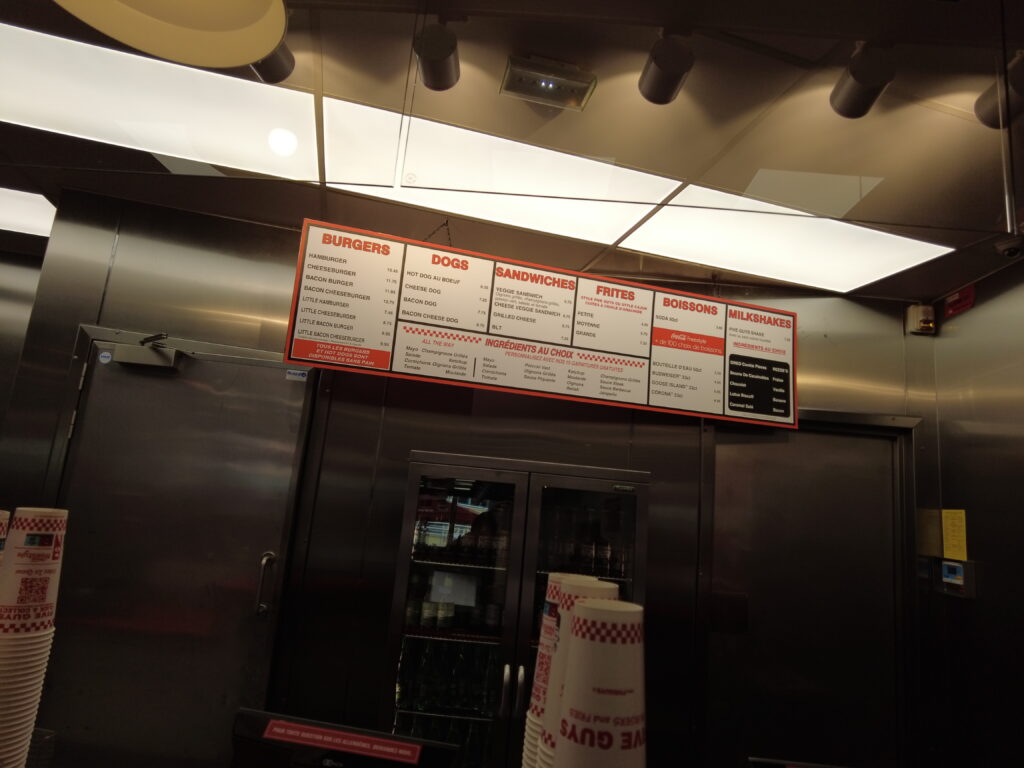 The menu from Five Guys is simple but complicated at the same time. They only offer Burgers, Hot-dogs, Sandwiches, Fries, Drinks and Milkshakes.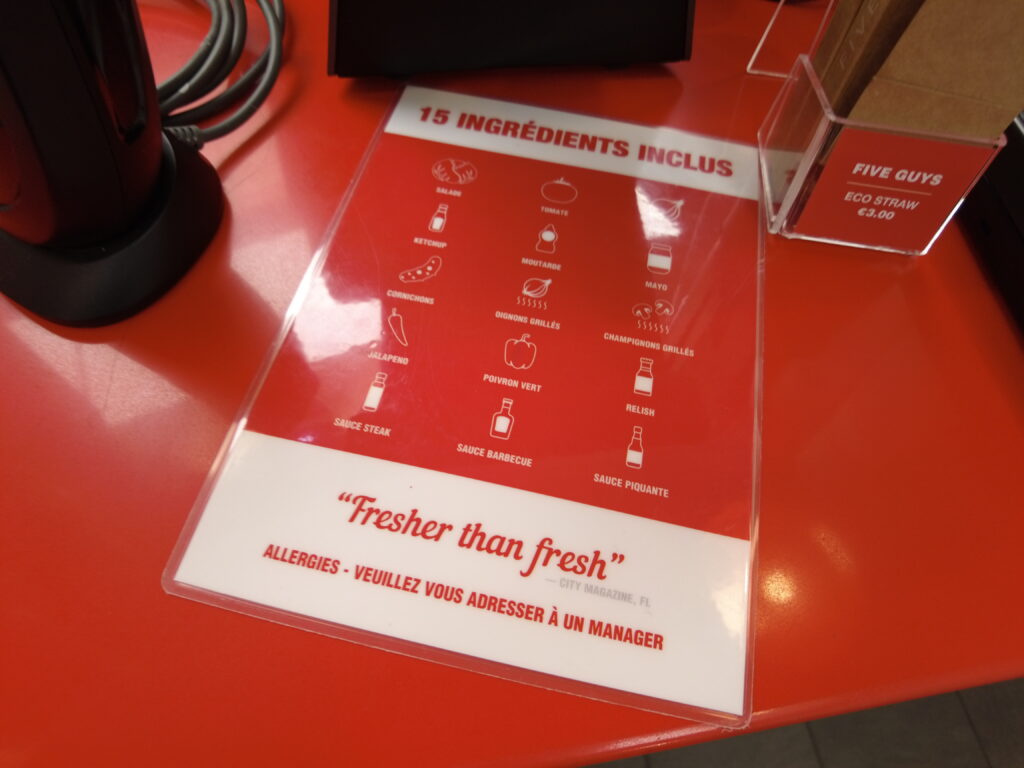 What I mean by complicated is that the typology of offering is straight forward but the ingredients is what makes ordering quite challenging. When I eat a burger I don't need to know if there's tomato or pickles or salad inside.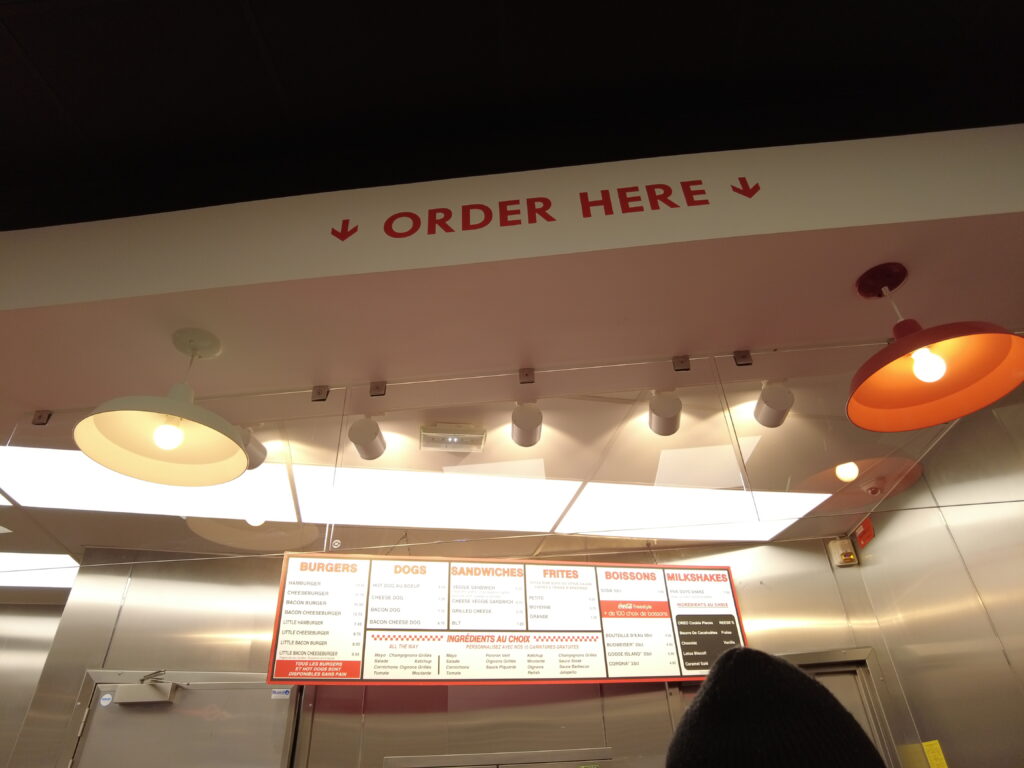 I just order my burger and the best version has already been chosen for me to enjoy it without having to think about it.
But in Five Guys, you'll have to think again about which of the ingredients match with a cheese or a bacon burger.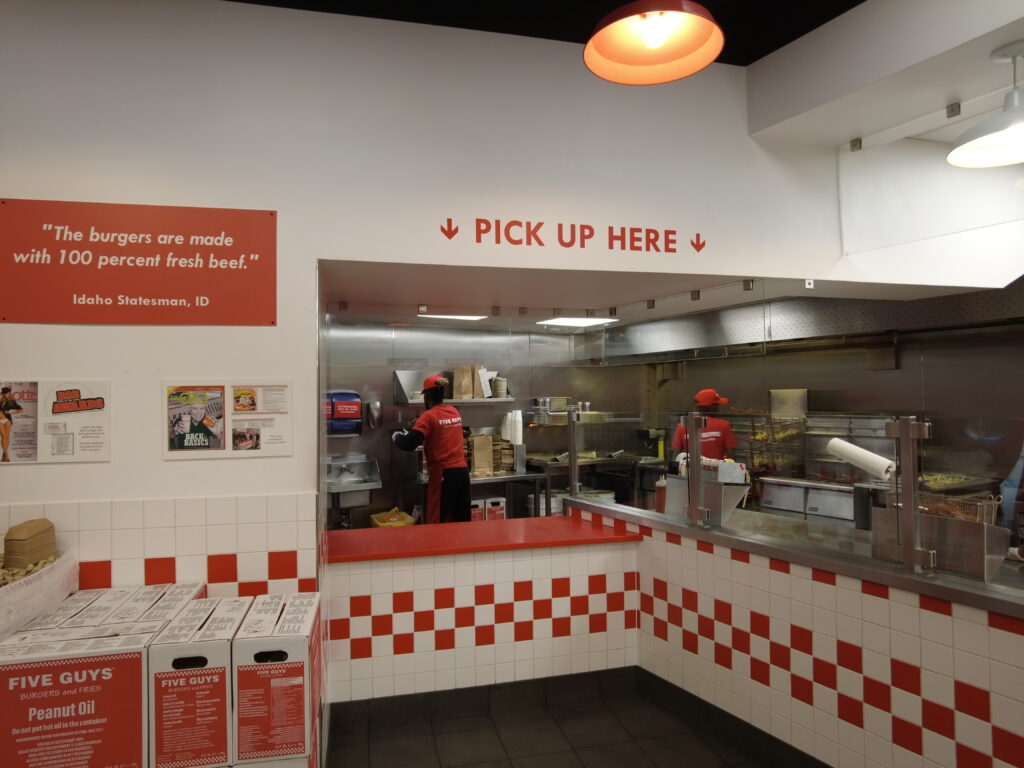 I've personally tried once to put mushroom in my Burger and it wasn't anything worth remembering to be honest.
The experience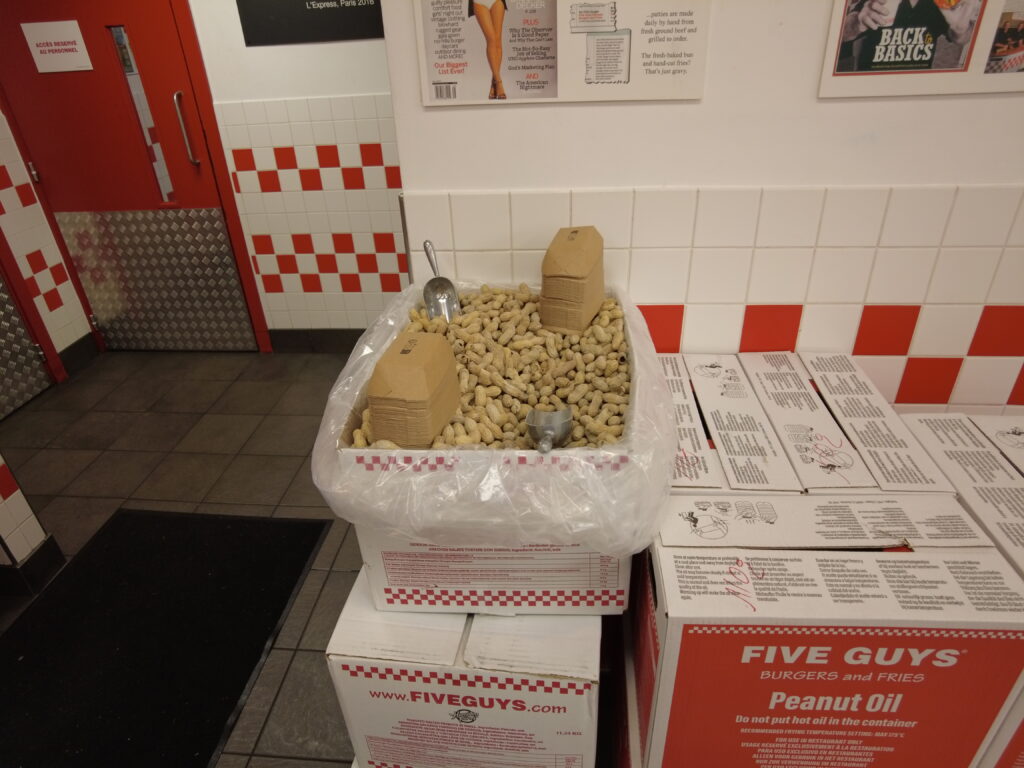 Firsting first, some peanuts are available for self service. Not that you'll ever have appetizers while waiting for your fatty burger and yet it's still a nice touch of authenticity from the franchise.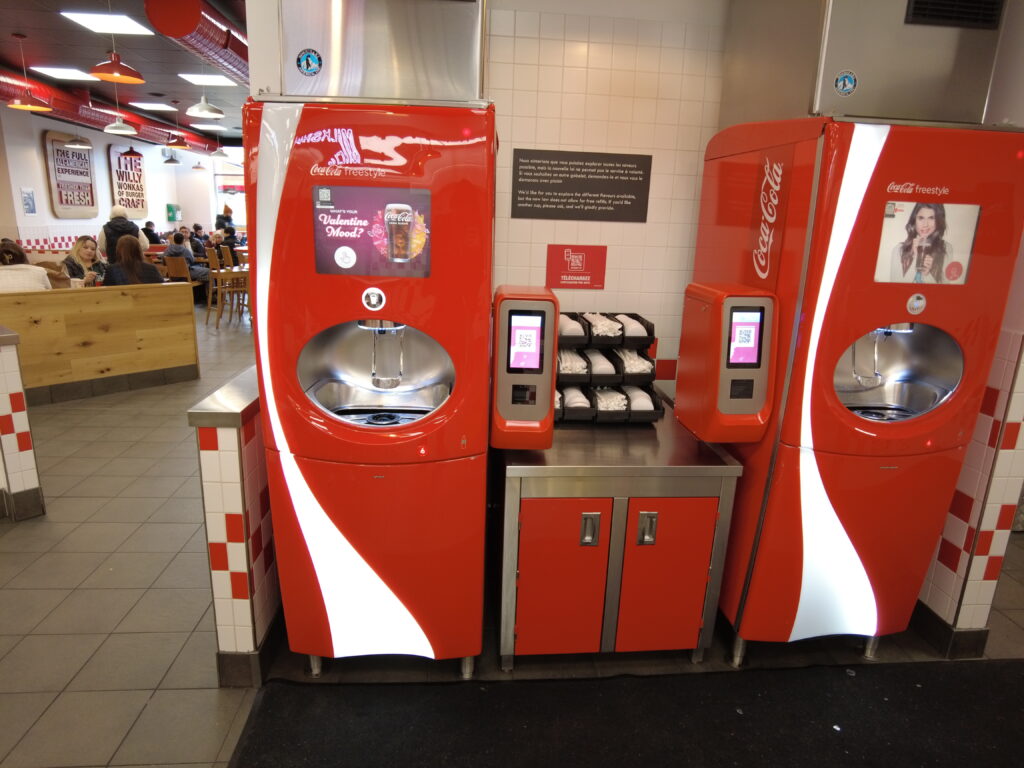 Fountains of soda are interesting since with a QR code scanned in the machine you'll be greeted with a astounding number of choices.
These are the types of fountains that proposes taste you've never tried before. To be honest, so far nothing beats the classics like Coca-cola, Fanta or Sprite. But still it is a nice to have proposition giving something special to look for every time you come back.
Unlike McDonald's, Five guys will give you unlimited amount of sauce, which is honestly also a good point on their part. Cause lets be honest, there are never enough sauce in these single serving kits.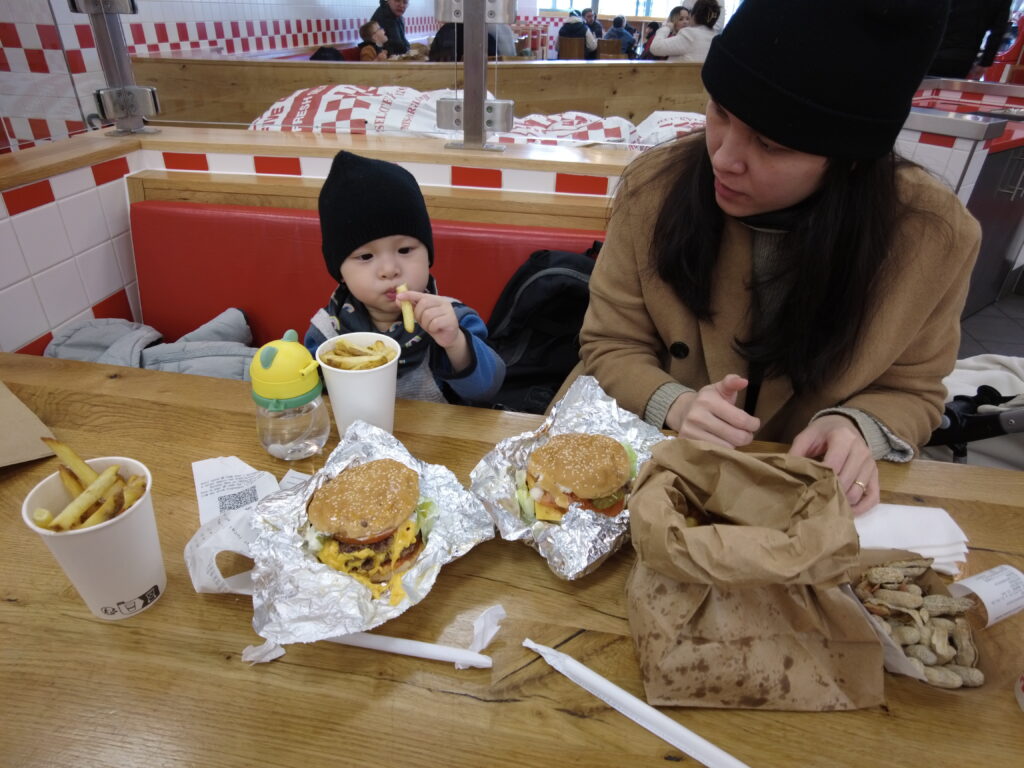 Now finally when it comes to the taste, well. It's good but nothing extraordinary. Starting with the french fries, they are well cut, crispy and not too greasy. Perhaps they lack a bit of salt but again if it's healthy then why not having the option.
One thing to note is that Burgers already comes with a bag of fries, so no need to order more fries since they are extremely expensive.
So we ordered two classics : one Cheese Burger and one Cheese Bacon Burger. As ingredients we decided to stick with the classic recipe. Cheese burger with Salad, Tomato, onions, pickles and ketchup. The Bacon Burger, with the same veggies but with some barbecue sauce.
The burgers came in a foil sheet of aluminium. They were therefore soggy and the bun was very easy to break. This is the kind of messy burger you want to indulge yourself with from time to time.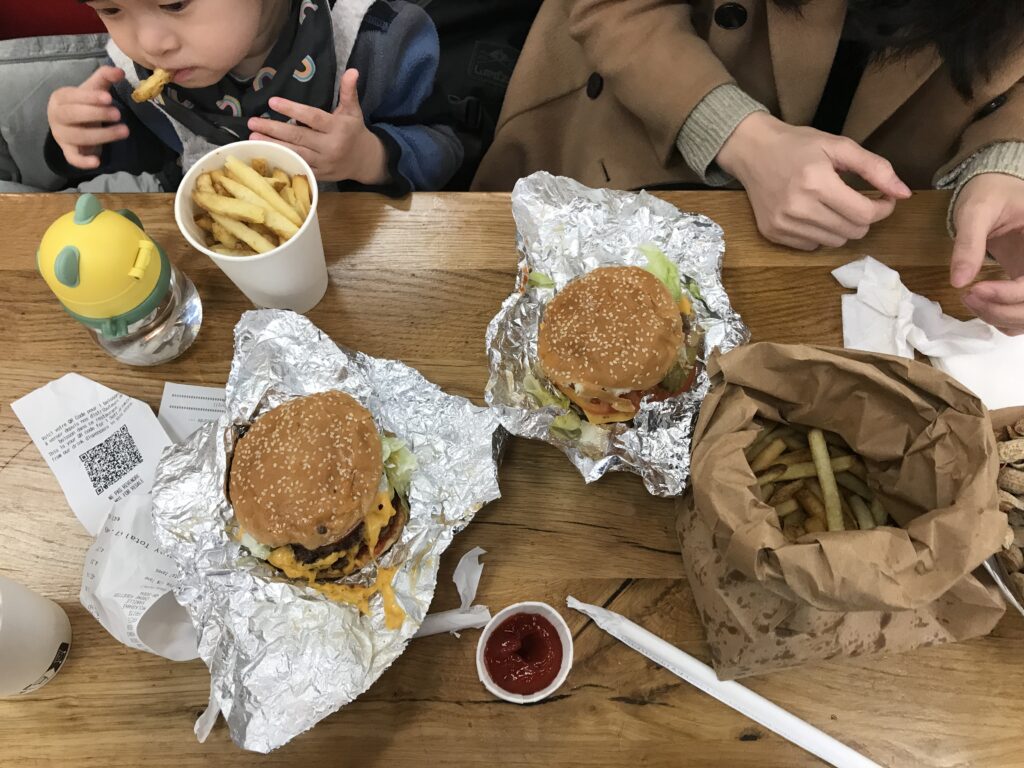 Even if these burgers were decent, the problem is that they are not that tasty. If you take all the ingredient individually and taste them, you wouldn't find much flavor. Not even salt or pepper. It's basically unseasoned cooked food.
Now the problem with unseasoned food is no matter how good the quality is, it will never taste as good as well seasoned food.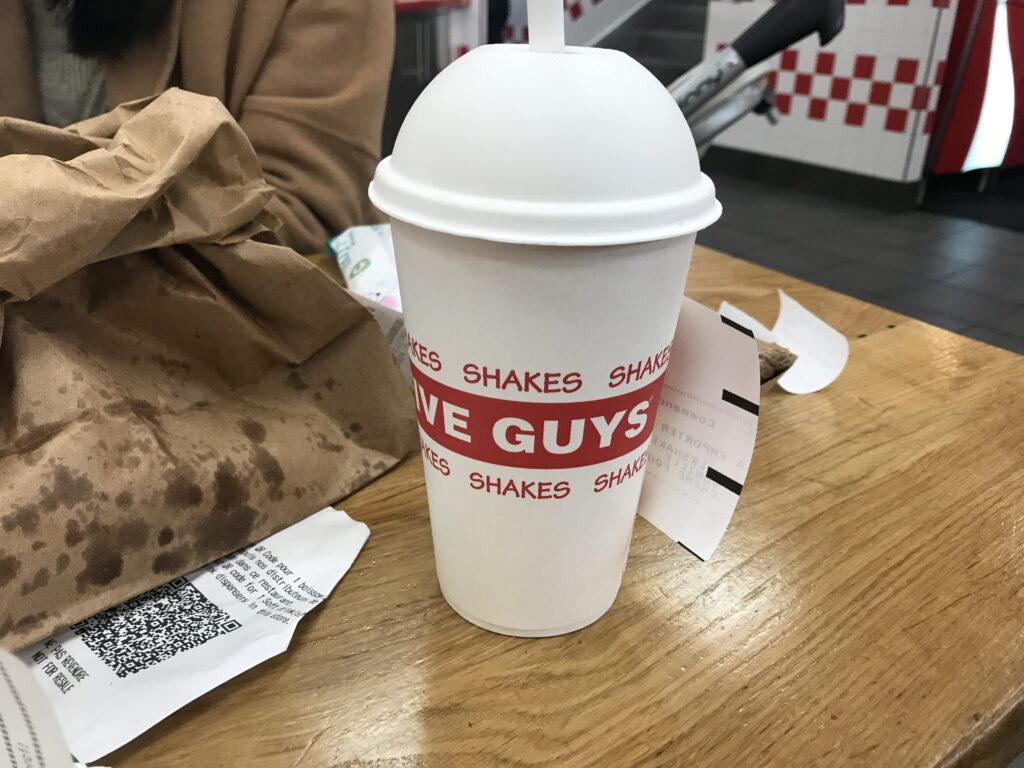 The milkshake which was pretty expensive. Was nothing like a real milk shake, it was basically like most fast food chain a sort of frozen milk powder with sugar. No taste of real vanilla nor real cream in here. It's not too far from what they served you in a McFleury or McDonald's ice cream.
Verdict
7.0 out of 10
In out opinion, Five Guys is far from the best burger joint you can find in France or anywhere else. We've tried many other burgers that tasted much better than this one.
If the products and ingredients seems to be of decent quality, the fact that the food is unseasoned and that the burger comes soggy is just a shame.
In our opinion you would be so much better of eating a premium burger in places like Paris New York Burger or even Big Fernand. Chains that offer actually original and refined tasty burgers for a premium price.
This is perhaps the third or fourth time I eat in Five Guys and I always leave disappointed. It's not that it is a terrible burger, it's just that the hype is not real at all.
Information
Five Guys
Address : Zac du Parc et du Centre Touristique, Av. Paul Séramy, 77700 Chessy
Phone : 01 61 10 09 16
Website : https://www.fiveguys.fr
Facebook : https://www.facebook.com/FiveGuysFrance/