Dream Games Bowling is a place for people to enjoy games such as bowling, pool, babyfoot, or darts. Located in Aeon Malls on the top floors, usually close to the movie theater, this area for young and older folks is quite popular, especially on the weekends.
Today, we tried playing bowling during the day to tell you if spending time in this gaming space is worth it.
The location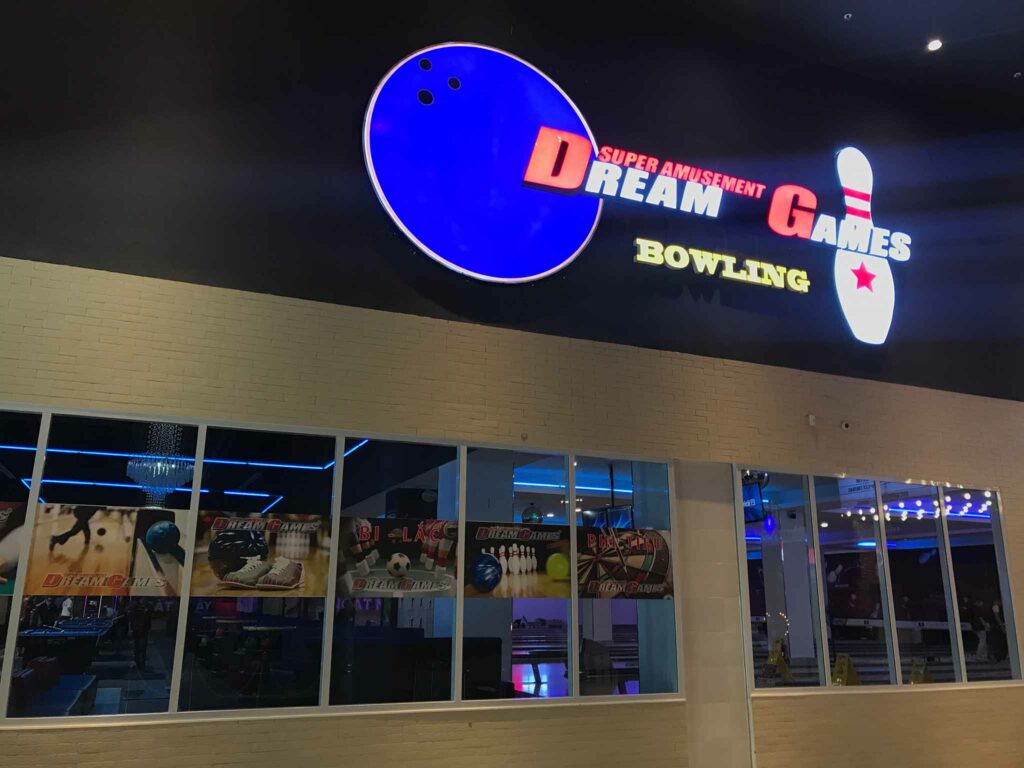 Since we live in Long Bien at the time of this article, we tried the Dream Games bowling in Aeon Mall. Located on the last floor, it takes a while to get there from the bike parking lot, but don't worry, you can cross the mall and get yourself a 7,800 VND matcha stick ice cream downstairs.
When you finally arrive on the last floor of the mall, you'll only have two options: cinema or bowling, and since this space is sharing the top floor with the cinéma, the dedicated space is quite big. For a bowling alley, it's average in size, but compared to the gaming area in Vietnam, it is fairly spacious and, more importantly, modern.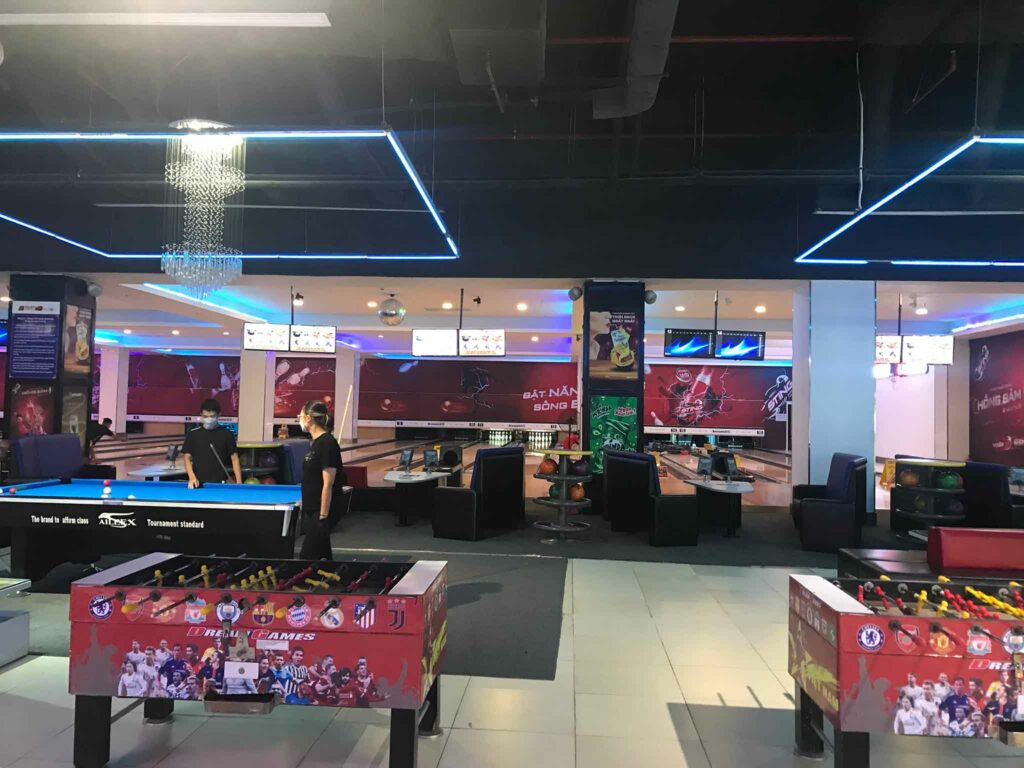 I would say that the space looks very nice and is well equipped compared to other traditional gaming spaces. It's quite normal since malls always have a certain level of quality, especially when they are made by Japanese.
Compared to Europe, from my memory, the space looks more dim, especially in the bowling alleys. Like in a casino, not knowing what time of day it is is the best way for customers to stay longer than they should.
You have space to sit and chill, as well as the possibility to buy drinks and some food.
The games and prices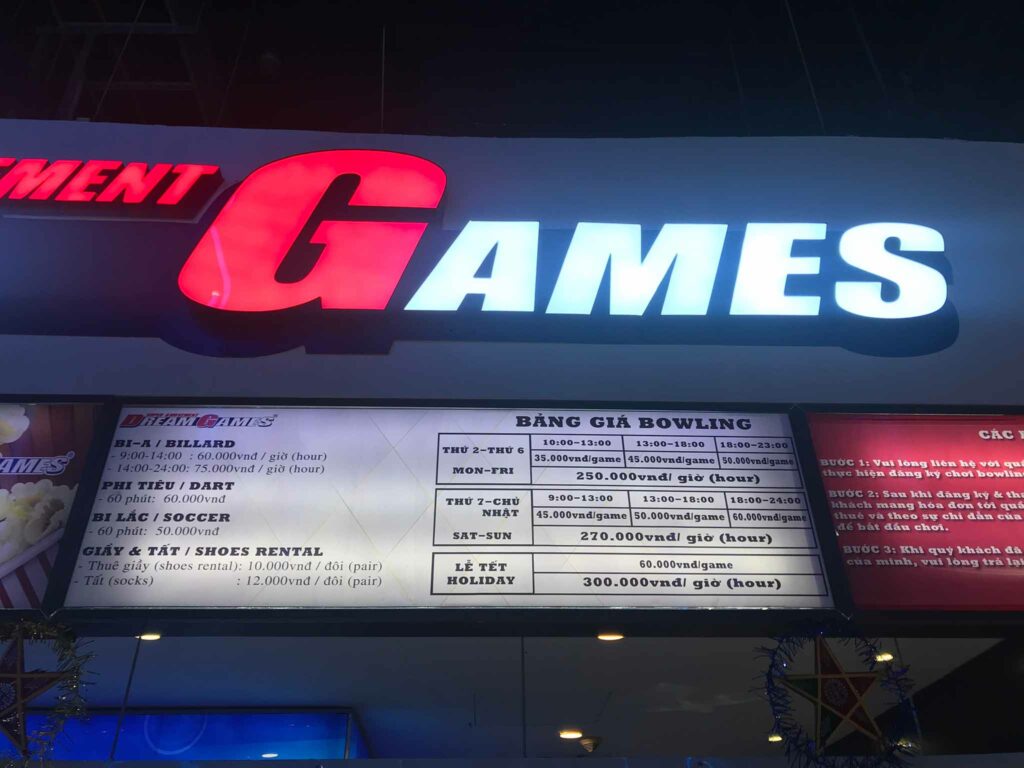 Dreams Games offers four types of games:
Pool or Billard
Dart
Babyfoot
Bowling
Like for many services in Vietnam, usually the price will tend to go up during the weekends and especially during holidays. It's not something that we have in Europe, but let's say that if the workers earn more to work during these days, it's only fair.
I honestly feel like in Vietnam, playing billard is a bit of an addiction for many youngsters, whereas the other games are usually played with parsimony.
In this review, we will be focused on bowling since it is the main attraction in the space. During the weekdays, the price is 250,000 vnd for an hour, but you can also pay for each game, and you'll have to rent the shoes for 10,000 vnd and some socks if you don't wear any.
Compared to France, it's perhaps 3–4 times less expensive, and by Vietnamese standards, it's still affordable, especially if you play with friends.
The process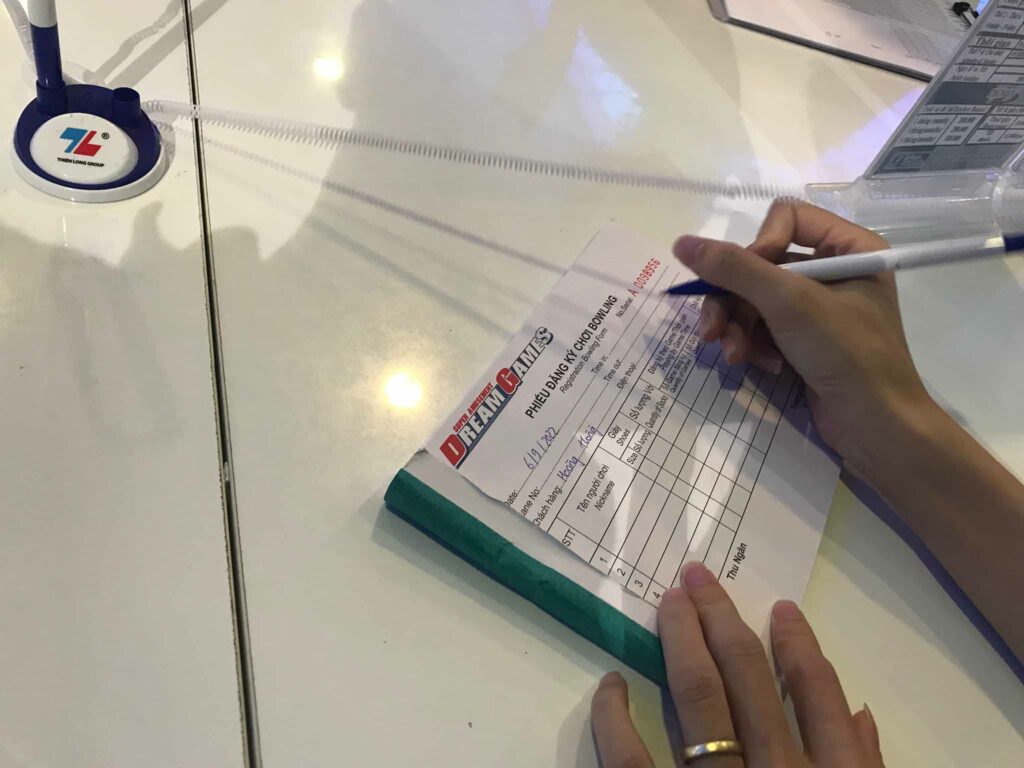 First, you'll have to choose which game you want to play, and if you choose bowling, you'll have to fill out a form with some information.
These informations, like your name, will be used to show the score on the screen, so avoid putting your full real name like my wife did.
Once you do, you'll have to rent some bowling shoes and some socks if you are not wearing any. Once this is done, you'll be guided to your bowling alley. We were directed to lane 6 between two people already playing.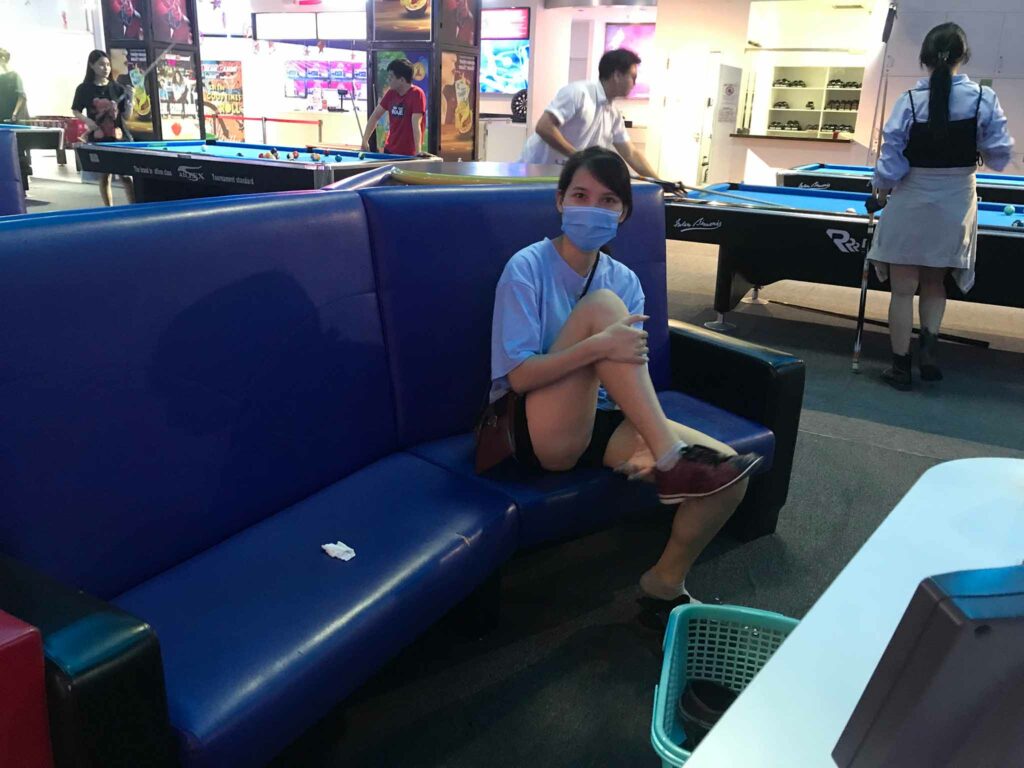 Once you are seated, you can switch to bowling shoes so you can slide better and improve your motion. If the shoes don't fit, you can always go back to change the size.
Once you are done, you can start playing. This is how it works: each person will have two opportunities to hit the keel. If you can hit everything the first time, then you don't need a second opportunity.
There are 10 keels at the beginning of each round, and you'll have 10 rounds to decide who wins a game or set by counting points. Basically, each keel that falls is one point.
During the last and 10th round, you'll have 3 shots, including one more shot with 10 keels.
The experience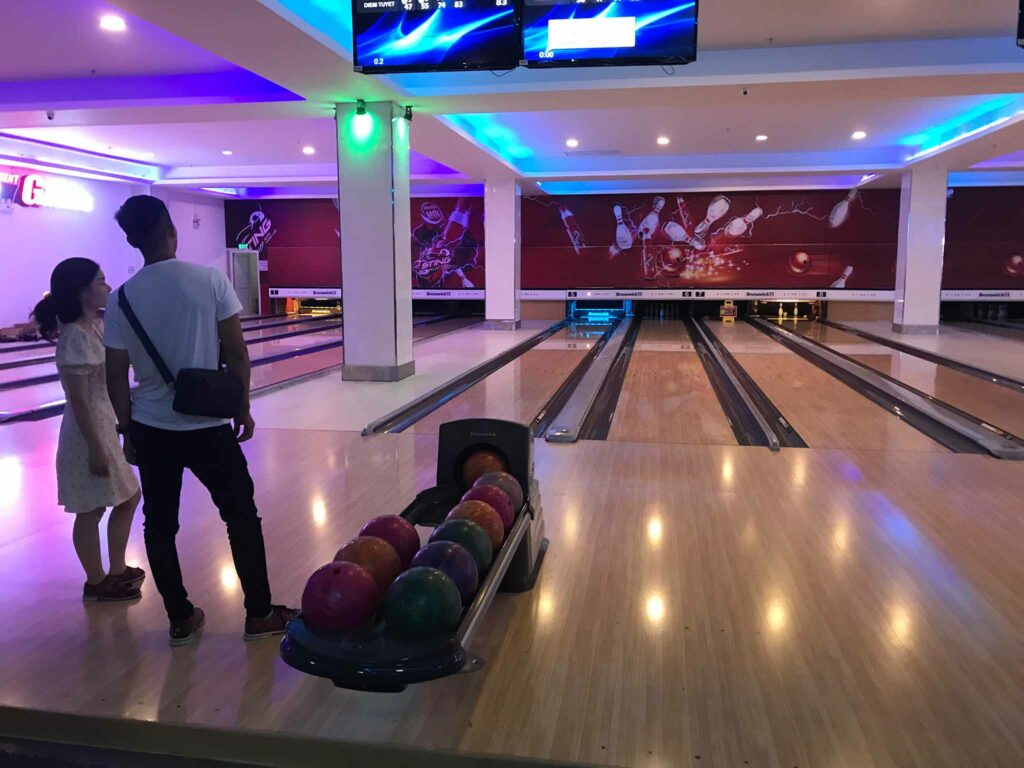 Bowling is not easy. I mean, you can have fairly decent results the first time you play, but to get a good grasp of the good motion to aim with precision is hard.
Indeed, there is no way for a human to have a natural straight motion with an arm since it's usually easier to aim sideways, like when throwing an American football, for example.
Also, you have to apply the right amount of power with the right motion and possibly the right spin for the bowl to hit the center.
For a right-handed person, it's almost impossible to throw it in the right direction naturally without ending up in the gutter.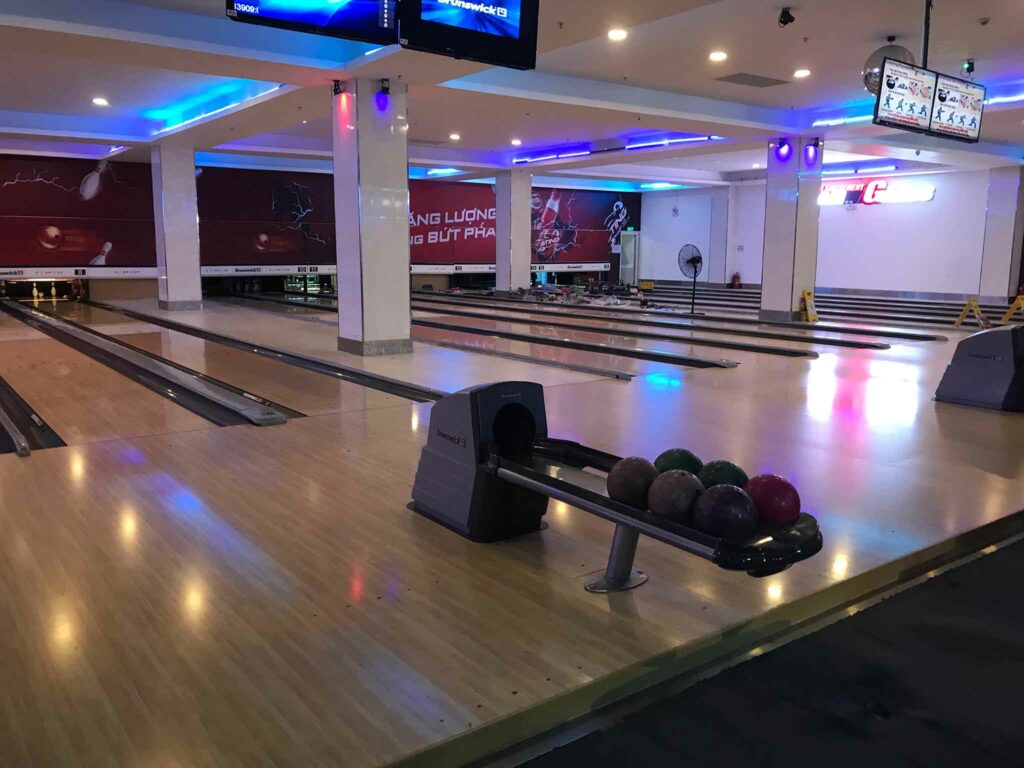 You also have to choose the right size of holes for your finger holding on to the bowl if you want the motion to be perfectly fluid.
Overall, though, bowling is an activity that is fairly simple to understand and to play, and you can have fun even the first time you play. It's actually a good spot for couples to hang out and relax.
Verdict
7.8 out of 10
Dream Games Bowling is a very nice place to enjoy some time as a couple or with friends. Overall, if you spend one or two hours, the prices are fairly affordable and the space has tons of chairs to sit and chill.
It was my second experience bowling, and I have to say it was pretty fun, even if I hit the gutter so many times.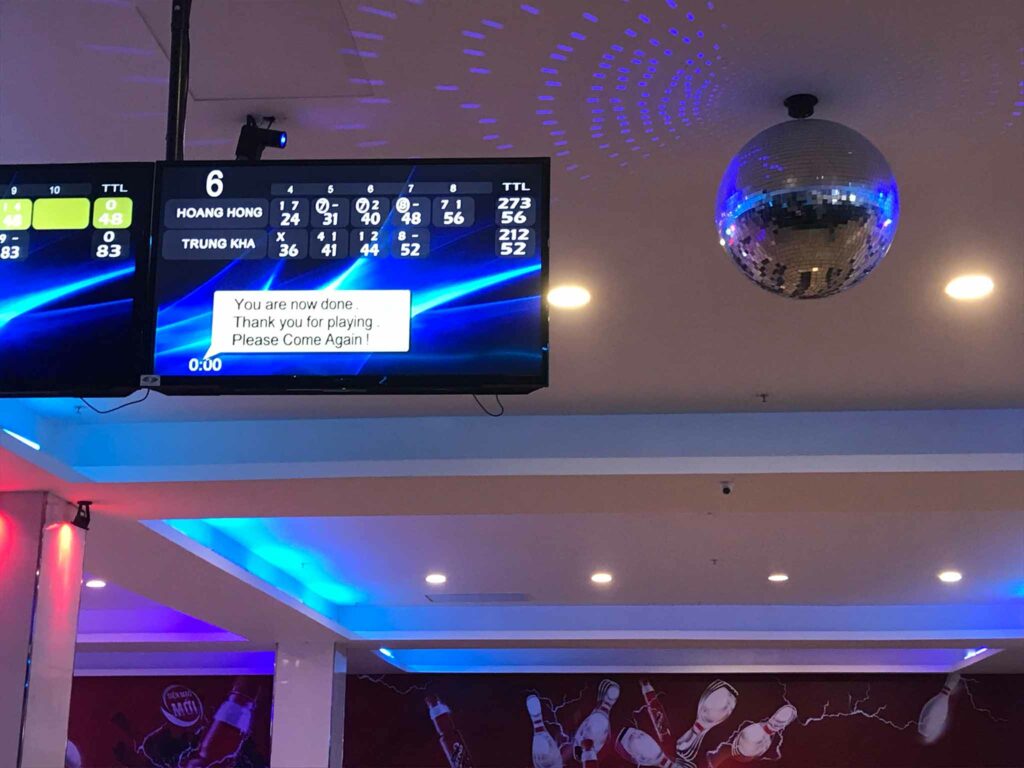 I had the opportunity to strike multiple times, even though I am still trying to figure out the motion. I ended up throwing a super powerful ball and ripping my shirt, so you should wear something a bit large when you play.
Informations
Dream Games Bowling
Address : 4th Floor, Aeon Mall, 27 Đ. Cổ Linh, Long Biên, Hà Nội
Phone : 024 3200 3190
Website : https://aeonmall-long-bien.com.vn/cua-hang/dream-games/
Facebook : https://www.facebook.com/dreamgameslongbien