When I lived in the center of Hanoi, I use to cross a restaurant with tons of screens broadcasting sports, an upscale crowd drinking beers and eating what seems to look like American food, it strongly reminded me of my own experience hanging out with friends in the US.
I always wondered what kind of joint was this Cowboy Jack's and was it just a place trying to sell American dining to the locals or was it really a good place with good food. One thing for sure is that the prices were not cheap especially compared to others genuine places.
The location
For our first try we went to Aeon Mall and compared to the Trang Thi Location, the place looks less like a Sports Bar and more like a foodcourt restaurant.
The main area with kitchen and counter are fairly small and the sits are actually located inside the mall's food court. This is not necessarily a bad thing since it is open and spacious.
One thing to note is that Cowboy Jack's is actually part of the Golden Gate group which include most restaurants in Aeon Mall such as : Sumo, Manwah, Kichi-Kichi, GOGI and I Sushi.
The menu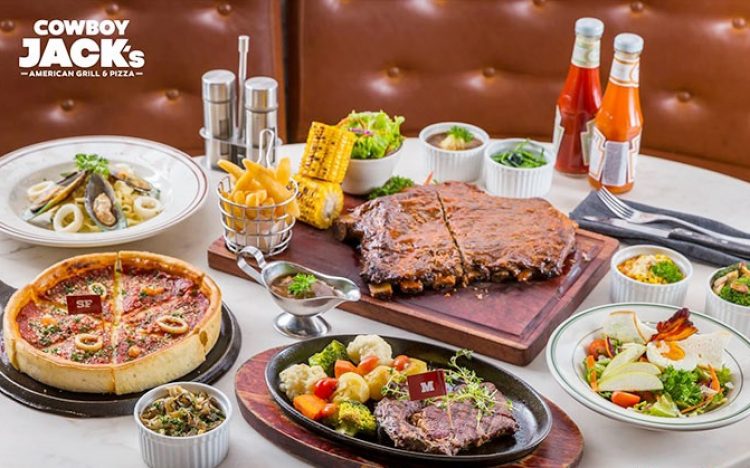 Cowboy Jack's menu is fairly traditional and simple, basically food that are very rich and caloric but let's be honest a treat as well.
In the menu you'll find classics, like Ribs, Steaks, Burgers, Pastas, Macaroni and Cheese, Sausages, Fries, Onion rings and other chicken wings.
But what really Cowboy Jack is all about in my opinion is their famous Chicago Style Deep Dish Pizza. This kind of Pizza is already hard to find in some cities in USA so forget about Vietnam.
Fortunately Cowboy Jack's and Vietnamese can agree on this : Deep Dish Pizza are a delicious treat.
The experience
When we first arrive in the restaurant we were accompanied to our table and one of the table nearby had a romantic decoration on it for some customer about to arrive. We thought it was a nice touch.
The service is very reminiscing of what you would experience in America, very straightforward and polite. We were guided on the quantity of food a T-bone Steak represent, since I am not the type of person that pay attention to the weight of the food.
It turned out that a starter, a small pizza, some macaroni and cheese and a T-bone Steak would be enough for my wife and I so that's what we ordered.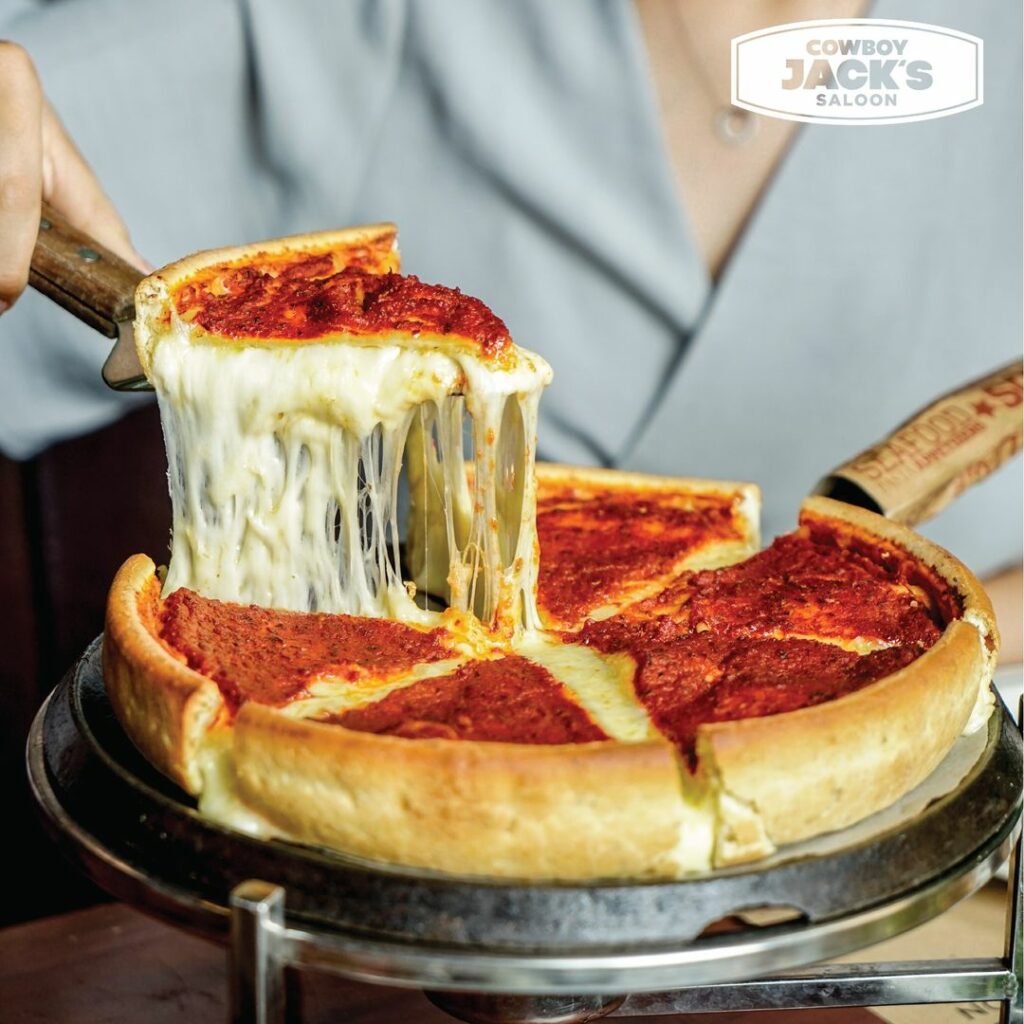 The drinks came first and I have to say, if the Fountain Coke tasted the same it was not on par with their American counterpart when it comes to quantity. We only had something like a 33 cl glass each to moisturize our throat between meals when in reality 50 cl is the minimum. I think an all you can drink is even relevant when you eat this kind of pizza.
The Macaroni and cheese made in the over were good but nothing special since the cheese probably was the same as the one in the Pizza which is a bit redondant.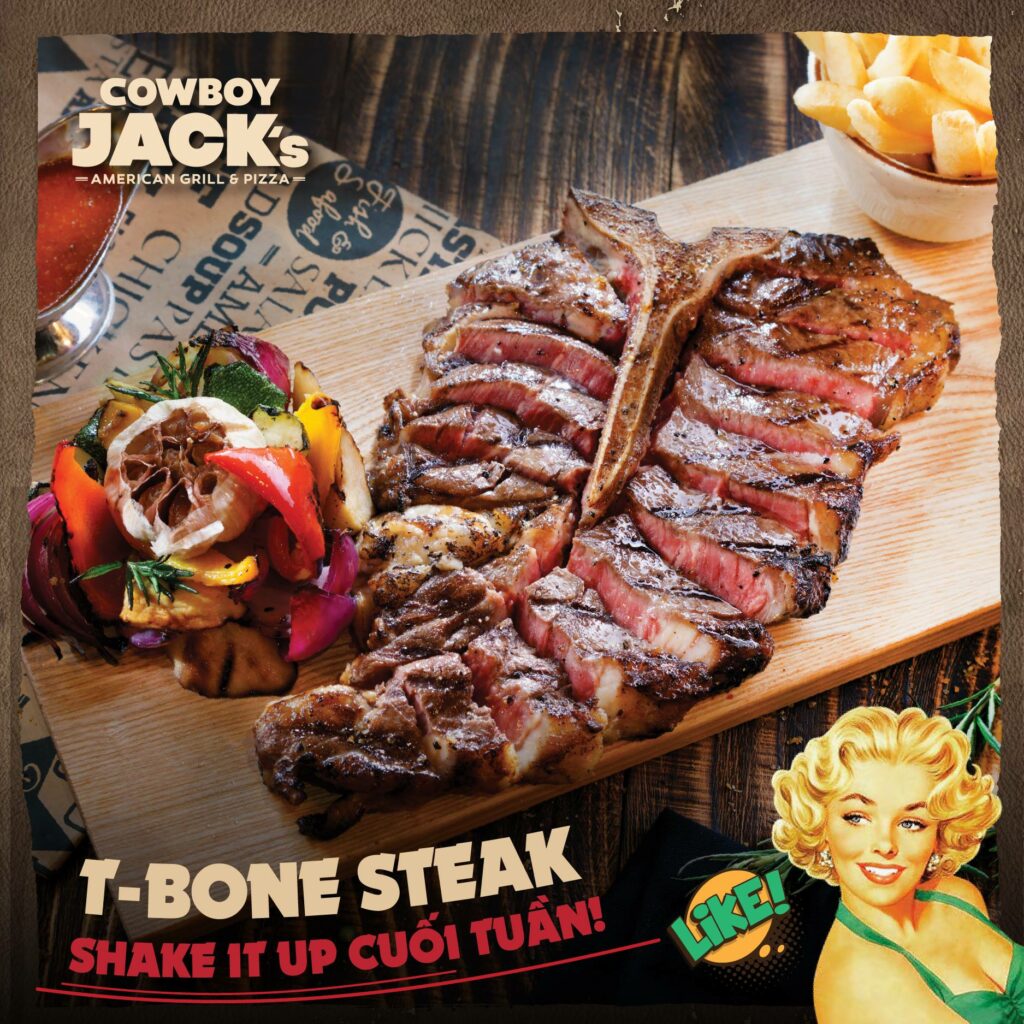 The T-bone Steak was delicious and rare. The veggies on the side were delicious too bad they came in very scarce quantity.
The Pizza was delicious but very rich. I think I have never eaten so much cheese in my life. You actually had to fight to break the unbelievable amount of Cheese Threads. The cheese even in large quantity was not too salty so not sickening in the long run.
Verdict
7.9 out of 10
Overall Cowboy Jack's was a great experience in the sense that it really is close to what you would experience in some American joints.
The quality of the food is good and the steaks are from America so fatty and delicious. The pizza are very cheesy and caloric but never on the sickening side. When you come to this restaurant you already know you are going to walk home over satiated.
Perhaps the only downside is the small portion for the drinks and the sides like veggies. The price is also very expensive compared to other restaurants in Vietnam but that's to be expected.
We are looking forward to try the burgers and ribs from this joint and we will order once again the famous Deep Dish.
Informations
Cowboy Jack's
Address in Aeon Mall Long Bien : Tầng 3 TTTM Aeon Mall, 27 Đ. Cổ Linh, Hà Nội, 100000
Phone : 024 7300 7319
Website : cowboyjacks.com.vn
Facebook : https://www.facebook.com/cowboyjacks.americandining