In 2021, our son Tom was born in Hanoi, Vietnam. At the time, I didn't know anything about how the healthcare system was working in the country, especially as a foreigner.
Even thought part of the pregnancy and delivery could financially be taking care of by the public hospitals, since my wife is Vietnamese, I decided to try a private hospital after we heard positive reviews of it.
For our first child, we wanted to feel as confortable as possible during this moment of happiness but also let's be honest to be well accompanied during this moment of stress.
A Modern Hospital in Long Bien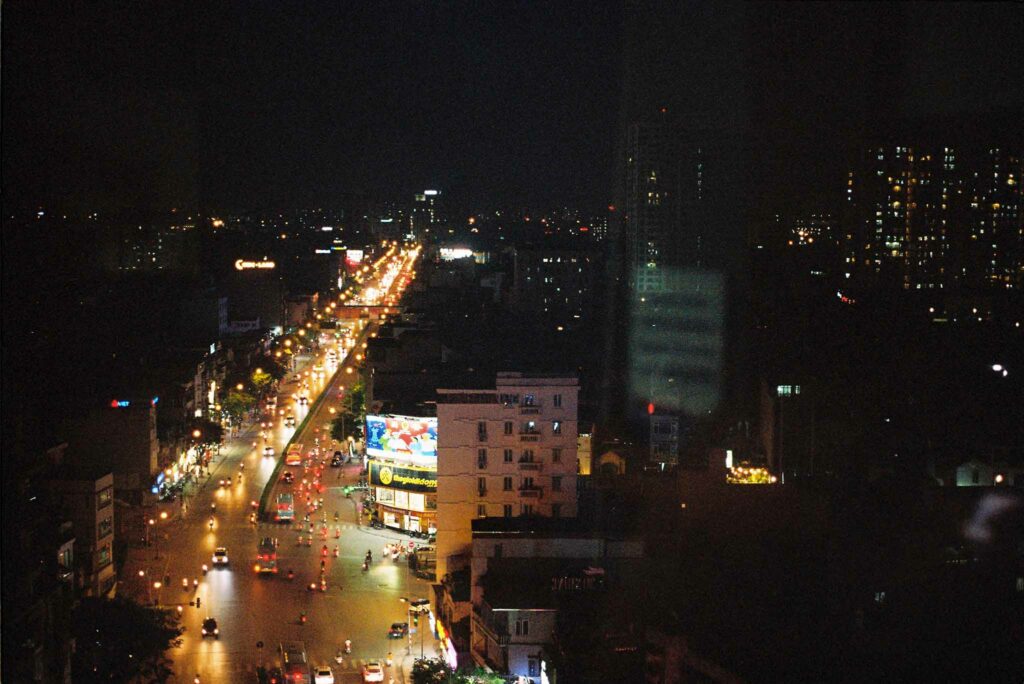 Bệnh Viện Đa Khoa Quốc Tế Bắc Hà (Bac Ha General Hospital) is located in Long Bien in one of the largest street of the district : Nguyễn Văn Cừ.
The first thing you notice when seeing the building for the first time is that it looks modern, partially made out of glass and it looks fairly big for a private hospital.
The Building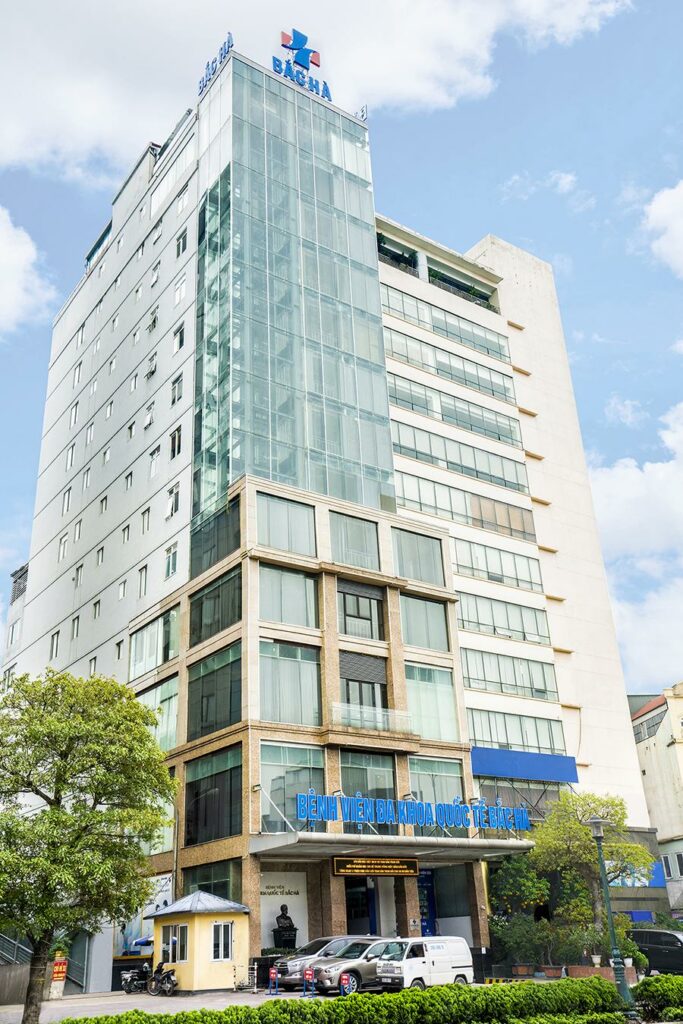 The building is quite tall and easy to spot from the street. It has somewhere around 12 floors and plus an underground used as a parking lot for bikes, the one for car is in front of the building and both of them are free.
Obviously this building with its large number of floor have four elevators. One located on the outside near the entrance, the two others in the middle of the building and one at the end of the building.
Inside the building there are a lot of screens with well made videos of the Hospital showing the customer journey of a famous lady in the hospital and some key doctors. Obviously in this video, the lady is having a great experience but we feel like its actually very close to the real service you would get.
Looking at this video makes you feel like you're part of one of these a hospital TV show with local famous doctors. It really helps with the experience.
The Reception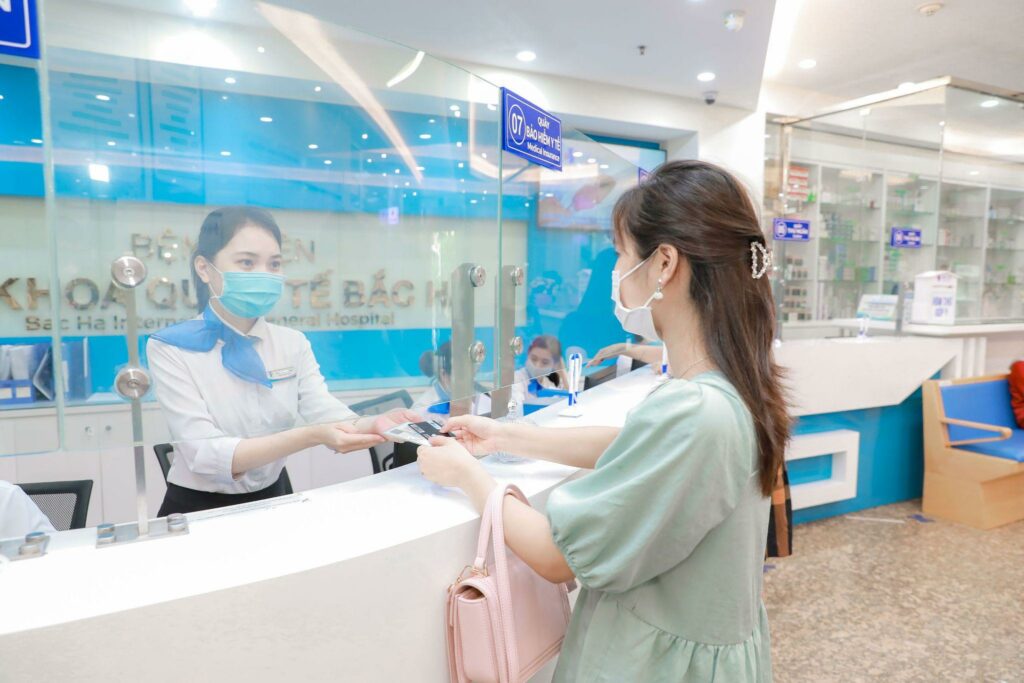 One thing I am not used to in France, is to be welcome and guided in a public or private facility. I think it's a cultural difference but as soon as you arrive in Bac Ha, someone will come to you to ask you for the purpose of your visit and will be guiding you into the process.
A book will be handed to you to keep track of what happened that day as well as the different diagnosis and prescriptions from the doctors and you will have to deposit a minimum of money, just to make sure you don't go out without paying your bill I guess.
The Customer Journey
In Bac Ha Hospital, there is a specific layout to the building, every section is spread out in the different floors. So the elevators will be your best friend.
For example, for my pregnant wife, after being greeted and taken care of in the reception, we had to move to the 4th floor the ultrasound, 5th floor to be examined by the doctor, 3rd floor for blood and urine tests, 6th floor surgery, 7th for the maternity, 10th for the vaccine and 12th for the cafeteria.
You will constantly be doing roundtrip in the elevator or even stairs if you are courageous. In Vietnam these round trips in hospitals are common since each doctors are specialized in a specific domain.
As soon as you arrive to a new floor, a staff member will take your book and accompany you to your next step which is usually sitting on a bench waiting to enter a room with a specialist.
Depending on how many people are present that day for the same need, you will have or wait more or less. Usually it is much less longer than the wait in public hospital, where you will stay at least for three to four hours.
The Packages for Pregnancy
For a pregnancy, the hospital propose some packages from the monitoring to the delivery and post delivery services. Obviously those packages are more interesting financially and give you the opportunity to save some money and not having to think too much to make decisions.
The good part about these packages is that they can be taken from the start but just before delivery as well. It's really a custom package that can be build for your need, the later your are in pregnancy the cheaper the combo becomes.
The Room for Patient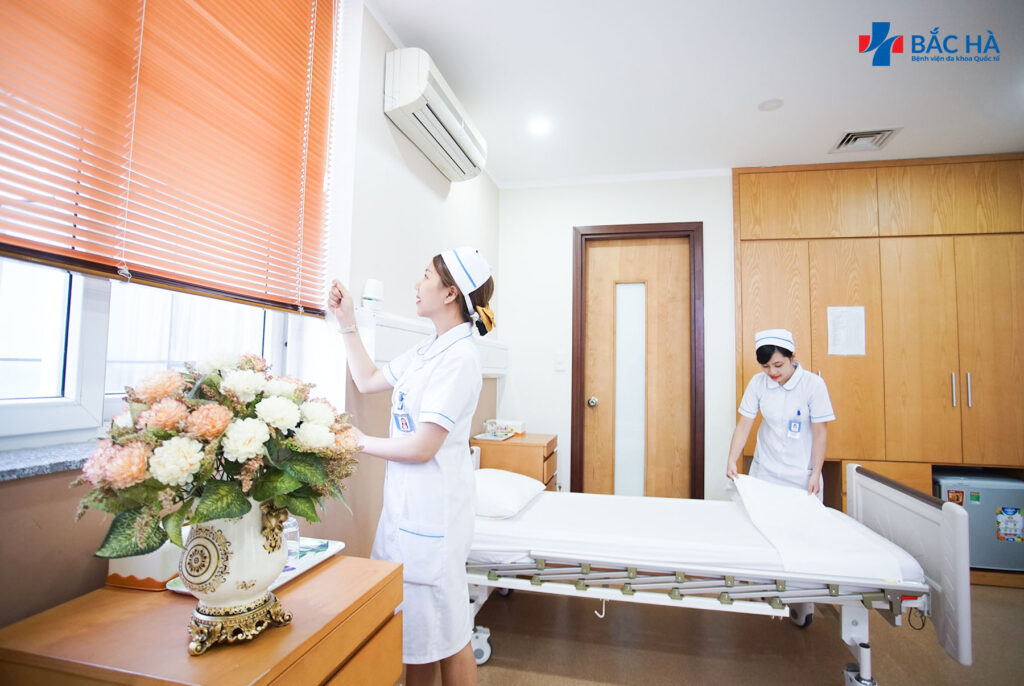 For the birth of our son, we were proposed a combo to have a shared room or a room of our own. The price difference wasn't very big so we opted for the second option. We also benefited from a limited 40% discount. Those discount are always present for incentive, it usually goes from 10 to 40% according to the demand.
The room was spacious with a private bathroom and small fridge and closet. In the hallway was drinkable water disposable with which you can get cold or hot water to make milk formula.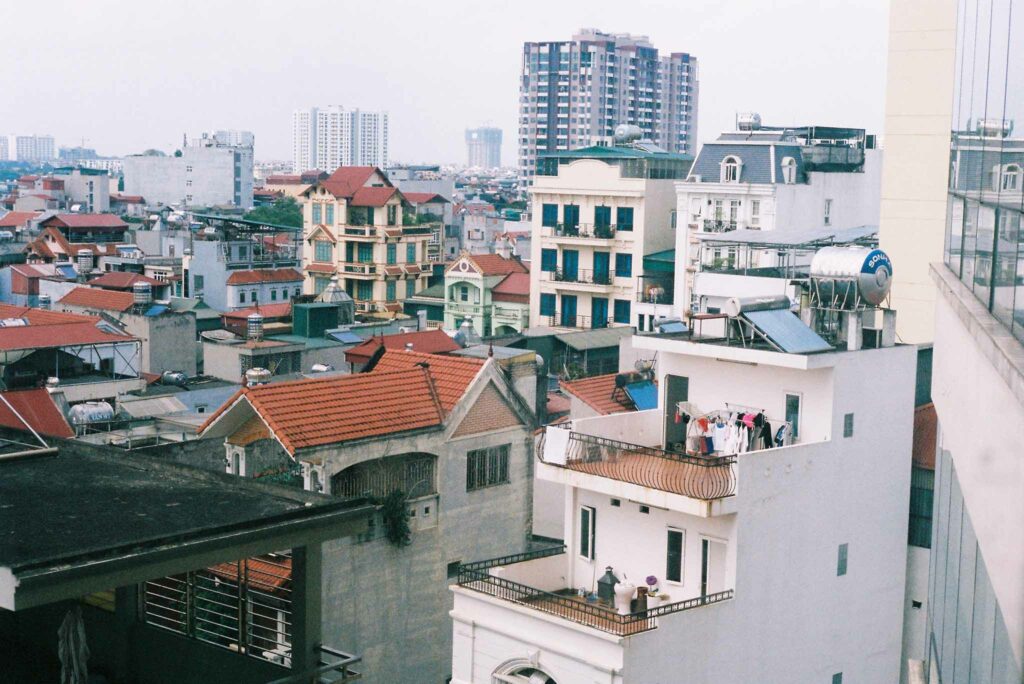 The room have two beds, one for each parents I supposed. There is an AC with remote to regulate the perfect temperature for new borns.
The Monitoring of the Baby
The monitoring of the baby started for us at 7 weeks, starting with urine and blood tests to check the health of the mother. The ultra sound started at 12 weeks.
Around 16 weeks you can know almost for sure which gender your baby will be. Legally this information cannot be disclosed but if you look for evidence hard enough you will probably have your answer.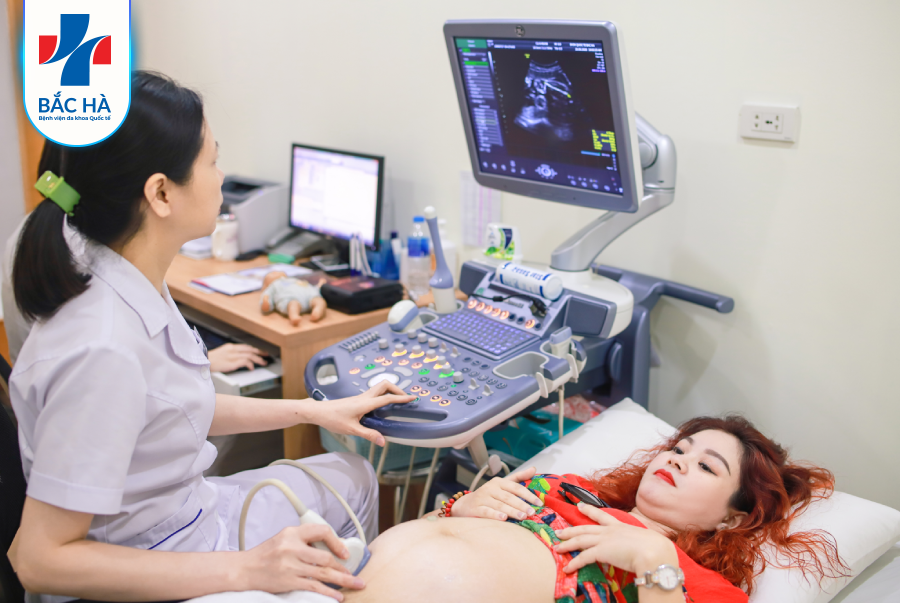 During these visits, we went to the hospital for a checkup for around 1 to 2 hours each time. Which is considerably less than when you go to the public hospital where you will probably spend you afternoon or morning.
These visits are to make sure the baby is having a healthy development inside the womb and that no complication will happen before, during and after the delivery.
The Night of the Delivery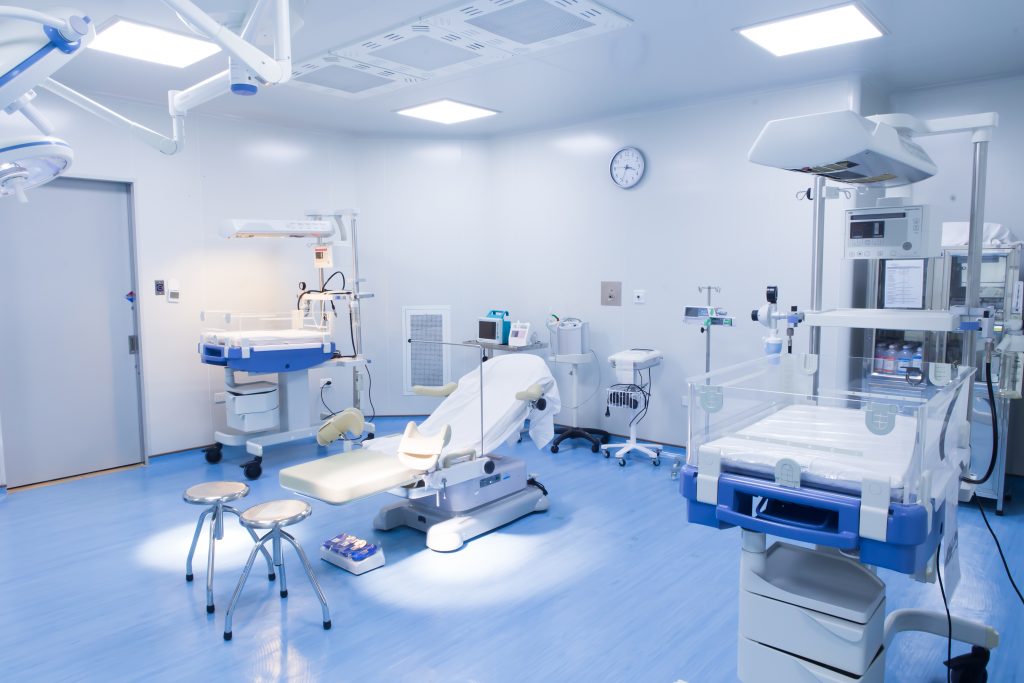 Once my wife got spaced enough contractions, we rushed into a grab and went directly to Bac Ha Hospital where they quickly checked my wife and monitor her in a dedicated room.
In this room we had to wait until the time between contractions was properly timed, something like 3 minutes for a 45 to 60 seconds lasting contraction.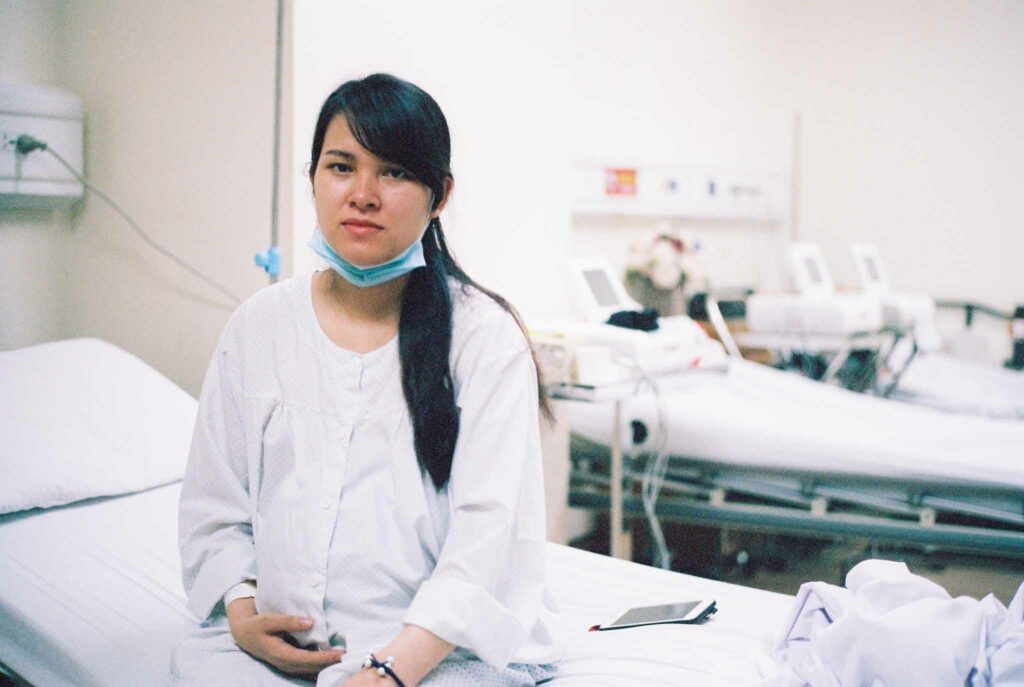 To be honest this was the most stressful time in the whole experience. My wife went into a room where the husband cannot go, unlike in America or Europe, and I had to spy inside the room whenever to doctors came in and out while try to read their faces to asses the situation.
You can also hear in the background the electrocardiogram beeping and slowing down at each contraction, making a noise similar to movies, when someone's heart is going to stop. All this recipe makes for a very anxious moment to experience alone in an empty room.
Since the position of the baby was a bit dangerous and my wife was exhausted, the doctors strongly suggested us to operate a C-Section. So the doctor brought the paper to me and gave me some time to make my decision.
The Birth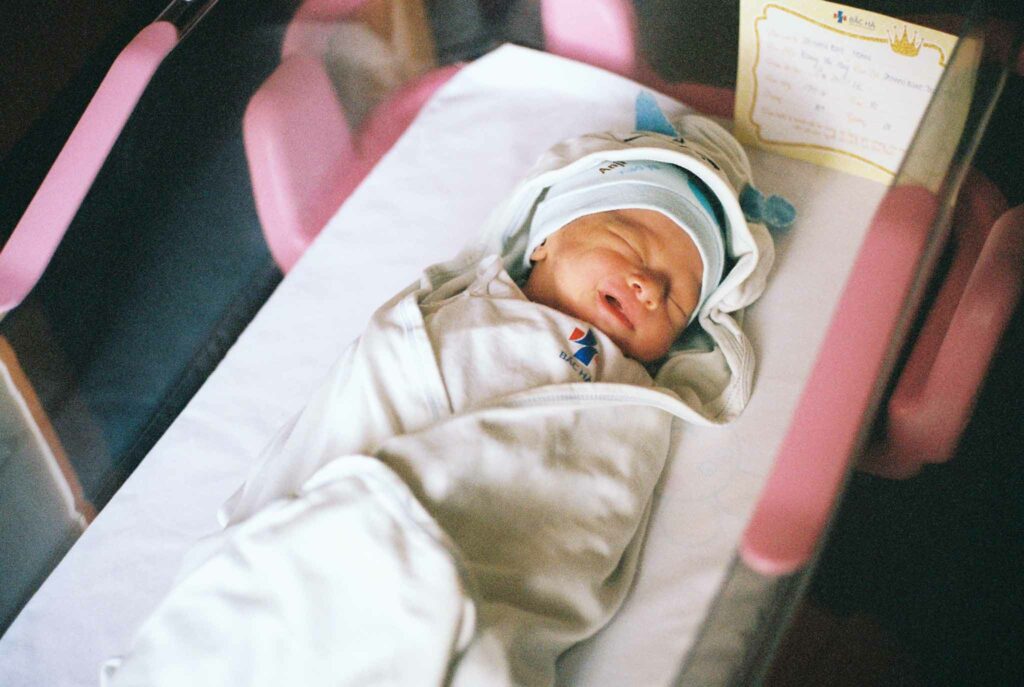 Our baby was finally delivered around midnight thirthy, they cleaned him and bring him to the mommy's arms for her to see it for couple of minutes. After that they brought him to me for the same treat. Newborn babies cannot see clearly, so my son was trying to make a sense of what he was seeing for the first time I guess.
The nurses took him away to care of him for some hours and finally brought him to our private hospital room around 4 am.
My wife came back to the room around 10 am, since she had to recover from surgery. Me I couldn't slept that night, too worried about how to care for a baby for the first time.
The Recovery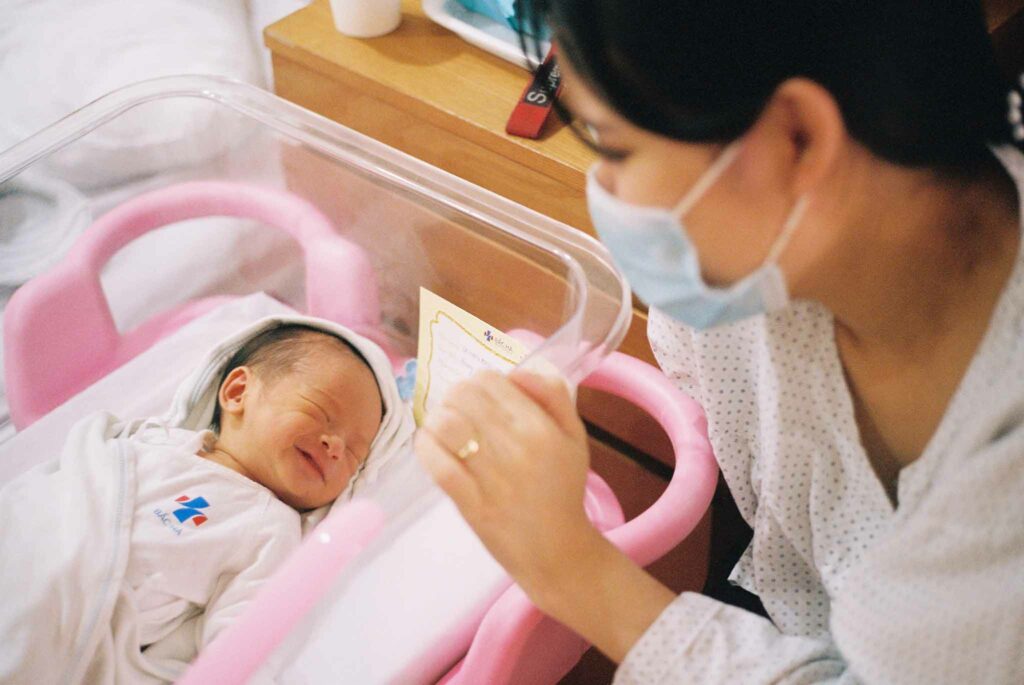 We spent 5 days and 4 nights in this private room with our new born. The time to make sure everything was going well with our baby who was all right. Just a infant Jaundice that will require some UV session.
Since my wife just had surgery, it was a bit hard for her to move around but I was here to help and the hospital staff was also present to give us a hand upon request with a push of a button.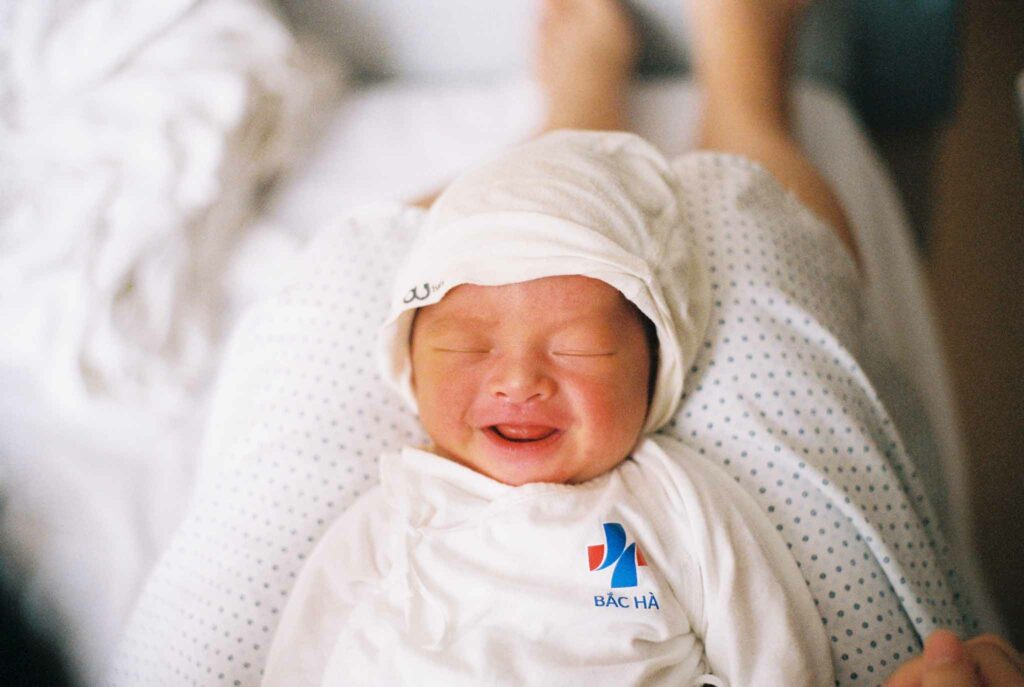 One thing to note is that during this year and the covid crisis, visitors were not allowed inside the building. Usually parents can come to help and visit the baby.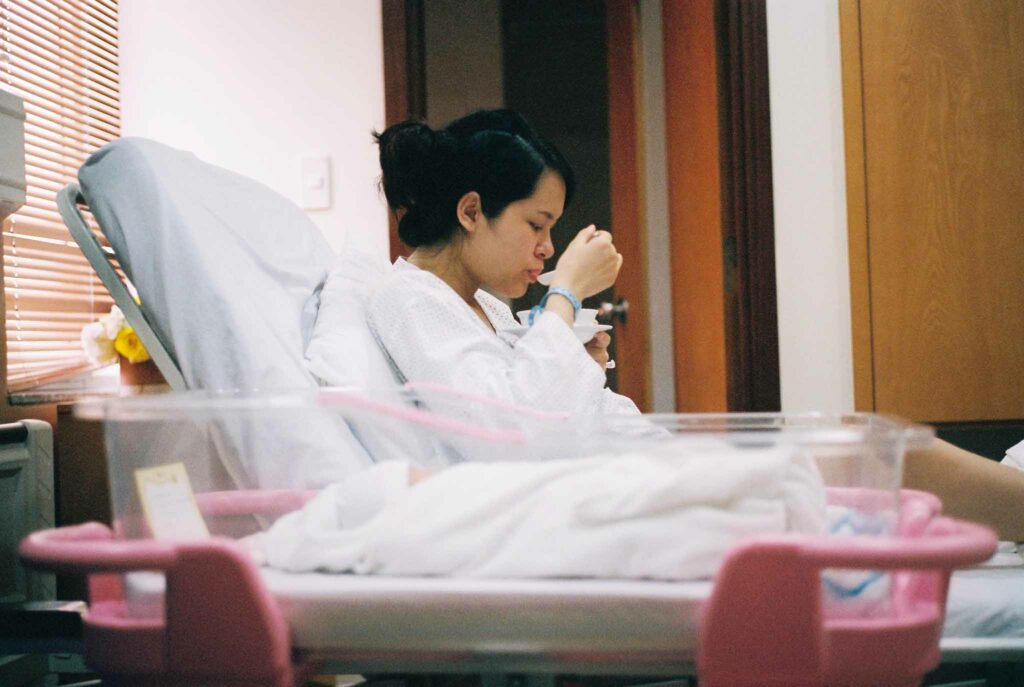 The breakfast, lunch and dinner was brought to my wife directly in our room since my wife couldn't move or sit, the bed was equipped with an additional table to eat but she found it more convenient to hold one bowl at a time, incase the baby needed her.
A team of doctors were coming multiples times a day to check on the baby and on the mother. At night there was a shift available upon demand whenever we needed some help. We tough it was great since we couldn't at the time have help from our parents.
A Cafeteria with a View

As a accompanist to my wife, I was offered 3 meals a day as well. They were not delivered in the room but had to be taken in the cafeteria.
This cafeteria is located on the 12th floor. There are specific hours for lunch and dinner so you cannot come anytime you wish. The space is fairly large with a lot of tables separated with plastic screens for safety reasons. At the end of the cafeteria there is a window with a great view of the Long Bien District and of Nguyen Van Cu Street.
My wife and I were truly impressed by the quality of the food in Bac Ha Hospital. The food is very well cooked, tasty and more important very healthy.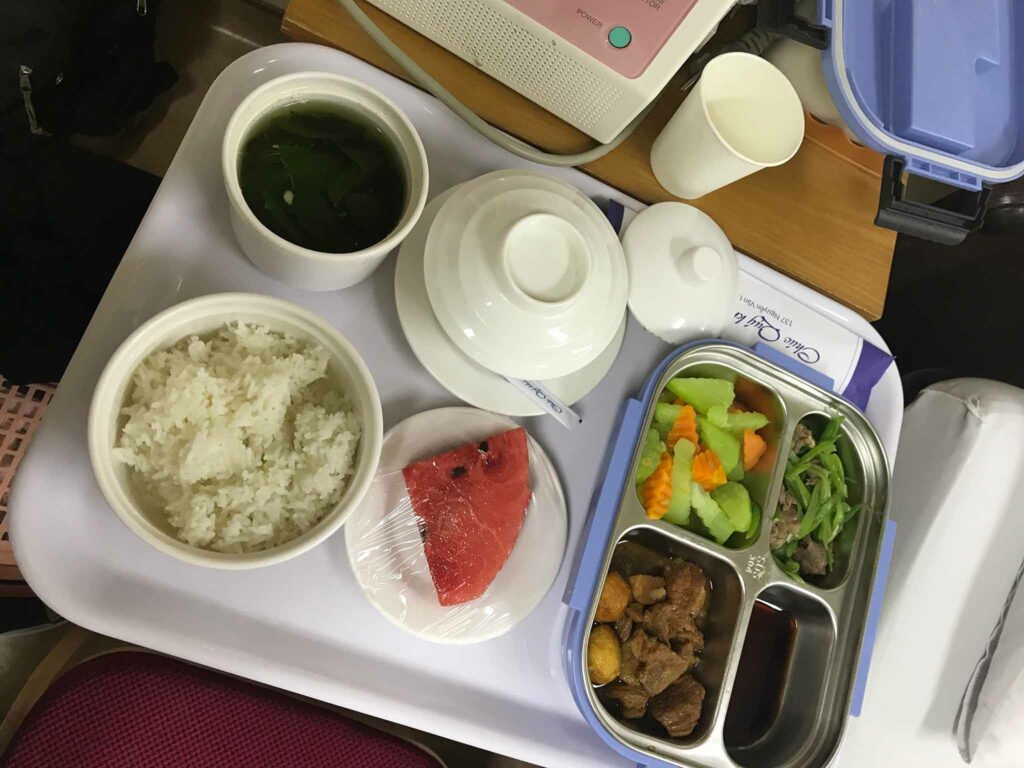 It is honestly the kind of food I would personally like to eat on a daily basis. Of course the food is Vietnamese so it often is very well balanced. Meat or fish, with rice, soup and fruits minimum.
Some Included and Extra Services
With the package we bought, we were seen offered gifts of product we will need such as baby formula, diapers, wet towels, etc. We thought it was a nice touch coming from the hospital.
One free checkup, one month after the delivery is also part of the bundle.
For an additional price, you can rent a nurse for taking care of the baby and also some tools such as breast milk pump.
The Pharmacy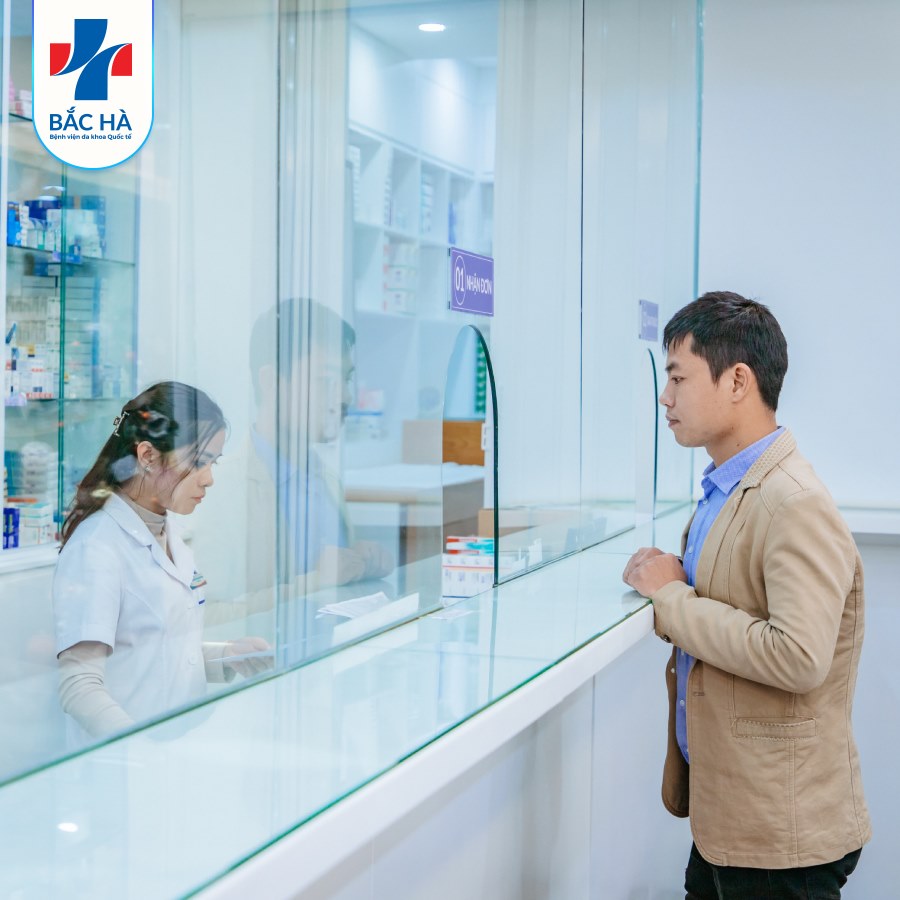 On our way out we were prescribed some medication such as ones for pushing the blood out of the body and vitamins for the infant jaundice in the Pharmacy. We already went multiples times in this pharmacy before since in the womb the baby didn't have enough water at some point.
Most of the medication will be available in this store, you are also free to buy with your prescription the required medication outside of this hospital.
The Checkout
Once we were ready to leave the hospital we had to do some formalities in the 10th floor then go down to pay downstairs. For unknown reasons, my credit card was debited in my app but the terminal didn't receive an approval of payment. So they kept some of our paper in collateral and couple of days later indeed the payment came back into my account and I sent the money via bank transfert.
The checkout are generally made in the ground floor but sometimes it can be paid in the upper floors like the one for the vaccine.
For all of these services including C-Section and with a -40% discount we paid around 24,000,000 vnd. Of course it would be free in France in a public hospital but compared to a private hospital the price is quite affordable and a good value for the price.
Verdict
8.5 out of 10
Overall our experience was very good in Bac Ha Hospital. There are many convenience compared to a public hospital. For example, you will get more confort, wait less, eat and be treated well. The doctors and nurses especially were very kind and helpful to us.
At some point we tried to do a 4D ultra sound in another place and the service was very different, more rushed and industrial if you will.
Maybe the only downside of this experience was that in our room, doctors would freely come inside without a warning. Which is not something I am used to but I understand the necessity of it.
Informations
Bệnh viện Đa khoa Quốc tế Bắc Hà
Address : 137B Đ. Nguyễn Văn Cừ, Ngọc Lâm, Long Biên, Hà Nội 100000
Opening hours : 24/7
Phone : 098 682 23 33
Website : https://benhvienbacha.vn
Facebook : https://www.facebook.com/BenhvienBacHa/