I finally decided to upgrade my old 2015 Macbook Pro last year. This was the best computer I've ever had. It is still working okay and has now been passed on to my wife.
The only issue I had with it, besides some bugs and having replaced the battery, was the inability to post-process 4K videos inside DaVinci Resolve.
That's why, after getting my A7S III, I decided it was finally time to get a new laptop, and fortunately for me, Apple Silicon made my wishes come true.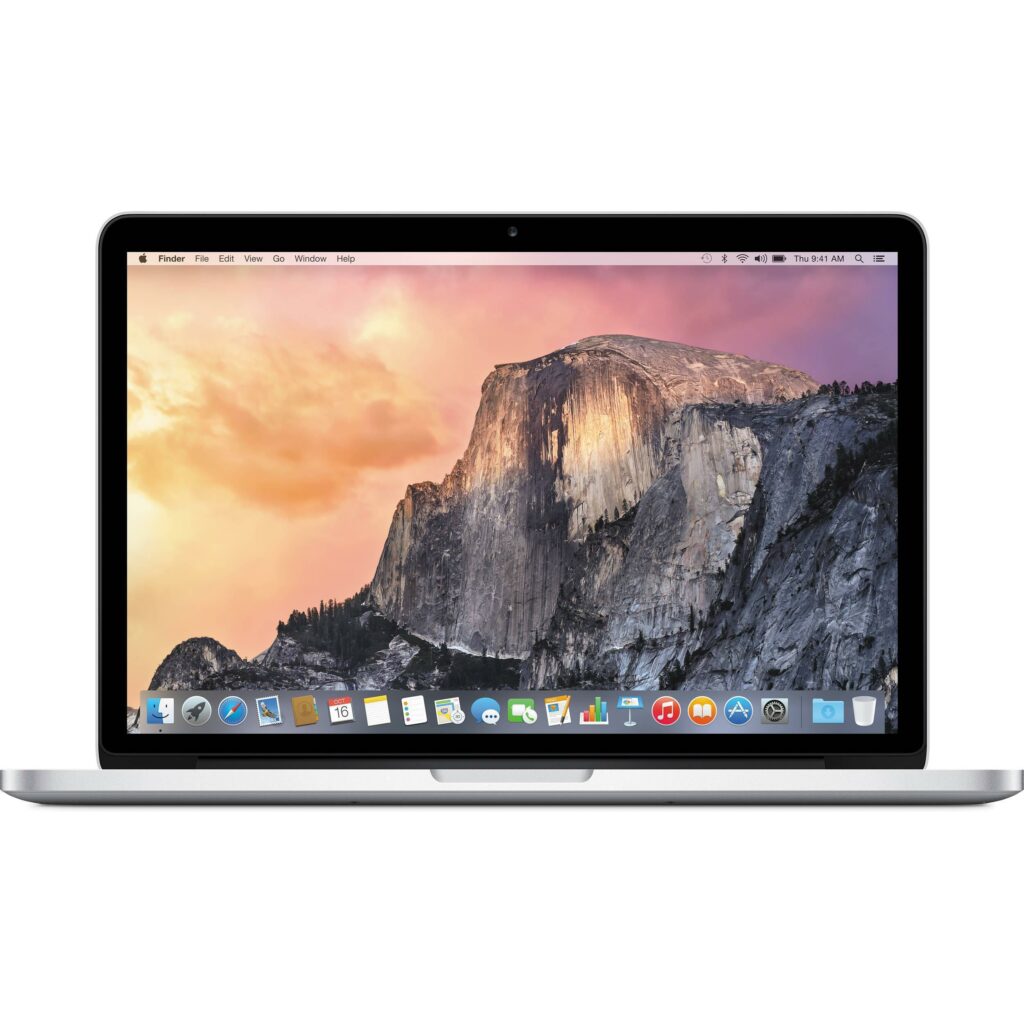 Background
I have not always been an Apple user. In fact, my first computer was a Packard Bell, and my second computer was assembled by hand. So I've always been the type of person who loves to custom-build computers.
When I first started working as a digital marketer, I started to work on creative tasks such as design and photography. That's when I started to dig Apple products for their reliability, ergonomics, and, of course, user experience.
I still believe that they are the best tool for creative people.
Why Apple?
It's not a secret: Apple products are some of the best engineering products on earth. They are especially good at optimizing hardware and software for end-user needs.
One thing Apple computers can't do well is gaming. If you are a gamer, you are better off building a custom computer.
But when it comes to video editing, ergonomics, and battery life, nothing comes close to the new Apple silicon chips.
Most iPhones and iPads have been equipped with this technology for a while, and to be honest, it was clear as day that these chips were giving a better experience.
The first iPad was not as powerful when it came to computational power, yet the experience was fluid and enjoyable as hell.
Videos that were laggy on a computer were playing back very smoothly on the iPad. This is because the hardware inside the iPad is better optimized for this kind of task.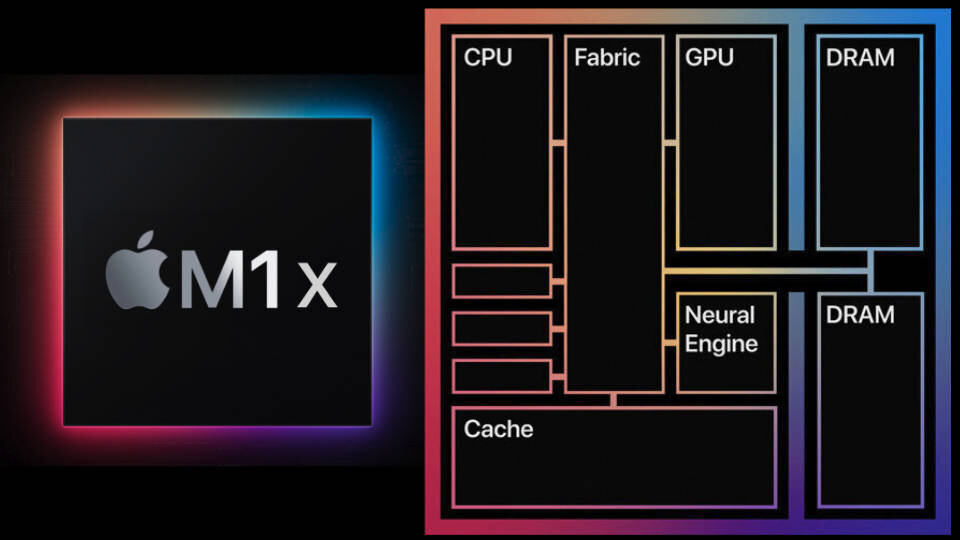 Apple Silicon
The ARM chip, notably using a simpler architecture, finally caught up with the computational power of multi-task cores.
One big upside is that ARM chips consume less power and therefore generate less heat. Now, with chips like the M1 or M2, you can have both performance and battery life, all inside a lightweight package.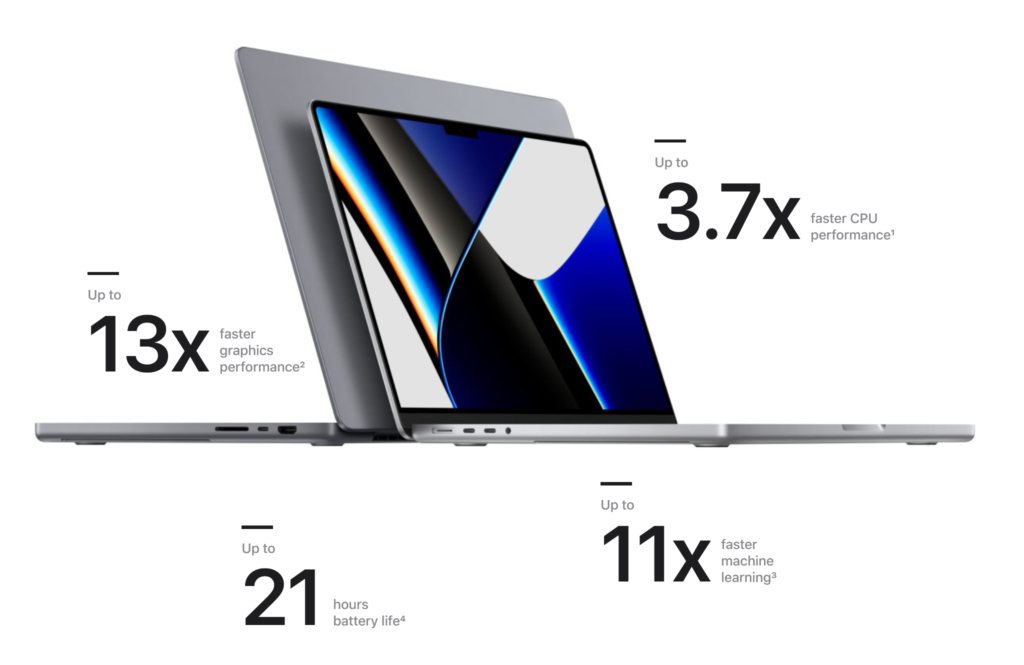 Why the need for a M1 Max?
There are different classes of M chips. The traditional M1 and M2 equip the lower range of laptops like the Macbook Air or Macbook Pro 13″. These chips are basically all you need to do some regular office work, browse the web, and play some multimedia.
When it comes to working professionally as a creator, and especially as a video maker, You have higher-end chips named M Pro, M Max, and M Ultra.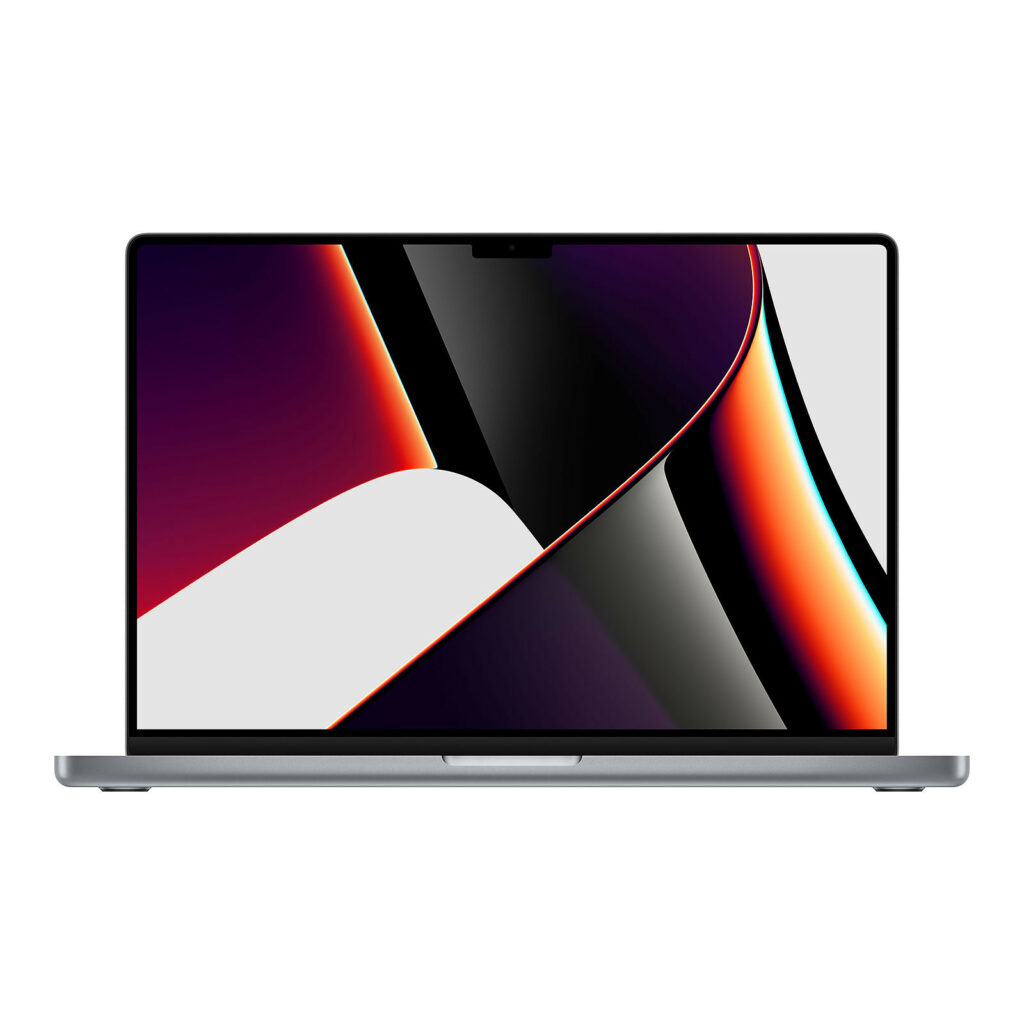 If I have to be honest, I first was lusting after a M1 Pro, which was expensive at the time—almost 4000 euros for a decently spec'd one.
But after a year of waiting for the M2 Max to be released, the M1 Max went on sale. I got mine for 2800 euros HT. Kind of a bargain compared to last year's price.
The newer M2 Max has only 30% more computational power over the M1 Max, which is already leaps and bounds beyond traditional laptops.
M1 Max is all I needed for video editing, and I chose 16″ since DaVinci Resolve requires a lot of real estate when it comes to screen size.
Having a 16″ monitor with mini-LED and 120 hertz was also going to be handy for Photoshop work, and let's be honest, quite pleasant as well for enjoying content.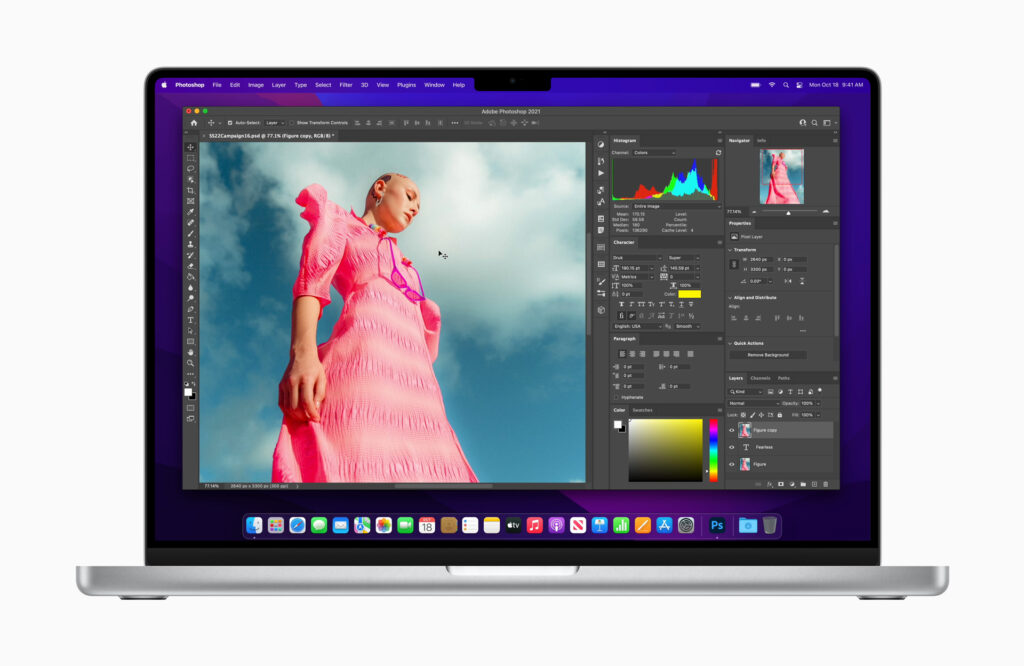 First impressions
I specifically chose the space gray version. I had a lot of regular gray Macbooks and wanted to change for a while. I feel like this MacBook looks pretty much the same as my old one. Only the color is different, and the keyboard now has less travel.
The build
Weirdly enough, I feel like my old Macbook, which was cheaper, uses better materials. It feels more premium somehow. Perhaps because I am using a protective case and a protective layer for the keyboard.
Weirdly enough, I feel like my old Macbook, which was cheaper, uses better materials. It feels more premium somehow. Perhaps because I am using a protective case and a protective layer for the keyboard.
My experience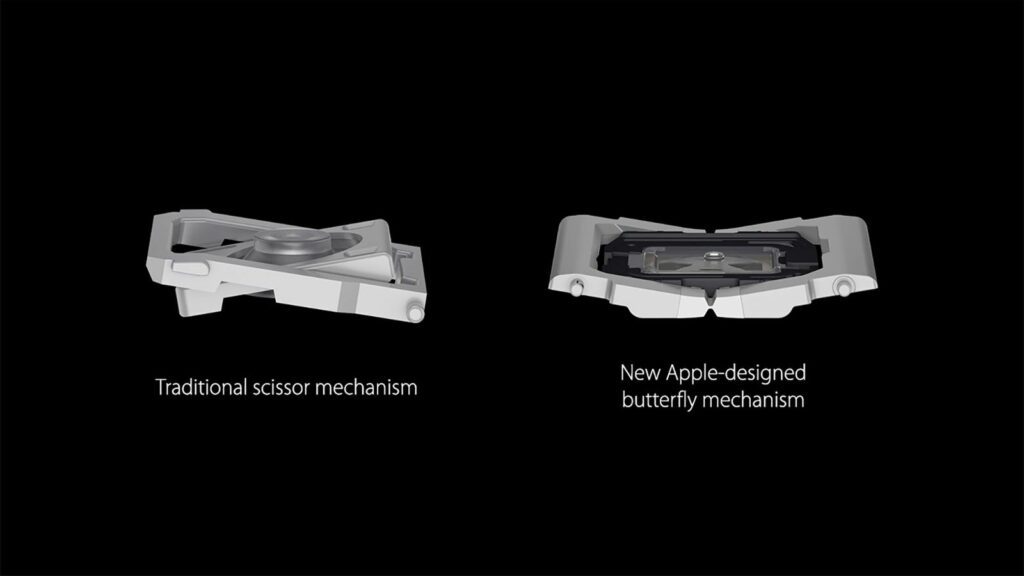 The keyboard
Like I said, the keyboard is not as good in terms of feel as the old ones, which had more travel and a more incisive feel. There are no shortcuts to turn the keyboard's light down. On the other hand, there is an Apple Touch ID key, which is honestly amazing. No more need to type your password to wake up your Macbook or login to a website—what a breeze!
It will only require you to type your password sometimes when you haven't used the computer for a while.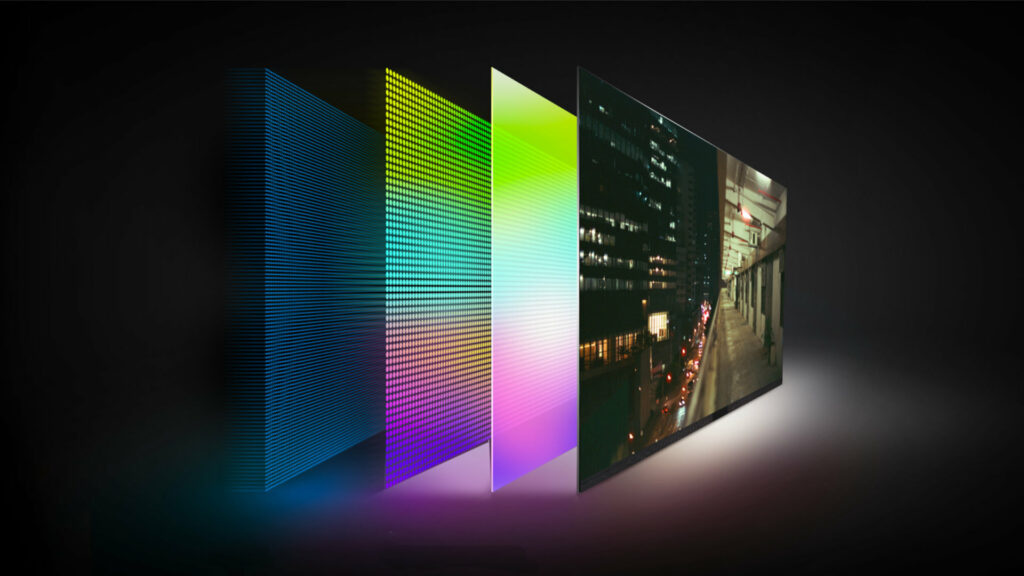 The screen
The screen is beautiful and has warmer colors, but it's not something you notice after a while. I feel like your eyes will adapt to anything with enough time.
If the screen is great, it's not that big of a leap compared to my old one. Perhaps only the blacks are deeper with the mini-LED technology. It comes in handy while watching Netflix content, even though I like to have some details on the blacks as well.
The screen has some sort of hinge on top to host the webcam. Most of the time, it's invisible since there is a black bar to hide it on top, but sometimes, on some particular software, you can see it, and it can even be hiding something you need to see. I hope this disappears soon on the next models.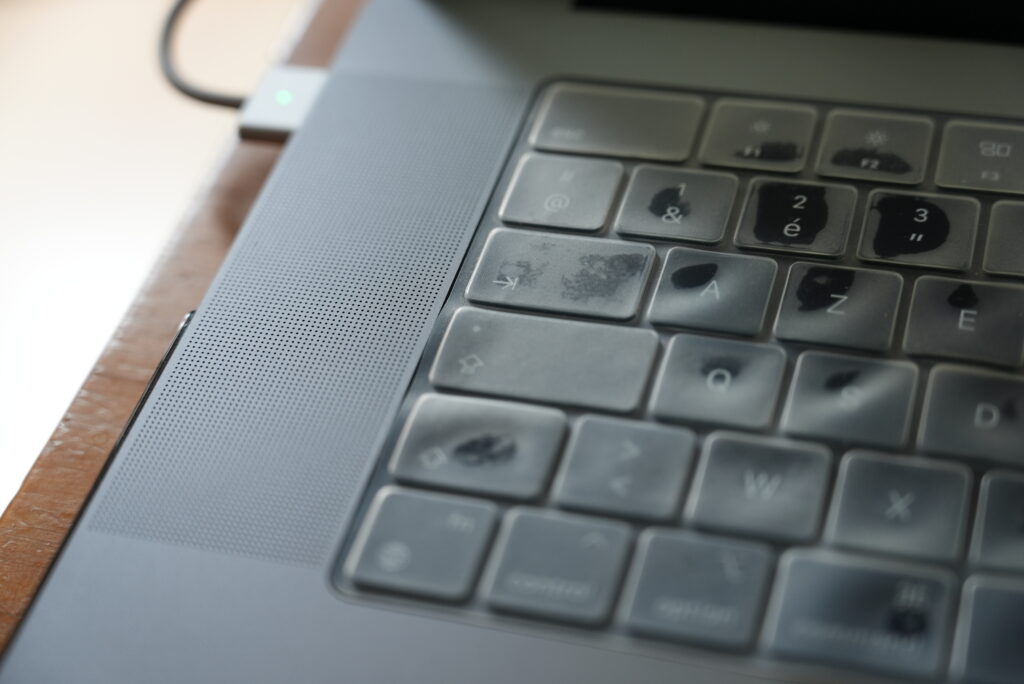 The sound
The sound is quite impressive. It has a lot of medium and a very clear high. They sound pretty loud as well, without distortion at maximum volume.
It's not as loud as some bookshelf speakers, but honestly compared to my Klipsch RP-150M, they are way more detailed in the highs. It's quite enjoyable to listen to voice-oriented content such as podcasts. It's perfect to work on audio monitoring too; they feel a bit like a Beyerdynamic DT 770 Pro but without the harshness.
The trackpad
The trackpad is bigger than the one on my old Macbook Pro, which is great for working in Photoshop, but again, my old trackpad feels better to the touch. I don't know why my old computer was made of aluminum and was cold to the touch. This one feels warmer.
The computational power
Well, this computer is very fast. There was no lag at all. Of course, you'll always experience lag linked to internet speed since content has to be loaded. But compared to my old Macbook, which is no slouch, it's night and day.
Opening and closing applications like DaVinci Resolve or Photoshop is very fast. It's the fastest computer I've ever had by far, but let's be honest, every time you buy a new laptop after 5 years, chances are that you'll get this impression anyway.
I think the most significant leap for me was going from an HDD (hard disk drive) to an SSD (solid state drive). Next after this was going from a traditional processor to an ARM chip.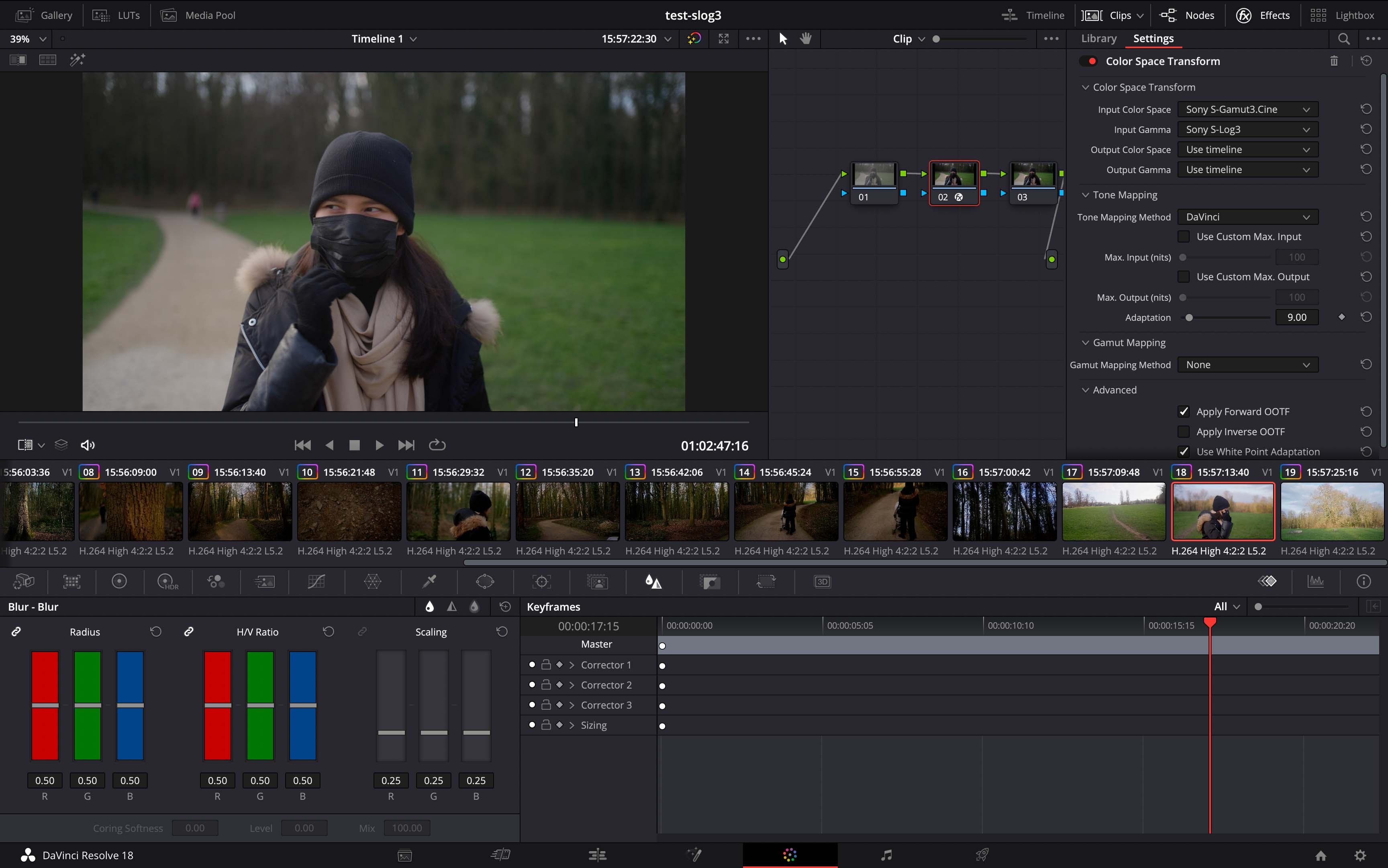 DaVinci Resolve
Well, DaVinci Resolve is just a different experience all together with this laptop. It's finally a joy to edit and export projects. The playback is extremely smooth, and the export is 100 times faster. No joke.
Perhaps the only issue is that you are limited by the transfer speed between the computer and the hard drive that hosts the content. Which means on an external hard drive, it's not as fast as on the internal SSD. The M1 Max has a higher transfer rate. That's mainly why I chose this model.
So be ready to work on some projects using the internal space, which is not a lot. I have a 1TB SSD, and it was very expensive to upgrade.
The need for an external drive
They have, of course, solutions such as fast external SSDs from Sandisk, which will help in most situations. If you are working in RAW or ProRes, the files and bandwidth are so huge that your playback experience might be choppy. Those ProRes 4K 4:4:4 files are at least 500 mb per seconds. If you are stacking multiple of them you'll perhaps reach easily high numbers.
Note also that even a small to medium project might take up to 500 gigabytes of space, so that's something you need to think about in advance. I think it would be a safer bet for you to get at least a 3 TO version of the internal SSD.
Which external SSD to choose ?
This is where it become highly complicated. There are tons of standards when it comes to connectivity. From USB A to USB 3 to USB-C to USB 4. You even have some thunderbolt connexion from Thunderbolt 3 to 4. It's really a mess to be honest and the only thing you should focus on is USB-C and Thunderbolt 4.
This particular Macbook Pro M1 Max 16 inches from 2021. The USB-C ports are actually 3.1 gen 2. These ports are limited to a bandwidth of 10 Gbit/s per second which translate to 500 mb/s in reality.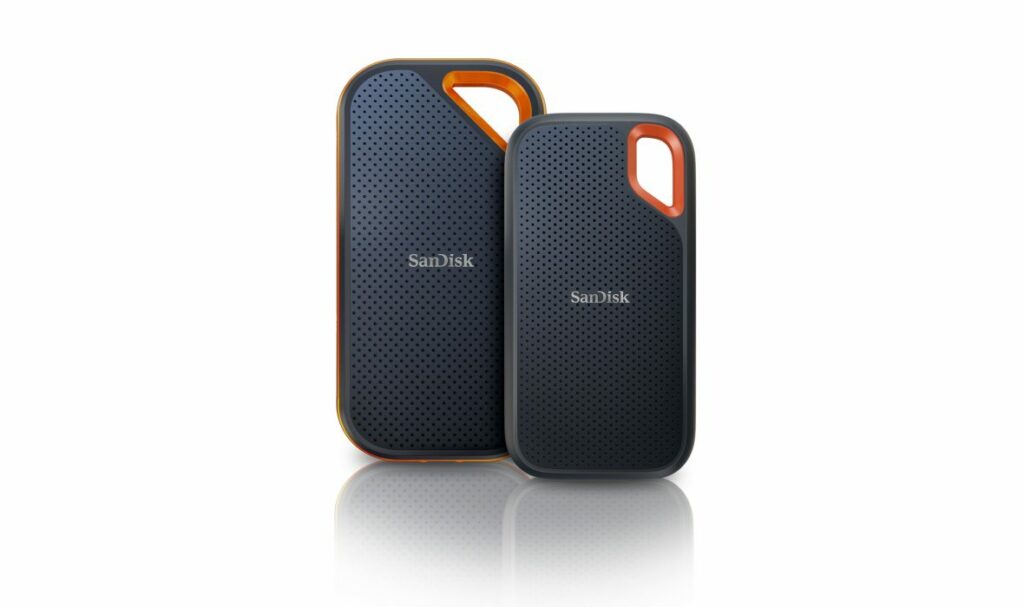 Whereas SSD such as Portable SSD Sandisk Extreme Pro v2 are using USB-C 3.2 gen 2×2 which allow for a bandwidth of 20 Gbit/s per second which translate to 750 mb/s in real life. But since Macbook Pro's only have USB-C 3.1 Gen 2 you'll be cap at 500 mb/s.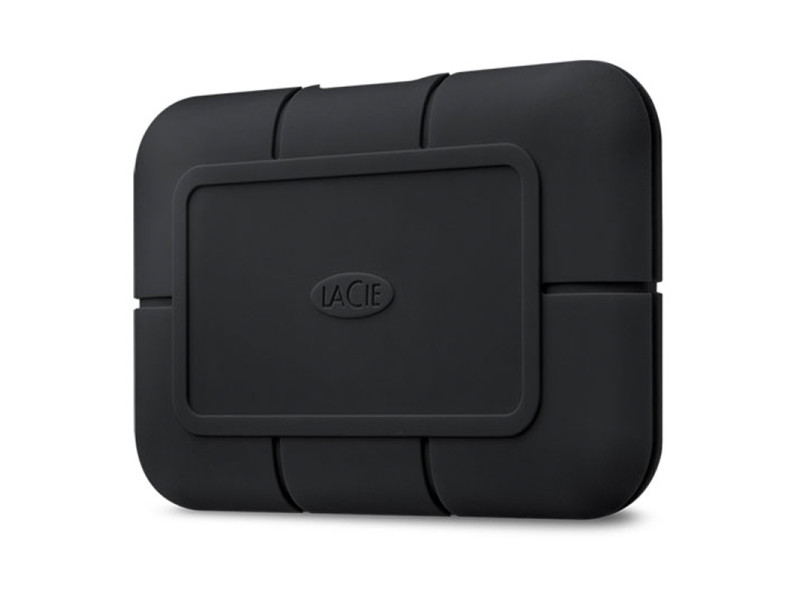 That's why you will need to rely on thunderbolt 3 or 4 external SSD such as LaCie Rugged SSD Pro capable of transfer data up to 2 000 Mo/s in real life. They are at the moment on sales for 356 euros for a 2TB version.
This is a portable SSD to carry around. If you want a station to work you'll need something like the WD_BLACK D50 Game Dock NVMeTM SSD or a SanDisk PRO-BLADE STATION.
Fan noise
One thing I love about this computer is the fan noise level. I think I've heard it once or twice, so the ARM technology is really efficient when it comes to heat dissipation.
With my old Macbook, as soon as I export a video, the fan will turn on at maximum speed, making it feel like the laptop is about to take off.
With this new M1 Max, nothing at all Not only is it faster, but it's quieter as well.
Connectivity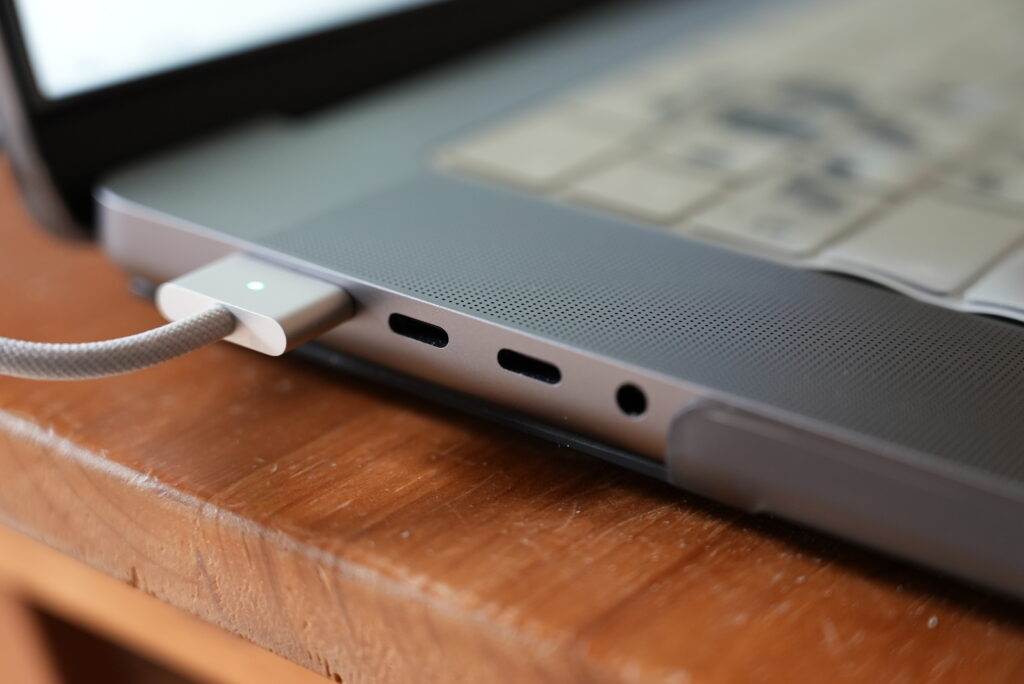 This one is pretty hard to swallow. This computer only has 3 USB-C ports. No USB A whatsoever. This means that if you own a bunch of USB-A devices, you'll have to use an adaptor.
I guess it's a fair trade to finally get rid of these old connectors.
Size
I'll be honest; I've never carried this laptop outside my desk. Leaving in France, it's not a good idea to walk around with this kind of gear. But I feel like the size is quite perfect. It's big enough to work with ease but not too big that it becomes inconvenient to move it around; 16 inches is the perfect size.
To be honest, I don't even feel like it's big at all. I don't feel, for example, that it's bigger than my 13-inch laptop. If this makes sense, it's more comfortable but not that noticeable.
Battery life
Again, this will sound familiar. I feel like this Macbook Pro has great battery life, especially out of the box.
It certainly feels like it lasts longer than my old 13-inch laptop, but it's not that noticeable. I personally use my laptop with the AC cable attached 99% of the time anyway. I only remove it once in a while to preserve the battery.
To this day, I still don't know which technique is the best; should I unplug it every time or drain the battery to 20% once a month?
There's also a feature that will keep the battery at 80% charge to avoid that threshold between 80 and 100% thats the most deteriorating for a battery. I've learned this from my Toyota CHR Hybrid.
The price
Funny enough, I got this Macbook Pro M1 Max 16 for 2800 euros HT. The only way I got this price is because the M2 Max was about to be released, and some promotions were available but not on the Apple website or in the Apple Store, but at official retailers like Darty and Fnac, which were also giving 120 euros for giving them your old computer. So my over-20-year-old Sony Vaio was exchanged for the good cause.
Verdict
8.8 out of 10
This new M1 Max Macbook Pro 16 is great. It does everything it's expected to do, and this without any hassle, which is great knowing that a desktop computer for video editing was costing around 10k euros before.
At the end of the day, it's just a tool; it does the same job as a regular Macbook Air 90% of the time. If the price gap is justifiable for a content creator, it's not really justifiable for a regular user.
Gears tend to go up in price every year, so soon we won't be surprised to see a 10,000 euro Macbook Pro. What is the price of a decent car? I think the only way to justify this purchase is to know that you'll somehow charge it to your customers by delivering beautiful 4K content.
Would I suggest professionals buy the M2 Max over the M1 Max? It's really up to your budget. For me at this moment, this M1 Max does the job perfectly well.
You better spend the money getting yourself more internal SSD storage; this might have a bigger impact on your workflow.
Informations
Macbook Pro M1 Max 16
Website: https://www.apple.com/fr/macbook-pro-14-and-16/
Facebook: https://www.facebook.com/apple/?locale=fr_FR
LaCie SSD Rugged SSD Pro 2 TB : https://www.amazon.fr/LaCie-externe-Thunderbolt-Résistance-STHZ1000800/dp/B07XTNMQ49
Video Production : https://www.neonnight.fr