Hotpot Story is a Vietnamese chain restaurant member of the Redsun-ITI Group, which owns tons of restaurant chains such as King BBQ Buffet, BukBuk, and Thai Express. It's fair to say that they are well implanted in Vietnam, especially in malls, and they know what they are doing.
The concept of Hotpot Story is very simple; like its name suggests, it's all about hot pot, the favorite dish of Vietnamese for social eating.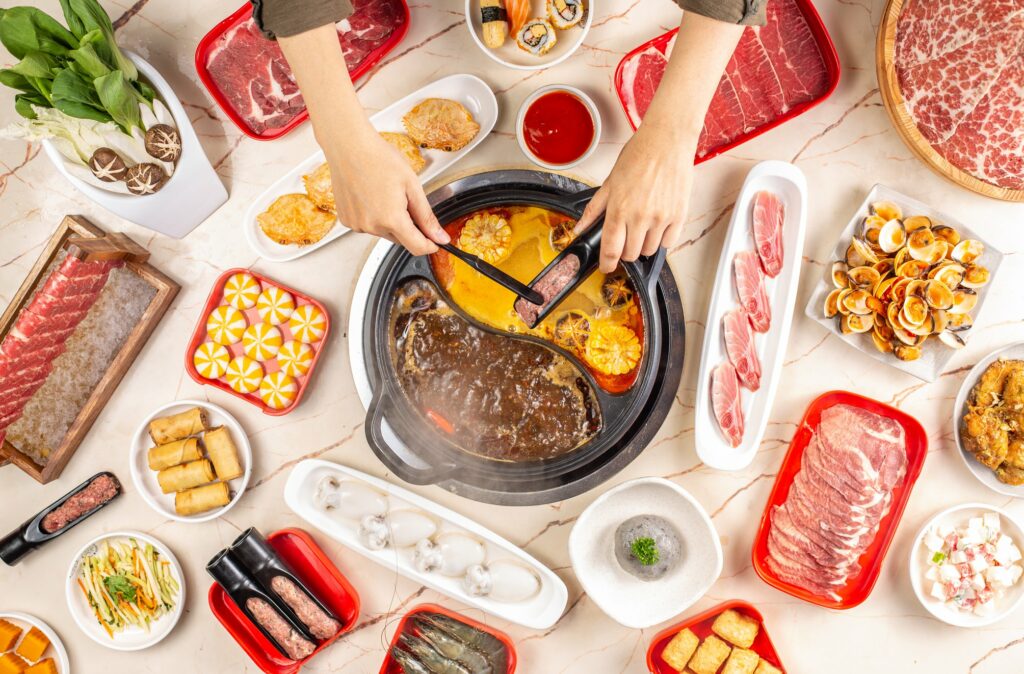 The location
For our review, we tried the restaurant located in Aeon Mall Long Bien. Located on the 3rd floor near the food court, the restaurant benefits from a strategic position since it is located in the corner, with two sides of the restaurant visible from outside.
The restaurant is medium-sized, I would say. The seating configuration is slightly tight in my opinion, especially with a kid onboard.
The decoration is nothing fancy; it is strictly what is needed. I feel like this restaurant proposition is good value for money relative to the location (Aeon Mall).
The franchise has a lot of different locations across Hanoi and Vietnam.
The menu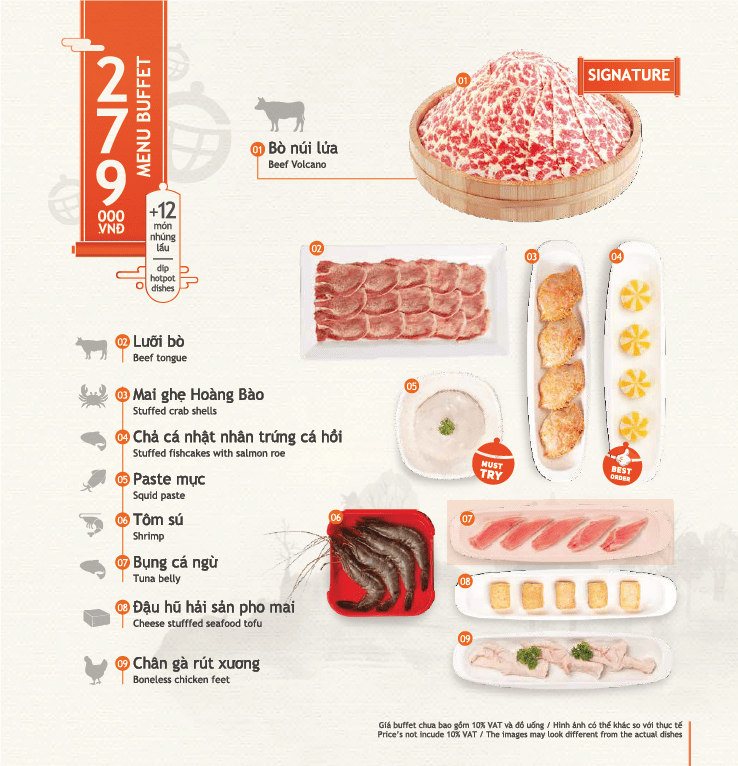 This restaurant has multiple offerings on their menus, but most people will come for the all-you-can-eat buffet for over 320,000 VND, which is still a lot for regular folks in here. This doesn't account for drinks.
Desserts, appetizers, specialties, and sauces are disposed of in the small self-serve buffet section.
There's nothing very special about their menu except that you can choose from a variety of different soup stocks. For example, you can have three flavors at the same time on one table, like tom yum, mushrooms, and five spices. These days, most Hotpot locations will have these options.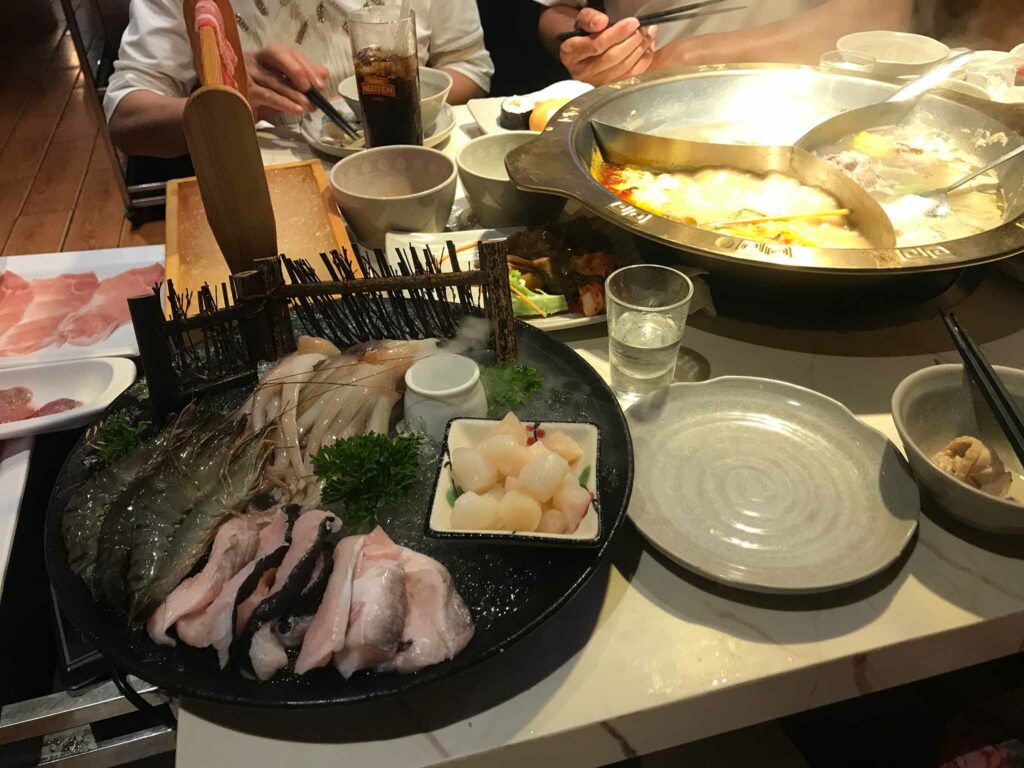 The all-you-can-eat buffet has two options. One includes all types of food, like sea food and other specialties, while the cheapest option only has the most popular meats.
The buffet was honestly very limited this same day. So much so that we could try most of it. Fortunately, the French fries and stewed beef were both excellent.
The quality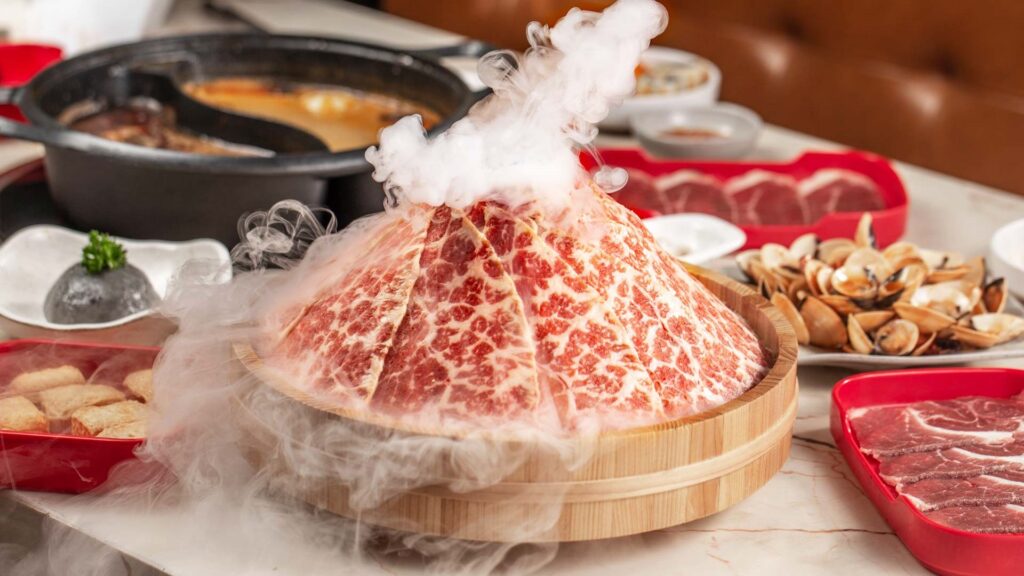 The quality of the food, like the location, the staff, and the concept, is decent. Nothing was exceptional or out of the ordinary. I would say it's less impressive than places like GOGI or Sumo BBQ, but the price is not as expensive as well, so all in all, it can be an option.
One thing to note is that the induction oven was all written in Chinese and only had options between extreme boiling and barely boiling, which made it very inconvenient.
Verdict
6.5 out of 10.
Hotpot Story is the kind of joint you go to if you are looking to eat a regular hotpot with friends or family, knowing that the food and service are nothing out of the ordinary but at a decent price.
I personally would rather spend the extra money to try a higher-end hotpot or even go within the city to get the real deal.
Eating hot pot is always an enjoyable experience when shared, so it's a shame that the tables and seats are a bit too tight to be comfortable or to accept the different dishes. The induction oven remote was also very tricky compared to other places I've been.
In my opinion, all of these made for a less enjoyable experience.
Informations
Hotpot Story
Address Aeon Mall : Aeon Mall, 27 Đ. Cổ Linh, Long Biên, Hà Nội
Phone : 024 3829 1188
Website : https://hotpotstory.vn/
Facebook : https://www.facebook.com/HotpotStory.VN