DJI has been stabilizing footage for decades with gimbals, whether it's on a drone or not. Having used a steadicam before, I have to say that these electronically motorized gimbals are so much easier to use.
They don't quite give off the same floating looks, but with time, they definitely found their place in the ecosystem.
We'll see in this article if the last iteration of the DJI RS3 is something you should add to your bucket list as a content creator or videographer.
A quick reminder of who DJI is

DJI is a Chinese company that has been growing thanks to popular products such as the drone DJI Phantom 4 or the Gimbal DJI Ronin.
Today, DJI is so successful that it has acquired one of the most iconic brands in the photography world: Hasselblad.
Hasselblad's medium-format system is basically the gold standard for fashion photography.
DJI is by far the leader in the consumer drone industry. Their product is so advanced that soldiers in war are using it as weapons.
They are also entering the camera world with their DJI Ronin 4D and their Lidar system. DJI definitely benefits from a great image when it comes to quality and engineering.
DJI Gimbals and the competitors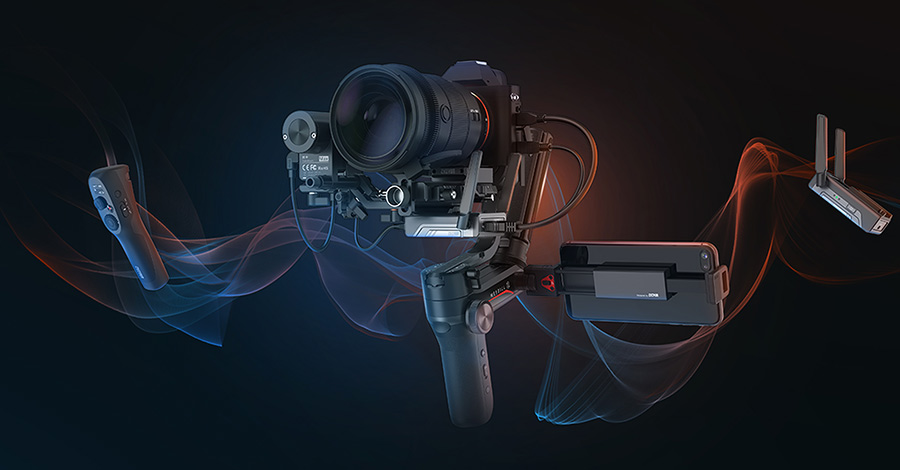 When it comes to motorized gimbals, it's fair to say that DJI is probably on the high end of the consumer market.
They are generally more advanced than their competitors, Zhiyun and Weebill, in terms of technology but more expensive.
It's not that the DJI RS3 is the best gimbal; this will depend on what you really want from your gimbal, as each of the manufacturers offers solid options.
Gimbals or Steadicams ?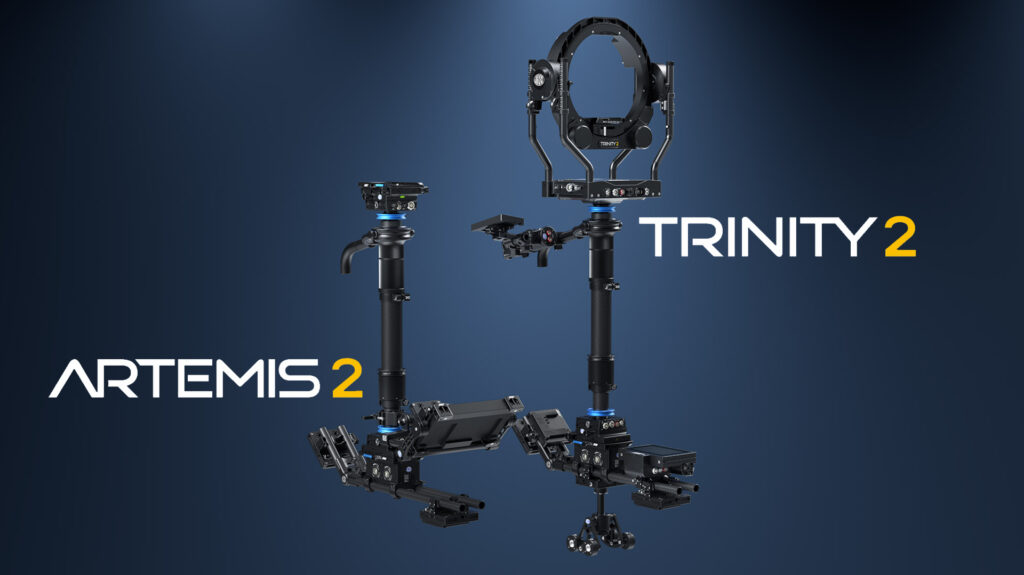 Well, the main difference between both systems is that one is easy to learn and the other is a real craft that needs years of practice in order to produce good footage.
The pros of steadicam are that it is basically natural movement as opposed to robotic movements. It's basically like floating around instead of moving on a machine, if this makes sense.
For me, Steadicams are less distracting, but when well used, gimbals can be absolutely amazing too. Think of Fincher's work and how everything is square in the camera movements.
You can also use gimbals as basically a motorized video head. I mean some mechanical video head cost much more than this.
What's new with this DJI RS3?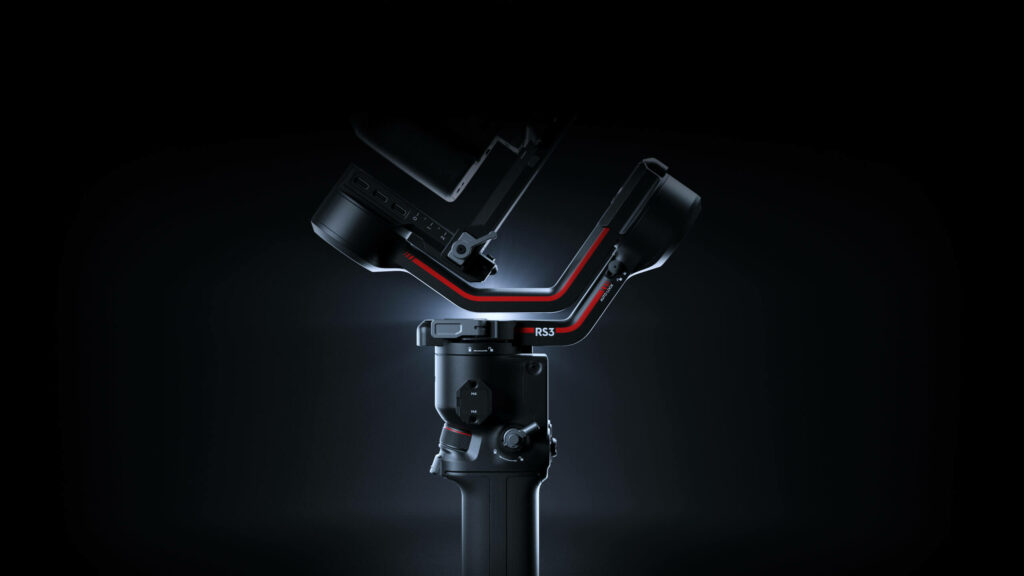 I think the main feature that this Gimbal has over the last generation is an auto-locking feature. This means that you can actually fold your gimbal with one push of a button or even lock it in place for all the times between takes.
The screen is also bigger, and it works with a touch interface that is pretty intuitive. DJI is very good at making touch screen ergonomics, as previously reviewed in our DJI Pocket 2 test, which is essentially a miniaturized DJI RS3.
What are the main features of this gimbal ?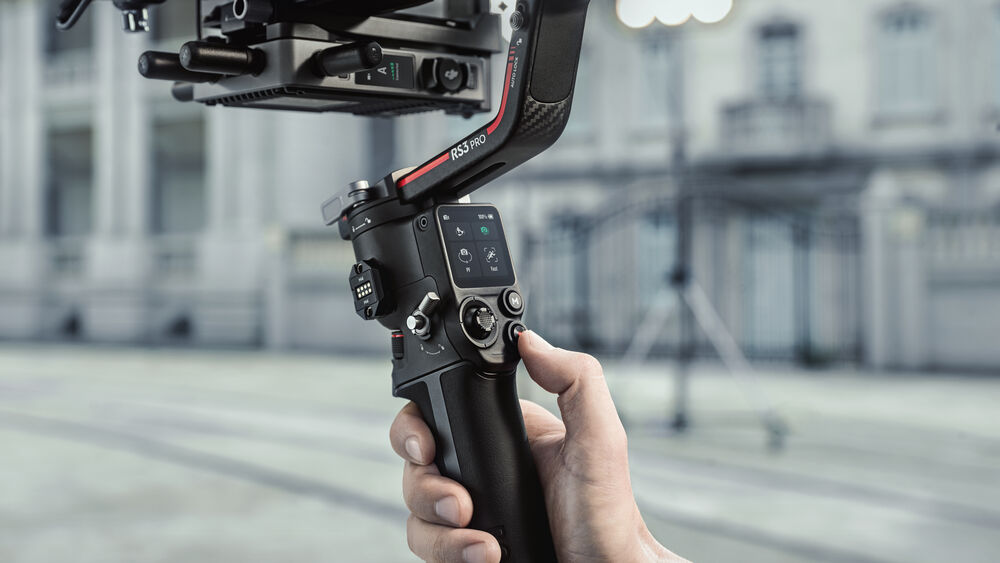 This gimbal is the third iteration of stabilizer so it's a pretty advanced product with a very good value. Gimbals used to cost around 2000 euros before. Now for one quarter of this price you can stabilize your footage.
There are many features, so we will focus on the most important ones:
Auto-lock feature: the Gimbal will lock itself automatically, so you can put it on the floor without the arms fumbling around.
A physical mode switch: this is also a great feature since you will be able to switch from PTF, PF, and FPV.
A quick-release plate system: this one is also huge because we film makers have to be able to switch quickly between handheld and gimbal without the need for rebalancing every time.
A Bluetooth record button is very handy to start and stop recording without having to touch the camera.
OLED touch screen: this is quite handy to set up and quickly configure your gimbal.
Wired connection for focus: you can actually control the focus of your camera by connecting it to your camera and controlling it with the front wheel.
A removable battery: like Hasselblad, the grip is the handle and the battery last for 12 hours.
What are the different models ?
There are essentially three models now:
DJI RS3 Mini is essentially a lighter version without the auto-lock feature and with a lower payload of 2 kg.
DJI RS3 is the regular version of the gimbal with a maximum payload of 3kg.
DJI RS3 Pro is made out of carbon fiber, has a maximum payload of 4.5 kg, and is delivered with more accessories in a bundle, such as focus motors and a briefcase handle.
Which model to chose ?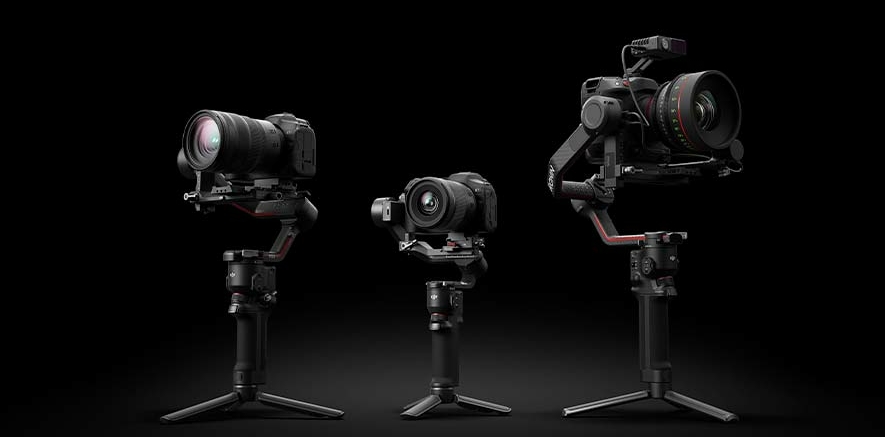 There are multiple options since, obviously, each person has their own needs. Basically, if you are looking for the lightest possible setup, the mini seems to be the way to go, under the condition that your camera and lens don't exceed 2 kg.
I think if you are using primes or a lightweight zoom, this gimbal will still do its job. It's perfect for travelers who are looking for a small footprint. Note that the mini doesn't have a removable battery, but most of us won't buy extra batteries anyway.
For people who are looking to use a large camera with a cage and use Lidar for focusing their lenses, I would highly recommend choosing the Pro bundle version. It comes with lidar and a focusing motor. So if you are using a professional camera with manual-focus lenses, this will automatically be your choice.
Finally, for people like me who are using a Sony A7S III or FX3 camera with mostly native lenses, the DJI RS3 is more than adequate to shoot and travel around. It fits in one compartment of my backpack and is fairly light.
My experience with this gimbal
So far, my experience with the gimbal has been great; it's extremely easy to get stable shots compared with my Glidecam 2000.
There's also a bunch of stuff you can do with it, like spin the camera in a 360° motion around its axes.
The interface is well made, and since I am also using a Pocket 2, I am used to its ergonomics. I didn't have that many opportunities to use it since, as soon as you are using a gimbal, you attract a lot of attention, which I do not like.
The DJI RS3 is fairly easy to set up. Perhaps the only downside is that every time you change lenses, you'll need to rebalance the Gimbal on the field, which is not the most comfortable thing to do.
As a prime lenses user, I tend to favor zooms on a Gimbal for practicality. Panasonic has built a new set of lenses that, like cinema lenses, are the same size, weight, and front diameter. This is super handy for switching lens without having to rebalance or fumble with step up rings.
It would be so handy, if there was motors to automatically balance the gimbal. I think this would be a killer feature.
I am still learning how to use this gimbal and I think it will take many years to perfect the craft like Brandon Li does.
The cons
Two things I've noticed while using the DJI RS3 are that the tripod foot, when screwed firmly in, will make the glue on the bottom of the battery grip go out.
One other odd thing is that when I charge my battery on my laptop using the original cable, when it's full, the battery will make a clicking noise that is quite frightening.
The battery grip lock mechanism is a bit weird; it doesn't just clip; you have to clip it and then tighten it which is not the most intuitive operation.
Verdict
8.8 out of 10.
The DJI RS3 is a very mature product. You can feel that it's not the first iteration of the product when you use it.
The ergonomics are pretty much nailed by now, and the gimbal is as easy to use and set up as it can be at the moment.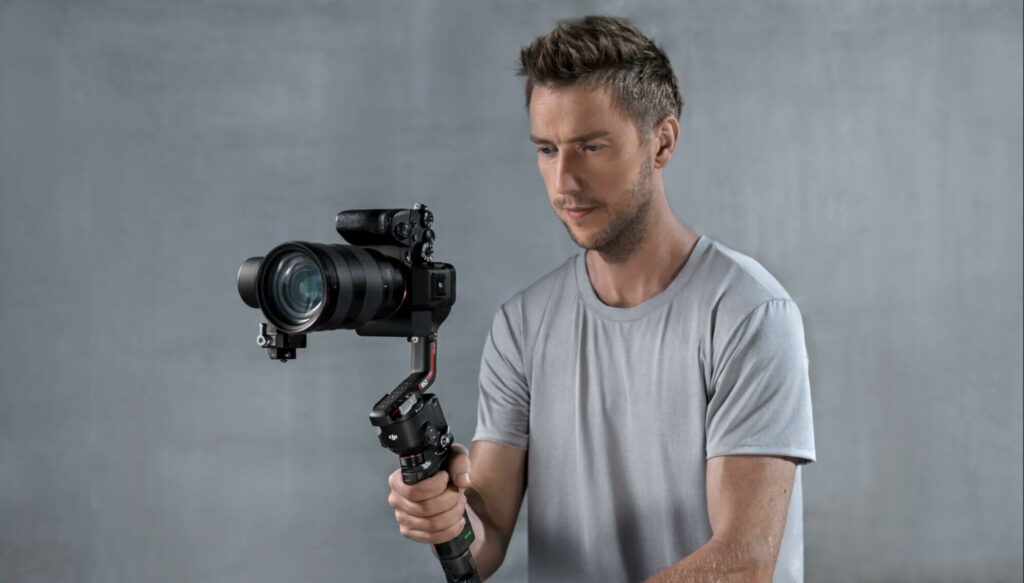 The RS3 comes in different versions to fit your specific needs. The RS3 Pro is highly upgradeable, even if it has a maximum payload of 4.5 kg.
I still believe you can mount an Alexa Mini on it, but to be fair, it will have to be a minimalistic setup. Still this a good thing, it means that this product can follow you along your journey and scale with your projects.
I think you can't go wrong with choosing this brand, I would even say that it's the safest choice when it comes to motorized Gimbal.
Informations
DJI RS3
Website : https://www.dji.com/fr/rs-3
Facebook : https://www.facebook.com/DJI.FR/?locale=fr_FR
Video Production : https://www.neonnight.fr