One of the best thing in Vietnam is that eating delicious food doesn't necessarily means breaking the bank. There are actually tons of options that are very affordable for most people. We'll try to cover some of the most famous ones in this article.

1. Cơm Bình Dân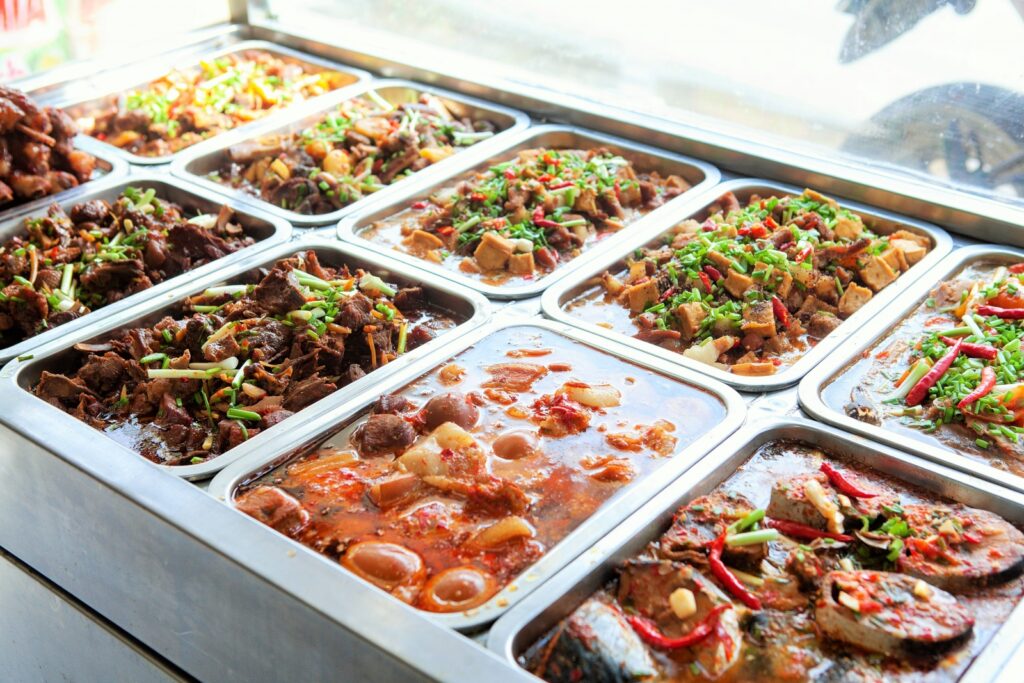 Cơm Bình Dân is like traditional Vietnamese Home Food but buffet style. If you want to eat a diversity of food with a bowl of rice, this is the best choice. Most workers will eat there several times a week as it is convenient and there are a lot of variety. Also because you can make a healthy and balanced meal out of this places.
Our pick : Cơm bình dân – kiot 1 Tạ Quang Bửu , Hai Bà Trưng
2. Bánh Mì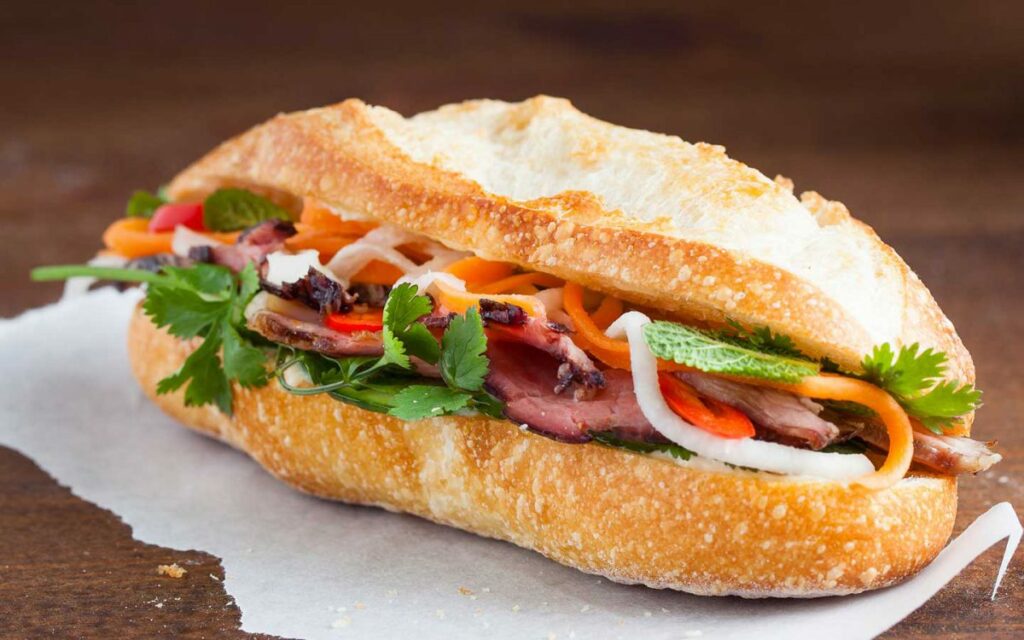 Bánh Mì which is basically the Vietnamese version of a Sandwich, is the most convenient food to eat on the go. It is absolutely delicious. A perfect balance of acidity, cold salty meat and pâté with a touch of fresh herbs. Obviously this Sandwich can vary a lot in price and quality. You cannot go wrong with a Saigon or Hoi An style.
Our pick : Bánh Mì Hải Mập 86 P. Trần Đại Nghĩa, Đồng Tâm, Hai Bà Trưng, Hà Nội
3. Xôi Mặn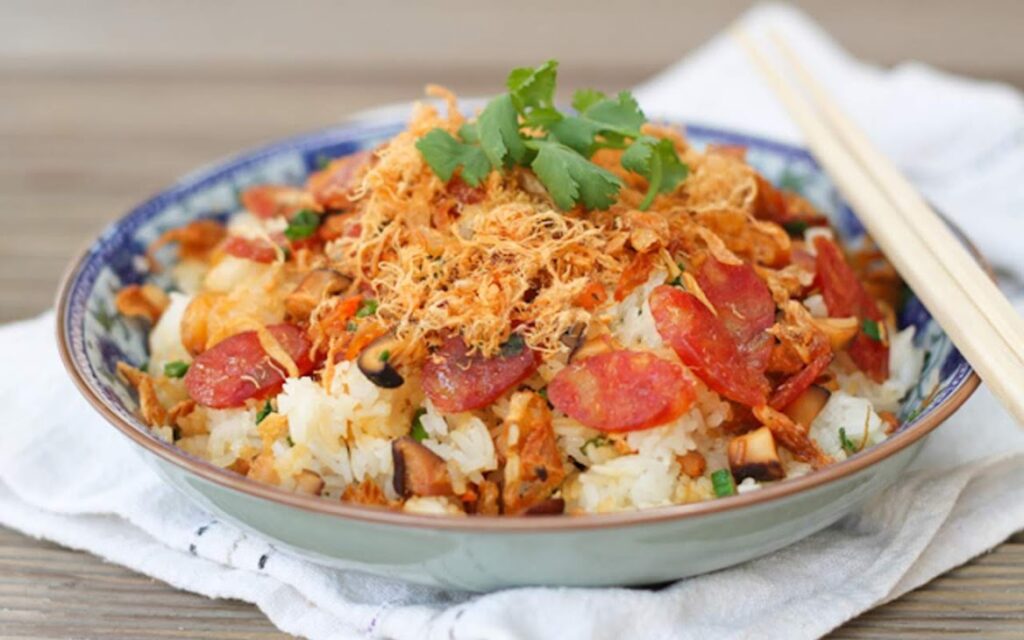 Xôi Mặn or Salty Sticky Rice is the kind of food you want to eat if you want to feel satiated for a long time as Sticky Rice is very long to digest and to transform into sugar in your body. This dish can have a variety of topings, from Lap cheong (Lạp xưởng) to Char siu (Xá xíu) to Ruốc (Dry meat). You can also have the classic version Xôi Xéo : Yellow Sticky Rice with Mashed Green Beans, Fried Shallots and Chicken Fat.
Our pick : Xôi Yến – 35B Nguyễn Hữu Huân, Hoàn Kiếm
4. Phở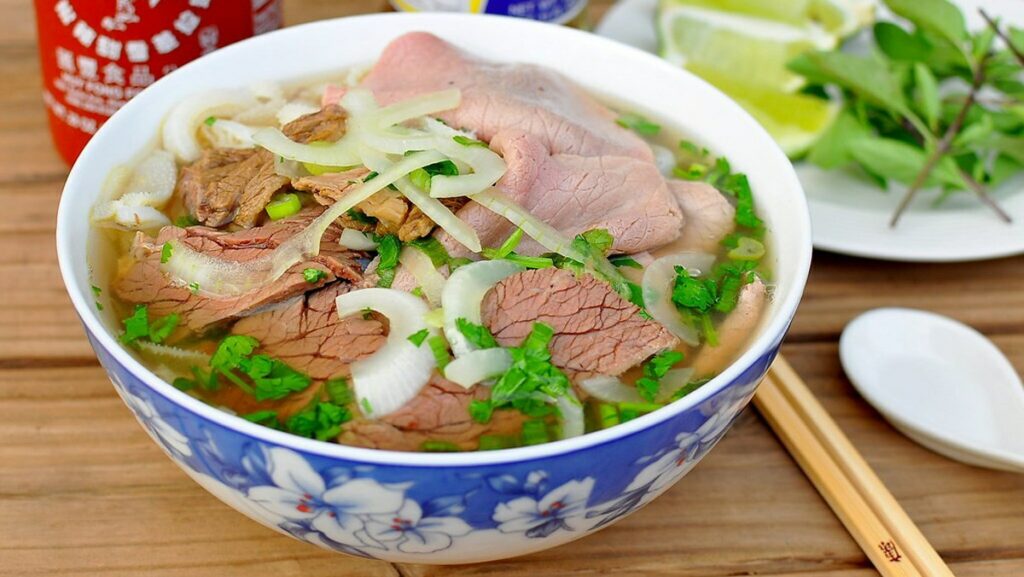 Phở is a well known dish around the world. There are several versions of this dish Phở Gà : the chicken soup and Phở Bò : the beef soup. The chicken soup is usually a tad cheaper and easier to digest and the broth can be a bit spicy as they often add Ginger and Pepper. The flavor of the Beef Broth is unbeatable in my opinion and for the most affordable version of it avoid Đặc Biệt choose something like Tái Gầu if you too love the flavor of beef fat.
Our pick : Phở Gà – 48 phố Trạm , Long Biên / Phở bò – 1 Trạm , Long Biên
5. Nem nướng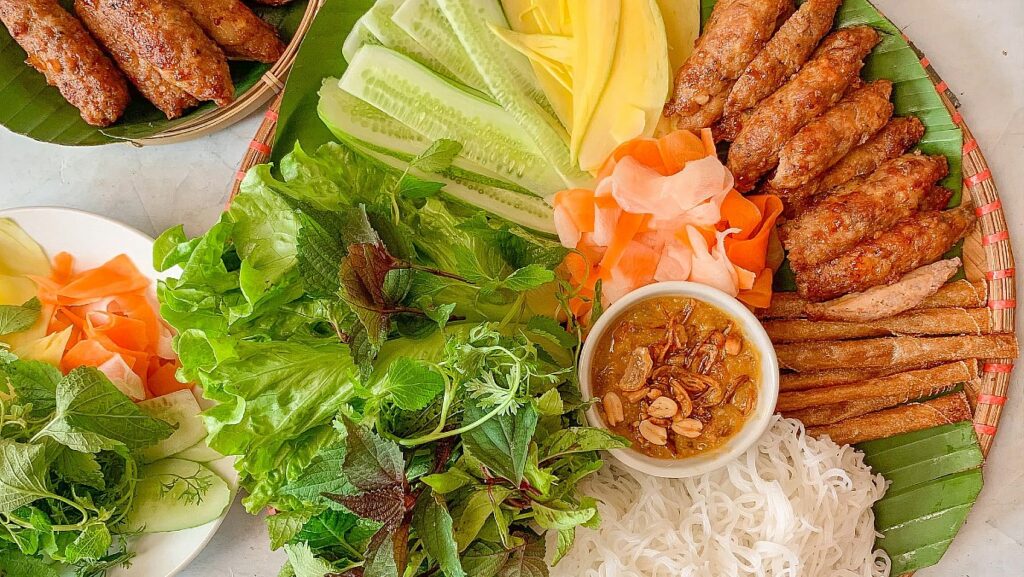 Nem nướng is a delicious dish originating from Nha Trang. It's basically a pork meat barbecued roll with vegetables, leafs and vermicelli (Bún). This dish is one of the affordable and balanced option. The sauce is very interesting as it have a mild taste. You can substitute it with Nước Mắm or more precisely Nước Chấm if you like it. The Bánh Tráng Cuốn or Rice Paper Wrappers is slightly salty and eaten dry.
Our pick : Nem nướng Nha Trang – 39 ngõ 189 Nguyễn Văn Cừ, Long Biên
6. Bún Bò Nam Bộ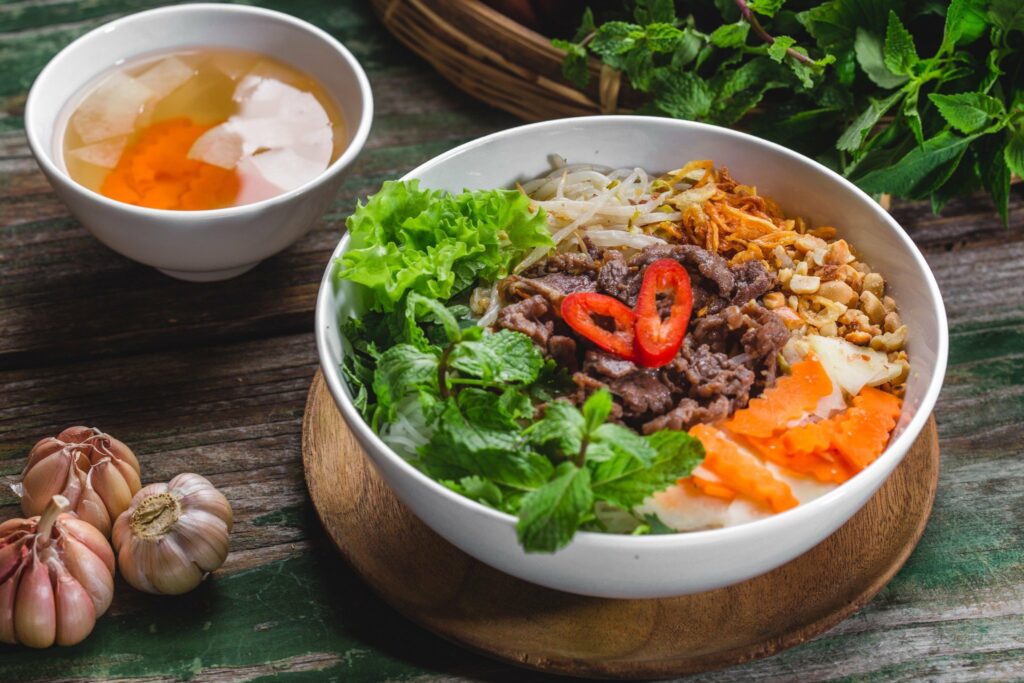 Bún Bò Nam Bộ also called Bò Bún in France is probably the second most popular Vietnamese Dish in Foreign Countries. This taste will easily be enjoyed by most as the ingredient are fairly well known and mixed together form a delightful symphony of tastes. In Vietnam you will sometimes have to option to choose between Nem Rán (Nem with Pork) or Nem Hải Sản (Nem with Sea food) which can include Tôm (Shrimp), Cua (Crab) or Bề Bề (Mantis Shrimp).
Our pick : Bún Bò Nam Bộ Cửa Đông 67 Hàng Điếu, Cửa Đông, Hoàn Kiếm, Hà Nội
7. Bánh Cuốn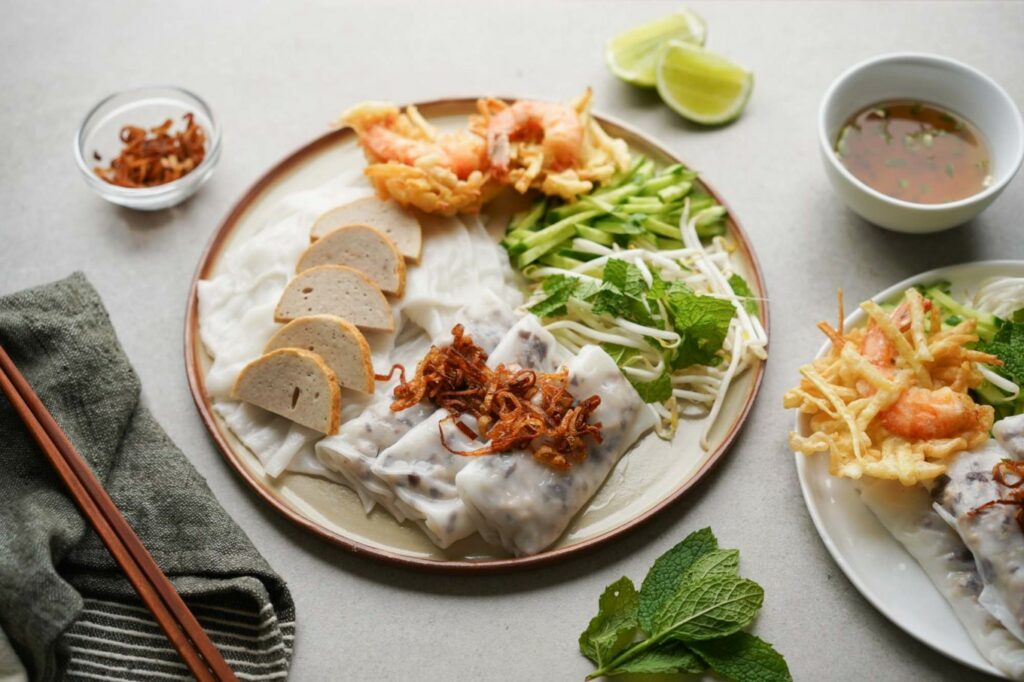 Bánh Cuốn is a type of rolled food more precisely a mix of rice and tapioca flower cooked like a crepe and rolled with grounded pork meat, mushroom ear, garlic, onion and sometimes Jicama (Cây củ đậu). All of these rolls mixed with some fried shallots, leafs and sometimes Chả Quế (Roasted Cinnamon Pork). Of course the whole dish is drizzled with Nước Mắm for maximum gustative pleasure.
Our pick : Thị Bốp – Bánh Cuốn Tôm & Chả Tôm Nướng Ngõ 124 Vĩnh Tuy, P. Vĩnh Tuy, Quận Hai Bà Trưng, Hà Nội.
8. Cháo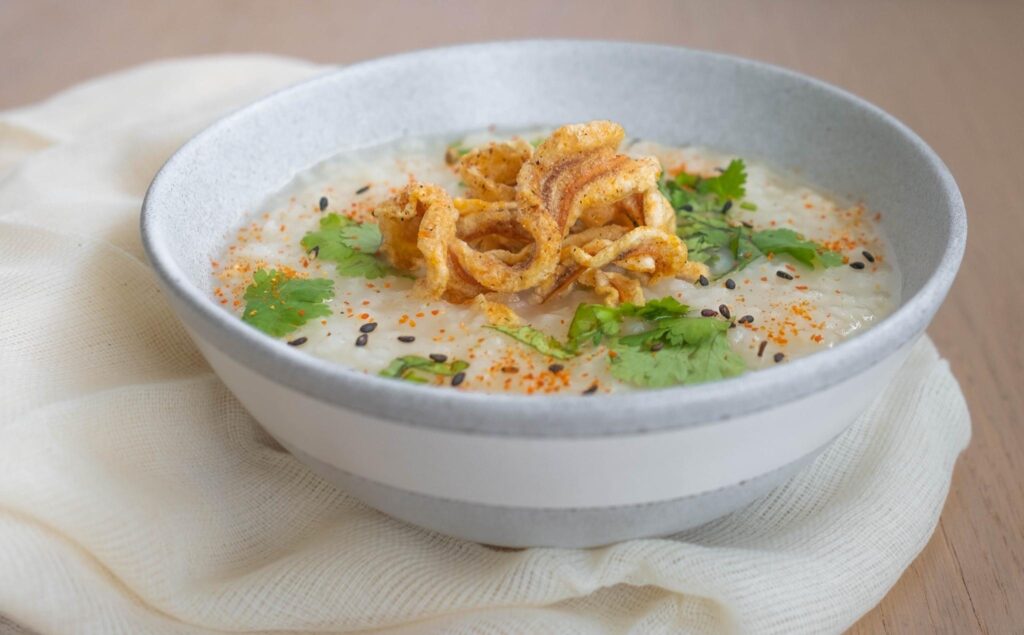 Cháo or Porridge in English is the perfect food for people recovering from illness. This magic soup is actually very simple to make, just a bit of white rice and a lot of water. There are different types of Cháo, some of them have their rice more or less grounded. The topping on this porridge is actually what will make the difference in taste. This topping can vary from Grounded Pork Meat, to organs like Heart, Intestine, Bones, Shrimp, Fish or Carrot and Potatoes. If this porridge is too healthy for you, you can always add some Quẩy (Youtiao Chinese Doughnut).
Our pick : Cháo sườn Thọ Xương – 1 P. Tống Duy Tân, Hàng Bông, Hoàn Kiếm, Hà Nội
9. Hủ Tiếu Nam Vang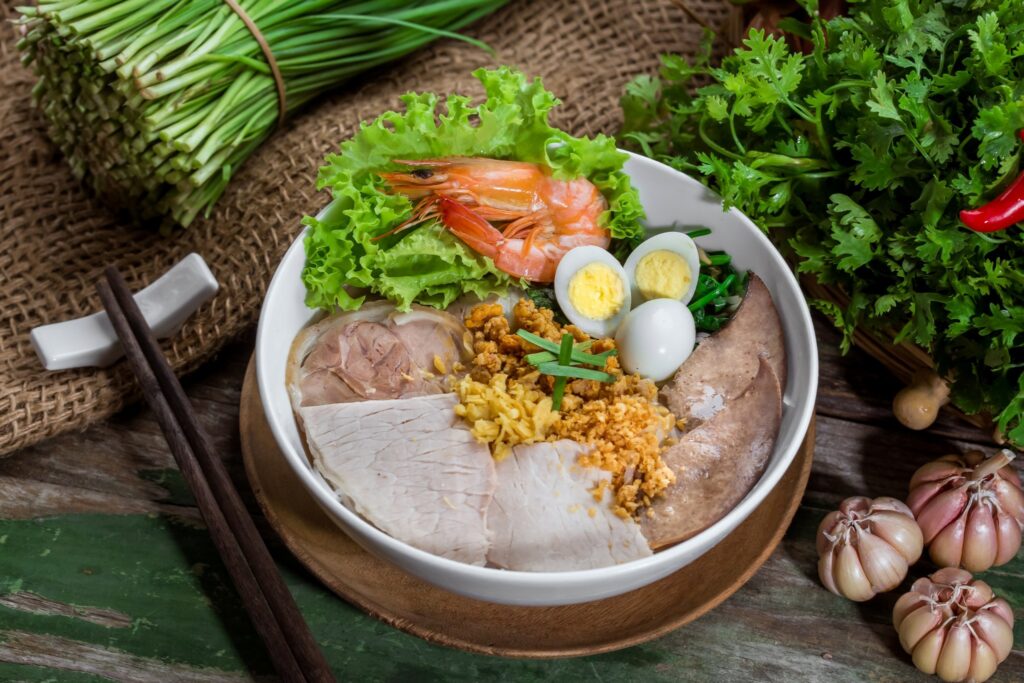 Hủ Tiếu Nam Vang is actually one of my favorite dish. You can eat it in a soup or Trộn (Dry) with the soup on the side. This dish have a very different taste whether you are in the North or in the South of Vietnam. The ingredients are fairly the same : grounded, sliced and pork leaver, shrimp, squid, bird eggs and some vegetables. The soup from the North have numerous leafs that taste very strong Garlic Chives and sometimes Chrysanthemum Greens. The south version of this dish is sweeter and more close to the famous Cambodian soup Phnom Penh.
Our pick : Cháo sườn – 71 Phùng Hưng, Hoàn Kiếm
10. Cơm Rang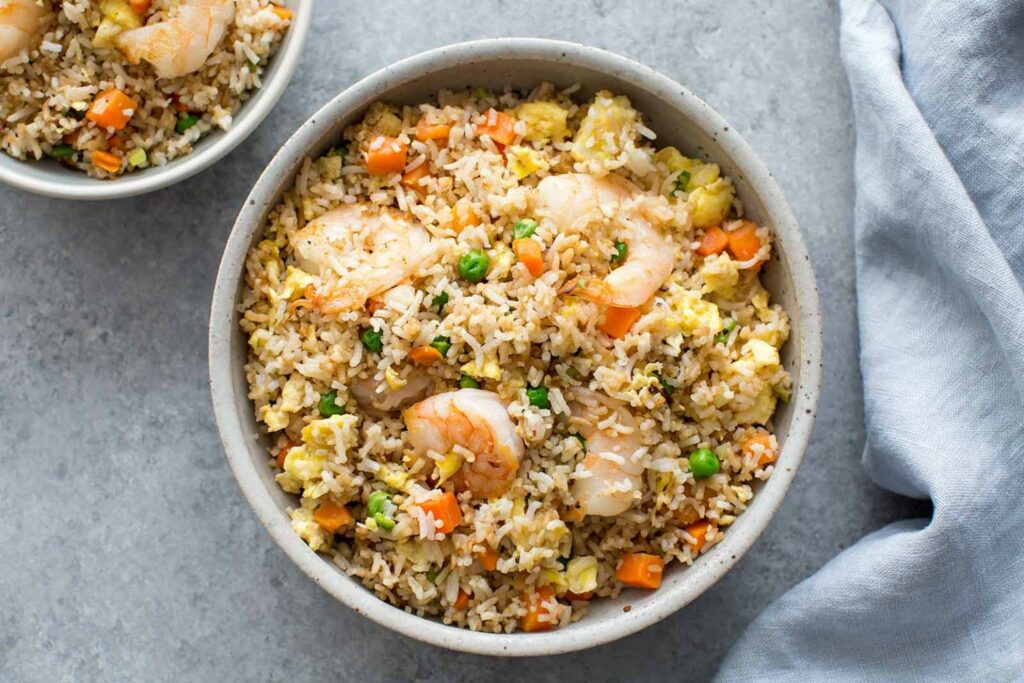 Cơm Rang is basically fried rice with different mixtures. I don't know if we can call this one healthy but the crispiness of the rice will definitely make your mouth appreciate. In my parents home we usually make this fried rice when we are lazy to cook with the fridge's leftovers. Put a bit of Nước Mắm sauce from the bottle and Voilà !
Our pick : Cơm Rang Đức Hạnh – 38 P. Mã Mây, Hàng Buồm, Hoàn Kiếm, Hà Nội