Viet Thai Gourmet is a restaurant located in Noisiel, not too far from the market. It's not necessarily the nicest area of the region, but at least there's some life over there, very reminiscent of markets in countries like Tunisia or Vietnam.
It was our first time trying this restaurant on a Friday night. Let's see if this restaurant is an interesting place for you to try as an Asian food lover.
The location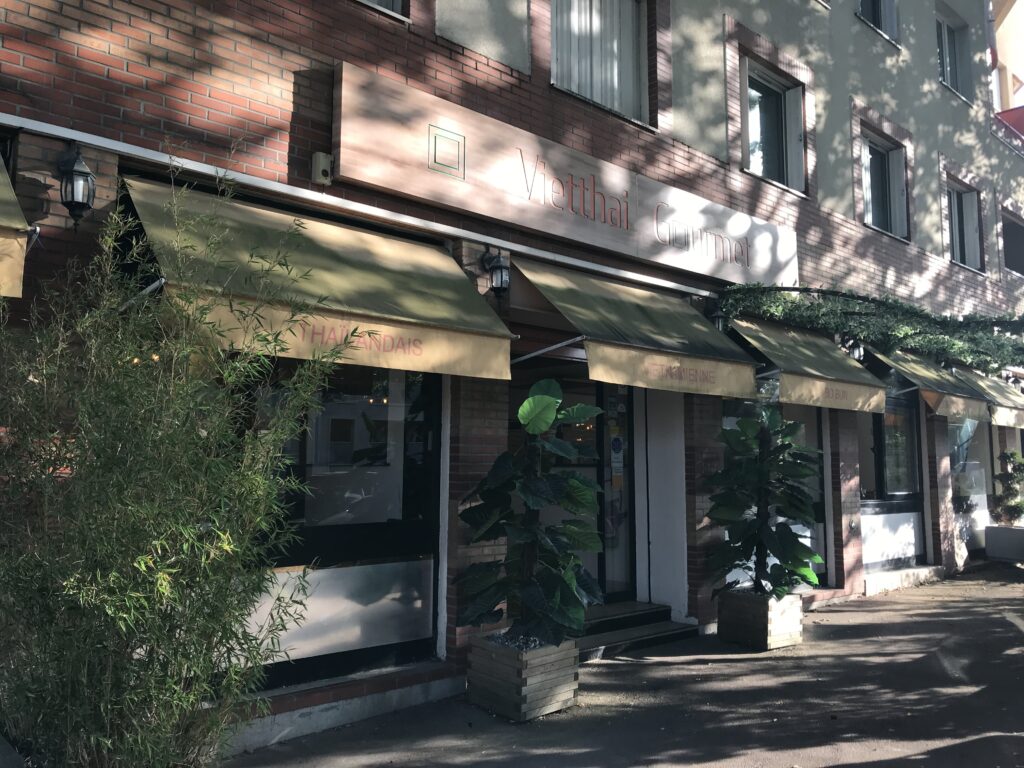 Viet Thai Gourmet is a restaurant 100 meters away from the Market of Noisiel; perhaps it's not even that far. So technically, it's pretty well situated. But at the same time the area is not the safest and is jam packet. I guess you can't have the best of both world in France.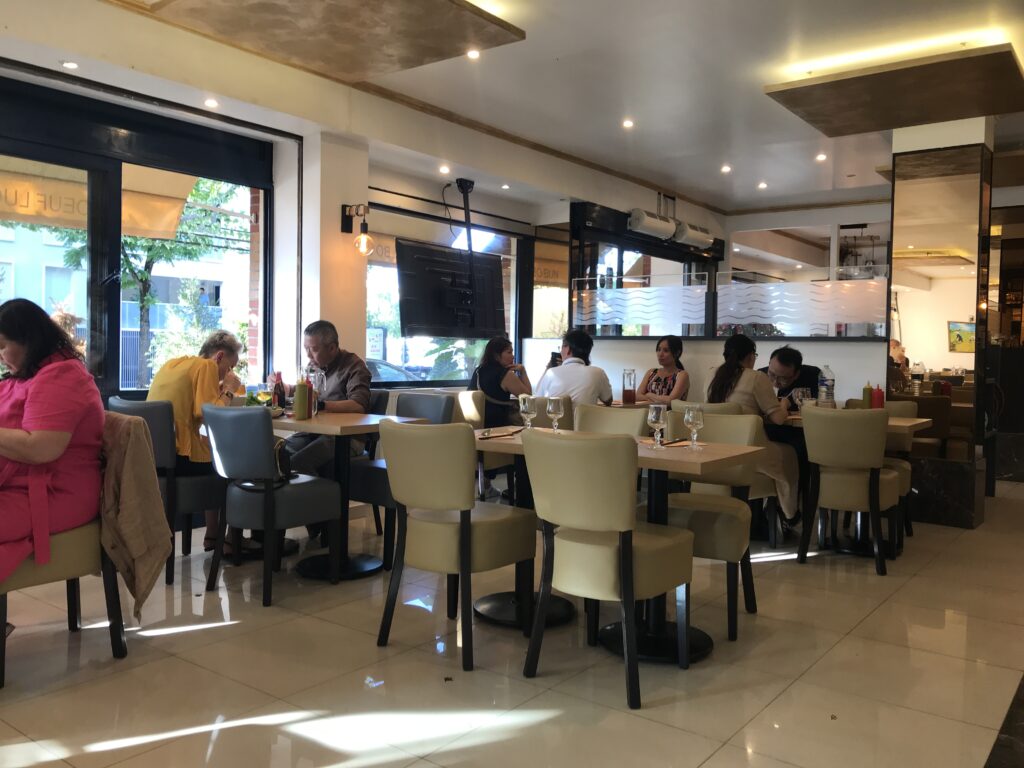 The restaurant is very big, and there are tons of tables and space inside it. There are also a lot of windows and light inside. There's even a big screen that can be seen from the outside.
There's also a bar at the entrance where you can sit and have a drink, but honestly, it doesn't sound that inviting since it's at the entrance of the restaurant.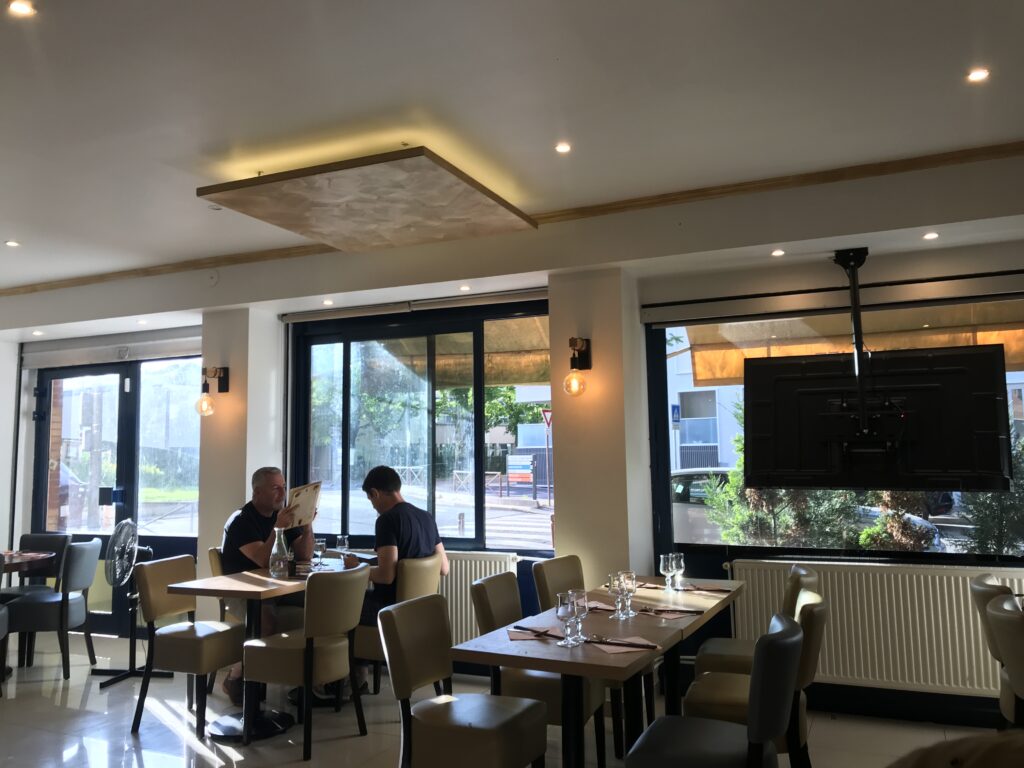 There's even a second room in the back, which is quite large as well and is separated by a well with fish tanks. Quite an interesting design.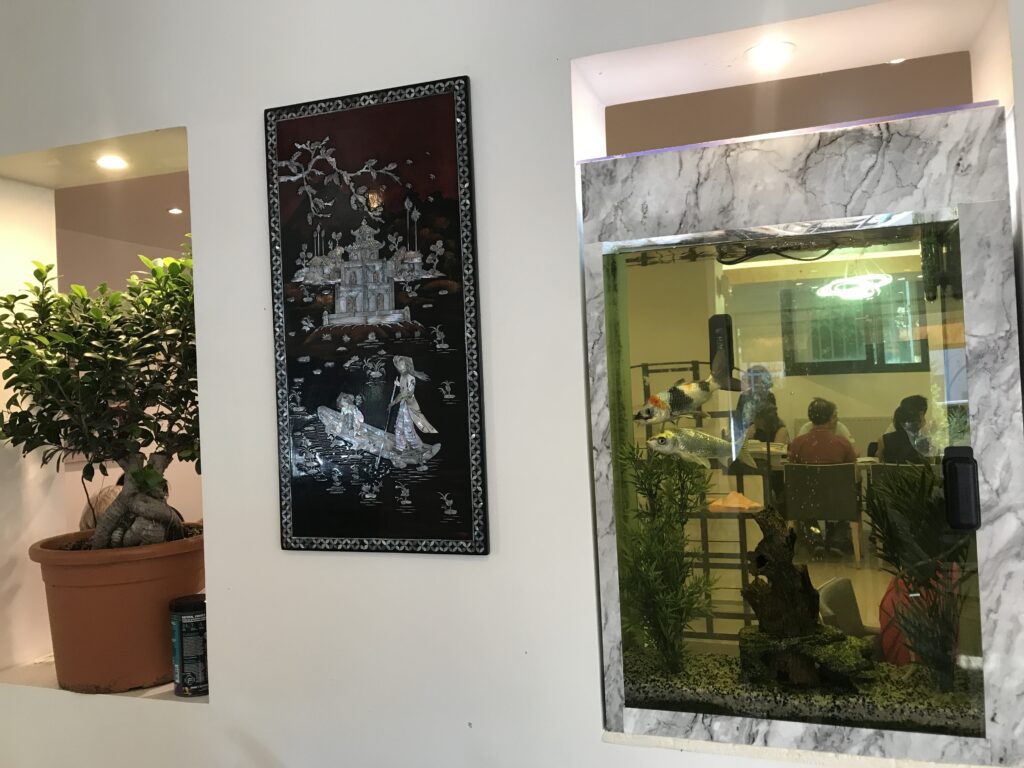 This second room is actually quite big; you could organize a birthday party in there with ease and reunite with around 30 people.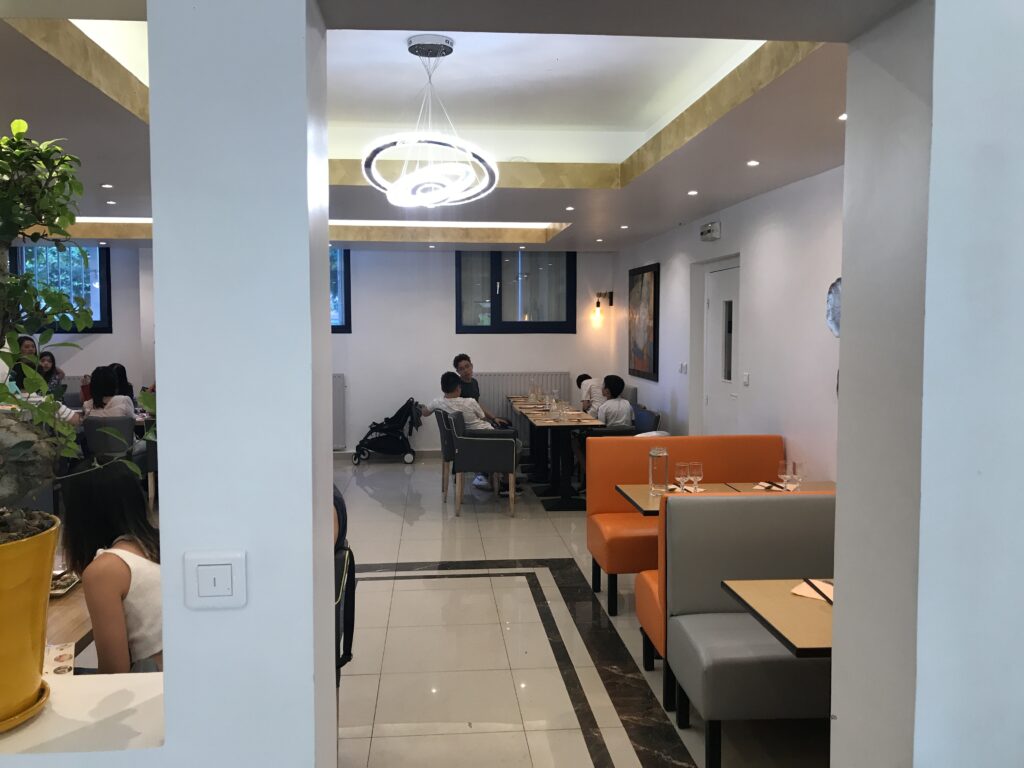 Overall, the restaurant looks good, has tons of real estate, and the decoration looks rather nice. It's very bright and feels very open inside. Perhaps the only thing is that there seems to be a lack of cohesion in the colors.
The restaurant looks better than most already, so there's nothing to complain about here.
The menu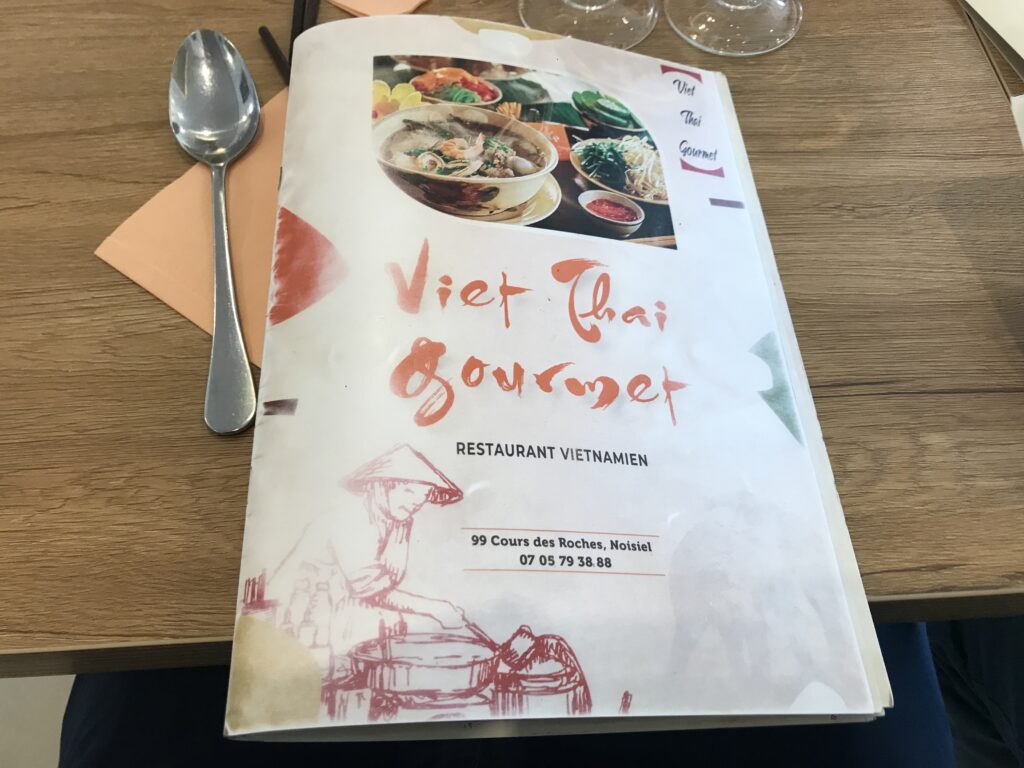 The menu of Viet Thai Gourmet
Viet Thai Gourmet is basically a Vietnamese restaurant, although the name suggests that it's both Vietnamese and Thai.
The menu is a book made out of hard plastic. If the menu itself looks quite nice, handling it is quite frustrating since the book always tries to get back to its original form.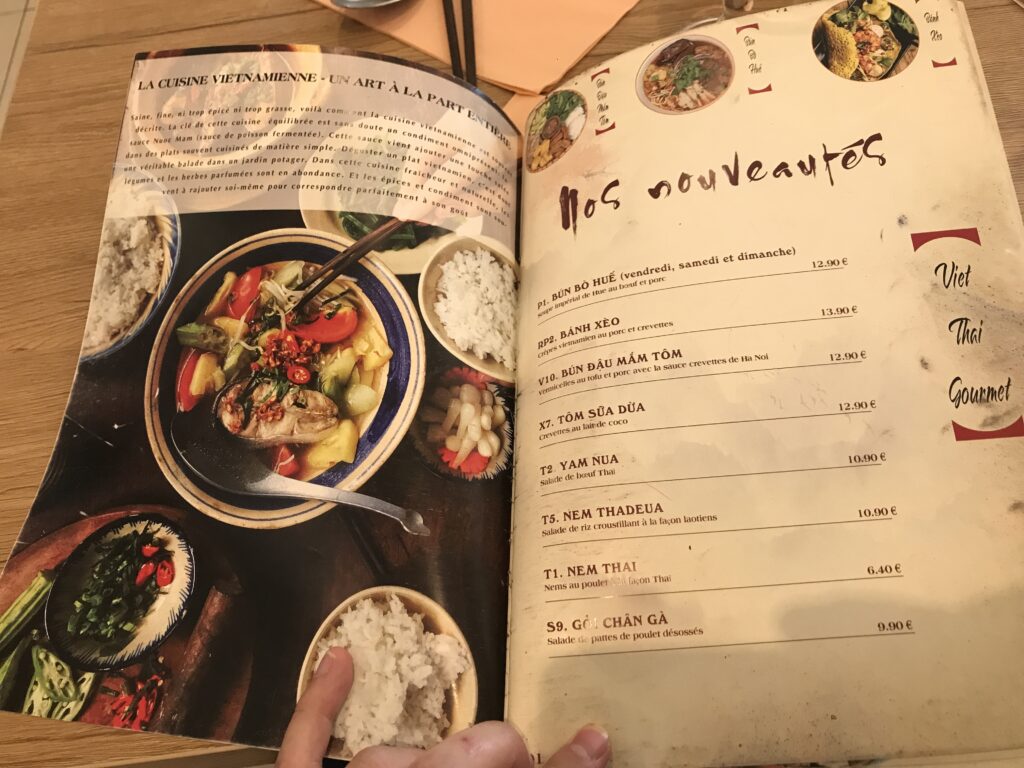 The menu is written in French, but all the dishes are written in their original language, Vietnamese. This is cool, and there's still a second line on the bottom with the translation, or more precisely, the French description.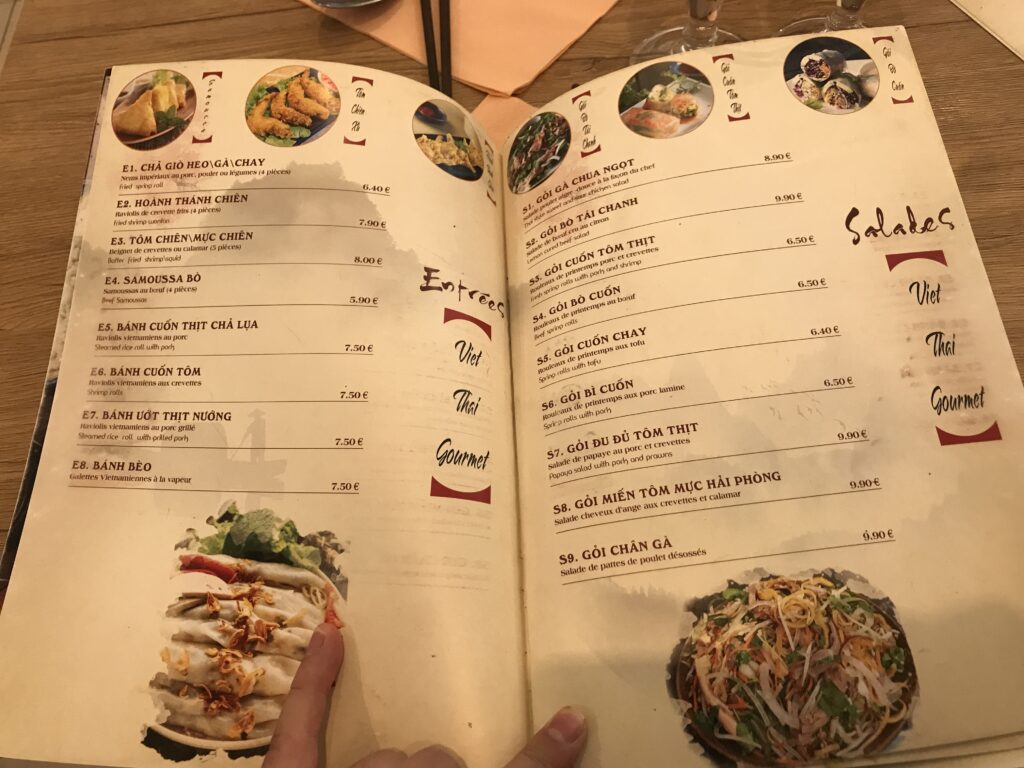 For starters, you'll have all the classics: samosas, spring rolls, fried spring rolls, fried shrimp, banh cuon, and banh beo.
For salads, you'll have many options, such as chicken, beef salad, and much more.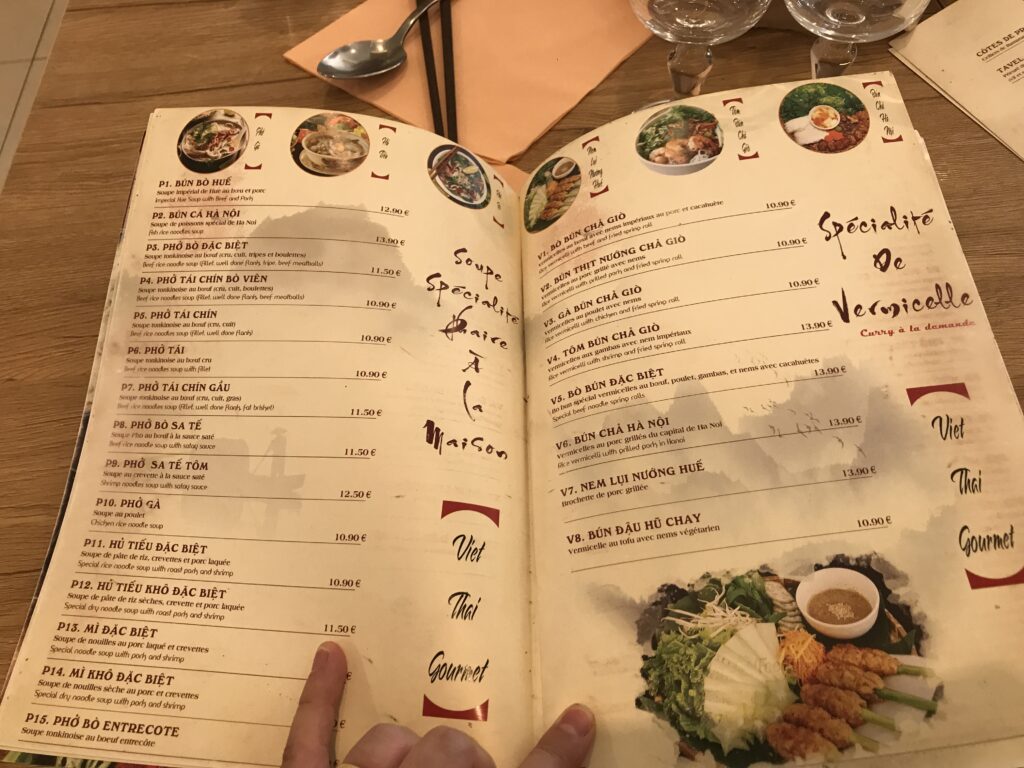 All the classics are present on the menu: Bun Bo Hue, Bun Ca, Pho, Hu Tieu, Bo Bun, and even Bun Dau Mam Tom.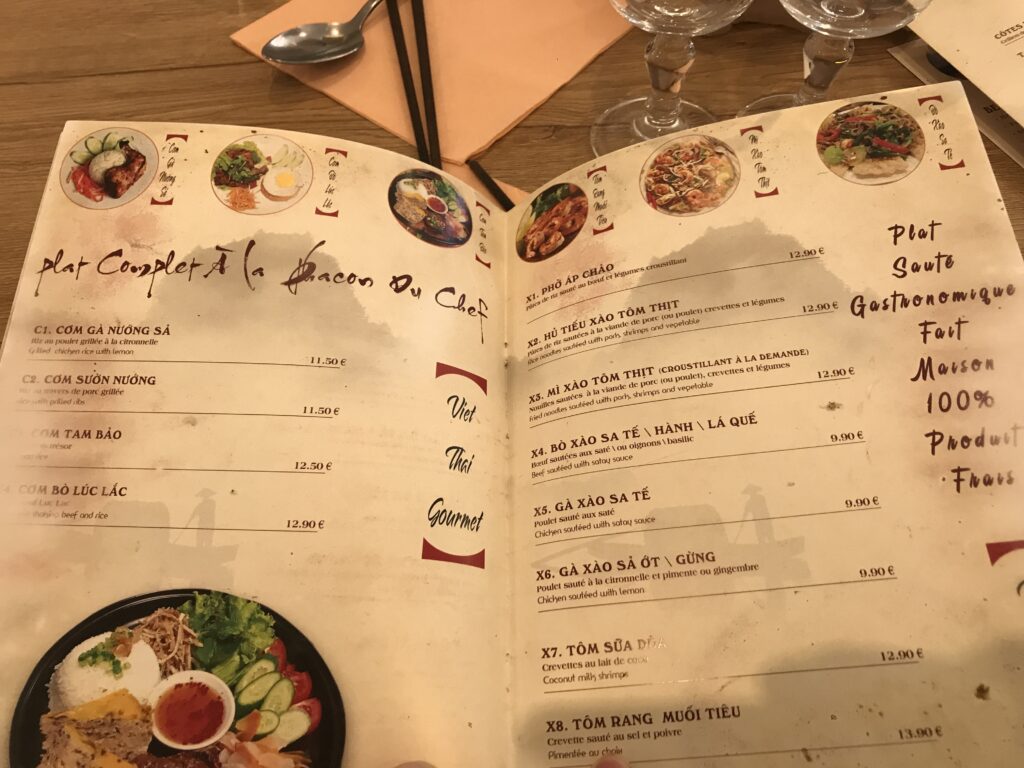 There are traditional dishes from the south of Vietnam, such as Com Tam, which is pork ribs with rice and pork rind; Ca Kho, which is caramelized fish; and other classic dishes.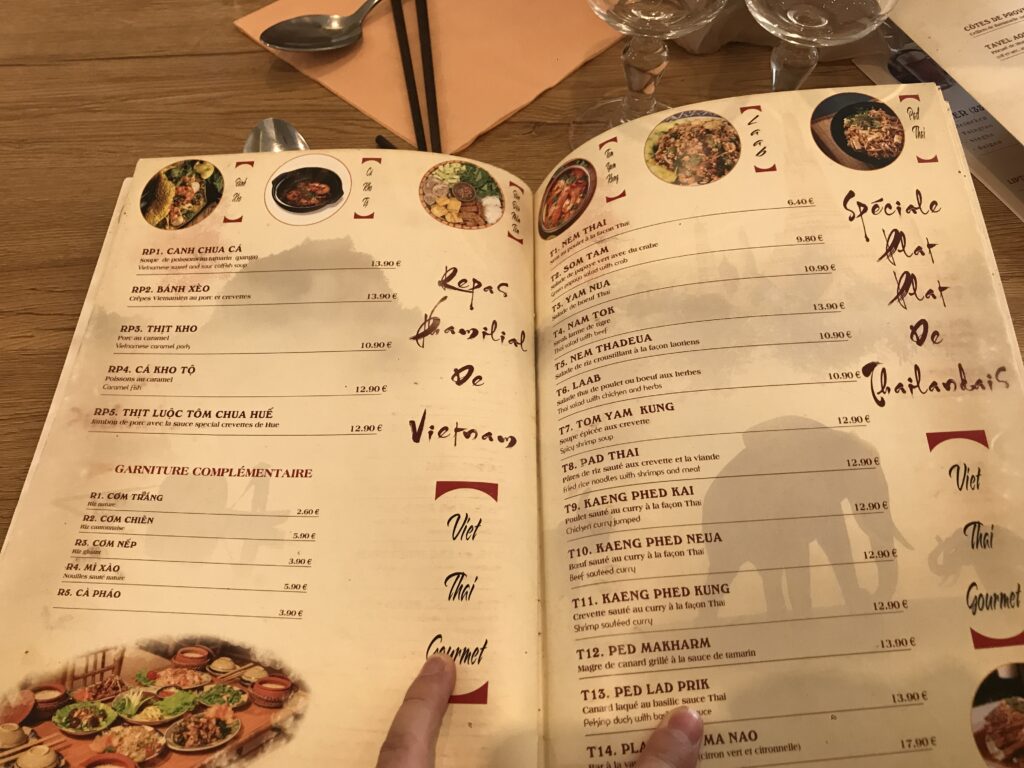 What is interesting about this restaurant is that you also have a part of the menu dedicated to Thai dishes. The most popular selections are present, such as Pad Thai, Tom Yam Kung, PED LAD PRIK, etc.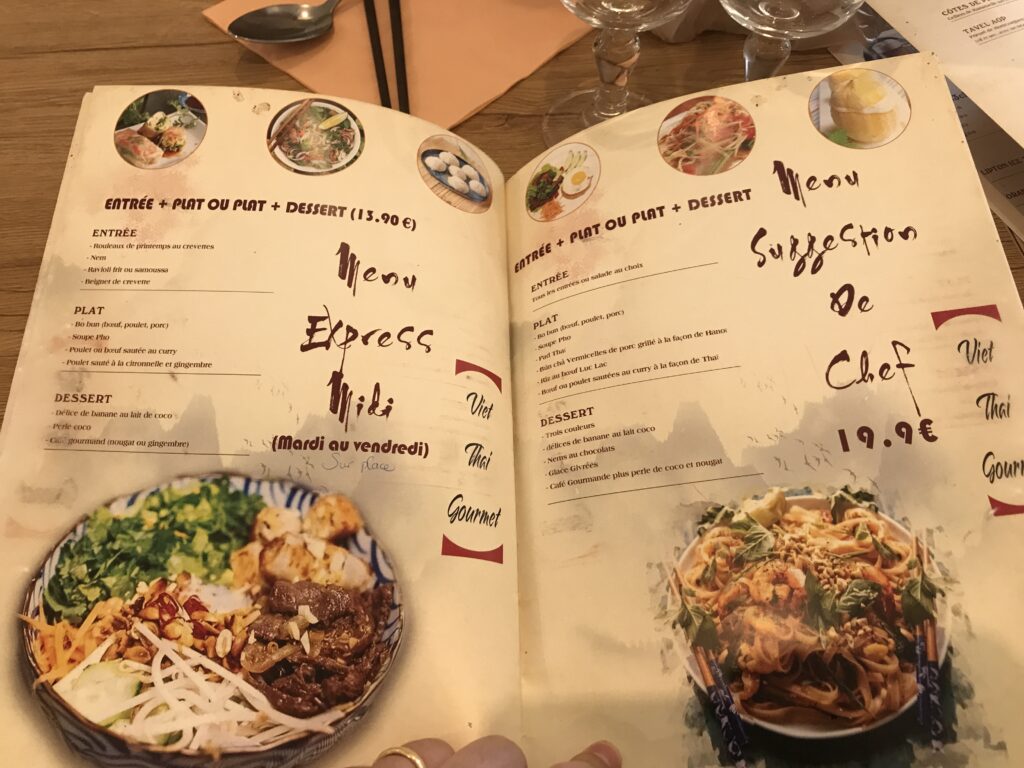 Finally, you have a selection of menu items with an entrance, main course, and desserts. One is specific to lunch, which is usually more affordable since there are fewer people at this time of the day.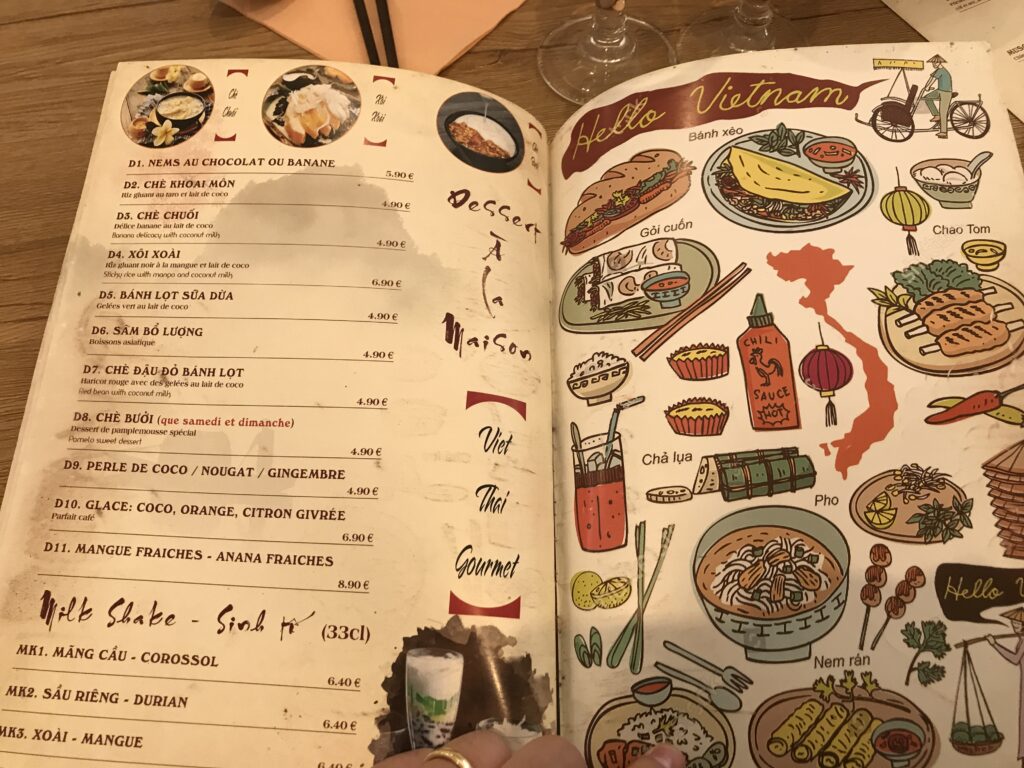 Finally, you have some desserts coming out, mostly from Vietnam. They also have some milkshakes with a combination of fruits. But to be fair, it's probably three times more expensive than what you'll pay in Vietnam.
The experience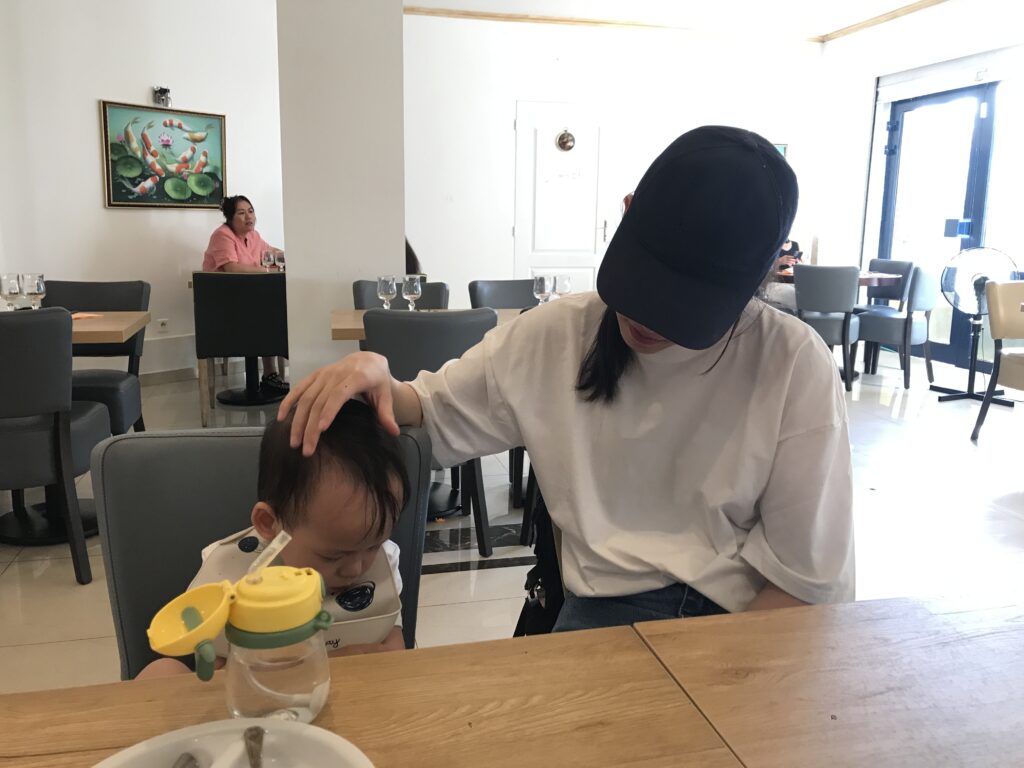 Once we entered the restaurant, we were invited to join a table. After some minutes, a waiter took our order, and from there, it was a very long wait. Perhaps 20 to 30 minutes.
It was in fact so long to receive our drinks which were cane sugar juices, that my dad ordered a San Pellegrino.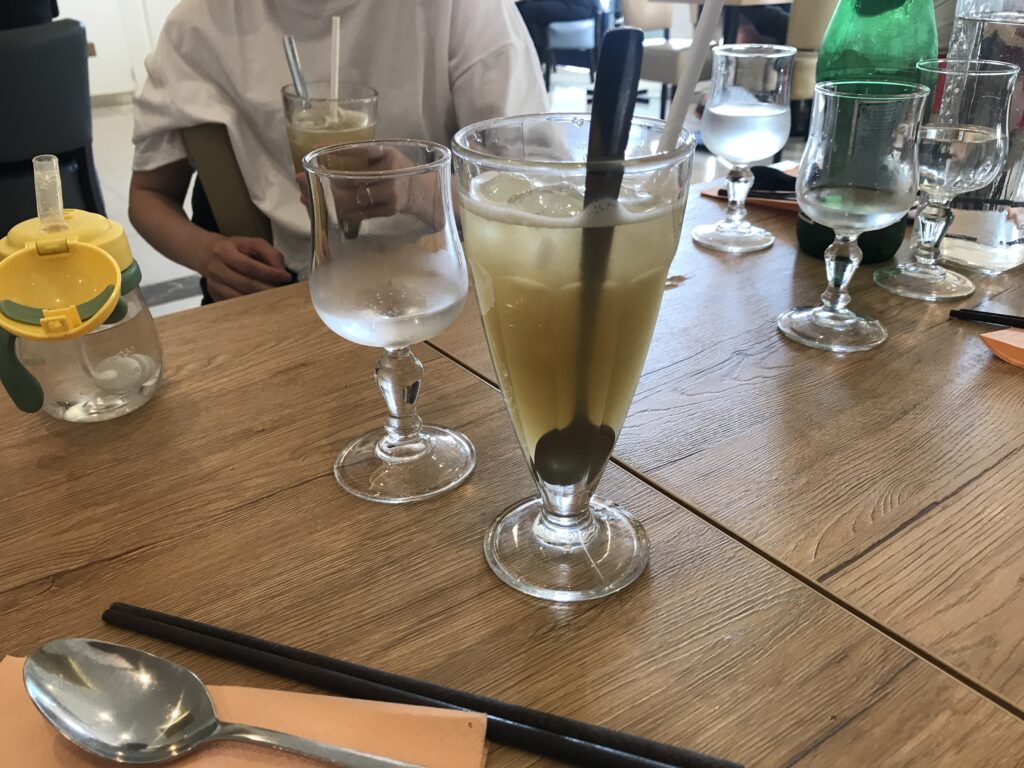 When the sugar cane juice finally came in, we tasted it, and it was slightly different from what we are used to in Vietnam.
First, there wasn't as much ice, and second, the juice was less condensed. It was still a fine drink overall, but it wasn't as good as what we are used to in Vietnam. My wife thinks it's because the cane is old. Which would make sense if it's imported.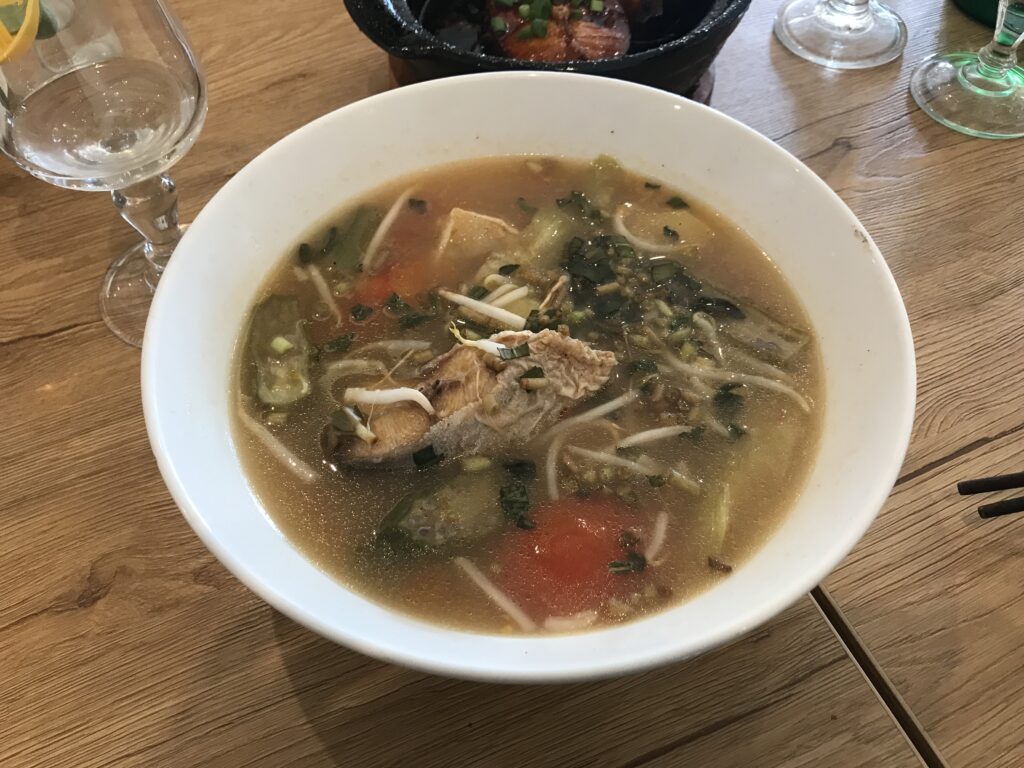 The first dishes to arrive where the canh chua or slightly acid fish soup and the caramelized fish. Both of them looked appetizing. The soup was good, it tasted good and the fish most probably frozen was decent as well.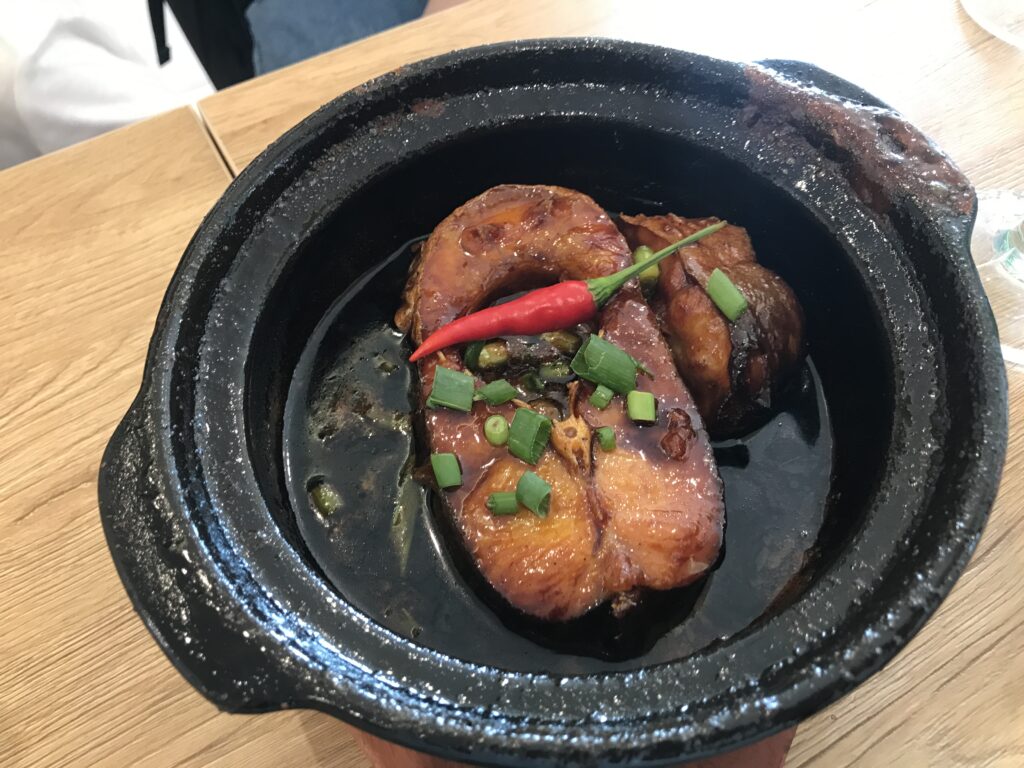 The caramelized fish was good as well, perhaps not as strong in taste as what I am used to with Galangal. I think it looks better than the one we make at home but doesn't taste as good.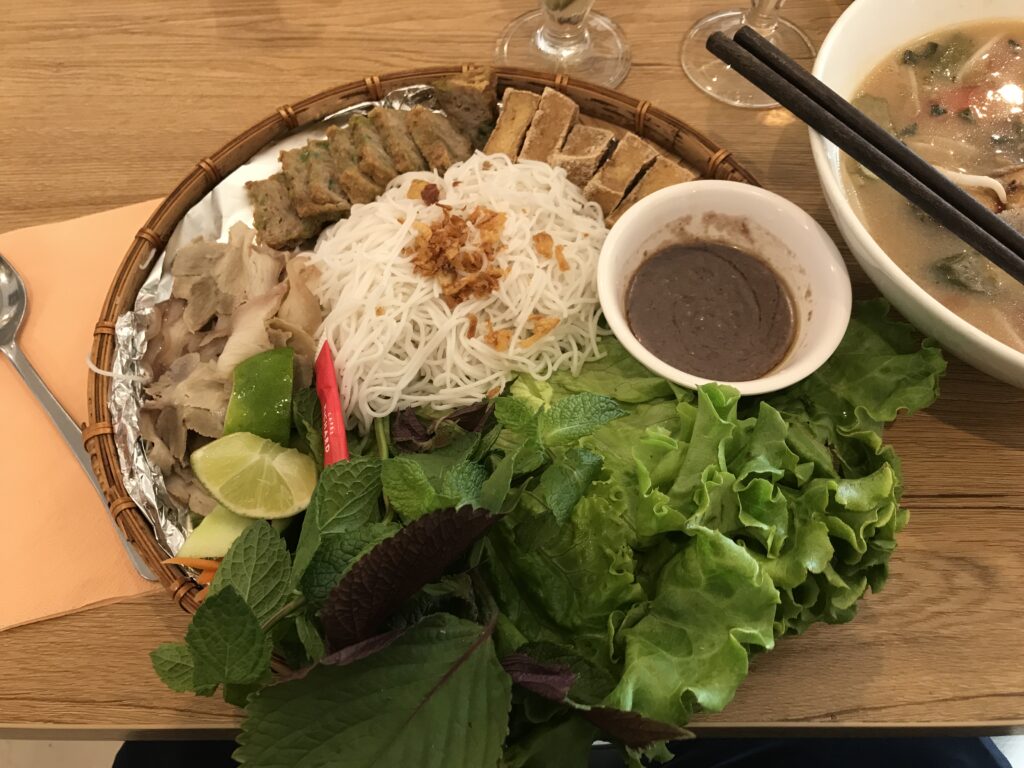 The Bun Dau Mam Tom was extremely well presented, and it came with salads as if the dish was meant to be rolled.
I've never rolled this dish before, and I feel like dipping rolls with my hands in fermented shrimp paste is not the best idea.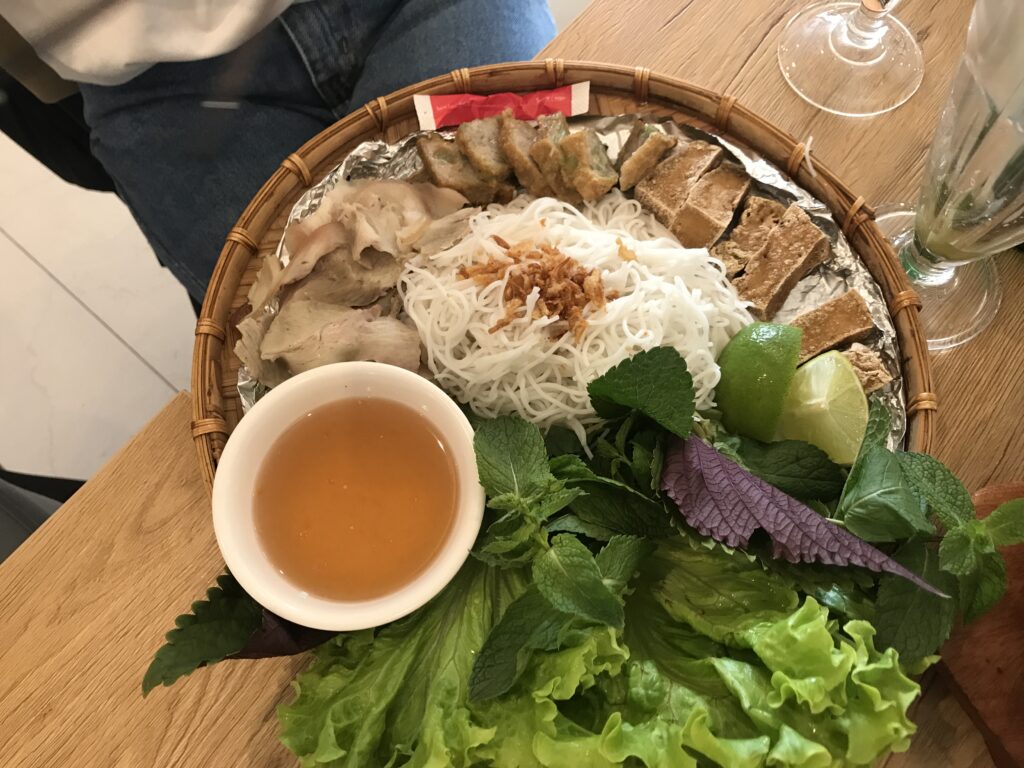 My wife ordered the same dish, and we found it to be decent but not as good as when you eat in Vietnam. For example, the Bun is not cut for you to dip with ease in the sauce. The shrimp paste was so strong and salty that two quarters of a lemon wasn't enough to balance it.
Overall we wish we ordered something else, something simpler.
Verdict
7.8 out of 10.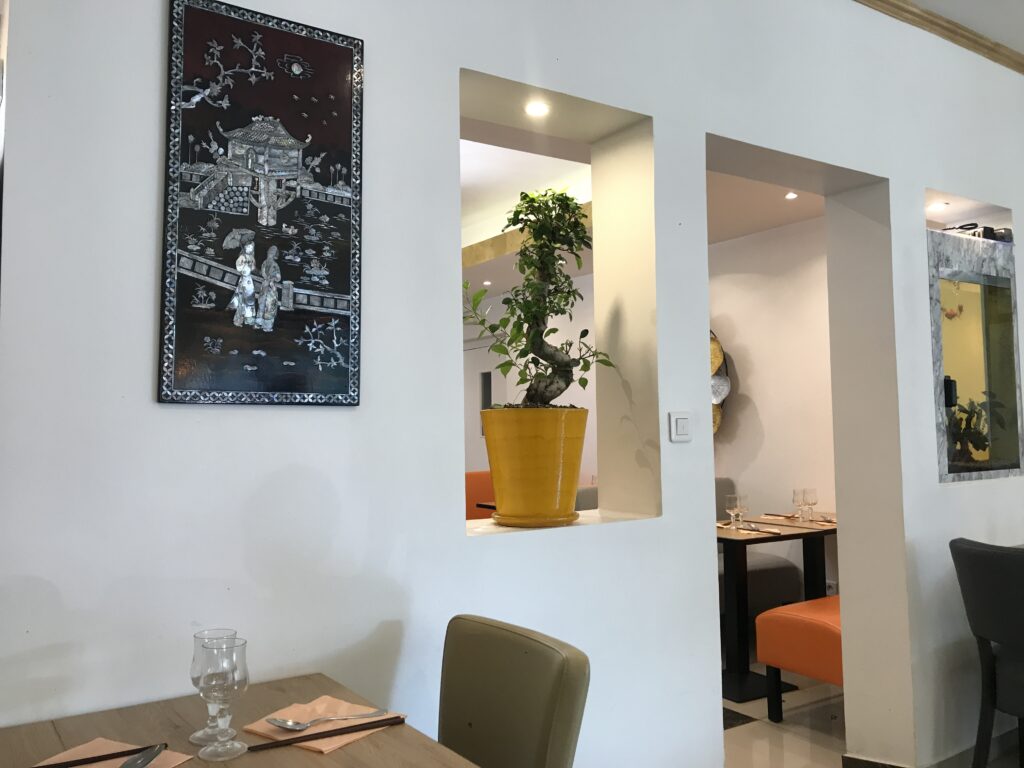 I don't know if we have enough experience with this restaurant to really give it a good objective rating. But from this experience, the restaurant was decent. It looked better than it tasted.
Still, I feel like you can find much better food somewhere else, where perhaps there's less space and it doesn't look as good.
But at the end of the day, this place is not the easiest area to find a parking spot. Outside of having a market nearby, there's not much that can bring you to this zone.
If you are in the area why not, but if what you care about is taste, there's plenty of restaurant in Torcy and Lognes that will give you more pleasure.
Informations
Viet Thai Gourmet
Address : 97 Cr des Roches, 77186 Noisiel
Phone : 01 64 16 42 72
Website : https://viet-thai-gourmet.business.site
Facebook : https://www.facebook.com/profile.php?id=100069932743131