Swensen's is an American restaurant chain born in San Francisco that specializes in serving ice cream. Today, Swensen offers more than ice cream, even foods like lamb chops or hamburgers, but not in every store.
In Vietnam, it's mostly about ice cream and cakes. Let's see in this review if these ice creams are worth your time and are a good deal.
Location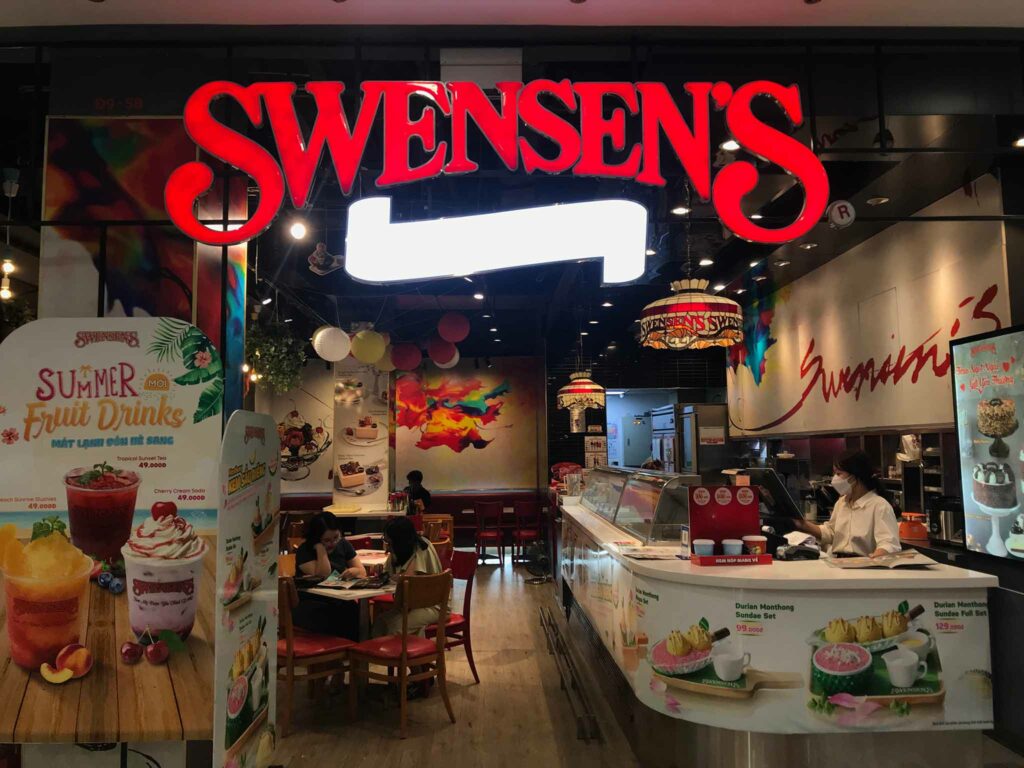 The first time we tried Swensen's was in Aeon Mall. Unfortunately, after the closing, the store had to close, but luckily for us, there's one in Times Square, which is just one bridge away from our home.
The location is fairly small, which is normal for a place dedicated to desserts; often, ice cream can be ordered to go.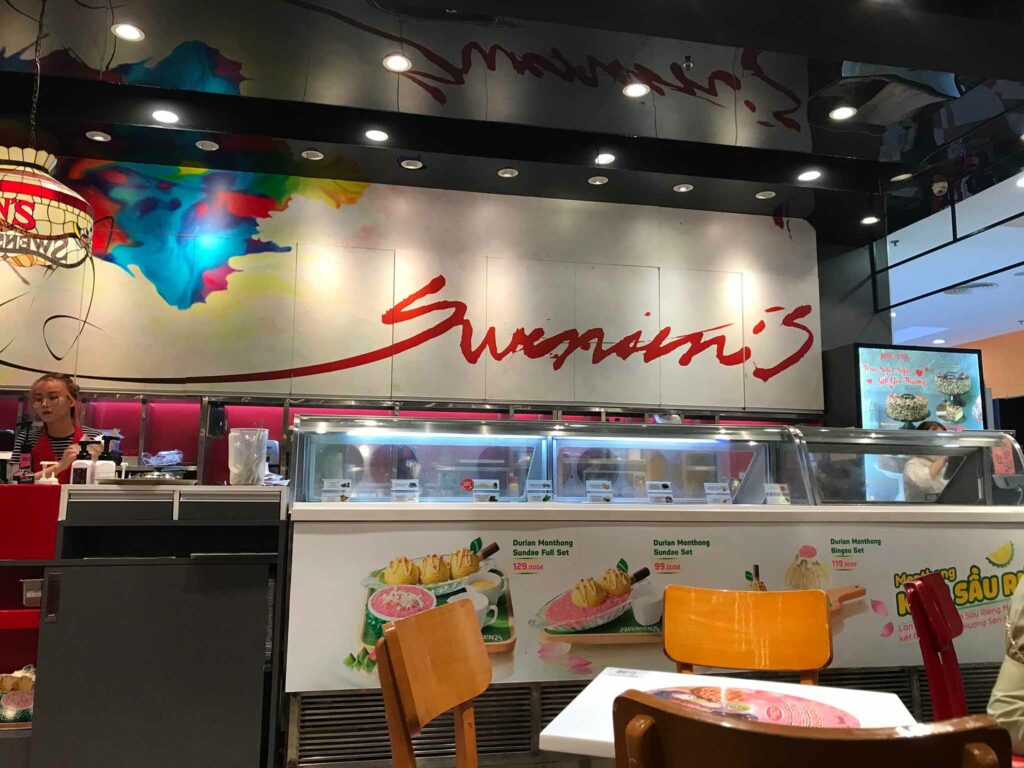 Swensen's basically look like an American diner with touches of black, white, and red. It's very cozy inside, and for whatever reason, whenever I think of Swensen's, I think of banana split ice cream with whipped cream.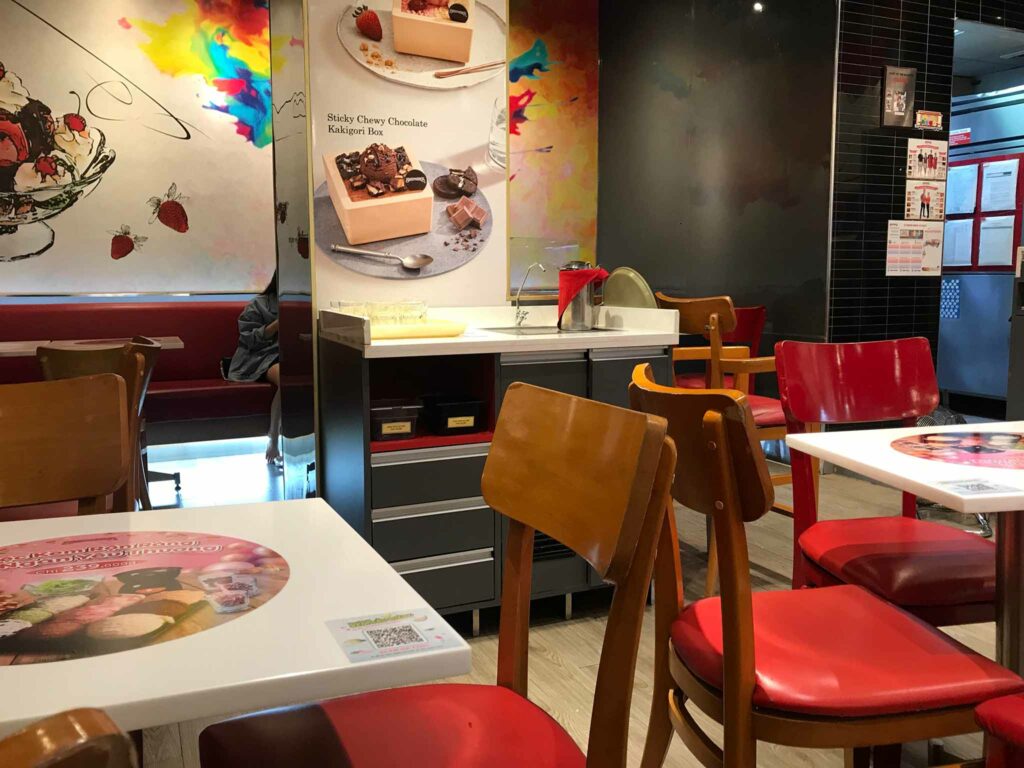 This particular Swensen's is slightly smaller than the one we tried in Aeon Mall, but still more than enough for us. I rarely see this place full anyway.
The place is very colorful and cheerful at the same time. It's definitely a place for happiness and gourmandise, as French people would say.
The menu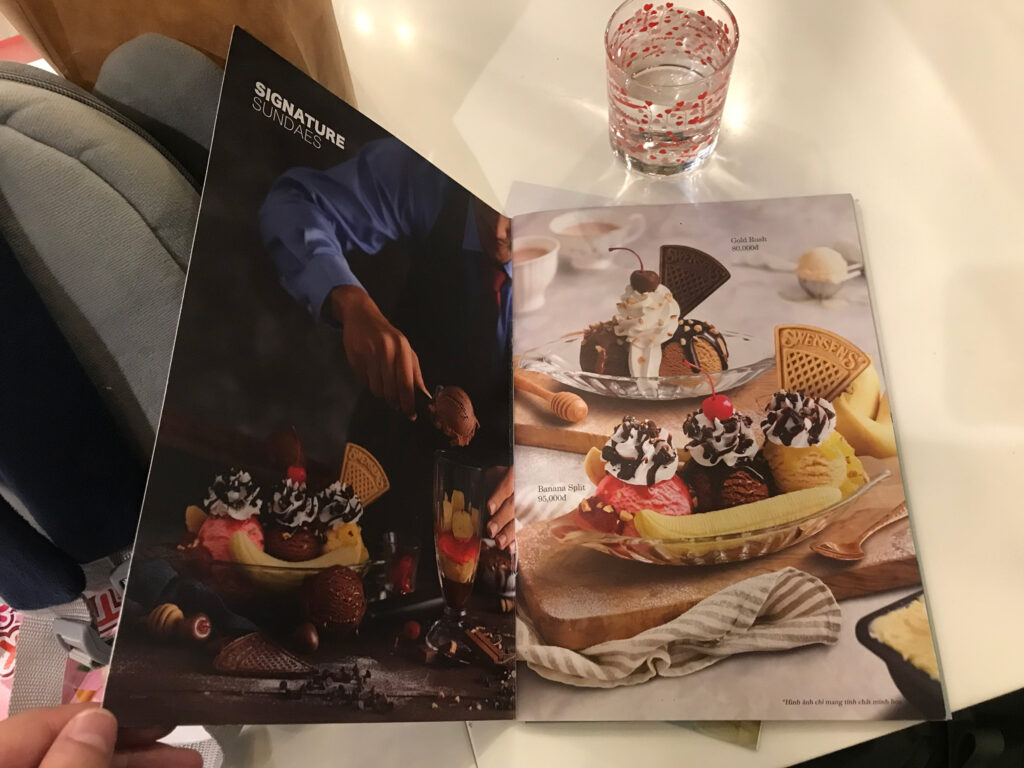 Swensen's offering is very solid when it comes to ice creams. You'll find on the menu most of the American classics like banana splits and sundaes, but they also have some Asian Bingsu or even Durian ice cream.
It's fair to say that they adapted part of their menu to the local community while still retaining their famous classics.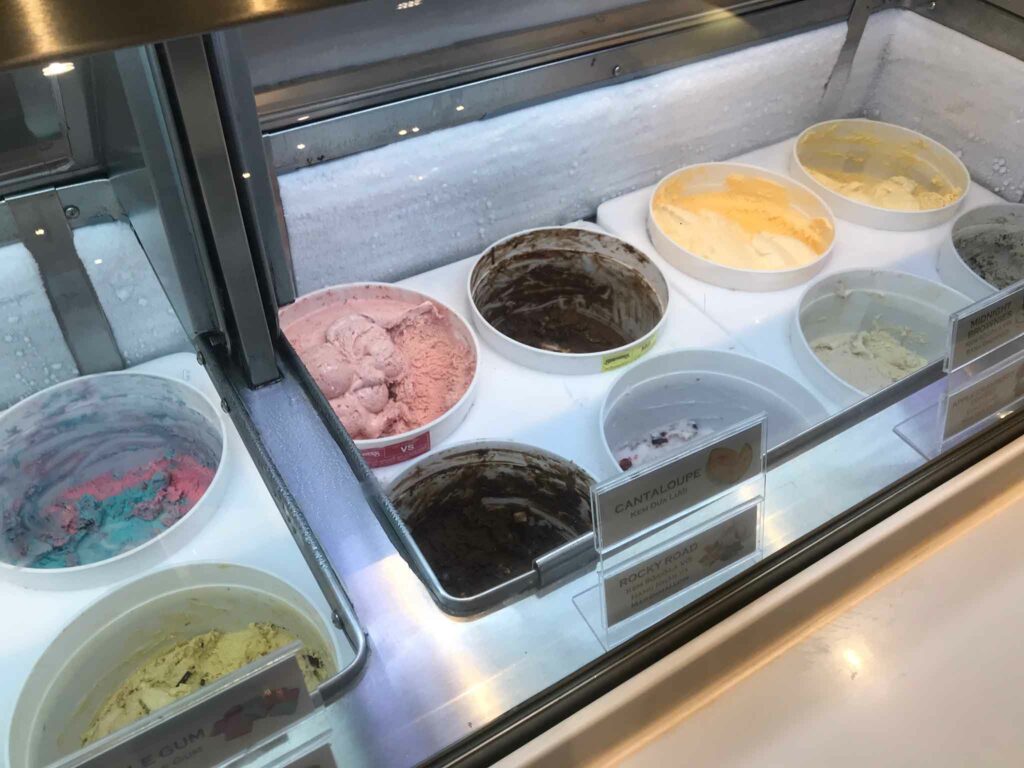 When it comes to perfume, they have tons of options, like classics like vanilla, chocolate, and strawberry. But they also have the famous green tea flavor that so much Asian food loves. You'll find tons of different tastes between those two extremes, so you'll have plenty to discover each time you come.
They also have some sort of frappé and other offerings. I didn't see milk shakes on the menu that day at the restaurant, even though I saw them on the online menu afterward. Perhaps it was an old menu, and they are discontinued now for lack of demand.
The taste and experience
We've been to this restaurant three times and it never disappoints. I would go as far as to say it's perhaps my favorite ice cream place to eat, and I've tried Turkish and Italian ice cream while on vacation in those countries.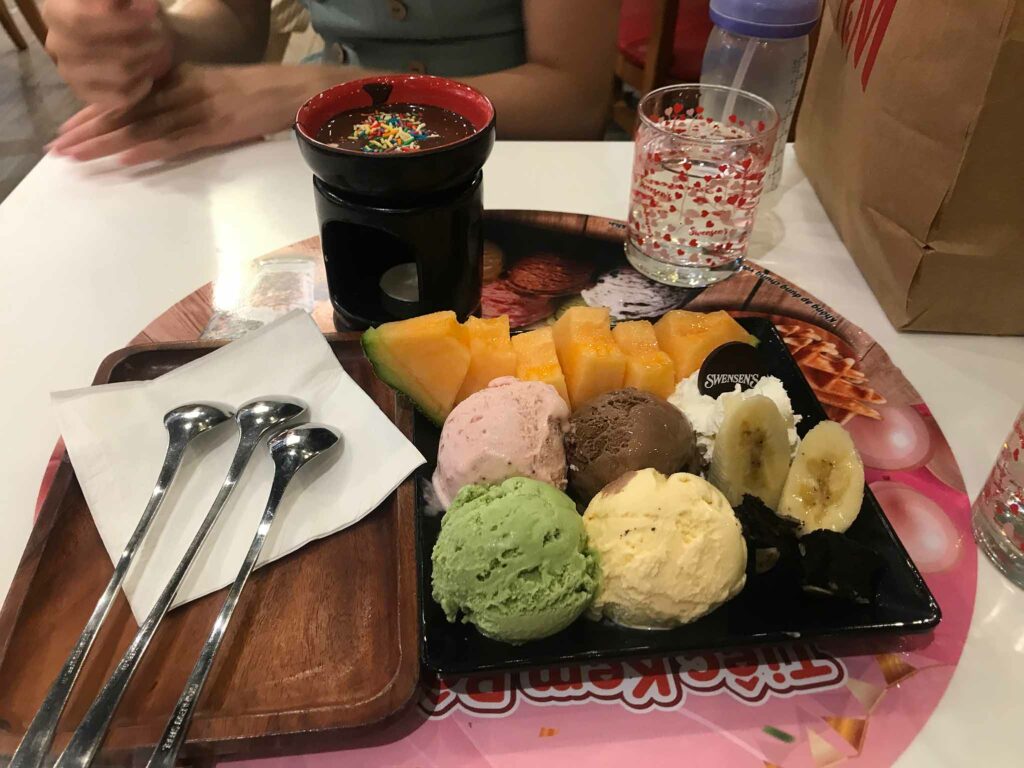 I've eaten a lot of different ice creams in my life, even the infamously expensive Haagen Dazs in Vietnam, and this type of ice cream that Swensen's is serving is my favorite.
It reminds me of the carte d'or my dad bought in France, but with a much stronger taste. In Vietnam, if you buy cheap ice cream, the vanilla taste is almost absent; I am not even speaking about chocolate since chocolate made of real cacao seems to be the hardest thing to find here.
But here is the chocolate, the vanilla. The strawberry taste is so strong and so good that it's almost like eating a concentrate of flavor. This is the American way of turning up the taste to 11, and we love it when it comes to ice cream. Even the whipped cream is so thick and rich compared to the product that you can buy in a mall.
We also had the opportunity to try the bingsu, which was good as well even though it was not my favorite. My wife really liked it, though perhaps Asians have a more delicate and refined taste. I can personally enjoy a Kem ti Tràng Tin, for example, but for me, it's almost like fake ice cream.
The prices are a bit higher than what a Vietnamese would like to spend on a dessert or ice cream, but when it comes to European standards, they're around the same price as an ice cream you would order in a regular restaurant, perhaps slightly cheaper and so much more tasty.
Verdict
8.0 out of 10
Swensen's is for me simply the best place to get an ice cream in Vietnam. To me, it's even better than the ridiculously expensive Häagen-Dazs.
If, like me, you enjoy your ice cream very concentrated in taste, and I have to admit, very high in fat and sugar, than this place is made for you.
As a European or American, this may be the only solid option for you, as in Vietnam, many ice creams are a bit diluted or have a very different taste.
Vietnamese people enjoy fruit-based desserts, but they are gradually adopting Western habits. In this case, this restaurant offers delicious products.
Informations
Swensen's
Address : 458 Minh Khai, Khu đô thị Times City, Hai Bà Trưng, Hà Nội
Phone : 024 7300 6882
Website : https://www.swensens.com.sg/
Facebook : https://www.facebook.com/swensenstimescity/