Pedra Alta is a famous Portuguese restaurant chain in France that specializes in fresh seafood. This restaurant is one of my favorites, perhaps even my favorite.
Every year, I come and eat with my parents for my birthday. This year my wife tried for the first time our favorite seafood dish, and she will try to review this experience.
The location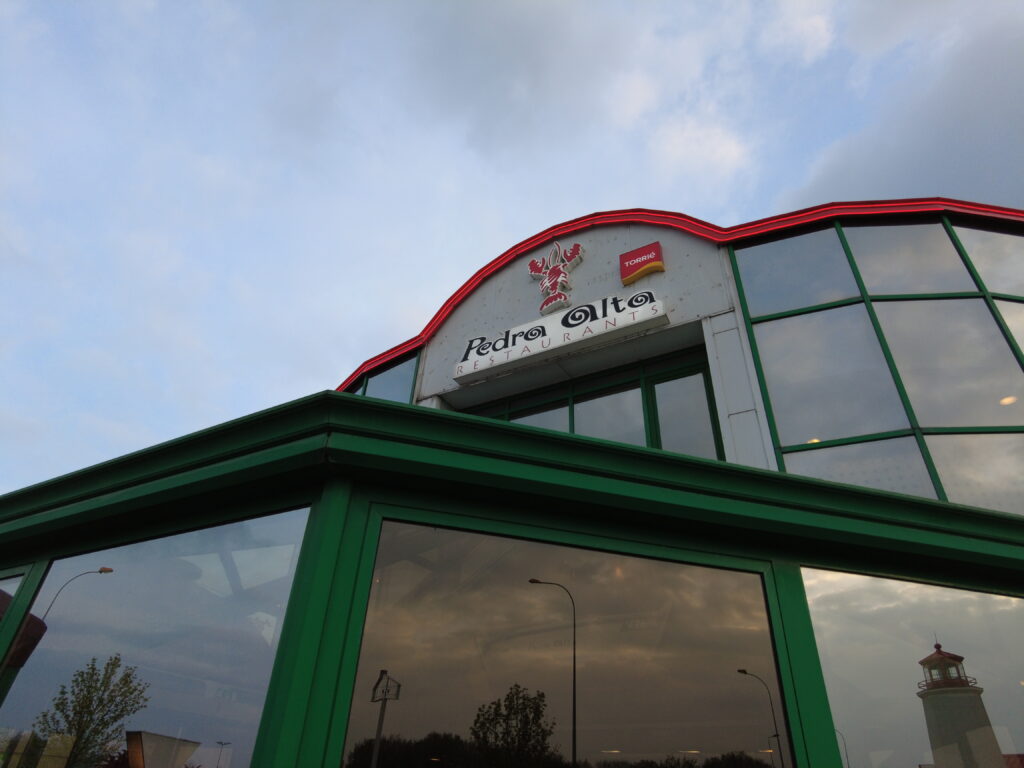 Pedra Alta have twelve locations in France and three in Portugal. It seems like this chain was founded in France and later expanded to its origin country.
The one we will review today is located in Pontault-Combault, a city not too far from where we live. It's located in front of a road, near an area with big stores like Costco.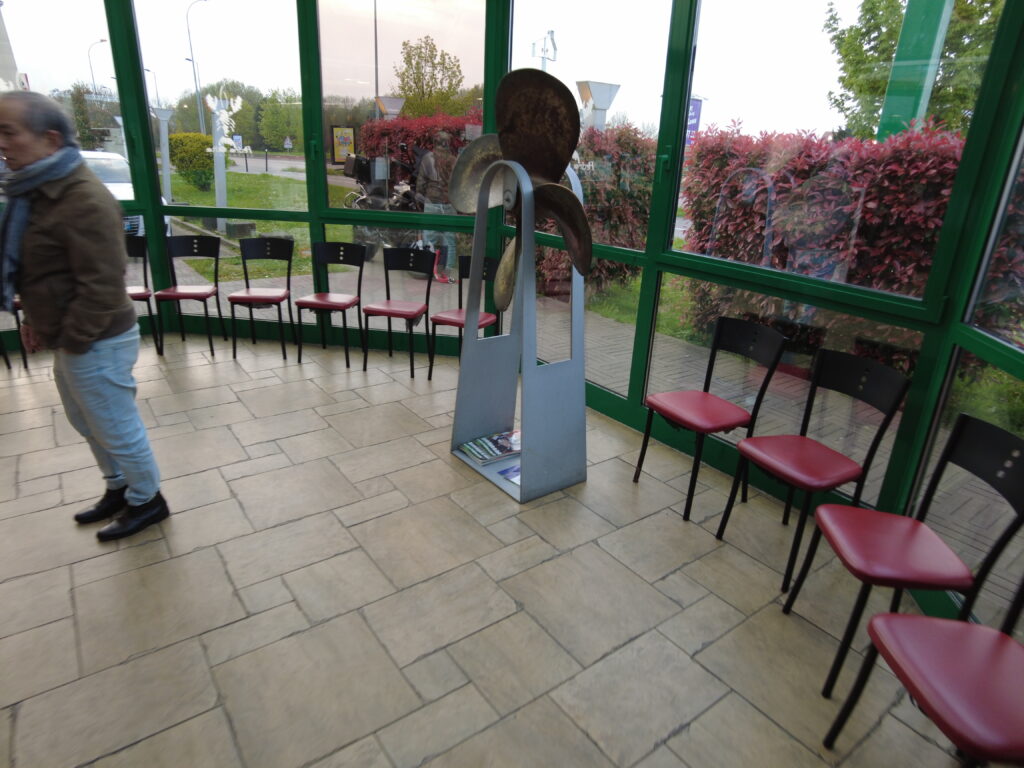 The restaurant is wearing the colors of the Portuguese flag: green, red, with a touch of white and yellow.
This restaurant is pretty large. Most tables are made for groups of people since this place is known for serving seafood.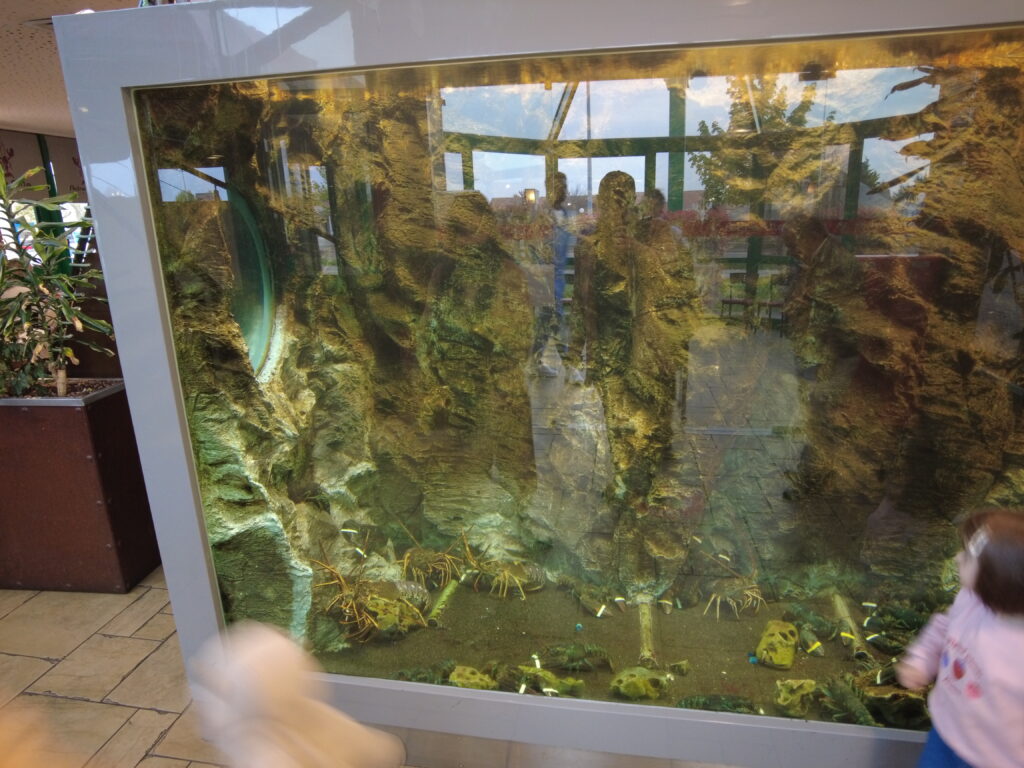 In the entrance, you'll find a pretty big aquarium with live lobsters inside it. Kids love to come and watch these crustaceans, and adults already salivate.
There is usually a pretty long line, especially on the weekends. There are no reservations, and the first to arrive will be the first to be served.
This time around, there were fewer people since we are a bit in a recession and it's Monday night. I even heard that they had to close some of the restaurants.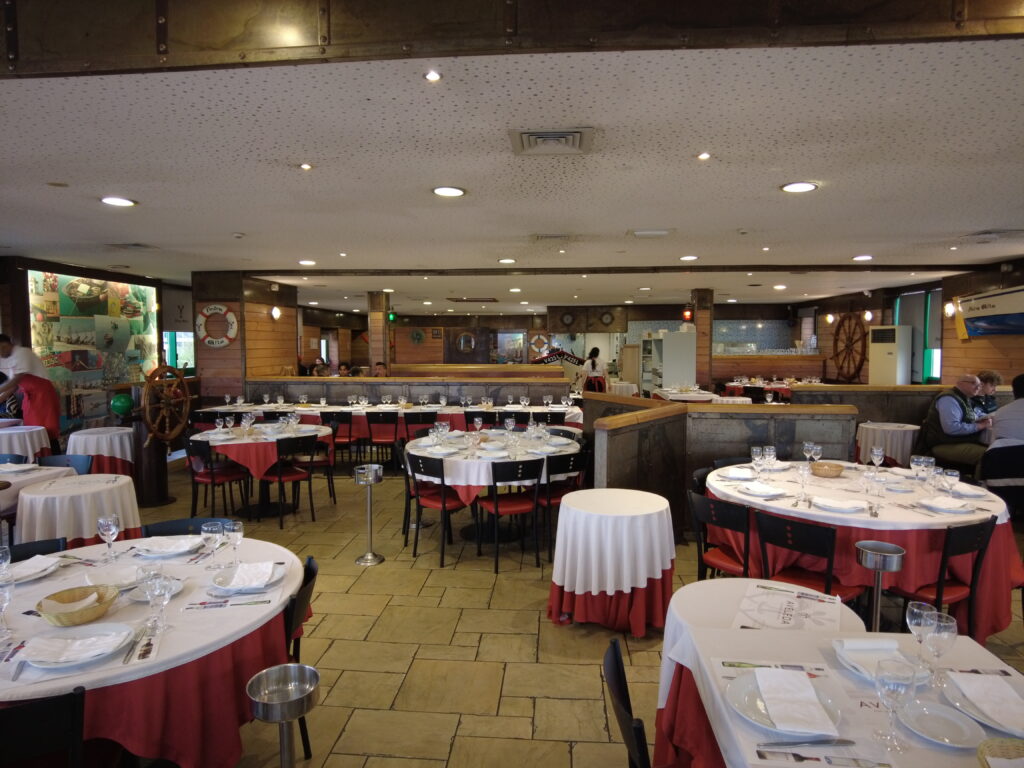 As always, my husband says that they are installed upstairs, which is good, because there's everything you need as well. WC, kitchen, and great service.
The decoration is very reminiscent of the sea without being overdone. The walls are made out of wood, and there are some decorations made from pieces of a boat. Like Portugal, it feels warm and welcoming.
The menu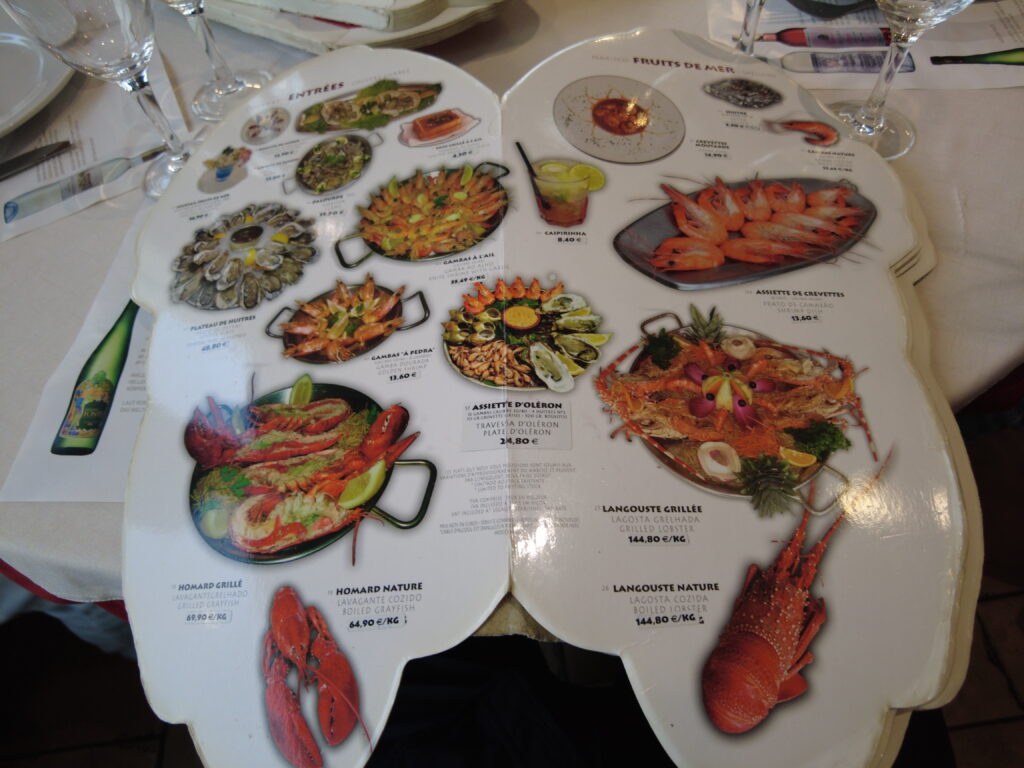 Some people come to Pedra Alta to eat as a couple and to eat meat, but that's not how we do things with my family. Coming here is a special occasion for us; we are not the kind of people who eat tons of seafood at home.
At the end of the day, we are living in the suburbs of Paris, so the only time we eat seafood is at the sea during vacation or during Christmas.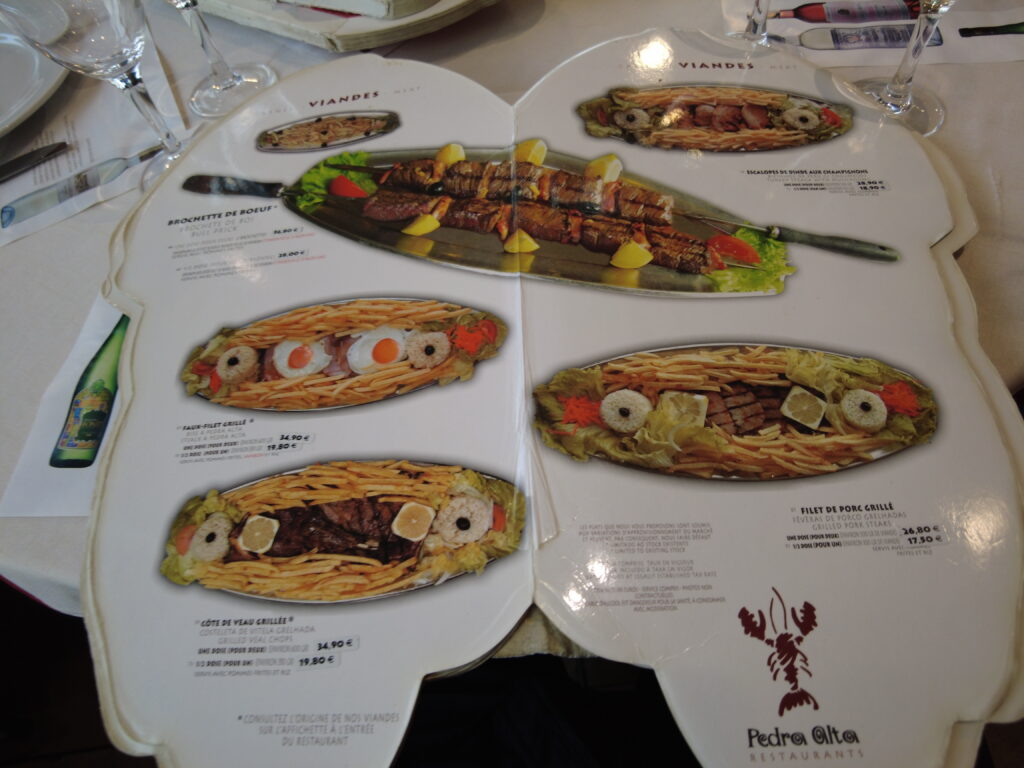 In this menu you'll find dishes for everyone, even if you are coming alone and you are allergic to seafood, you can still find something to enjoy.
If you come like us as a mid size or large group, well you'll find even more interesting dishes to share.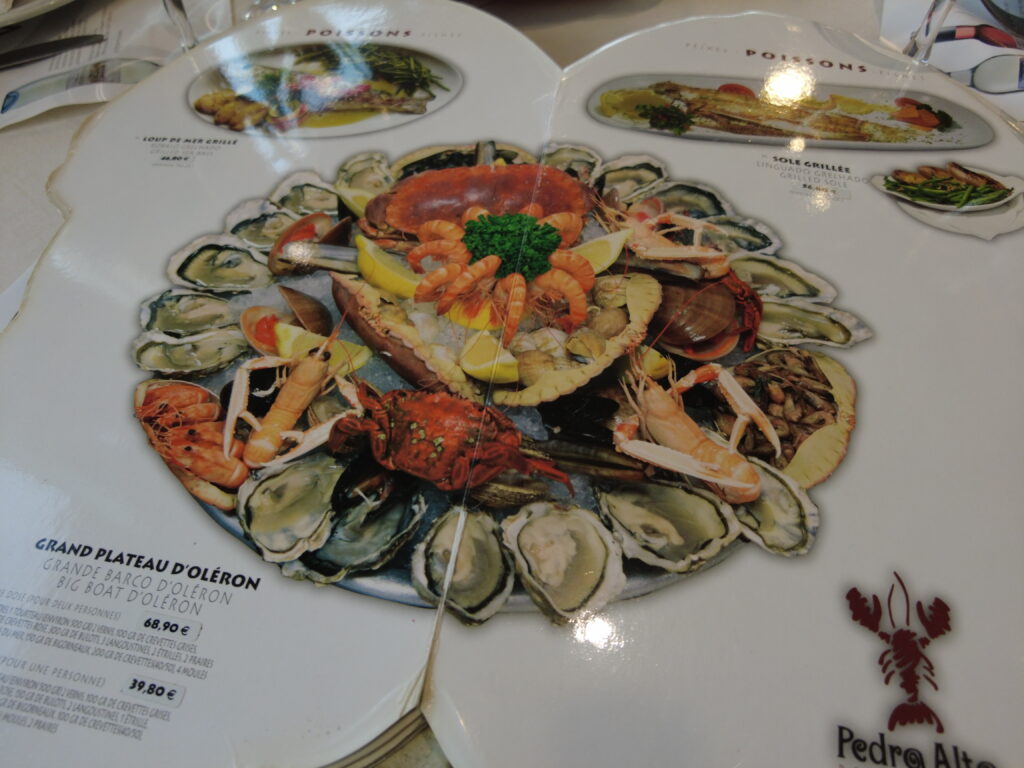 When it comes to seafood, you'll have different choices. Usually they will serve you two kinds of platters: the cold ones and the Galician ones (hot or cooked).
The assortment of seafood is very large. I believe they are mostly the types of seafood you would find in Portugal; for example, don't expect to find Vietnamese types of shellfish.
This doesn't mean that the seafood is originating from Portugal; for example, the lobsters are coming from the USA, and the platter d'Oléron comes from a region of France.
The variety of seafood coming out of these big platters is quite impressive. Lobsters, crayfish, prawns, shrimp, mussels, oysters, crabs, smaller crabs, squid, and much more.
You can take the platter in full or half size. The full size is very large and filling. For example, we took one small and one big platter and weren't able to finish.
The experience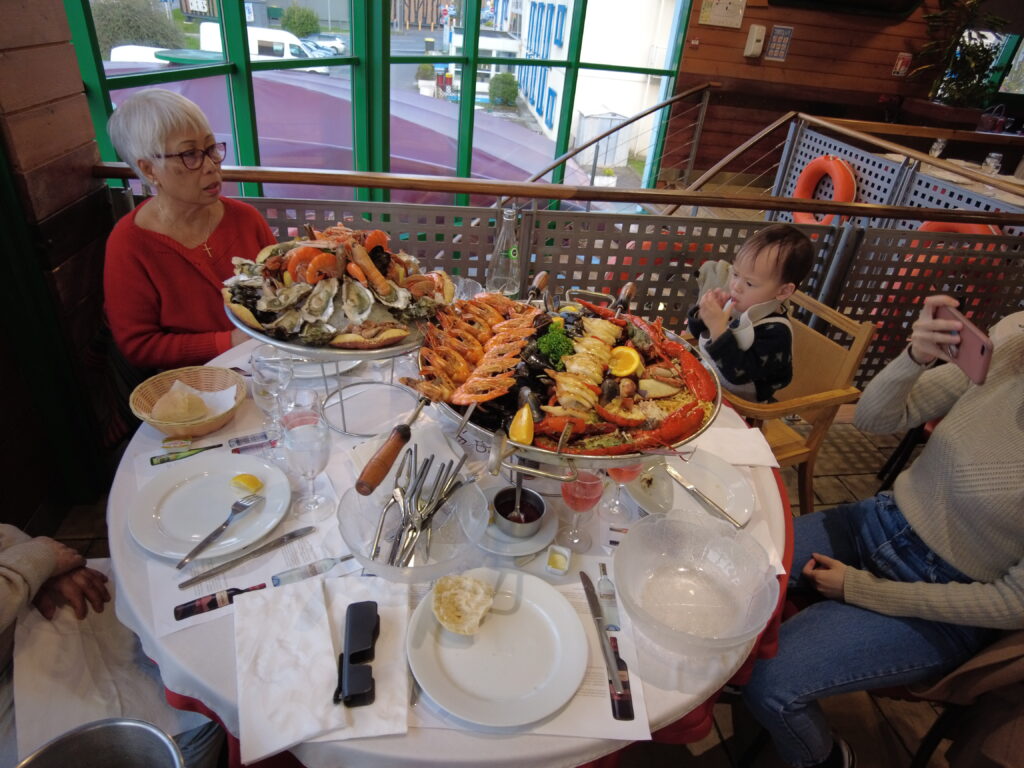 I don't know if you've been to Portugal, but for me it's one of the most enjoyable country in Europe, especially in the summer. The cities I've been to are so warm and relaxing, people are nice, the food and the wine are great.
Starters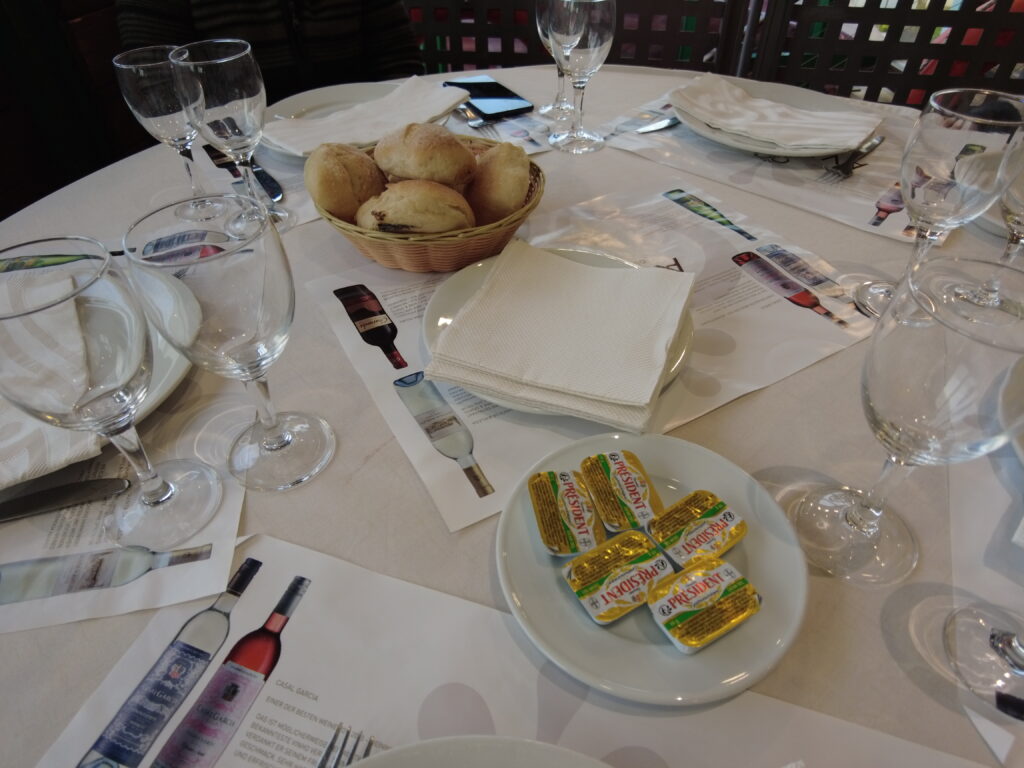 In Pedra Alta, you are greeted with some freshly baked bread and some half-salted butter. This is the kind of starter that you don't want to eat to focus on the seafood, but it's so good that you can't resist.
Drinks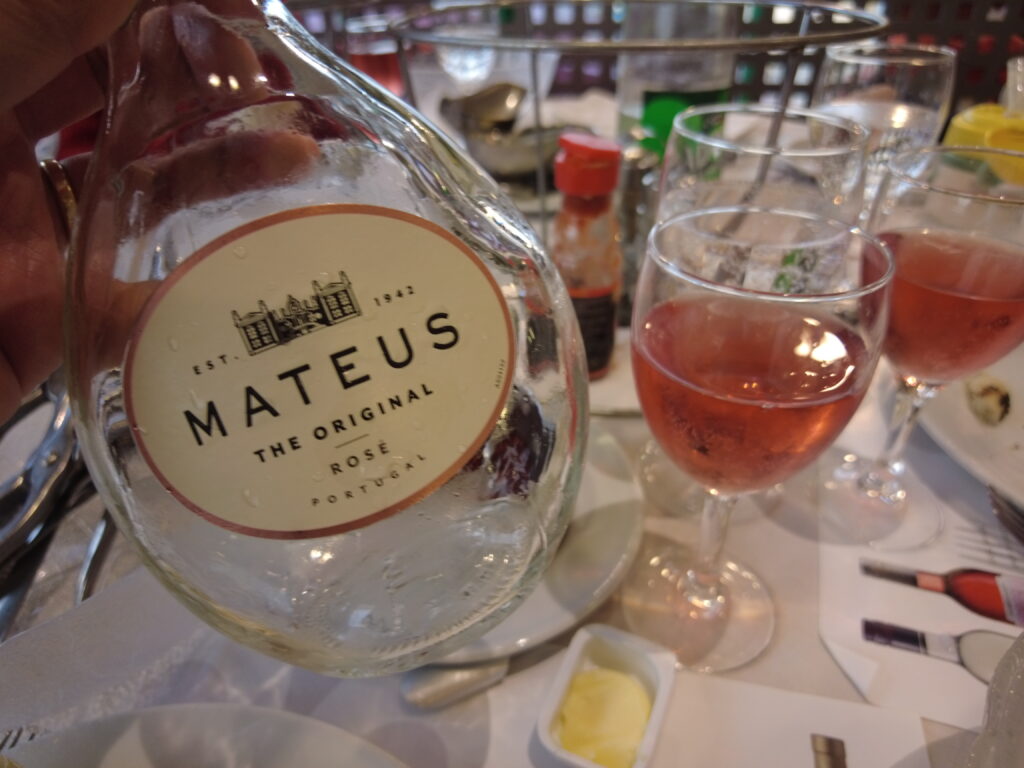 Most people are familiar with the sweet red wine from Portugal, named like the city: Porto. Even when I was young, my parents introduced me to this friendly and sweet alcohol served on the rocks.
Portugal is also producing some rosé wine, and one in particular, Mateus, is interesting since it is bubbly. We find this particular wine to fit the seafood to perfection. The restaurant will make the effort to put it on ice for you to get the best experience.
Cold seafood platter
Our first order is usually a platter of oysters, but this time since my wife doesn't really eat raw seafood, we chose to try something with more variety.
The first thing to know is that their oysters are delicious. They are not necessarily raised in the sea, but they are fresh and clean. No shell, sand, or impurity is inside the oysters.
This plateau d'Oléron had some raw seashells, like mussels and cockles (big clams). It was the first time I tried it, and like sea urchin, they actually tasted stronger alive. Usually I try to avoid raw seafood since I already had an histamine allergic reaction one day.
This platter also had some small shrimp, regular shrimp, crawfish, crabs, and sea snails. The crab was amazing. In Vietnam, we are used to eating steamed fresh water crabs, and the taste is already great, but this was on another level.
This platter is served with freshly cut lemons and some shallot vinegar. You even have some salt, pepper if you want to do it Vietnamese style. That's all you really need.
Galician platter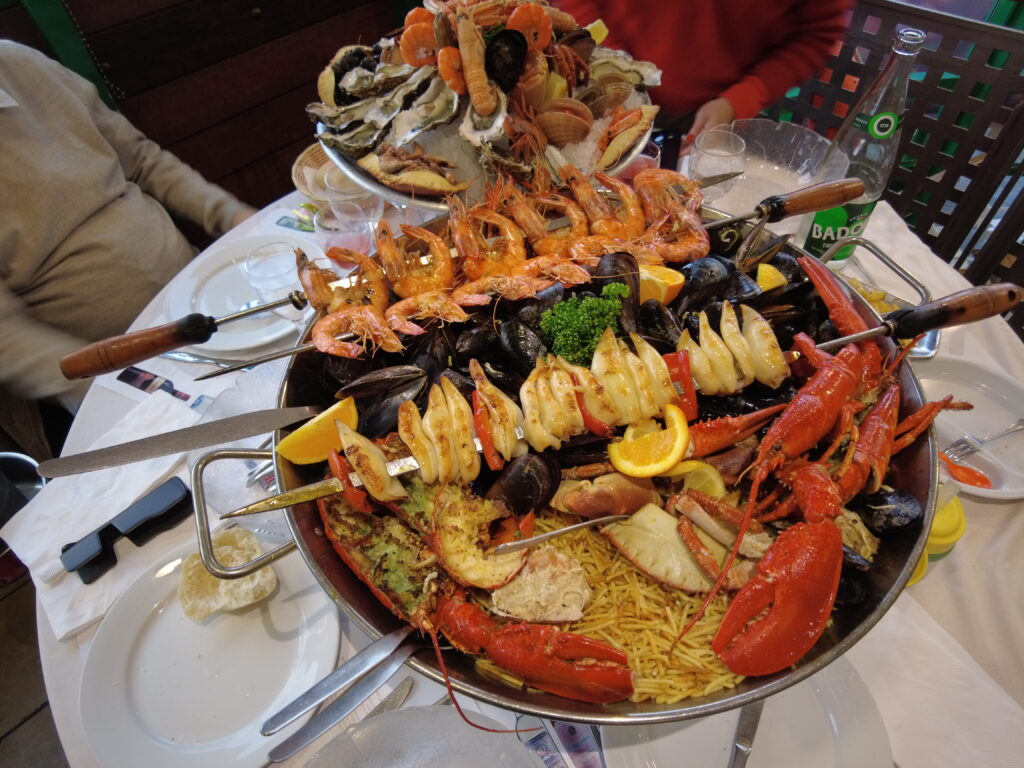 Like they say in a boxing event, this is the main event of the evening. My husband once attempted to replicate this platter for Christmas. Now I understand why.
First full platters are huge, and this particular one was quite impressive. We don't really know how they cook all this seafood, whether it's barbecued or put in an oven, but everything was cooked to perfection.
Ok, perhaps some of the mussels were a bit raw and the thinly cut potatoes weren't cooked enough, but it's always a compromise.
My husband likes it when it's slightly more blazing for all the juices to go down this platter in the fries. But at the same time, you want your lobsters and squid to still be tender.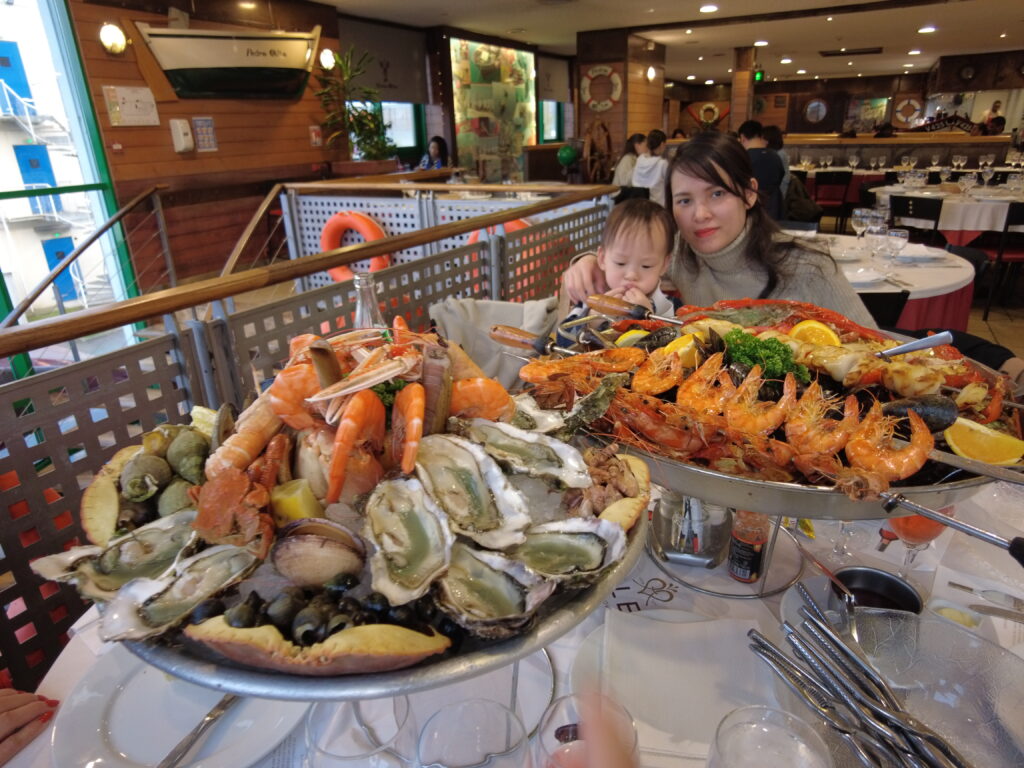 Everything in this platter is delicious, they are very good and simple products that doesn't need to much tricks to show their potential. A bit of salt, oil and a good source of heat. You don't need more than this when the products are already great.
With this platter, they give some sauce, mayonnaise, a cocktail sauce, and another oily sauce with herbs that I never bother to try.
Verdict
9.0 out of 10.
If you want to enjoy seafood in France, we recommend that you go near the sea. If you want to eat a lot of seafood with many of your friends or family members, this is the only place to go.
The quality of the seafood platters is fabulous; the food is simply cooked but really amazing to taste. The quantity may seem overwhelming, but special occasions require special portions.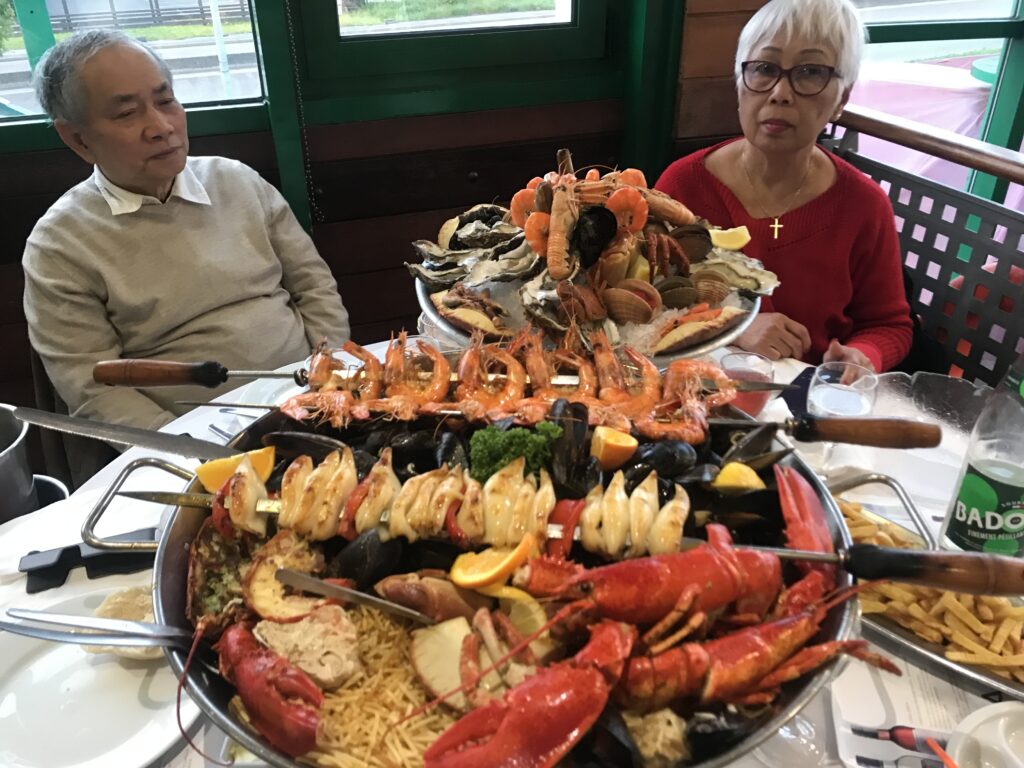 When you want to celebrate in good company, this is the kind of feast you want to treat yourself with. My husband always says he doesn't need any gifts; he just wants to have a nice lunch or dinner with his family in this restaurant.
Sharing time and experiences is the most valuable gift we can give someone, and what better place to celebrate than Pedra Alta?
Informations
Pedra Alta Pontault-Combault
Address : 54 Rte de Paris, 77340 Pontault-Combault
Website : http://www.pedraalta.pt
Phone : 01 60 29 72 20