Chả cá Hàng Sơn is a restaurant chain specializing in one dish: the famous Hanoïan dish Chả cá more precisely, chả cá Lã Vọng.
A simple but delicious dish composed of catfish and some fresh herbs cooked in a pan This was my first time trying the dish, and I have to say it was delicious, but was it worth the money?
The location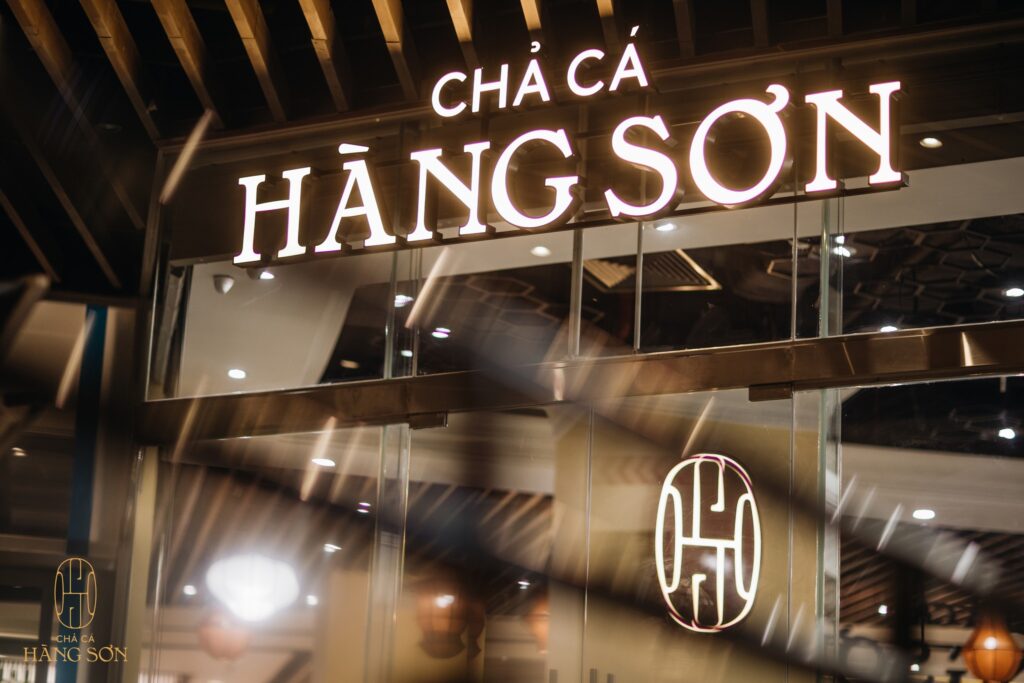 The first time I saw this dish was near Tong Duy Tan, at a restaurant named Chả Cá Thăng Long. It was the first time I saw people gathering up to eat this dish, and I have to say the smell was simply amazing.
To try chả cá Lã Vọng we opted for the restaurant Chả cá Hàng Sơn which is a chain, and one of the restaurants is located in Aeon Mall Long Bien. We chose this location because it was convenient for us while carrying a baby.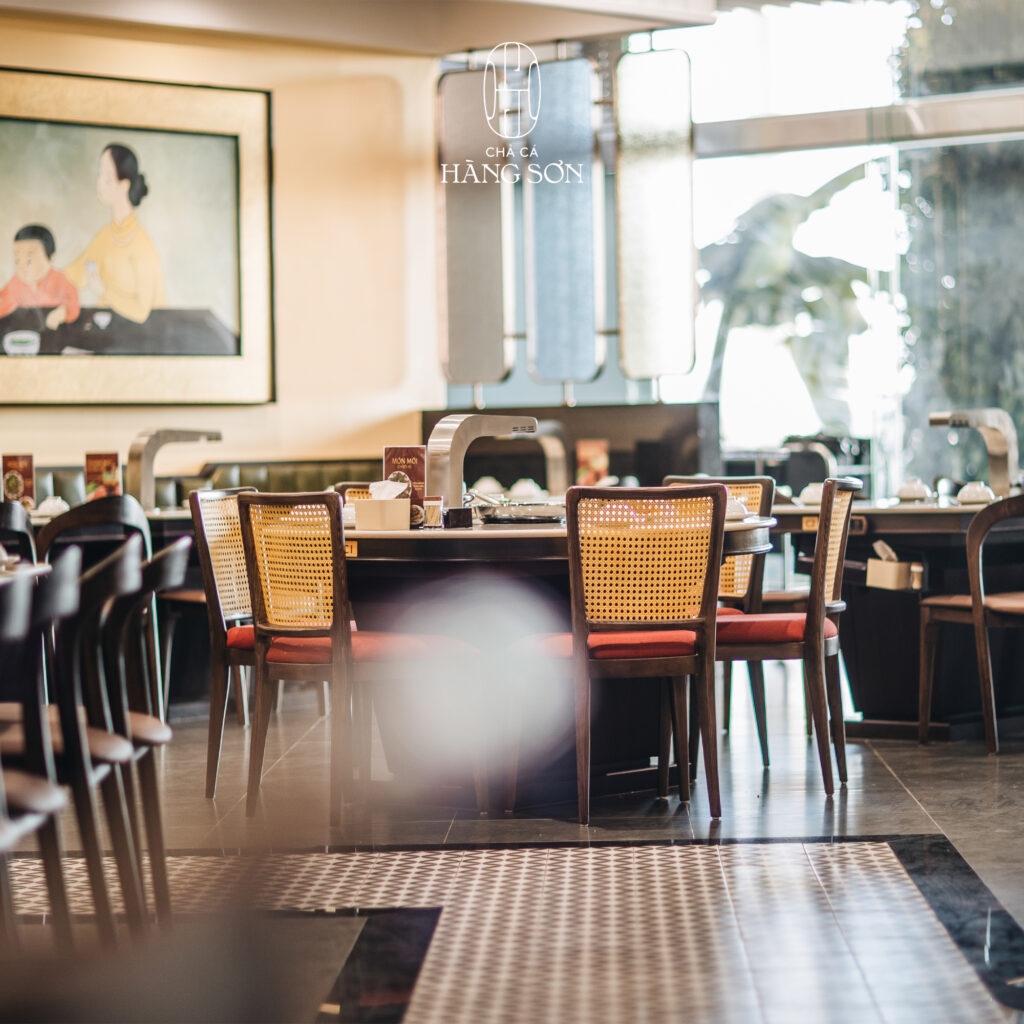 We could do the groceries, play a bit, and have a new-experience dinner over there. Usually, in malls, restaurants have more space than in the city. When you have a kid, you don't want to be stuck at a table for two people.
The location is really nice—very upscale compared to a traditional Vietnamese restaurant. I believe that since it's a franchise, the restaurant looks better than the typical Chả cá restaurant.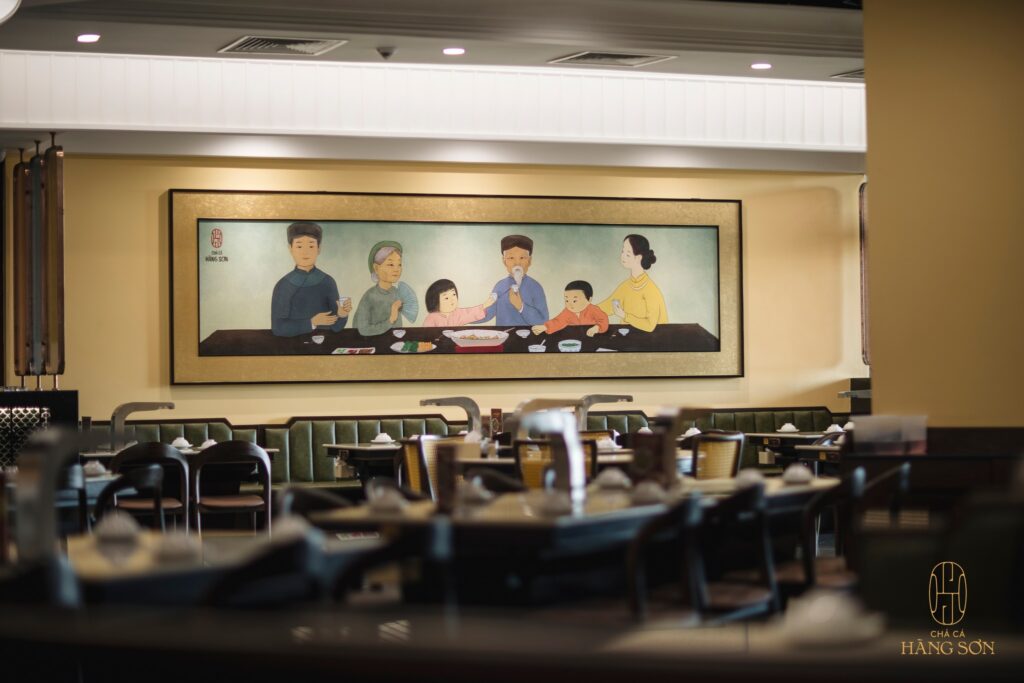 Chả cá Lã Vọng is already an expensive dish by Vietnamese standards. Fish and seafood in Vietnam are almost as expensive as in Europe, so eating good fish will not be cheap by any means. Thus, the location is very classy, with beautiful tables and chairs and paintings on the wall.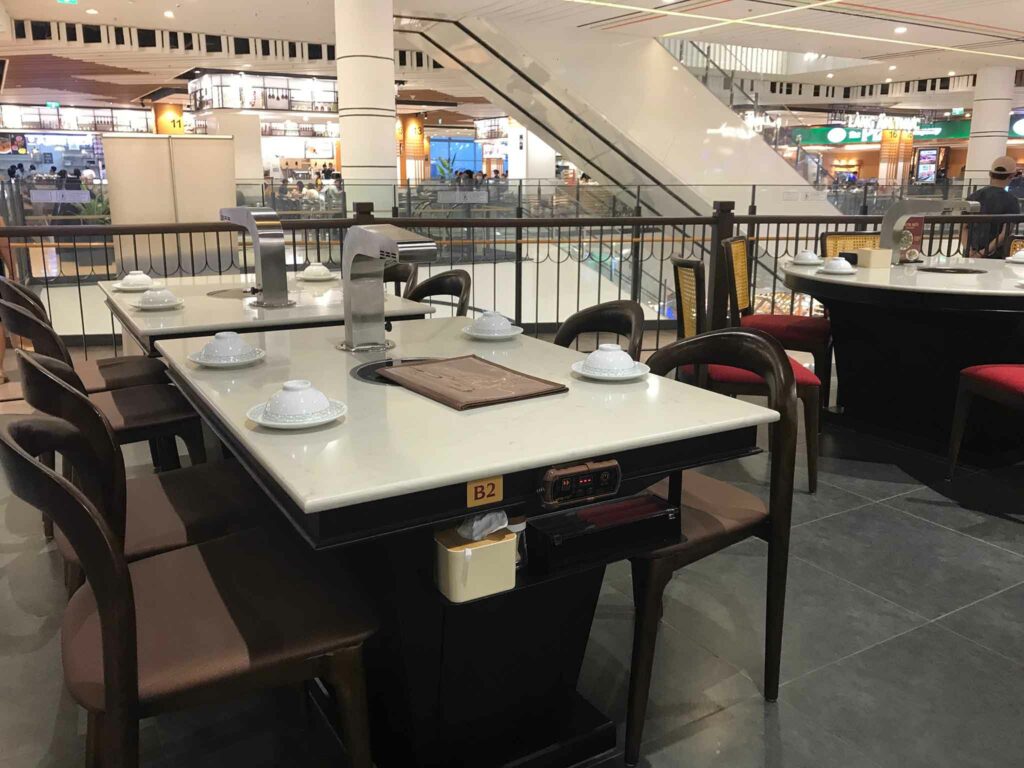 The tables are very modern and clean, with brand new induction heaters and aspiration systems. Honestly, the place looks and feels great. Being a franchise present in Aeon Mall, you can expect a minimum standard.
The menu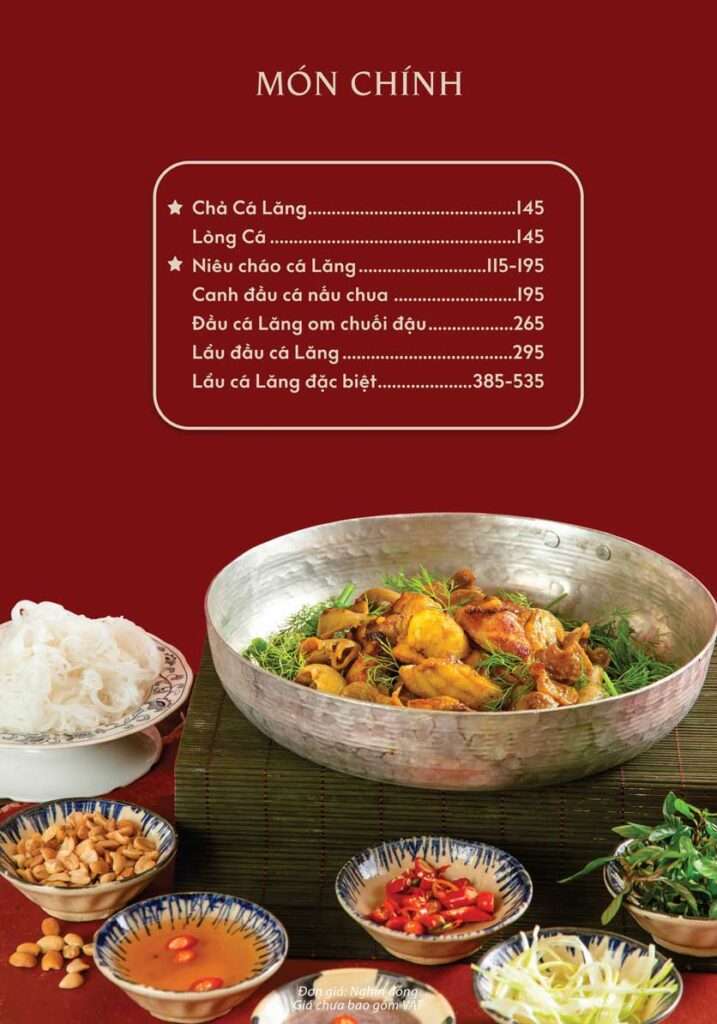 One thing I particularly like about this restaurant is that the menu is simple. The menu has probably four pages with tons of empty space. The restaurant is specialized in one thing: Chả cá. It means all their attention is focused on making this dish as good as they can, and the rest is just supporting it.
The basic dish is composed of what you can see in the picture above: a pan with pieces of fish and intestine if you chose some with herbs, some peanuts, some bun (vermicelli), and some sauce: nuoc mam or mam tom.
One thing to know is that one portion of fish is barely 4-5 pieces of fish, so for two people, you'll have to order a minimum of two portions. We ended up ordering twice the fish and once the intestine with some french fries, and it was just enough for the three of us.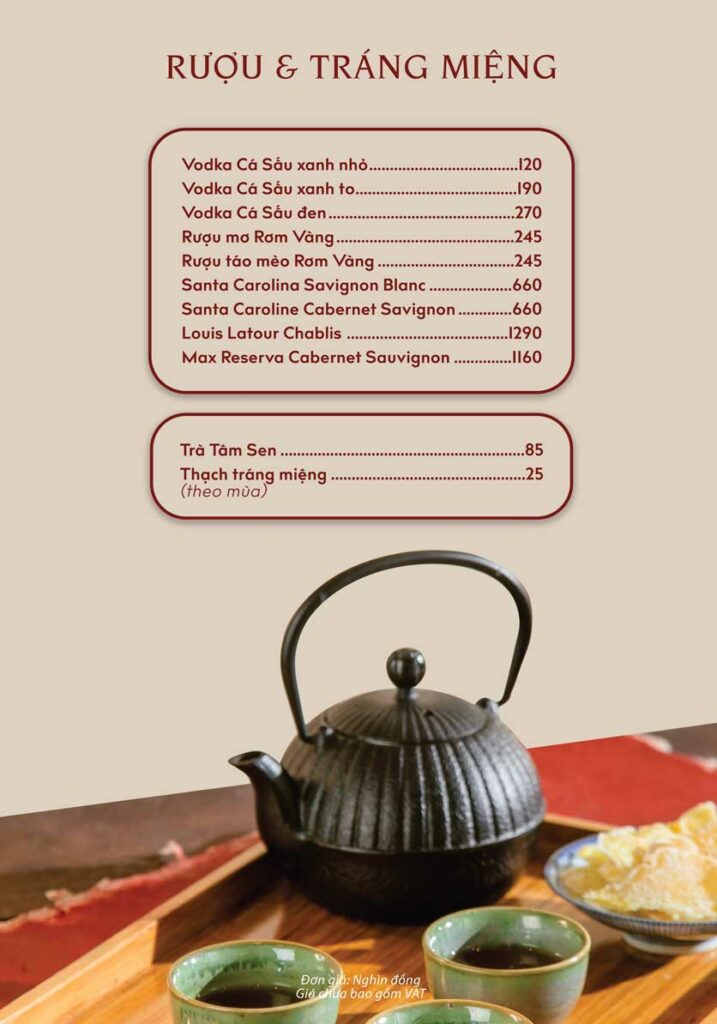 Like I said before, the restaurant is specialized in one dish and seems to know exactly what goes with it in terms of side dishes, drinks, or alcohol. It's fair to say that you can't go wrong with your choice of restaurant, as everything is well-honed.
The experience
The experience was overall good. Going in there with only two people and ordering five to six items made the table feel very empty.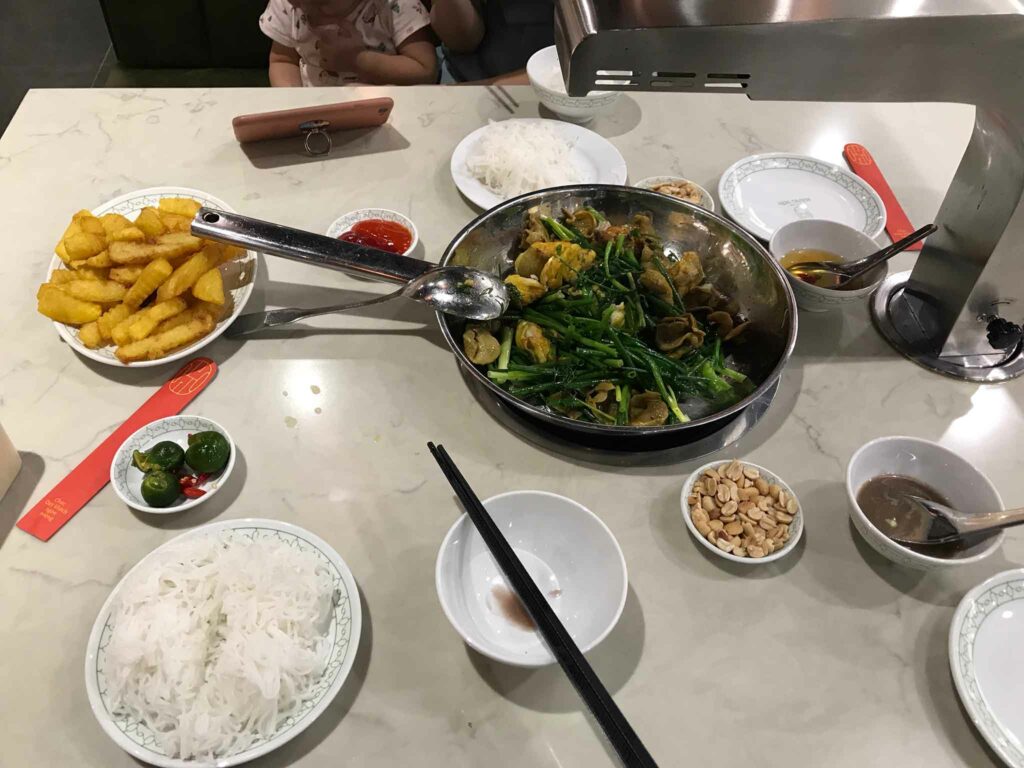 We were absolutely surprised by the scarce amount of fish for a 145,000 VND portion, especially after having seen a lot of videos on YouTube.
The bright side is that the dish came very quickly, and a waitress cooked it for us for around 5 minutes. So basically, you just have to sit down, relax, and enjoy your meal.
It was the first time I tried Chả cá and I have to say it tastes amazing. In my opinion, it's a very refined dish. They use some cumin, ginger, and other things like fish sauce to marinate the fish, and they cook it with herbs, mainly dill and scallion.
A drizzle of oil will go out of the fish while cooking with all this concentrated mixture of herbs and spices, creating a smell that is absolutely mesmerizing. The taste is also very refined; mixed with the bun, peanuts, and mam tom, the dish is simply exquisite.
It's the kind of dish that would make a foreigner fall in love with refined Vietnamese cuisine.
The drinks were delicious as well, we ordered Trà mía lá nếp which is a sugarcane tea and the taste was original and matching the main dish to perfection.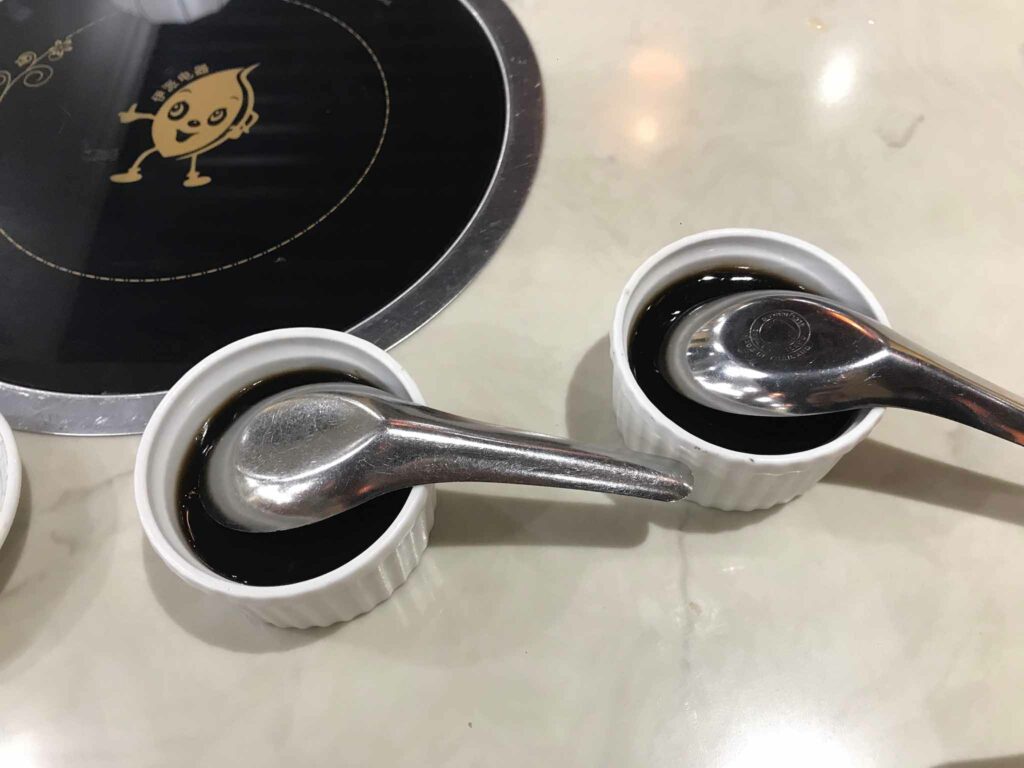 For desert, we were offered some jelly from a plant, something very similar to the Thach An jelly from Cao Bang you can get in Vinmart but stronger and homemade. It was delicious, even if I doubt it will appeal to everyone.
Verdict
7.8 out of 10.
I think Chả cá Hàng Sơn is definitely a safe place for people wanting to eat Chả cá Lã Vọng. I don't know if it's the best in town, but it's a solid option for people willing to try the dish.
I believe foreigners should try this dish at least once. Especially the foreigners who are not scared to try new gustative experiences.
Eating fish with cumin and herbs is also a good way to keep up with your healthy diet. You won't feel thirsty after eating bad sushi or lethargic and guilty after eating some fatty meat.
Informations
Chả Cá Hàng Sơn
Address : 3rd floor Aeon Mall Long Bien, 27 Đ. Cổ Linh, Long Biên, Hà Nội
Phone : 024 6680 6189
Website : https://chacahangson.vn
Facebook : https://www.facebook.com/chacahangson